Looking for a place to immerse in the heart of the local's people lifestyle? Wondering how they may spend a day? Try Persian Ancient Markets known as Bazaar. There are too many historical, local, and authentic things awaiting you in Persian Bazaars. Specific architectural features observed in building Persian bazaars, they consist of various parts like mosque, bath, caravanserai, Timcheh, and Rasteh. As a result, wandering around Kashan Bazaar is quite adventurous. So try to dress like a local and follow us through the mysteries of Kashan Bazaar.
The History Behind the Bazaar
Dating back to the Seljuk Era -10th century-, Kashan Bazaar (called Bazar-e Kashan in Persian) is located right in heart of the city and has been renovated during Safavid Dynasty. A bitter fact about it is that during the 18th-century earthquake, so many people in the bazaar have been killed and major parts were ruined. Due to political stability and local industries development during Fath Ali Shah's kingdom, there have been new structures built in the bazaar. The new Coppersmith bazaar and Farrokh Khan Amin-ol Dowleh Ghaffari are two newly added sections.
In 1976, Bazaar of Kashan was registered in Iran's National Monument List. Being close to the ancient trade routes and having a magnificent architectural design are the two prominent features of this bazaar. For more than 800 years, this bazaar has been a center of trade.
A Combinations of Architectural Masterpieces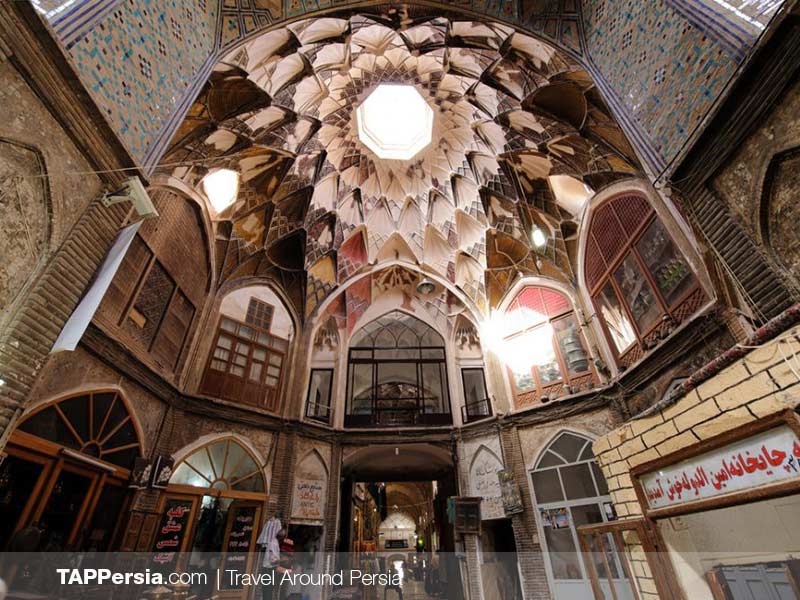 Are you curious about its architecture? Actually, its architecture is a significant feature of the bazaar. Being renovated several times, the bazaar has both bricks and restored parts. But no worries, fortunately, it has still preserved its spirit. To illustrate it better, the amazing sandy domes plays a pivotal role in the lightning of the inner space of the bazaar and made it quite a scenery from outside. So don't forget to take your camera with you. Despite all other parts of Kashan, you can visit the bazaar at noon when the sun lights make amazing artistic shadows in the bazaar. A scenery which you should not miss capturing.
The remarkable architecture of the bazaar is what will catches every visitors' eyes. Same as other Persian bazaars, there are mosques, Timcheh, Rasteh, Qanat, tombs, baths, arcades, and water reservoirs in the Kashan Bazaar Complex.
Wondering what a Timceh might be?! Well, Timcheh is a collection of shops in an area. It is actually a smaller caravanserai in which luxury stuff is being sold. Timche-ye Amin-ol Dowleh, Bakhshi, and Seyyed Aqa are some of the renowned Timchehs in Traditional Bazaar of Kashan. Amin-ol Dowleh is a three-storey building in a covered part of the bazaar that connects four parts of the bazaar to each other.
Rasteh is also a long line with stores on both sides in which people's occupations are the same. There are three main Rasteh in Kashan Bazaar: Mesgarha (Coppersmith), Zargarha (Goldsmith), and Kafash-ha (Shoemaking). So get ready for some professional yet authentic pieces of art.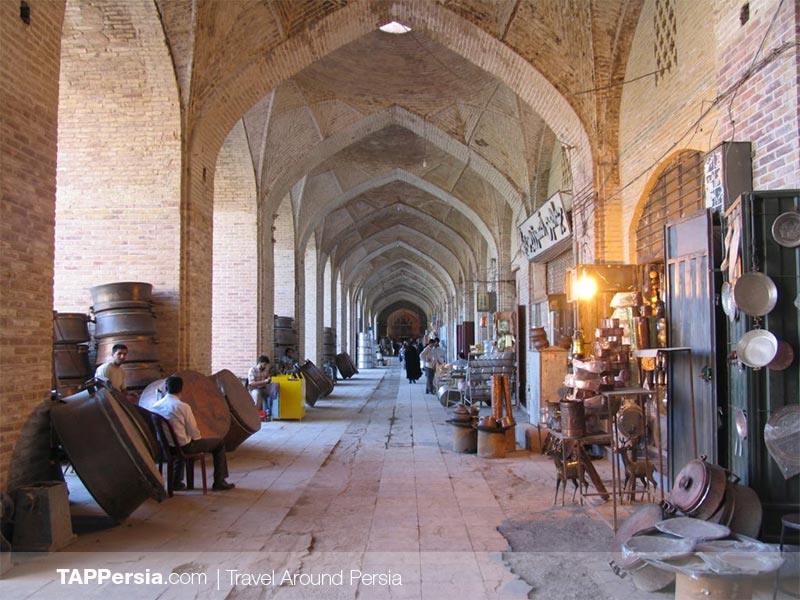 The complicated network of water canals -know as "Qanat" in Persian- is another remarkable structure of the bazaar that supplies ponds and fountains and makes the air inside cooler and fresher.
Miremad Mosque -known as Meydan (Square) Mosque due to being close to the square- have various ancient inscriptions, Shabestan, bricky domes, tile pulpit, and an old cistern. This mosque is more than 800 years old. Marble embellishments on Abd-ol-Razagh Khan Bathhouse (Hammam-e Khan) will also intrigue you. Khan Bath is functioning as a teahouse these days.
Kashan Bazaar from Different Perspectives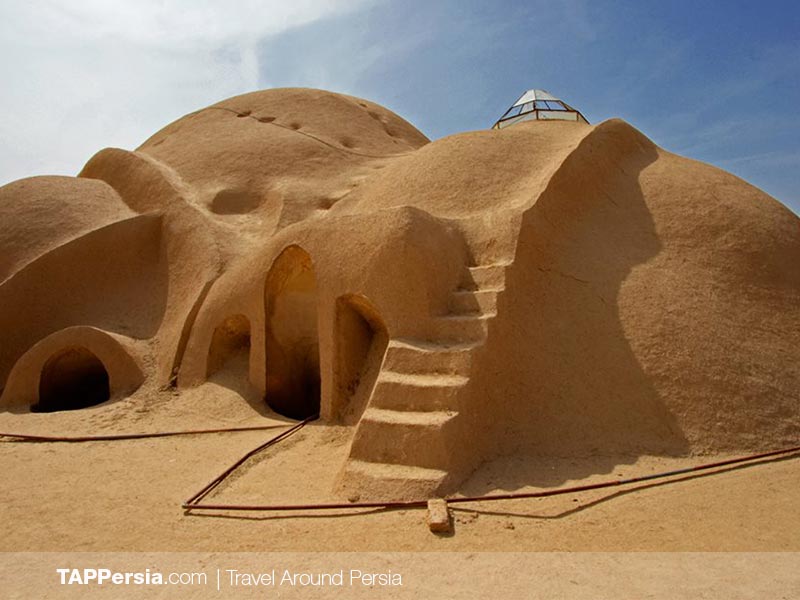 This bazaar had different meanings for people over the course of time. It has been mentioned by different authors, journalists, merchants, and travelers.
Majd-ol- Din Mohammad Hoseini, the author of "Zinat-ol Majales", describes the bazaar this way:
There is no bazaar like Kashan Bazaar in the entire world!
Jean Baptiste Tavernier, a French merchant, puts it this way:
Bazaar of Kashan with a big and comfortable caravanserai is extremely beautiful.
Professor Edward Brown:
Coppersmith (Bazar-e Megarha) section in Kashan Bazaar is one of the most spectacular places of the orient.
What Souvenirs are Awaiting you in Kashan Bazaar?
Well, do not forget to buy souvenirs for your loved ones when visiting Kashan. Bazaar offers a variety of authentic options for you to buy as a souvenir. Kashan Bazaar has sweets, herbal drinks, and high- quality rosewater which you should try. The Coppersmith Rasteh (Copper Line) is the source of original and local copper products. If you are more of an artistic person, you can find vases, jewelry boxes, and carpets in the bazaar as well. You will find the well-known Mohtasham Kashani Carpet in this bazaar and thanks to its delicate weaving, you can enjoy the very little details on this carpet. In case you are looking for fresh spices, dried fruits, and nuts, the bazaar is the best place to find the best kind of them. Note that the old spice mill in the bazaar is still operating(Kashan tourist Attractions).
When to Visit Bazaar of Kashan?
Since Kashan is located in a desert, spring and autumn are more suitable seasons to go to Kashan. The bazaar is not the only wonder of the city to visit; Tabataiie House, Ameri Traditional House, Tape Sialk, Abbasi House, Puppet Museum, and Aqa Bozorg Jame Mosque are some of the places you must visit while traveling to Kashan. Bear in mind that the bazaar is open from 9 a.m to 5-8 p.m.
We hope, you enjoyed this article. In case you have any questions or have visited this bazaar, we would be happy to hear your ideas and questions in the comments below.
---
Recommended Tours