Beside many historic buildings and houses located in Kashan City, there is another feature that visitors must know about it. Kashan is famous for "Gulab" in the whole country. Gulab is Rosewater extraction. In Kashan, most of the Gulab is produced by a traditional method that provides a very high quality of rose water. Rosewater is also produced in the industrial form in other parts of the country.
When Is the Best Time For "Gulabgiri" or Kashan Rosewater Extraction Process?
Rosewater extraction happens annually at the beginning of May which is mid of" Ordibehesht" – the second month of spring in the Persian calendar. It's being held for about one month. This is the time when many people from the entire country come to Kashan city. They are excited to watch the traditional method of rosewater extraction.
Traditional Method in Producing Kashan Rosewater
Kashan Rosewater extraction process can happen in an ordinary way or it can be little specific. Normally People use a big pot for this purpose. There is a need for some amount of water and rose petals to be mixed together. Although according to the degree of Rosewater's strongness this rate of water and petals can vary. They are mixed together in the pot.
The mixture in the pot is then heated. Some of the pots are big enough to boil 30 kg rose petals plus 30 kg water in one go.  The big pots are connected to other pots through some metal tubes. These tubes are mounted on the pot's lid. The steam produced out of the mixture in the pot travels into another pot through tubes, which are connected to the cold water. This way Rosewater condensation takes place. Finally, they collect this rose water as" Gulab". In this method, an ordinary Gulab is produced.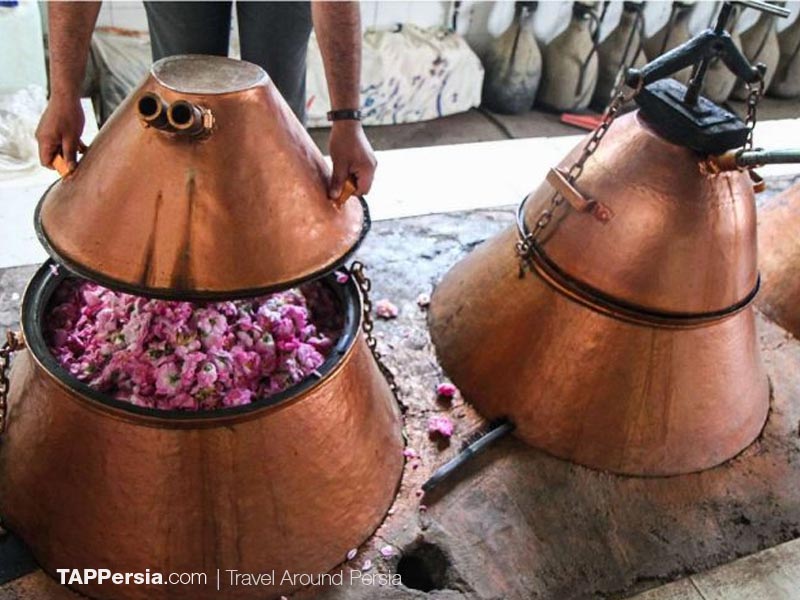 What Is "Gulab-E Doatishe" Or Two Fire Kashan Rosewater
The same process for producing Rosewater can be repeated for two rounds. It makes the highest quality possible. In the process of the first round, there's a combination of petals and rose water in the pot, just like the ordinary Gulab. However, the only difference is in the second round, when they add rose water extraction instead of water to the rose petals.
Again, rose water condensation happens, consequently, it makes a pure & strong Rosewater. "Gulab-e Doatishe" label on the product, reflects the high-quality of Rosewater. The other point to recognize this kind of rose water is that they are kept in big glass bottles. Normally in every shop, one can see a plastic bottle. The third key to recognize the Kashan Rosewater high quality is the taste.  The bitter Gulab is, the stronger it is.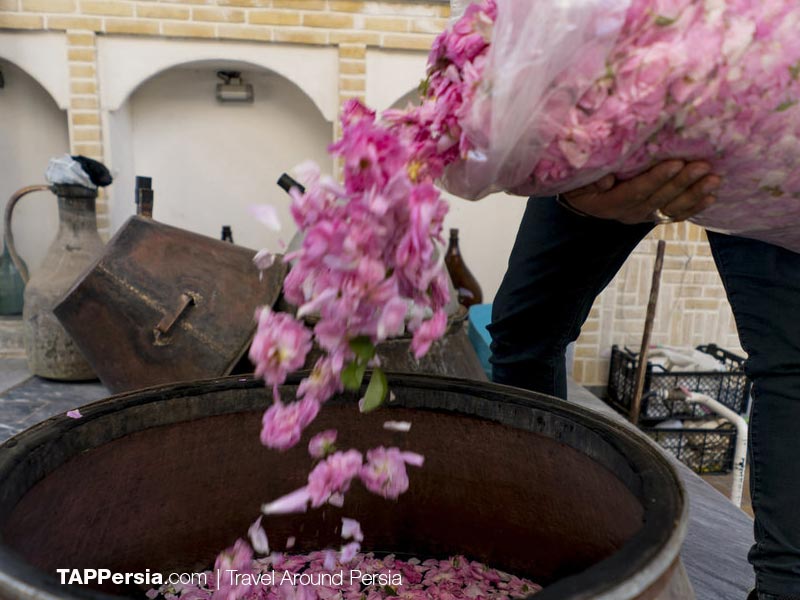 Different Uses of Rose Water
The Rose flower has a very nice smell and Rosewater also has the same aroma. It has various edible and medical applications. In Iran, people use it in the cooking field. For example, they use Gulab for cooking rice, or it may be used in combination with other ingredients too. Rosewater has a warm nature. According to traditional medicine, it is a good sedative and one can drink it for having a good sleep. Women use if for having bright skin as well as it is useful for removing the skin rashes. In Kashan, other kinds of herbal essences are also produced. These days there is an increasing tendency of traditional medicine applications. So, people look for herbal treatment products. Kashan's herbal essences are welcomed by many people in the whole country.