There are two common types of visas that you can receive: the Tourist Visa and the Visa on Arrival (VOA). You can apply for your Tourist Visa at one of Iran's embassies and consulates, online through the e-visa website, or with the help of TAP Persia VIP Visa Services. The Visa on Arrival can be obtained on the spot at the visa counter at the airport. To speed up the visa on arrival process and to guarantee a successful application, you can apply for an Iran visa authorisation code through TAP Persia VIP Visa Services before you arrive at the airport.
Should you apply for the Tourist Visa or Visa on Arrival (VOA)?
Applying for a Tourist Visa requires you to handle the paperwork and payment for the visa before your trip. After a successful application, you should drop by your chosen embassy/consulate to pick up your Iran visa sticker. If you apply through TAP Persia, you may even collect your visa sticker at any one of the airports in Iran. With a Tourist Visa ready, you can have a smooth entry into Iran without any worry.
If you apply for a Visa on Arrival at the airport, you get to avoid any pre-trip hassle, but you'll need to submit your visa application and make the payment at the airport itself. Depending on the queue, you might have to wait up to two hours before your visa is ready.
You can get your Iran visa through 4 different means
Getting your visa is now easier than ever. With a few pieces of informations, you can complete your visa application and be on your way to explore the mystical, ancient and beautifully colorful land of Iran. No wait time for visa processing, no hassle at the airport, no questions from the authorities. Even citizens of the US, UK and Canada are eligible for an Iranian tourist visa.
| | |
| --- | --- |
| US, UK & Canada (Land or Airport Entry) | 60 Euros |
| Airport Entry | 30 Euros |
| Land Entry | 20 Euros |
NOTE: Those who already have insurance
If you do not wish to purchase your insurance at the airport, you must have the Terms & Conditions of your valid insurance plan available for inspection by the immigration officials.
Your insurance must explicitly have the phrase "Iran" or "Islamic Republic of Iran" or "I.R. Iran" or any other combination of these three phrases EXACTLY written inside the Terms & Conditions under countries in which this insurance plan is active available.
NOTE: Travellers entering through one of Iran's land border crossings
If you plan to pick up your Visa Sticker at one of Iran's many embassies or consulates before you arrival at Iran's land border crossings, you MUST have your authorization code in your hand when you visit the embassy or consulate.
If you arrive at the embassy wishing to fill out your documents at the embassy  before you arrive in Iran, the embassy may deny your application.
You must apply through either:
The Iranian embassy or consulate in your native country and receive your authorization code from them.
TAP Persia VIP Visa Services and receive your authorization code by email before your Visa Sticker pick up
Note: Citizens of Afghanistan and Bangladesh MUST apply via embassy/consulate
Unfortunately, citizens of Afghanistan and Bangladesh wishing to get a tourist visa must complete their applications IN PERSON at the Iranian embassy or consulate in their native country.
Visual Policy of Iran Visa – Map Demonstration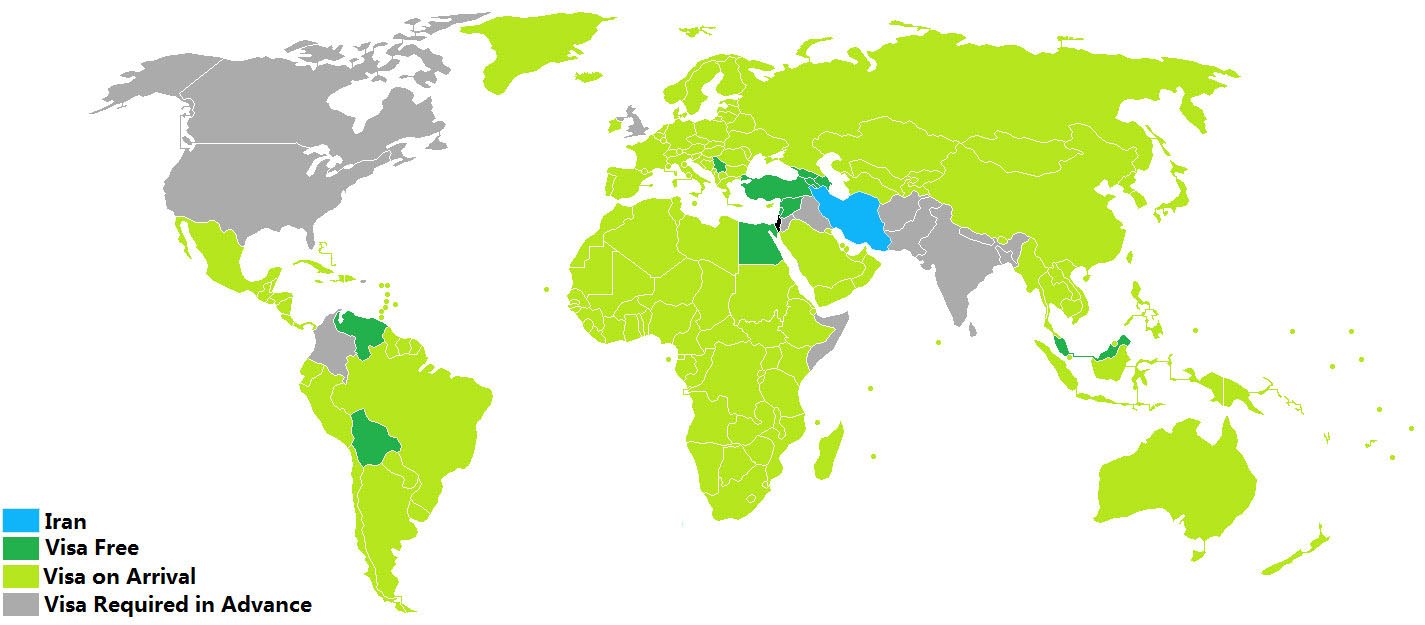 Entry points that issue visa on arrival (Effective 2018)
Bandar Abbas International Airport
Imam Khomeini International Airport
Isfahan International Airport
Kerman Airport
Kish International Airport
Mashhad International Airport
Qeshm international Airport
Shiraz International Airport
Tabriz International Airport
Urmia Airport
Documents required for Iran Visa on Arrival (VOA)
A high quality copy of your passport
2 passport photos
Resume  (US, UK and Canada ONLY)
Complete travel itinerary & schedule (US, UK and Canada ONLY)
Citizens of the following 11 countries can visit Iran without a visa (Excluded Citizenship/Visa Free)
Armenia    90-180 days
Azerbaijan 30 days
Bolivia       30 days
Egypt        20 days
Georgia     45 days
Venezuela  15 days
Lebanon      30 days
Malaysia      15 days
Serbia         30 – 365 days
Syria           90 – 180 days
Turkey        90 days
Citizens of the following 14 countries can NOT get a visa on arrival and should get one before travelling
Afghanistan
Bangladesh
Canada
Colombia
India
Iraq
Jordan
Nepal
Pakistan
Somalia
Sri Lanka
United Kingdom
United States
Yemen
Citizens of these countries should check with their nearest Iranian embassy or consulate in order to make prior arrangements before travelling to Iran. To find your nearest embassy or consulate, please click here.
Kish island: No visa required
All tourists, except citizens of Afghanistan, Bangladesh, Canada, Colombia, India, Iraq, Jordan, Nepal, Pakistan, Somalia, Sri Lanka, the United Kingdom, the United States, and Yeman may stay on Kish Island and Qeshm Island for 14 days or less without obtaining any visa.
Upon their entrance at Kish International Airport, foreign nationals merely need to present their valid passport. You may be asked about the purpose of your visit. Please make sure to bring all verification paperwork, hotel reservations, etc. in case the customs officer makes any further inquiries. After your photograph and fingerprints are taken by officials, your passport will be stamped and you are free to explore Kish island's numerous attractions for up to 14 days.
Travelers from the US, UK, Canada and Israel
Due to political constraints, British, Canadian and American citizens are required to be escorted by a government approved guide at all times. Independent travel for these citizens has been banned.
Holders of passports or travel documents containing a visa/stamp from Israel up to 12 months prior to their application are not eligible for any form of Iranian visa.
Required fees for Iran Visa on Arrival
| | | | |
| --- | --- | --- | --- |
| Fee (Euros) | Country | Fee (Euros) | Country |
| 10 | Armenia, Bahrain, Malaysia (+15 days) | 70 | Argentina, Mongolia, Moldova, Russia, Uzbekistan, Zambia |
| 25 | Belarus | 75 | Austria, Belgium, Bulgaria, Cuba, Cyprus Island, Czech Republic, Denmark, Estonia, Finland, France, Gabon, Germany, Ghana, Greece,  Guinea, Hungary, Ireland, Italy, Latvia, Lithuania, Luxembourg, Malta, Netherland, Norway,  Oman, Poland, Portugal, Romania, Singapore, Slovakia, Slovenia, Spain, Sweden, Switzerland, Thailand, Qatar |
| 30 | Algeria, Bhutan, Egypt (+20 days), Libya, Morocco, Saudi Arabia, Tajikistan | 80 | Brazil, Hong Kong, South Africa, Ukraine |
| 40 | Ecuador, Eritrea, Nepal, Sri Lanka, Yemen | 85 | Serbia |
| 45 | Indonesia, Kyrgyzstan, Mexico, Niger, Palestine, Tunisia,  Venezuela, Zimbabwe, | 100 | Chad, China, Emirates, Taiwan, Uganda, Vietnam |
| 50 | Bosnia & Herzegovina, Croatia, Kazakhstan, North Korea, Macedonia Paraguay, Senegal, South Korea | 120 | Chile, Sierra Leone |
| 55 | Fiji, Nigeria, Panama,  Philippines | 145 | Australia |
| 60 | Cameroon, El Salvador, Guyana, Japan, Kenya, Kuwait, Madagascar, Malawi, Turkmenistan | 150 | New Zealand |
These prices are not always fixed. Please call your closest Iranian embassy or consulate for more specific information.
Travellers from Albania, Brunei, Netherlands, Peru, and Yugoslavia please check with us about finding out about your country's visa fee.
What will increase my chances of rejection?
Submitting your application at the airport
Not observing islamic dress code
Any Israeli stamp on your passport within the past 12 months
Do I need to submit a resume?
Only visitors from the US, UK and Canada must submit a detailed resume
How long does visa processing take?
No more than 2 weeks (US, UK and Canada 5-6 weeks)
Where can I get my Visa On Arrival (VOA)?
You can only get your VOA at one of the airports on this list.
Which countries are qualified for Iran's Visa On Arrival (VOA)?
Please check the following page to see who is and is not eligable for Iran's VOA program
How long do I have to travel to Iran once my Iran Visa Sticker is issued?
Once your Iran Visa has been issued, you have 3 months to pick up and travel to Iran.
When I first trying to found out about Iran VOA process in Imam Khomeini International Airport (IKIA) Tehran, I assume that it will be simple 4 step process, go get the form from the visa counter and then fill it, buy insurance, pay the visa, and then submit it back to the visa counter and wait. Yes, that indeed was the process. But no one told (or write) that actually there is no queuing line and passengers just swarming around the counter. A little bit chaotic.
Anyway, this is my note and a drawing about my experience getting Iran VOA. It might help other travelers. Or not. (I need to put a disclaimer because that was my first and only experience, so I don't know if the absence of proper queuing line was a common practice or just only happened on that particular night I arrived).
Ok, take a look at my drawing. There are 4 steps you will go through: VOA counter, insurance counter, bank, and finally – of course – passport control.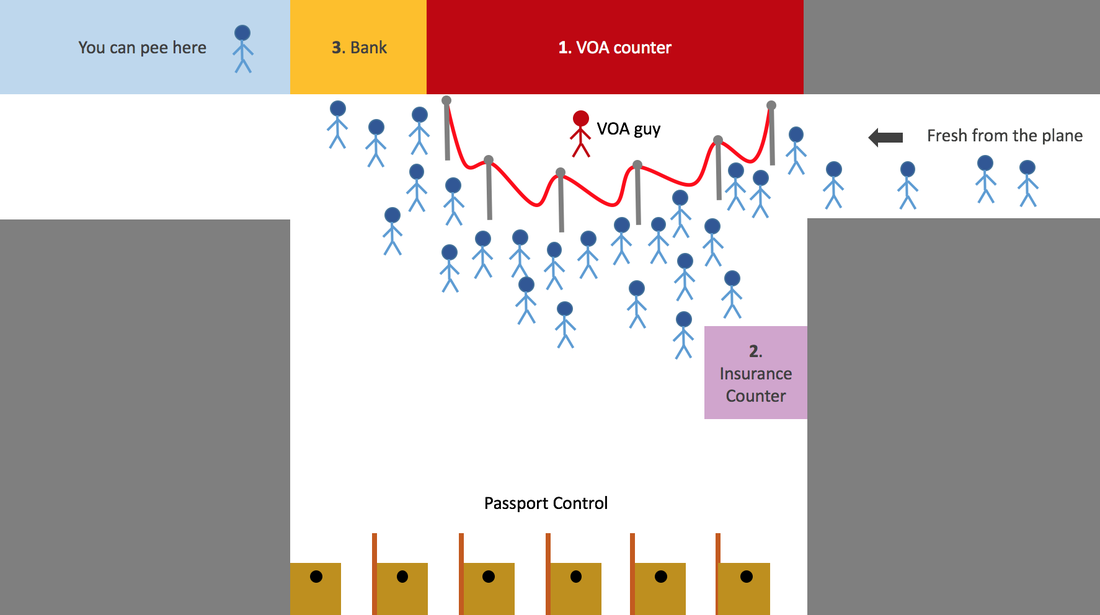 Step 1
Depends on whether you got off first or last from the plane, there will be lots of people gather in front of VOA counter behind the queuing pole. All you need to do is getting as close as you can to the 'VOA guy' to get his attention – raise your hand if needed – and tell him your nationality. (I screamed: Indonesia). Then the VOA guy asks you 'EUR or USD?' He is asking you what currency you will pay the visa fee in. I said EUR. Then he will do some writing in a scrap of paper '45' and give it to you. So the visa fee for Indonesian nationality paid in EUR would be EUR 45. Bear in mind that it will be different depends on your nationality and currency used).
With that handwritten note he will also give you the visa form. It's very simple with just a few to fill: first name, surname, father's name, passport number, address and phone number of place you will be staying at least for your first night. (You need to have proven document of this because many said sometimes they do random check by calling the address. Printed confirmation email from your hotel as a proof is enough).
Step 2
Go and buy travel insurance (USD 16 on October 2017).
Step 3
Pay the visa fee in bank. The bank teller will check your passport to ensure your nationality. You will sign and have carbon copy of visa payment slip.
Step 4
Go to the visa guy again, hands him your document (passport, completed visa form, and copy of visa payment slip). Actually he will only take a quick look of your insurance.
That's it. Then you wait. When your passport is ready, he will shout your surname or nationality. All of this process took 1 hour of my time. I was arrived at 11 PM and my passport with newly minted Iran visa was given back to me at 00.20 AM. There were around 30 people getting the VOA at that time, not too bad actually.
Finally, you go to the passport control as usual.
Final thought, Iran VOA process is simple. But the absence of queuing line and sudden arrival of passengers try to get the visa at the same time could be overwhelming and make you confused.
Final Note
Step 1 and step 2 can be interchangeable. But you can't do step 3 before you get confirmation from the visa guy the exact amount of your visa fee you have to pay (that handwritten notes in scrap of paper is really important).