Travelers entering Iran after June 1st, 2022 will only need a negative PCR test (within 72 hrs) OR two doses of a vaccine (at least 2 weeks have passed since receiving the second dose). You do not need both.
Getting an Iran visa is not a hard thing to do anymore, you can easily fill in the online Iran visa application form here, pay the service fees, and collect your visa within 3 days.
But one of the biggest questions of travelers coming to Iran is their Iran visa duration. Keep on reading to see some of the most asked questions about Iran visa and its duration.
How Long Can I Stay in Iran With an Iran Visa?
The moment you receive your authorization code and your visa has been approved, you can stay in Iran for 45 days now due to new laws. Before you could only stay in Iran for 30 days but now you can enjoy the wonders of Iran for 15 days more.
Can I Extend my Iran Visa?
The answer is yes, of course! You can extend your visa 2 times. However, you should note that the approval of your visa extension depends on two factors: the reason you want to extend your visa and the officer's opinion of the Immigration & Passport Police Head Office. The reasons for your Iran visa extension can include having a host, emergency reasons, medical causes, or any other reason that is convincing enough. If your extension was approved it may be between 30 to 45 days.
You should keep in mind that tourist visa duration is based on the traveler's demand on the application. Make sure to check the number of days with your travel agency. In addition, it's better to extend your visa in 2 different cities.
Where Can I Extend My Iran Visa Duration?
You can extend your visa in Tehran, Mashhad, Isfahan, Shiraz, Tabriz, Rasht, Bandar Abbas, and Yazd at the Immigration & Passport Police Head Office. It is best to extend your visa in less populated cities including Yazd and Bandar Abbas.
Before extending your visa, make sure to do it 1 or 2 days before the expiry date and check the calendar for the possible holidays to avoid any possible problems.
If you are applying for different types of  Iran visa including business, medical, and others, you will get the exact days as it is mentioned in their visa and it may not be possible to extend your visa; unless they can prove that they need to stay longer and the immigration will decide to approve the extension or not.
You can contact our operation team for more information about different types of visa and their duration.
You can read more about extending your visa on Iran Visa extension page, or you can easily contact our 24/7 operation team to help you out.
Requirements for Extending Your Iran Visa Duration
In order to have your visa extended, you should present the following documents to the office:
Your passport
Two passport-size photos (women need to have a head-scarf)
Your current visa document
Payment with Iran debit card if possible. Otherwise, you should pay the visa extension fee at a bank.
Period Validity of Iran Visa
Your Iran Visa will be issued with the validity of 3 months, meaning that once your Iran Visa has been issued, you have 3 months to enter the country.
This is only if you choose one of the Iran international airports as the place of visa issue.
In the other case, if you choose an Iranian embassy or consulate, you'll have to collect your visa within 30 days. However, you have 90 days to come to Iran from the moment you collect your visa.
Place of Issue of Visa – Where Can I Collect my Iran Visa
If you are entering through air borders and want to pick up your visa from one of the international airports of Iran, you have 90 days to pick up your visa after receiving the visa authorization code.
But if you are collecting your visa through an Iranian embassy you have only 30 days to collect your visa.
How Can I Enter Iran? – The main entrance gateways of Iran
Iran has many international airports where you can enter Iran. All you have to do is to book your flight and choose your desired gateway. However, it is best to enter Iran through IKA to avoid any problems.
It is the main national airport in Iran and almost all international flights land at this airport.
Imam Khomeini International Airport
Isfahan International Airport
Shiraz International Airport
Tabriz International Airport
Mashhad International Airport
Kish International Airport
Dayrestan Airport Oroumieh Tabriz International Airport
Bandar Abbas International Airport
Behshahr International Airport
Coming to Iran with Private Vehicle
Travelers coming to Iran by their own vehicle or bicycle, hitchhikers, and campers need to provide a day by day itinerary.
This is only in order to ensure safety and provide rapid assistance in cases of theft, assault, or accidents. This has been set by the Iranian Ministry of Foreign Affairs for Tourist Visa applicants.
Based on your travel plan and the routes you have in your mind you need to provide a day-by-day itinerary for all your safety reasons.
You should give this itinerary to the travel agency that is applying for your visa. It can be changed while you are traveling of course, but you'll need to update the travel agency as you are traveling.
If you are only Driving in Iran and have applied for a transit visa, your visa duration is only 7 days.

Which Countries Can Apply for a Visa on Arrival (VOA)?
The citizens of the listed countries are eligible for visa on arrival:
Armenia
Argentina
Australia
Austria
Belarus
Belgium
Brazil
Bulgaria
Brunei
China
Croatia
Cyprus
Denmark
Finland
France
Georgia
Germany
Greece
Hungary
Hong Kong
Ireland
Iraq (Only if they are traveling air borders)
Italy
India
Indonesia
Japan
Kazakhstan
Kyrgyzstan
Kuwait
Lebanon
Luxembourg
Malaysia
Mexico
New Zealand
Netherlands
North Korea
Norway
Oman
Poland
Portugal
Palestine
Qatar
Romania
Russia
Republic of Azerbaijan
South Korea
Spain
Sweden
Switzerland
Slovenia
Singapore
Syria (Only if they take direct flight from Syria)
Switzerland
South Korea
Taiwan
Thailand
Turkmenistan
Ukraine
United Arab Emirates
Venezuela
Vietnam
The listed countries are eligible to obtain Iran visa upon their arrival at the Iranian airports. You can apply for a VOA when you land in Iran. VOA is not available at the land borders of Iran.
However, to travel at ease and enjoy the best of your adventures trip to Iran, it is best to contact a travel agency to apply for your visa in advance. It is a guaranteed way of entering Iran and you wouldn't face any possible problems.
What is worth mentioning is that VOA is not available at the moment due to Covid and travel restrictions. So you have to apply through the E-visa website or through a travel agency.
If you travel to Iran without your visa approval, it is highly possible that you'll be rejected and you may not be able to enter the country.
If you want to have a faster process and want to be able to track your application process, you should apply for your visa through a travel agency like TAP Persia.

Different types of Iran visa
There are various types of visas that are fully explained below. Check them out and see which type works for you the best and apply for your visa to visit Iran as soon as possible.
Tourist Visa: The most common type of visa for people who want to enter Iran simply for tourism purposes.
Pilgrimage Visa: All the foreign Muslims all around the world who are willing to visit the religious holy sites are eligible for this type of visa.
Entry Visa: This type of Iran visa is applicable for those foreign citizens who have an invitation letter from family, ministries, governmental organizations, or private and public sectors for the purpose of work, or visiting family and friends.
Student Visa: All foreign students, professors, scholars, and researchers are eligible to apply for this type of visa(Iran student visa). Applicants will need a Certificate of Eligibility for Nonimmigrant Student Status from the science ministry, education ministry, or an accredited academic institution
Work Visa: Skilled workers, doctors, engineers, and generally all specialists in different fields can apply for this visa. As the name suggests these travelers are traveling for temporary work and to share their skills with Iranians.
Transit Visa: This kind of visa allows foreign citizens to pass through Iran with no purpose of staying. Merchants and transporters are mostly the people who apply for this type of visa. Travelers will need a visa for the final destination or other proof of onward travel.
Marital Visa: This type of visa is eligible for those families who have different nationalities. If your husband or wife is Iranian, you can apply for this type of visa. This also works for the children of such families.
Media Visa: All members of the media including radio workers, press reporters, cameramen or photographers, cinema and television directors, actors, and producers who are traveling to Iran as a part of their job can apply for this kind of visa(Iran press visa). Applicants need a permit from the Media & Public Diplomacy center.
Medical Visa: This special type of Iran visa (Iran medical visa)is for those foreign citizens who are traveling to Iran for medical purposes.
What Do I Need to Apply for an Iran Visa?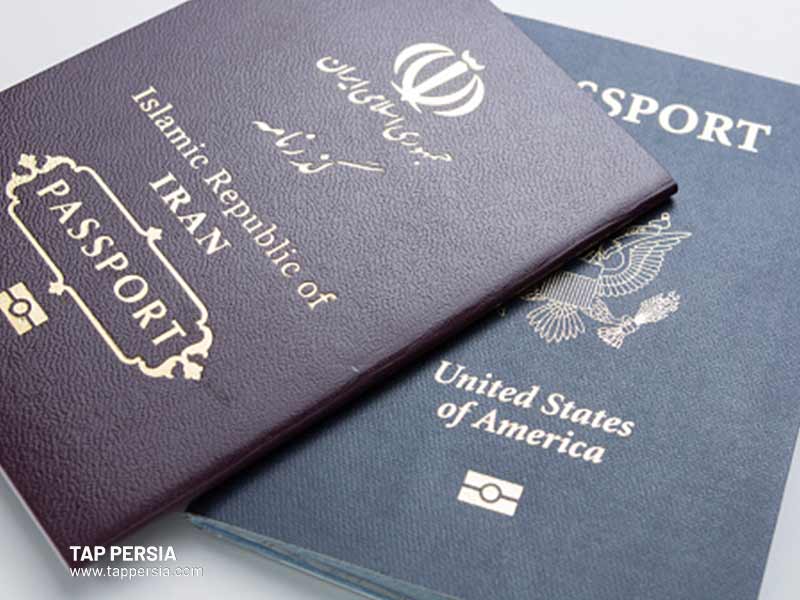 In order to apply for your Iran visa, some documents are needed including your passport, an electronic copy of the first page of your passport, one passport-type picture, and a travel itinerary. This may differ due to the type of visa you are applying for.
Make sure to ask the operation team of the travel agency which is applying for your visa for more information.
Iran Visa for the UK, US, and Canadian Citizens
Citizens of the UK, US, and Canadian citizens must apply through a travel agency and cannot apply for an Iran E-visa individually. Another point worth mentioning is that they must have a tour guide with them to pick them up and accompany them during their trip.
You can read more about the laws of these citizens traveling to Iran here(iran-tours-visa-us-uk-canadian).
Free Trade Zones of Iran – No Visa Needed
You can visit the free trade zones of Iran and stay there for 14 days without an Iran visa. These are the free trade zones of Iran:
Kish Island
Qeshm Island
Arvand Free Zone
Aras Free Zone
Chabahar Free Trade Industrial Zone
Maku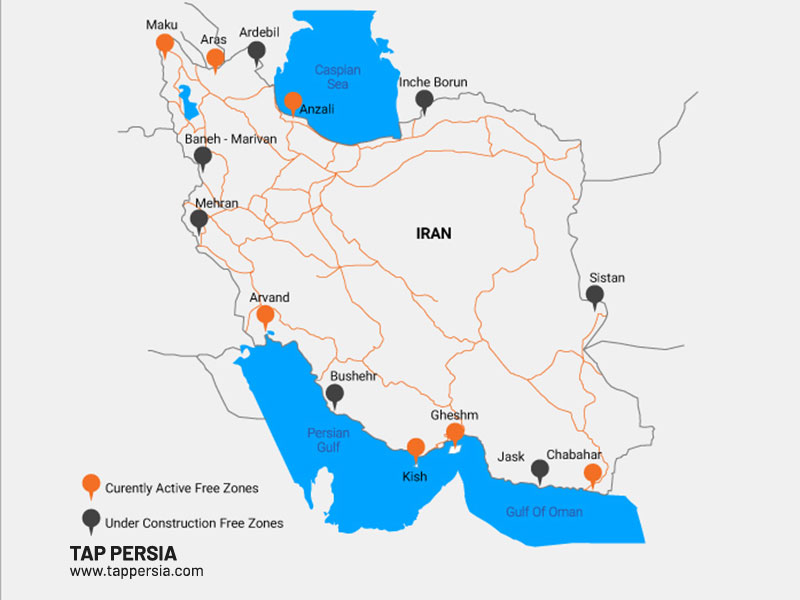 Hope you have found the answer to all your questions concerning the Iran visa and its duration. If you have more questions to ask or you have any problems while applying for your visa, feel free to ask in the comments or contact our operation team. They will be more than happy to help you out.