Providing an identifying picture of the applicant is a requirement for Iran visa approval. There are thus a number of particular rules that must be observed. The Photo Requirements for Iran Visa are explained in detail in the following guide, along with instructions on how to take a photo that satisfies the requirements. Additionally, it explains the requirements for the size of the passport photo for Iranian visa applicants, which they must be aware of before taking and submitting their application.
Understanding the Importance of Visa Photos
As part of their visa applications, applicants are frequently required to submit passport images to nations all around the world. Along with their passports or other forms of identification, this is utilized to assist in passenger identification. It is crucial to take this step in order to prevent identity fraud among visitors to Iran and to ensure that only those who are legitimately authorized to enter the country are allowed to do so. Some crucial considerations are listed below:
Making a Strong First Impression
Every time we connect, our outside appearance conveys a strong statement about who we are. And you undoubtedly want that message to be one of seriousness and professionalism in the photograph you submit with your visa application. Choose professional apparel, such as a well-groomed suit for males and a formal dress, suit or a blouse and business-style trousers for ladies. Make a good one—first impressions have so much power!
Avoiding Delays and Rejections
In order to avoid any delays and rejections, make sure you submit your visa photograph based on the rules and regulations. The following list of crucial factors to take into account will help you avoid rejection:
Use a high-quality camera: A high-quality camera may guarantee that the shot is clean and crisp, which can lower the likelihood of rejection.
Check the size and dimensions: Verify the photo's dimensions and size to ensure that it complies with TAP Persia's specifications.
Submit the proper number of images. Verify how many photos are needed for your particular visa application and submit the exact amount.
Carefully comply with all guidance: To prevent making any mistakes, carefully read the instructions supplied by TAP Persia and adhere to them.
Verify twice before submitting: Verify that the photo satisfies all standards and is of high quality before submitting your application. By doing this, unneeded delays or rejections may be prevented.
Essential Photo Specifications for Iran Visa
Here are some essential photo specifications you must keep in mind before applying for an Iran visa application:
I: Size and Dimensions
Your passport copy must be rectangular with an image that is 800 by 600 pixels in size and your personal picture should be vertical and has a height that is not less than 600 pixels. Both images should be rectangular.
II: Background Color and Quality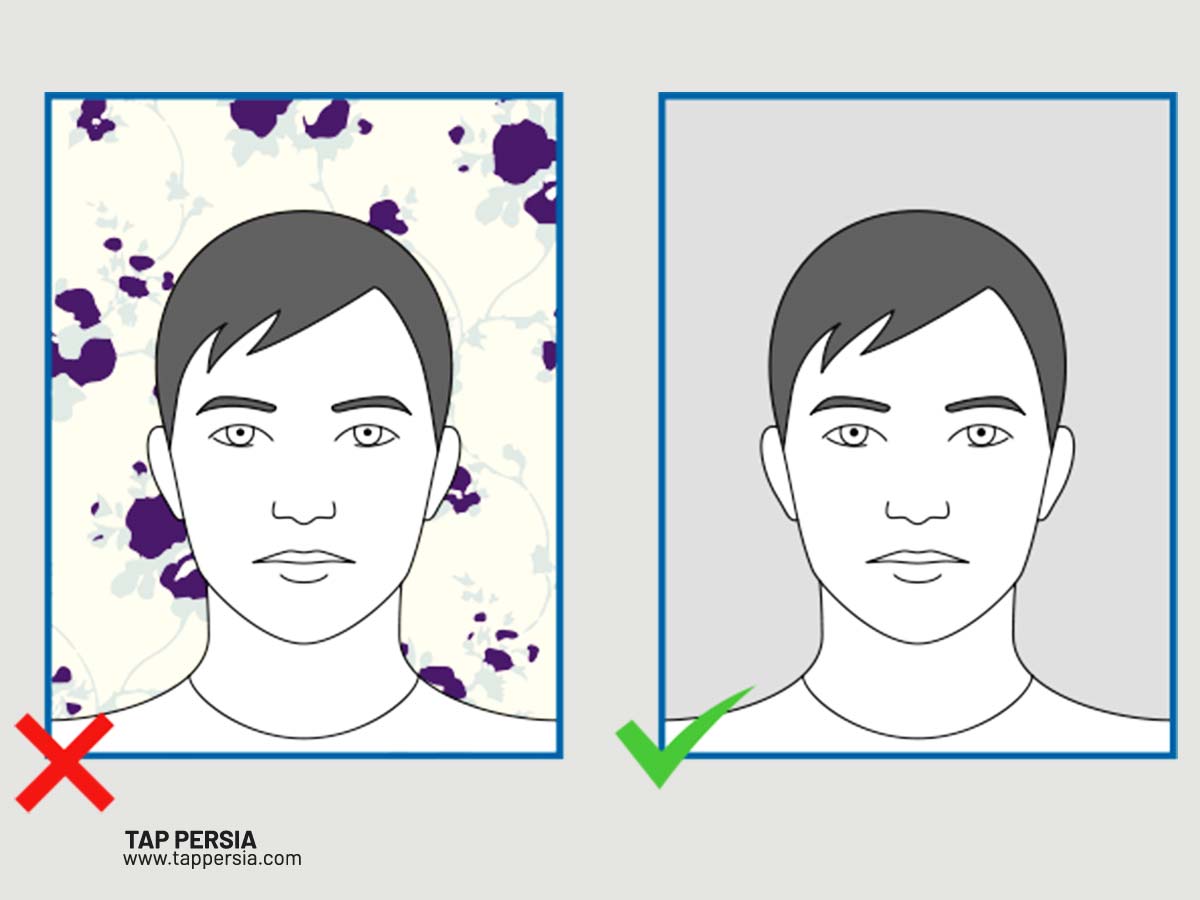 Your photo must be recent (shot within the previous six months), in color, with you wearing everyday attire, and against a white backdrop. It should also be sharp and under 240 KB in size.
III. Facial Expression and Head Position
You must have an expression that is neutral in the photo you submit with your passport or visa application. When snapping the photo, just relax your face and keep your head up straight. Thus, the best outcome is guaranteed.
IV. Glasses, Headgear, and Appearance
Always direct your gaze directly towards the camera when taking a photo. It's important to see your eyes. Nobody or anything can hide them. Make sure to remove any glasses you are wearing if their frames are too big. Your face shouldn't be touched by your hair.
Check to see whether the image is glare-free and if you can continue to use your glasses. Sunglasses and prescription eyeglasses with tinted lenses are inappropriate for photos for passports or visas. Also keep in mind that you must not wear any headgear such as hats, caps, helmets, etc.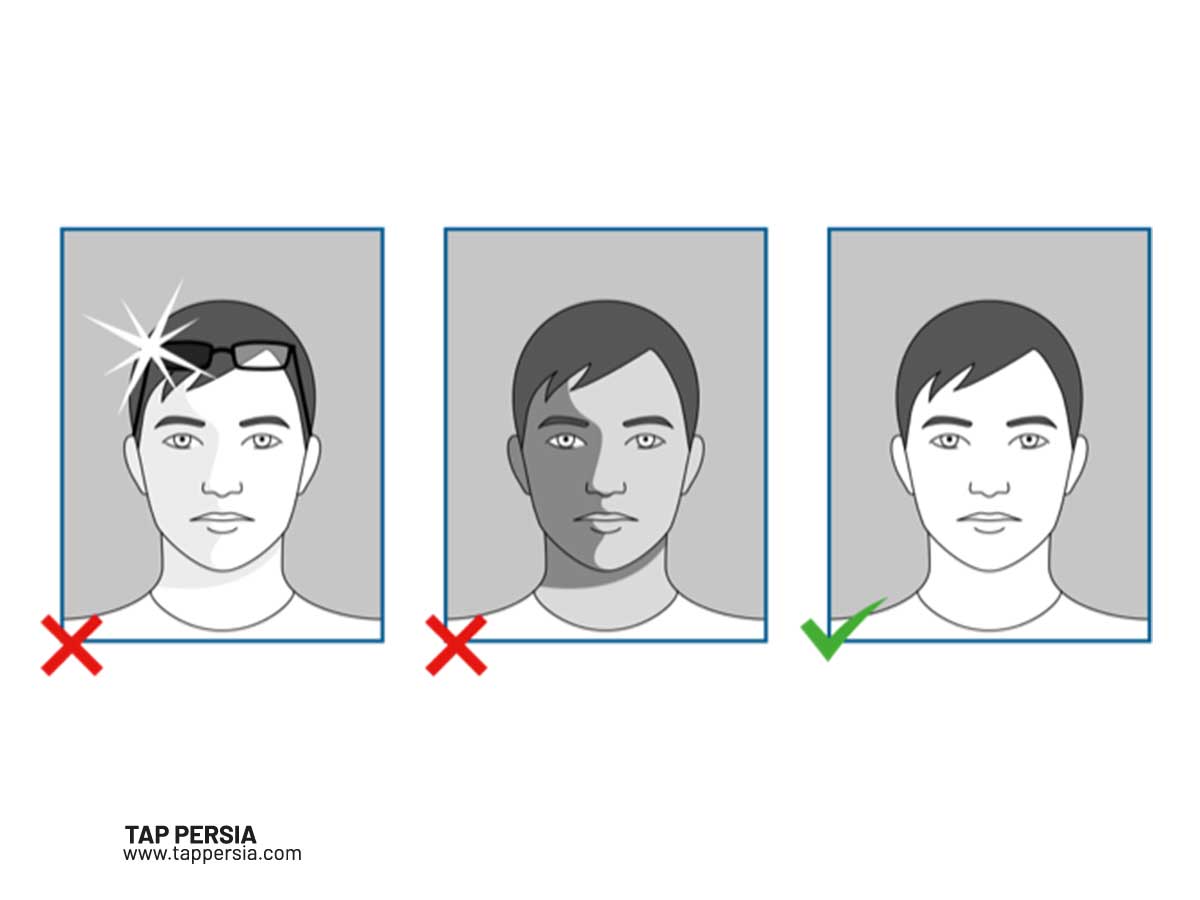 Your physical appearance is crucial. If your current appearance is not adequately depicted by your digital image or photo(s), even if it is not older than six months, the Iranian Consulate or Embassy will request that you provide an updated photo with your application.
Now keep in mind, if any of the following has occurred, the applicant must get a replacement photograph:
· Undergone a significant amount of weight loss or gain
· Added or removed several/large tattoos or facial piercings
· Experienced severe facial trauma or surgery
· Made a gender transition
You won't often need to submit a fresh photo if you are still able to be recognized in the one from your visa application. For instance, things like growing a beard or altering your hair color are not often considered major changes in appearance. Your youngster will often not be required to submit a new photo if their look has altered as a result of the natural aging process and they are under the age of 16. However, keep in mind that the decision as to whether or not to accept your photo or digital image rests with the Iranian embassy or consulate where you apply.
Step-by-Step Guide to Taking the Perfect Visa Photo
Your visa application must include your photo. Review the details listed below on how to submit a suitable photo to learn more:
1. Choose the Right Environment
The backdrop you must use for your photo must be a simple white background. Not only cannot it have any color, but it also cannot have any shadows or patterns. Just utilize one of your home's white walls as the backdrop; if you don't have one, hang a white sheet somewhere. The end outcome is the same.
2. Consider the Lighting
When taking your picture, use a light source that is right in front of you. As a result, your face won't have any shadows. Verify that the illumination is of the proper intensity, as well.
3.Check Your Appearance
You need to think about picking a look that works for your Iran visa photo, as was previously discussed. To avoid offending someone, refrain from wearing any accessories, and keep your hairdo, facial expression, and clothing neutral and appropriate.
4. Capture Your Photo
You may send the image to TAP Persia as soon as you are satisfied with it. To ensure that your photo is accepted, keep in mind that you must take it according to the size and dimensions specified. You may simply contribute an existing photo that has been scanned.
Common Mistakes to Avoid in Your Visa Photos
To make the application process a little easier, here are the most common visa application mistakes and how to avoid them: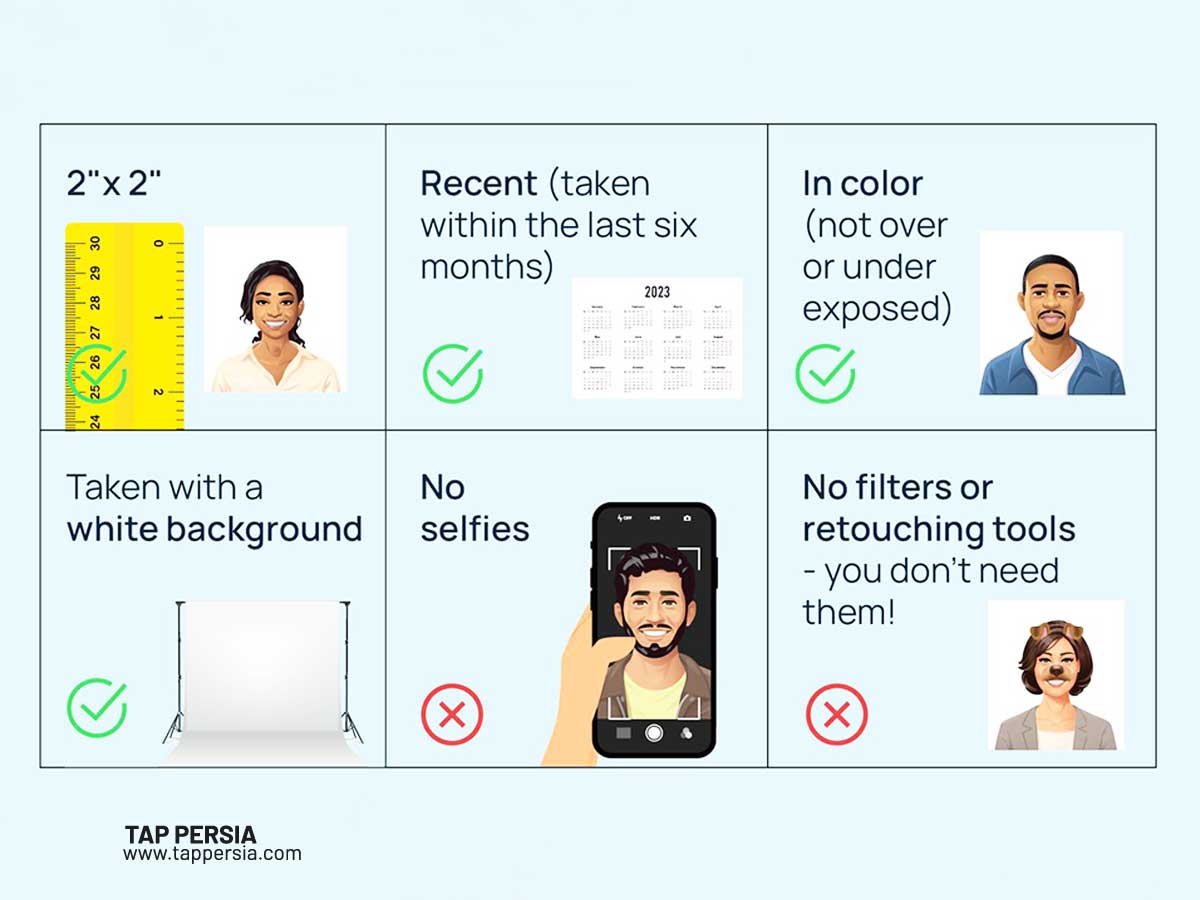 1. Using Old Photos
Since the authorities need to verify your credentials in person, old images cannot be provided. If you use outdated pictures, it's possible that you won't be able to identify yourself.
2. Incorrect Photo Size or Background
Frequently, applicants for visas must provide passport-size pictures. Typically, the application materials outline the precise specifications for the pictures. However, it is a very frequent error made by those applying for visas to submit erroneous passport images.
3. Over-editing or Using Filters
Over-editing the image is one error to avoid when taking a selfie from a passport photo. It might be tempting to use editing software to improve or change your look, but it's crucial to keep in mind that passport photographs must accurately capture your natural characteristics.
Filters, tweaks, and retouching done in excess can produce photos with erroneous representations and even cause the application process to reject the photo altogether. Choose little modification instead, concentrating on straightforward changes like brightness, contrast, and cropping to adhere to the essential standards.
By staying away from the pitfalls of over-editing, you can make sure that your converted selfie maintains its authenticity, credibility, and compliance with the rules necessary for a legitimate passport photo.
Inappropriate facial expressions or attire
The clothing shouldn't be completely white, patterned, or textured. Facial expressions, as mentioned earlier, must be neutral. You cannot squint, smile, or make any other expressions.
Additional Tips for Specific Groups
Here are some additional tips for specific groups that are important to keep in mind:
Photo Requirements for Children and Infants
The distinctions between a passport photo for an adult and a youngster are minimal. The only thing you need to be aware of is that it's fine for a child's head to occupy less space in the image than an adult's head. Children in the image must also have their eyes open. When you take the picture, make sure they are awake.
Do you wish to take a picture of your kid in a car seat? Many people do. Just be careful to drape a white layer over the chair's backrest. You must make sure the backdrop is white.
If you want to snap a photo of your baby lying down, don't forget to place a white sheet below the child to create a white backdrop.
Prior to snapping the photo, you must take the baby's pacifier, headgear, toy, etc. out.
The child is the only visible subject in the photograph. If you wish to hold your kid, keep in mind that not even your hands should be exposed.
Special Considerations for Religious Headwear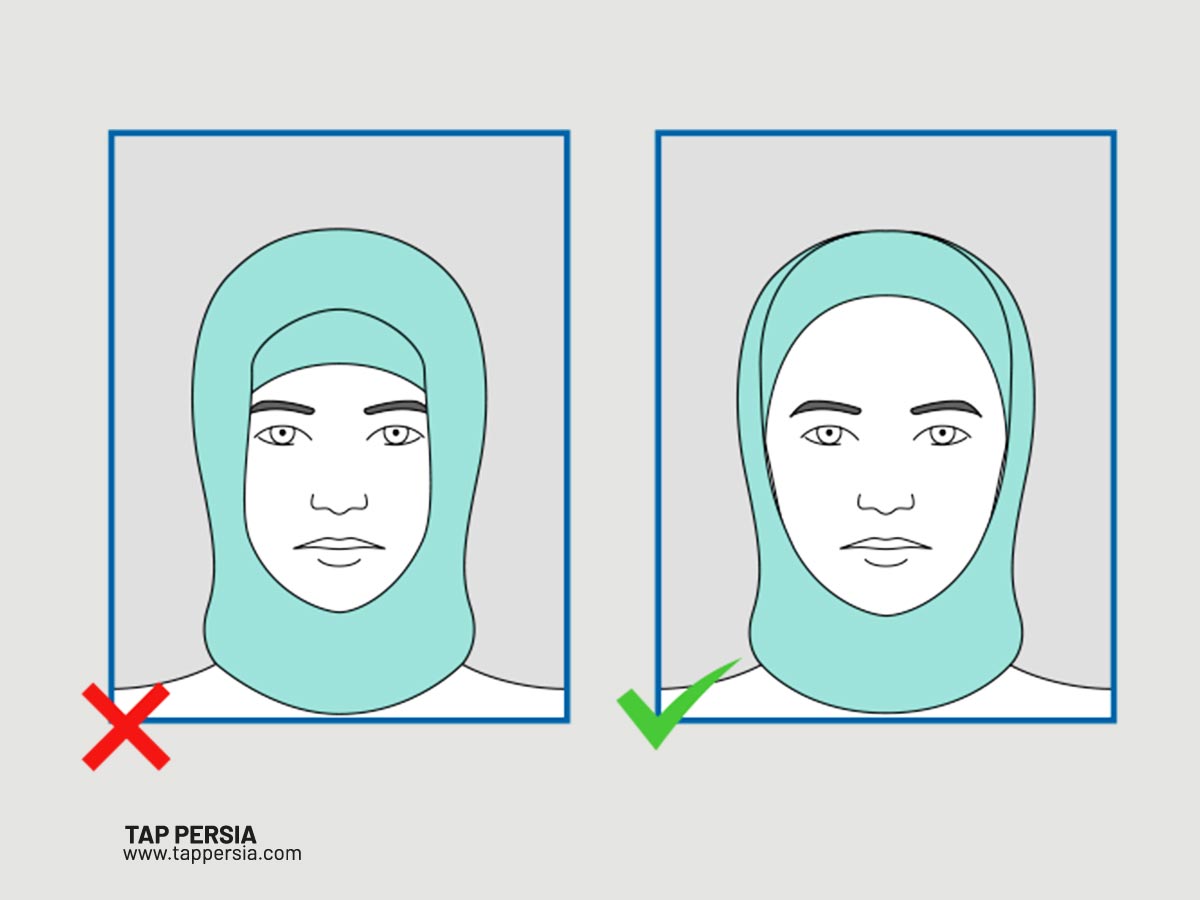 In a passport photo or visa photo, a head covering is permitted, but only for religious reasons. Make sure your entire face is visible in the photo, from the top of the forehead to the bottom of your jawline. Furthermore, your face cannot be obscured by your headwear. If not, your photo will be rejected.
How TAP Persia Can Assist in Your Iran Visa Application
TAP Persia is proud to be on the number one list of the Trip Advisor website and other traveling websites. You can check all the ratings and reviews to see how beloved our tour agency is among foreign tourists. Here is some information if you are eager to travel to Iran with the best tour operator you could find:
Providing Expert Guidance on Visa Requirements
If you want more information about visa requirements, make sure to ask your questions via online chat or WhatsApp. The TAP Persia team will thoroughly assist you with patience, 24/7.
Simplifying the Visa Application Process
We know that some information may be overwhelming for some people or might be hard to understand. That's why the TAP Persia team will always find ways to make your visa application and payment process simple and convenient. All you need to do is ask!
Offering Customized Travel Plans and Services
TAP Persia is a fascinating operator that provides amazing customized travel plans and services so that people around the world with different preferences and budgets can enjoy their adventurous trips the way they desire.
Conclusion
Getting a visa requires careful attention to the requirements for a visa photo wherever you go around the world. The same is also true for individuals who are eager to visit Iran. We at TAP Persia are your go-to Iranian Tour Company and travel agency for visa help and Iran tours. With our top-notch cultural, historical, and adventure excursions and services, uncover Iran's hidden beauties.
Experience Iran's breathtaking scenery and historic buildings with the help of TAP Persia, whose individualized approach ensures that each trip is catered to your unique interests and requirements. With the help of our knowledgeable guides, see Iran's top attractions at your own leisure and take advantage of the incredible warmth and hospitality of the Iranian people and their vibrant culture.
Frequently Asked Questions
Can I use a digital photo for my Iran visa application?
Yes, you may use a smartphone or a digital camera. You can even scan your photo and keep the file.
What do I do if my visa photo is rejected?
You shouldn't worry if your photo is rejected. You can take another photo based on the size and dimensions given and make sure you follow the guidelines so that your photo won't be rejected again.
What is the processing time for an Iran visa?
The tracking code that was given to you after your payment may be used to verify the status of your application. Normally, the procedure takes 3-5 business days (excluding Thursday and Friday), however, it may take up to 10 business days when there are widespread events.