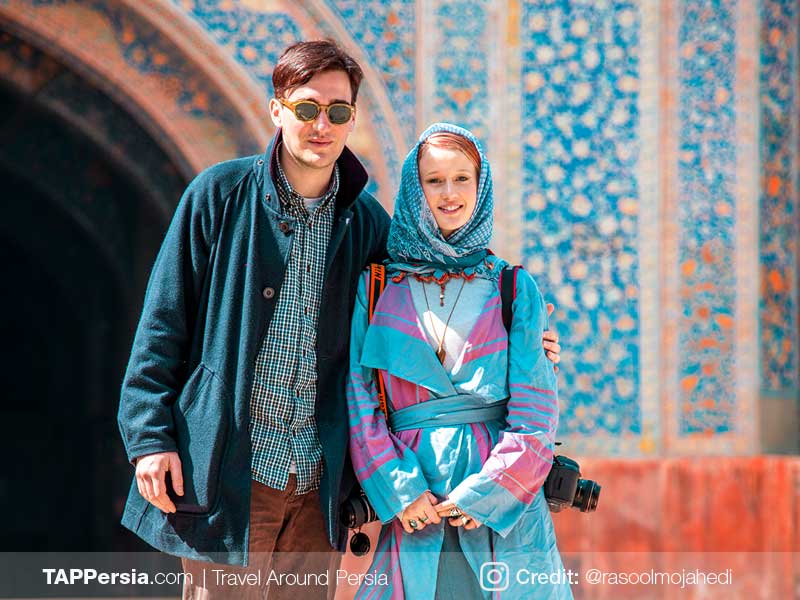 Iran has a strict dress code and this is one of the biggest concerns for female travelers to Iran. Most importantly – PACK A HEADSCARF IN YOUR HAND LUGGAGE. You MUST be wearing a scarf the moment you exit the plane and are officially in Iran.
You must wear a headscarf the entire time you are in Iran (except when in your hotel room) and loose clothing that covers your body. But – you don't have to wear a burka or anything that fully covers you. When you arrive you will soon see the reality is far removed from the stereotype. Iranian women are stylish and proud of their appearance – fashion being a means to stand out.
The 'Morality Police' you hear of exists in Iran but are not spending their time chasing down foreign visitors, so do not worry too much with that. If anything is wrong with your appearance, you will simply get a polite mention. Visitors have a bit more flexibility when it comes to the rules.
If your headscarf falls, don't worry – quickly put it back on again. You won't be in trouble for this, but just pay attention at all times. Wearing your hair in a high bun or ponytail helps keep the scarf properly. Many Iranian women wear it a little loose and half way back on their head, since showing a little hair is granted
Tops must be loose-fitting and three-quarter length sleeves are ok – a little more comfortable in the heat.
It is said that trousers must be baggy but some local women wear tight, brightly colored leggings. For tourists, leggings worn with a long, loose-fitting top are accepted. However, in the more conservative cities such as Isfahan, Mashhad and Qom, respect the values and revert back to looser fitting trousers.
Open toes sandals are fine. Pack some sports shoes for longer day-trips where you might be walking a lot (such as at the Persepolis). You'll soon see how sports shoes are fashionable in Iran, especially in bright colors!
Are you worried not to have enough appropriate attire? Fear not, as soon as you arrive in Tehran or any other cities (if you fly into there), hit the bazaars and the local markets and shop away. There's plenty to be sought out. You can simply stick with two outfits and alternately hand-wash them every night.
Entering mosques or some other holly places needs headscarf for women. For each place ask for the appropriate dress code, if you are confused.
For men it's more simple – you will be dressing much the same as you do in western countries, except no short shorts, no super short sleeves and no extreme tight-fitting clothing.
So don't wear shorts unless you're on the Caspian shores or on Kish Island enjoying the beach.
Tags:
Dress Coder
,
Iran
,
Iran Dresscode
,
Iran Hijab