Tehran's modern and well designed new breed of shopping malls, as well as roofed bazaars, make this city more than a merely chaotic jumble of concrete. As the most secular and liberal city in Iran, Tehran blows your mind with more than 400 shopping centers where you can find not only plenty of trendy local jewelry but also best selling clothing brands in the world!
Here we suggest a list of top most popular and modern spots in Tehran that offers you a variety of choices for buying souvenirs before you head to Imam Khomeini International Airport.
Melal Boutique Mall
Constructed in 9 floors including 4 commercial units and 4 parking floors, Melal boutique mall is a unique shopping center in Tehran's Elahieh area. It brings together the world's top clothing, bag, shoes, perfumes, and cosmetics brands.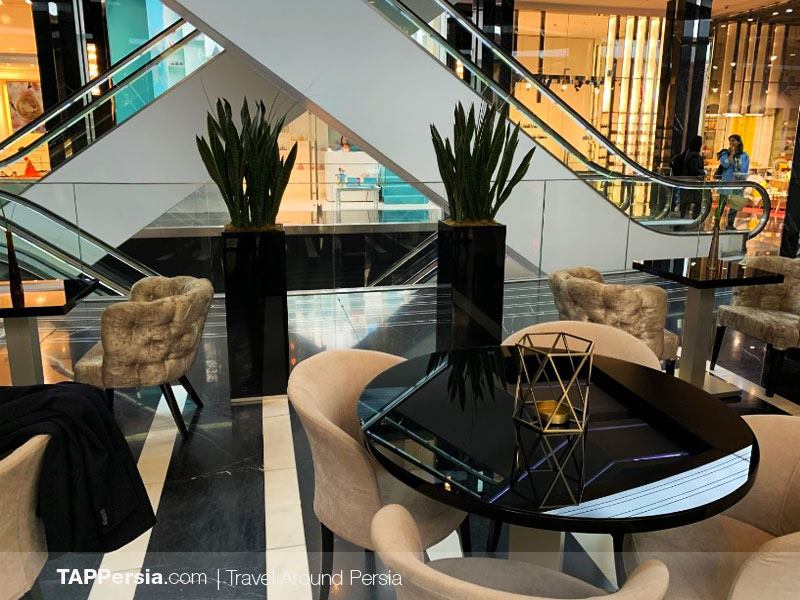 Besides more than 50 galleries and commercial units that surprise you with a diverse range of world's luxury brands in clothing, home and office accessories, perfumes, and cosmetics, Mellal boutique mall amazes you with indoor coffee shops.
You will also enjoy an unforgettable time with your family or friends if you plan to dine together after shopping in one of Melal's high-quality restaurants.
Sana Shopping Center
Located in Andarzgoo Blvd, Sana Shopping Center is another top shopping center Tehran that breaks out as a newly opened shopping hub for the youth in 2018.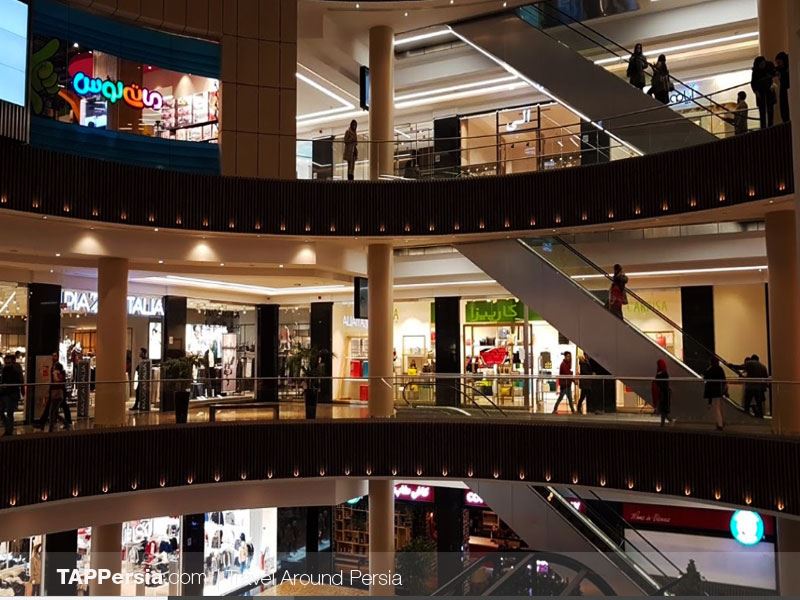 With worldly known brands such as Adidas, MNG, Pepe Jeans, and also its popular out-door food court, many suggest Sana as the best choice to hang out with friends in the north of Tehran. Nice floor cafes, affordable prices, and Italian clothing brands are on top of the reasons foursquare's users highly recommend you to enjoy shopping in Sana shopping center if a day is left for you to explore Tehran.
Iran mall
Located in northwest Tehran by Chitgar Lake, Iran Mall or Grand Bazaar of Iran has been designed to be the world's largest shopping mall! More than 500 shops,200 restaurants, a 3,300 square meter book garden with 67,000 volumes of books, a family entertainment center with a roofed amusement park, a museum, art galleries, a permanent car showroom, an Iranian Bazaar, and three hotels including a 5-star luxury hotel with 450 rooms, a 3,000-seat conference hall, a convention center, several galleries, and meeting and banquet facilities are what included in the first phase of Iran mall's construction.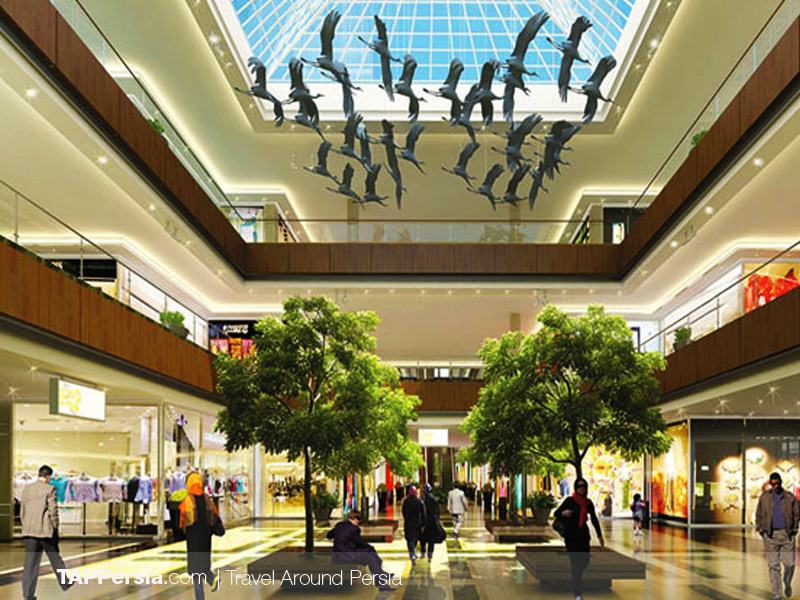 Iran mall is not completely opened yet but some parts are open to visit; including Haj Ali Akbar Timche. This part aimed to revive Persu-Islamic architecture in the world's largest shopping mall and to remind Iran traditional bazaars, similar to what travelers can find in Tabriz, Isfahan, Kashan, Qom, Shiraz and Qazvin cities.
Palladium Shopping Center
As a modern mall in the north of Tehran with big brands of shopping, Palladium is one of the most popular shopping centers in Iran.
A huge food court which has a range of options to cater for all tastes in the third besides a hypermarket and bakery on the first floor is what most of the positive google reviews tell us about the Palladium shopping center.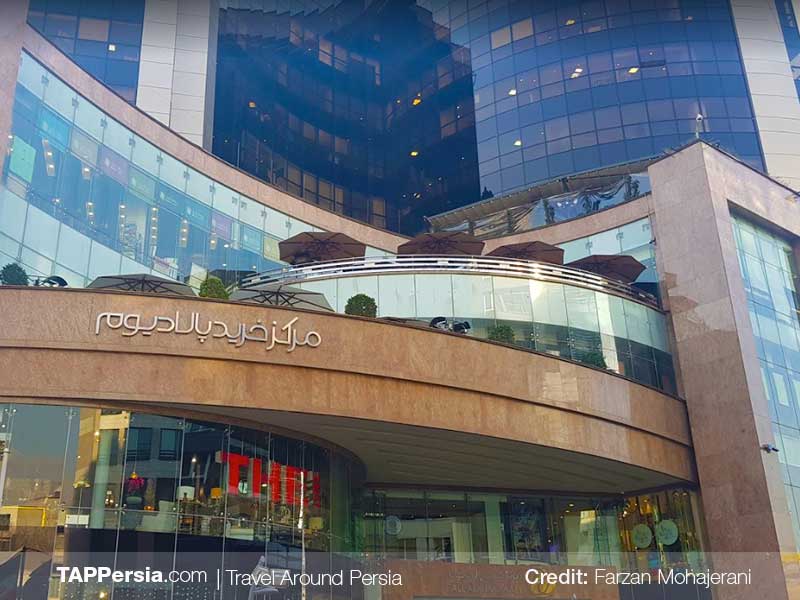 This top modern mall in Moghadas Ardebili Avenue which makes you feel you are in London or Paris is definitely worth a visit!
Bamland Shopping Mall
Bam Land Shopping and Recreational Complex is the first open-air, strip mall in Iran(Shopping Malls in Tehran). numerous elements of traditional Iranian architecture and culture have been combined with modern and luxurious details of this shopping center and made it a perfect place for various outdoor and indoor activities for visitors.
Located near Chitgar lake and forest nature of Tehran, Bam Land shopping complex comes to help you escape from the hustle and bustle of this megacity.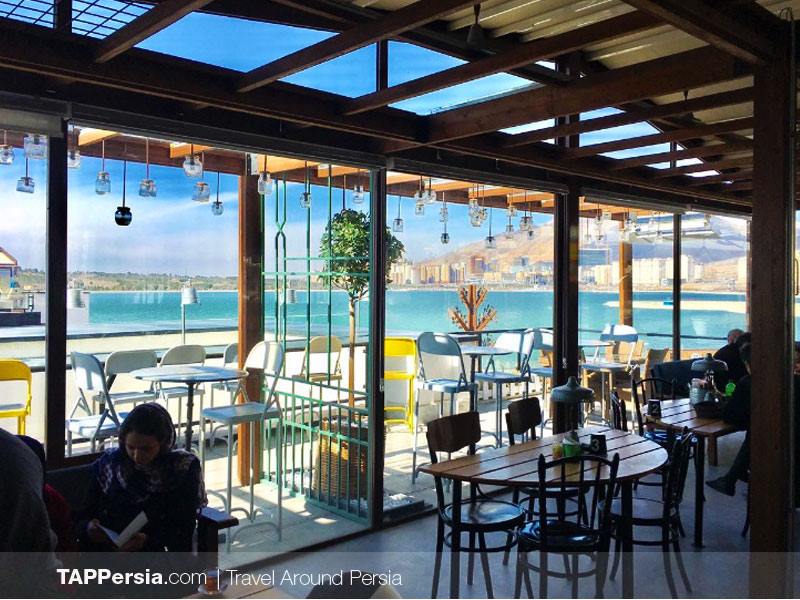 Bam land recreational zone also lets you relax an entire day on a boat tour of Chitgar lake, birdwatching on sunset, and having a little bit fun with your children in kids playing areas including sandpits and carousels!
Arg Shopping Center
ARG Commercial Center in Sa'd Abad St, Tajrish Sq. should be in our top shopping malls not only because of its amusement park and amphitheater but also Arg green roof garden that will make your time pleasing in Tehran.
You will find Arg Commercial Center a fantastic surprise: modern, sophisticated, very clean, with a nice and varied food court. A quite high-end mall in central Tehran!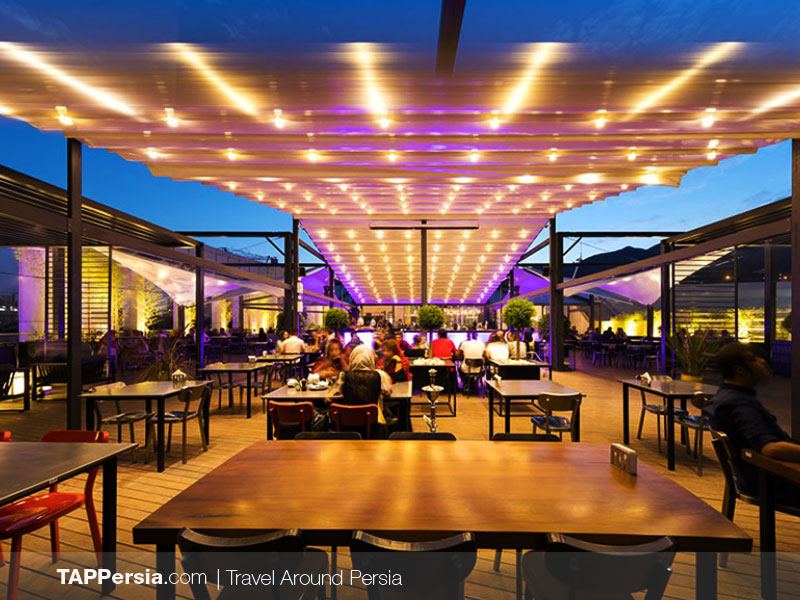 Galleria Shopping Center
With a food Court serving international cuisine including Italian, Persian, Mexican, Lebanese, Burger, Asian, and Dessert Bar with a total of 8 units of food on the fifth floor, Galleria shopping center is among the top 5 luxurious shopping centers in Tehran.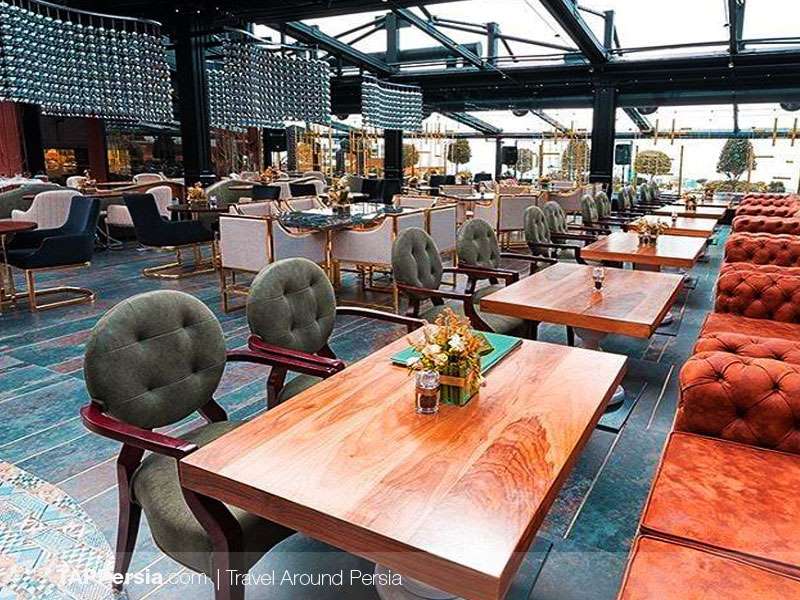 Galleria shopping center with a selection of the world's top brands in various fields of clothing, bags and shoes, jewelry, digital appliances, carpets, home appliances, and decorations is the best choice to enjoy a half-day explore in Tehran.
Aren Shopping Center
Another modern shopping center (Shopping Malls in Tehran)that provides you with a collection of prime brands of sporting goods and furniture, as well as top cafes and restaurants, is Aren shopping center in Farahzadi Blvd.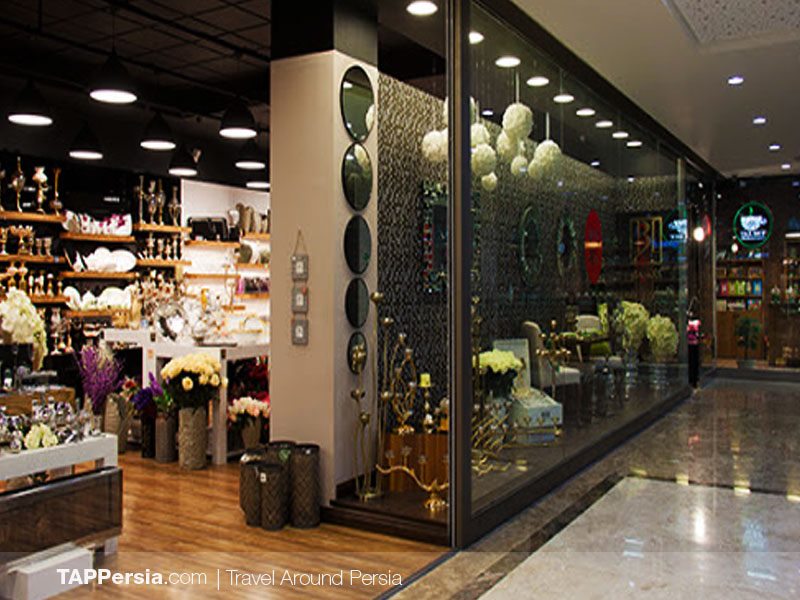 Aren shopping center's most admired feature is its food court on the 3rd floor with high-quality service for customers and a variety of fast-food brands.
Kourosh Complex
If you are looking for catchy stores and luxurious brands in Iran to window-shop, Kourosh mall in Tehran is the best choice ever!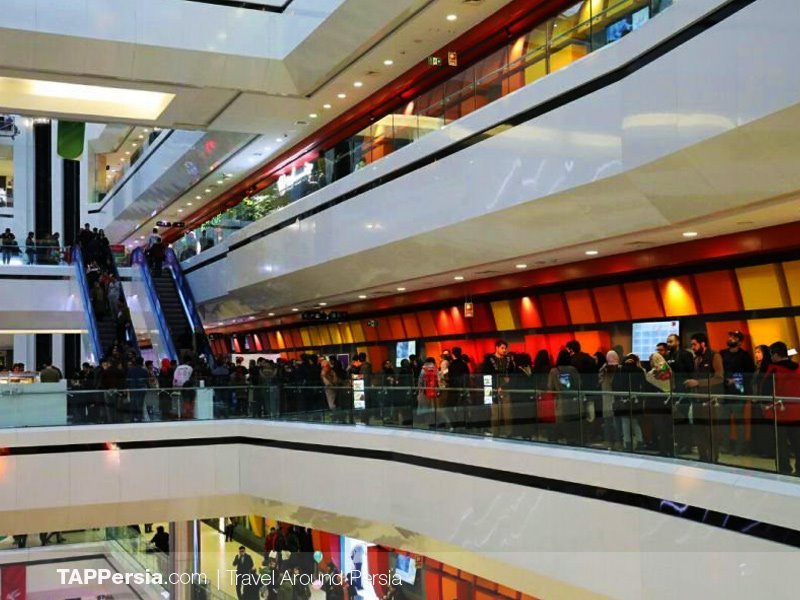 Kourosh mall on North Sattari highway in Tehran is a collection of biggest commercial and entertaining units with more than 500 stores and 14 movie theaters where you can shop and relax.
Opal Shopping Center
Located in northwestern Tehran. Opal shopping center is one of the biggest shopping malls in the capital city of Iran. Opal mall includes 7 different shopping zones including Kids, Wedding, Home, Hypermarket, Fashion, Sports, and Electronics.
In addition to shopping, the opal shopping center has other facilities including Cinema, Arcade Room, Funfair, Role playing house, Beauty center, and Bowling club(Shopping Malls in Tehran). So don't hesitate to put Opal in your list for exploring Tehran if you have one more day to enjoy this shopping hub.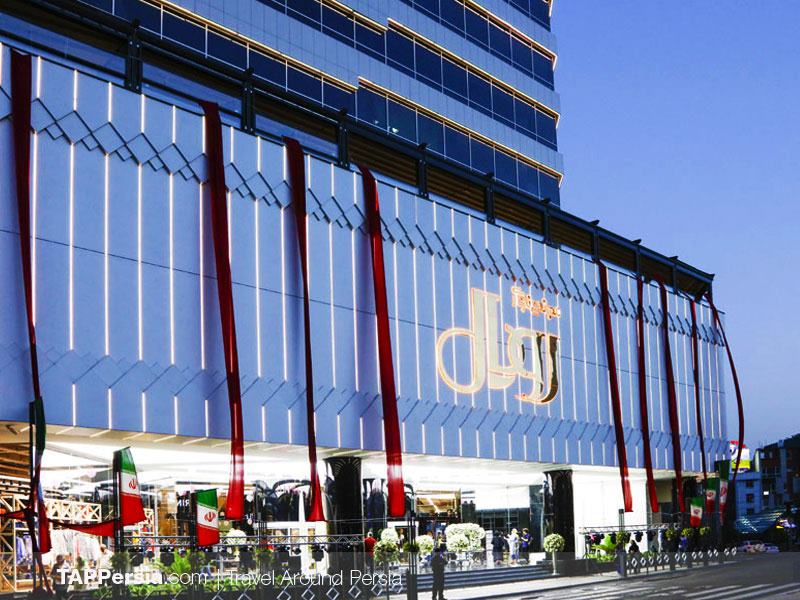 Google reviews show admiration for the architecture and design of this iconic mall by hundreds of people but a negative point that scolds its Parking space. Therefore, Uber-like apps such as Snapp and Tap30 are highly recommended to you to get much easier to this high-rank mall.