About the City & Listed Hotels
Tehran is Iran's capital and largest city. It's more populous than New York, bigger than Mexico City and denser than Seoul. Nestled along the imposing Alborz mountains, each neighborhood has its own architecture, vibes and even climate. People define Tehran according to their own personal encounters, interacting with any number of social, historic, and cultural forces that helped shape the city over the past several hundred years.
Iranian tourism is still developing. Service and ratings may not fit global standards, but here are somethings you can find at all of the establishment in this list:
Pristine beds, spotless bathrooms & breakfast options

Free Wifi (portable router for citywide internet)

Friendly staff with great English communication

Proper AC & Heating
To be 100% transparent, we do have to give some prior notice: This is Iran. It's still an isolated country. Standards and amenities differ greatly from global standards, so while you are paying 5 star prices, you'll often have to deal with much lower service. Stay vigilant and read up on Google and TripAdvisor reviews. If you are choosing a hotel for a specific amenity, be sure to call ahead and ask about it.
Best 5 Star Hotels in Tehran
Traveling is a time to spoil yourself. While Iran is a cheap destination, that doesn't mean you can't treat yourself during your stay. Whether you're in Tehran on business, vacation or both, these hotels are some of the most elegant the city has to offer(Tehran hotels).
Espinas Palace
Why visit: Breathtaking views of the city
Rating: 5 Stars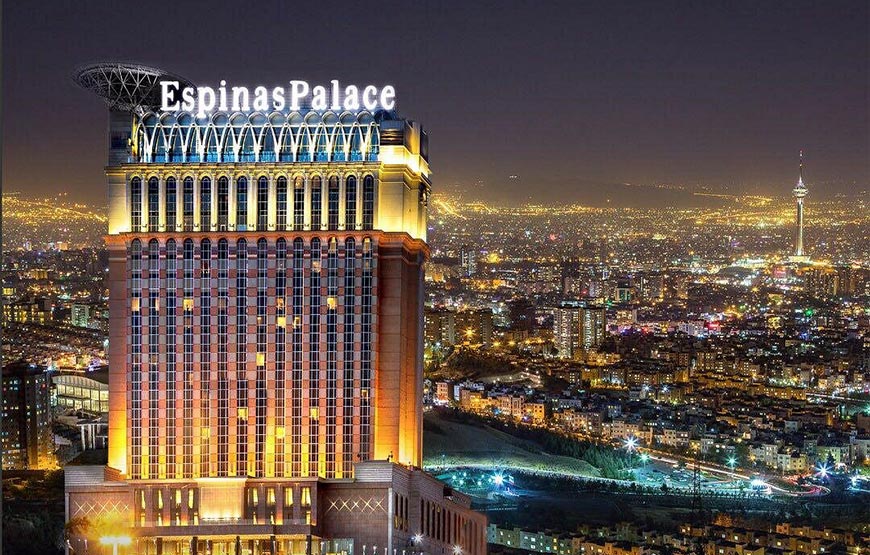 Perched at the very edge of the city, at the foothills of the towering Alborz mountain range, Espinas Palace is by far the city's most recognized hotel. Part of the Espinas chain of hotels & resorts, it offers unparalleled views of one of the biggest middle-eastern cities in its full glory.
Located a few kilometers north of the iconic Milad Tower, the establishment spared no details when it came to its design, architecture, and amenities. It is THE hub for the most extravagant local celebrations, events & weddings.
The marble-decked lobby and multiple restaurants are often packed. The hotel boasts 4 distinct dining options. Laton offers a fusion of continental and modern-Iranian cuisine. Diba is a traditional Iranian restaurant featuring local favorites. The Sunset Cafe is a bistro & cigar lounge with outdoor seating overlooking the mountains.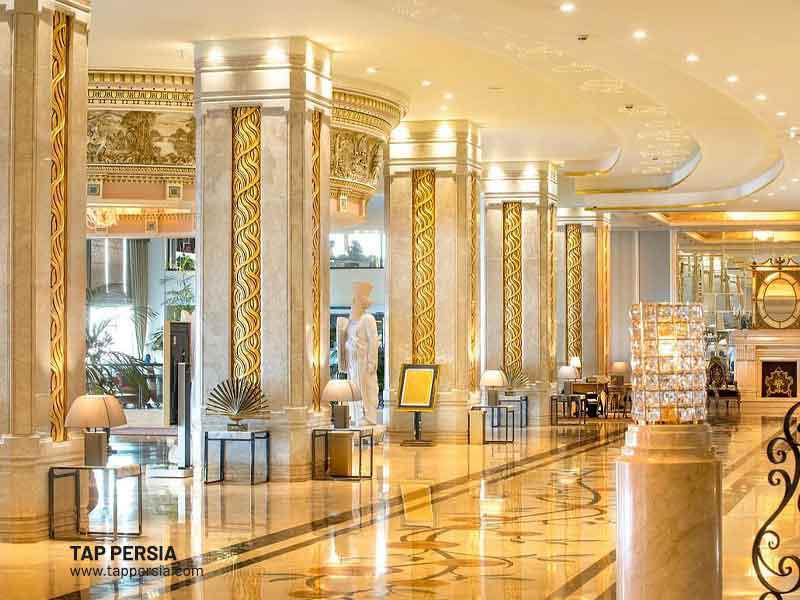 But the jewel of the establishment is the Sky Lounge, a fine dining fusion of Eastern and Western cuisine, featuring an observation deck overlooking the city, where you can enjoy their fresh fruit-shisha with their signature glass hookah.
The establishment has about 140 twin rooms, 100 double (Royal Family) rooms and 20 suites that culminate in the Sky Suite, with its own dedicated floor and butler. The establishment also features multiple reception and event halls, including a concert hall that can seat close to 3,000. The venue is just as popular with locals as it is with travelers.
If you want to make a reservation in this elegant hotel, you can reserve the hotel room hour by hour on the Tap Persia platform (Iran hotel) or leave a message on live chat.
Wisteria
Why visit: A modern luxury hotel
Rating: 5 Stars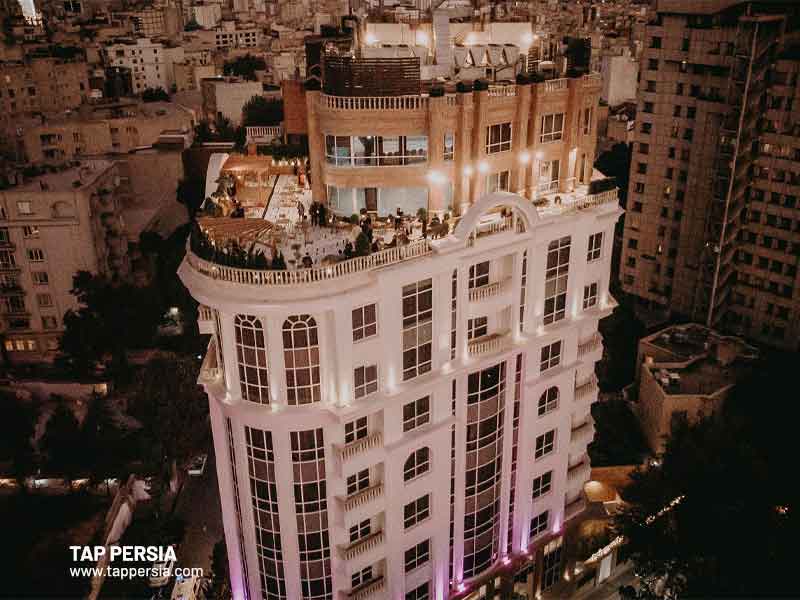 Established in 2016, Wisteria offers elegance and class in the heart of Tehran's exclusive Tajrish neighborhood. Privately funded by Iranian-Canadian investors with a deep background in hospitality, the hotel is located in one of the country's most expensive zip codes, 10 minutes from Saadat Abad Palace, the former residence of the last Shah of Iran. You'll also have easy access to multiple other attractions, major commercial/recreational centers, hiking trails, and museums.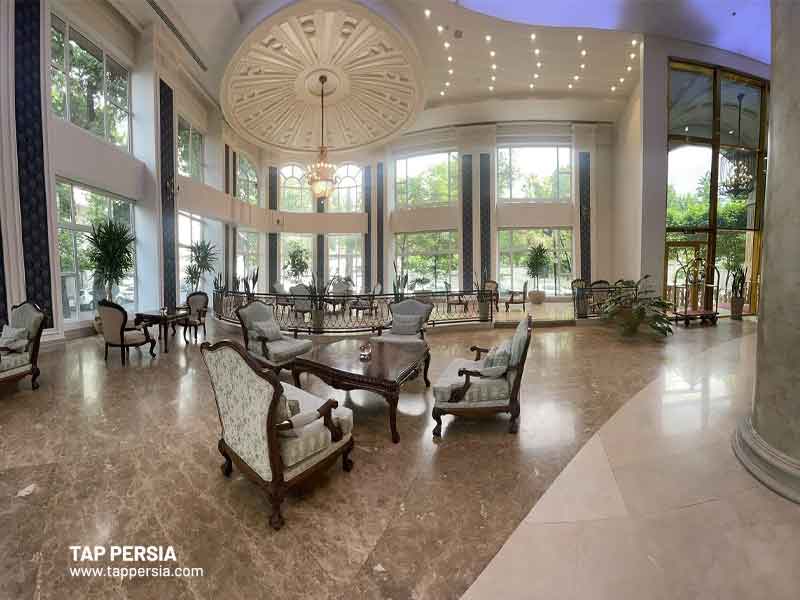 The Spa & Wellness Center amenities include a gym, pool, hot tub, dry/steam sauna, Turkish bath, massage and spa room, beauty salon and doctor's examination room. The establishment also features multiple conference and banquet halls along with a business center. The Wisteria Cafe is a favorite local hotspot, while the Royal Restaurant offers a breakfast buffet for guests and a full service throughout the rest of the day. But the highlight of the establishment is the Sky Lounge, featuring a roof garden with mesmerizing city and mountain views. Standard & King rooms, Presidential suites and the Wisteria Suite, featuring vivid views of the city and mountains, are also available.
Parsian Azadi
Why visit: Immersed in history and prestige
Rating: 5 Stars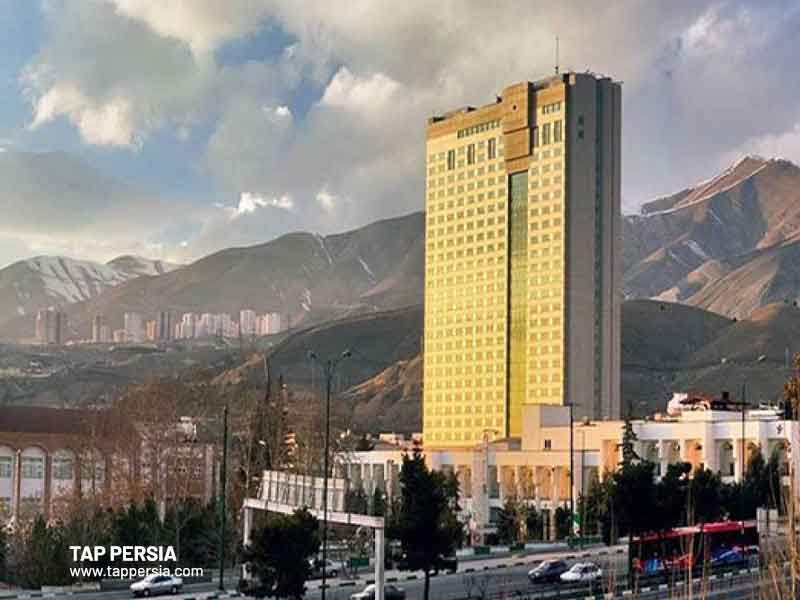 A renovated highrise within walking distance of the Tehran International Exhibition, Parsian Azadi is a local landmark as well as the hotel-of-choice for VIPs and diplomats including multiple Secretary-Generals of the UN, the Heads of FIFA & the WTO, Multiple European & Asian PM's and delegations, the AC Milan & Iranian National Soccer Teams, and author & motivational speaker Bryan Tracy.
Parsian Azadi comprises 475 rooms in 6 ranges, including presidential suites and special rooms for the disabled. It also features 7 multi-purpose halls that can hold up to 500. It hosts over 700 conventions, conferences, meetings, and banquets throughout the year. The hotel houses a business center, barbershop, jewelry store and Sports Club, the exclusive club of the Iran National Football Team, featuring a pool, gym, dry/steam sauna, hot tub and cold plunge. Parsian Azadi is considered Iran's first green hotels thanks to best practices such as BMS energy cost-effective integrated systems & water-usage reduction.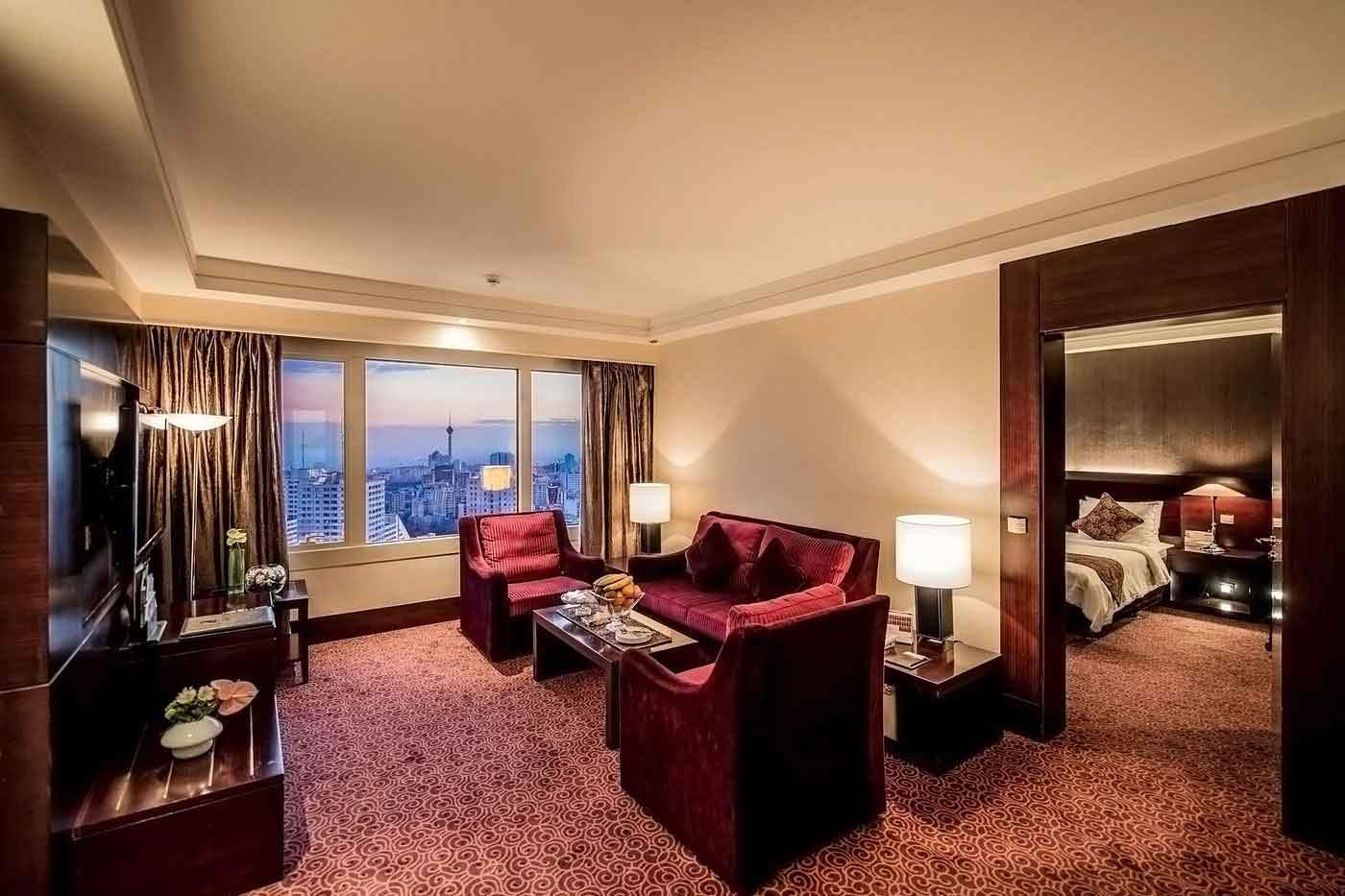 The establishment features 4 dining options. The in-house dining area features a breakfast buffet for guests, Roses offers traditional Iranian cuisine 24-hours a day & Mamad Steak House serves up juicy lamb & sirloin. Kenzo is a Japanese fine-dining restaurant with an Eastern ambiance and colorful presentation.
Parsian Esteghlal
Why visit: A symbol of Iran's former relations with the West
Rating: 5 Stars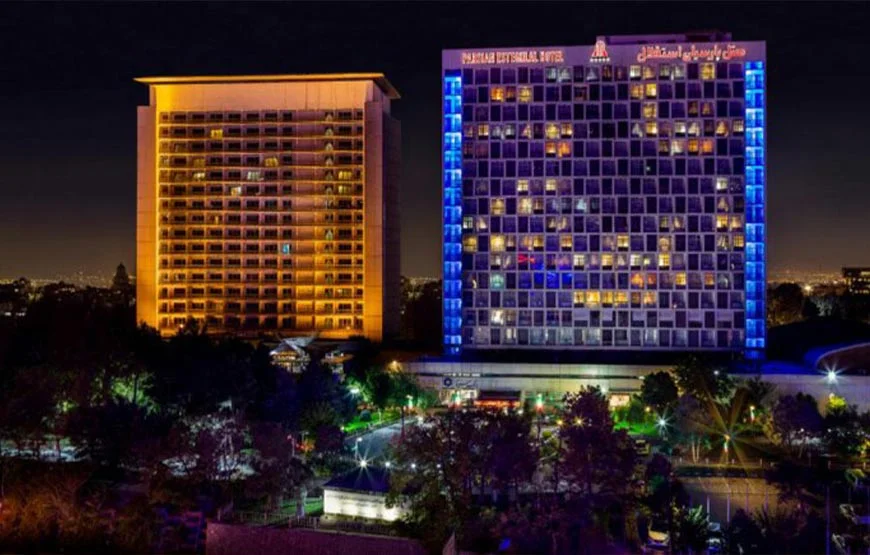 Named the Tehran Royal Hilton during its debut in 1962, the hotel changed its name to Parsian Esteghlal following the Iranian Islamic Revolution. The twin tower structure is situated between the prestigious neighborhoods of Ararat and Jordan, within walking distance of multiple attractions and points-of-interest. They feature unobstructed views of the skyline and was a collaborative effort between the pioneer of modern-Iranian architecture and Hilton Hotel's lead architects.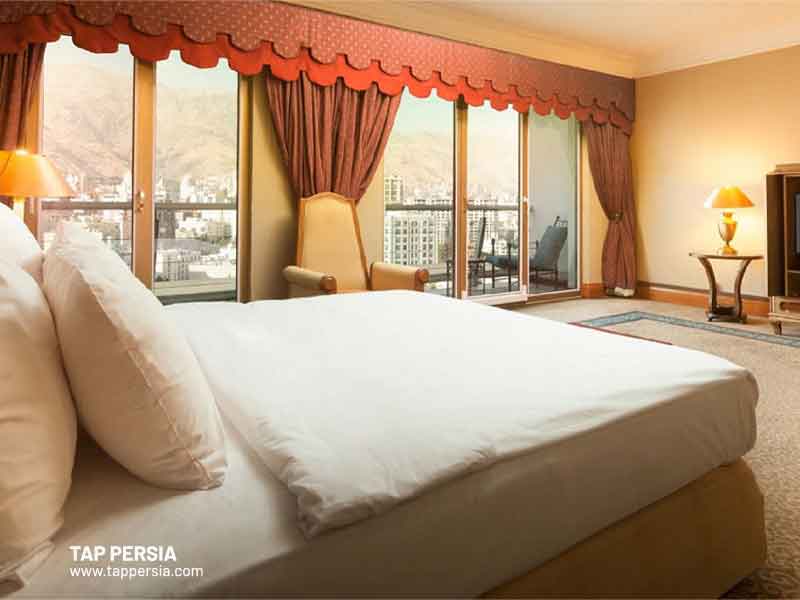 The establishment features about 500 rooms & 50 suites with mountain and city views, multiple halls with plain-modern and classical-French themes, the Rose restaurant featuring mountain views, the lobby coffee shop open 24/7, indoor pool, dry/steam sauna, gym, covered tennis court, clinic, cigar shop, souvenir shop, and flower shop.
Niloo
Why visit: Vibrantly colorful decor and rich storytelling
Rating: 4 Stars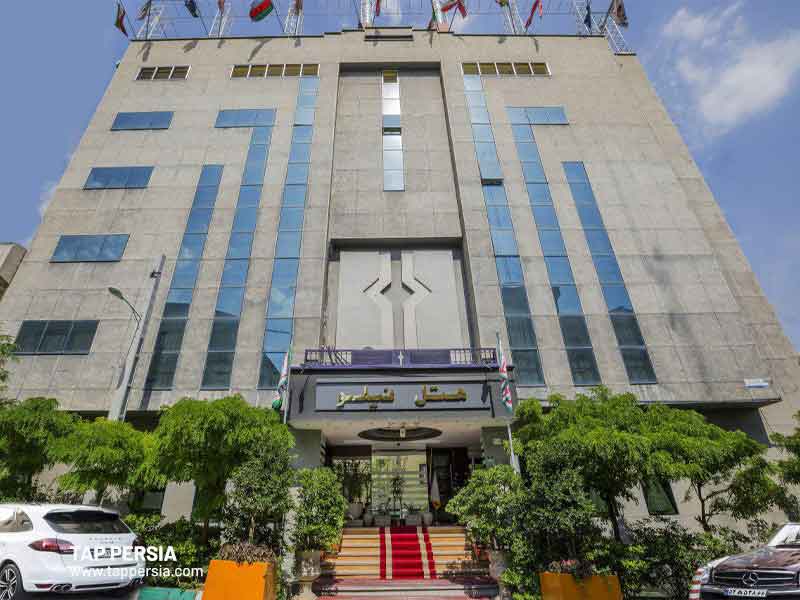 Located on the longest street in Tehran, Niloo offers a colorful combination of classical-western and traditional-Iranian architecture and interior design. As a museum hotel, they take pride in the many antiques and artworks on display throughout the property, most of which are for sale.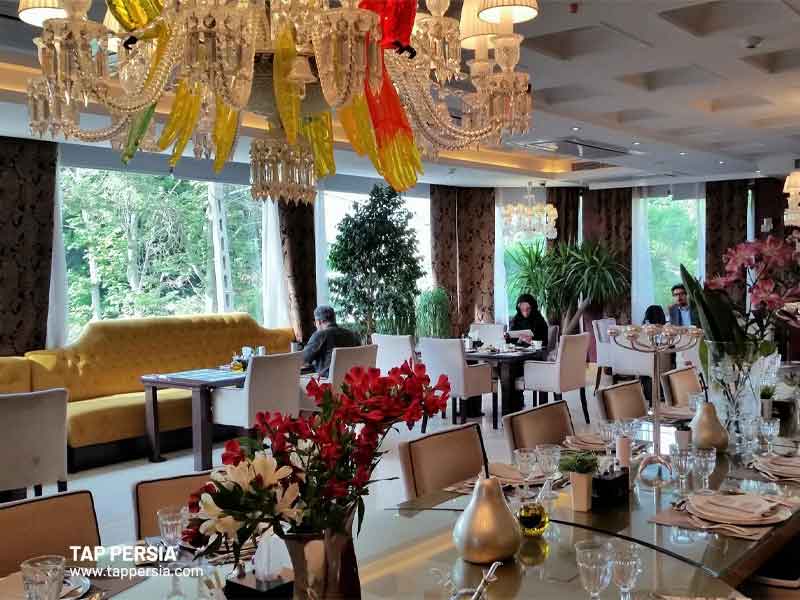 Each room is individually designed, but all feature 2 or 3 beds and a refreshment station. Big groups have connecting rooms at their disposal. The hotel features a conference hall, round-the-clock coffee bar, breakfast buffet and Italian restaurant along with a fitness center that includes a gym, pool, spa, hot tub & dry/steam sauna.
Best Hotels for Business Trips in Tehran
Eskan Alvand
Why visit: Great place for meetings and prolonged stays
Rating: 4 Stars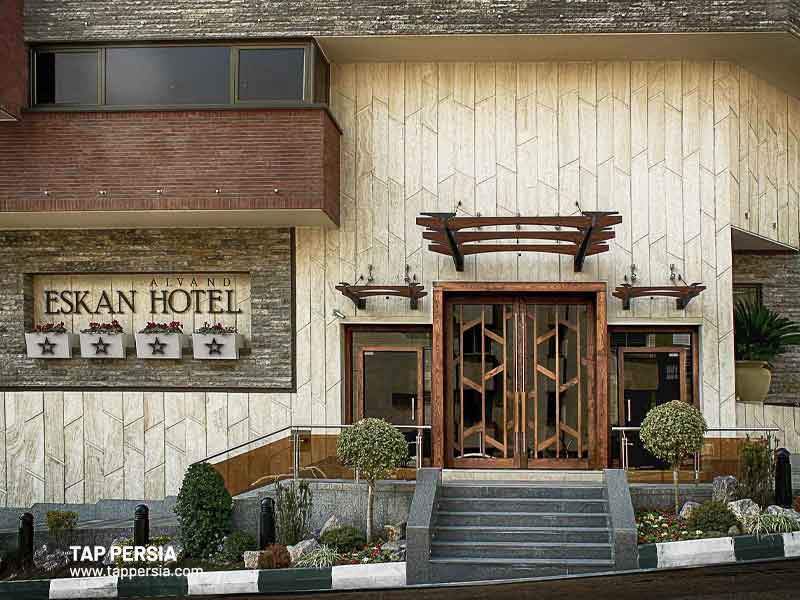 Founded by third generation hoteliers, Eskan Alvand is within walking distance to the award-winning Tabiat Bridge, a multilevel project connecting two major parks. The hotel features an outdoor dining, meeting/conference hall & pool club along with its multiple economical and modern rooms and suites.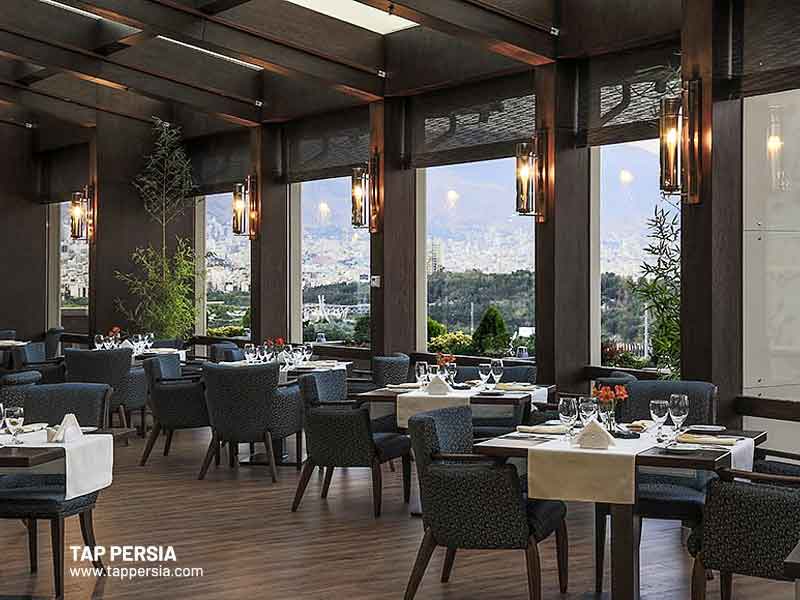 The Shar Lounge, located on the 9th floor, serves continental cuisine overlooking Tehran. The Bistro offers snacks along with hot and cold beverages with terrace seating. The spa includes a gym, dry/steam sauna and massage rooms.
Vozara
Why visit: You could live out of here for months
Rating: 4 Stars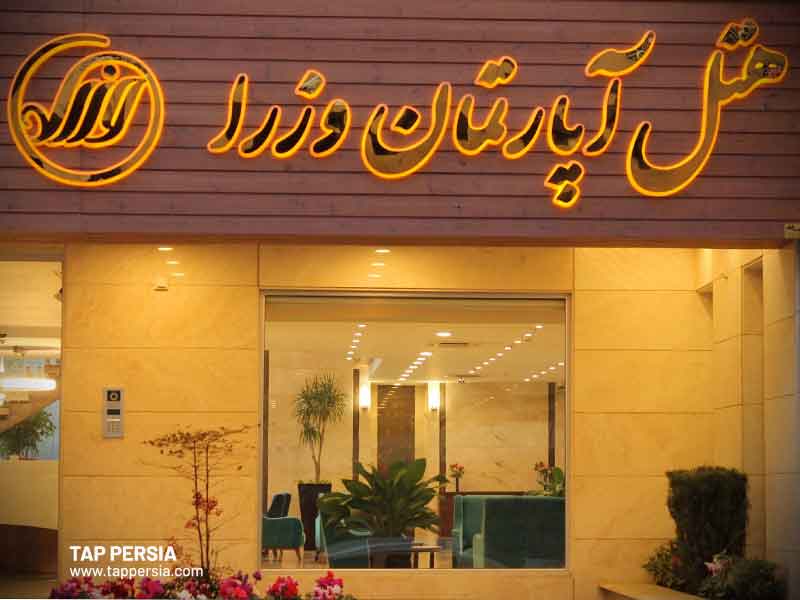 Vozara is a hotel-apartment establishment with 25 suites with incredible views, all featuring a full kitchen (refrigerator, stove, microwave, electric kettle, washing machine), and full closet, along with separate working, gathering & sleeping quarters.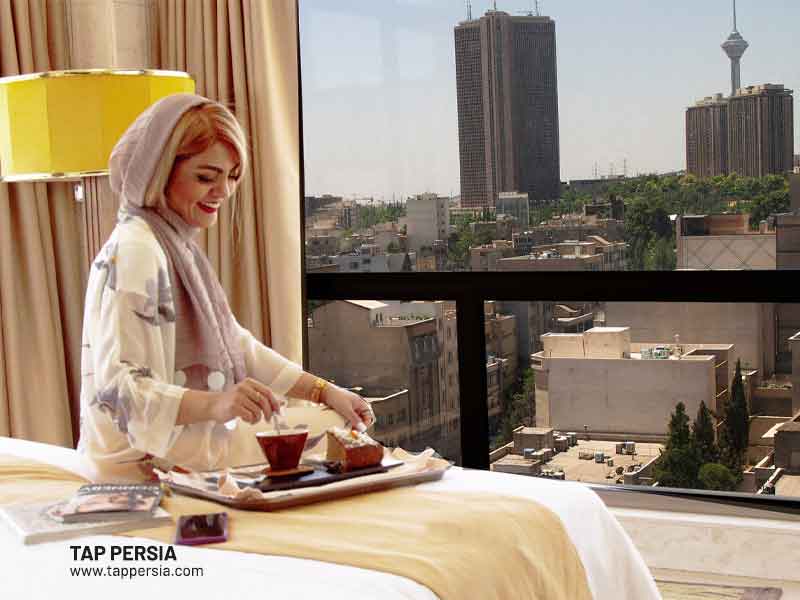 Each suite is decked in elegant, modern decor and comes with free parking, and complimentary continental breakfast. Its Sports Club includes a gym, pool, sauna & hot tub. It also features separate meeting and smoking rooms along with a 24/7 coffee shop and restaurant.
Simorgh
Why visit: Easy access to everything from city center
Rating: 5 Stars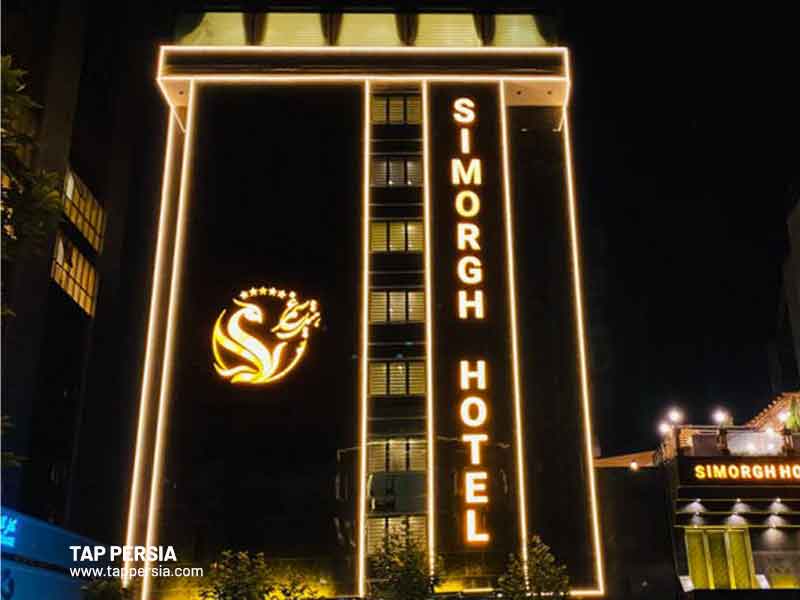 Located in District 6, the heart of the city, Simorgh is a family-friendly hotel ideal for busy travelers. It's located within a 10 min drive of the award-winning Tabiat Bridge and the expansive Tehran Book Garden. The property also features a business center, conference halls, complimentary continental breakfast, free parking, an indoor pool, and a Wellness & Spa Center that includes a gym.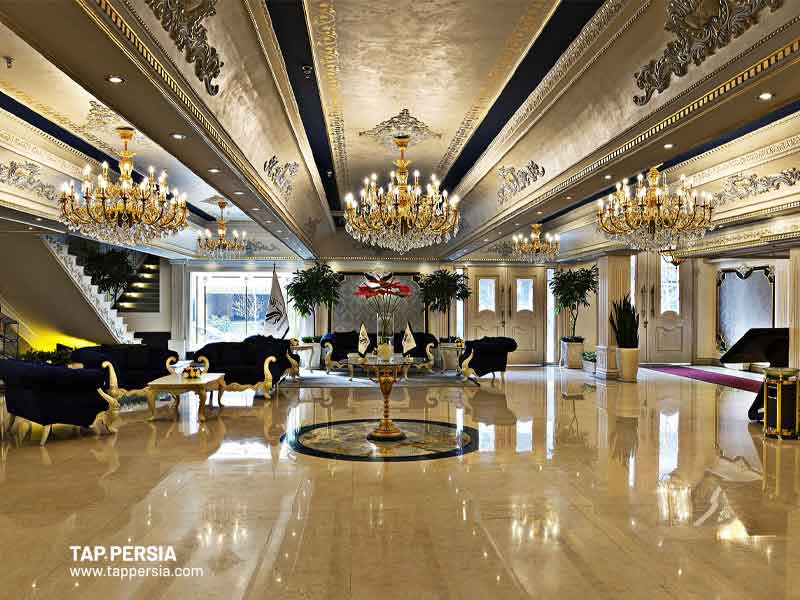 The establishment features 4 dining options. Bojan, a casual cafe with green outdoor sitting, Chaman Tea Bar, a traditional Iranian teahouse and snack bar, Miami, a continental and Iranian fusion-restaurant, and Lara, a cafe and restaurant with Eastern and Western options.
Best Hotels in the Middle of Tehran
Espinas International
Why visit: Luxury and elegance in the heart of Tehran
Rating: 5 Stars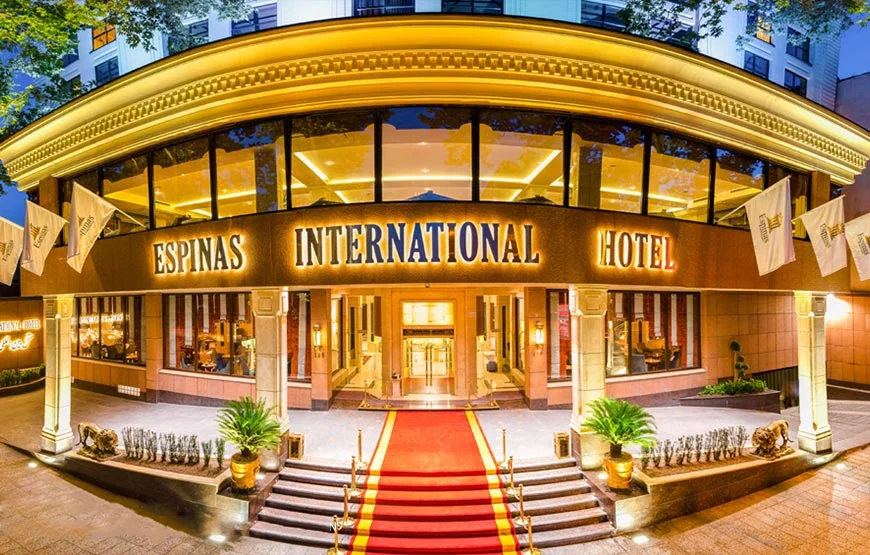 Located in the heart of the city's geographical and business district, Espinas International exquisitely captures the spirit of this unique cosmopolitan city. Part of the Espinas chain of hotels & resorts, it's close to the 100-year-old University of Tehran and Laleh Park, one of the biggest parks in the city. The hotel boasts 300 well-appointed rooms and suites, designed with modern comfort and local colors. It has a Wellness Center featuring a well-equipped gym, pool, dry/steam sauna, hot tub & spa. It also has a 24/7 business center along with multiple themed meeting, dining and conference halls that offer in-house catering.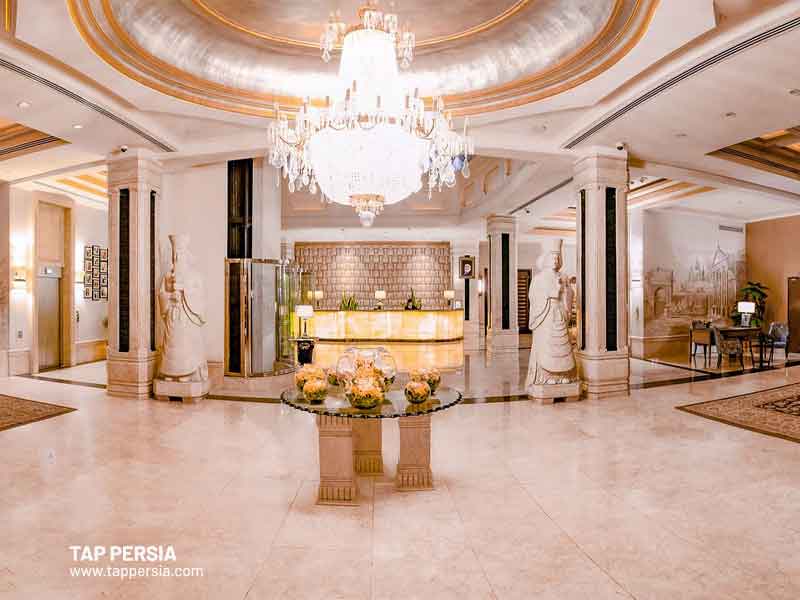 The hotel features standard rooms and suites, along with an entire executive floor featuring the Espinas Suite, complete with its own private balcony, hot tub and hand-made Persian carpets. It also offers business, wedding, anniversary and family packages.The establishment features 4 dining options. Atrium café and bistro serves hot and cold beverages and snacks. Boulevard 126 is a continental and Iranian fusion restaurant. Mandak is a traditional-Persian themed restaurant with Iranian cuisine and herbal drinks.
Persian Plaza
Why visit: located in the city center and easy access to public transportation
Rating: 5 Stars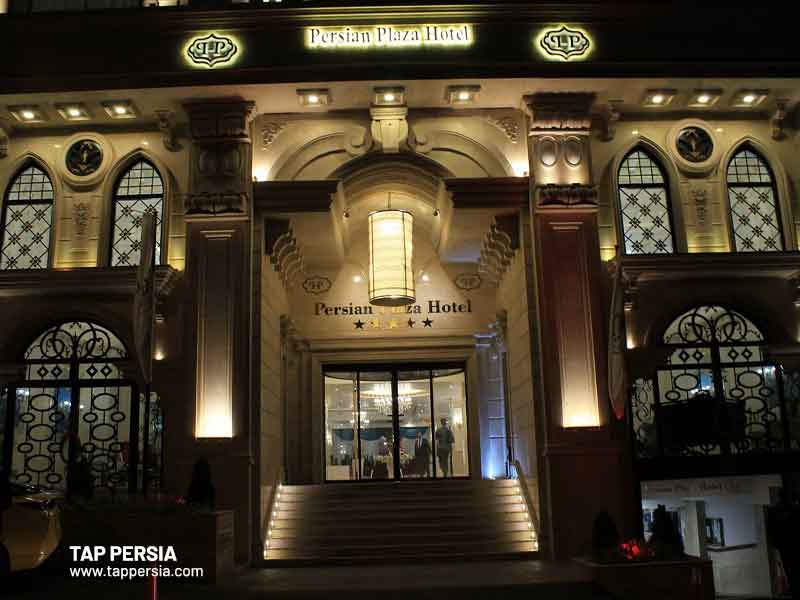 Persian Plaza is a five-star project located in the administrative and trade center in Tehran's district 7. Founded in 1989, It features about 100 across 20 floors. It hosts Multiple singles, doubles and suites with views of the city, conference and event halls with seating for up to 400, an amphitheater with full audio, visual, catering and seating for up to 180 and a Game Center with PS5's and pool tables.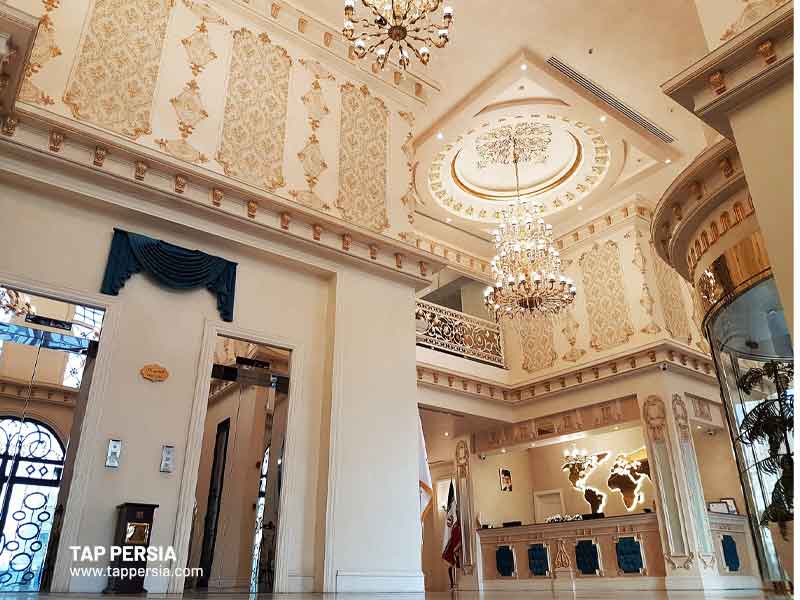 The hotel's Fitness Club includes various amenities such as indoor pool, sauna, hot tub, a well-equipped gym, and coffee shop. The lobby boasts a reputable currency exchange, souvenir booth and barbershop. The Royal Galaxy restaurant and roof garden offers continental breakfast buffet along with lunch and dinner service on the top floor of the hotel with 360 views of the city.
Ferdowsi Grand
Why visit: in the heart of Tehran's cultural-commercial area, near the Grand Bazaar, and various historical and cultural places such as Golestan Palace, Abgine Museum, and Tehran Gate
Rating: 4 Stars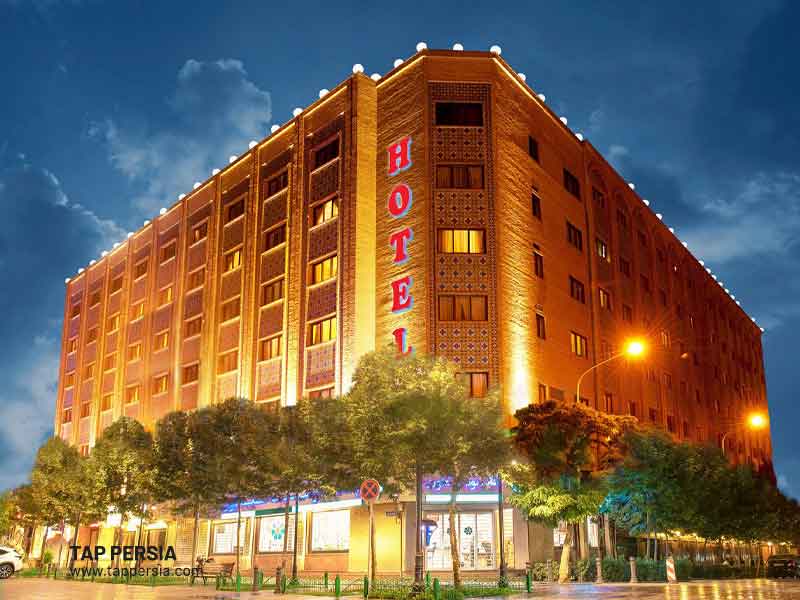 Owned and operated by a father-son team of hospitality professionals, the hotel was renovated and relaunched as Ferdowsi Grand in 1990. Located in the historical center of Tehran, the establishment is one of only a few of its kind that accepts Visa and Mastercard. They have singles, doubles and full-amenity suites. There are several dining and modern conference halls, a two-story parking lot, indoor pool, hot tub, dry/steam sauna, and a full gym. The lobby features a confectionery and coffee shop.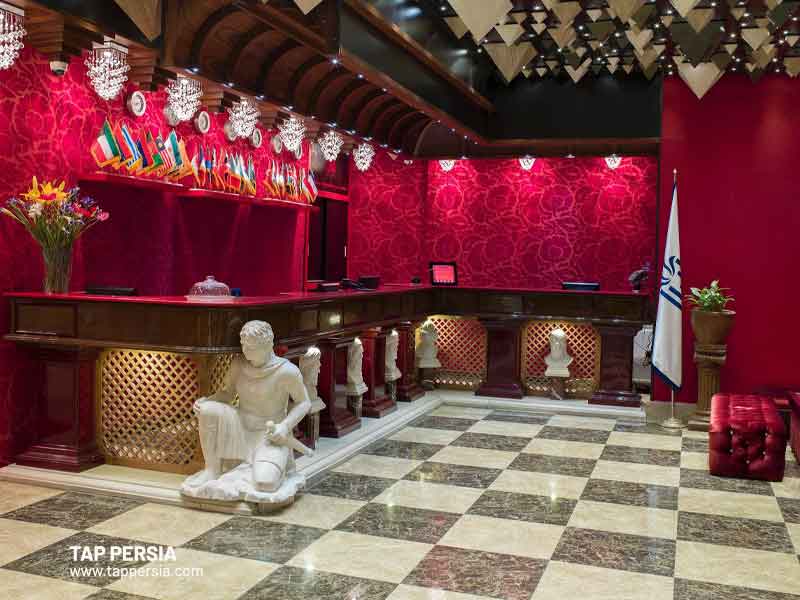 The building features 5 dining options: A dining hall serving complimentary continental breakfast buffet, a fast-food joint serving classic street food, Zeitoon, a modern restaurant serving familiar cuisine, a French restaurant and a traditional Persian restaurant. It also features an amphitheater with full audio and visual capabilities.
Howeyzeh
Why visit: easy access to different areas of Tehran and equipped with sports facilities and ceremonial halls
Rating: 4 Stars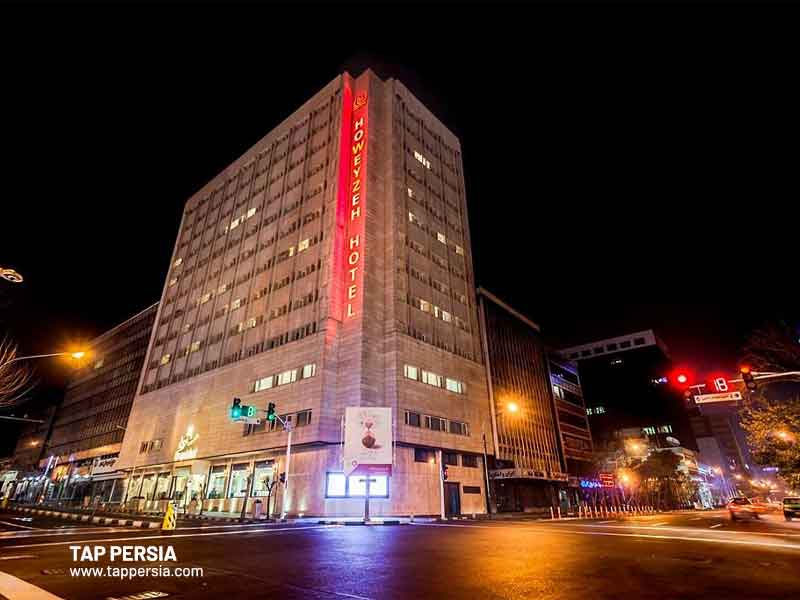 A sleek, contemporary establishment located in the middle of Tehran's historic Taleghani neighborhood, near the iconic Golestan Palace. The hotel features 180 double, royal & VIP rooms along with multiple suites spread across 12 floors. Connecting rooms are available for larger groups.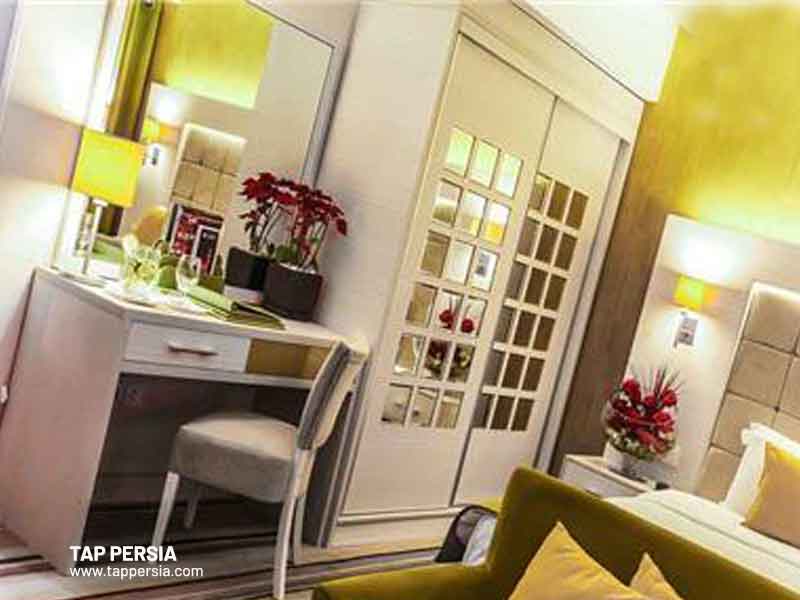 It hosts a charming coffee shop on the ground floor, open 24 hours, with a beautiful view of Nejatollahi Street. The restaurant, which serves a continental breakfast, is on the 2nd floor. Other features include 3 conference halls with seating for up to 300, business center, barbershop & spa.
Best Boutique Hotels in Tehran
Hanna
Why visit: Modern minimalism and must-visit chic restaurant
Rating: Boutique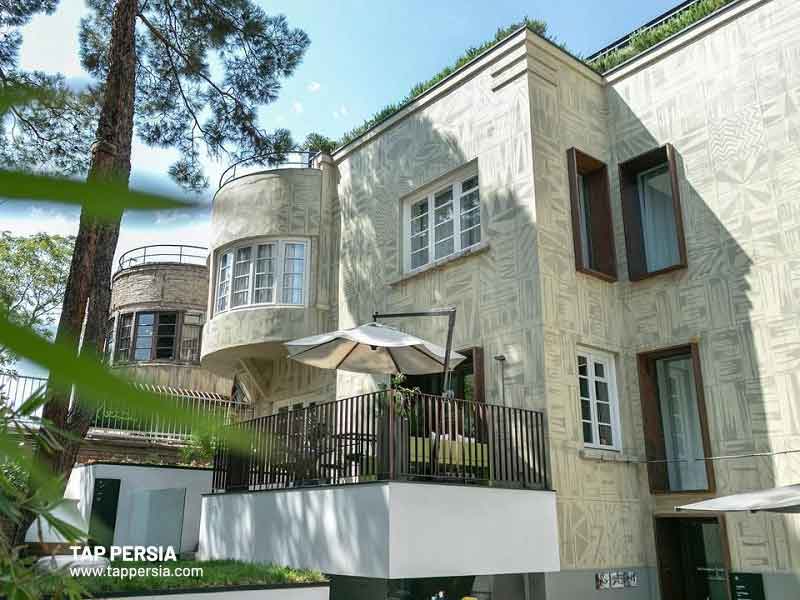 A renovated 1930's multifamily located in the heart of Tehran, the establishment is an expression of contemporary Tehran. Most of the original structure and decor has remained intact, showcasing the building's rich history.
The hotel features 7 unique rooms with very unique yet contemporary vibes. Launched in 2018, the establishment is Persian Garden Studio's most interesting urban rehabilitation project. The minimalist interior takes inspiration from contemporary Iranian design, creating a warm home-away-home atmosphere. They accept Visa, Mastercard & American Express.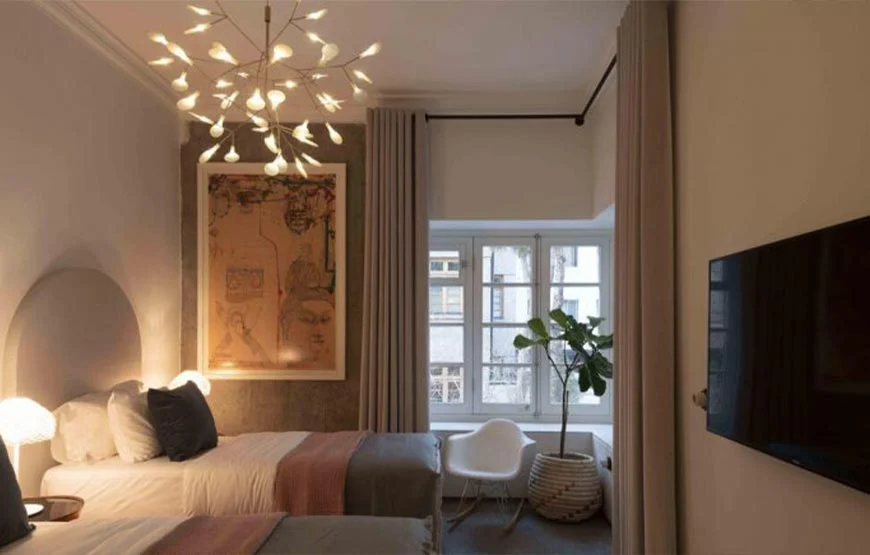 The building features a chic, modern restaurant that's a favorite of the city's artistic and academic community, and multiple pop-up spaces. It features dishes inspired by food from around the world, while maintaining essential Iranian tastes and aromas. The food is so unique it's worth visiting the establishment just for the restaurant
As part of the renovations, they converted the building's basement and roof garden into meeting and conference halls, incredibly unique spaces symbolizing the modern spirit and function of the hotel. Pop-Up features artwork from well-known Iranian designers and artists and occasionally hosts exhibitions and art events.
Nezamiyeh
Why visit: A historic and renovated mansion in the heart of the city
Rating: Boutique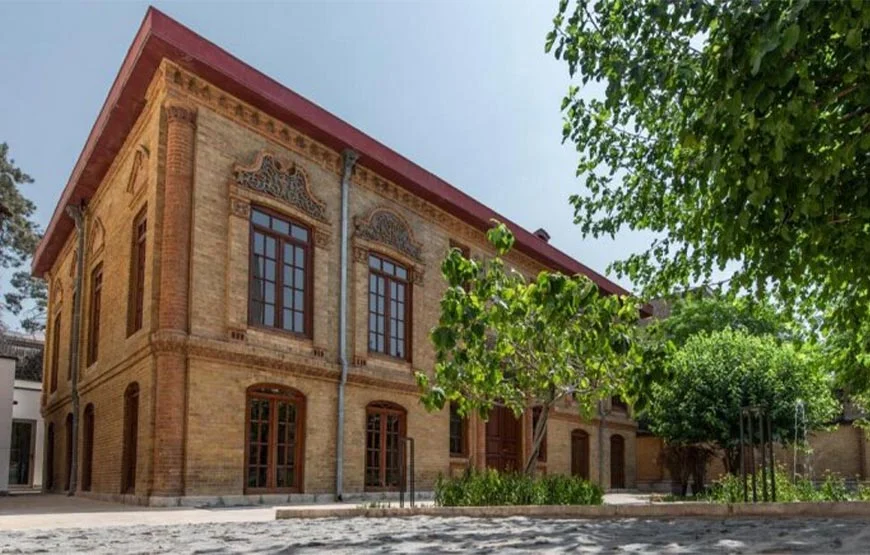 A renovated early-20th mansion featuring classical, turn-of-the-century Iranian architecture and ambiance. The establishment features 5 unique rooms with minimalist interior, managed by a staff of young hospitality enthusiasts and experts. The space is a time machine to a more traditional and private Iran, where homes offered elegant living and open spaces. The dining area offers breakfast and snacks throughout the day.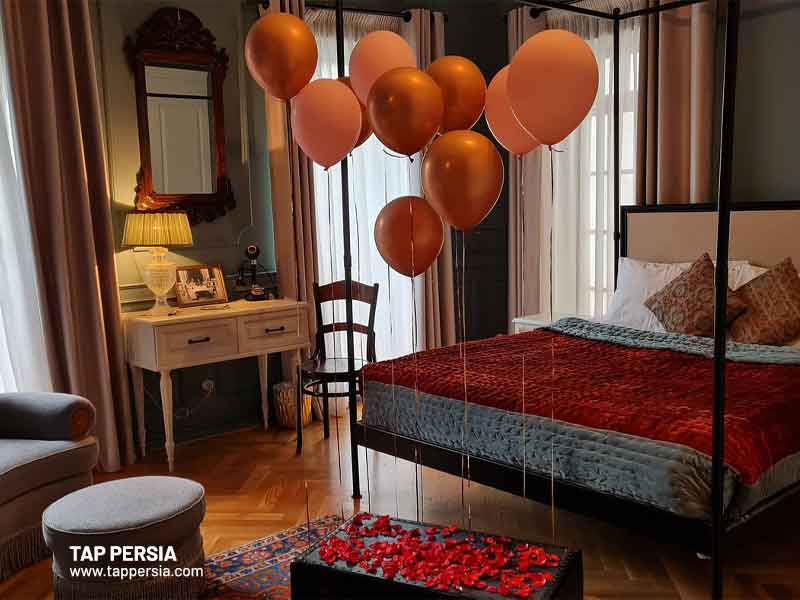 Best Hotels Near the Tehran Airport (IKIA)
Rexan (Novotel)
Why visit: Best luxury experience right next to the airport
Rating: 5 Stars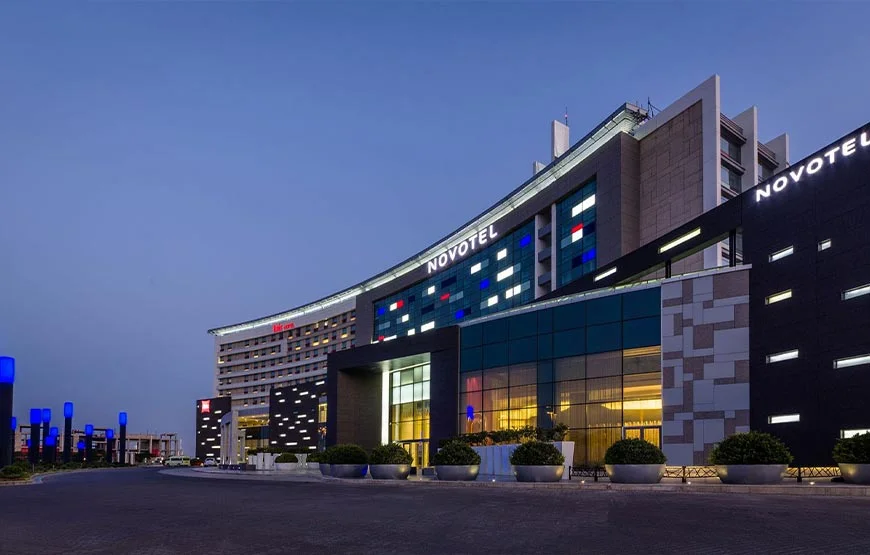 Formerly known as Novotel, Rexan, along with the attached Remis (formerly Ibis), were the first group of international airport hotels in the country, built in cooperation with the French Accor hospitality group. Best for people flying into Tehran on short stays, the hotel is located on the south side of the Imam Khomeini International Airport (IKIA), across Terminal 1 (Departures), about 1 hour away from the city center.
The establishment holds about 500 standard double and twin rooms along with standard French suites, available for daily or hourly rates. Joint rooms for big parties and rooms for the disabled are available upon request. The building features 2 dining options. Galaxy features a continental menu while Wadi features traditional Iranian cuisine with a classical Persian interior.
The establishment includes free 24 hour shuttle services to/from IKIA. The Fitness Center includes a dry/steam sauna, pool, gym, hot tub, spa and hair salon with separate spaces for men and women (Islamic Republic rules). A continental breakfast buffet is available starting at 4am.
Remis (Ibis)
Why visit: Smart and affordable accommodation, 10 mins from the airport
Rating: 4 Stars
Formerly known as Ibis, Remis, along with the attached Rexan (formerly Novotel), were built in cooperation with the French Accor hospitality group. Best for people flying into Tehran on short stays, the hotel is located on the south side of the Imam Khomeini International Airport (IKIA), across Terminal 1 (Departures).
The establishment features about 200 single and double rooms spread across 11 floors. 2 rooms are specially designed for people with reduced mobility. All rooms are available for 5 hour and 10 hour stays, along with standard daily rates. Complimentary shuttle services to/from IKIA, free parking, luggage management, currency exchange, laundry, and dry cleaning facilities are also available.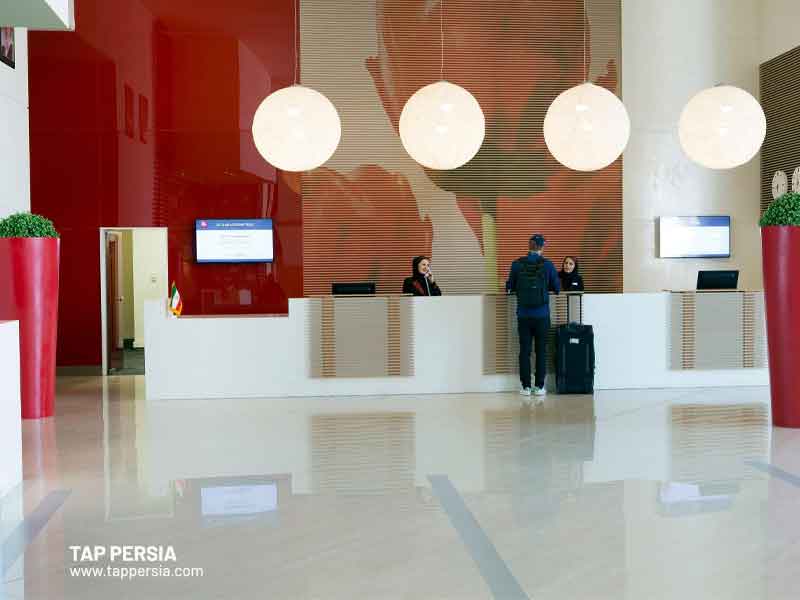 Open Restaurant features an international variety of flavors as well as colorful Iranian and green dishes, while the coffee shop and bistro offers hot/cold beverages and snacks all day.
If you want to stay in these magnificent hotels, contact TAP Persia support team via WhatsApp or online chat to get the best deals and price.