Whenever you tell your friends and family about your travel plans to Iran, you will probably get some worried reactions. Try to mention that you are travelling Iran solo, as a female, will surely make all mouths fall wide open. However, is Iran really a country through which women shouldn't travel on their own?
Here are some tips and comments left by other solo female travellers to help you prepare for your upcoming trip to this beautiful part of the world.
Legendary hospitality
As you may have heard, Iranians are known for their unlimited hospitality. Everyone wants to make sure that you are happy, safe and most importantly, fully fed. You will experience this typical Persian kindness everywhere you go, from families sharing their food with you in the park to every random person you meet along the way.
Iran has a big culture of helping each other out. Whenever you ask a question, be prepared for them to do everything in their power to get you the right answer, even if it will take 5 calls, two walks around the block or a personal guidance to wherever you need to go.
Shaking hands with the opposite sex
You will definitely come across some cultural differences during your trip through Iran. One being, the difference in greeting each other, mainly greeting the opposite sex. It is quite uncommon for strangers to shake hands with the opposite sex. However, there are many men and women who do shake hands, you will see much more handshakes and hugs among the younger generation.
All of this can be rather confusing for travellers who are not used to this custom. To make it very easy for us ladies, the best thing to do is to just let the men initiate a handshake. If they don't, a nice head nod and a big friendly smile will be just as perfect.
Safety at night
Although you might not think of Iran as a country with a bustling nightlife, on the contrary, Iran certainly has a bright and lively nightlife culture. Almost all year round, the streets and parks are filled with families, friends and couples enjoying the lovely evening weather.
Since alcohol is illegal in Iran, the nightlife has a rather relaxed and happy atmosphere. People would go for a stroll, drink a delicious fresh juice and especially a picnic in the park until way past midnight is a common activity here. All of this makes Iran a country where you won't feel uncomfortable being out at night. In fact, that's actually the time you will want to be outside to experience the true Iranian lifestyle. Of course, as in every country including your home country, you should always use common sense and follow your instinct.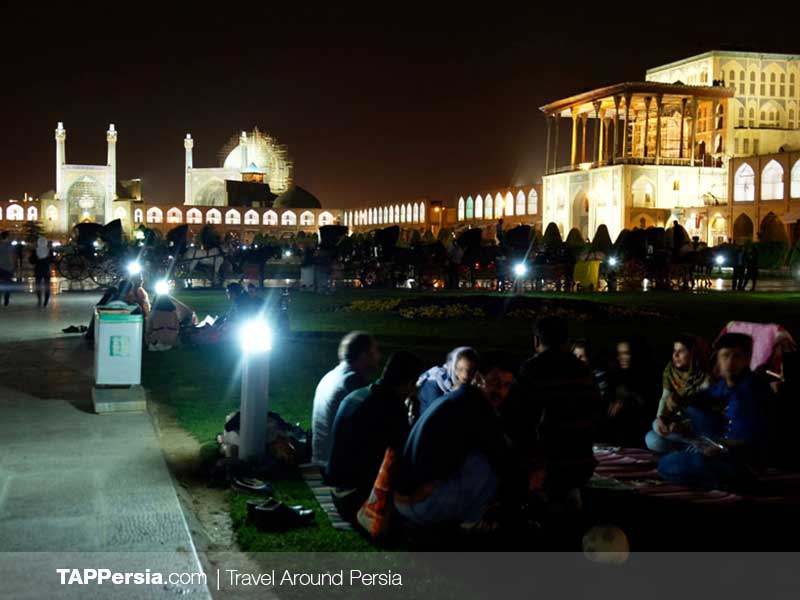 Man-dominated region? Or not?
The Middle East is famous for being a rather man-dominated region. In Iran, however, things are a bit different. Women's presence in society, especially in bigger cities, is much more noticeable than one might think, even at night, you will mostly see equally as many women on the streets as men. When it comes to 'flirting', there is not such a culture of whistling and calling names on the streets as there is in other countries.
Furthermore, public transportation has segregated sections. The back of a vehicle is usually destined for women and the front for men, you will easily spot this when you enter any bus or metro.
Most importantly: Say YES to (almost) every invitation!
Iranians are very open and curious, even more so towards foreigners, they love to talk to you, learn about your culture and overall are extremely kind and helpful. Don't be shocked when people invite you over for tea or food, definitely do so as these experiences of true Iranian hospitality is what makes your visit even more special.
Below are some comments left by female TAP Persia travellers on their trip to Iran.
Naomi, 36
"When I decided I would go to Iran for 2 weeks on a solo trip, I had already read many blogs about it and I knew Iran would surprise me. And it did. I never expected the country to surprise me that much though.
When I first told people I would be a solo female traveller going to Iran, everyone was concerned about my safety. They all thought I would be abducted or at least thrown into prison for being a woman. As it turned out, after 2 weeks of solo travel in Iran, I had the best time ever. I never felt safer than during my solo travels in Iran."
Amanda, 28
"For the whole time I've spent there, I didn't encounter even one situation when I would have felt in danger or even uncomfortable. Unlike other countries that are top tourist destinations but can be challenging for solo women (I'm looking at you Morocco) Iran was completely safe!"
Debbie, 26
"Having travelled solo through many countries in the Middle East, Iran was definitely one where I felt the safest and above all treated as an absolute princess all the time. Iran is one of the few countries where I never worried about anything. In fact, I have felt more unsafe in the streets of London than anywhere in Iran."