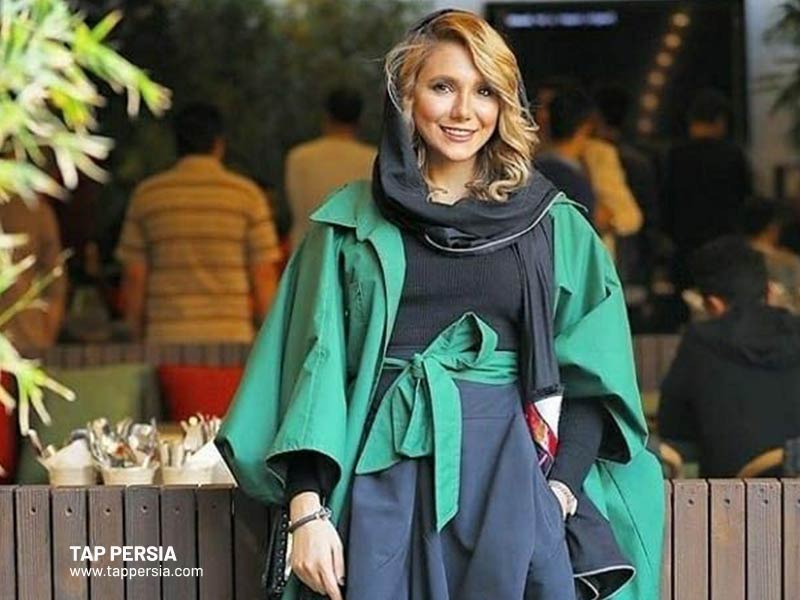 Political, cultural, economic, and religious changes have had a great impact not only on the personal lives of individuals but also on the culture and type of clothing and cosmetics that Iranian people put on. Iran is one of the countries that has undergone rapid and great changes in the fashion industry and cosmetics use in the last hundred years. Of course, it is the direct result of political, cultural, economic, and religious developments.
In fact, we can say the change in the style of men and women from 1921 to 2021 has been even more than in previous centuries. To dig deeper, communication with neighboring and European countries was one of the most effective reasons for these changes. And yet, we can see the changes happening very rapidly.
In this article, we are going to learn more about the ups and downs of the fashion industry in Iran, most particularly, in the last one hundred years. Join Us! Because by the end of this article, your perspective about Iran and its people will drastically shift.
Fashion and Cosmetics in Iran, These Days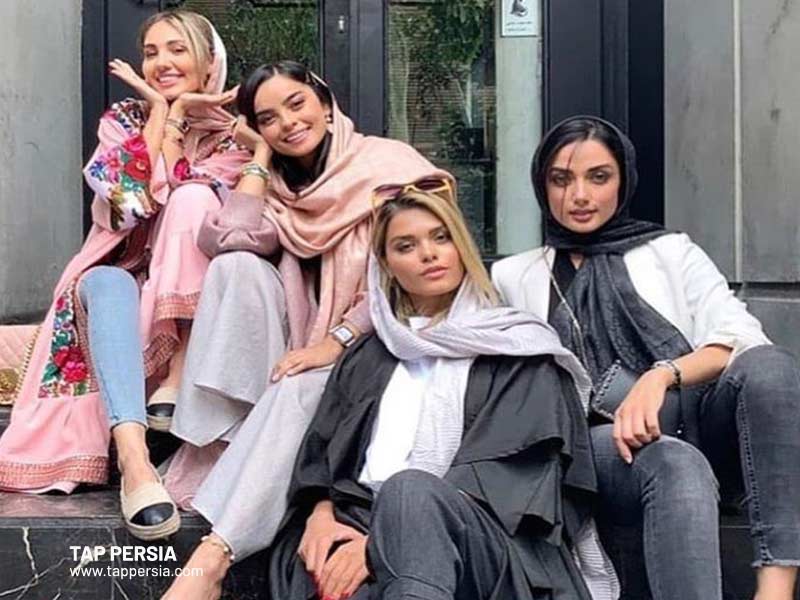 Before we review these factors from 1921 up till now, let's talk about the current situation that might be more interesting to you. Iran is absolutely one of the top 10 countries with the most makeup and cosmetics consumers. you didn't expect that, did you? 😀 Anthropologists assume many reasons. Generally, beauty is very significant in Persian culture in comparison to other countries in the Middle East.
Aesthetics, art, architecture, fashion, and poetry have a very significant role in Iran's history. For example, the Persian Garden is a symbol of paradise. Even after thousands of years, you can still feel the beauty while walking through any of those gardens.
If you read more about Persian poems, you realize the poet is usually describing a beloved person who's so pretty. It's no wonder among whole this beauty, Iranian men and women love to be good-looking and stylish. Moreover, using cosmetics have a millennial history in Iran and the tradition has remained until now.
Is What Tourists Think Right?
Some tourists think they should look very simple while entering Iran, but amazingly Iranian women are chic and pushed up. They wear makeup, dye hair, and have the latest styles. It has become the norm to look more fashionable, there's no push-back about it. Nowadays young Iranians have access to social media, movies, magazines, and foreign beauty products. They follow the latest Western fashion trend on Instagram and find out more about beauty standards. Some of the hashtags you can search about recent Iranian clothing styles are #Persian Style, #Persian Fashion, #Persian Clothing, #manto.
Plastic Surgeries in Iran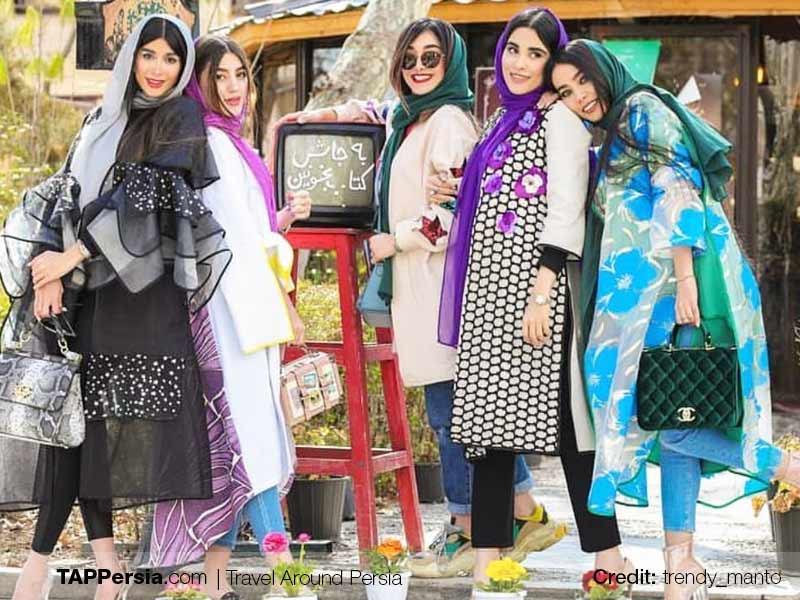 Sometimes the cosmetics don't indulge people and they take a braver step. Makeup and multiple plastic surgeries especially nose jobs have become dramatically popular among women and even men, in Iran.
You may wonder how young girls go under nose surgery without any fear. But almost all of them have a close friend or relative who has done it. They know about all the procedures.
This popularity has made Iran one of the most qualified countries in cosmetic surgeries with the best plastic surgeons. In recent years, It's been becoming popular among foreigners to come to Iran to have their nose done. They all have two good reasons for doing their cosmetic surgeries in Iran: 1. There are highly professional doctors in Iran. 2. It will cost them much cheaper in this country than their own. To get more information about nose jobs in Iran check this link.
Iranian Clothes Categories:
Although most clothes in Iran are typical in Europe, you may find few pieces unfamiliar. You don't have to change your dressing style a lot for traveling to Iran. For more information, check Iran Dress Code Page.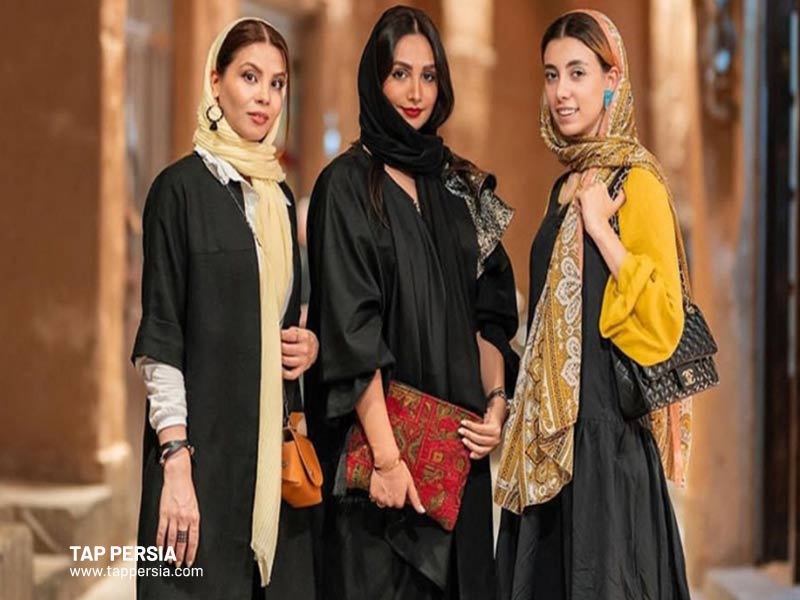 You may feel comfortable wearing a t-shirt and jeans in your own country. The only thing is you need to wear a "manto" over the top, for entering Iran. Or you can wear a ¾ sleeve tunic dress with your pants.
Also, a loose scarf wrapped over your head is necessary and acceptable nowadays. Here are the unfamiliar pieces:
Mantos:
It comes from the French word, manteau, a thin loose-fitting rob on top of other clothes. In Iran, it's considered an Islamic Hijab for women. Female students put them on as school uniforms. And on formal occasions and offices, Iranian women wear plain types of mantos.
These days there are various elegant mantos designed and sold in fine boutiques and malls. We suggest you leave some space in your suitcase, you may be inspired by stylish Iranian clothes.
Scarf:
Scarves have diverse designs and colors here. Sometimes you can see traditional patterns of tiles or paisley shapes over them.
At times they have more modern designs. The same happens about mantos. Recently, it's become very popular to tie them in different ways overhead.
Maghnae:
A formal version of a scarf, usually worn in darker colors like black and navy blue. Usually, female students and staff on formal occasions and in offices wear Maghnae.
Chadur: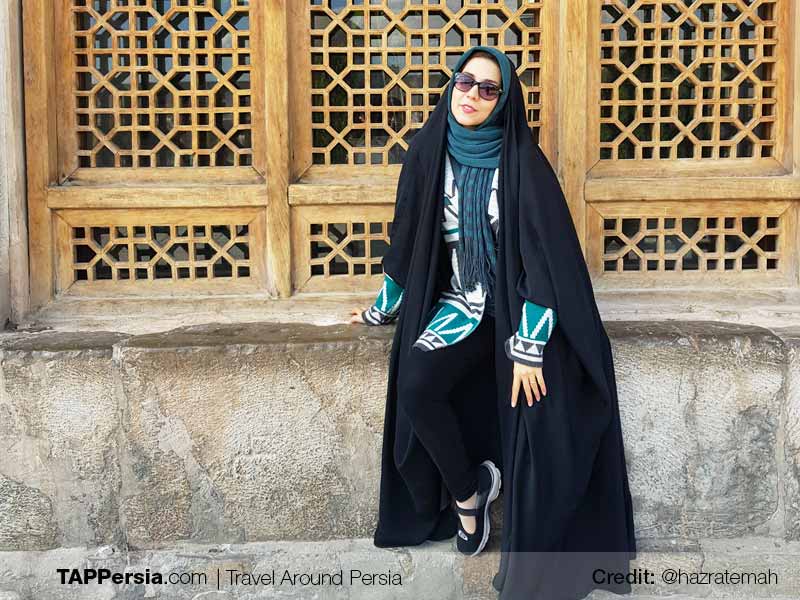 Chadur is an Islamic outer garment. In fact, it's an open cloak that covers the body shape from the top of the head to the feet.
It's worn by religious people to be more moderate. They wear black chadurs on the streets. The colorful ones are mostly used at home in front of guests.
Apart from these pieces, other Iranian clothes are exactly like anywhere in the world. Sometimes they wear a coat and skirt or pants at weddings and even on the streets if the skirt is long enough to cover the legs to the feet.
Even the popular color changes yearly. For some years European styles were so common among Iranian women, but these days they're also excited about traditional designs.
Iranian Men's Fashion Trend:
There was a time that men used to wear traditional clothes. But nowadays, it's updating according to the world's fashion. Only in some regions of Iran, they put on local clothes on special occasions. At the same time, hairstyles are trendy and vary from time to time.
Fashion in Iran Before the Qajar Era
If we study the clothes of Iranian men and women before the Qajar period (1789 to 1925), we will find that most of their clothes were shirts with oriental designs. Plus, they produced most of the fabrics of their clothes in Iran.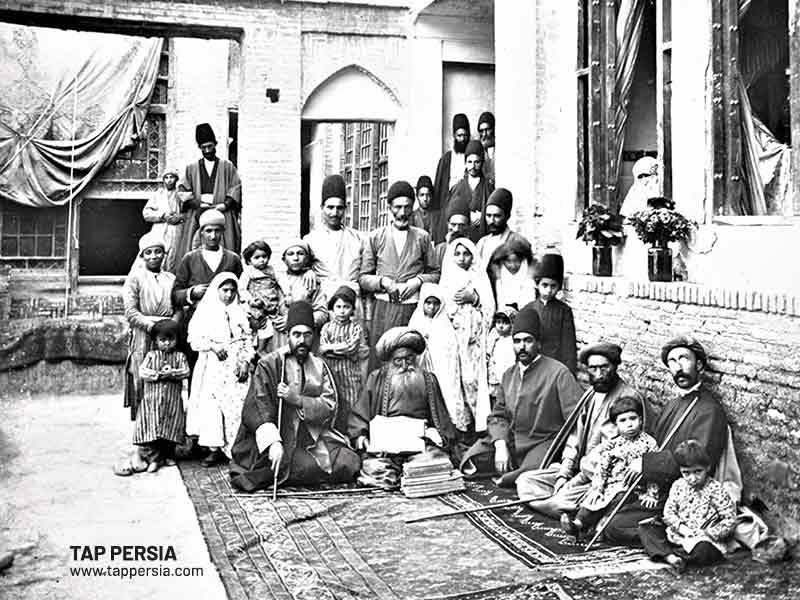 At the beginning of the Qajar era, there were not many changes in the appearance of men's and women's clothing. Men wore shirts, vests, cloaks, waist scarves (sash), belts, cloaks, Qajari hats. And women wore trousers, skirts, scarves, veils, and so on. In fact, the model of women's clothing was not well defined for Qajar women. Because they had limited social contact.
Qajar Era: The Turning Point of Fashion in Iran
If we want to define the starting point for a change in the dress of women in the Qajar royalty, everything starts from a party. At a party, Fath Ali Shah's first wife met Elizabeth McNeill, John McNeill's wife. She wore a white satin shirt decorated with jewelry. As a result, this party was the starting point for changing the clothes of Qajar women.
The travels of Nasser al-Din Shah Qajar to different courtiers, and the communication of students, and ambassadors to Europe brought about a significant political and commercial change in Iran. Moreover, all of this expanded the cultural and social ties between Iranians and Europeans. As a result of these connections, there was a big change in the type of clothing Iranian men and women wore.
The Leaders of Fashion in Iran at the Time
1. Malik Jahan
Qajar women, including Malik Jahan, the mother of Nasser al-Din Shah, and Taj al-Satanah, were among the royal women. They played an important role in changing the fashion in Iran and changing the status of women during the Qajar period.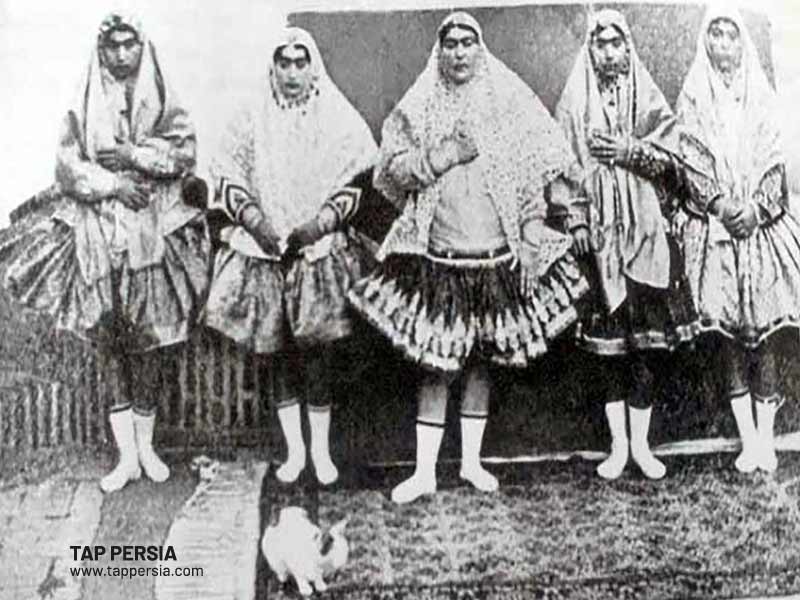 Malik Jahan was one of the royal women who cared a lot about her dress and jewelry. With the arrival of silk, satin, mahogany, and cotton fabrics and the activity of European tailors in Iran, the Iranian outfit took on European styles.
Malik Jahan used the finest velvet and silk fabrics to sew her garment. And always used pearls and wonderful jewelry to decorate them.
2. Taj al-Saltanah
Taj al-Saltanah was the daughter of Nasser al-Din Shah. Unfortunately, her photographs have been widely criticized and ridiculed in recent years. But we should have in mind that she was one of the most important women in the Qajar royalty. She was very interested in French fashion. And she had a great desire to follow European fashion.
Taj al-Saltanah considered wearing European clothes as one of the ways for women to be free and active in society. She was a member of the Women's Liberation Association. Unlike many Qajar women, she went to school. Her efforts for the freedom and rights of Iranian women at the time were criticized and hated by Mozaffar al-Din Shah (her brother) and many other Qajar royalties.
3. Nasser al-Din Shah
Nasser al-Din Shah himself was one of the people who had a special interest in European clothes and outfits. During one of his trips to Russia and watching a ballet show, he was impressed by the skinny pants and puffy short skirts. In fact, in many of the photos, you see Qajar women wearing pleated skirts and trousers. And as you now know, they were all inspired by the same Russian ballet show. 🙂
Chapeau and Kepi Hat Period During Pahlavi Dynasty
Public Outfits: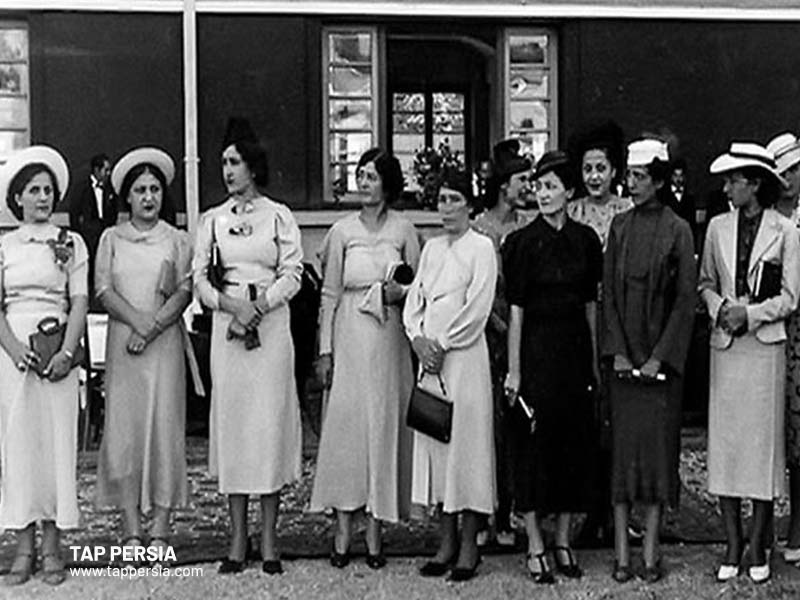 In 1925, the Pahlavi regime in Iran began. It was then, the imitation of European culture and fashion reached its peak. The spark for banning all Islamic veils was heard in the late Qajar period. But the arrival of the Queen of Afghanistan to Iran and Reza Shah's visit to Turkey and meeting with Ataturk pushed things further. After all this, Reza Shah announced the banning of all Islamic veils and the unification outfit of the Iranian people.
Reza Shah's order to modernize culture and clothing led men to wear European men's suits and chapeau hats instead of the traditional Qajar outfits and even the local costumes of the cities. Women could also use a feminine chapeau instead of a headscarf.
Military Uniforms:
Over time, even military uniforms were modeled on German and American military uniforms. The remarkable thing was the men's mustache which had also been changed. If you look at old photos of Iranian fathers or grandfathers, most gentlemen wore a square mustache called the Hitler mustache.
Hippie Clothing:
According to historical evidence, the fedora hats (chapeau) were one of the clothes that entered the country during the Qajar period. But women started using that during the Pahlavi era. The '40s, in Iran, is also known as the chapeau hat decade. Why? because most men and women wore the chapeau hat. However it was not all, hippie clothing was also one of the most important patterns in Iranian youth clothing at that time.
The Famous Tailor:
Zinat Jahan Shah was the daughter of a colonel in the Pahlavi War Ministry. She immigrated to Switzerland after her marriage. There, he studied sewing for almost a year and then moved to the fashion world of Paris to learn design and the art of dressmaking from Pierre Ballman. Pierre Ballman was a famous French designer.
Zinat Jahan Shah returned to Iran in 1931 and set up a tailor shop and boutique in the Amirieh neighborhood of Tehran. She was one of the famous female designers in Iran. Many rich people entrust their clothing design to her. Therefore, little by little clothing design became more and more popular in Iran.
The Islamic Republic Revolution and Religious Clothes
The revolution of the Islamic Republic of Iran (1979) brought about great changes in clothes type, especially for women. As you know, political and religious developments play an important role in people's lifestyles. So after the revolution, the type of clothing and even the style of clothing for men and women underwent major changes in a short period of time.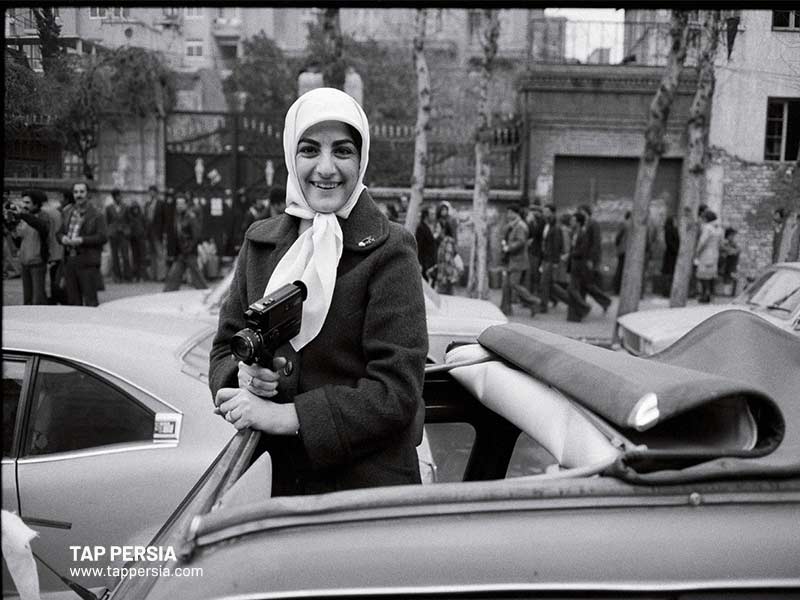 After the political developments and the imposed war in the early days of the victory of the Islamic Revolution, clothes diverged far from Western fashion. In those years, the style of men and women became Islamic clothes. And the problems of the war were a lot that people could not think about Western clothes and fashion, at the time. Therefore, in those years, most of the clothes were Islamic and simple. Over time, men's and women's clothing kept changing. Of course, the advent of technology has had a great effect on these changes.
By now we've gone through the reasons or the list of people that caused these style and fashion changes in Iran. Now let's take a harder look at the hot models of clothing through this time. That would be FUN! 🙂
The Style of Men and Women in Iran From 20's to the Early 50's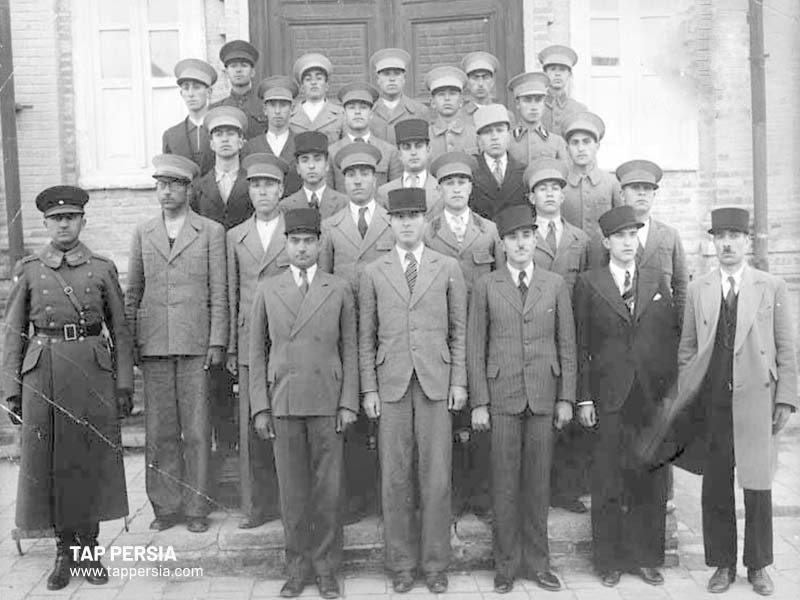 When the 130-year rule of the Qajar dynasty was overthrown, then it was the Pahlavi government's turn. Pahlavi government embarked on a plan to modernize society. For almost the first 30 years of the Pahlavi regime, clothing patterns were inspired by European fashion, especially French. Additionally, many fabrics were imported to Iran from Europe. Also, over time, tailoring houses and fashion shows were established in large cities, especially in Tehran.
At the beginning of 1925, chapeau suits and hats replaced Qajar men's long coats and shirts. And women sewed long-sleeved shirts for themselves, following the example of European magazines. Over time, simple women's shirts were replaced by riveted and fluffy skirts. And then, more and more European fashion models entered the market. Therefore, changes and fashion in the following 30 years took place quickly.
Two-tone men's shoes and colorful coats and pants were just part of the menswear at the time. However, the variety of women's clothing was much greater than men's clothing. Lace skirt, crooked hat on women's short hair was one of the important trends at the beginning of Pahlavi rule.
The Style of Men and Women in Iran in the 50's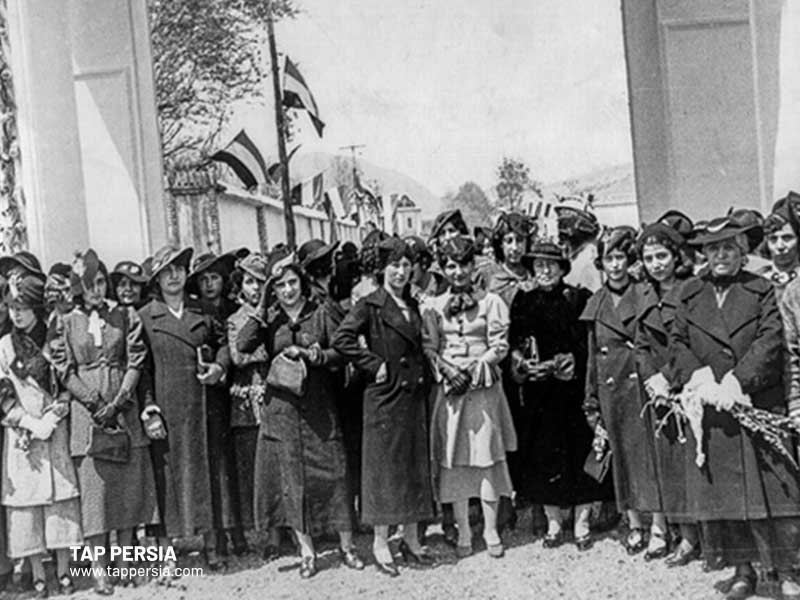 We can call the 50s the peak of Iranian intellectuals and modernists' activity. During these years, many Iranian filmmakers attracted public attention. And then, by the release of foreign films in Iran, more changes occurred in the level of culture and clothing.
Lalehzar Street, which is now a shopping center for chandeliers and lamps, was once a hangout spot for modernists. This street was one of the most important streets for buying European and fashionable fabrics and clothes. In fact, luxury could be clearly seen on this street.
The use of animal skins and furs in the production of expensive clothing had increased in the 50s. Leather gloves were also so popular among men and women. So that many women wore leather gloves with their party gowns. It is very interesting that cosmetic surgery, especially nose jobs, became more popular in this decade.
The Style of Men and Women in Iran in the 60's
In the 60s, the design of jewelry and ornaments became more successful. You can see a great collection of this art in the Pahlavi Palaces. This jewelry was a combination of Eastern and Western jewelry designs.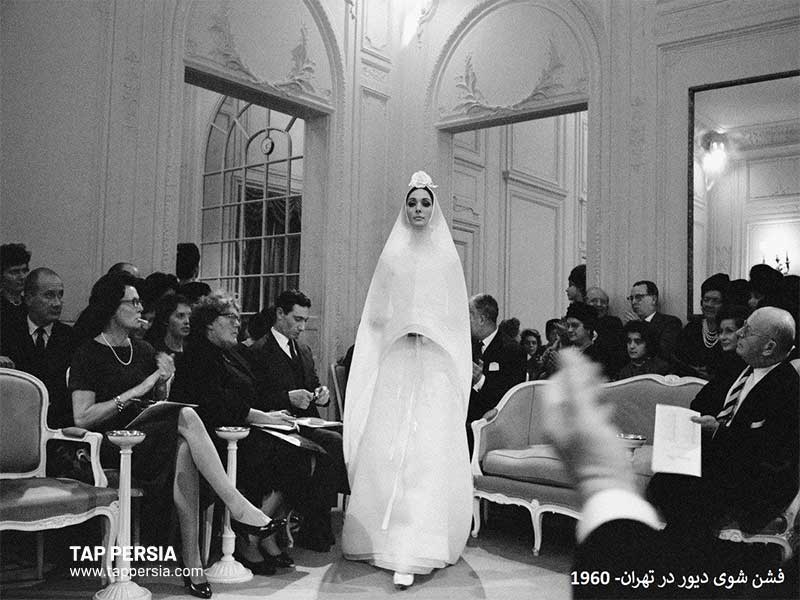 Interestingly, at that time, the Iranian designers even attracted the attention of Vogue fashion magazine. Men's and women's clothing and jewelry models attracted the attention of many Vogue reporters in the 60s.
If we want to refer to a special design in that decade, undoubtedly, floral, leopard, and sequin dresses were among the most important and popular clothing designs of that period. Women became very interested in losing weight by following the model of magazines. As a result, the waist of clothes became tighter, and accessories such as women's belts became common.
If you look at photos of mothers or grandmothers in the 60s, they usually had puffy, voluminous hair that had been welcomed by women for years. The men also styled their hair with tragacanth. They also tried to adapt to the changes with a variety of clothing styles.
The Style of Men and Women in Iran in the 70's
At the beginning of the 70s, the model of western hippie clothes was also welcomed by Iranians. Most shirts and blouses were colorful and loose. In those years, many men's shirts were designed with Baluchi embroidery.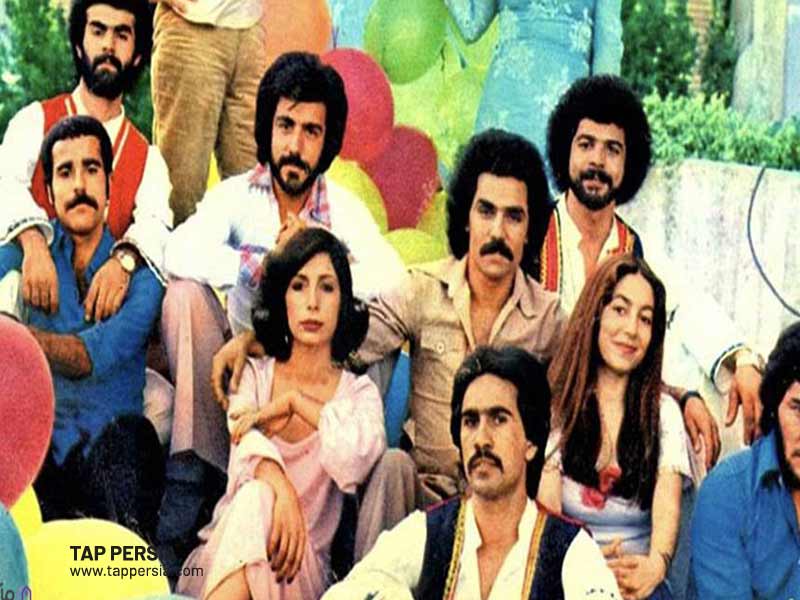 This design was so popular that for a period, even in formal ceremonies, they used embroidered men's shirts instead of ties and bow ties.
Let's give you a tip that needlework in Sistan and Baluchestan is one of the most important national works of art. Surprisingly, these designs are not inspired by nature, but by dreams. In recent years, Balochistan needlework has become one of the most popular designs among Iranian designers.
In the late 70s, with the victory of the Islamic Revolution, major changes took place in men's and women's clothing. You can clearly see most of these changes in the 1970s and during the war (Iran and Iraq). Hence, political and religious developments caused a change in fashion in Iran.
The Style of Men and Women in Iran in the 80's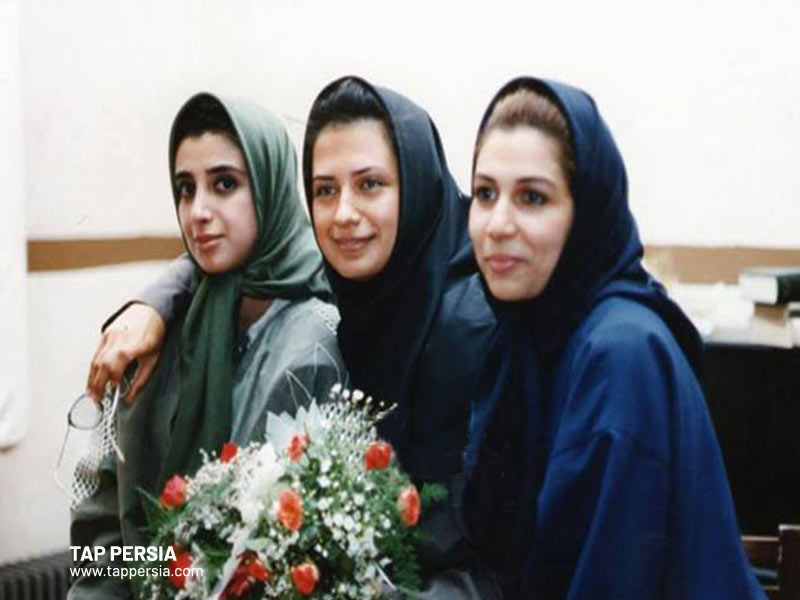 Rubber glasses, baggy pants, and rabbit-collared coats were the major menswear in the early 80s. Women also appeared in long, coats (Mantos) with power shoulders and simple scarves. Having said that Chadur returned to their wardrobe.
Over time, ties became a symbol of Westernization. And the generality of men's and women's clothing lost its European designs and became more oriental and Islamic. With the start of the war, fashion and the fashion industry were limited.
The appearance of men's and women's clothing became simpler and more dressed than in previous years. However, after the end of the war, fashion found its place again. The role of western movies and satellites was bold in this shift.
The Style of Men and Women in Iran in the 90's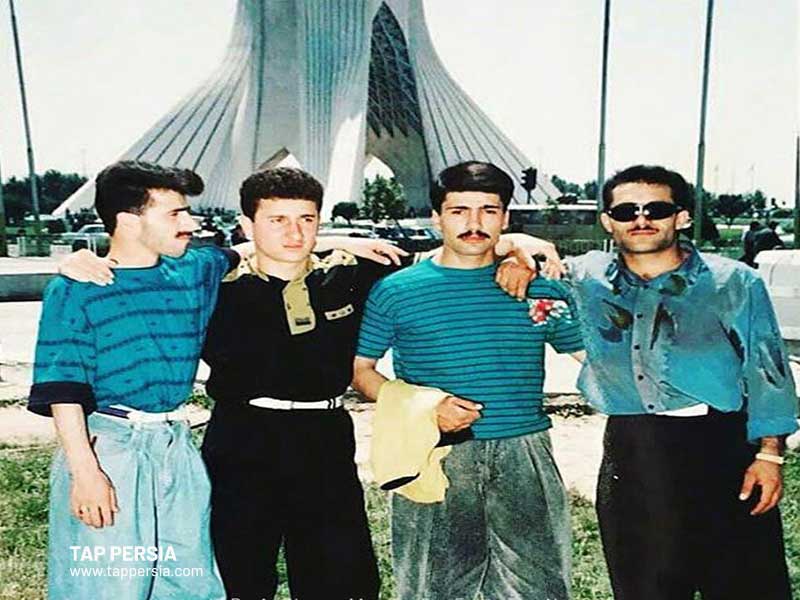 The 90s was again the starting point of the fashion industry in Iran. Jeans replaced plain pants. And patterned T-shirts replaced plain shirts. During this period, even the make-up and hairstyle changed. The middle part and pushed-back hairstyles and gelling the hair were the favorites of young girls and boys.
Inspired by the 60s and 70s, the color shade once again became popular. Even men's barbershops found a more modern look.
Movies and serials of that period such as In Your Shelter (Dar Panah-e To), Tehran 11, Barbershop Ziba, Spouses, Green House, Sultan and Berger, and the Pedar Salar played an important role in changing the fashion of men and women in Iran. For example, bat-sleeve coats and patterned and colorful scarves are inspired by the costumes of TV series actors.
The Style of Men and Women in Iran in 21st Century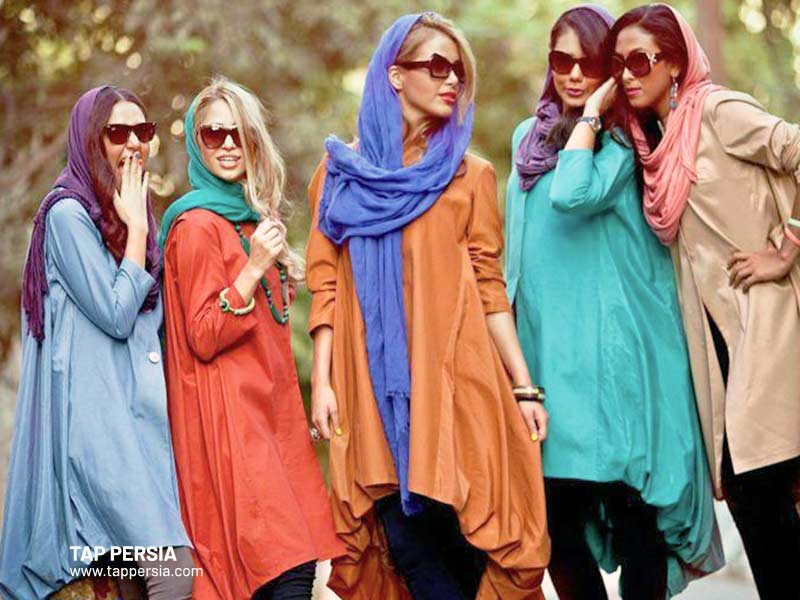 With the availability of technology, computers, and the Internet in Iranian homes, fashion changes have increased more than in previous years. In the early years of the 21st century, most young boys and girls wore the color of the year and according to western trends (of course, as much as the Islamic rules allowed them).
But in the second decade of the new century, the activity of Iranian designers increased. And, as a result, the variety of men's and women's clothes raised. Therefore, the pattern of the clothes was not only obtained from European and American fashions. Instead, many of the clothes took on an oriental style close to Iranian culture.
This development of clothing design in Iran is increasing every day. Prestigious and successful Iranian brands have found a particular position in the country and all over the world.
Final Words
Thank you so much for joining us. We hope you have enjoyed reading the article. If so please let us know in the comments. Remember, your words are worth the world to us. Have you ever worn Iranian clothes? If so, how did you like it?
Many foreigners think of Iran as a desert land with people with no technology. In case you are one of them I hope this article has motivated you to learn more about Iran. And I assure you you will be surprised.
Or maybe you are wondering if you should visit Iran or not. We encourage you that you should because it would be an incredible trip that you would never forget. In case you have any questions regarding a trip to Iran, our expert colleagues are by your side 24/7. You can reach them via the contact info below the same page. 🙂
Hope to see you soon in Iran
Last Edited: July 8th, 2021
---
Recommended Tours