Although Persians make up the majority of the population, Iran is home to numerous smaller ethnic groups, each of which has its own language, customs, and attire. Here, we examine the traditional Iran dress of some of the country's most unusual and unique tribes, showcasing the vast range of traditional Iranian clothes, from oddly shaped caps and headdresses designed to fool invaders to eye-catching color combinations that fit a runway.
Traditional Iranian Dress: A Window into the Rich Culture and History of Iran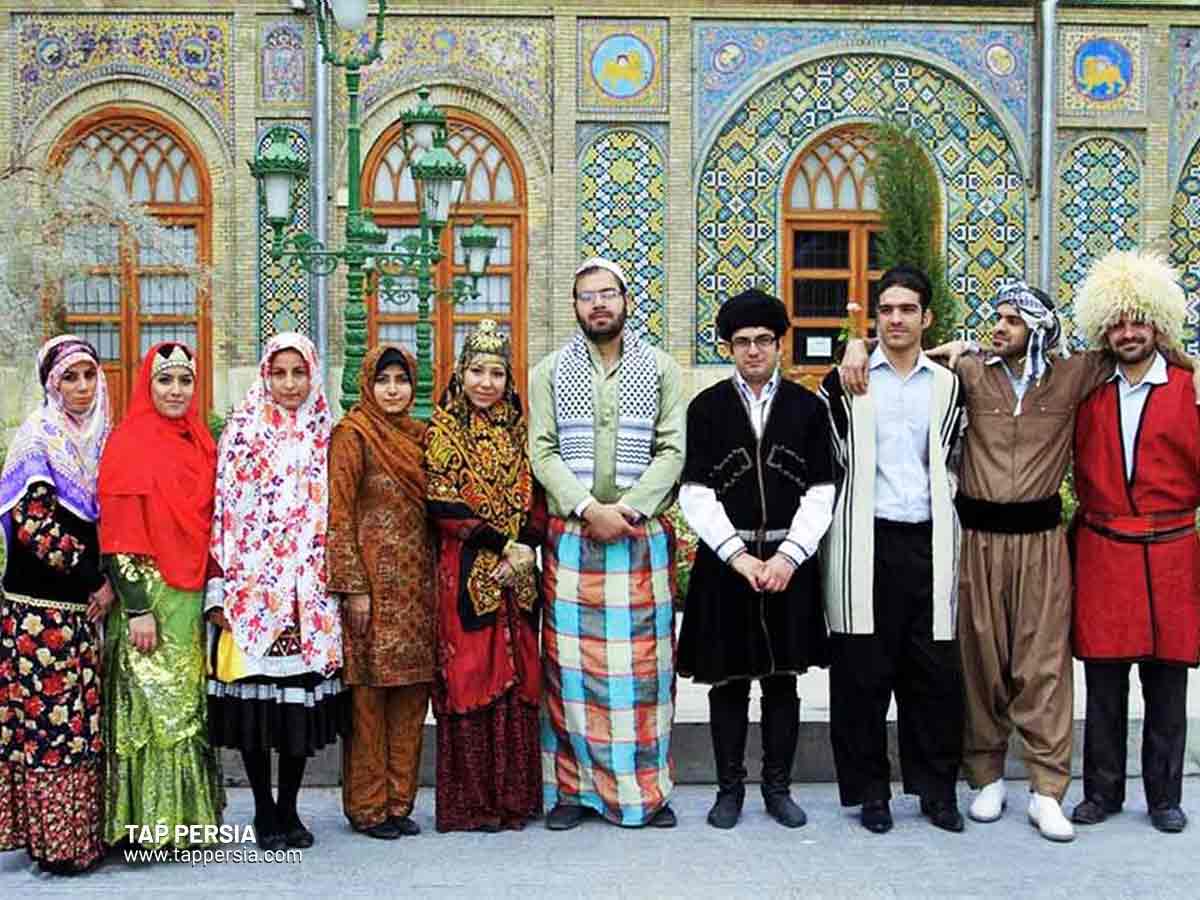 Clothing has always played a significant role in Iranian culture, especially in rural areas where religious beliefs are strong. Since the dawn of time until the present, this has been the case. Different ethnic groups continue to wear traditional attire, displaying the history and costumes that are particular to each region. Regardless of the strict dress code that was implemented in Iran after the revolution, a wide range of clothing is still visible, especially in villages.
Furthermore, a sizable portion of Iranian women in major cities like Tehran is willing to wear chic and fabulous clothing and follow fashion trends. They imagine achieving their ambitions by being admired for their beauty and charm.
Iranian culture is diverse and multiethnic, and this is reflected in Iranian attire. It showcases the artistic abilities of Iranian artisans in addition to serving as a reflection of the country's cultural heritage. The traditional clothing for women and men is different in style and color, and it is embellished with elaborate beadwork, embroidery, and sequins that have all been painstakingly created by expert artisans. Traditional Iran dress is incredibly beautiful and draws travelers from around the world.
Here are the 14 stunning examples of traditional Iranian clothes:
1.Baluch Clothing: Traditional Attire from Baluchistan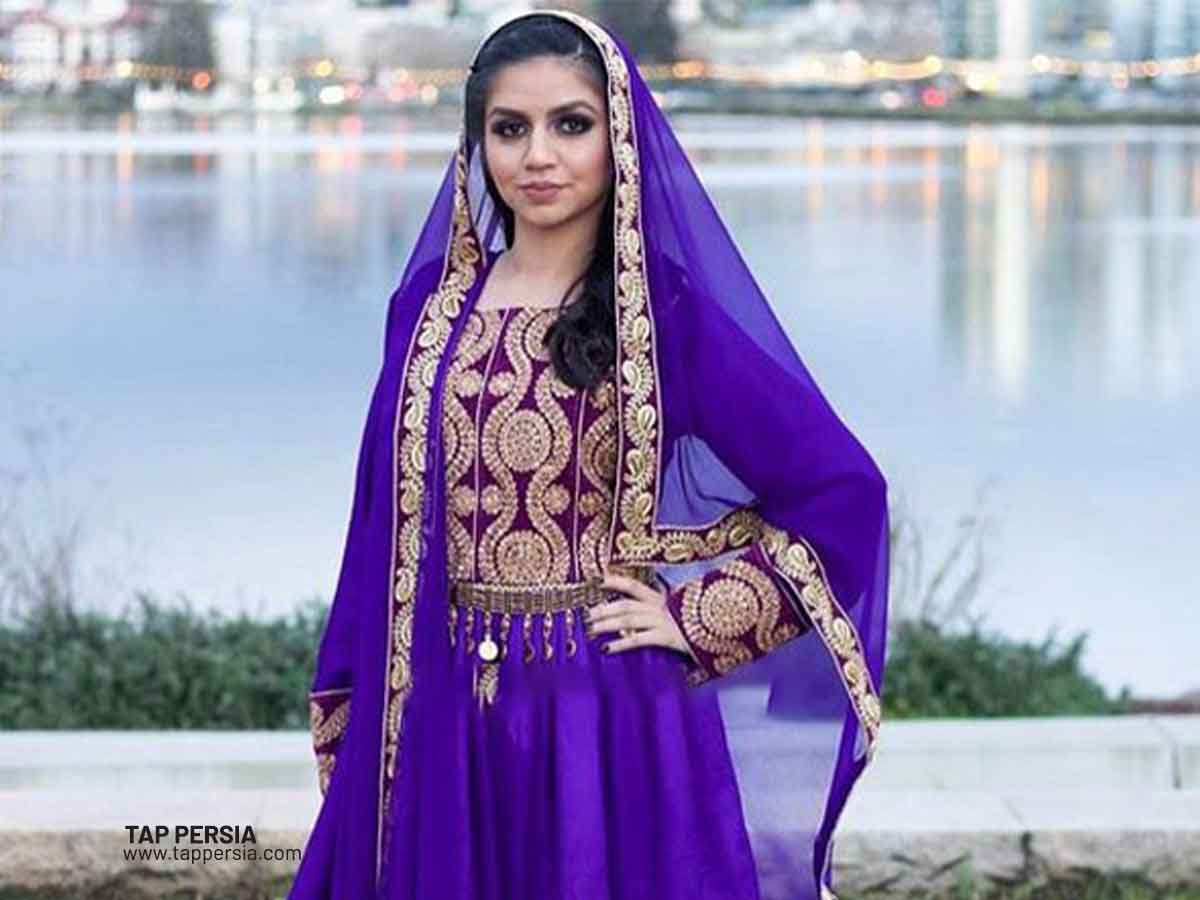 It is not unexpected that the Baluch people's traditional Iranian clothes closely resemble the voluminous shalwar kameez (loose pants with a long shirt or tunic) seen in Pakistan and Afghanistan given that they are from the southeast Sistan and Baluchestan region.
Women wear wide-legged pants and colorful, embroidered knee-length gowns, as well as gold bangles, necklaces, and brooches, and frequently cover their head and shoulders with a second, longer shawl. For men, wearing a turban, long trousers, and loose-fitting shirts is traditional.
2.Gilan Clothing: Colorful and Lively Style from the Caspian Sea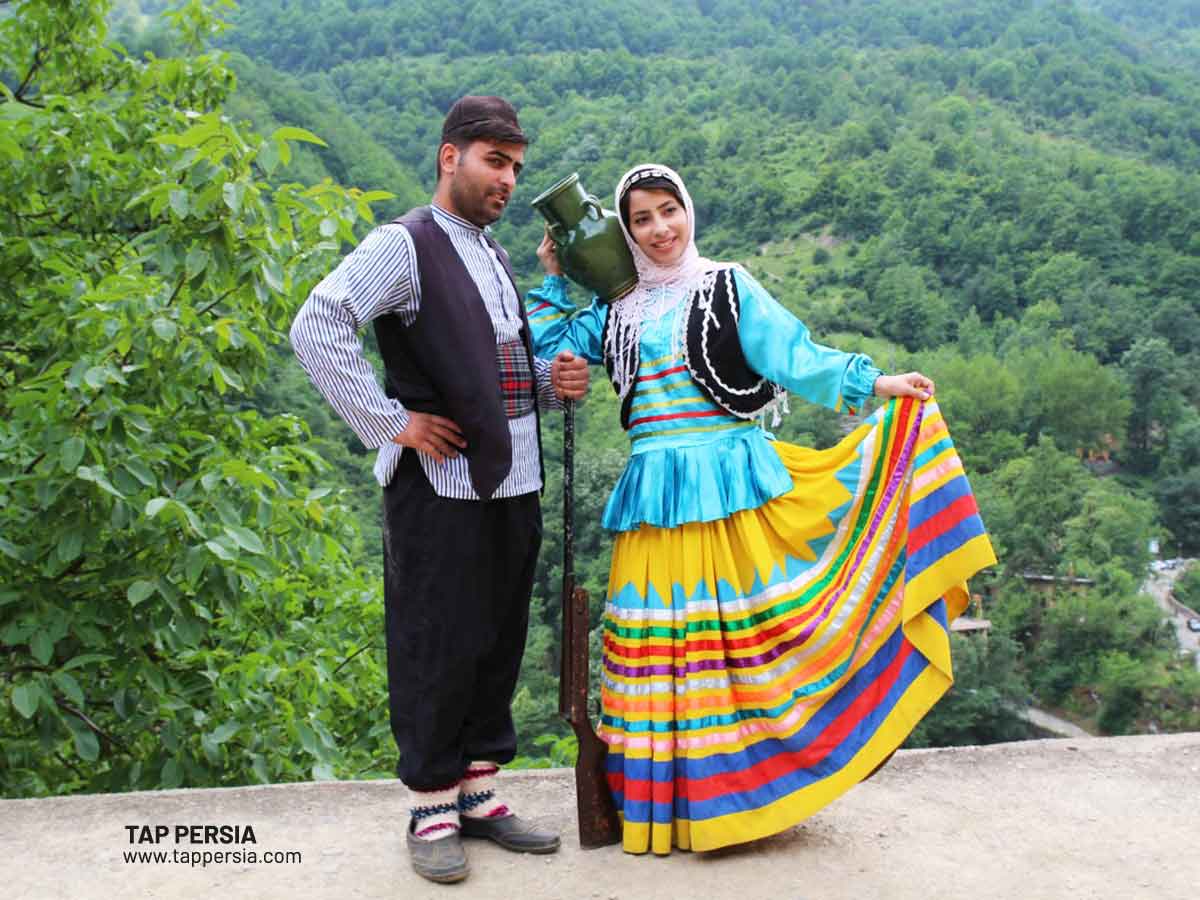 The Gilak people, who are indigenous to Gilan's northern area, are not typically nomadic, instead choosing to produce and raise animals in the Alborz mountain range and adjacent plains.
The women's clothing is made up of long pleated shirts placed over black velvet vests embellished with colorful embroidery, and floor-length skirts instead of the typical wide-legged pants worn by Iranian women in traditional Iranian clothes. The clothing for males is more subdued, with a black-and-white color scheme broken up by socks or a broad cotton waistline in a vibrant hue.
3.Shiraz Clothing: Admire the Elegance and Grace of Traditional Shirazi Dresses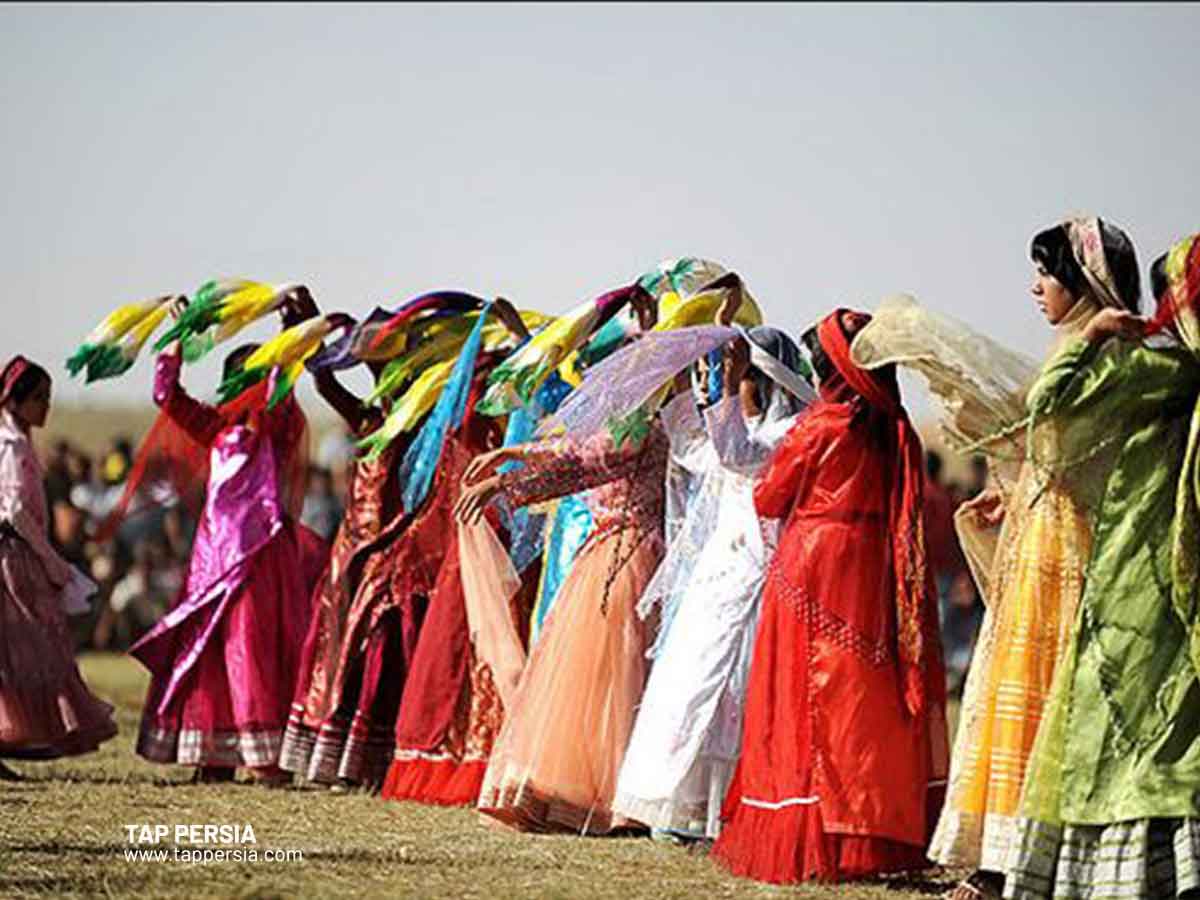 Many people think a small number of Shirazi women sew their traditional Iranian clothes for the city. Khus is a type of silver-tissue cloth, and Shiraz has acquired an Indian Khus weaving business. It is used to decorate children's clothing as well as scarves, hats, and trousers. The large Khus scarf worn by Shirazi ladies is one of the most well-known pieces of clothing in the city. The bride's outfit specifically uses khus weaving.
Shiraz local clothing for men, which is very attractive and lovely, consists of various components, including a long shirt that is occasionally patterned and other times plain, dark pants that are the right size, a thin silk robe with sleeves, a felt hat with a simple shape and deer horn, and a waistband that is tied on the shirt and the robe is draped on it.
4.Abyaneh Clothing: Unique and Distinctive Costumes from the Red Village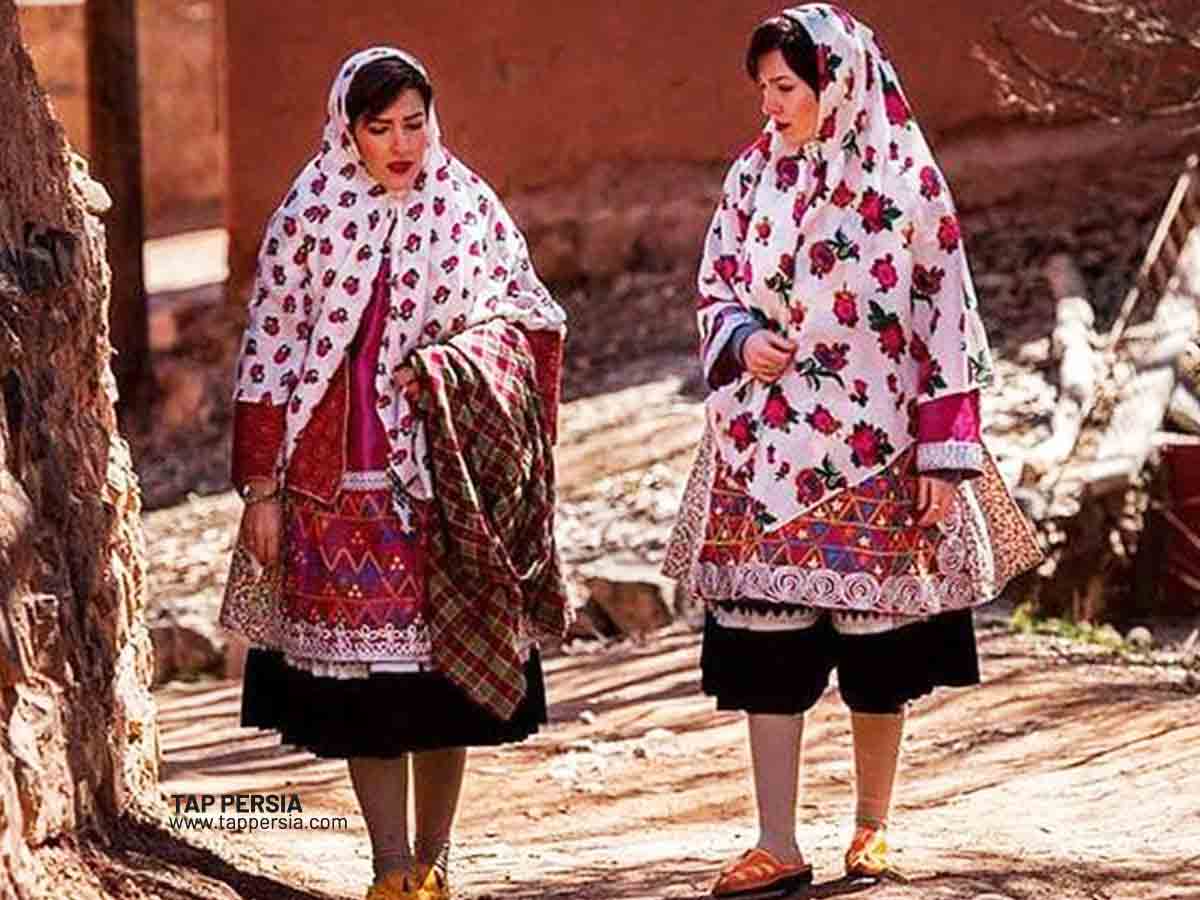 You anticipate seeing joyful, vibrant clothing in a lovely location like Abyaneh. You won't be let down because there are many different colors and patterns in people's clothing. In reality, the Abyaneh traditional Iranian clothes is one of the most exquisite in Iran and has been nationally recorded owing to its distinctive qualities.
In this magnificent community, the women never wear black and always keep their floral scarves on. The distinctive traditional dress of Abyaneh sets it apart from other cities because of its white backdrop carpets adorned with vibrant flowers. They fasten the headband with a knot and put on a red hoodie underneath. Sweatshirts are embellished with silver at weddings to make them appear more opulent.
5.Hormozgan Clothing: Colorful and Joyful Outfits from the Persian Gulf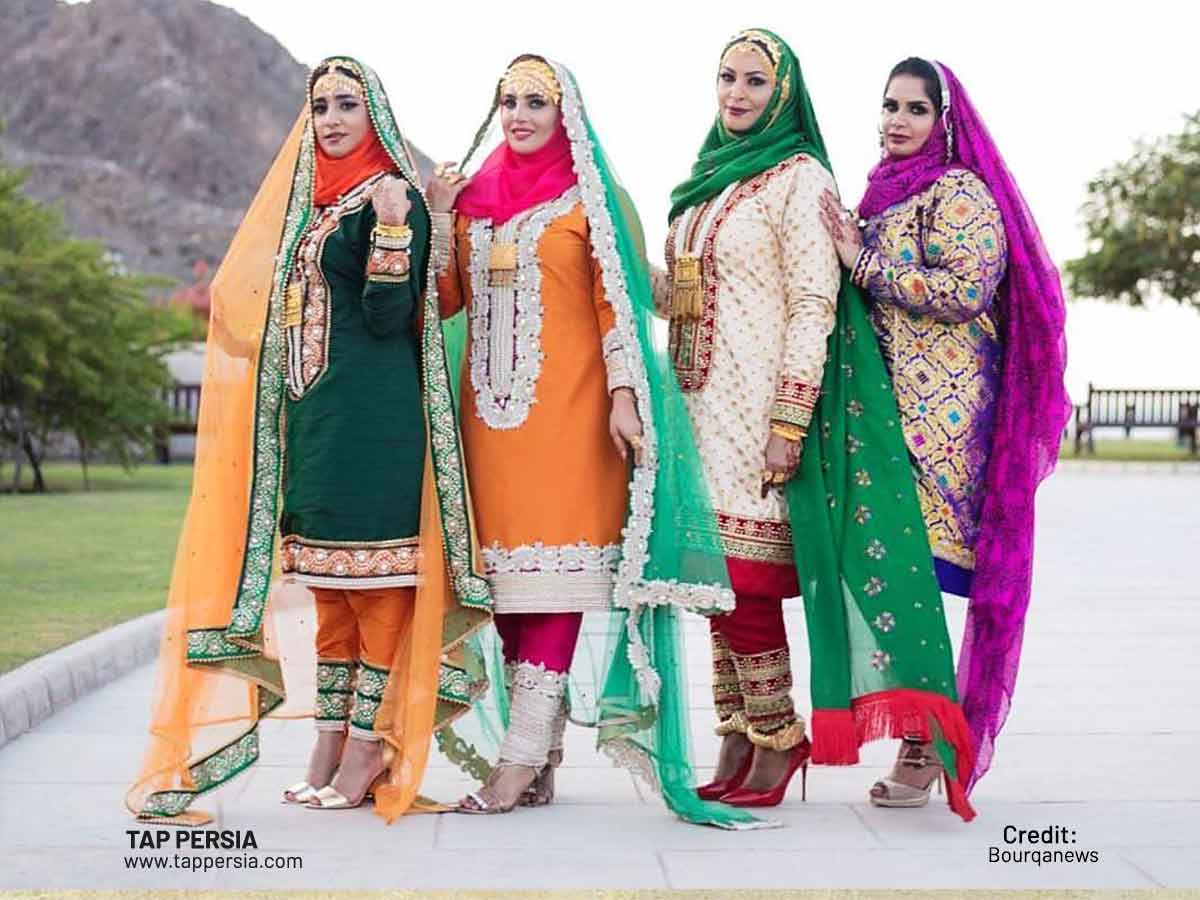 This Iranian traditional dress from the south is distinguished by its extraordinary design, which shields the body from intense sunshine and scorching weather. Women choose to pick a very soft and delicate fabric for their garments when wearing these traditional Iranian clothes. So nice pants with needlepoint decorations display their skills and passion.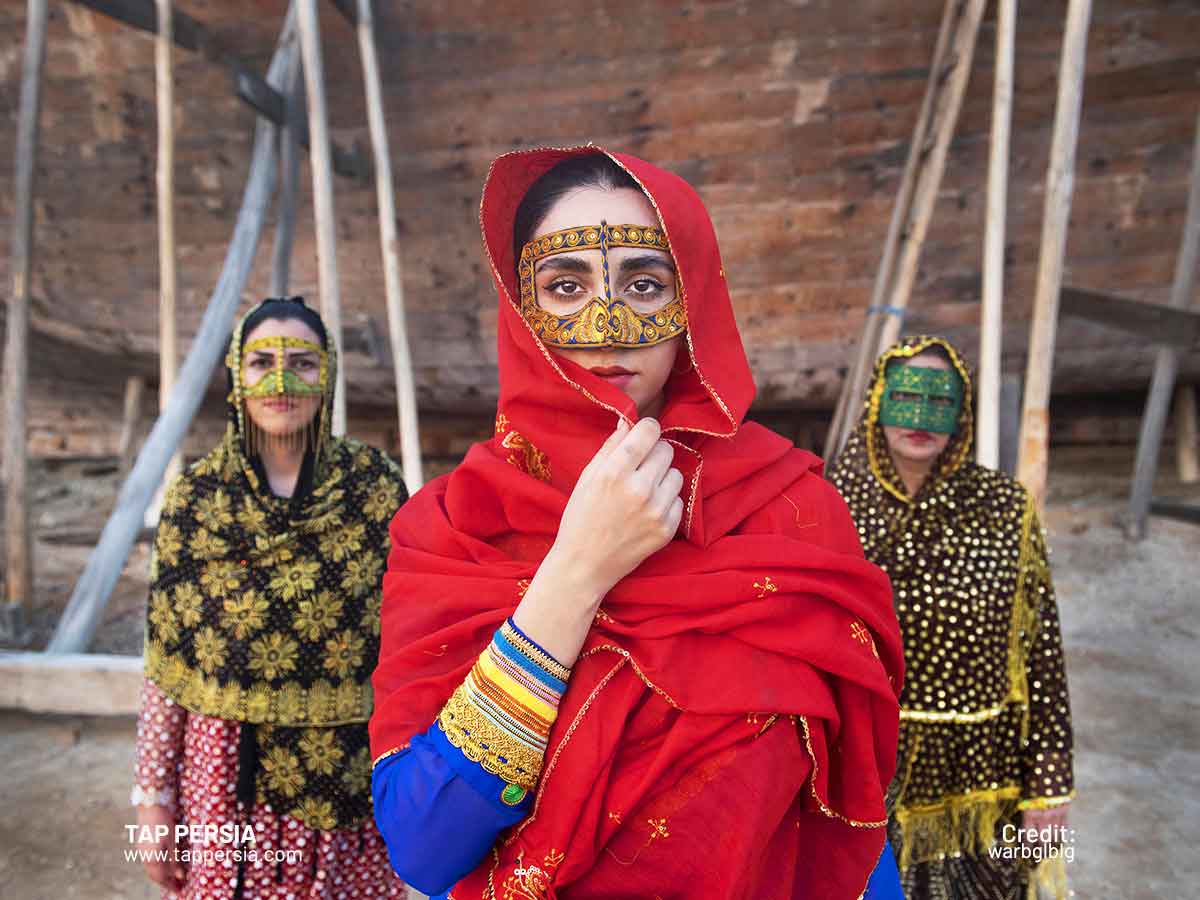 However, the 'Kondero' that is worn in southern Italy and Spain is yet another amazing feature of Hormozgan's traditional clothing.
6.Kurdish Clothing: Cultural and Ethnic Attire from the West of Iran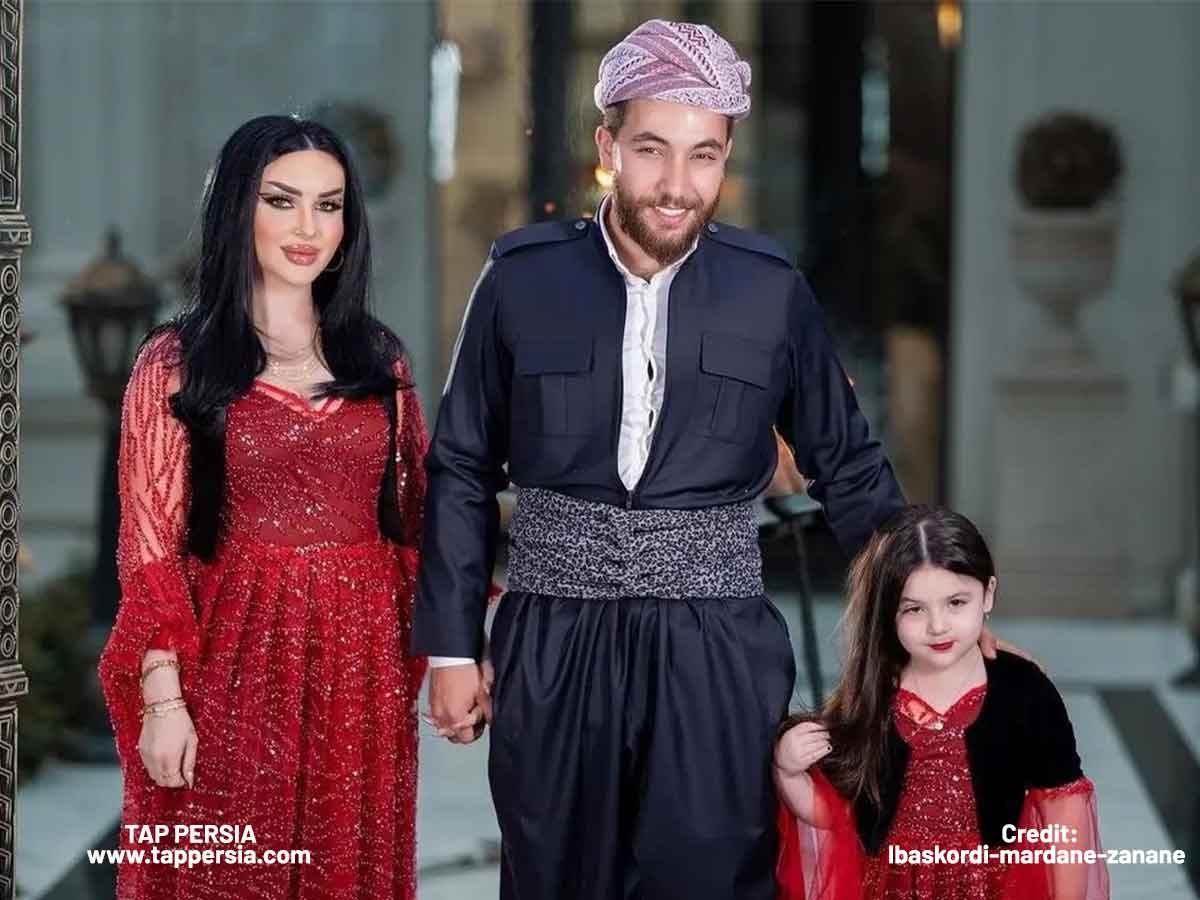 Since Kurds are indigenous to Kurdistan, a vast geocultural region encompassing parts of Turkey, Syria, Iraq, and Iran, it is not surprising that regional variations in traditional Iranian clothes exist. One thing that never changes is the preference for baggy clothing with a broad belt to define the waist among both men and women. Men wear identical coats, and ladies adorn their headscarves with hanging coins and jewels. You may occasionally find both men and women donning black velvet hats adorned with turquoise and amber beads or silver and gold charms.
7.Ilam Clothing: Traditional Dresses from the Land of the Lurs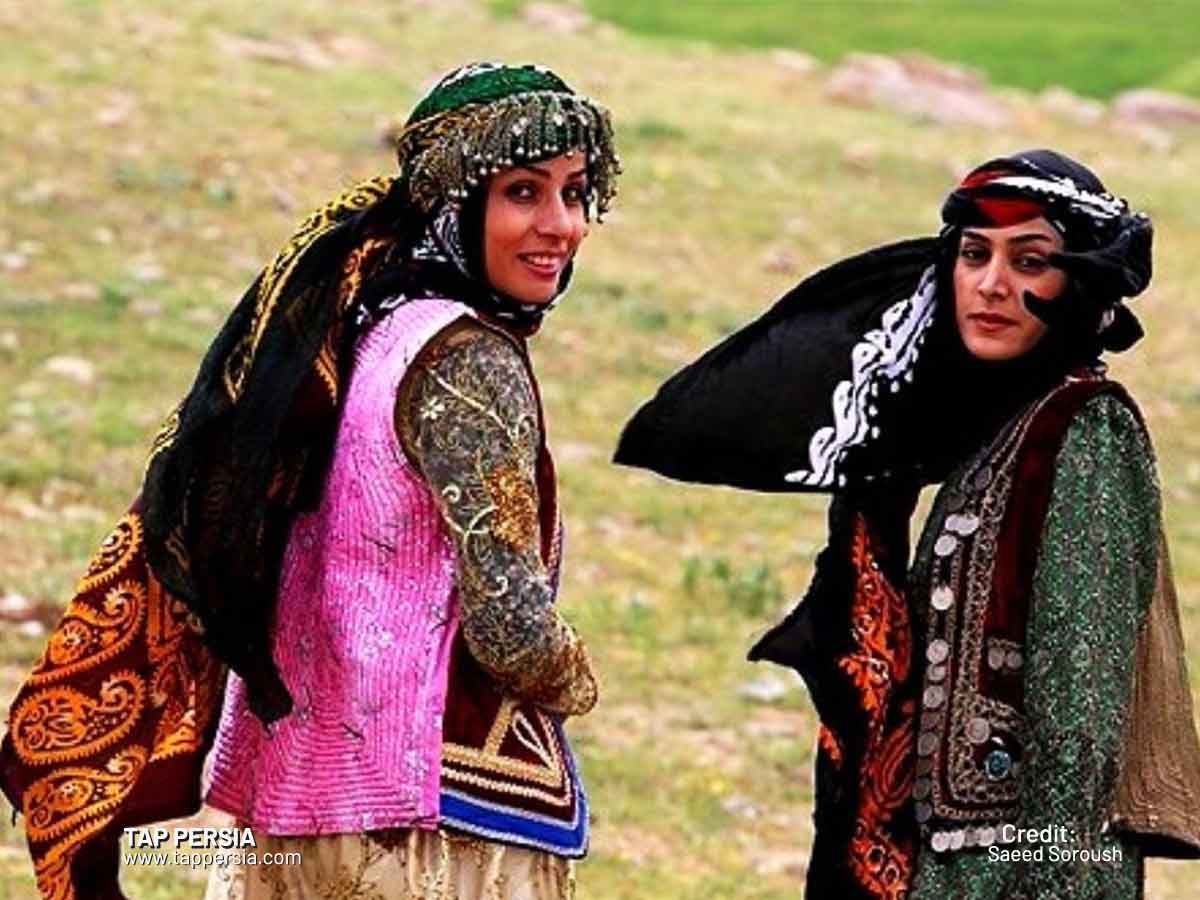 The primary component of Ilam women's clothing is golvani. In this region of the nation, the traditional Iranian clothes for women take on a more typical Achaemenid style. In their language, "golvani" refers to a silk scarf with traditional designs or a filler. You could find it fascinating, of course, that young girls wear smaller Golvani as scarves. This scarf is now regarded as a memento of Lorestan.
These types of clothing were quite popular in the past, particularly in this region during the Medes and Achaemenid periods.
Men's attire also includes kelaw, lacheg, a type of square-shaped headgear made of cotton with geometric patterns and a square form, as well as men's aragchin, which is designed for the elderly and is employed in Kurdish regions.
8.Azerbaijan Clothing: Classic and Timeless Clothes from the Northwest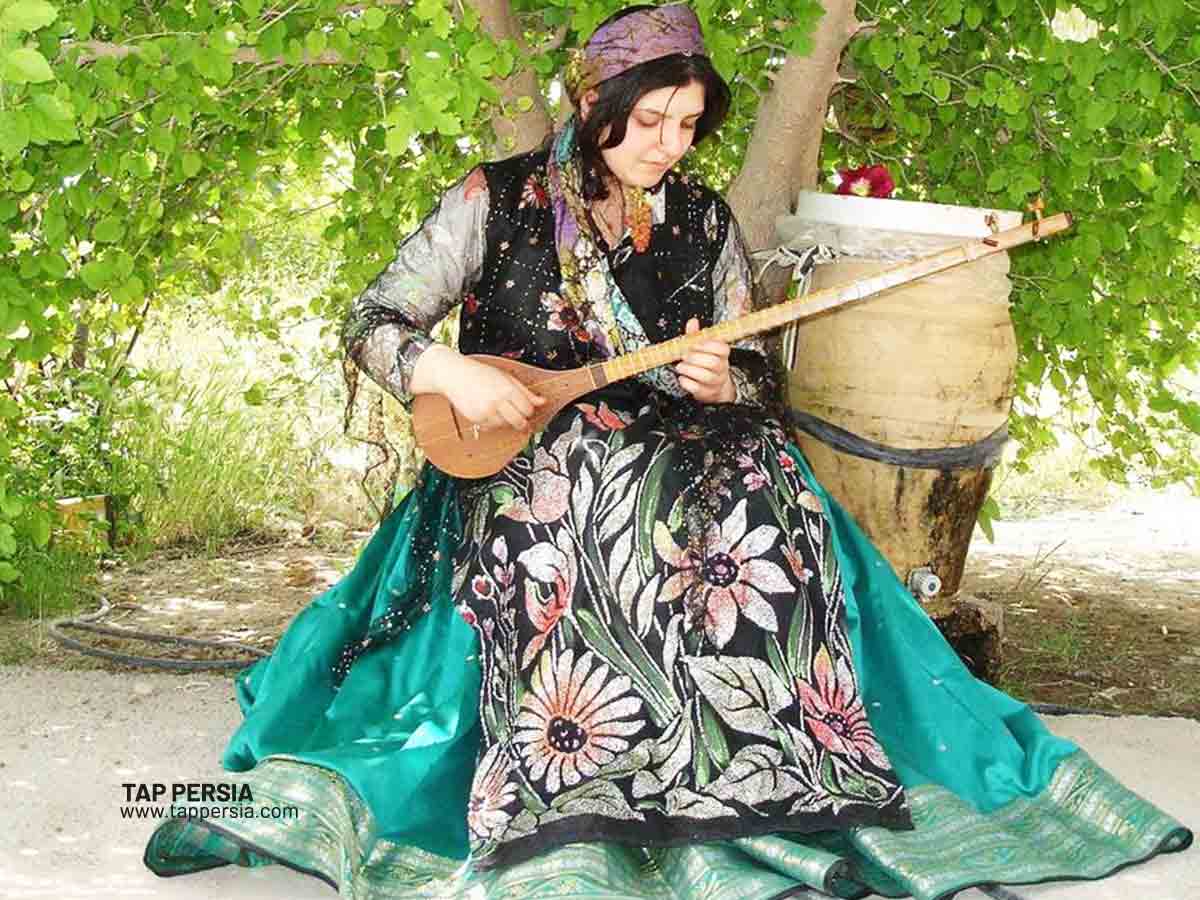 The age and marital status of the performer of the Azerbaijani dance are reflected in the original Azerbaijani attire. Since the 20th century, Azerbaijani clothing has become more modern and has lost its use in urban settings; however, in nomadic, rural, and Azerbaijani-populated areas, it generally continues to serve the same purpose.
Women's clothing in this area is split into three categories: Sarpush, Tanpush, and Papush. It looks vintage, with a long shirt and scarf and a wrinkled skirt. The Chadra, a kind of veil, is the most often worn article of apparel for women in Azerbaijan.
9.Bushehr Clothing: Coastal and Comfortable Garments from the Persian Gulf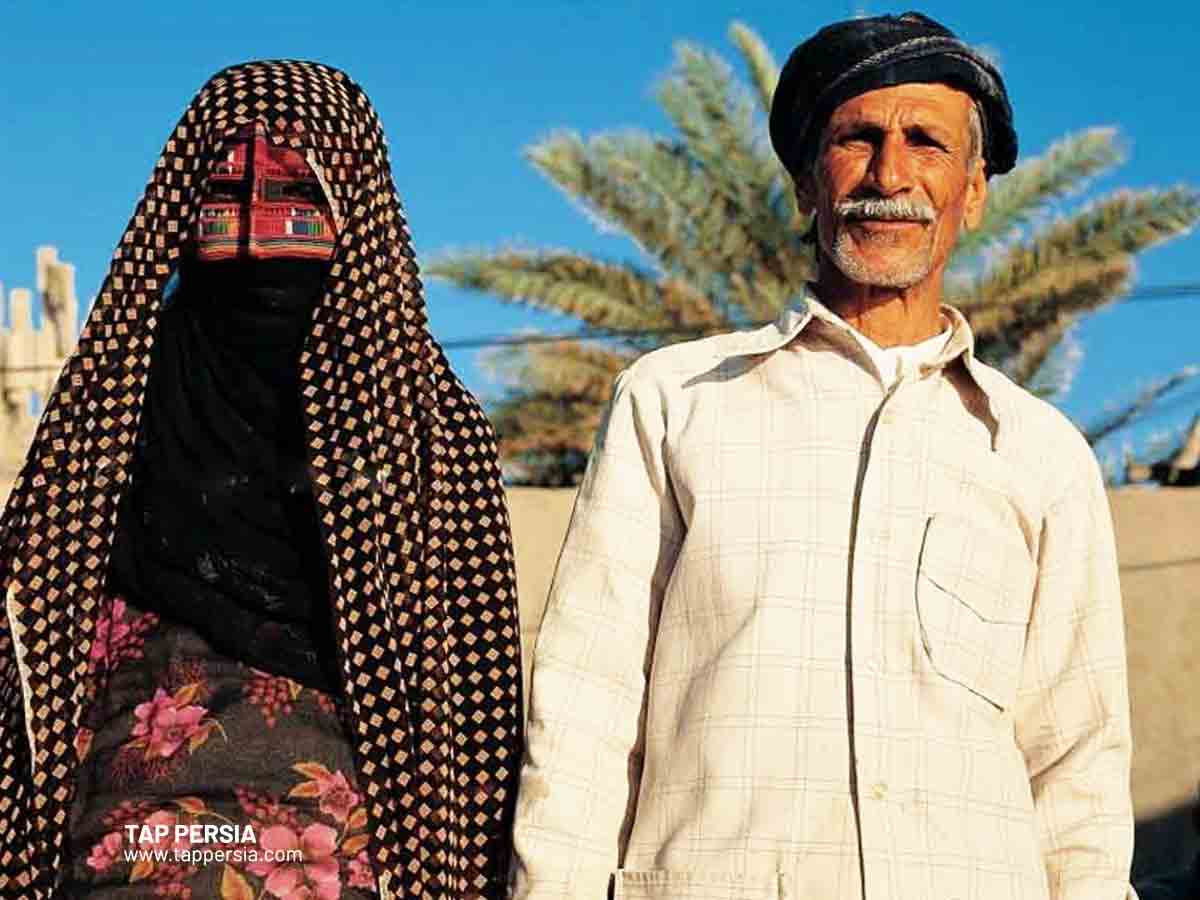 Although they are dark in color, traditional Iranian clothes for women in this region have many attractive features. The traditional attire for women in Bushehr includes long, wrinkly dresses, a thin black scarf, a thin face mask, Chit pants, and Kush shoes. The primary formal attire for ladies in Bushehr is quite loose and is also known as the Arabic dress. Additionally, it has lovely, delicate ornamentation. In Bushehr, most women keep their faces covered.
10.Bakhtiari Clothing: Elegant and Stylish Dresses from the Zagros Mountains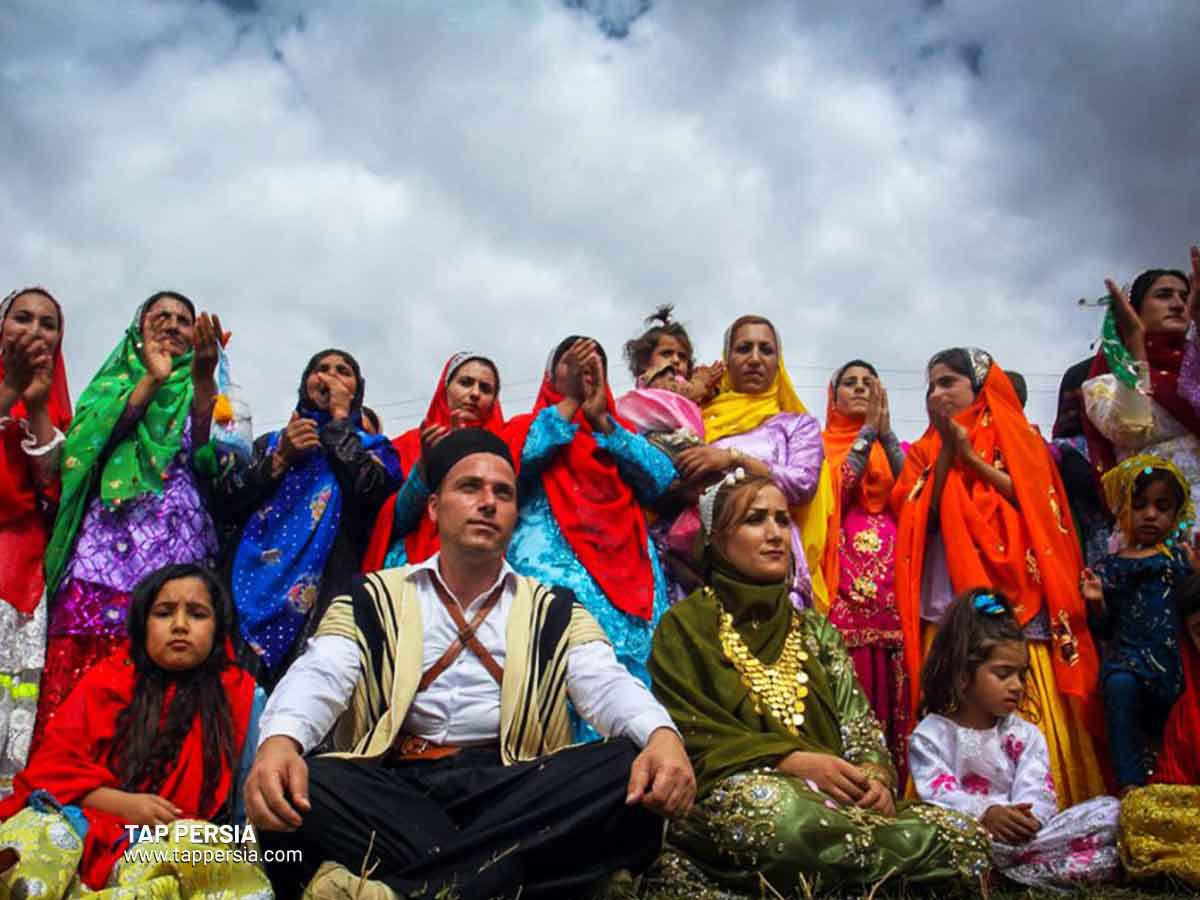 The traditional Iranian clothes of the nomadic Bakhtiari tribe, which migrates from the grassy plateau of the Khuzestan area to the mountainous Chahar Mahal, is adaptable by design and has developed to withstand the severe climatic conditions they may experience. Women are frequently seen wearing colorful, layered skirts combined with matching vests, while men typically wear tunics, broad pants buttoned at the ankle, and wool skullcaps. Their lengthy head coverings are adorned with hand-stitched patterns or decorations.
11.Qashqai Clothing: Bold and Colorful Costumes from the Nomads of Iran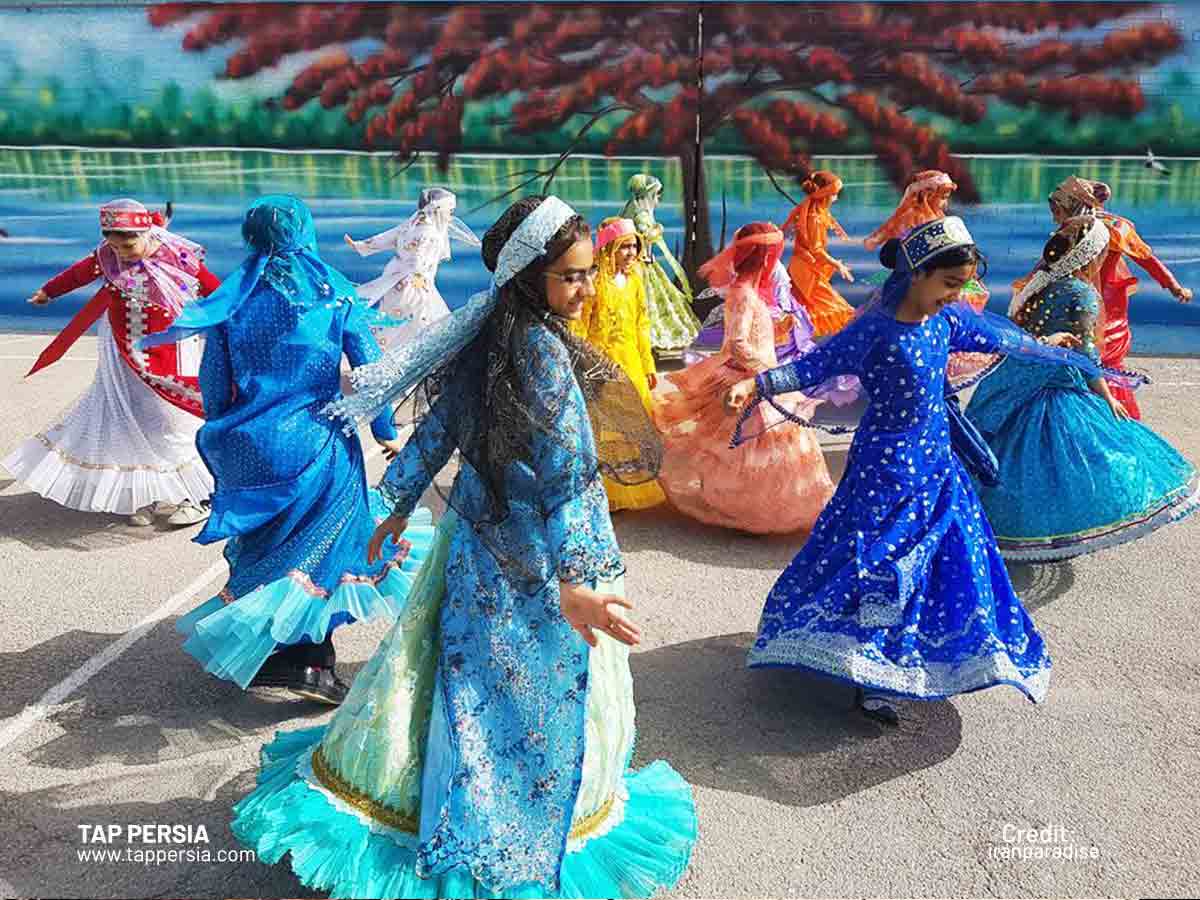 The Qashqai is a nomadic tribe with a majority of Turkic, Kurdish, and Arabic ancestry; some still travel along the old migratory routes. Women may be identified by their voluminous, multilayered, vibrant skirts and long, under-the-chin-pinned headscarves that let their hair fall freely and frame their features. The males dress in long cloaks with a cummerbund across the center and white shirts without collars. The tribe's distinctive circular dogushi, also known as "two-eared" caps, are constructed of a felt produced from sheep's wool.
12.Mazandaran Clothing: Beautiful and Vibrant Apparels Next to the Caspian Sea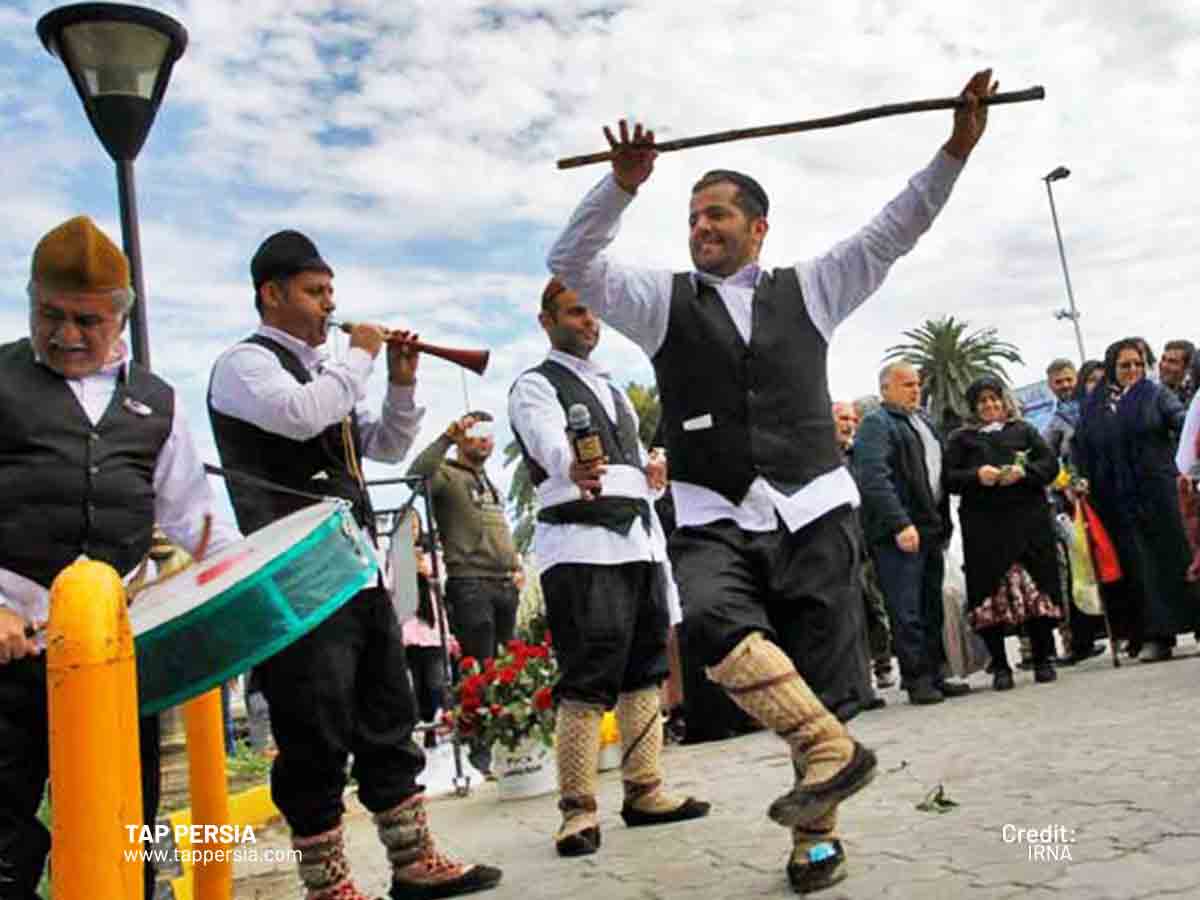 The Mazanderani are an Iranian ethnic group native to the Caspian Sea who dress more subtly than certain other tribes that choose brighter colors. Black pants are worn by women underneath short, puffy skirts, along with tunic-style tops that are waist-length and frequently embroidered with traditional patterns. The most ornate accessories they wear are their headscarves, which have beads and tassels on them. To keep things simple, men also wear white cotton shirts tucked into hunting pants, a plain vest over them, and black socks pulled up to just below the knee.
13.Turkmen Clothing: Ornate and Intricate Attire from the Turkmen Sahra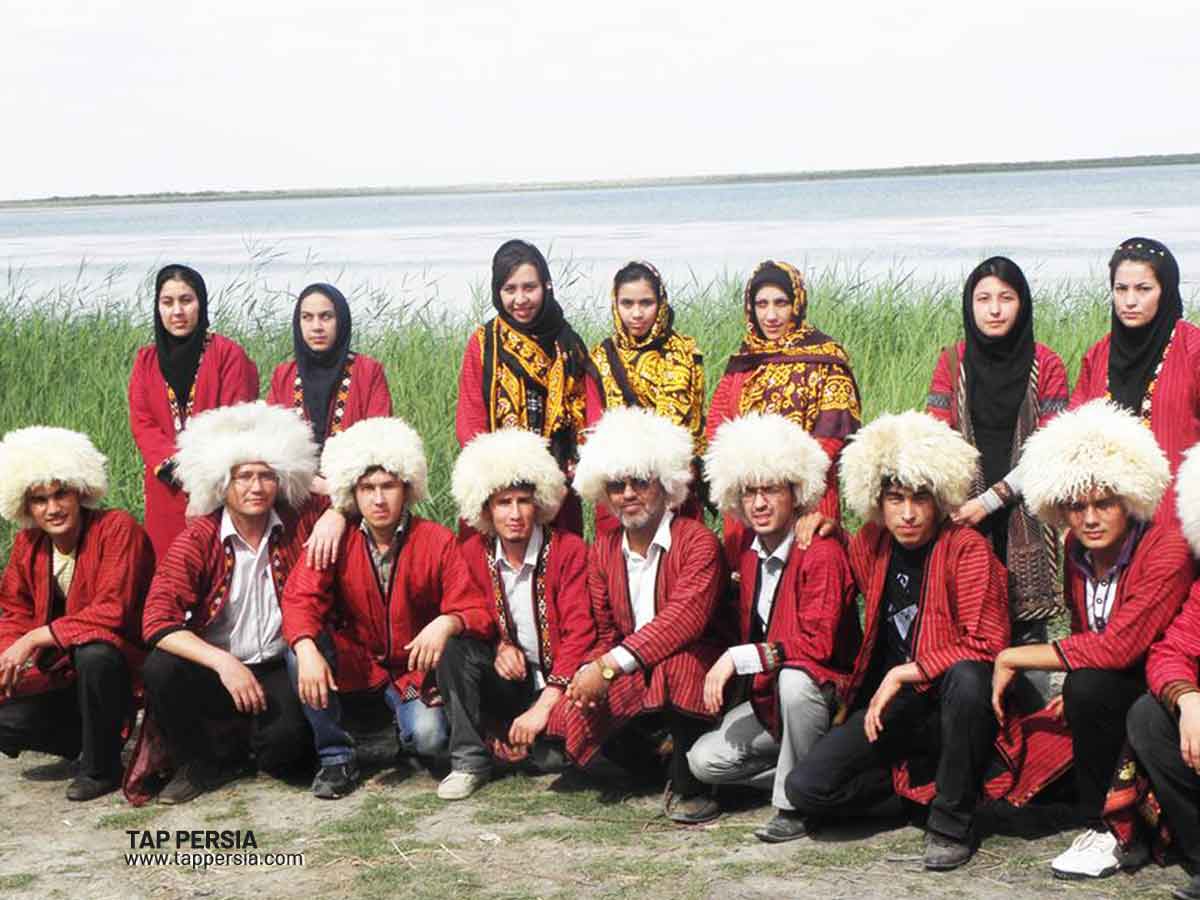 Turkmen are nomadic people that have resided in northern Iran along the Turkmenistan border for hundreds of years. Even though some still follow the nomadic tradition, they are now more rooted, with many residing in permanent homes and tents. Both Turkmen men and women typically wear clothing with earthy tones. Women frequently cover a portion of their faces with a fabric that hangs just below the nose while wearing long skirts with open robes. Men's clothing is characterized mostly by wool caps, which are worn to guard against cold weather.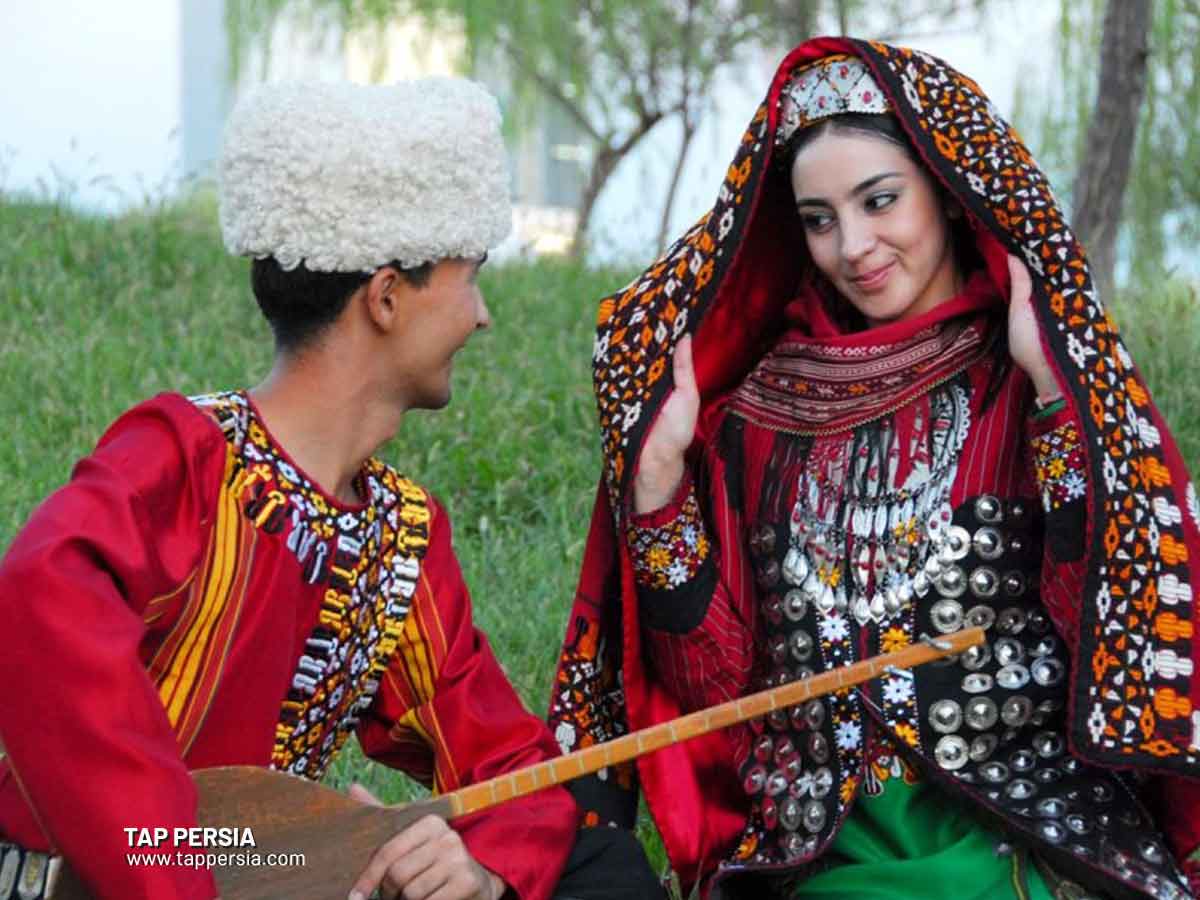 14.Lur Clothing: Unique and Artistic Garments from the Luristan Province
Women tend to like bright colors and have the distinctive stripes hemmed on the cuffs of their pants, in contrast to Lur males who favor neutral colors, black felt caps, and white shawls wrapped around their waists.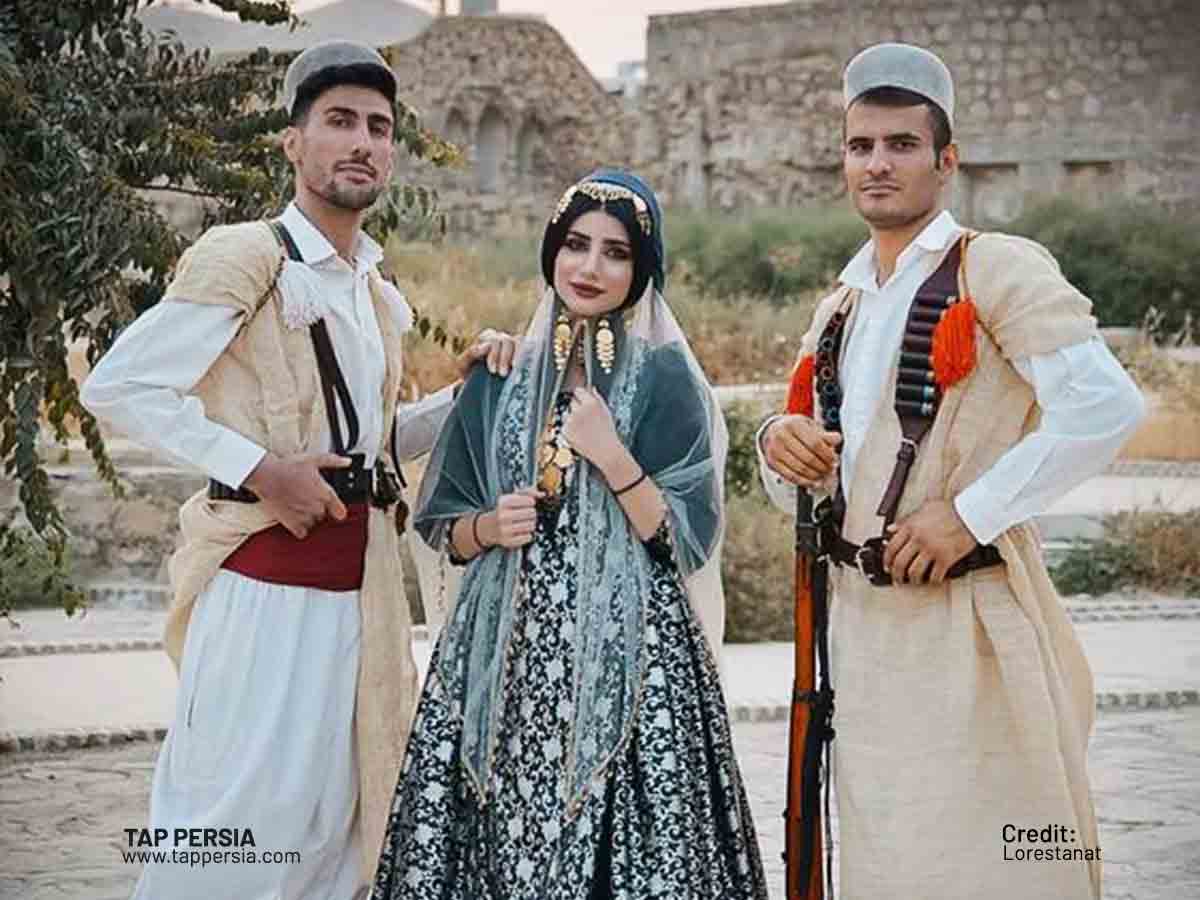 The long section of the headscarf that drapes down the back is covered by a vest, which also displays the sleeves of the long dress that is worn over top. Traditional Iranian clothes of the Lurs are among the most striking due to the intricate beadwork on the garment and the coins and beads hanging from the headscarves.
15.Khorasan; Saffron, Barberry Clothing!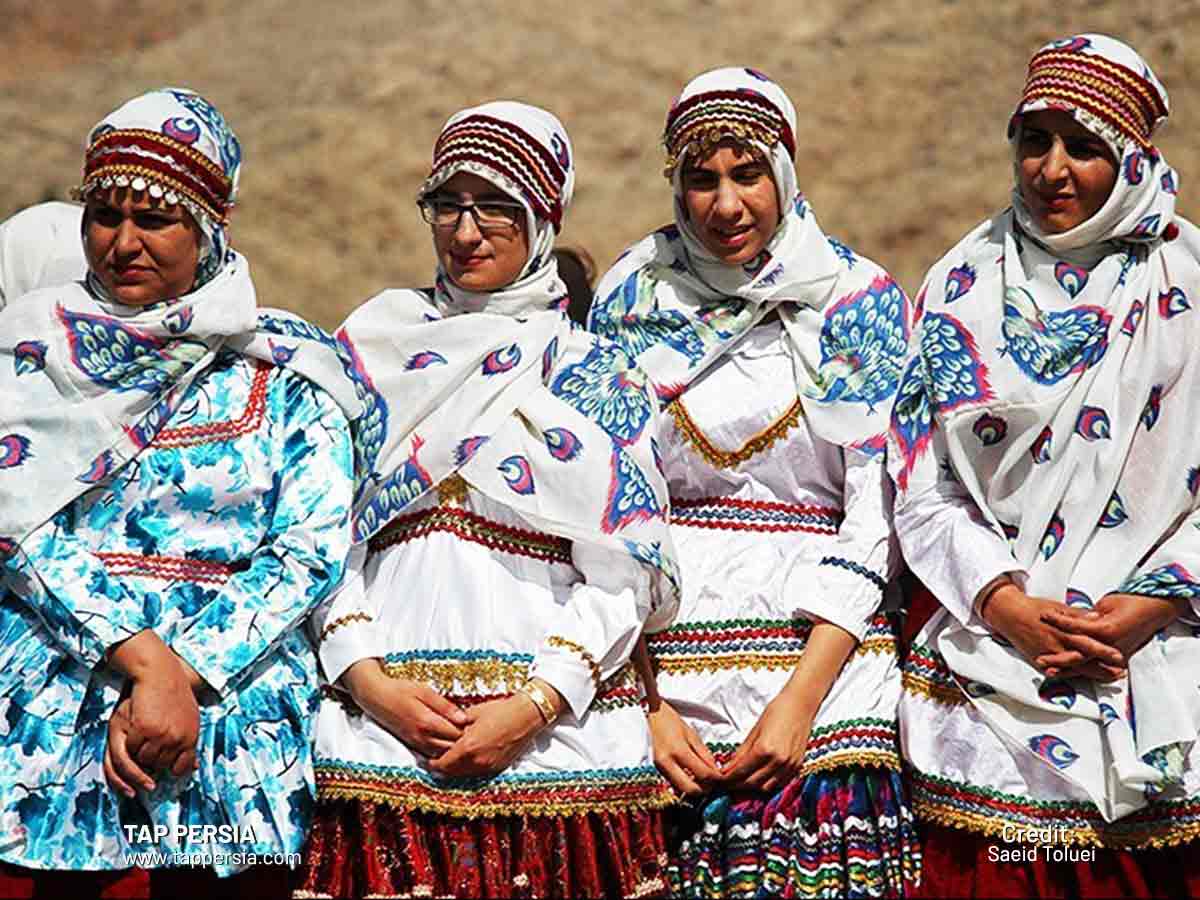 Khorasan, the sprawling northeast province of Iran, is not just famed for its exports of saffron and barberry. It's also a beacon of traditional Iranian attire, with styles that are distinctly local, adding to the plethora of attractions the region offers.
The diversity in Khorasan's traditional outfits is a reflection of its vastness and the confluence of numerous Iranian ethnic groups that call it home. The province is a vibrant tapestry of tribes, each donning traditional Iranian outfits that echo the heritage of their counterparts in other regions of Iran. The tribes range from the Turkmen to the Kurmanj, the inhabitants of Torbat-e Jam, and beyond. Interestingly, the Kurdish tribes of Khorasan's clothing echo the styles of Kurdish tribes scattered throughout the nation.
The native dress code in North Khorasan is not just an embodiment of Islamic ideals, but it also reflects the province's intrinsic charm. This charm is presented in a dazzling palette of colors and designs, primarily inspired by beauty itself. The vivacity of spring is reflected in the attire, with natural and bright hues promoting relaxation among its wearers.
For instance, the traditional dress for Kermanj women and girls typically comprises five distinct pieces: the Yashar, also known as the Charqad, a vest, a Shilvar or skirt, a blouse called the cross, and a shaliteh. The men of Kurmanj are seen in attire called Lav and lachg, which display cheerful colors inspired by nature. These traditional outfits, although not commonly sighted in the province's urban areas, still retain their value in certain households, making them easily locatable in this part of Iran.
Not to be left behind, the Turkmen of Maneh and Samolghan, also from North Khorasan, continue to preserve their traditional attire. They are one of the few Iranian ethnic groups that steadfastly maintain their conventional dress code. The Turkmen primarily use fabrics such as Kolte, Chelpi, Yelk, and Chavak, occasionally interspersed with silk and wool. These choices further enrich the diverse tapestry of traditional attire in Khorasan province.
What is traditional clothing in Iran?
Men's traditional Iranian clothes comprised long robes, thick belts, headdresses, jackets, and coats. Additionally, women have worn gold jewelry and had it incorporated into their clothing. Iranian women's traditional dress is stylish and stunning, with vibrant colors.
What materials are typically used to make traditional clothing in Iran?
Traditional Iranian clothes are made using supplies that are easily accessible where the creator lives. Wool is frequently said to have developed in response to cold conditions, whereas cotton has evolved in response to warmer climes.
What are some popular accessories that are worn with traditional clothing in Iran?
The women's headscarves are embellished with coins and gems that dangle. They further dress in long gowns with sequins, gold or silver jewelry, and a headband over their scarves. An amber and turquoise beaded or a gold and silver charm-studded black velvet hat is occasionally worn by men and women in Kurdistan.
Discover the intricacies of Iran's dress code in our detailed article – if you're curious about Iranian fashion norms, dive in!