Iran Border Crossings
| Border Name | Countries Involved | Description |
| --- | --- | --- |
| Gurbulak – Bazargan | Iran – Turkey | The busiest border crossing between Tabriz and Dogubayazit. It is reachable 24/7, seven days a week, and public transportation is additionally offered. |
| Esendere – Sero | Iran – Turkey | Although not always open, this border is accessible to foreigners. Available for exchanging money. |
| Kapikoy – Razi | Iran – Turkey | Hours of operation are 9–17 (Turkish time). The road is presently in excellent condition on the Turkish side, but less so on the Iranian side. |
| Parviz Khan | Iran – Iraq | Sulaymaniyah/Baghdad and Kermanshah are separated by a border crossing. Slow, but no problems have been noted. |
| Piranshahr – Haji Omran | Iran – Iraq | Connecting Mahadar and Erbil, the capital of the Kurdish region of Iraq. |
| Bashmakh – Penjwen | Iran – Iraq | Marivan and Suleymanih are linked. Buses may utilize this bridge to travel between Sanandaj/Kermanshah and Sulaymaniyah. |
| Khosravi | Iran – Iraq | Still unavailable to all visitors. |
| Mehran | Iran – Iraq | Uncertain regarding the status of this border for foreign passengers, but unquestionably open for Iranians. |
| Chazabeh – Al Shaib | Iran – Iraq | Foreign travelers should be able to enter. |
| Salamcheh | Iran – Iraq | Between Khorramshahr and Basra. Uncertain regarding the status of this border for foreign passengers, but unquestionably open for Iranians. |
| Soomar – Mandali | Iran – Iraq | After over 30 years, it reopened in 2014. |
| Nordooz – Agarak | Iran – Armenia | A stunning, seldom used crossing having mountains located on the Armenian side as well as a desolate desert as soon as you enter or leave Iran. |
| Mirjaveh – Taftan | Iran – Pakistan | Traveling in this region has considerable dangers because of the prevalence of sectarian conflict there. On either side of the border, tourists have recently been kidnapped and slain in this area. |
| Mand – Pishin | Iran – Pakistan | Open to everyone with a passport, but only on foot. You cannot cross it with your car. |
| Gabd-Rimdan (BP 250) | Iran – Pakistan | Close to the Makran Coastal Highway's terminus. The first instance of a foreigner successfully crossing was reported in 2022. |
| Astara – Astara | Iran – Azerbaijan | The border settlements are known by the same name, Astara, in both nations. The advantage of this border is that you may get from one town to the other by walking. |
| Bilasuvar | Iran – Azerbaijan | Open to visitors from throughout the world, it appears to be busier than Astara since many Azeris pass over to Iran for medical care and goods. |
| Jolfa – Julfa | Iran – Nakhchivan | A strip of stores runs down a pedestrianized street to the border, and large groups of Azeris crossing the border region to stock up on inexpensive Iranian items in the free trade zone. |
| Poldasht – Shahtakhti | Iran – Nakhchivan | It is likely to run continuously 24 hours of the day. |
| Sarakhs – Saraghs | Iran – Turkmenistan | The border is open from 8 am to 3 pm. On the Iranian side, it is possible to exchange rials for dollars, although the exchange rate is unfavorable. |
| Gaudan – Bajgiran | Iran – Turkmenistan | After shutting in the summer of 2016, has reopened. Open from 7:30 to 15:30 Iranian time, 8 am to 4 pm. |
| Lotfabad – Artyk | Iran – Turkmenistan | It is advised to avoid traveling by automobile on Thursdays and Fridays (the Iranian weekend), when the entire border will be partially blocked. |
| Gudri-Olum – Incheboron | Iran – Turkmenistan | This is helpful if you intend to visit the tomb of Gonbad-I Qubus. |
| Islam Qala – Taybad | Iran – Afghanistan | Mashhad to Herat is the main crossing point between Iran and Afghanistan. Although the security circumstance in Afghanistan is naturally susceptible to change, the border crossing is unquestionably available to foreigners and is only open during the day. |
| Milak – Zaranj | Iran – Afghanistan | Visitors are welcome to use this international border crossing. From Zaranj, there are several scheduled flights to Kabul. |
| Mahirood – Abu Nasr Farahi | Iran – Afghanistan | Located in an area there between Farah and Birjand. The highway has pavement on the Afghan side. |
Iran has common borders with Turkmenistan, Iraq, Pakistan, Turkey, Afghanistan, Armenia, Azerbaijan and Nakhchivan. Many try to shorten the hassle by choosing the expensive and quicker option of purchasing plane tickets. But there are some who not only want an affordable option, they want to enjoy the scenery and experience a mesmerizing adventure as well by entering Iran by land. Here is thorough information about the different borders that you can enter by land in Iran.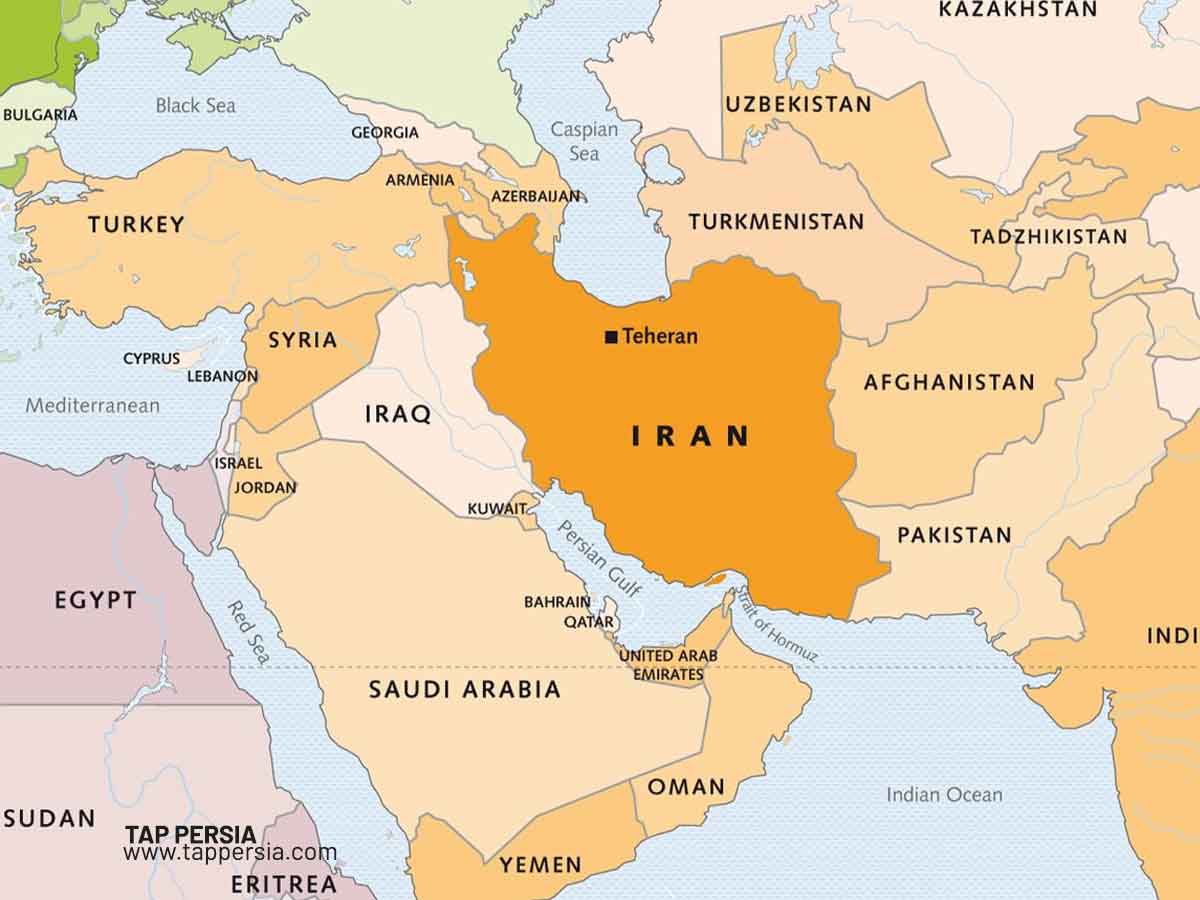 For a seamless Iran visa application process with high approval rates, entrust your journey to the expert hands of the TAP Persia team.
A:Iran – Turkey border crossings
A.1 Gurbulak – Bazargan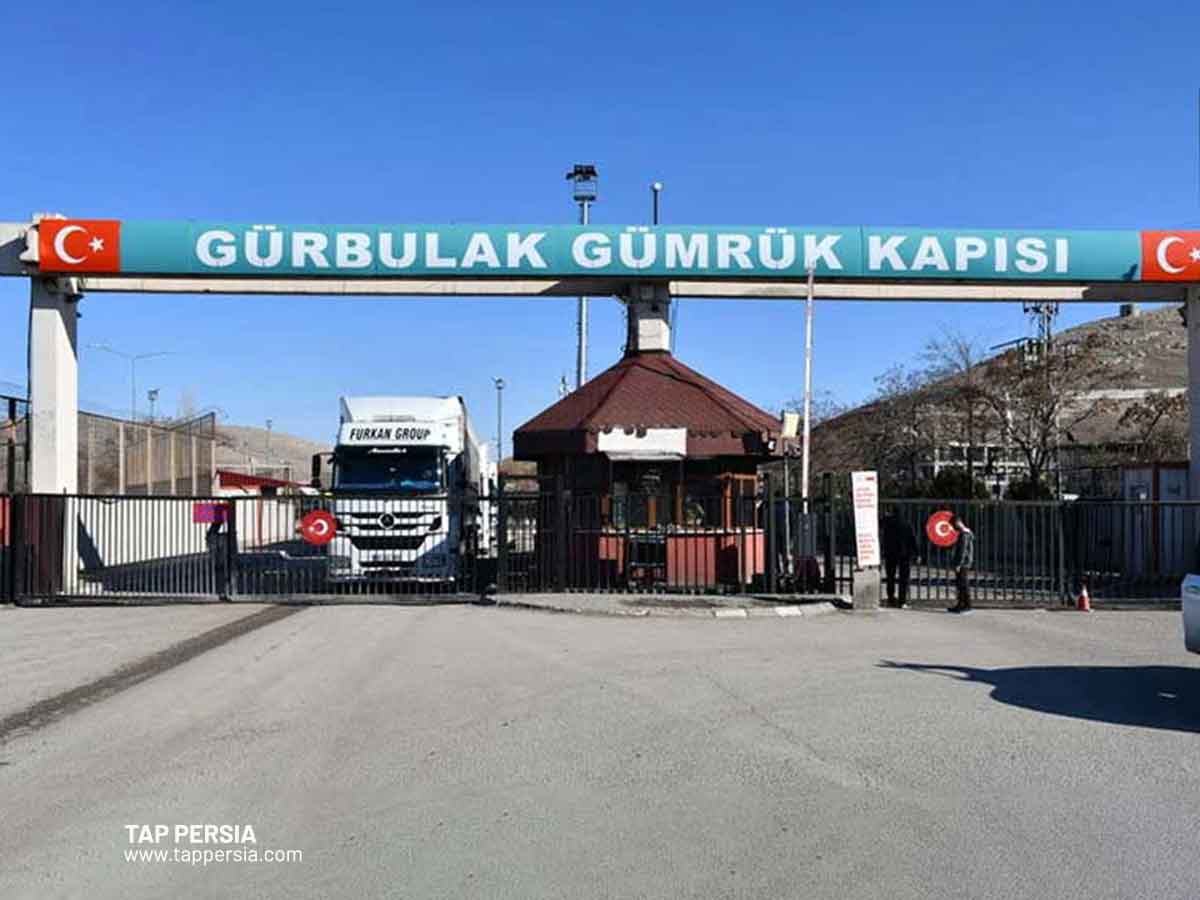 The busiest border crossing between Tabriz and Dogubayazit is this one. It is reachable 24/7, seven days a week, and public transportation is additionally offered. The cost of the 12-hour, 100-lira bus trip between Tabriz and Erzurum is 100 lira. Reza (05349641144) operates a private automobile service once each week between Erzurum and Tabriz (100 lira, 8 hours).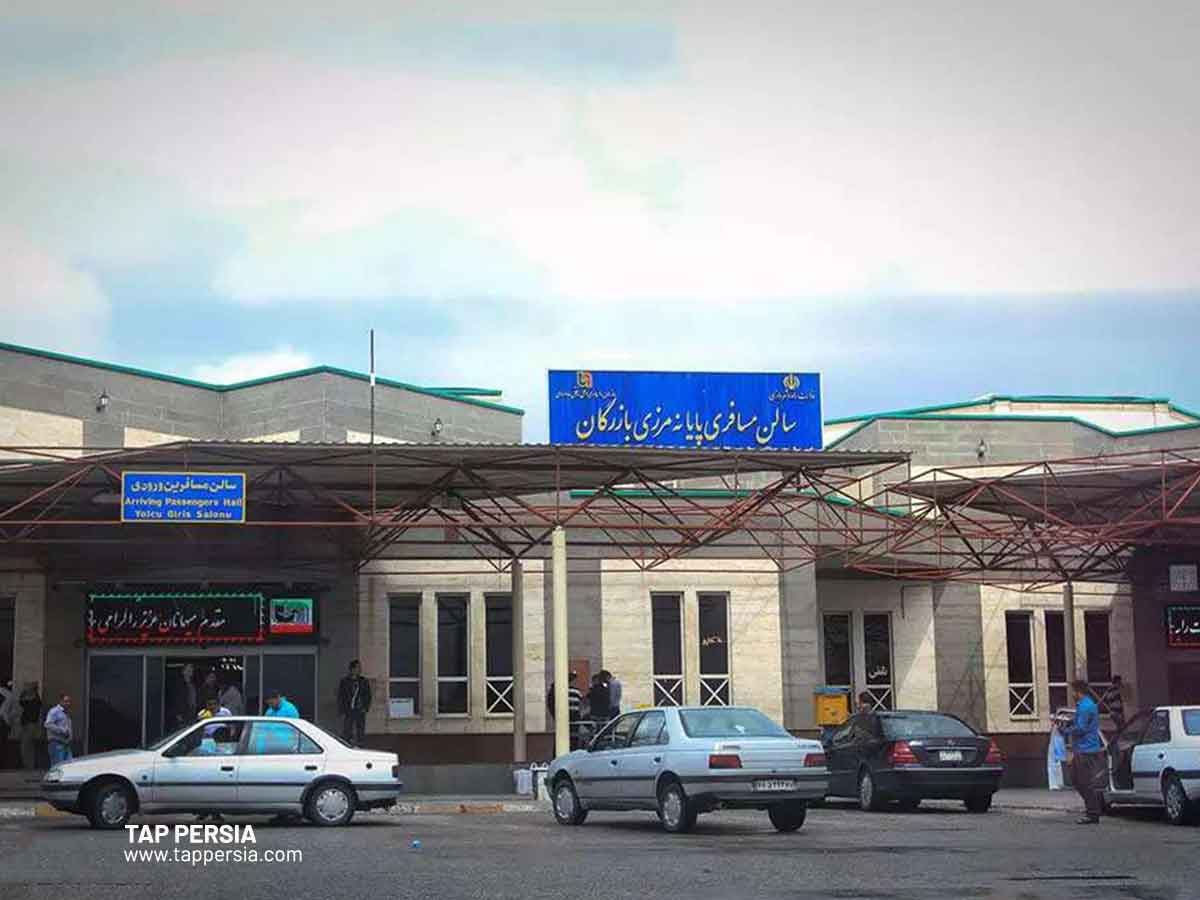 TR -> IR: Few Turkish buses go between Erzurum and Dogubeyazit. Check out biletall.com or obilet.com. Minibuses travel to the border for 5 lira from the Dogubeyazit bus station or when waved down on the highway. Taxis and minibuses are waiting to drive you to Bazargan and then on to Maku and Tabriz once you have cleared immigration. Both sides have money exchangers with comparably poor rates.
A.2 Esendere – Sero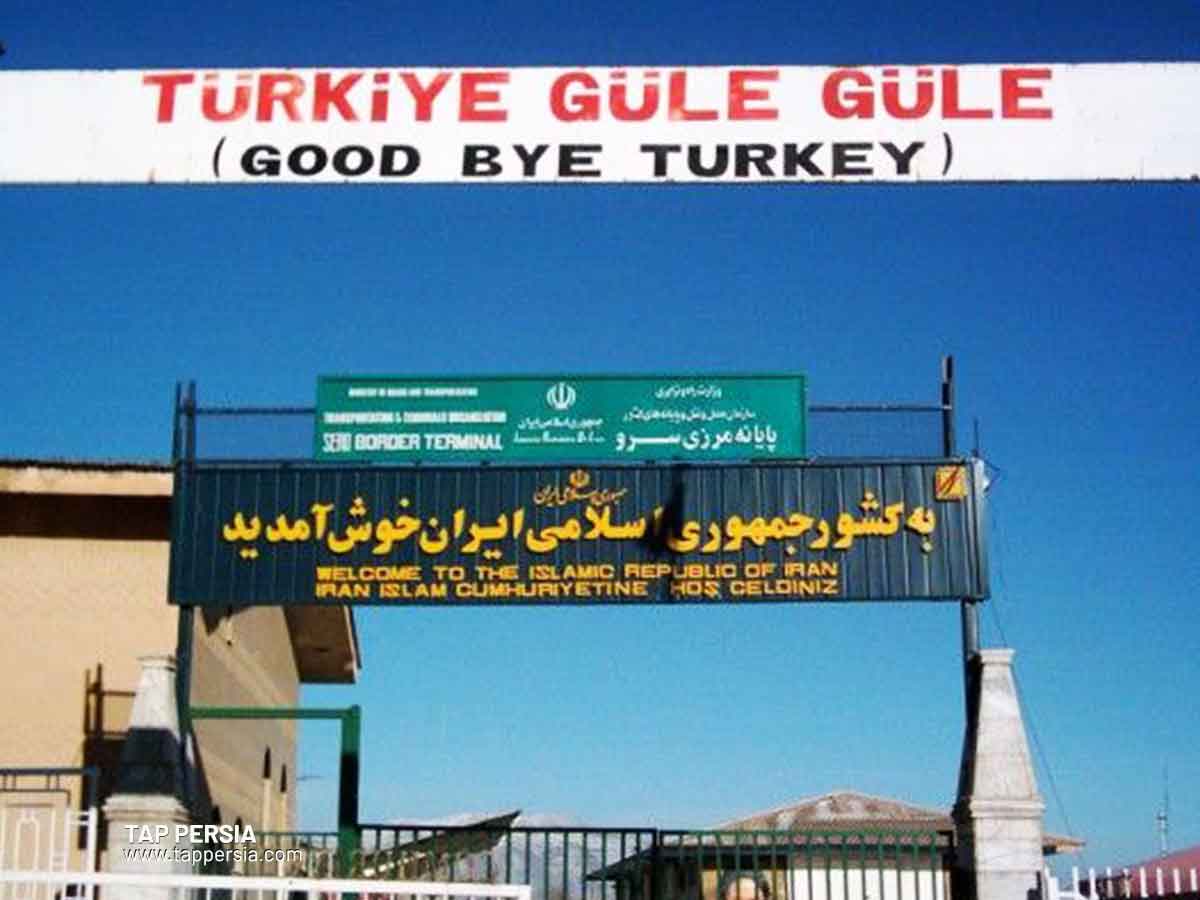 Although not always open, this border is accessible to foreigners. Available for exchanging money.
Iran -> Turkey: Buses run every 6 hours for 13 euros from Van to Urmia (Orumiyeh). From Van, minibuses travel to Yüksekova, which is close to the border, from whence you may take a cab to the border.
Taxis from Urmia/Orumiyeh to the Turkish border cost $7 USD. According to reports, there aren't as many people around now as there were before the outbreak. Numerous minibuses are standing by to transport passengers to Esendere on the Turkish border. You may also go to Yüksekova from Esendere by taking a bus to Van for six dollars.
A.3 Kapikoy – Razi
Hours of operation are 9–17 (Turkish time). The road is presently in excellent condition on the Turkish side, but less so on the Iranian side, and takes around 1.5 hours by vehicle from Van. Most people that cross at Kapikoy do it in their own car. Minibuses go from Van to Kapikoy and from there head to Razi or maybe Khoy. Minibuses often depart from the Iran side of the border towards Razi and other destinations. Each stretch should cost around $10.
IR -> TR: From Urmia to Yüksekova, perhaps even as far as Van, there is a minibus service.
B. Iran – Iraq border crossings
According to the Iraqi government, there are 6 official border crossings with Iran, and there are plans for more. Kurds have an extra 3 international crossings. Although everything should remain open in theory, closures might happen at any time due to political or security concerns. We also have a discussion subject on reports of crossings between Iraq and Turkey.
B.1 Iraqi Kurdistan
B.1.1 Parviz Khan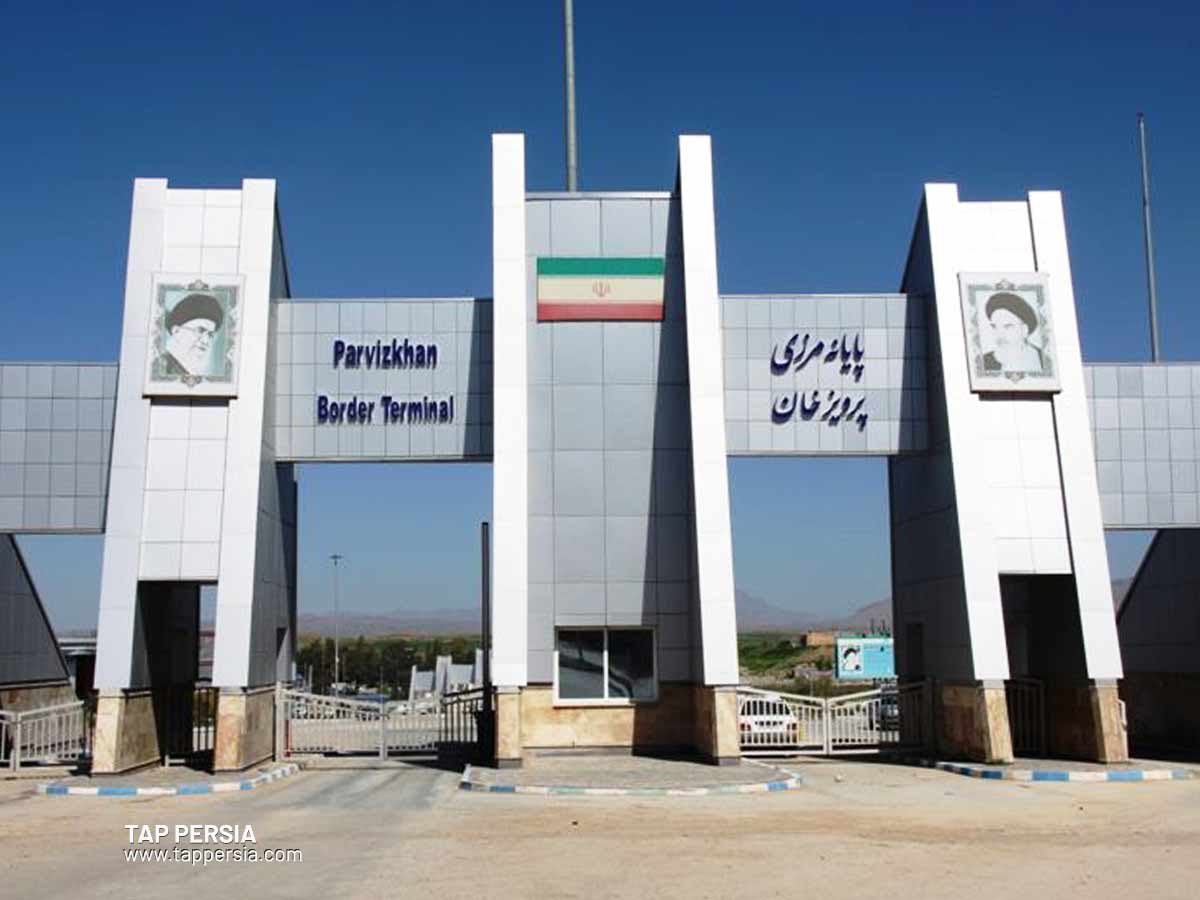 Sulaymaniyah/Baghdad and Kermanshah are separated by a border crossing. Slow, but no problems have been noted.
B.1.2 Piranshahr – Haji Omran
Connecting Mahadar and Erbil, the capital of the Kurdish region of Iraq.
Iran to Iraq: There is a bus that costs 15 euros and takes four hours to travel between Urmia (Orumiyeh) and Erbil. There are poor exchange rates for unofficial currency. Border inspections may take one to three hours. It takes another 4 hours to go to Erbil from the border.
The town's center is a short stroll from the Iraqi side of the border. You may take a shared cab to Piranshahr on the Iranian side, where there are several transportation choices.
B.1.3 Bashmakh – Penjwen
Marivan and Suleymanih are linked. Buses may utilize this bridge to travel between Sanandaj/Kermanshah and Sulaymaniyah. Having your own vehicle cross without anxiety is now possible (carnets could not always be stamped).
B.2 Iraq
B2.1 Khosravi
Still unavailable to all visitors.
B2.2 Mehran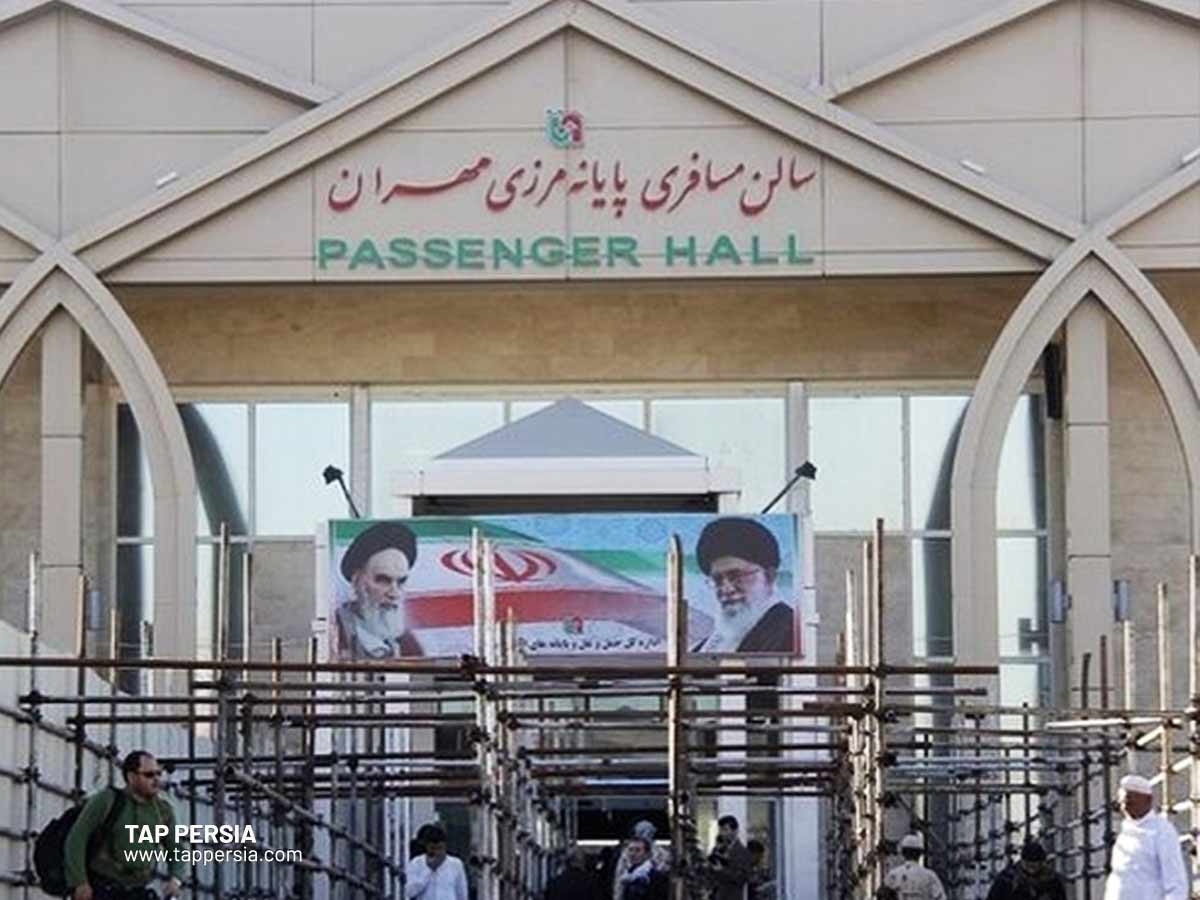 Uncertain regarding the status of this border for foreign passengers, but unquestionably open for Iranians.
B2.3 Chazabeh – Al Shaib
Foreign travelers should be able to enter.
B2.4 Salamcheh
Between Khorramshahr and Basra. Uncertain regarding the status of this border for foreign passengers, but unquestionably open for Iranians.
B2.5 Soomar – Mandali
After over 30 years, it reopened in 2014.
C. Iran – Armenia border crossings
C1. Nordooz – Agarak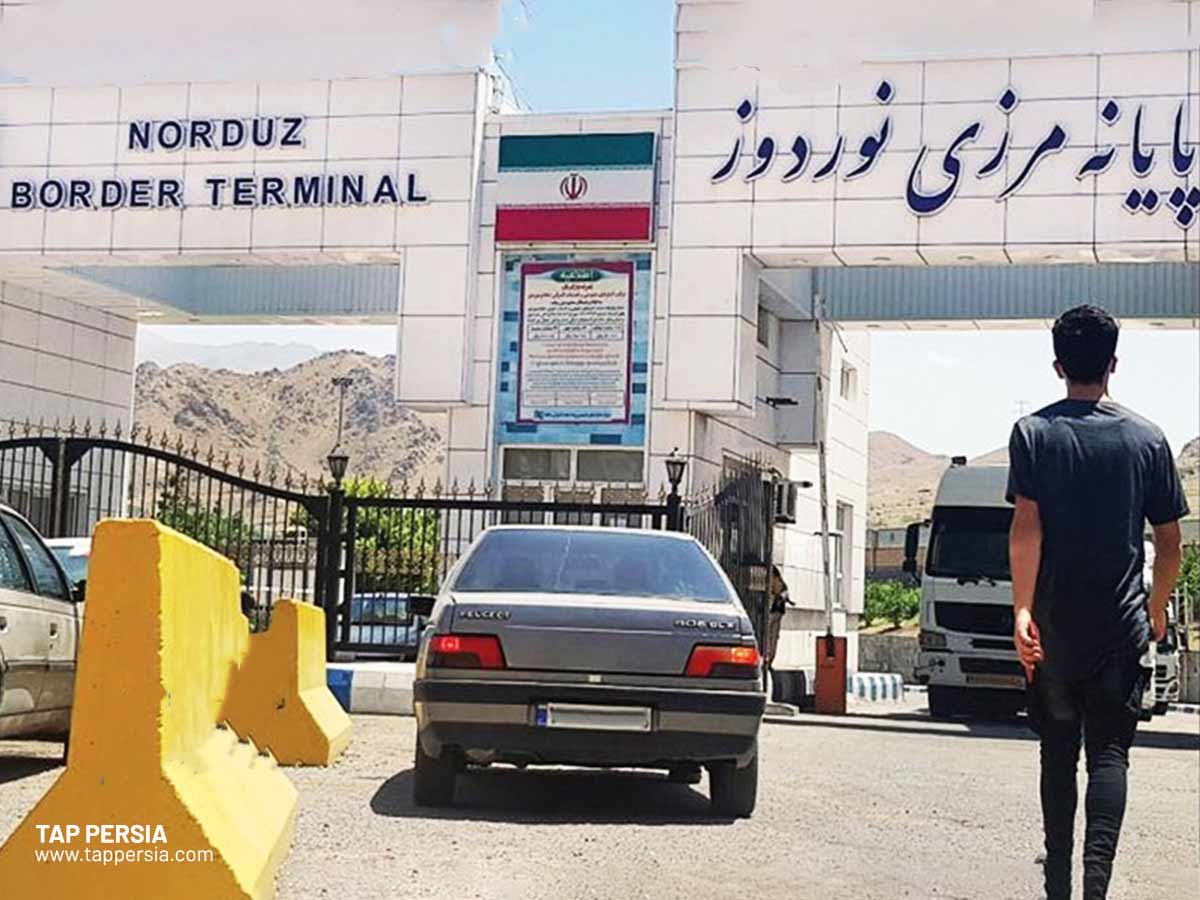 a stunning, seldom used crossing having mountains located on the Armenian side as well as a desolate desert as soon as you enter or leave Iran. Here, there is hardly any traffic.
The border crossing should be quick and simple, but there could be someone asking you $1 for insurance once you reach Iran, according to experience. Pay no money. On both the Iranian and Armenian sides, there are a number of exchange offices and a café. The prices are more affordable compared to the official rate in Iran, but they are more than the going rate. The border doesn't have any sim cards accessible.
C2. Armenia -> Iran
The route from Yerevan to Goris to Tabriz/Tehran takes 12 or 15 hours and is served by comfortable Iranian VIP buses. If Tabriz is your final destination, you will be dropped off in the city's outskirts where cabs are hard to get by at night; make plans for someone to pick you up if required. You can make reservations at any travel agency in town but don't depend on the Wi-Fi to function.
The Yerevan to Meghri/Agarak route is serviced by Armenian buses. Finding transportation from Karajan and Kapan might be difficult or expensive, whereas from Meghri you will need to hitch or hire a cab for the final 8 kilometers to the border. Once you cross the border into Iran, cabs are waiting to take you to Julfa (3$), where you can access public transportation, and then on to Agarak.
Iran -> Armenia
From Tehran and Tabriz, Royal Safar Iranian buses to Yerevan cost 1,800,000 rials and 1,000,000 rials, respectively.
D. Iran – Pakistan border crossings
Traveling in this region has considerable dangers because of the prevalence of sectarian conflict there. On either side of the border, tourists have recently been kidnapped and slain in this area. Nevertheless, there is a regular flow of visitors traveling over by car, bicycle, and backpack since 2013, and we haven't heard of any tales with a tragic conclusion.
D.1 Mirjaveh – Taftan
Around nine in the morning, Pakistani immigration opens. Only the Iranian side has a gate. Due to the armed escort that is required in Baluchistan, this border crossing takes a very lengthy time.
D.2 Mand – Pishin
Open to everyone with a passport, but only on foot. You cannot cross it with your car.
D.3 Gabd-Rimdan (BP 250)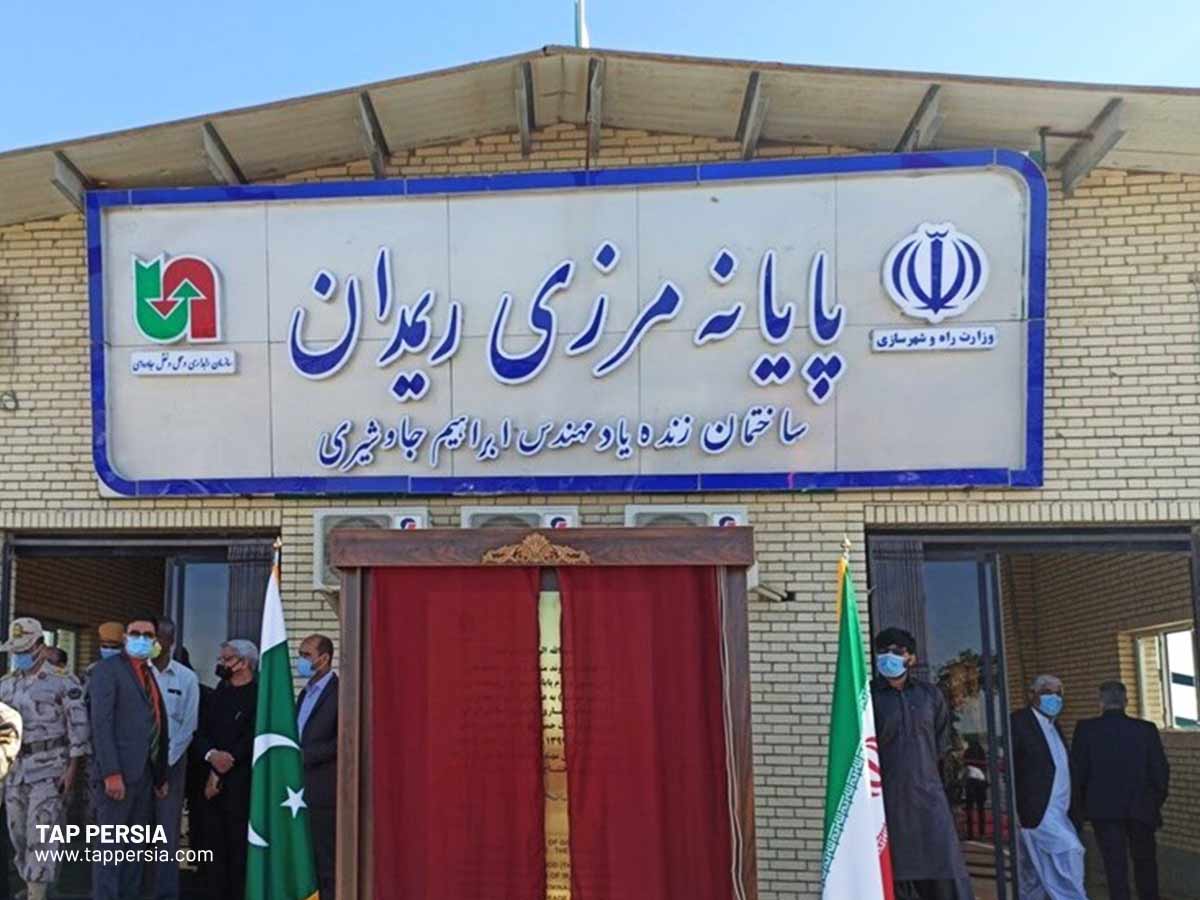 Close to the Makran Coastal Highway's terminus. The first instance of a foreigner successfully crossing was reported in 2022. Since then, more have done so. And not everyone has been successful.
E. Iran – Azerbaijan border crossings
E.1 Astara – Astara
The border settlements are known by the same name, Astara, in both nations. The advantage of this border is that you may get from one town to the other by walking. You may just arrive in Astara and cross to the other Astara without needing to arrange transportation to the border.
Open 24/7. Compared to the money changers loitering at the border, exchange bureaus on the Iranian side offer far better rates. Money exchangers in Azeri Astara provide competitive rates in the neighborhood market.
The border in Astara is typically quite busy on either of the two sides, or it is very tranquil, depending on the geopolitical circumstances.
E.2 Iran -> Azerbaijan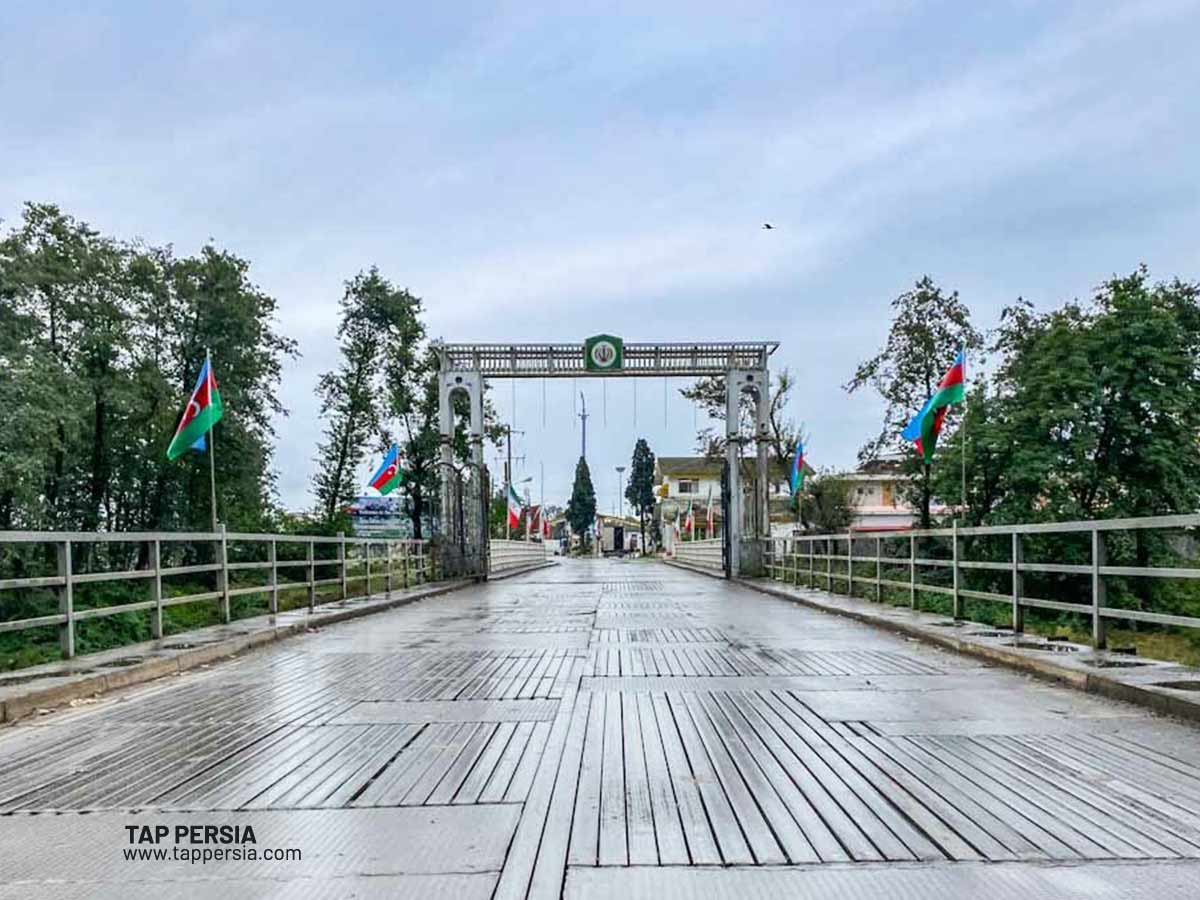 Buses between Tehran and Baku depart daily from Tehran's West Terminal (15$, 24h). From the Azadi Metro Station, you can stroll with ease to the "stand" situated in front of West Terminal. From there, you can simply board a bus to Astara (4.5h) or hail a cab ($40, 3,5h).
With a car: On the Azerbaijani side, it is mandatory to pay 4 AZN for "Customs" just before entering the border area. Keep the tiny piece of paper they provide; you will need it. Although the border guards are courteous and accommodating, don't forget to let them know you have a Carnet de Passages! They won't stamp it if they don't.
It's located in the "truck area" of the border, although you may need to ask around a little to find it. You may either walk there on your own or call for a cab. Always have your Carnet with you to ensure that they stamp everything correctly and remove the correct component. Even though there may be individuals around begging for your Carnet, don't give it to them since they are con artists and won't return it unless you pay them money.
If you have an Iranian passport, you must pay your "exit/khorojee" at the border and NOT in advance online. You would have to make another payment because they appear to not be online yet.
Communal cabs to Baku cost 20 manat per seat.
E.3 Azerbaijan -> Iran
Although declaring when driving your own car might be rather difficult, we do not advise paying a local "helper" to guide you through the procedure. These people are incredibly elusive, so you could wind yourself saving money by doing it alone.
E.4 Bilasuvar
Open to visitors from throughout the world, it appears to be busier than Astara since many Azeris pass over to Iran for medical care and goods.
Nakhchivan border crossings
E.5 Jolfa – Julfa
IR -> AZ: A strip of stores runs down a pedestrianized street to the border, and large groups of Azeris crossing the border region to stock up on inexpensive Iranian items in the free trade zone. The border's exchange rates are reasonable.
Up until 2:00 or 3:30 pm, minibuses run to the border; after that, they cease. The cost of a shared cab into Nakhchivan is 3 manat. It is not a problem to divide the trip with others because the border is fairly crowded in the late hours of the day with returning Azeri shopping. Only 20 minutes separate the border from the city.
E.6 Poldasht – Shahtakhti
It is likely to run continuously 24 hours of the day.
F. Iran – Turkmenistan border crossings
F.1 Sarakhs – Saraghs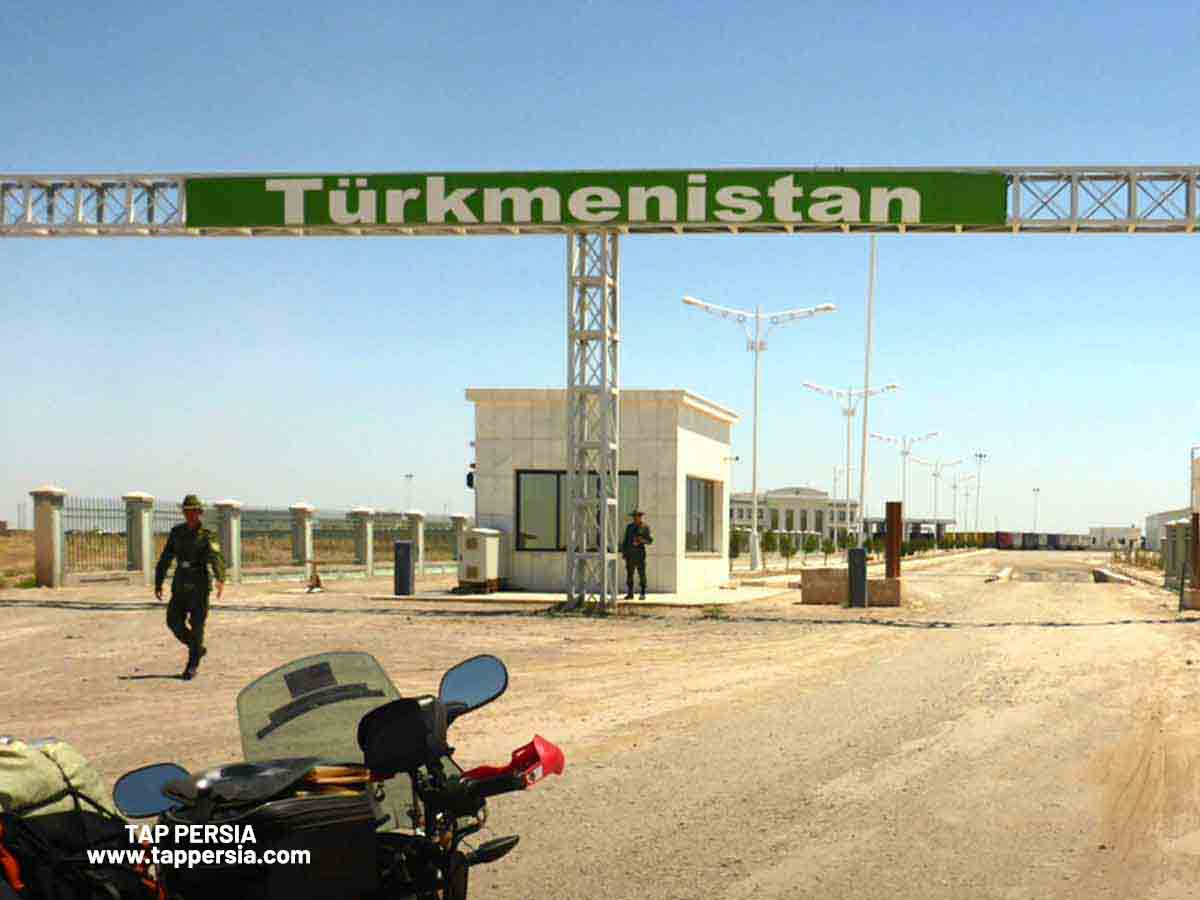 The border is open from 8 am to 3 pm. On the Iranian side, it is possible to exchange rials for dollars, although the exchange rate is unfavorable.
IR -> TM: By car or rail, it takes around 3 hours to get from Mashad to Sarakhs. No need to make reservations in advance because the train is usually rather empty. Rafi Khankhajeh is a well-recommended taxi driver. Before the gate, there is a tiny store where you may exchange your final rials for dollars (or perhaps even manat) and buy inexpensive smokes.
Not a great rate, but not completely overpriced either.
There are no vehicles that cross the border directly, so after passing through immigration on the Iranian side, take a shuttle (costing around IR 4,000) to the Turkmen immigration checkpoint. Following the completion of immigration requirements, buses and shared taxis (maximum fare of $15 per seat) periodically travel the two to four hours to Mary. However, transportation options are sporadic and unquestionably sluggish later in the day, so arrive early.
F.2 Gaudan – Bajgiran
after shutting in the summer of 2016, has reopened. Open from 7:30 to 15:30 Iranian time, 8 am to 4 pm. Slow: allow one to three hours to cross the border. Your fingerprints are taken here on the Turkmen part.
On the Iranian border, money exchange services are accessible for a fair price.
Iran -> TM: Quchan to Bajgiran is a 1.5-hour commute by public transportation (every 2 hours starting at 6.30am; $8). You may walk the short distance (approximately a kilometer) from Bajgiran to the border, or your cab may drop you off right at the border. On the Turkmen side, it costs $3 to take a cab from the border to Ashgabat or $1 to take a bus to the city's outskirts. You may take another bus or a taxi from there.
TM -> Iran: To go to the pre-border point, take a cab from Ashgabat (30 manat). Your passports are then examined, and you are then put on a bus to go the final 30 kilometers (10 manat) to the border. Once approved, ride a transport (2 dollars) to Bajgiran hamlet from the border. From there, there might or might not be a bus (20$, 4h, confirmation required) to Mashad. The majority of passengers appear to use shared cabs to Quchan, where a bus runs to Mashhad. A straight cab ride to Mashad costs $30.
F3. Lotfabad – Artyk
IR -> TM: It is advised to avoid traveling by automobile on Thursdays and Fridays (the Iranian weekend), when the entire border will be partially blocked. Given the difficulty of the process, it can take some time for Iran to stamp your CDP.
"Helpers" are expensive and have a reputation for lying. One con claims that your carnet is only valid for 5 days in Iran and that each additional day would cost you $10.
The most current information indicates that the car was not equipped with a GPS when it passed this border.
By public transportation: A shared cab to the Artyk border from the "Iran khodro taxi stoyanka in Mashhad" costs 15 manat. To cross the border, one must board a 3 manat bus shuttle that is required.
The cost of a shared cab from Loftabad or the border to Dargaz, which is the closest town, should be 80,000 rial. Direct buses departing from Dargaz and traveling to Mashhad cost 120,000 rials and take around 4 hours.
F.4 Gudri-Olum – Incheboron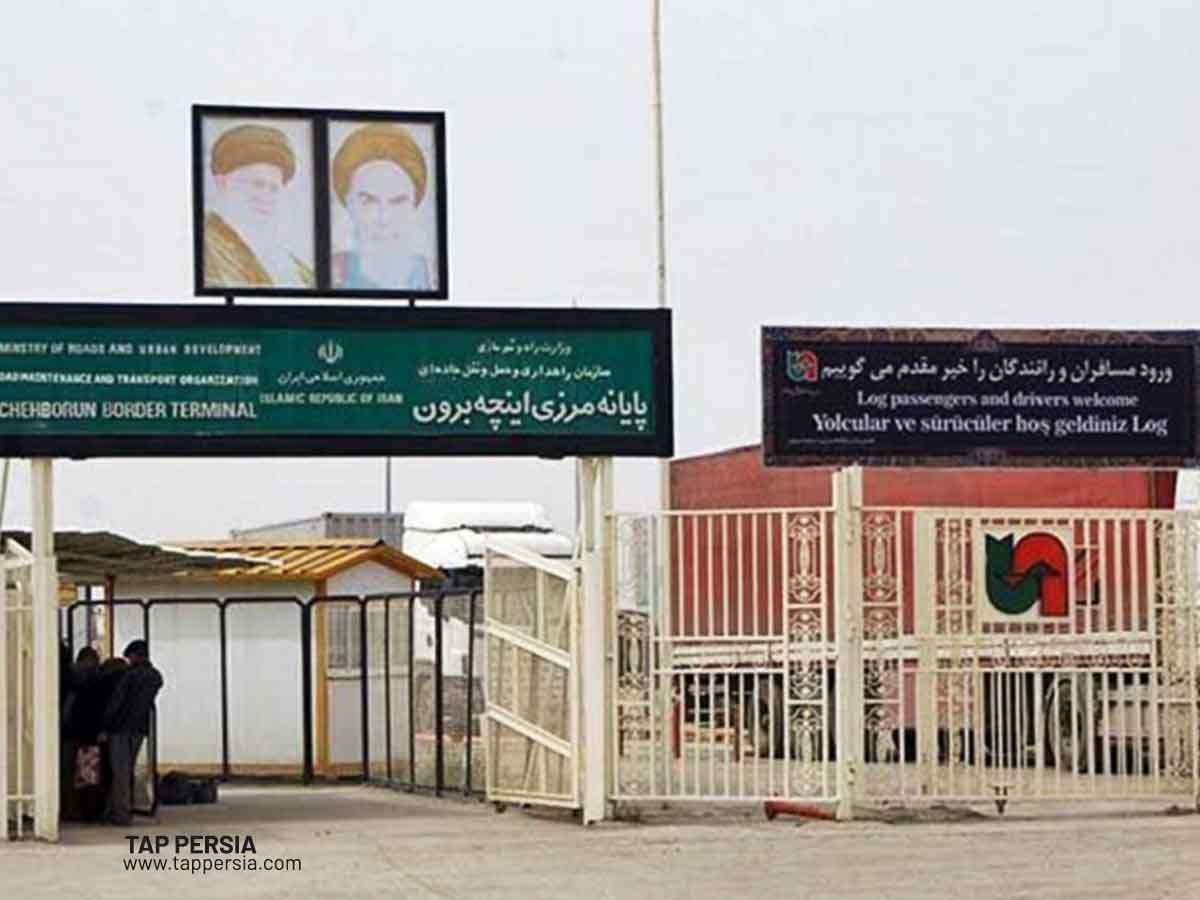 This is helpful if you intend to visit the tomb of Gonbad-I Qubus.
In addition to the once-weekly train between Etrek and Bereket, operated by Turkmen Railways, from whence you could board another train to either Turkmenbashi or Ashgabat, there is currently a regular train from Gorgan to the border at Incheboron. There must be a way to go the 20 kilometers from the border to Etrek railway station (in Gyzyletrek). Schedule-wise, this could definitely be accomplished in one day both ways.
Additionally, a bus from Etrek to Serdar ought to be available.
G. Iran – Afghanistan border crossings
G.1 Islam Qala – Taybad
Mashhad to Herat is the main crossing point between Iran and Afghanistan. Although the security circumstance in Afghanistan is naturally susceptible to change, the border crossing is unquestionably available to foreigners and is only open during the day. It's crowded. The route between Mashhad and Herat is in decent shape.
The fastest route to cross the border to Mashhad, Iran, is in a shared cab (4 hours), with a possible stopover at Torbat-e-Jam. Herat is just a 2-hour drive away from the Afghani side of the border, and many shared taxis and minibuses are eager to take you there. When writing, a shared cab from Herat to Mashhad costs $15 per seat.
Buses offer an additional option from Mashhad to Taybad and even Herat, although they are not significantly less expensive than shared cabs and are unquestionably slower at the border than crossing on foot and using another mode of transportation. If you want to ride the bus in Mashhad or the opposite route from Herat, arrive early in the morning and patiently await for the bus to fill up because it is impossible to predict when it will depart (it is intended to do so at 7 am).
G2. Milak – Zaranj
Visitors are welcome to use this international border crossing. No reports of foreigners crossing exist. From Zaranj, there are several scheduled flights to Kabul.
Mahirood – Abu Nasr Farahi
Located in an area there between Farah and Birjand. The highway has pavement on the Afghan side.