With its rich history, cultural heritage, and most welcoming people known around the world, Iran has become the destination of most tourists. Additionally, the simplicity and low costs of visa and travel to this country have raised the number of tourists visiting this country. But few people are familiar with visa types, especially visa on arrival (VOA).
This article will mention all Iran visa types you can receive depending on your travel conditions and nationality. After that, we exclusively focus on Iran's visa on arrival (VOA).
Important Note: Visa on arrival is no longer available for travelers as of the COVID-19 pandemic. Hence, we recommend other visa types to apply for in order to visit Iran. You can either visit IRAN Electronic Visa (Iran eVisa) website to apply for a visa individually (not recommended) or visit a reliable travel agency along with the required documents to process your visa application (highly recommended).

What visa types does Iran government issue?
You can receive one of the following visas to enter Iran:
Muslims of different countries can apply for Iran Pilgrimage Visa to visit holy sites of this country.
Tourist Visa – This is the most common and easiest way of entering Iran.
Entry Visa – This is applicable mainly for individuals who received an invitation from their family members or employment invitation from a certain organization/company.
Medical Iran Visa – This visa requires authorization from a certain health medical center.
Investment Visa – As the name suggests, individuals with investment purposes are eligible for this visa type.
Transit – If you are just passing through Iran soil to enter another country, you can apply for it.
Press Visa – If you are an employer of a media agency visiting Iran, it is mandatory to receive this type of visa. Also, if you are visiting Iran to follow your career, you can apply for this or a Temporary Work visa.
Work Visa – For employment purposes, you can either apply through this visa type or entry visa while holding your invitation letter.
Student Visa – Students can apply for this visa with the intention of following their education career. A full list of universities is mentioned in other articles on our website(Iran student visa).
Visa for Diplomatic Services – Officials and government agents are eligible to receive this visa.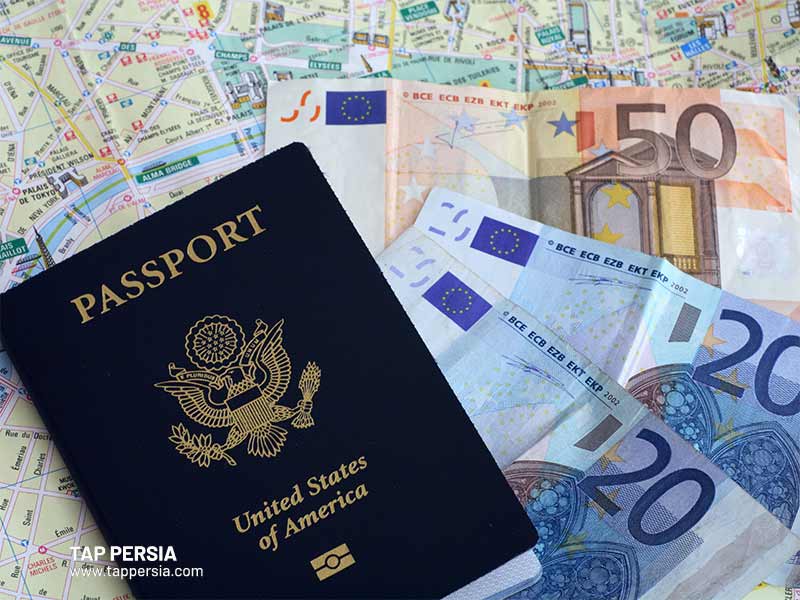 What is Visa on Arrival and Who is eligible to receive it?
This is the type of visa applicants of certain countries can apply on the airport; not all nationalities are eligible to apply for it. In general, the following conditions should hold for these nationalities:
Tourism should be the primary purpose of your travel. Individuals employed by media agencies, athletes, investors, etc., should apply for their respective visa types.
The following countries are not allowed to apply for visa on arrival: USA, UK, Canada, Colombia, Somalia, Bangladesh, Jordan, Iraq, Afghanistan, Pakistan, and India. However, they can apply for other visa types before entering Iranian soil.
In addition, Israeli citizens are also banned from entering Iranian soil. Any other citizens can apply for this visa, except for those who do not need to acquire a visa to enter Iran and only need to pay a certain fee for a certain duration. For the full list, visit Iran visa policy, section "Which Countries' Citizens Do Not Require Iran Visa before Entering the Country?", where you find the respective countries and the duration of their stay. You can also check the Iran visa cost for each country here.
Second-time applicants should apply through a travel agency recommended by Iran's ministry of foreign affairs.
As we have seen in several cases, there is a rejection chance of visa on arrival and also Evisa website, especially after the pandemic. For this reason, we suggest you apply through eVisa; otherwise, a reliable travel agency to acquire your visa approval. This way, the chance of rejection will be close to zero, and you can acquire your visa within three to five working days.
Important note: There is a chance you may not find the respective visa type for your conditions. In such cases, you can always rely on Iran's Ministry of Foreign Affairs website. Suppose you can't find reliable information. In that case, you can get the help of our travel agency, TAP Persia, to carry out your visa application with the aid of an experienced support team.
Once you have applied, you can check your application status by visiting Iran's E-visa website and entering the information requested, including your Application ID, Passport number, and E-mail.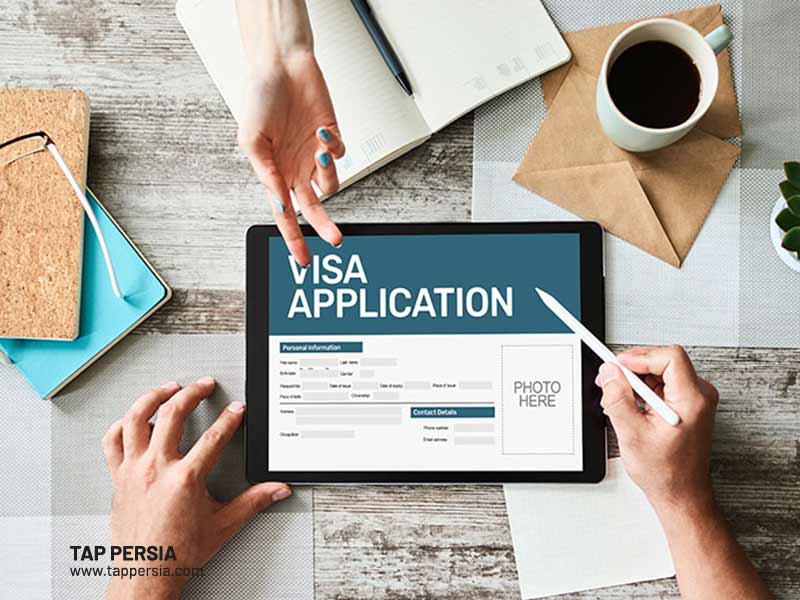 Visa on Arrival for USA, UK, and Canada Citizens
Qeshm and Kish islands have become one of the most exciting destinations for foreign travelers because travelers can enter these two islands without needing a visa. The duration of stay varies between 1 day to 14 days. Additionally, citizens of the USA, UK, and Canada can benefit from visas on arrival for these two destinations.
For other destinations, they are required to apply for a tourist visa and Iran travel packages through an eligible and reputable travel agency, and it is mandatory to travel with an escort guide during the trip. For both the above cases, these citizens can acquire an Iran visa on two conditions
(1) a suitable host (tour guide, appointed by Iran's ministry of foreign affairs) will accompany them throughout their journey,
(2) citizens should announce their destinations, places of stay, and travel itinerary before requesting a visa. Hotel booking in advance is also mandatory for USA, UK, and Canadian citizens before applying for a visa.
Where can you apply for Iran Visa on Arrival?
Although you can apply and get a visa on arrival at the following airport, there is a chance that your visa application can be rejected. For the above reason, this type of visa is not recommended for travelers; hence, you best apply for another Iran visa based on your conditions and nationality.
| Airport Name | Region/city | Airport Name | Region/city |
| --- | --- | --- | --- |
| Imam Khomeini International Airport | Tehran | Kish International Airport | Kish |
| Qeshm Dayrestan International Airport | Qeshm | Bushehr Airport | Bushehr |
| Shiraz International Airport | Shiraz | Tabriz International Airport | Tabriz |
| Hashemi Nejad International Airport | Mashhad | Bandar Abbas International Airport | Bandar Abbas |
| Kerman International Airport | Kerman | Isfahan International Airport | Isfahan |
| Mehrabad International Airp | Tehran | Urmia Airport | Urmia |
| Ahvaz International Airport | Ahvaz | Larestan International Airport | Lar |
Important Note: The Visa on Arrival (VoA) cannot be requested when entering Iran by land. A person who travels through other means of transportation cannot apply for VOA. In such a case, that person should apply for a visa through Evisa or a travel agency and acquire visa approval. Next, he/she should receive the visa from an embassy appointed in the visa approval form and then travel to Iran.
How much does it cost to acquire Iran Visa on Arrival?
Note that the following list of fees is not fixed and it can vary for each country. In any case, the current costs for countries are as follows. You can also visit the following link to get the exact prices.
Countries including Algeria, Armenia, Bahrain, Bangladesh, Belarus, Bhutan, Bosnia, Brunei, Croatia, Eritrea, Ethiopia, Indonesia, Kazakhstan, Kyrgyzstan, Mexico, Malaysia, Morocco, Mozambique, Nepal, Nigeria, Pakistan, Palestine, Saudi Arabia, Senegal, South Korea, Sri Lanka, Tajikistan, Tunisia, and Venezuela are required to pay an amount of 10€ to 50€.
The costs for other countries except for the UK, US, and Canada ranges from 60€ to 150€, with the highest fee belonging to Australia and New Zealand.
The fees of Iran tour packages for the UK, US, and Canada vary for each agency, so we recommend contacting our support team on TAP Persia to get the needed information. For more information, you can visit the Iran visa page.
Note that the actual price will be shown when you register online on the Ministry of Foreign Affairs website, and these prices may change. So, you better check them out first. Another best way to get informed of the costs is to visit a travel agency to guide you through the whole process. However, the Ministry of Foreign Affairs may increase visa fees for some countries(Iran travel restrictions).

Visa Free Countries – Traveling to Iran Without A Visa
Travelers can stay in Iran without a visa for the mentioned days. If you want to stay in Iran for more than the mentioned time you have to apply for an Iran visa.
The countries which can travel to Iran without a visa are listed below with the maximum number of days they can stay in Iran without a visa. If you want to stay longer even 1 more day you should apply for a visa.
| Country | Duration of stay (days) | Country | Duration of stay |
| --- | --- | --- | --- |
| Armenia | 90 days within 6 months | Azerbaijan | 30 |
| Bolivia | 30 | China | 21 |
| Egypt | 20 | Georgia | 45 |
| Iraq | 30 | Hong Kong | 21 |
| Lebanon | 30 | Macau | 21 |
| Malaysia | 15 | Oman | 30 |
| Syria | 90 days within 6 months | Turkey | 3 months |
| UAE | 30 | Venezuela | 15 |
No visa stamp in the passport. You will not receive an entry stamp within your passport at customs. You will most likely receive no paperwork to show your entrance into the country. If anything, you might be given a payment receipt when you pay your visa fee at the VOA counter of the airport. This will act as your documentation once inside the country.