Do you find new modern spas fascinating? Well, to be very honest they are not that much of new technology; Iranians -same as Greeks- had some large bathhouses called Hammam that had quite facilities for people. Persian Hammams were not limited to a small bath but was a large one with various sections. Bathing was a very long process and shows the importance of tidiness and maintaining good hygiene among Iranians. Among ancient Iranian, bathing wasn't about a quick wash to keep tidy.
Bathing for Iranians was carefully taking care of all parts of the body including hair and skin by doing massage, phlebotomy, and washing. The remarkable point is that same as peaceful sounds you hear in spas, the sounds of flowing water in fountains and ponds in Hammas -like ponds in Sultan Amir Ahmad Bathhouse and Khan Traditional Bathhouse- also provided a relaxing atmosphere to get away from all the stresses and tensions of a hectic life.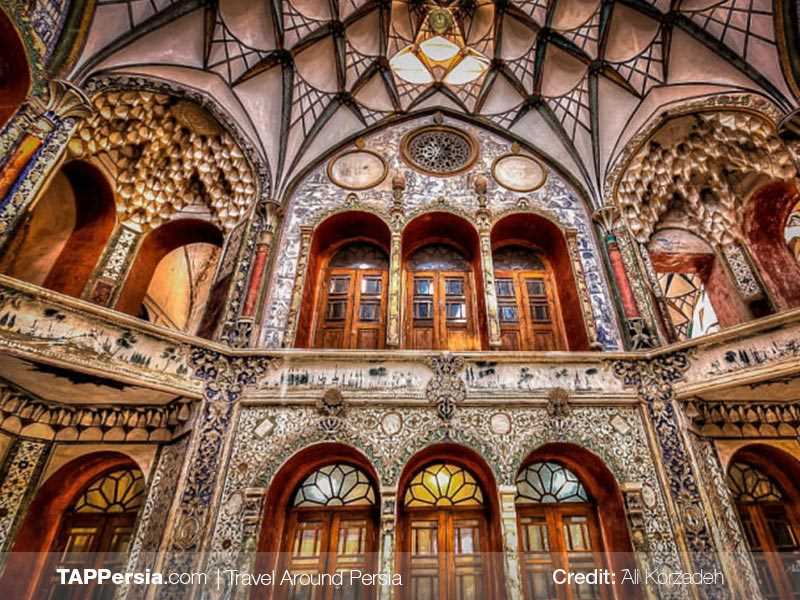 If you have visited any Persian ancient Hammam, you must have loved the marvelous and ingenious architecture of it. If not, visiting one is a must to get shocked by all the authenticity, thoughtfulness, and culture lied behind these astounding masterpieces. 
In ancient times, five elements including mosque, bazaar, house, cistern, and bathhouse were obligatory to represent a city. Soltan Amirahmad Bathhouse was Kashan's bathhouse element. If you are heading Kashan, you might be already aware of the importance of Persian Houses in the Kashan. But it is not where it ends, Sultan Amir Ahmad Bathhouse is a unique spot which you should not miss visiting(Kashan Tourist attractions).    
Mesmerizing Characteristics of Sultan Amir Ahmad Bathhouse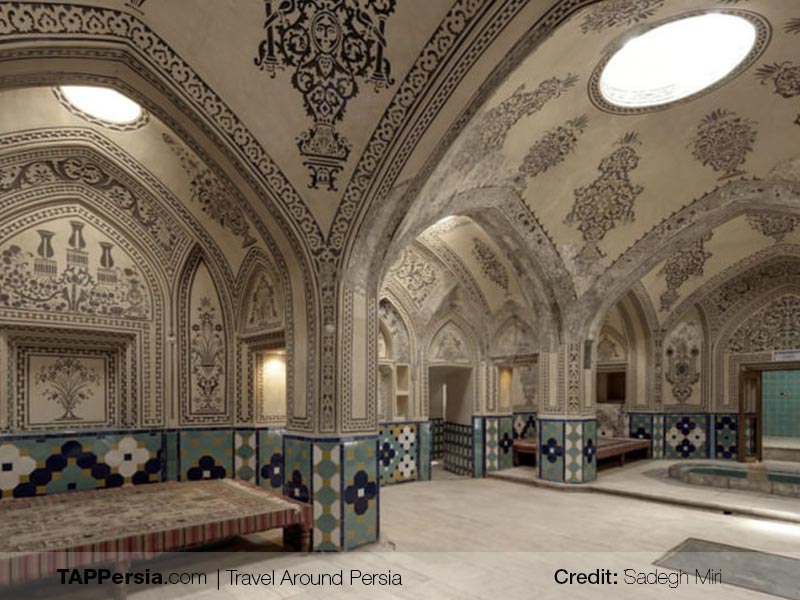 1. The Intricate Entrance 
Being decorated with floral and pigeon patterns, the entrance is a museum itself. The symbol of Shire Gavshekan is same as the one in the Persepolis which is an indicator of the new year.  There are also patterns of sun and paisley. If you take a closer look, you can see the number 1292 that refers to the date of the last renovation of Hammam in the Solar Hijri year. 
2. One of the Oldest Preserved Bathhouses of Iran 
There is no exact time for the age of this Hammam. Some evidence supports the idea that this bathhouse dates back to the Seljuk Dynasty. On the other hand, others believe that it is a renovation of a Safavid bathhouse that was destroyed during the earthquake in 1771. Anyway, it has a minimum age of 500 years and is one of the oldest Preserved Persian Hammams. Why do we say Preserved? Well, evidence supports the idea that there were Hammamas in Iran dating back to 3000 years ago during the King Jamshid in the Pishdadian Dynasty. Unfortunately, none are conserved. In 1976, this bathhouse was registered in the list of Iran National Heritage.  
3. Ingenious Complex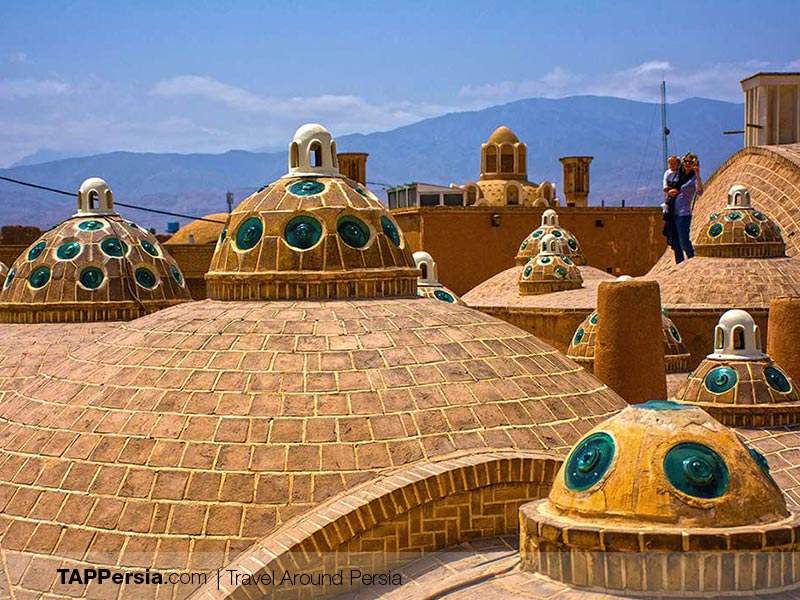 In ancient Persia, bathhouses were among complicated structures with so many sections and delicate embellishments. They built the bathhouse in a lower level of the earth in comparison to the surrounding area in order to preserve the heat of the bath. As a result, a massive amount of energy would be stored. The 1000-square-meter structure is so complicated and intricate. Therefore we thought that reviewing some points of the architecture of the bath would be necessary to help you figure out the ingenuity of the architecture.
The magnificent paintings on the walls, colorful mosaics, plasterwork, turquoise, and gold tilework are some of the artistic features of Sultan Amir Ahmad Bathhouse. Besides, all the delicate designs magnify the importance of spending half a day at Hammam. As a result, architects applied patterns and methods by which people would not be bored in Hammams. Pretty thoughtful! Right?! Below, we will deep into details of a typical Persian Hammam. 
The Architecture of a Typical Persian Hammam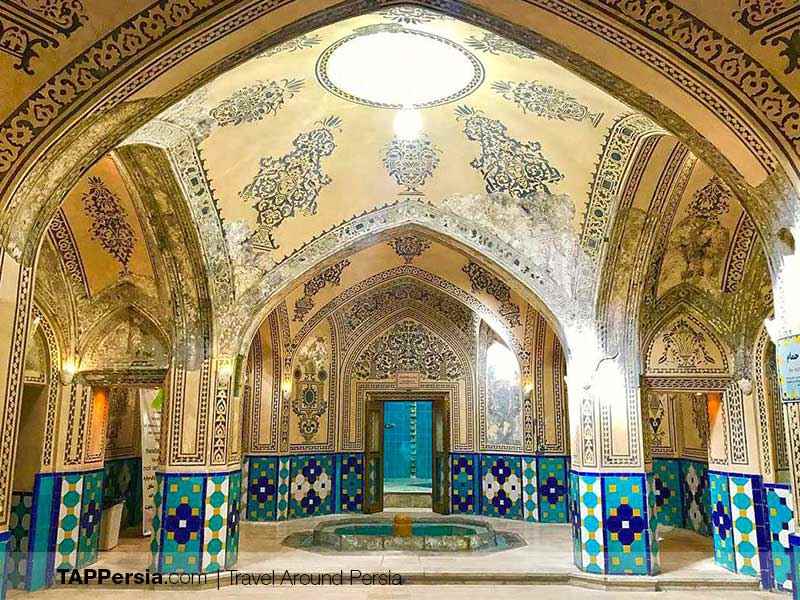 All Persian bathhouses like Soltan Amir Ahmad Hammam and Fin Bathhouse have three main parts: 
1. Sarbineh or Rakhtkan (dressing hall): It is a large octagonal hall with a pond in the middle separated by eight pillars from the outer space. If you take a careful look at the surrounding area around the pond, you will see some well-decorated holes in which people put their shoes. Since people spent more than half a day in the Hammam, they used to say their prayers there as well. That is why you can see a Qiblah design in the Sarbineh of Soltan Amir Ahmad Bathhouse.
The sound of the water flowing in the middle pond had a stress-relieving functionality for people to put away all the tensions of a daily life and relax their body and mind for a while. Another remarkable point to mention is that Sarbineh's weather was moderate, something in between the outer space and Garmkhaneh temperature, in order to make a balance in the human body and prevent catching flu or causing a heart attack. 
2. Miandar: Being made of spiral corridors, the most significant functionality of Miandar was to block the view to other parts. Additionally, several vestibules were to minimize the amount of heat and humidity that was transferred between Sarbineh and Garmkhaneh. 
3. Garmakhun or Garm Khuneh (=hot bathing hall). If you notice, you will see some niches in Garmkhuneh that is where people put all the cleaning materials. After a primary wash, people went into a Khazineh (= final bath hall) to have their ultimate bath. If you take a deep look at the Sultan Amir Ahmad Bathhouse's Garmkhun, you'll see decorations of seven suns that represent empyrean. Every little detail of the designs, paintings, and patterns have a meaningful and spiritual story behind and may shock you.
4.A Unique Persian Domed Roof in Iran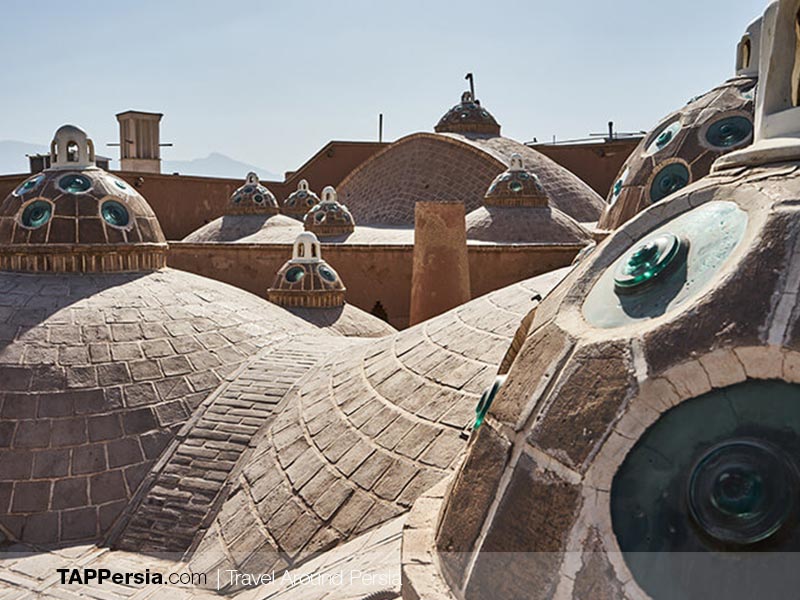 It may sound odd, but the bath is not the only remarkable part you must visit. Its dome shape roof is one of a kind. There are multiple domes on the roof that have convex glasses to provide the needed light in the bath during the cloudy days. The charming rooftop is a photography spot where has also an amazing view of the city. So do not forget to take your camera with you to capture the glorious view. Besides, there are several colorful glasses on the arch-like ceiling of the bathhouse which makes it a separate attraction not miss. 
Who is Responsible for Building Soltan Amir Ahmad Bathhouse? 
Truth be told, nobody! This bath has been built by the helping hand of so many people. As a result, there is no name after the Hammam as the owner, architecture, plasterer, and so forth. The name Sultan Amir Ahmad comes after the nearby mausoleum for the Sultan Amir Ahmad; the surrounding county is also Amir Ahmad. That is why they have taken this name from it. 
Unlike many Persian Hammas that were open to women until noon and after that man could go, Amir Ahmad Bathhouse consists of two parts. There is a large bath and a small bath. So that women and men could go there anytime. During the first half of the weekend, women could use the large bath while men used the small bath. For the second half of the week, it was vice versa.   
This bathhouse used to function as a traditional teahouse. Goods news is that recently it has turned into an Anthropology Museum. 
When to Visit Sultan Amir Ahmad Bathhouse?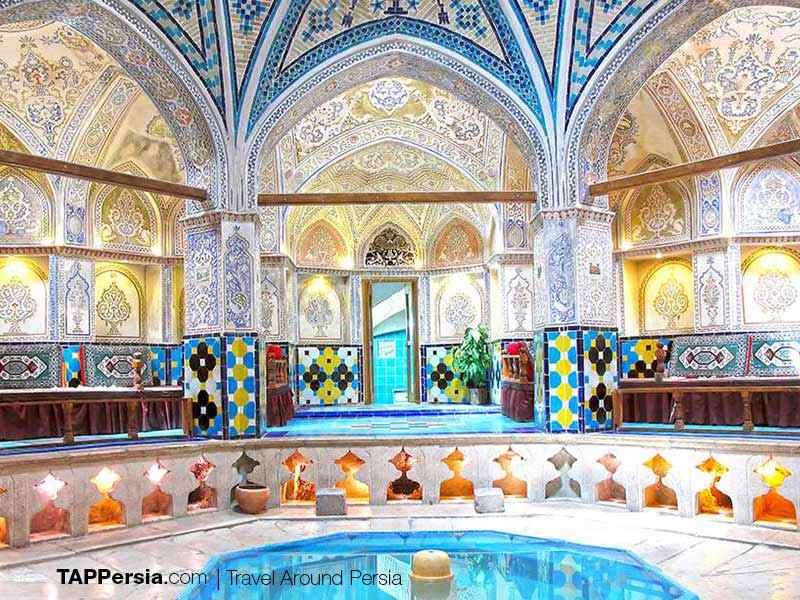 That is not a matter at all and you can go there any time -8 a.m to 8:30 p.m.-  in any season. Since there is this amazing rosewater festival in April and May, we suggest you going on that time and not miss the pleasant weather of Kashan and the fabulous rosewater festival.   
While visiting Soltan Amir Ahmad Hammam, do not miss visiting the surrounding attractions. Tabatabaei House, Boroujerdi House, Puppet Museum, and Aqa Bozorg Mosque are some to mention.
We hope you have found this article helpful. In case you have any questions or have experienced visiting this or any other Persian Hammam, we would be glad to hear your questions and experience.
---
Recommended Tours