The nuts industry in Iran is an ancient one, dating back thousands of years and making up a strong component of Iranian agricultural life. Iran ranks 1st in fruit production in the Middle East and North Africa. Among its products, there are pistachios, almonds, walnuts, raisins, pomegranates, melons, citrus fruits, dates, cherries, peaches, and oranges.
History of Nuts
Since 1963, Iran has been one of the leading producers and exporters of dried fruit and nuts such as pistachios, raisins, almonds and all kinds of Iranian dates. Iran produces more than 1.18 million tons of different kinds of nuts every year, close to 800,000 tons of which is consumed domestically and the rest is exported.
Rule of Nuts in Iranian's Life
During the Iranian New Year holidays, domestic nut and fruit consumption increases,
as nuts and fruits are typical treats offered to guests in Iranian homes. For Iranians, no festivities and feasts can be held without pistachio as well as other nuts like walnuts, almonds, raisins, hazelnuts. Among Iranians, pistachios and almonds are the more popular nuts and also more expensive to purchase. The price range changes a lot depending on the quality and the type of nuts. Some of them are seasonal, so if you purchase them out of season, they are more expensive. Due to its favorable weather, Iran tops the world in the production of pistachios and produces the finest varieties in the world.

Pistachio
Pistachios are a common ingredient in many traditional Iranian as well as middle eastern dishes and desserts; they are almost synonymous with Persian cuisine. If Iranians cook special dishes, they decorate them with pistachios, and even treats and dessert such as Gaz and ice cream contain pistachios. Iranian pistachios can be salted, roasted, flavored with lime, spiced or even eaten raw.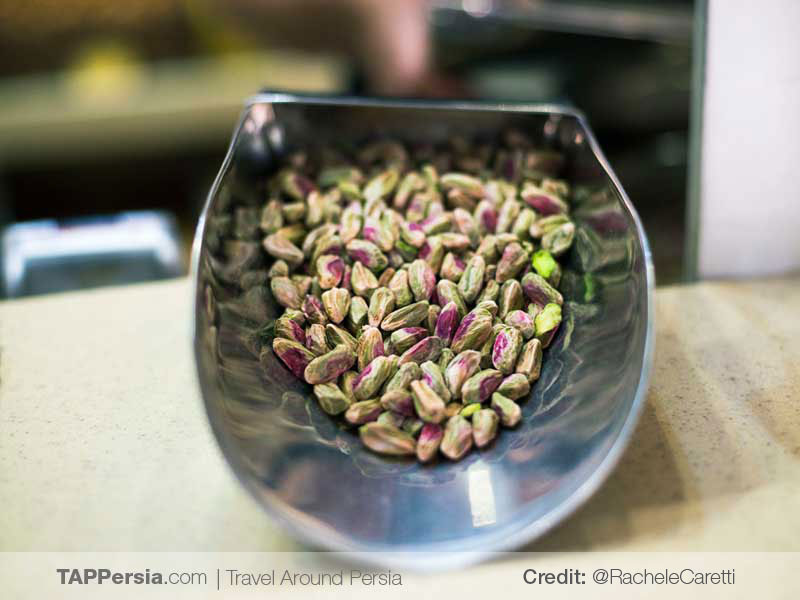 Favorite Nut of Iranians: Tokhmeh
Another favorite snack among Iranians is tokhmeh, a term used for a collection of roasted seeds. Iranians love to munch on a variety of tokhmeh which include seeds from sunflowers, pumpkins, watermelons, squashes, and other fruits. Roasted with salt or lime, this popular Persian snack is eaten by breaking each shell and eating the inside piece. They are very tasty and also extremely cheap compared with other nuts.

Traditional and Religious Use
Nuts can be used in different religious gatherings, where people gather together and start praying, they might pray for different reasons such as, pray for health, wealth, praying to God, and asking for forgiveness or help to solve any difficulties in their lives. In those gatherings, they give away nuts to everyone as "Nazri" and they call it "ajil-moshkel-gosha" which means nuts that solve a problem. Also, it's a tradition to serve nuts for guests in different traditional events, such as "Yalda Night" and "Nowruz".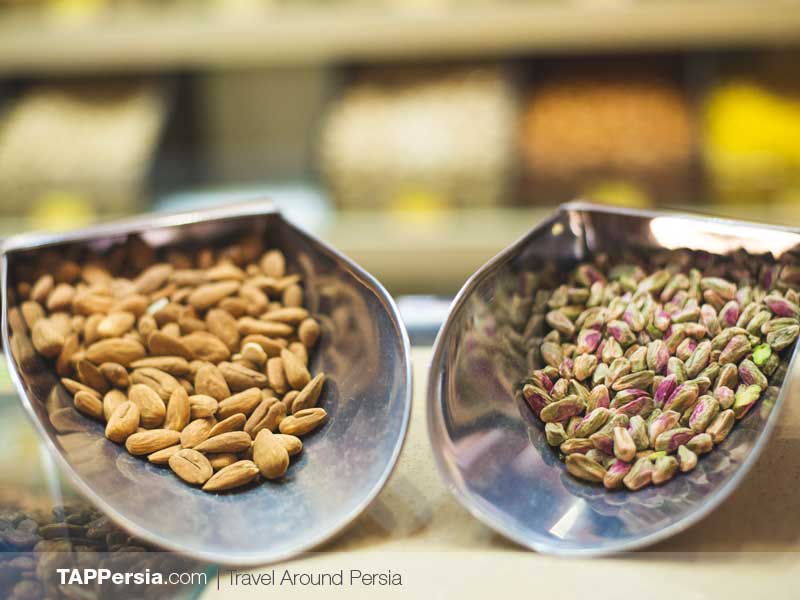 Cities Producing Nuts
Some cities are known for their nuts, such as Estahban which is known for its dry-fig, Tabriz for its walnut, Kerman for its pistachio. 80% of pistachios produced by Iran has been exported to abroad, and by the year 2016 Iran was the biggest exporters in pistachio,however recently America overtook in exporting pistachio and almond.
Plant Scientists found that nuts are full of mineral and non-saturated useful fats and using them is recommended by nutritionists. Next time you come to Iran make sure you don't miss trying some Iranian nuts.
---
Recommended Tours