Ash Reshteh is one of the most famous dishes in Iran. Although it looks like a soup dish, it's not light and watery. Ash Reshte is consisting of noodles, beans, green vegetables, chickpeas, a special kind of milk product called kashk (whey) and many other ingredients.
The term Ash Reshteh comes from Ash meaning a thick soup and Reshteh meaning noodles.
Although there are over 50 kinds of thick soups (Ash) made in Iran, Ash e Reshteh is the most popular day to day food eaten in Iran.
Where to Find Ash Reshteh
Due to being very rich in nourishment, it is often eaten as a main course in Iran. If you travel around Iran, you will find the sweet aroma of Persian Ash Reshteh following you through street food shops. Whereas you can really enjoy having Ash Reshteh outdoors in cold winters, it'll be found in summers as well and almost no one says no to this popular dish in Iran. It is known as the street food for the soul as it is widely and easily available and very healthy. Also for those who are on a diet, Ash Reshteh calories are not much.
Ash Reshteh, an Inevitable Dish in Persian Culture
A dish that brings people closer in Iran is absolutely Ash Reshteh. It has a special place in the heart of all Iranians and can be served in any gatherings. They just call the guest and say directly we are going to have Ash Reshteh as a course of dinner. The guests will get excited about that with no doubt and a typical answer is: You know how much I miss Ash Reshteh.! They know it will be an amazing time talking to each other while having this warm delicious dish.
Cooking Ash Reshteh for your guests can be considered as a sign of respect for guests, as it needs some time and concern while cooking. Interestingly the word cook or chief is 'Ash Paz' in Persian. Pazi means to cook, so the word can also mean Ash cooker. They say the philosophy of calling a chief 'Ashpaz' is anyone who can make Ash Reshteh is a real professional chief, who can cook other dishes easily.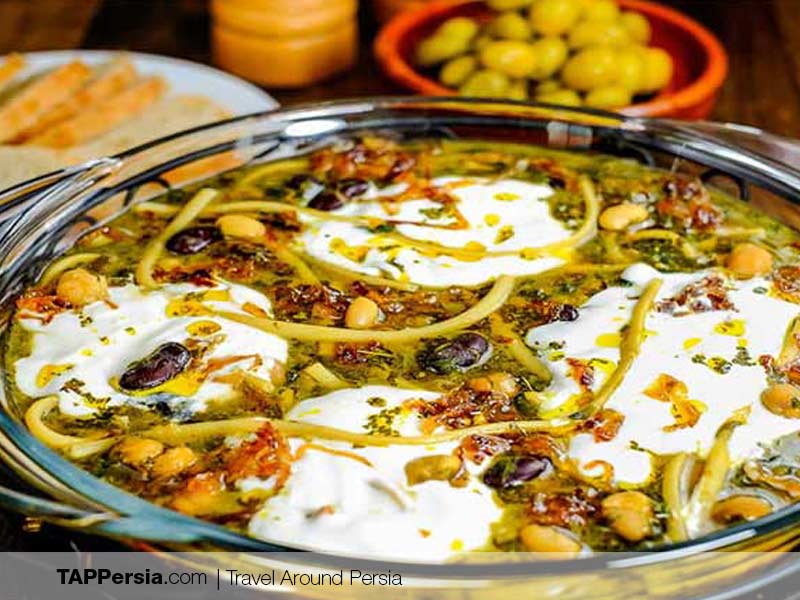 Ash Reshteh can also be served in special Persian ceremonies. They seem incomplete without Ash being a part of it. Going for a picnic means preparing Ash Rashteh at home a night before and take it to share with friends and family. They may even cook it on a whole day picnic and everyone participate in preparation. You may seem many families and relatives in Iran's parks sitting together with a pot of Ash Reshteh nearby.
Ash Reshteh spreads positive energy among people in Iran as they all have good memories of having that since childhood. Surprisingly Iranians may bring you a bowl of Ash at the door of your house and say I was thinking about your share while cooking. They may also cook a big pot as Nazr. Nazr means when someone wishes for a dream and they believe by sharing some food among people, their dream may come true due to the spiritual energy. The other tradition is when someone wants to go on a long journey, their family invite relatives and friends for Ash Reshteh and wish them a pleasant journey. 
Persian Ash Reshteh Recipe:



Ingredients:
A quarter cup of dried chickpeas

Quarter cup dried kidney/white beans, such as navy or cannellini

1 cup dried green or brown lentils

About 1 kg of spinach finely diced

About half Kg of cilantro finely diced

About half kg of parsley

About 300 grams of dill

About 180 grams of chives

About 15-20 large fresh mint leaves

About 6 tablespoons virgin olive oil

About 5 tablespoons of extra-virgin olive oil

2 large onions, 1 finely chopped & 1 thinly sliced

2 garlic cloves, finely minced

half teaspoon ground turmeric

salt and freshly ground black pepper

Two cups of liquid kashk* (Skip it for vegans)

250 grams of reshteh (roasted noodles)

1 tablespoon of dried mint





*If you're vegan and want to try Persian Ash Reshteh on a street or a ceremony, just tell them in advance not to put Kashk on top. Also sometimes people find the taste of Kashk very strong. I think it is best to taste it before using it in your soup. Greek Yogurt, verjuice and vinegar are some alternatives which can be considered as Ash Reshteh condiments.




How to Cook:
Soak chickpeas and kidney beans with a pinch of salt in about 2 cups of water overnight.

Prepare all the greens. They need to wash them well and then dried completely. Make sure to remove the thick woody ends and use only the leaves. Very fine ends can be used but if thick woods ends are used, they will come in mouth and may not fully mix well with the soup. If you are unsure, best to use leaves only. Finely chop them and refrigerate if planning to cook Ash on the other days ahead too.





3. Take a large stockpot or similar utensil and add 4 tablespoons of extra virgin olive oil. When oil is hot enough, add onions chopped with a pinch of salt. Cook over normal heat, stirring it regularly until onions are soft and light golden brown. Once that is done, add garlic, stirring it regularly for another 1 to 2 minutes.




 




4. Drain the overnight soaked chickpeas and beans, then add it to the stockpot with lentils, turmeric, and black pepper. Cook the mixture for another two minutes, making sure to stir to mix it well constantly. Add the greens which were finely chopped with few cups of water. Keep stirring to mix it well.





5. Cover the stockpot partially and bring the mixture to boil.





6. Reduce the heat to low once the mixture comes to boil and let the soup simmer for another one hour. Stir it continuously to prevent anything from sticking to sides or burning. You may need to add more water if you see the greens have not mixed well with the soup or the soup is too thick.





7. (Optional) Take one and a half cup of kashk in a large bowl and put one or two cups of hot soup (mostly liquid) into it. Next, use a spoon or a whisk to fully mix it until the kashk is fully dissolved. You will know about it as the color of soup will change.





8. Add it back to the stockpot. Next, increase the flame and bring the soup to boil again. Add roasted noodles to the pot by breaking them in half. Make sure the noodles do not stick together and once it starts to boil, reduce the flame to simmer the soup, occasionally stir it until you see the noodles have become soft. Taste beans as well to make sure they are completely soft from inside as well.





9. Take another medium to a small frying pan and add 4-5 tablespoons of olive oil to it. When the oil is hot, add sliced onions to it with a pinch of salt and cook them until crispy golden brown. (Minced garlic is optional to add at the end as they're fried earlier than sliced onions). Once they are cooked well, make sure to spread these onions on a kitchen tissue roll or paper. Let it absorb the excess oil and dry without sticking to each other.





10. Add 2 tablespoons of olive oil to the remaining oil in the pan. Add dried mint leaves and cook them over low heat. Set this mint oil aside and filter the oil using a sieve.





11. Take half a cup of kashk in a small bowl and add water to it slowly until it is like a thinly blended yogurt. It should flow but not like water. You need this to add to the soup while serving.





12. Cook the soup and make it as thick as it moves slowly with lentils and greens when pouring. If it is too thick, add some water and cook more to make it thick. Remember, the noodles and kashk are already salted. So taste before adding any salt to it and season it accordingly.





13. Serve it in a large open soup bowl, sprinkling it with golden brown crispy onions. Shower a little of mint oil and add about 1 tablespoon of liquid kashk.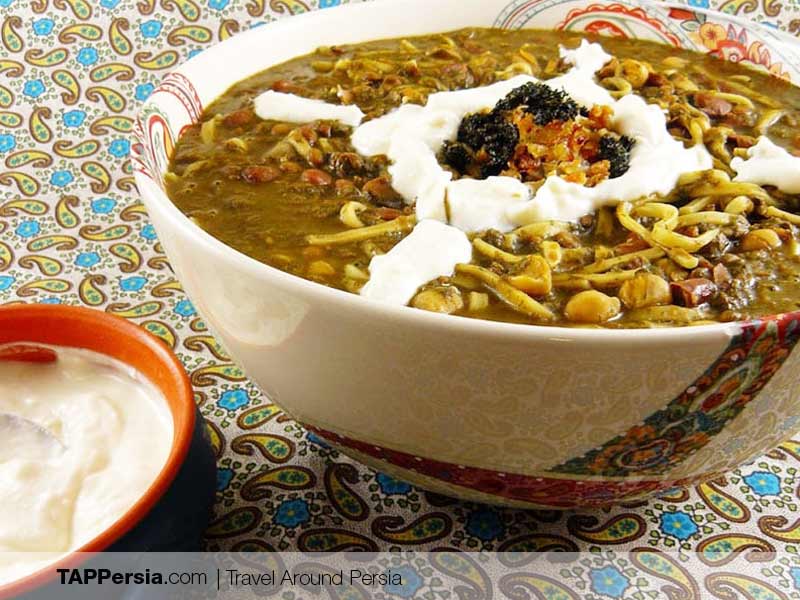 Ash Reshteh, A Perfect Option for Vegans and Vegetarians
Interestingly, this can be made a completely vegan dish by omitting kashk (whey) and is enjoyed by thousands of vegetarians as everything used in this aromatic dish is suitable for vegetarians. In my opinion, place the kashk in a separate bowl next to the soup for everyone to take as per their liking. In Iran, it is usually added to the soup before serving.
Indeed, Ash Reshteh lives in the hearts of everyone in Iran. Ash e Reshteh is an integral part of Persian culture which is impossible to separate from the soul of every home in Iran.
---
Recommended Tours