One of the items which can make Iran one of the appealing tourist destinations is Iran's hot springs, which exist all over the country. They are naturally attractive and soothing, but let's not forget their curative aspect. Soaking in a hot spring not only relaxes you, but it can have many health benefits. This is how people traditionally treat some illnesses for thousands of years, especially common in Europe and Japan. It's even Scientifically proved and studied by the name of "Balneology" which means treating disease by bathing.
Benefits of Hot Springs
Hot mineral springs water can increase your blood circulation. It contains calcium and sodium bicarbonate. When you're soaking in a hot spring, your body absorbs these minerals. This fact boosts blood circulation and oxygen flow.
Hot water springs also decrease the level of stress and calm muscles. The body has a rise in temperature while bathing. As going out of the bathroom, it'll cool down which causes relaxation and falling in sleep deeply.
Surprisingly, mineral water can reduce or remove the pain. Chinese and Japanese have been using hot springs especially for joint pain and tissue damage.
There's a high amount of silica found in hot springs that soften dry and rough skin. Also, sulfur in the water can have healing properties for skin problems including eczema and psoriasis. Of course, if you have a skin disorder, it's best to consult with your doctor before trying a hot spring.
Hot Springs of Iran
Besides all the attractions you visit while traveling to Iran, why not take the benefits of Iran's hot springs. They may be conveniently close to your destinations, so let's not miss the opportunity. Here we introduce hot springs of Iran based on the geothermal resources on the map below:

Sarein Hot Springs:
Sarein, a famous touristic city especially for its springs, lies in Sabalan region 25 km from Ardabil in the northwest of Iran. Besides the natural hot springs, the city has a pure climate and lots of greenery, so many travelers and tourists visit Sarein yearly. People speak Azeri in this region, while they're fluent in Persian too.
Iran Sarein Springs consist of nine hot water springs. The water gets hot by Sabalan Mountain, the second-highest mountain of Iran (Damavand is the first highest). Two of these hot springs has recreational facilities, while they can relieve pain due to their minerals. The hottest spring is "Gavmesh Goli" with a maximum temperature of 67 degrees. It gives out around 80 liters/s from the source.
There are also two cold water springs in Vila Valley, 5 km from Sarein. The fizzy water, which is very good for kidneys, makes a wonderful landscape with of towering trees over the mountains. Also a village nearby, called Sardava, has a carbonated cold water spring with therapeutic benefits. It completes Sarein attractions.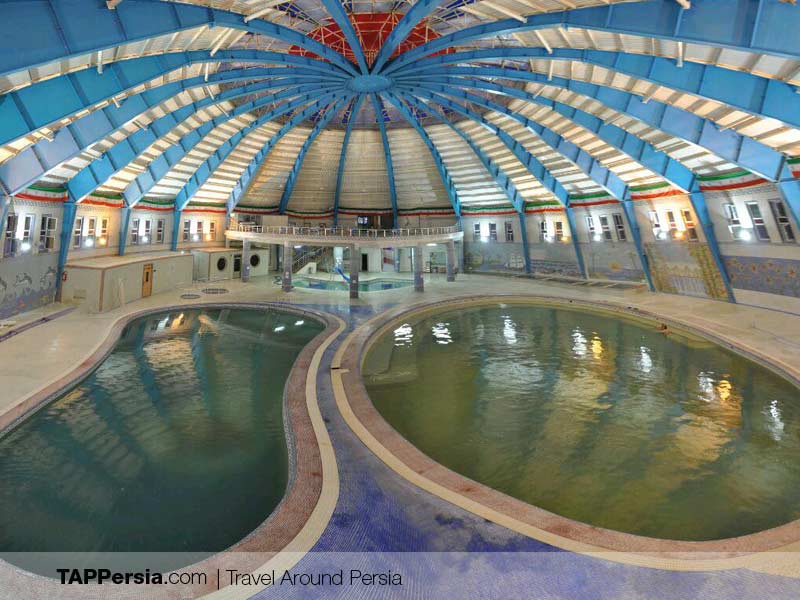 Sahand:
The silent volcanic mount range of Sahand lies in the south-east of Tabriz (the capital of East Azerbaijan Province of Iran). It has 17 peaks with altitudes above 3000 meters. Sahand is also the name for the highest peak which is 3700 meters high.
Sahand Mount Ranges has many rivers, cold/hot springs, and spas with acid and ferric water. The west foothills consist of saline and mineral water sources too. Just like Sabalan Mount, Sahand has an awe-standing nature. That's why they call it the bride mount of Iran. The best time to climb Sahand Mountain and visit its hot springs is the end of June till the end of August.
To reach Sahand Peak, driving is available until Lighvan. After 5 hour walk in the flourishing foothills, the climbers get an area called "Ab-Garm" which means hot water in Persian (That's why some towns and villages in other areas called Ab-e Garm as well). The best is to spend the night there. From Ab-e Garm, you need to climb for 11 hours to reach Sahand Peak. On the way, you will watch some beautiful hot springs of Iran.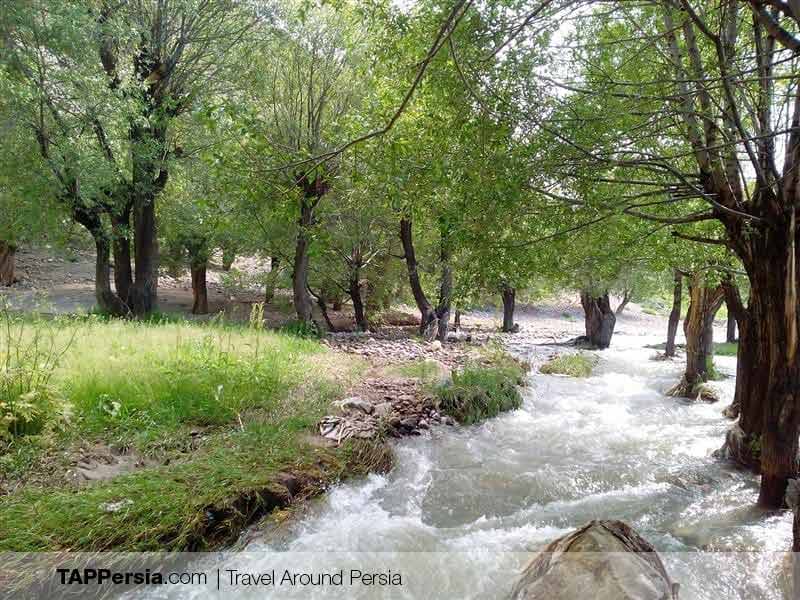 Khoy-Maku:
Khoy county is located in Iran's West Azerbaijan Province near the border of Turkey. Due to its natural attractions, eye-catching gardens and healing hot spring, the county is considered a tourist destination. Khoy is in a large plain near Maku.
Maku is a city with wonderful nature which lies in a valley, on the main road of Tabriz-Bazargan. The location makes Maku unique as it's the only city with business in Bazargan Border and links to Europe. The trades of Iran and Turkey are held in a boundary market named Sarisu of Maku. Most people speak Azerbaijani Turkish, they're occupied with border trading, farming, and animal husbandry.
Zangmar River flows through Maku and divides the city to Northen and Southern parts, called "Markazi" and "Bazargan". Maku consists of two towns and five villages. The mountainous and lush terrains which consist of hot mineral springs, waterfalls, and wildlife make the area an amazing natural destination. Also the ancient palaces, mansions, and churches are the historical aspects of Maku. The climate of the region is moderate in winters and hot in summers.
Mahallat:
Mahallat is a town in the south-east of Markazi Province near Isfahan Province. Another center that is famous for having Iran's hot springs is absolutely Mahallat. The water wells up from foothills of Khorzan Mount with a minimum degree of 50 c. This source creates mineral springs which are mostly located 15 km from north-east of the town near Nineh Village. People also use it for agricultural purposes too. Many believe hot springs are the reasons which formed Mahallat as a town.
The usage of hot springs to treat the disease has a historical record in this area. As they're on the way of Dodehak Caravansari and Khorhe historical complex, Mahallat hot springs and their benefits are mentioned in ancient books. The mineral water of Mahallat contains sulfate calcic, good for gout, kidney, liver, and bilious disorders. For years, Iranians especially people from Qom, Kashan, Isfahan, and Markazi Province go to Mahallat hot springs to have fun and health benefits both.

Mahallat hot springs complex has proper facilities including pool, private bathrooms with tub, restaurant, café, and tourist resorts. Also many cheap guest houses are available in the village nearby. The seasons to use Mahallat hot springs are summers and springs especially August and September.
The spring's source, placed in the highest place of the town, besides the towering plane trees and carved stairs in the rocks make an eye-catching landscape. The water flows to fountains and recreational parks too. This package makes Mahallat an extraordinary natural destination for tourists as it's called the dreamlike Paradise. Mahallat is also famous due to its gardens full of various flowers, so it's considered as the main center of flower growth in Iran.
Khor:
Ab-e Garm Village in Isfahan Province is placed 30 km from Khor & Biabanak Town. There are plenty of Iran's hot springs in this village. These springs water also have therapeutic features for derma disease and muscle pain. Therefore, many tourists travel there yearly. There are two old bathrooms with basins to bathe.
Ab-e Garm Village is surrounded by mount ranges and you can spend some time in the nature of its foothills. As the village altitude is 1070 meters above sea level, a glorious sunset is visible too.
Tekab-Hashtrood:
A town in West Azerbaijan Province, Tekab has many hot springs in Takht-e Soleiman and Gaynarja Village. Takht-e Soleiman is a historical area with lots of significant monuments such as ancient Sassanid palaces and fire temples. two km from North West of Ahmad Abad Olya Village in Takht-e Soleiman, there are therapeutic hot springs with curative cold water springs nearby. They're modernized in Takht-e Soleiman complex for public.
The hydrotherapy complex of Takht-e Soleiman is one of the most important attractions of West Azerbaijan Province. This creational complex is equipped with appropriate facilities such as two swimming pools, basins, sauna, Jacuzzi, and heating systems. There are also other sections like resorts, several suits, kids' park, cycling race, and theatre salon.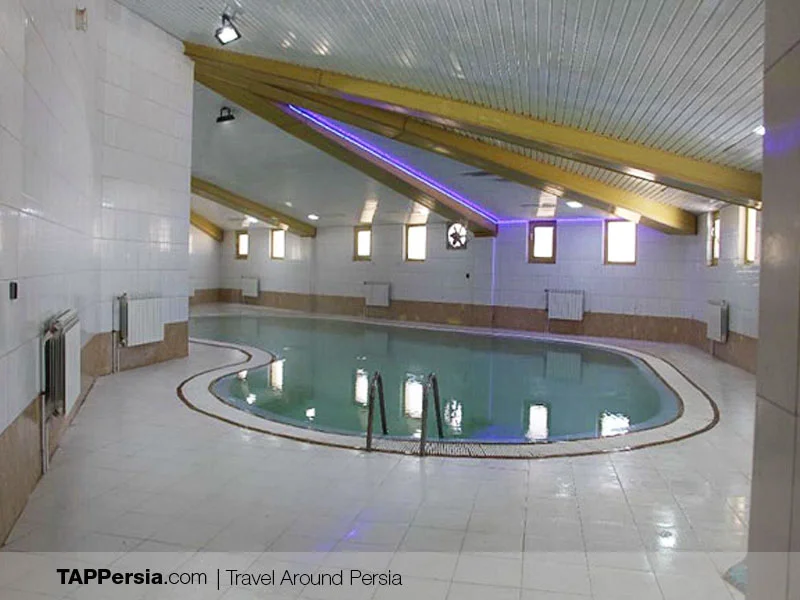 Gaynarja Village is located 40 km from Tekab Town and 15 km from the world heritage of Takht-e Soleiman. The village has got popular due to its rich nature including waterfalls and hot springs. The hot springs in this village have distinct curative effects, especially beneficial for joints pain. There are facilities like basins and lodges near the springs and many tourists travel there yearly.
Charoymaq Village, which has lots of natural and historical attractions, used to be one of the villages of Hashtroud. Numerous hot springs and a nice climate has made Charoymaq a touristic center. The natural allures include hot springs, spas, and caves. The hydrotherapy hot water complex, Maneshgah hydrotherapy complex, and Pir Saqqa Spring are the remarkable places in West Azerbaijan Province. Hammam Hot springs in Hammam Village is another option which one of them is indoor with a sulfate-water basin. Another hot spring has an outdoor basin. This area also has historical attractions such as ancient palaces and hills.

Zanjan:
Vananaq Hot Spring is located near Vananaq Village in Qareh Poshtelu, Zanjan Province. Vananaq Hot Spring has sulfuric water with therapeutic benefits. Bathe in Vananaq Hot Springs is so relaxing and relieve pain related to joints and nerves. The first highlight is a deep basin where water is extracted through a stream with a speed of 7 Litres/Minute. The second basin has a depth of 120 cm and flows down to the pools with the speed of 10 Litre/Minute, so people can use it for farms.
Ghatood Balaghi spa is located near Vananaq spa with the altitude of 1982 meters above sea level. Based on the local people's experience, it's very good for foot ache. Rubbing its mud on skin is so effective to remedy rheumatism. This hot spring lies between Vananaq and Lagahi Villages. The only issue is part of the way toward the spring is dirt road after the intersection of Vananaq Village Road and Zanjan-Armaqan Road.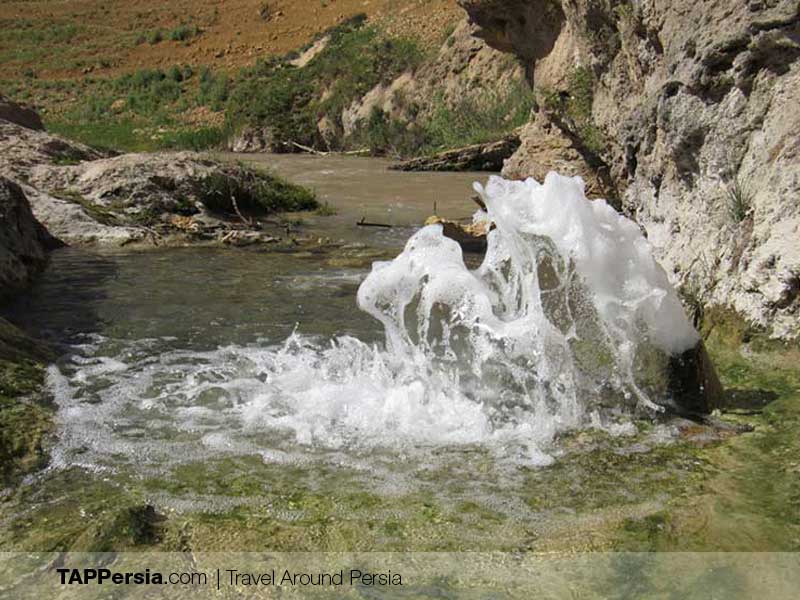 Ramsar:
Ramsar, a coastal city, is another spot for Iran's hot springs. The hot spring water in Ramsar contains gas sulfur and chlorine bicarbonate calcic and it's originated from Alborz Mountains. The temperature of the largest hot spring in Ramsar is about 42 c, which is the best for body. Some of the most important Iran hot springs in Ramsar with numerous therapeutic features are:
Mahmoud Garma & Aziz Garma (Ramsar)
Ashkar Garma (Sadat Shahr)
Kash Hot Spring (Sadat Shahr)
Sang Boneh (Sadat Shahr)
Shah Madar Garmabeh (Behind the new Ramsar Hotel)
Sana Hot Spring (Behind Ramsar Hotel)
Shah Madar Garmabeh (Behind Ramsar Hotel, effective for backache and joints pain)
In 5 km from South-East of Ramsar, in Sadat Mahalleh and Katalem, you can find several hot springs with pools and tubs. They're beneficial for rheumatism, muscle pain, and derma problems. Ramsar Hot Springs have a record in history as a French general who worked for Nasereddin Shah in Qajar era explained their curative aspects in his travelogue.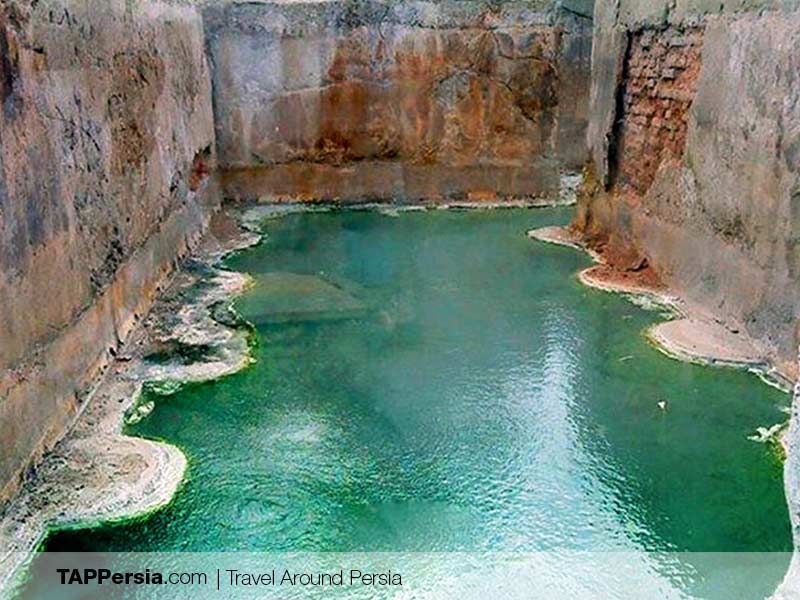 Avaj:
Avaj is a town in the south-west of Qazvin Province near Hamedan and Zanjan Provinces. This mountainous area is less known and fewer tourists and eco-tourists have explored it. While having different cold and hot springs, Avaj has waterfalls, gorgeous mountain views and cool climate in summers. There are also historical sites such as Kharaghan Towers, Qaleh Kurd Cave, and Avaj Caravansarai.
Kharaghan Hot Spring (Arshia Hot Spring) is one of the main attractions of the area. At the moment, using this hot spring is available via a company in Ab-e Garm Town. Some hotels and complexes are also developing to have bathe services of Kharaghan hot water. Based on the high potential for attractions, it's predicted that in near future, Avaj Town will be as popular as Sarein Hot Springs. Other springs in this area include Ali Spring in Artesh Abad, Soltan Balagh mineral springs and Ali Balaghi cold water spring.

Amol:
Larijan Hot Springs of Amol is another stop to explore Iran's hot springs. Although they have various health benefits, Larijan hot springs are not spotted by many. Some of them are located near the historical heritages, so it's really worth to visit. There are some hotels and suits in the area, but lots of touristic developments are still needed to make more facilities available.
As hot springs are formed by volcanic activities, they're located in the mountainous area of Larijan in Amol. Based on the geologic conditions, there are many in Alborz Mount, especially around Damavand Peak. The most important one, Rineh Hot Spring, is in Ab-e Garm Town.
The temperature of Larijan Hor Springs is about 62 c and the water is full of Sulfur. Due to this reason, it's efficient for derma disease, joints pain, and rheumatism.

Damavand:
Alborz Mount Range is located in the north of Tehran. The highest peak of Iran lies in Alborz Mount, called Damavand. When people in Tehran want to be away from the crowded city's atmosphere, they usually travel to see the spectacular scenery in Damavand on their holiday. Some of the spas and cold/hot springs in Damavand, where you can enjoy nature, are Ab Ali, Siah Sang, Ala, and Tiz Ab.
Kashmar:
The ancient Kariz Village near Kashmar Town is 1400 meters above the sea level. There's a hot spring with curative aspects in this mountainous area. It has minerals efficient for skin disorders. Also, a river flows in the hill nearby. The climate of Kariz Village is cold in winters and moderate in summers.

Tabas-Ferdoos:
Morteza Ali Hot Spring is 27 km from Tabas Town in South Khorasan Province. The spring contains cold and hot water flowing in the middle of the desert. There's a valley where there are rocky walls full of cells. The hot water falls down from these cells. As it has different minerals to the cold flowing water, they don't mix and can be recognized until passing 300 meters of the river bed. Therefore, you can put your foot one side in cold water and other foot in hot water. This phenomenon is rare in the world.
The streams lead the water to the town for agricultural purposes. Morteza Ali Hot Spring is also concerned for health tourism and many tourists visit it yearly.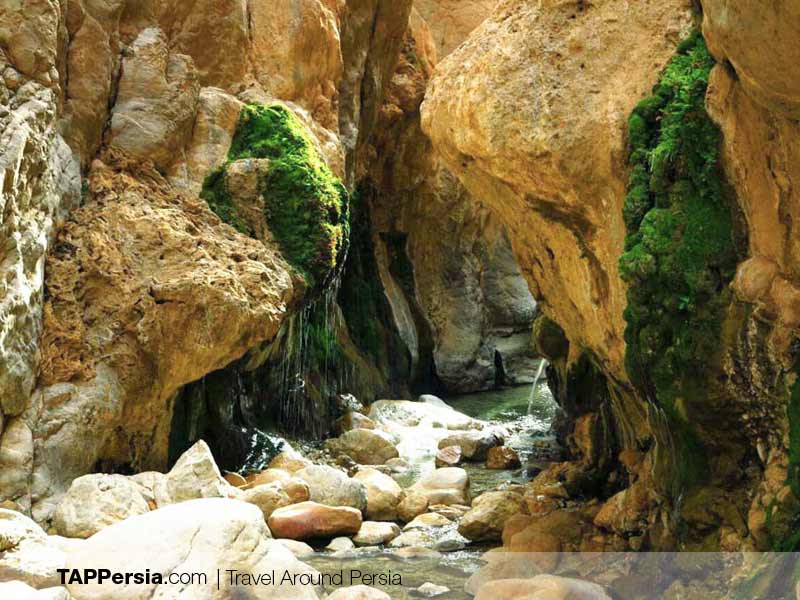 Ferdoos Hot Spring in Ferdoos Town of South Khorasan Province has more than 200 years of history. It's the number one in the aspect of having different minerals including chloride sodium, sulfate, magnesium, bicarbonate, calcium, nitrate, phosphate and etc. That's why it's very popular among tourists.
The patients with joints pain, rheumatism, eczema, and fungal disease have seen noticeable remedy after soaking in Ferdoos Hot Spring. The temperature of this hot spring is so high as staying in its water is not possible for more than 10 minutes.
The complex of Ferdoos Hot Spring has public pools with therapeutic water and private tubs. There are also 3-star resorts with full facilities, equipped touristic camps, restaurants, and markets. Other charms in Ferdoos Town include Qantas, gardens, and stunning vistas.

Baft:
Another hot spring of Iran exists in Esfandagheh altitudes (1350 meters above the sea level), on the way toward Baft. It wells up and flows on the ground in the shape of a river. The water is alkaline and doesn't contain minerals that treat illnesses, however, it's not harmful. Baft Hot Spring water speed is 5 Liter per second and its temperature is about 40 c.
Taftan:
Taftan Hot Spring lies in Taftan Mount, Khash, Sistan and Baluchestan Province. Although Taftan Hot Spring is located in a mountainous area, local people including old people use it and they believe it has plenty of healthful features. A project is also planned to construct a therapeutic complex as there's high potential for health tourism. All in all, Sistan and Baluchestan Province has many hot springs of Iran in Taftan Mount.
Bazman:
100 km from north-west of Iranshahr, Sistan and Baluchestan, Bazman Hot Spring wells up from altitudes of 920 meters above sea level. Local people bathe in a basin nearby. It's beneficial for joints pain, skin problems and wound. The hot spring temperature is 36 c and has the speed of 5 liters per second. The spring's water contains calcium sulfate, magnesium, sodium carbonate, and chlorine.
---
Recommended Tours