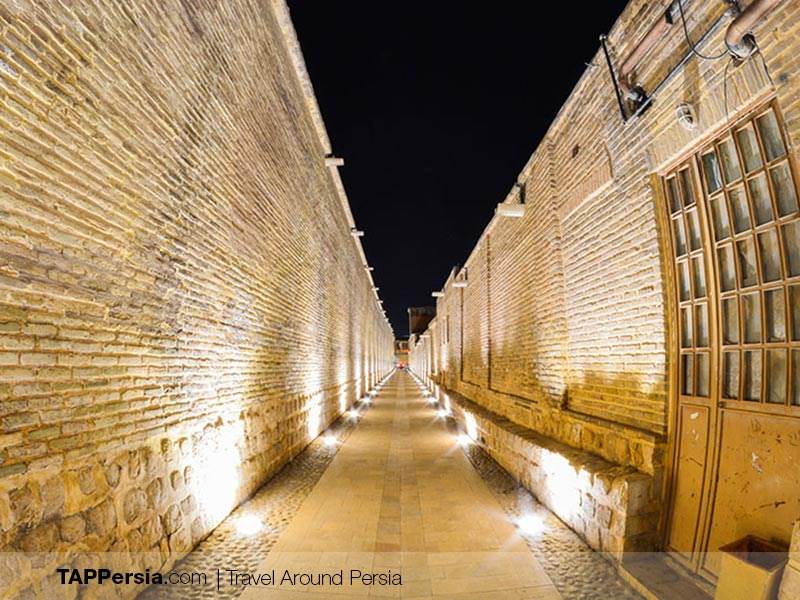 Shiraz enjoys a lot of fantastic memorial buildings. indeed, it is one of the extolled tourist attractions in Iran. I should mention the point that a number of these eye-catching attractions were built at the behest of Karim Khan Zand. In fact, Karim Khan built some monuments which are famous for their beauty and unique features. Zandiyeh Complex is one of the monuments to the era where every visitor tries to not miss!
Zandiyeh Complex is comprised of some eye candy buildings as well as a bazaar and a garden. Let's get more familiar with this astonishing complex located in the city of poetry, love, and beauty.
Pedestrian Streets of Zandiyeh Complex
Nowadays pedestrian streets have a specific place in cities. These are streets for pedestrians and their bikes – one important point is that you are not forced to put up with the noise and the other pollution of cars. 
Zandiyeh Complexis a great place to walk among eye-catching memorial buildings and enjoy Iran history in Shiraz. For example you can enjoy walking in the following pedestrian streets and lose yourself in the fantastic monuments of Shiraz.
Zandiyeh Complex pedestrian street,

Baq Nazar footpath,

Taleqani pedestrian street,

Zandiyeh pedestrian street,

Mohtashan Historical House,

And Arg of Karim Khan.
I should mention that the Arg of Karim Khan, Vakil Mosque, Vakil Bathhouse, Vakil Bazaar, and Nazar garden museum (Baq Mouzeye Nazar) are some of the monuments and memorial buildings which are known as Zandiyeh Complex. So, let's discover our tourist attractions in the following lines.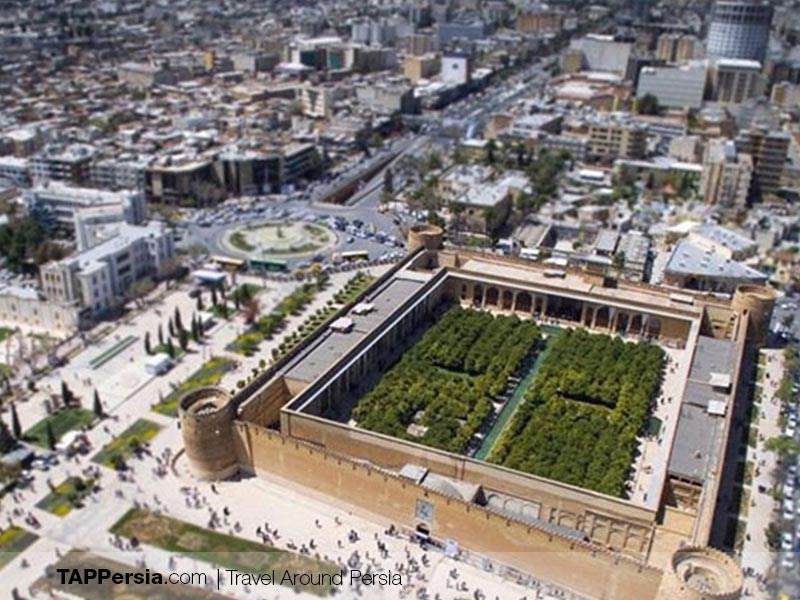 Arg of Karim Khan Zand
Karim Khan's sympathetic soul is welcoming you from his royal palace in Shiraz. Approaching the Arg of Karim Khan, the palace watchtowers and high walls attracts your attention. You will immediately realize how eye-catching Iranian traditional architecture is. 
However, as soon as you enter the yard, you will encounter an Arg totally different from the other ones. Indeed, Karim Khan invited the most skillful stonemasons, architects, and artists of Zandiyeh era in order to buy the best building materials and use them in constructing the Arg.
At the behest of Karim Khan, architects had combined both residential and military designs. The reason is that the Arg, which today is a part of Zandiyeh Complex, was used as the king palace and it should have been safe and secure.
There is a gate in the eastern side of the Arg; the façade of the entrance is decorated with a scene of the fight between Rostam and the white demon. The Arg of Karim Khan's foundation and walls are built by stone; however, you can observe some other materials such as bricks, interior design, frames, marble, and huge mirrors from Russia, Ottoman, and Europe.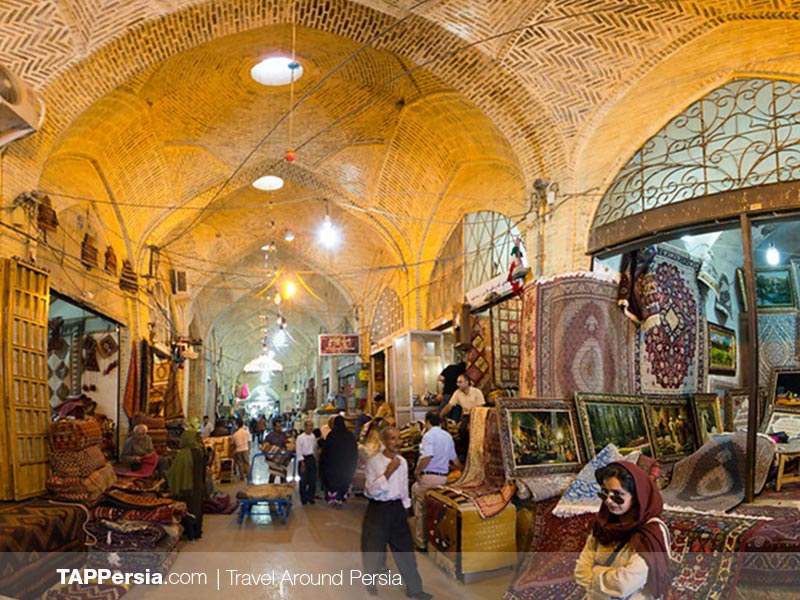 Vakil Bazaar
Vakil Bazaar is another fantastic part of Zandiyeh Complex in Shiraz. The bazaar was built at the behest of Karim Khan and it is one of the most eye candy places of the complex. 
In fact, it is not only a place to do shopping and buying souvenirs, but also a place the historical monuments of which will amaze you.  You will have the opportunity to compare different prices together, enjoy historical and cultural monuments, and of course talk to local people and enjoy famous Iranian Hospitality in Vakil Bazaar. The bazaar is fully prepared to welcome you.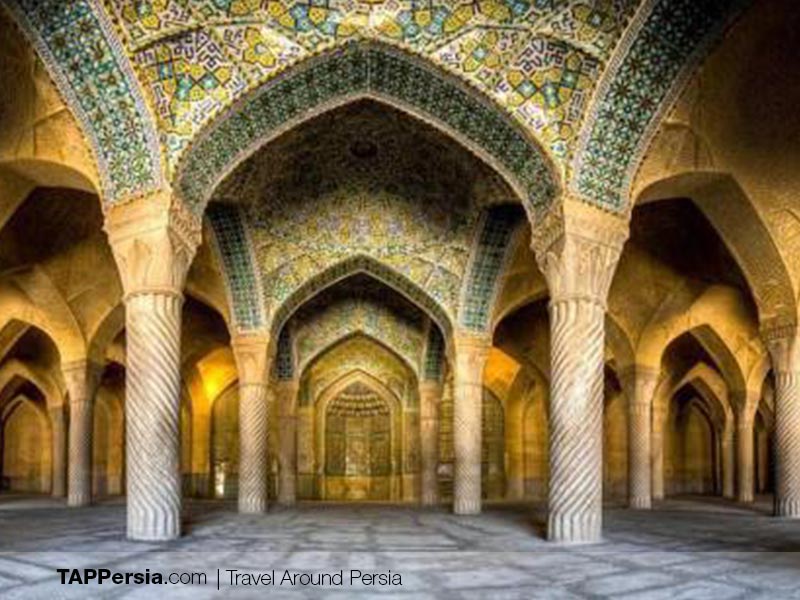 Vakil Mosque of Zandiyeh Complex
The architects have built the mosque in accordance with Iranian traditional architecture, so you can realize that it makes a beautiful harmony between religion and the world. In Pirlouti's travelogue to Isfahan we read that: 
"Today, I finally could enter Karim Khan's Mosque. If I stay here for a couple of days, I can undoubtedly enter all of the other closed places of the mosque. People are really kind and sympathetic. The mosque patterns are simple and simplex. However, you can observe beautiful enamels and green and red colors everywhere. I think this is an extremely luxurious place, you will not find even a wall without enamels. Now, I can say we are inside an azure and turquoise palace."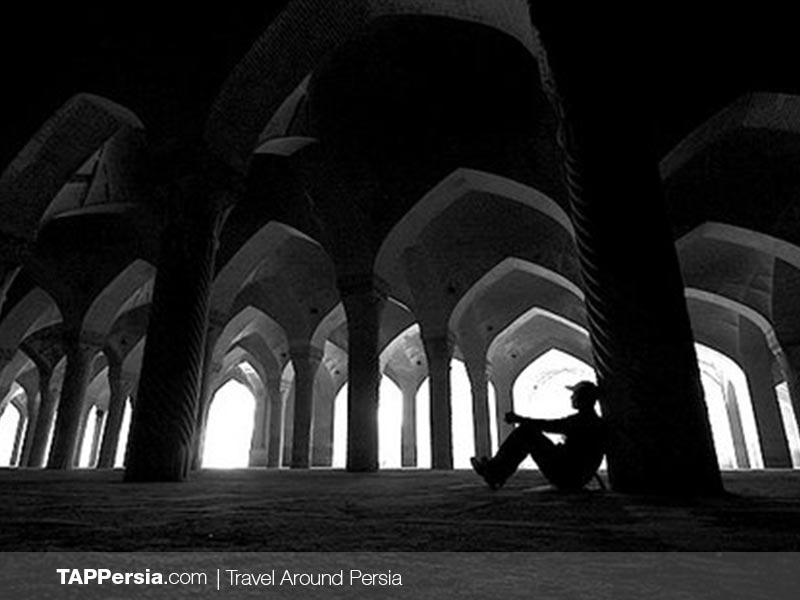 Vakil Bathhouse of Zandiyeh Complex
This is another cultural and historical memorial building of Zandiyeh Complex in Shiraz. Being one of the most spacious bathhouses of Zandiyeh era, Vakil Bathhouse was constructed based on the most advanced architectural principles of the age.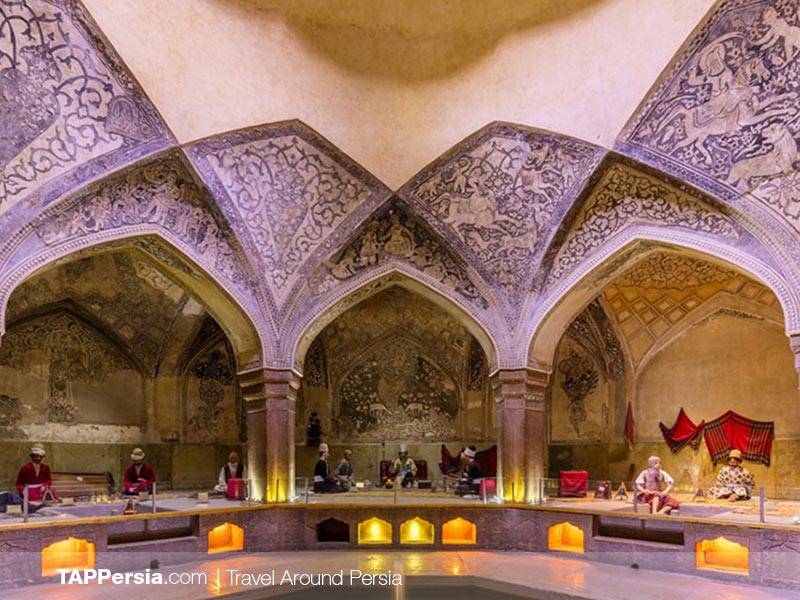 For example, the first door is a small one, but after going through a slope hall you will reach the main entrance. It is designed  to keep the interior space warm this way.
However, Vakil Bathhouse is in fact famous because of its enchanting artistic features. Nowadays, the government has turned the bathhouse into an anthropological museum. So, you can get more familiar with Shiraz residents daily life here.
Nazar Garden Museum
The Garden is one of the important monument of Zandiyeh Complex in Shiraz, because most of the governors used to live in the place. Of course, some of the special rituals were also held here. Nazar Garden Museum is also known as Baq Shahzade (The Prince Garden), Baq Mouze (The Museum Garden), Baq Hokoumati (Governmental Garden), Karim Khan Mausoleum, and so on.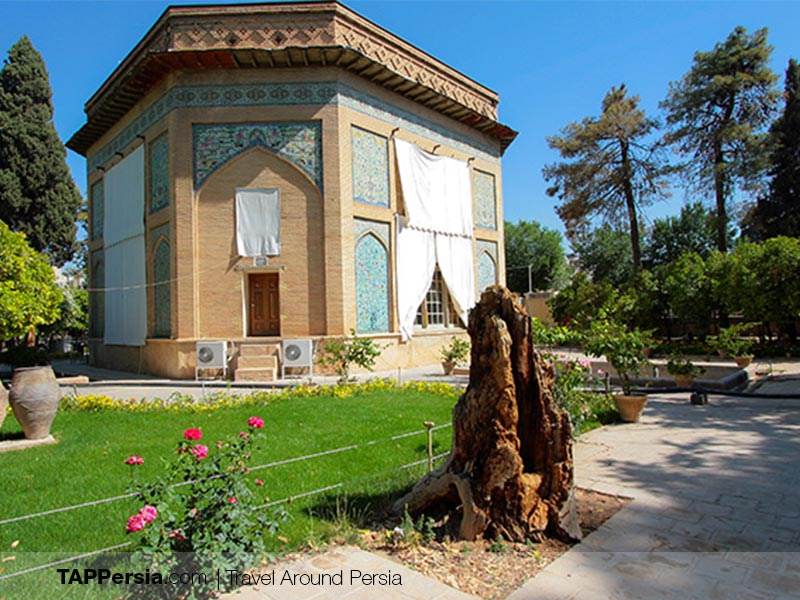 Karim Khan welcomed his foreign guests in this fantastic garden. There is a beautiful octagonal building in the middle of the garden. I should say that Nazar Garden had been built before Zand era; however, Karim Khan built most of the buildings and beautified it. Actually, he held the governmental rituals in the garden and he eventually was buried there. That's why the garden is considered part of Zandiyeh Complex in Shiraz.
---
Recommended Tours