Tehran, Iran's busy capital, is neither the country's oldest or most beautiful city, but it does have its own distinctive appeal. The city's predominantly concrete cityscape is set against the beautiful Alborz mountains, which rise out of the haze below and are home to nearly 10 million Iranians. Nowhere will you get a better taste of modern Iranian life than in Tehran, a city that is sometimes overlooked as a tourist destination.
The primary tourist attractions of this stunning metropolis are its amazing historic museums and residences. But among these wonderful museums, there is one in particular that is concerned with time. The Iran Time museum opened its doors sixteen years ago and is actually the first time museum built in the country. The Time Museum in Tehran is one of the tourist destinations in Iran that goes back to the Qajar era and is more than 80 years old. It is housed in a structure that is still standing in Tehran and has a collection of vintage and antique timepieces and clocks, thus the name Time Museum.
Museums in Iran
The history and culture of a nation are preserved in museums. People may visit and examine the objects their ancestors created at museums to obtain a sense of how they lived, celebrated, lamented, entertained, etc. Iranian museums have a wide variety of items from all different historical eras and manufactured by diverse civilizations and languages. Iran is a big nation with an astonishing diversity in terms of the people and ethnicities who have lived there.
In addition to several unofficial and personal museums, Iran has 689 officially recognized museums as of 2019. But in this section, we'll focus on the Iran Time Museum, one of Tehran's most well-known art galleries.
History of Time Museum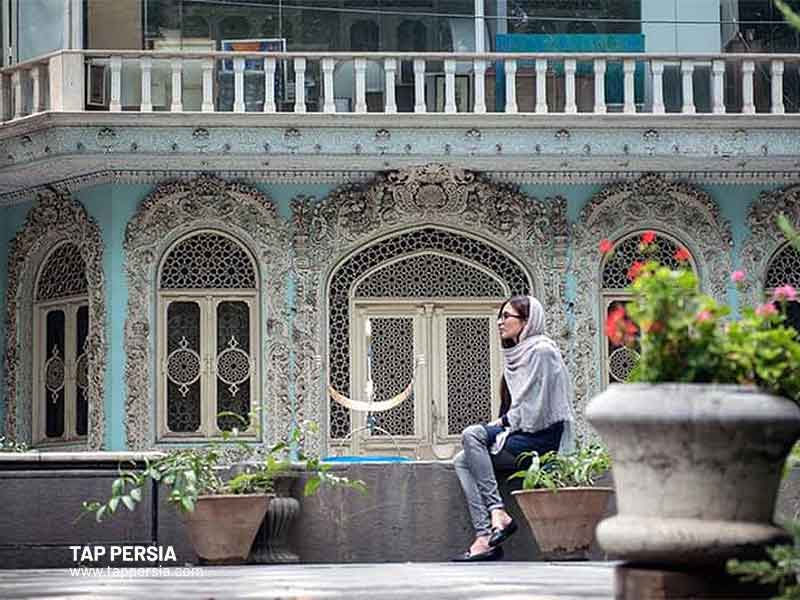 The first clock was created by prehistoric humans around 2000 BC, and since then, people have felt the need to measure time. As a result, it is often regarded as one of humankind's first inventions. Nearly every clock made since the beginning has been gathered by the Iran's Time Museum and shown for the general audience. Such requirements are unique to this museum in Iran. The Iran Time Museum's structure dates back roughly 80 years. But in 1967, Hossein Khodadad, an aesthetician, purchased the museum's structure. He made the decision to convert this structure into a museum since he had a strong passion for art. Since then, there have been several architectural upgrades that have brought this museum to its ideal state. Everyone may visit and take in the progression of time measurement since the beginning of time.
Structure of Time Museum
In the heart of a 5-hectare landscape, the Iran Time Museum edifice rises erect. People may closely examine certain maquettes of the antique clocks in the garden to learn more about how they formerly worked. These clocks include hourglasses, sundial clocks, water clocks, and other similar devices. Since the 17th century, several types of clocks have been on exhibit in the museum.
Particularly reserved for mechanical, pendulum, torsion, ships clock, and other types of clocks is the first level. These clocks' outside design demonstrates unequivocally how much attention our predecessors paid to their furnishings. Additionally, a variety of calendars dating back in time have been gathered. Additionally, this museum's second level has watches and pocket clocks. Additionally, a café serving delectable beverages, snacks, and breakfast items is located outdoors in the garden.
Iran Time Museum facilities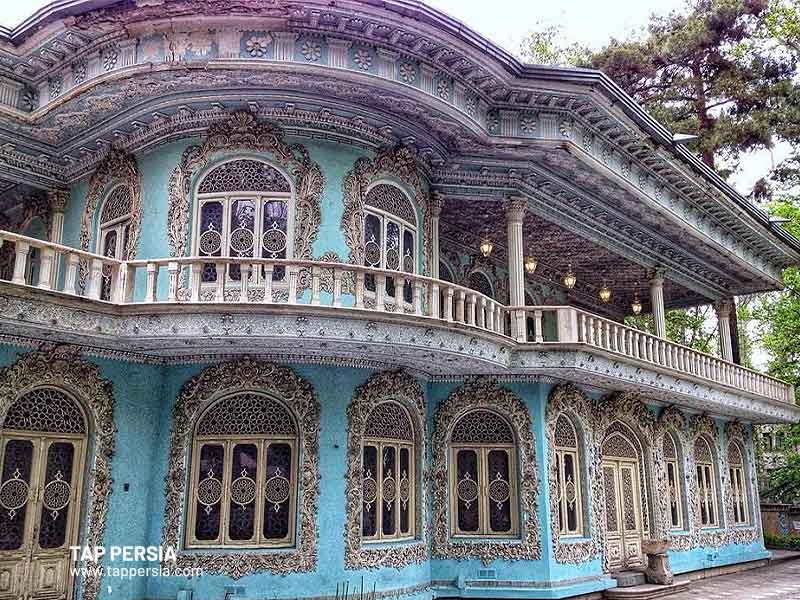 At the Iran Time Museum, you have access to the following amenities:
Ribar Restaurant Cafe: One of the Time Museum's noteworthy features is Ribar's café, which is popular due to its delectable breakfasts and lovely ambiance. The café restaurant opens at 9 am and stays open till midnight to serve its customers.
Praying room
Restroom
Iran Time Museum Gallery: A place to purchase amazing works of art including jewelry, paintings, crafts and much more.
Location of Time Museum + Working Hours
Tehran, Iran's Parzin Baghdadi Crossroads, Shahid Fallahi (Zaferaniyeh) Street, and Valiasr Avenue are the precise locations of the Iran Time Museum. Because it is situated in a well-known area, entry to this great museum is very simple. Niavaran Palace Complex,Sa'ad Abad Palace, Valiasr Street, Mellat Park, Tajrish Traditional Bazaar, and the Cinema Museum of Iran are just a few of the surrounding attractions that are worth visiting.
For the First Half of the Year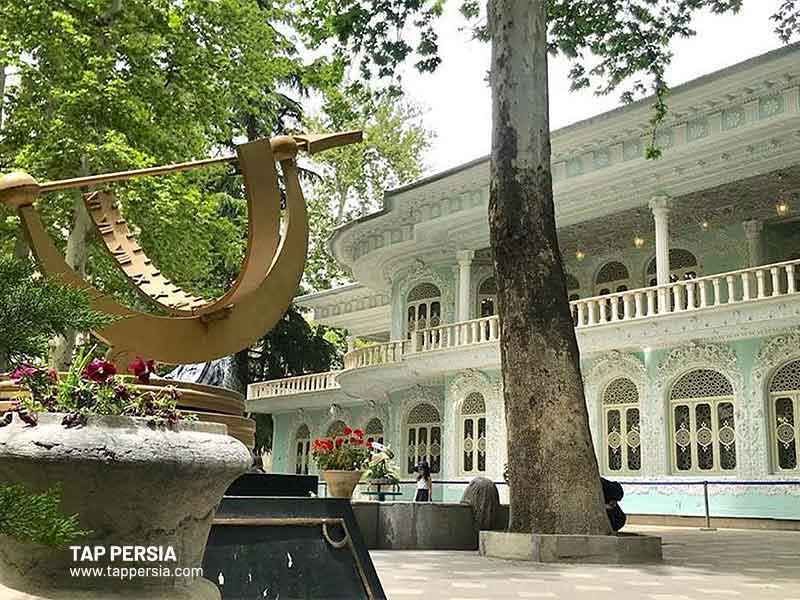 Saturday through Wednesday from 9:00 a.m. to 6:00 p.m., and on Thursdays, Fridays, and holidays from 10:00 a.m. to 6:00 p.m.
For the Second Half of the Year
Saturday through Wednesday from 9:00 am to 5:00 pm, and on Thursdays, Fridays, and holidays from 9:00 am to 5:00 pm.
Where to Eat Near Time Museum
If you are hungry and want to check out great restaurants around the Iran Time museum, then make sure to check out Heeva Cafe Kebab and Shemroon Kabab, which are renowned for the caliber of the kababs they provide, are two excellent locations to try tasty meals. You may also sample the meals and refreshments served in Bagh Ferdows' cafés. The best option for Italian food is Élysée Restaurant, which is located on the roof of Tandis Shopping Mall.
Where to Stay Near Time Museum
Depending on your preferred preferences, you may be able to stay in a few particular hotels around Iran Time museum that provide a variety of options. Espinas Palace Hotel (5-Star), Sepehr AP Hotel (4-Star), Parsian Esteghlal Hotel (5-Star), Baloot Hotel (3-Star), and Diplomat Suite Hotel are your options (3-Star).
Read the remainder of this article to learn more about the time difference between Iran standard time and the global time zone.
Tehran time difference with other countries
You must be aware of the time in your target nation in order to converse with Iran or to go there from other areas of the world. It's important for certain people to understand how Iranian time differs from other time zones. either because they wish to plan their vacation or because they want to visit that nation. Some people go to Iran to further their education or for a variety of other reasons. But before you can do these things, you need to make a strategy and work on Iranian time.
World Clock or Greenwich and UTC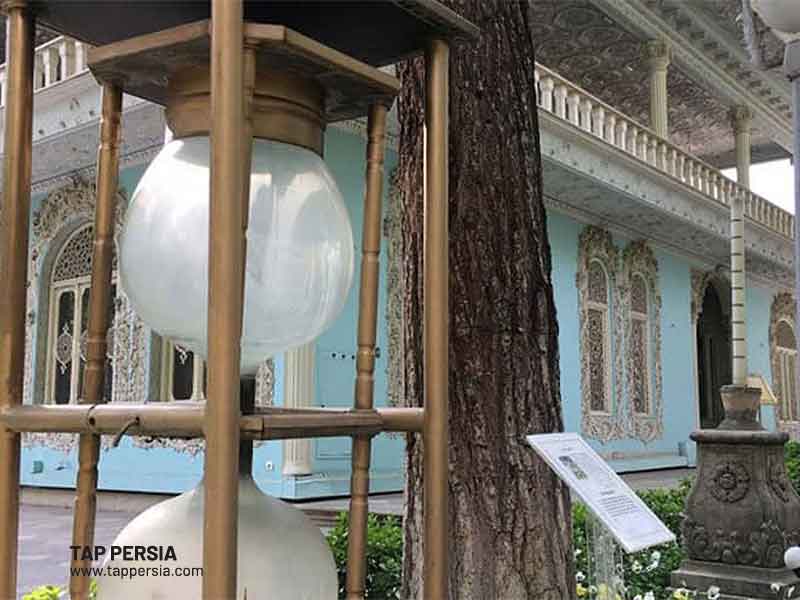 To better comprehend the idea of the time difference in other places, it is important to become familiar with the standard global clocks before learning about the time difference between other nations and Iran's standard time. One of the globally recognized watches is the GMT, or Greenwich. This watch is regarded as a global standard time and is placed accurately in the Royal Greenwich Observatory in London. Through a geographic map and counting lines between the meridian that originates in Greenwich and the physical location of the destination, the Greenwich Clock offers characteristics that enable various nations to determine their time difference.
UTC, often known as the worldwide synchronized clock or (UTC), is a unit of time used to measure global time like Greenwich. The Greenwich Mean Time and the global clock, however, diverge from one another. UTC is more precise than Greenwich and differs from it by around 0.9 seconds since it is based on the global atomic clock. In fact, such a little variation may be disregarded for daily activities, and Greenwich can be seen of as being in sync with the global clock.
Do you know the reason for daylight saving time?
Every year, at midnight on the first night of spring, one hour of our time is lost, and the hours are advanced by 60 minutes. At midnight on the final night of summer, it is gained back. At first look, this could appear mystical and like time travel, but as we all know, it's simply a straightforward human manipulation for a valid reason.
Why do they move the clocks back and forth?
To save time in the summer sun or daylight, which is referred to as summertime in many parts of the world, the clocks are turned back and forth at specific periods of the year. In truth, by advancing the clocks at the start of spring, we shift one hour of morning light toward the evening, making the mornings shorter and the nights longer. At the start of the fall, we set the clocks back to the standard time.
What is the use of changing the clock?
For individuals who live far from the equator, when summer daylight hours are significantly longer than winter ones, daylight saving time provides several advantages. However, in regions close to the equator, where day and night are about equal in duration, these advantages are less pronounced. This strategy excludes numerous cities and tropical nations since the same year is not very beneficial.
In addition to lowering crime and auto accidents, according to this plan's proponents, summer also results in lower energy use. Opponents are obliged to take their children to school in the morning when it is still dark, which creates several risks, even if they contend that the decrease in energy use during the summer is countered by the increase in energy use during the autumn and winter. They think that this law doesn't do a great job of promoting human health.
Currently, more than 70 nations throughout the world change their clocks, with the timing and frequency varying by area and local time. While in Europe hours are lengthened from the last Sunday in March to the last Sunday in October, daylight saving time is observed in the Southern Hemisphere, where the summer season starts in December, from December to March. While tropical nations do not observe daylight saving time at all, nations like Kyrgyzstan and Iceland observe it every day of the year.
Table of time differences between Iran and other countries
We must first be aware that there is a time difference of many hours between that nation and Tehran before we may go to Iran with diverse objectives from different countries. On our website, you can view a table showing the time differences between Iran and other nations. So make sure to know the timing differences before visiting the Iran Time museum in Iran.
How to Get to Time Museum
Some of the most popular ways(Iran transportation) to travel to the Iran Time museum in Tehran are listed below:
Bus
The Valiasr Street BRT line crosses the Tajrish-Rah Ahan BRT line. Take the train to Ferdows Garden Station, then walk 500 meters to get to the Museum.
Subway
Tajrish, which is roughly a 20-minute walk from the Museum of Time, is the closest station. From there, you may take a taxi to Zafaraniyah Street or a bus to the Ferdows Garden station.
Taxi
Taxis with a Tajrish destination are available around the city. If you cross Valiasr Street, go to Zafaraniyah Street, and if the path is different, ask a taxi driver for guidance.
Conclusion
Conclusion
The Iran Time museum is a distinct museum that transports you through time and is also the first Iranian Time Museum. In this museum, you may learn how the simple sundials evolved into the sophisticated wristwatches of today and how glazing developed with time.
Additionally, the atmosphere of the museum is a great location to let your worries go and have a nice time. Looking for other attractions in Tehran besides Iran Time museum? Well, why don't you check out a thorough guide on our page related to Tehran if you are willing to know more about the beautiful and wonderful attractions in Tehran.