One of the very first things that amaze tourists in Iran or even one of the reasons people decide to visit Iran is its magnificent traditional houses. No matter if you are an architecture enthusiast or not, you will be mesmerized by the ingenuity of these ancient houses. The ingenuous and eco-friendly design in which the house was kept warm during cold winters and pleasant in hot summer days are so shocking. Not to mention the eye-catching designs, plasterwork, mirror works, and paintings that symbolize rich Persian concepts. The colorful flowers are another remarkable feature of these houses that attract so many visitors.
In general, they are not just a house. They are indeed a precise reflection of rich Persian culture, lifestyle, attitudes, principals, and religion. That is why visiting a traditional house in Iran is a MUST; so that you would be able to deep into people's lives and culture and gain a better understanding of how might a local live in Iran.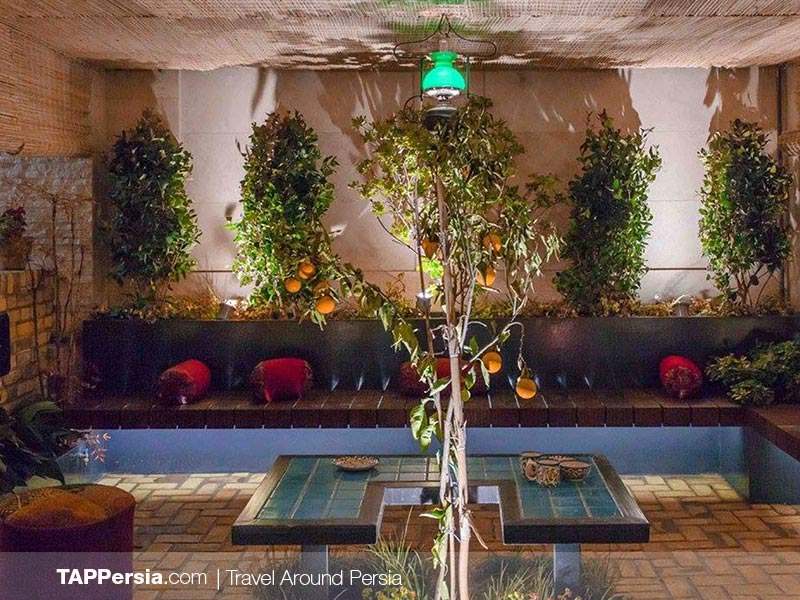 In this article, we will introduce you to the stunning elements and features of ancient Persian houses which are universally known; as a result, you will be mesmerized by all their talents and beauties and will have a better idea for where to go or stay for your journey to Iran. Additionally, we will introduce you to some well-known traditional houses as some suggested sites for your next trip to Iran.
The Attributes of Traditional Houses in Iran
Well, you might be wondering why the features and elements of traditional houses varying region by region! Well, each feature and element varies depending on the climate, culture, and principals of the area. For instance, you can see houses in Yazd having two sections, one for the family and the other for guests; that is to make a private place for family members -especially women- to be comfortable due to the Islamic principles for women to wear Hijab in front of strange men. Or you can see specific decorations and designs in Isfahan and Shiraz because of people's main occupation as handicraftsmen.
Not to mention the importance of local and cultural issues on the designs since we can see a wide range of methods, techniques, materials, shapes, and forms; they are indeed a true representative of local and cultural diversity all over Iran.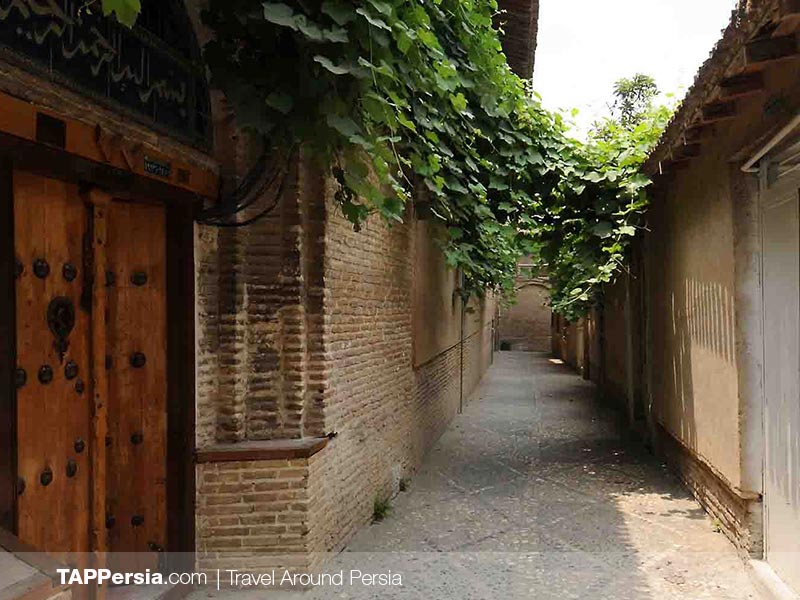 Exterior Design
One of the very shocking and interesting points about the traditional houses in Iran is that except for the palaces and mansions, most of the houses have a simple exterior, while the interior design is based on how rich people were. The outer interior was always kept modest so that the poor neighbors would not feel any different from their rich neighbors. That is a great representative of Persian culture in which they possessed a sense of sympathy and care toward one another.
Interior Design
There were two prominent factors taken into consideration for designing the place. First and foremost was the functionality of that place. Secondly, it was the impression that the place can leave on the residents and guests.
A very crucial factor in interior design was using materials, elements, patterns, and designs directly or indirectly driven from nature. Besides, the precise proportions, appropriate forms, and diverse ornamentations are the main features of the interior design of traditional houses in Iran. In general, the Iranian traditional design is totally flexible. You can notice Taghche and Tagh in doorways, tall Iwans and pillars, and so many walls to signify the importance of privacy in their architecture.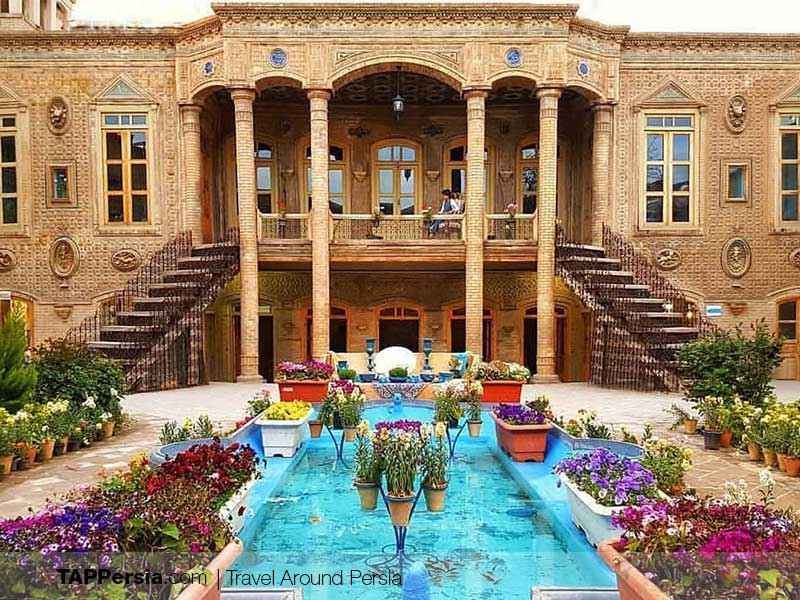 Andarouni & Birouni
One of the chief remarks of traditional houses was their large area. Almost all houses consisted of two parts; Andarouni and Birouni. Andarouni was specifically for the family members and servants. As a result, they had their privacy and women would not need to wear Hijab. While Birouni was for guests and they could not enter Andarouni to keep the privacy for the host.
Flexibility
Above that, the elements were used also as a false ceiling or retaining wall to prevent humidity into the building or to minimize the thermal exchange between the inner and outer space. This procedure was also highly flexible depending on the season; meaning that the structure was built in a way that during the hot summers, the weather inside the building was cold and pleasant; though, during winter, the inner space was warm and comfortable.
Light & Color
The more complicated and artificial a house becomes, the better the importance of light magnifies. The windows play a prominent role in penetrating daylight into buildings. They were to build unique spaces in the house.
The odds are that colors were not the only thing used for decoration; there were also other elements being used for coloring the environment. The decoration was not just for the artistic viewpoints but was also used as insulation.
All these crucial factors were taken into consideration to make traditional houses as a specific place for gaining soul development and physical calm.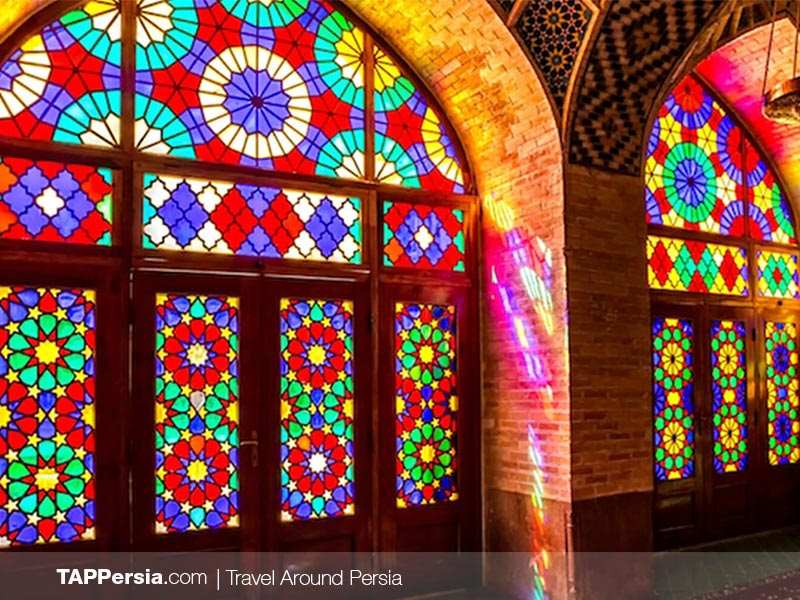 Objects in the House
Iranians used to sit on the floor. That is why you can see beautiful carpets in traditional houses. In winters, they gathered together around a Korsi (a low table with a heater underneath). During summer they sat on carpets and they even slept on the carpet. But after a while, the sofa and beds were added to the designs; yet carpet was never removed from the people's culture. Besides, the sofa and bed had a low height to minimize the difference with the ground.
They typically used rich and bold colors like red, carmine, green, turquoise, and brown in the objects. The clothes that were used were more natural colors with natural patterns. You can see so many patterns of flowers and paisley on both clothes and decorations.
Additionally, symmetry and equilibrium in the whole place is a remarkable attribute of the whole place. As a result, the houses foster a sense of purity, integrity, and calmness among hosts and guests. One of the very prominent features was paying attention to the structure both in detail and also the whole picture.
The Elements of Traditional Houses in Iran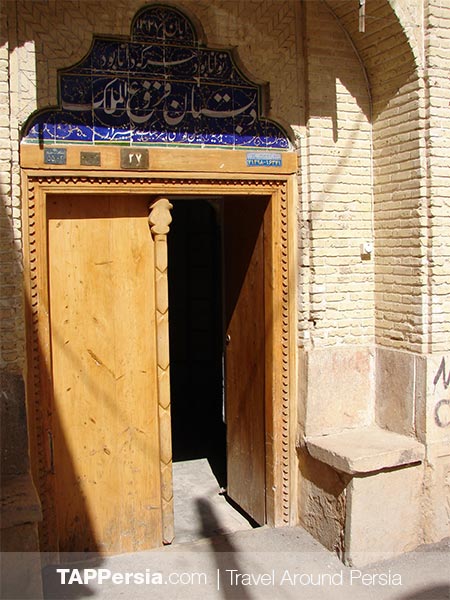 In old cities of Iran like Yazd, Shiraz, Isfahan, Kashan, and Tehran, you can find traditional houses having various features; some are common while others are specific to that region. Some of the features are geographically driven to adapt to the climate and make the most use of that. While other features are based on people's culture and profession. Below, we introduce you to some of the very chief elements in the architecture of traditional houses.
Sardar (doorway)
The transom is the very first thing that welcomes guests. The transom consists of platforms, door, engravings, and a semi-dome on top of the door. The semi-dome on top of the door is decorated with tilework. They were typically built in a way that impedes the precipitation in cold weather. Besides, they were a great barrier to the direct sunlight. There were also some verses of the Quran or well-known Persian poems on top of the door written in rich Persian calligraphy.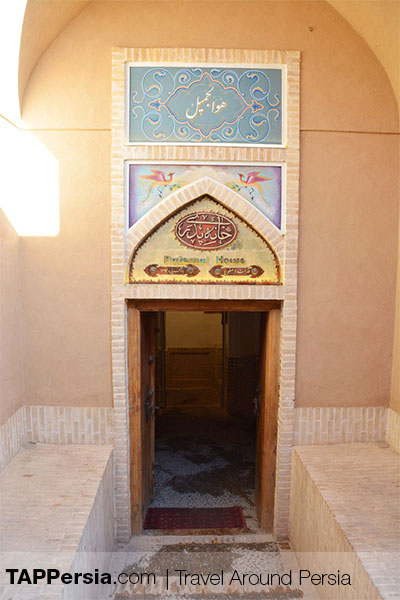 Saku (platform)
Also known as Pakhore, the Saku is a type of a platform on two sides of the entrance door to the house and was for the guests who did not want to enter the house and wanted to talk for a while with the host.
Kubeh (door knocker)
On the traditional house's entrance door, they were typically two types of door knocker called Kubeh. These two Kubehs had different shapes and sounds. As you can see in the picture below, the right one is a ring shape that made a light sound. While the Kubeh on the left side is a thick bar making a deeper sound. You might be wondering what were these two lockers for! They were built this way for the host to be able to recognize the gender of the guest. Men knocked on the metal bar knocker, while women knocked on the ring Koubeh. That goes back to Islamic principles and the host would know to put on Hijab if the guest was male.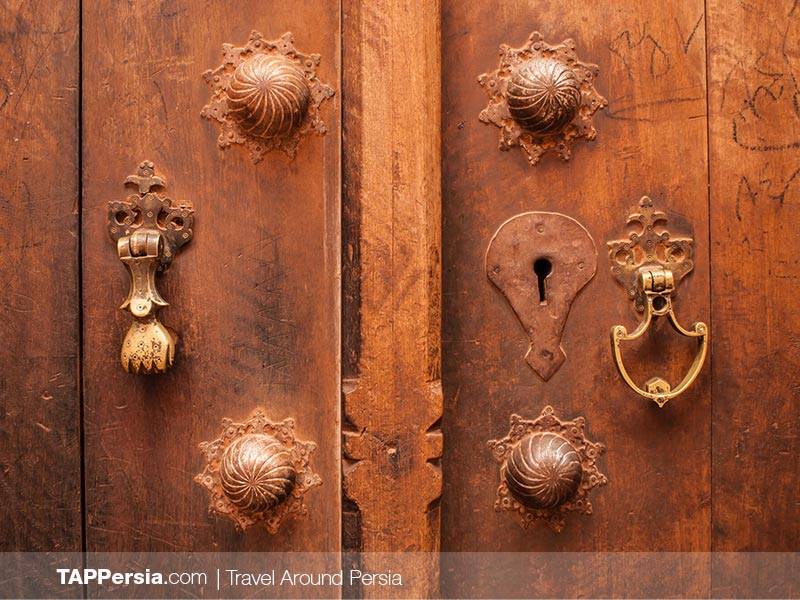 Hashti
Behind the doorway, there is Hashti which is in different shapes like octagonal, square, or rectangular. It was built to direct the people to different parts of the house like Andarouni, Birouni, yard, etc. Simply, it was to regulate access to various parts. There were also some platforms (Sakus) in Hashti for people to sit on.
Dalan (corridor)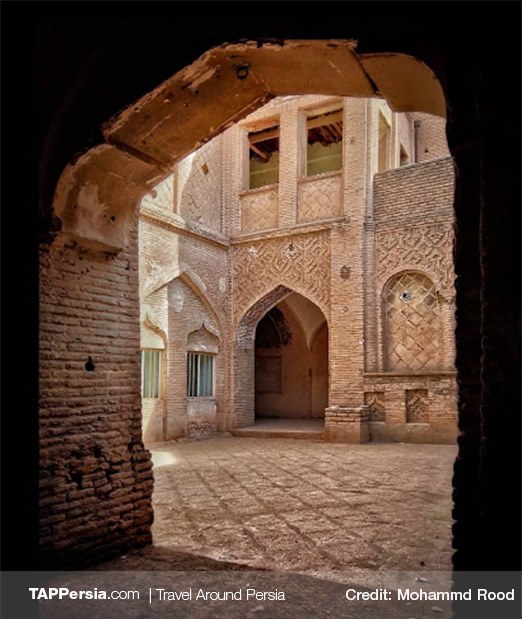 Dalan is a narrow corridor that leads people from Hashti to various parts so that people would not be able to see all parts of the house. This was to keep the privacy of the house for the host.
Hayat (yards)
Yards typically have a pond with flowers and trees decorated in a harmony with each other. These features make it quite like a small garden where children could play for hours and the family have snacks, brunch, or delicious Persian drinks. The smooth breeze, the sound of flowing water, and the birds singing make it an enjoyable and memorable scene not to miss. The pond was the place where Iranians washed the fruits and their hands and face. In case of visiting a traditional house, do not miss having a cold watermelon washed in the pond. We guarantee the taste is so different.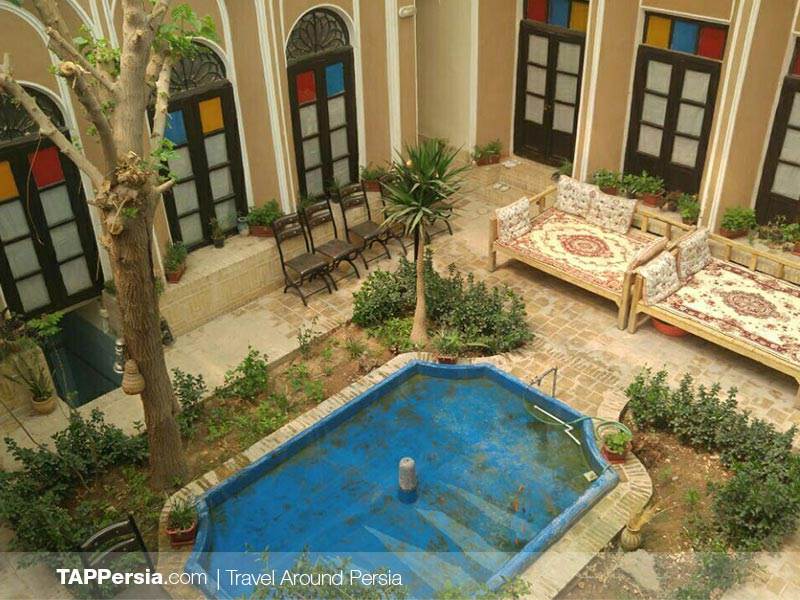 For traditional houses in Iran, yards played a prominent role and were actually the heart of the house. People used to hold ceremonies in yards. The size of a yard was determined by the number and functionality of yards. The inseparable parts of Hayat in traditional houses in Iran were Howz (small pools) and Baghcheh (small gardens). What about having a cup of Persian tea in a yard of a traditional house in Iran? We guarantee you will be wondered by all the beauties of the flowers, trees, and pools. Not to mention the pleasant weather and the sound of birds.
Windows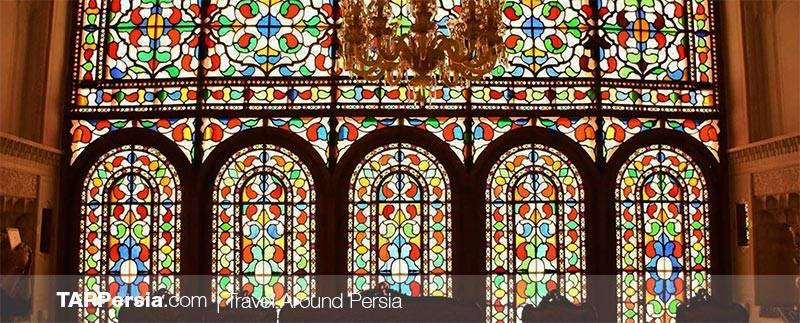 A remarkable point about the windows in Persian houses, especially the central and southern parts, is that they typically have no window toward alleys and public places. That is to not only preserve the house away from the dust sand storms but also keep the house away from all the noise and sounds from out. Although the houses built in north Iran, have a more commonplace with their neighbors and they even have shared yards with their neighbors.
Shahneshin/ Talaar (hall)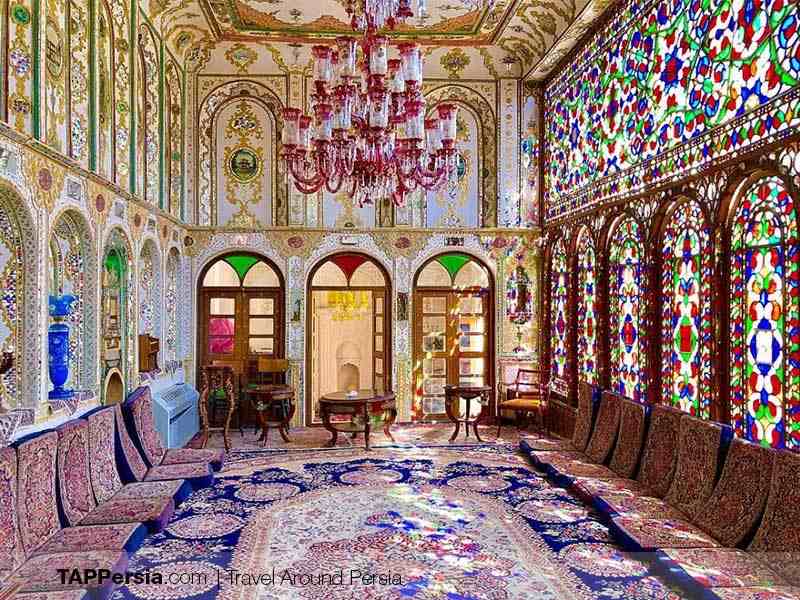 Meaning King's room, Shah Neshin is a large room decorated with colorful glasses, delicate mirror works, and beautiful tilings. The significant feature of Shahneshin is its delicate ornamentations and large size. Not all traditional houses in Iran had Talaar. It functioned mostly for special ceremonies and events and to host guests.
Neshiman
Neshiman is of less importance in comparison to Talaar. It was a place for family members and close guests to gather together. That is why you can see simpler decorations in Neshiman.
Abrizgah (bath & toilet)
The lowest structure was Abrizgah since people could use the water easier. The bath has two sections; one was for changing clothes (Sarbineh) and the other one was for taking bath (Garmineh).
House's Direction:
The direction of most traditional houses in Iran was toward south-north. It is the best direction to absorb light during winters and make use of shadow on hot days.
Villages with Unique Architectures: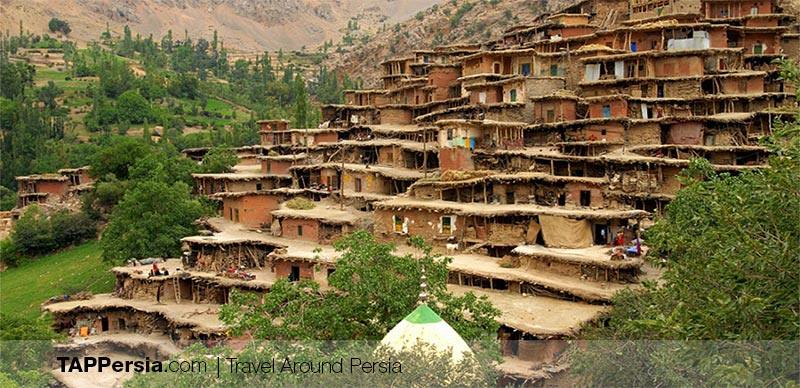 One of the fascinating traditional houses in Iran are the ones in odd villages; stepped and rocky villages are two of them to mention. Due to the geography and topography of such villages, the houses needed to have a special structure.
Stepped Villages
It is worth mentioning that there are some universally known stepped villages in Iran. Locating between the mountains, these houses needed to have a different structure due to the steep slope. In these villages, one house's roof is the upper house's yard. They are usually made of clay and wood. The reddish Abyaneh near Isfahan, the lush Masuleh in northern Iran, the rocky Palangan in Kordestan Province, SarAgha Seyed in heart of Zagros, and the magnificent Uraman Takht next to Marivan Lake are some of the greatest stepped villages of Iran.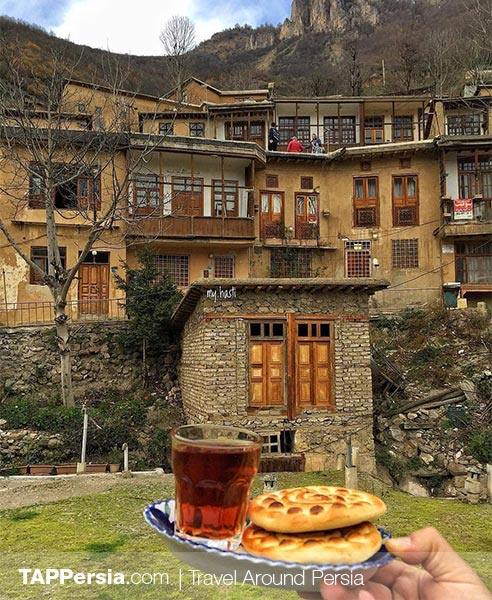 Rocky Villages
Living right in heart of rocks, some people had to make their house out of the rock. To put it better, they had to grave the house out of rocks with hands! The structure is in a way that makes a pleasant atmosphere to live in. The two wonderful rocky villages in Iran are Kandovan and Meymand Village. Located in Kerman Province, Meymand is more than 12000 years old. The houses in this village are called "Kicheh". The good news is that there is a specific part of Meymand which is for tourists' accommodation. So make yourself ready to live in small adventurous rocky Kicheh.
Kandovan has cone-shape houses in a volcanic residence in the northwest of Iran. Cones have a height of almost 40 meters and are on three floors. Each floor has a different functioning. The first floor is typically stable for keeping the animals.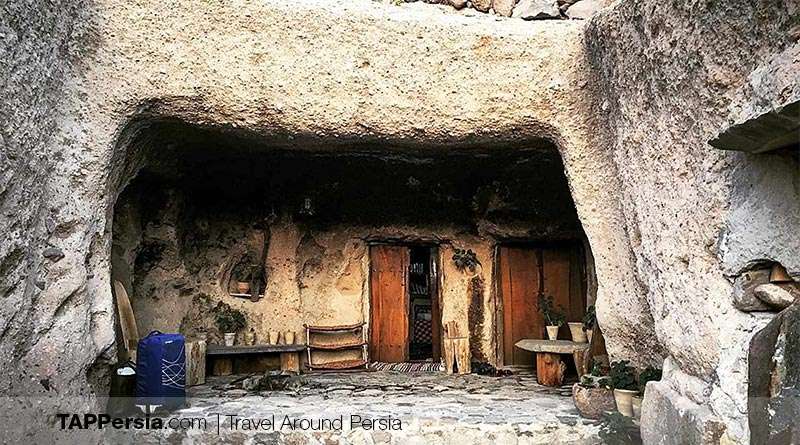 Where Can You Find Traditional Houses in Iran?
Despite so many unique traditional houses that have been destroyed, some of them are fortunately turned into museums, stay homes, ecolodges, traditional hotels, tea houses, cafes, or restaurants. So there are quite enough options for you to choose and see how a traditional house is. No wonder if you stroll along the narrow alleys of old parts of cities like Yazd, Isfahan, Shiraz, and Tehran to see some still- preserved traditional houses.
Touristic sites
These days, in different cities you can find traditional houses. Some of these houses have turned into touristic sites where people can visit with a low fee. Kashan is one of the prominent cities of Iran which is famous for its marvelous houses. They are more like a mansion, not a house. Borojerdi House, Tabatabei House, and Ameri House are some of the magnificent houses of Kashan which you must visit. They were typically built during the Zand and Qajar Era and are a true representative of the splendor of rich Persian culture, design, and architecture.
Shiraz is one of the chief touristic sites of Iran due to its marvelous gardens and houses. Zinat-ol Molk House and Ghavam House are two places not to miss while in Shiraz.
Tehran is a combination of modernity and tradition. In the southern parts of Tehran, you will see so many traditional houses that function as a touristic site. Moghadam Mueseum, Niavaran Palace, and Sa'dabad Complex are some fantastic traditional houses and mansions you can visit in Tehran.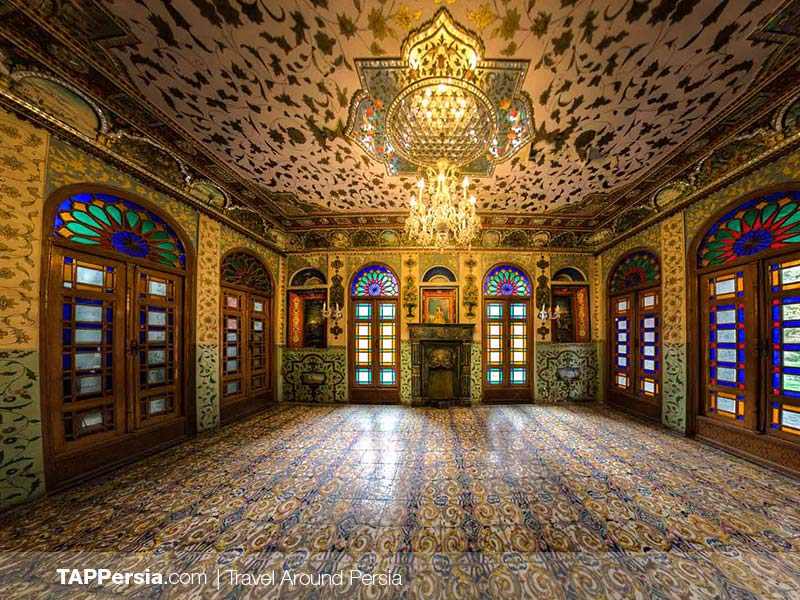 Traditional Hotels
Fortunately, numerous houses are functioning as hotels, ecolodges, and homestays these days. So, why not giving up on spending the night at a fancy hotel and give traditional houses a try! As a result, you will have a better chance of experiencing like a local and will live for a bit as an authentic local. There are several traditional places to stay for the night in some cities in Iran.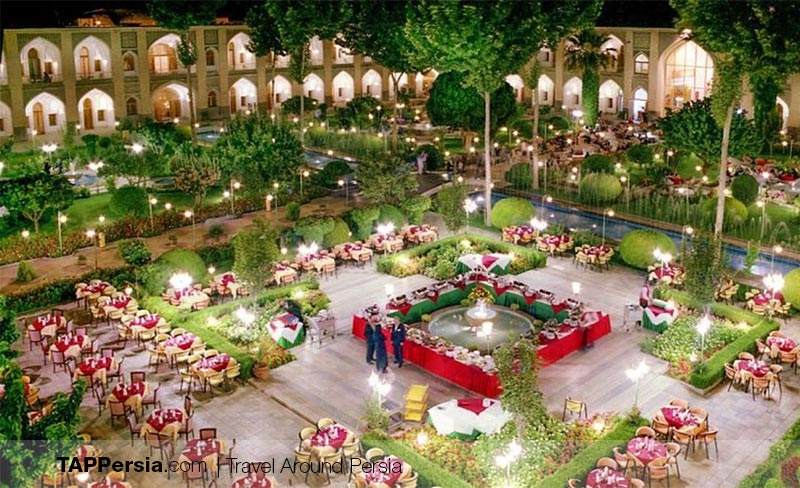 Isfahan –the city of half of the world- has a lot to offer for its visitors. One of the very remarkable points about Isfahan is its marvelous traditional houses. We highly suggest to choose them for your accommodation. There is a wide range of hotels you can choose based on your budget and interests. If you are more of a luxury traveler, Abbasi Hotel is a fantastic option. Atigh Traditional Hotel, Bekhradi House, Ghasre Monshi House, Isfahan Traditional Hotel, Ibn-e Sina Traditional Hotel, and Saray-e Ordibehesht are better options if you are traveling on a shoestring.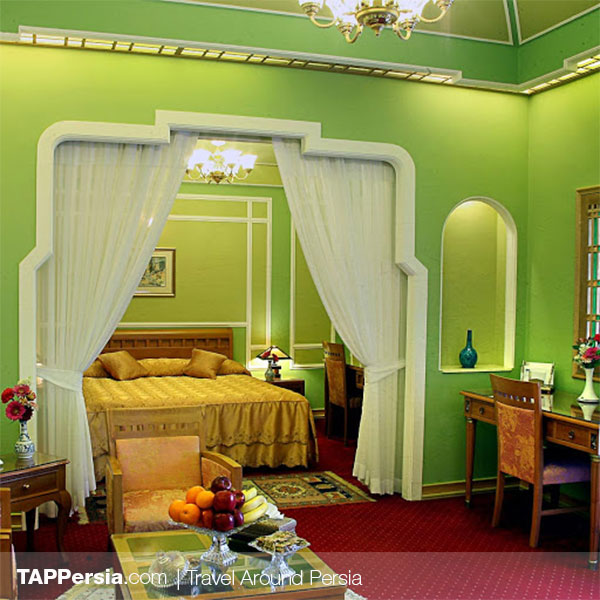 Yazd, remarkably known for its magnificent architecture, has also unique houses with mesmerizing architecture. Dad Hotel is quite a fabulous boutique hotel you can choose to stay in Yazd. Vali Traditional Hotel, Kourosh Traditional Hotel, Mozaffar Traditional Hotel, and Morshed Garden Traditional Hotel are some cheaper places to stay in Yazd. These houses mostly date back to the Zand dynasty. So, adventure awaits you!
Traditional Ecolodges; Live in a Traditional House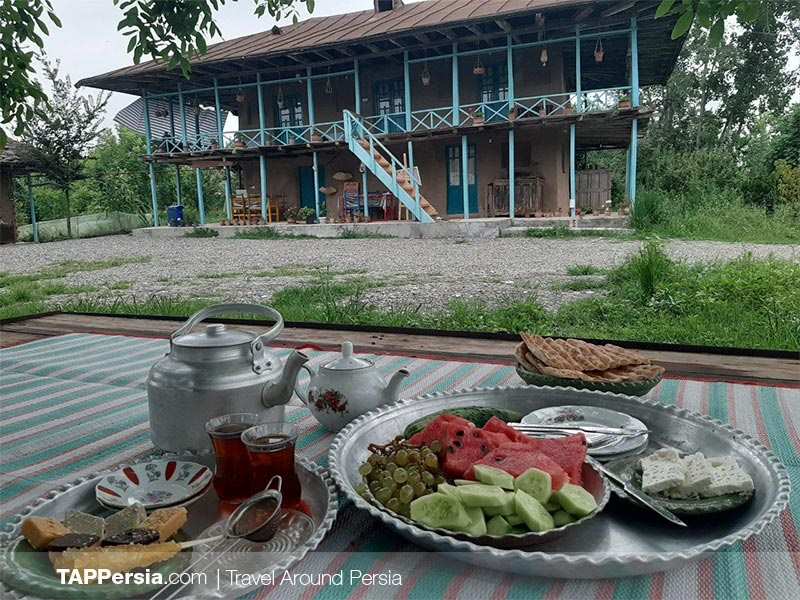 Are you looking for a place where you can experience living like a local in a traditional house? Well, the good news is that during the last few years, entrepreneurs are investing in renovating old houses and making them into traditional ecolodges. In most cities of Iran, you can find some traditional houses functioning as eco-lodges and you can spend a couple of nights and live and experience as a local.
Cafes & Restaurants
If you are looking for another way for spending some time in a traditional house in Iran, why not having a cup of tea or delicious Sharbat at a traditional café or restaurant. These days in almost all tourist cities, there plenty of traditional restaurants and cafes where you can meet friends and spend some quality time.
Moghadam Museum Café, Iwan Café, Tehroon Café, Chaii Bar, Diamond Café, Nan-o Namak Traditional Restaurant, Vakil-o Tojjar Restaurant, and Kuchiz House are some fabulous traditional houses that have turned into a café or restaurant in Tehran.
In Shiraz, you have also a wide range of places to choose from like a traditional café or restaurant. Parhami Traditional House, Haft Khan Restaurant, Shapouri Traditional Restaurant, and Niyayesh Café Restaurant are only a few of innumerable traditional places you can go in Shiraz.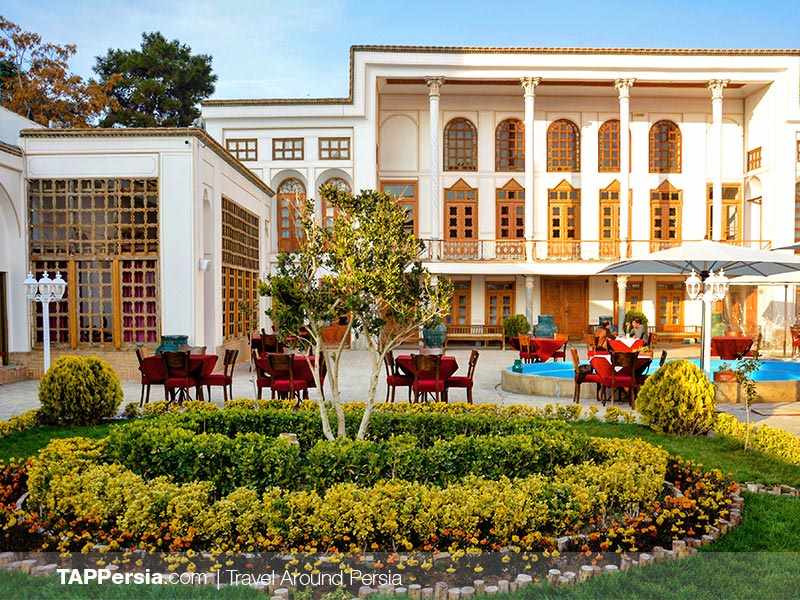 Not to mention the countless places in the cities like Isfahan as well. Hoger Restaurant, Ghasre Monshi Restaurant, Minas Restaurant, Jarchi Bashi Restaurant, Hovhannes Historical House, and Azadegan Tea House are some marvelous traditional houses that now function as a cafe or restaurant in Isfahan.
Have you ever visited a traditional house in Iran? If yes, where have you visited and how did you find it? We would be happy to hear about your experience. If not, share your questions and ideas with us in the comment below.
---
Recommended Tours