One of the chief attractions of Kashan is the Ameri Historical House; truth be told, the term house does not reflect what you'd be expecting. Also known as "Khan-e Ameriha" in Persian, it is more of a mansion or even sort of a local palace since the area encompasses various sections including 85 rooms and several courtyards with eye-appealing decorations.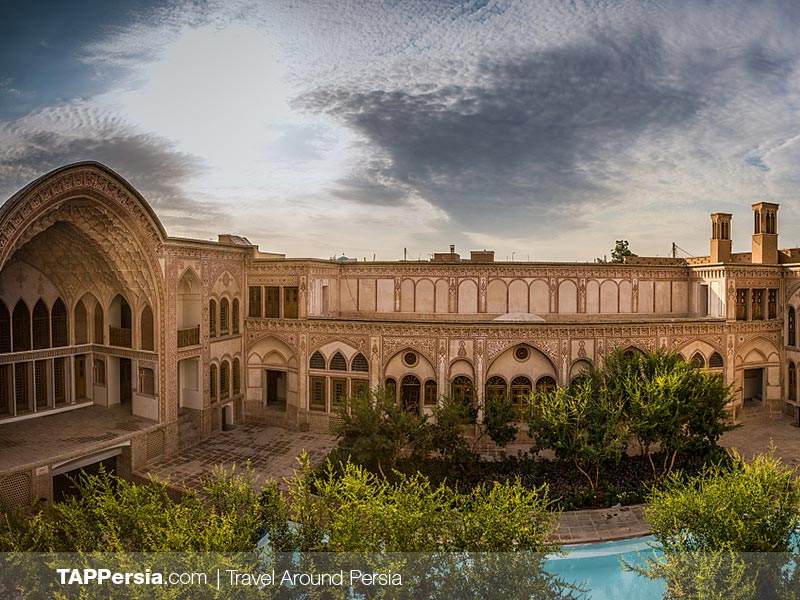 The whole mansion is 9000 square meters in extent. You will be immersed by ponds, porches, gardens decorated with flowers and bushes throughout the house.
Built in the late 18th century during the Zand Dynasty, the house got renovated and expanded by Saham-o Saltane Ameri in the Qajar Dynasty. He and his family lived there. Providing weapons for the Shah (King) army and taking care of the security of Tehran- Kashan road were contributions of Saham-o Saltane Ameri to the country.
The Architecture of Ameri Historical House
Being definitely one of its kind, Ameri House encompasses 85 rooms, seven courtyards, and two bathhouses (Hammam); one belonged to women and the other one was for men.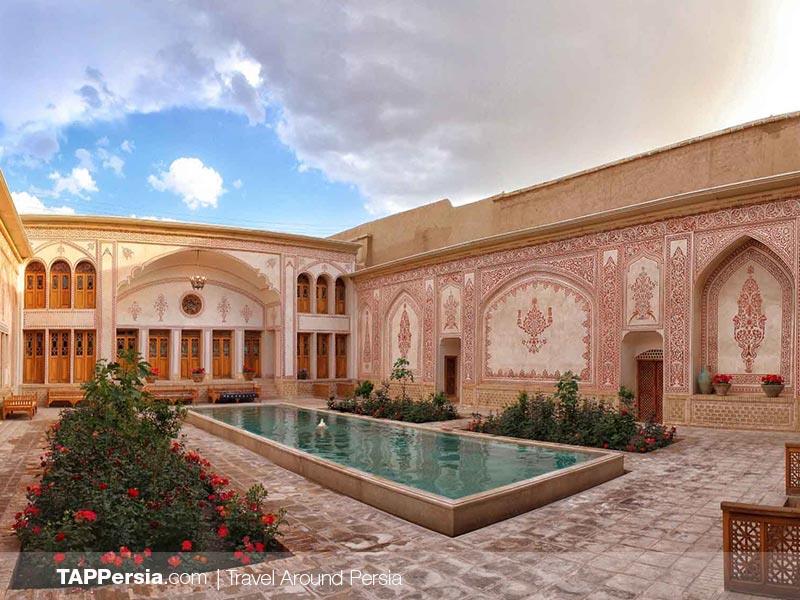 Bathhouses were private and for the residents only. The Hammam had all the features of a Persian Public bathhouse; a Sarbineh, a Garmineh, and Khazineh. To know more about Persian Bathhouse (Hammam) Architecture and structure, you can check the article on Sultan Amir Ahmad Bathhouse.
There were seven courtyards since seven independent families were living there. The structure becomes even more enigmatic due to its convoluted corridors. They have decorated the interior design via various materials and methods; you can see various plasterwork, woodcarvings, and mirror work all over the place. Symmetry is another architectural feature of this place.
Persian Architectural Features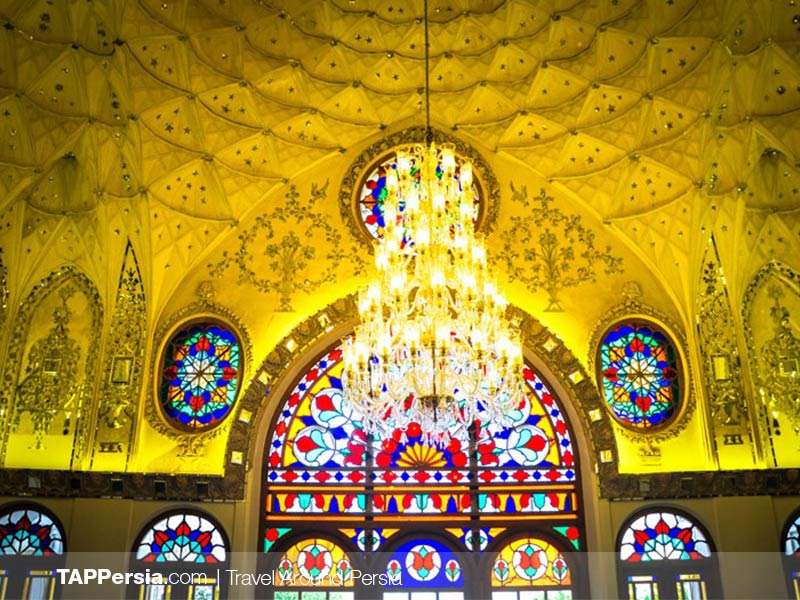 In the article Abbasian House; An Eco-friendly Persian House, we described what Andarouni and Birouni are in ancient Persian architecture. Same as Abbasian House and so many other Persian architectural masterpieces, the Historical Ameri House has a Birouni that was for guests and an Andaruni which was a place where the family lived and servants worked. Same as other historical houses and mansions in Kashan, Ameri House also has Badgir (wind tower) which is the tallest Badgir in Kashan.
The architecture of this house was also based on Persian architectural term "Gowdal Baghche" in which there was a central yard and in all other yards there is a pond and the water is floating all over the place. As a result, the residents would enjoy the pleasant weather during the harsh hot days of Kashan.
The Interior Design
In the interior design, the architect used fabulous embellishments. He used wood for doors, mirrors in the ceiling, and colorful paintings and tiles for decorating walls.
Unfortunately, after a couple of decades, the house destroyed due to sequences of earthquakes; after a while, in the 19th century, they renovated it again.
What Activities You can do in Ameri Historical House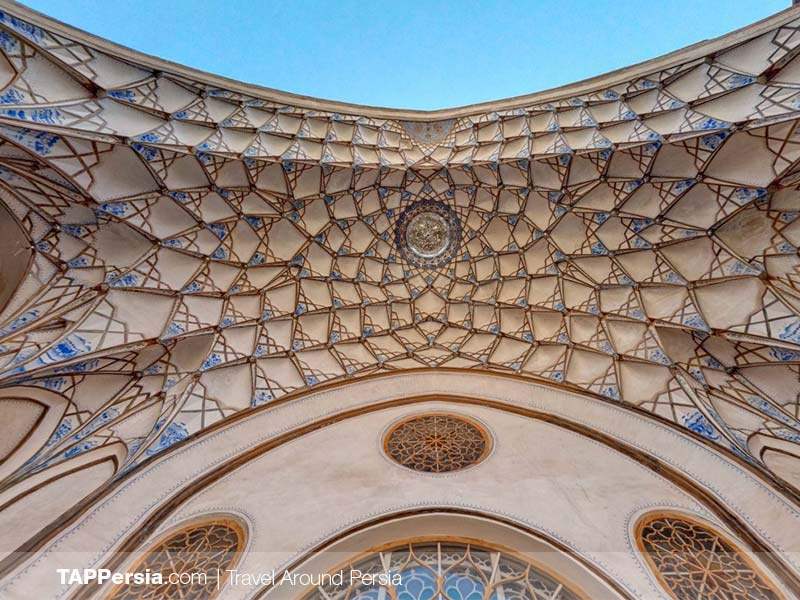 Ameri Mansion offers its visitors a variety of activities to do; visiting a number of halls and having Persian tea at the traditional tea house are the activities you can enjoy at this mansion. You can also have a meal at the restaurant or buy souvenirs from the handicraft shops. Additionally, you can stay a couple of nights at the Saraye Ameriha Boutique Hotel.
Saray-e Ameriha Boutique Hotel
They spend a colossal amount of money on the house's renovation in 1999. With 15-year efforts, the house turned into a 5-star hotel and a museum. Known as Saraye Ameriha Boutique Hotel, this five-star traditional hotel provides a peaceful stay for their guests to experience what living in a historical house in Iran felt like.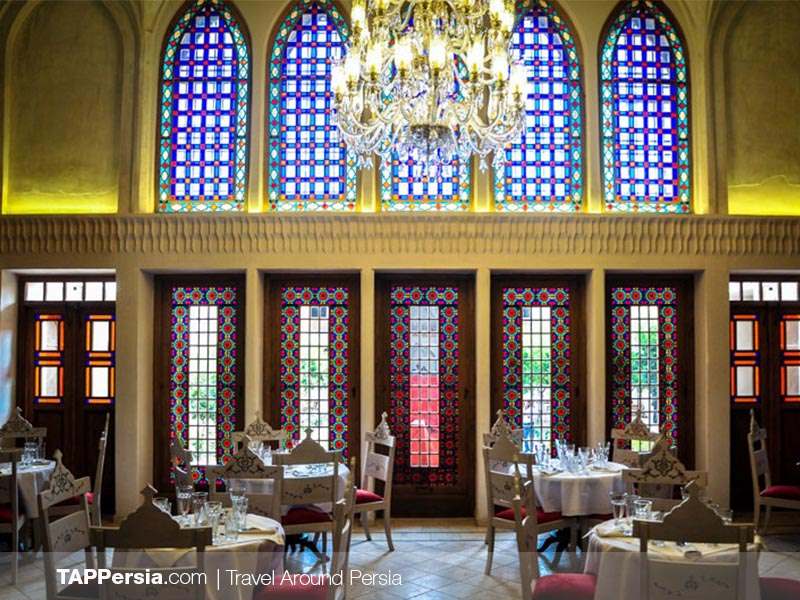 Note that in the Ameri Historical House, you have the option of having food; the Saraye Ameriha Boutique Hotel provides a restaurant for all visitors whether they are staying at the hotel or not! The restaurant has a traditional atmosphere with delicate mirror works all over the place. So, if you are looking for a cheaper place to stay and preferred to have a meal or snack at Ameri House, no worries, you still have the option! In case you are looking for food suggestions at Saraye Ameri Restaurant, we would recommend you trying some Kashan's local food like Shefteh Bademjan, Koofteh Somagh (Somagh Meatball), and meat stew. So you will delve into the culture, right in the heart of the city with characteristics belonging to old times while having what locals had!
You can find the Ameri House right in the heart of the city. You will have easy access to other attractions of Kashan like Abbasian House, Tabatabaei House, Toy & Puppet Museum, and Agha Bozorg Mosque as well.
In case you are a cultural enthusiast, visiting Ameri Historical House is a MUST. Have Kashan on your bucket list right away; do not forget to share your ideas and questions with us in the comments below.
Recommended Tours