The originality of Persian carpets or Iranian Rugs dates back to about 2500 years ago. Iranians were among the first people to begin weaving the carpets of ancient civilizations, and through the ages, ingenuity, and intelligence have perfected this craft to an incredible degree.
The art of carpet weaving is a closely guarded family secret that is passed down through the centuries. Following the development of one of the finest civilizations the world has ever known culturally would be made easier by studying the history of Iranian carpets.
Persian links with carpets are still strong today despite the swelling population caught in an advancing industrial civilization. Without Iranian carpets, which are a representation of the strong links between the people and their national art, an Iranian home would be empty and soulless.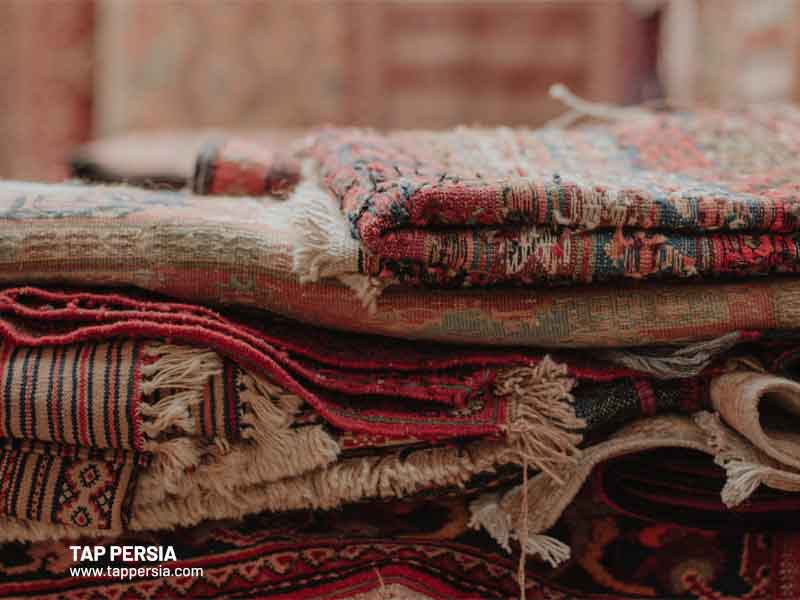 Intro to Persian Carpet History
Iranians were among the first people in the ancient world to weave carpets. The "Pazyryk" is the oldest known Persian carpet. It was found in a frozen tomb connected to a Scythian king in Siberia, and its creation is thought to have occurred around 500 BC. It is currently kept at the Hermitage Museum in St. Petersburg.
Chinese literature from the Sassanid era provided the first known proof of the existence of Persian carpets (224-641 AD). The existence, worth, and caliber of Persian carpets are, nonetheless, documented in Greek historiography.
The skill of carpet weaving experienced several transformations throughout Iranian history. While the government primarily promoted the arts in architecture and painting throughout the Safavid era, carpet weaving and the textile sector both gained significant prominence. The establishment of court workshops in the 16th century led to the transformation of formerly largely nomadic crafts into royal industries.
Persian Carpets: Heaven under your Feet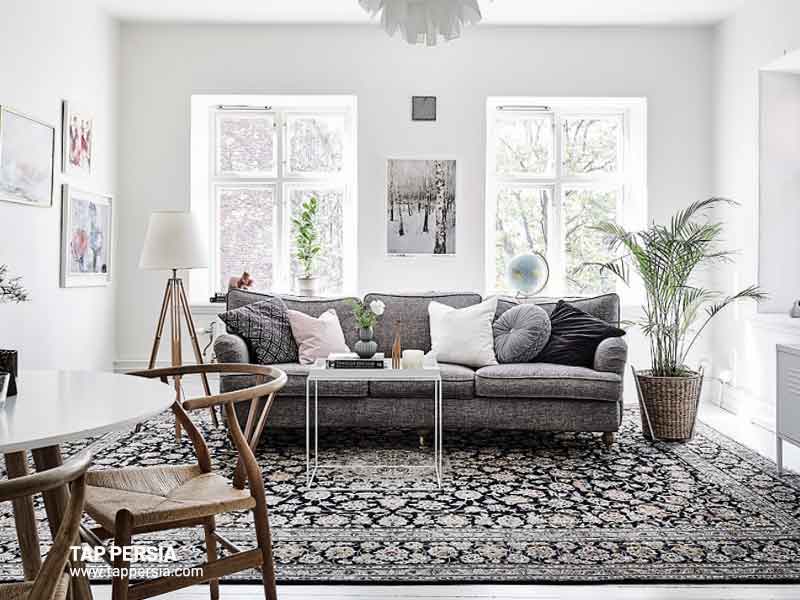 These Iranian artworks are made by carpet weavers who use a variety of colors and exquisite Persian art motifs. The Persian motifs and patterns utilized in the creation of Iranian gardens are quite similar to those used in carpet weaving.
The same philosophical and geometric approaches are employed, and they both aim to accomplish a lofty objective: to provide us with the motivation to improve the state of the world. The Persian carpet is heaven under your feet because it combines one of Iran's most beautiful handicrafts with exquisite materials for comfort.
If you're looking for an authentic Iranian souvenir, consider purchasing a Persian carpet which makes for a great gift for both yourself and your loved ones
Characteristics of Iranian Carpets
Wool and cotton are frequently used to create Iranian rugs. Camel hair is also utilized in the districts of Hamadan and Kurdistan. Silk is commonly used to create extremely intricately knotted carpets, such those from Qom and Tabriz. Iranian original carpets are typically hand-knotted and made up of hundreds of weft knots and strings of warp (Persian rug Materials).
How Hand-Knotted Iranian Rugs are woven?
Iranians were some of the first people in the ancient world to weave carpets, and their methods date back at least 2500 years.
A hand-knotted rug's basic framework is made up of three components. To create the rug's "warp," cotton threads are stretched over a vertical loom.
The pile of the rug is then created by knotting wool threads onto the warp. Finally, cotton threads that make up the rug's "weft" are horizontally weaved into the warp to hold the pile in place.
If you want to know about Iranian Jajim, this article is a must-read.
Iran's main Carpet weaving centers
Nain, Isfahan, Mashhad, Kashan, Tabriz, Kerman, and Qom are among the Iranian cities well known for their carpet manufacturing. In 2010, UNESCO included traditional carpet weaving methods from Kashan and Fars on its list of intangible cultural heritage of mankind.
Tabriz Carpets and Their Unique Patterns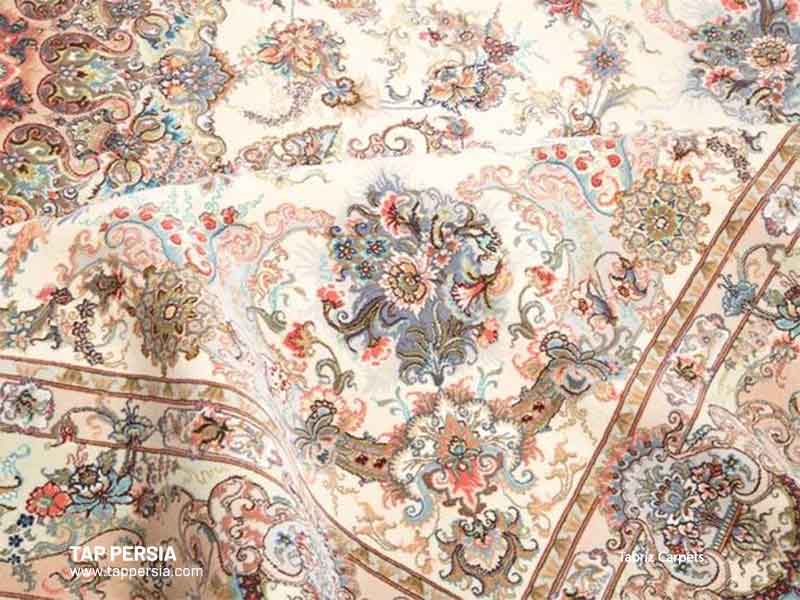 In the province of Azerbaijan, northwest of Iran is Tabriz. This ancient settlement has weathered various earthquake-related disasters as well as foreign invasions by the Mongols, Tamerlane, Ottomans, and Russian occupants. One of the most common dialects of Turkish is spoken by the inhabitants of Tabriz.
Iran and the globe have both regarded Tabriz as a significant and renowned hub for the production of Iranian carpets.
The rich traditions of the ornamental and applied arts were greatly influenced by it. The Tabriz carpet business is currently very large, and the quality ranges from superb handcraft to basic and inexpensive market grades. One of the most varied collections of patterns can be found in Tabriz, which includes a medallion, Herati/Mahi, figural, pictorial, and even 3D-shaped carpets.
Isfahan and Nain Carpets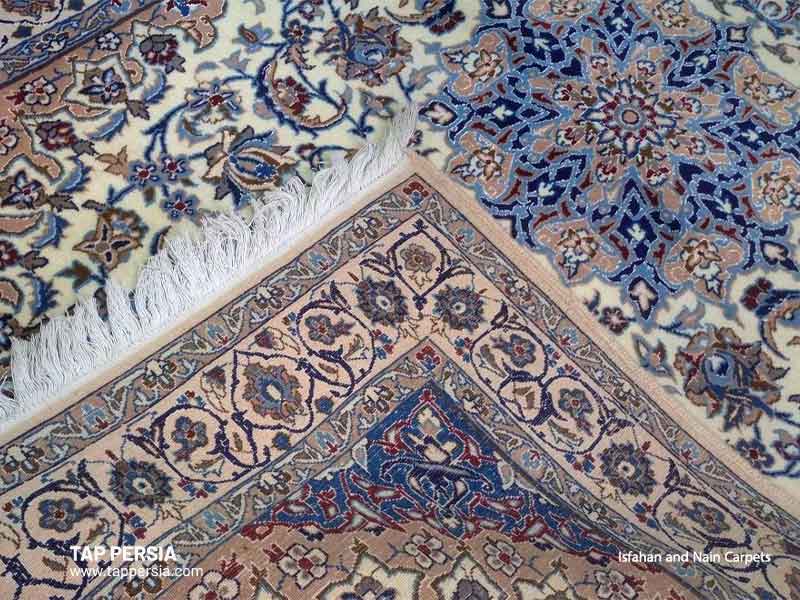 Isfahan rugs(Isfahan Souvenirs & Handicrafts) are of outstanding quality. They are knotted on either silk or cotton foundations, with silky, smooth wool, and a pile that is tightly woven. The Isfahan rugs have historically been among the finest and most expensive carpets in existence. The most common pattern is a center medallion surrounded by often blue, red, or indigo-hued vines or flowers on an ivory backdrop. Shah Abbasi themes, vases, garden and tree of life patterns and pictorial pieces are some other common design components and motifs.
Nain, often spelled Naein, is a 150 km2 town in central Iran. Nain is a relatively young player in the carpet industry when compared to Isfahan, Kashan, and Yazd, three of Iran's older weaving hubs. Some Nain carpet-weaving families began creating carpets with Isfahan designs in the middle of the 1930s, and after some time, they started coming up with their own distinctive style. Because of the area's excellent workshops, very accurate and exquisite designs were produced.
Traditional Nain carpets have an exotic pattern that sets them apart from even the most exquisite Persian carpets. The traditional blue and white scheme, which is sometimes accompanied by a darker medallion in the middle, has a valuable and beautiful impression.
Qom and Kashan Carpets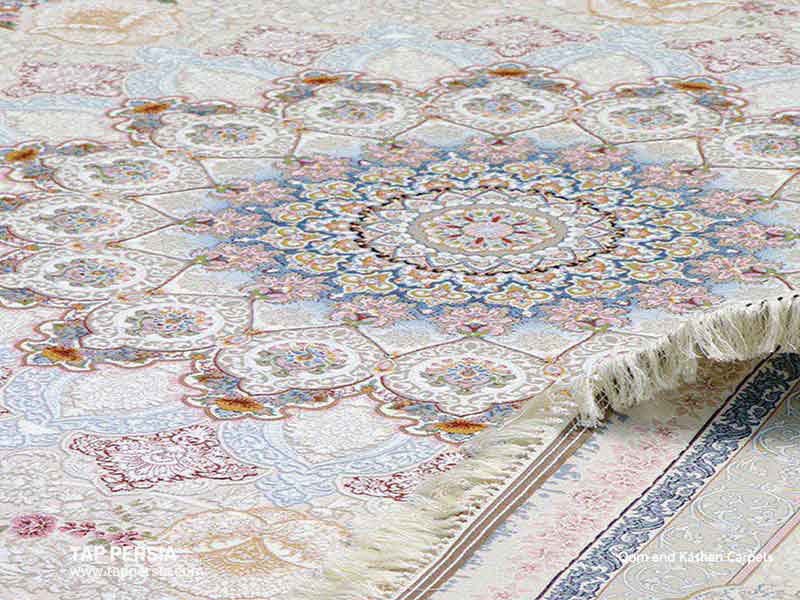 The materials used to make Qom rugs are likewise unique in origin. Here, both wool and silk carpets are produced. Qom's natural silk is renowned for being of the highest caliber. The Iranian carpets display designs that originate from many Iranian areas. Figurative designs that feature stylized vegetation and animals are popular. There are also other medallion designs.
Despite the fact that this region has only been producing carpets for roughly 100 years, Qom carpets are highly sought-after and appreciated for their understated grandeur.
Most Kashan carpets are knotted from excellent wool. There is rarely silk used in these Iranian carpets. Although there was once a drop in carpet manufacturing, it has since recovered and is once again at its peak. Because of this, Kashan carpets are highly regarded and favored by industry experts. Typically, the warp and weft are made of cotton, while the pile is made of fine sheep's wool.
Persian knots are used to make carpets with deep knotting that their owners would cherish for a very long time. Numerous knotted designs exist. As a result, medallions might be seen with floral embellishments or general patterns. These Persian carpets include classic coloring in blue, red, and beige tones.
Ardabil Carpets and Rugs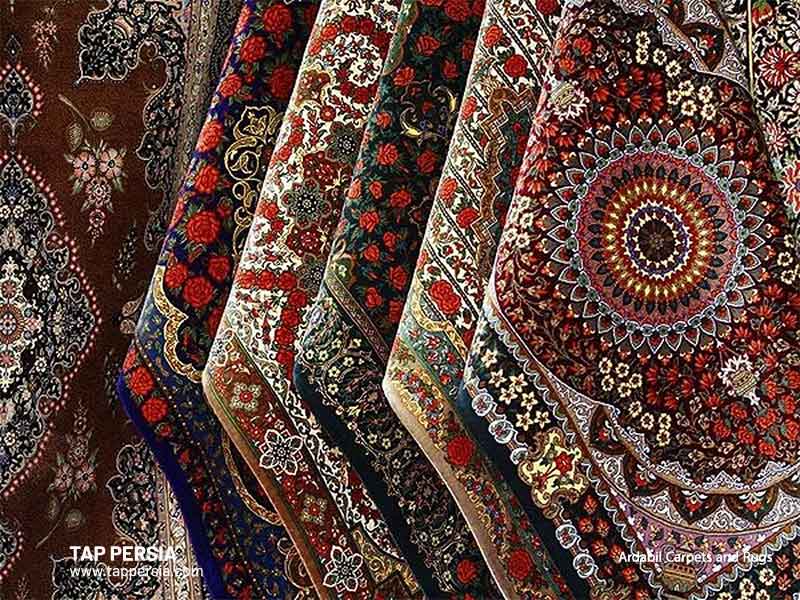 The Mongols who entered Iran in the 13th century and resided in the northwest are partially responsible for the weaving technique of Ardabil. The formation of the modern carpet business was greatly influenced by this ancient region of Iran, as well as some areas of Turkey and Uzbekistan. They continue to weave carpets every day; it has long been a tradition of theirs.
Ardabil rugs are beautiful tribal pieces, which usually have the quality of city rugs. Although this historic city is of Persian origin, there has been a great Turkish influence on the culture because of its location. The rugs of Ardabil usually have the famous Herati (Mahi) design, which consists of a central diamond medallion and small fish throughout.
To emphasize certain design highlights, Ardabil weavers frequently weave a significant amount of silk into the woolen pile. The intricate design of Ardabil carpets is one of its distinguishing features. Sometimes it is difficult to imagine that they were manufactured in severe, primitive conditions by tribal people. The Ardabil is a magnificent and clever addition to any house. These are gorgeous Persian carpets of amazing quality and superb substance.
Tribal Rugs and Carpets
Fine versions of these Iranian carpets, which are a part of mythology and tales, are intended for rug collectors and fine art aficionados. Genuine Persian carpets gain value as they become older, perhaps astronomically if they're in immaculate condition, and their colors become more subdued. They are regarded as family heirlooms that have been passed down.
Along with Persian (Iranian) classic designs like Heriz, Nain, Serapi, Tabriz, Kashan, Bidjar, Bakhtiari, Sarouk, etc., this category also contains several additional traditional Iranian carpet designs created by minor nomadic tribes including the Balouch, Kazaks, Kurds, Afshar, Kargai, Ersari, and Qashqai in some of the world's most isolated regions. In some of the other rug-producing locations, a handful of the stunning designs and color combinations are currently produced in modest quantities.
How Did the Persian Carpet Spread Through the Nations?
Iranian carpets have long been given as a diplomatic gift. This can be one of the factors contributing to the widespread recognition and extensive travel of Persian carpets. Additionally, during Iran's lengthy history, its borders have undergone several changes, and carpets have always been one of the goods that have been frequently trafficked.
As a result, carpet weaving has gained respect and art in nations like Turkey, India, Afghanistan, Egypt, and Pakistan. As you may have observed, several of these nations are currently included in the rug belt. There, together with the traditions and creative viewpoints of the host nation, the art of Iranian carpets has gained a new branch.
Bazaars and the Tehran Carpet Museum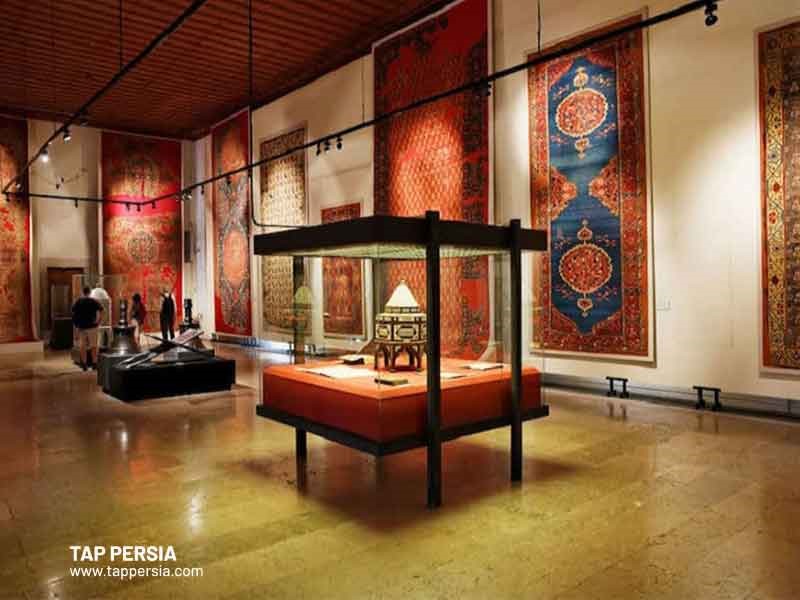 One of the great draws of Iran is its endless bazaars. Any city you select will undoubtedly have a market on the list of top attractions. Each is distinct yet consistently vibrant and full of energy.
Spending time at one of the numerous teahouses, browsing the quaint stores and stalls, or chit-chatting with carpet sellers will keep you occupied for hours. The carpet merchants display a magnificent collection of beautiful Iranian carpets, offering a dazzling and mesmerizing view to the locals and tourists alike.
With a space of 3400 square meters, the Iranian Carpet Museum is one of Tehran's greatest and most well-known museums. You may view a wide variety of Iranian carpets in this museum, including kilims of different shapes and sizes as well as hand-woven carpets.
One of the greatest sites to view history and art side by side is the Tehran carpet museum. This museum houses 135 exquisite Iranian carpets that date from the 15th century to the present. These handwoven works are from many Iranian towns and tribes, including Khorasan, Kerman, Kurdistan, Isfahan, Tabriz, and Kashan.
How expensive is a Persian carpet?
Depending on the size, material, and pattern, a single Persian area carpet might cost anywhere from $250 and $350 on average. Prices of Iranian carpets might go up depending on things like rarity or age.
How long do Persian rugs last?
Your Persian rugs might survive anywhere between 20 and 200 years, depending on the amount of use it receives, the quality of the rug, and the level of care it receives. Rugs that collectors own and sell for hundreds of thousands or millions of dollars are sometimes hundreds of years old.
How can you tell if a Persian rug is real?
A true Oriental or Persian carpet does not have fringes that are stitched on. The fringes are a crucial component of the Iranian carpet since they are the end of the warp threads. If the fringes on the rug's reverse can be seen to have been stitched on, it is most likely not an authentic oriental rug.
Are Persian carpets a good investment?
If you choose wisely, Persian carpets may be profitable investments. Those who have old Persian carpets that have been passed down through the years may attest to their toughness(Persian handicrafts & souvenirs). Although Oriental rug antique enthusiasts would disagree, an Iranian carpet that has been carefully picked is unlikely to lose value.
Should you vacuum a Persian rug?
Never sweep your Persian carpet, as this can damage fibers. Frequent vacuuming can also loosen and damage fibers. Aim for 1-2 times a week in a high-pile setting, depending on the size of your rug. Don't spot clean your rug with chemicals.
Conclusion
For generations, Persian carpets have been renowned. Iranian carpets still carry the reputation of elegance and perfection today. The finest part of the experience isn't even haggling for one. The best parts of carpet shopping in Iran are interacting with store owners, sipping tea with fellow customers, and taking in the architecture of the bazaar.
For more information about Persian carpets and their prices, contact the TAP Persia team on WhatsApp or visit Tappersia.com and have a nice chat with the team through live chat. The TAP Persia team has great patience in offering detailed information and is happy to guide you thoroughly.