Persian Carpet is popular everywhere and everyone believes that it has the finest quality among carpets. Well, it should have something to do with its history and origin. There are a lot of different types of Persian carpets you can see in this interesting museum in the capital of Iran, Tehran. If you are eager to know more about Persian carpets and their fascinating history,  the Iran Carpet Museum is the place you shouldn't miss visiting. See how each of them tells you a different story with their knots, treads, and colors. But before diving into this beautiful museum, let's get to know the Persian carpet a little bit more.
Persian Carpets: Origin and Stories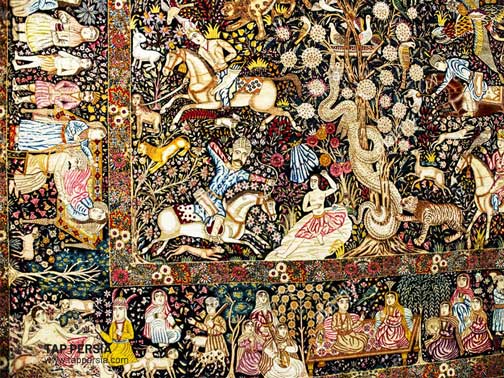 The weaving of carpets in Iran dates back to around 5000 BC during the Bronze Age. However, owing to their depreciation, only a few pieces remain from those carpets. Among the most noticeable and important items of a Persian house, you can mention carpets. They come in all kinds of shapes, colors, and types. There is no way that you walk into an Iranian's house and not see carpets covering rooms. 
The beautiful rectangular floor coverings, which we call Farsh or Ghali, contain exciting and significant motifs. Occasionally, they represent myths and old Persian stories concerning Persian heroes, while other times they express the natural beauty of Iran. Iranian children enjoy playing for hours in their imagination with these imaginary figures and carpet designs. They even get defeated and threatened by the demons they dreamt up whose patterns were woven onto the carpets!
If you would like to know more information about Tehran tours, click here.
Iran Carpet Museum, From Past to Present
The Carpet Museum of Iran opened in 1978. During its early years, there were only a few Persian carpets in this museum. However, as the museum evolved the collection developed more. In addition, the Museum of Textiles was founded to promote the art of carpet weaving by gathering different types of carpets from all over the country. Due to this, the museum gained more and more significance as a repository of carpet-related research for everyone invested in art.
The Art of Weaving and Keeping Carpets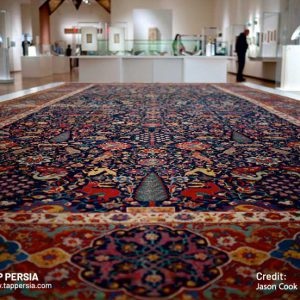 There are different kinds of carpets like Kilim, Ghalicheh, etc. But the Carpet is just a general term for so many different kinds of carpets. It can be positioned on the floor, wall, bed, and other places. Iranians have special rules for their carpets at home. They do not walk on the carpet with their shoes on. On hand-woven and exquisite carpets, a carpet is placed on one side so that the dust and dirt do not ruin the warp and weft of the carpet.
Iranian carpet-weaving is not just a profession but is considered an art. The Persian rugs also symbolize the characteristics of different Iranian ethnic groups, demonstrating their diversity. One of the most exclusive types of carpets is the handmade one. The handmade rugs of this type are often unique because they do not have written patterns. In carpet weaving, a weaver uses his/her imagination and turns it into a particular carpet.
These rugs are so vividly woven with Iranian culture, history, and art, and possess so much to tell you about them. The Carpet Museum of Iran offers comprehensive information about these remarkable handicrafts. The place is a major showcase of beautiful carpets that date back to ancient days. You can find collections of carpets from Isfahan to handmade rugs of Qashqai nomads.
Mirza Kuchak Khan Jangali rug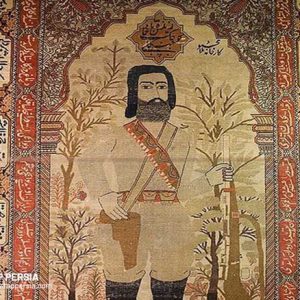 One of the most beautiful and unique rugs in the museum is the Mirza Kuchak Khan Jangali rug. Experts believe this carpet was made during the late Qajar period, but cannot pinpoint exactly when it was made. The carpet is known as the Mirza Kuchak Khan Jangali rug, depicting him in military uniform and armed with a rifle and pistol.
Mirza Kuchak Khan Jangali was a leader of the Iranian revolutionary movement, the president of the Socialist Republic of Iran, a nationalist fighter, and one of the most famous Gilak commanders from Rasht. During the constitutional revolution, he was a member of the revolutionary forces which conquered the Iranian capital.
These carpets are decorated with motifs drawn from Iranian literature, myth, religion, culture, and art. During this time, young Iranian artists and the world master influenced and inspired them to weave carpets, integrating modern computer technology with talented Iranian artists.
The Architecture of The Carpet Museum of Iran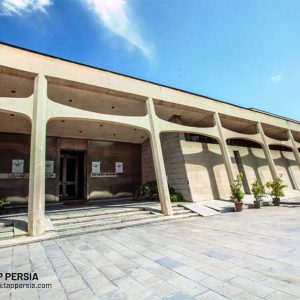 This museum is home to one of the biggest carpets in the world, and the exterior of its building is influenced by Iranian architecture similar to the carpet hanger.
Typically, the museum itself should be your first stop. When you pay close attention, you can see that this structure looks like a gigantic carpet-weaving loom. Abdol-Aziz Mirza Farmanfarmaian designed this museum, the architecture of which showcased his fine art skills and architecture. 
Furthermore, he made sure to design the building so that the columns would make shadows on the building, thus avoiding the extreme warmth during summer. Two primary halls are set up in the museum, one for displaying over 150 types of Persian carpets, while the other is for displaying different temporary and seasonal exhibitions. 
It's Easy to Find Iran Carpet Museum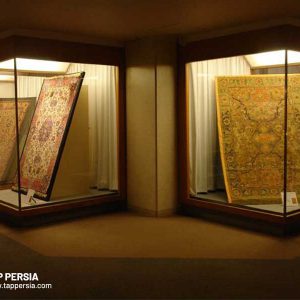 There's no way you'll have trouble finding the Carpet Museum of Iran. Iran Carpet Museum is situated between Laleh Park, Fatemi, and Karegar junction. Either public transportation or your car will get you there easily. There is a metro station nearby called Meydan-e Enghelab-e Eslami (yellow line) and there is an online bus service that connects to the museum. 
Additionally, you can walk through the stunning Laleh Park, and another interesting museum is nearby. Laleh Park also houses the Tehran Museum of Contemporary Art, on the west side.
Using the yellow line of the Tehran subway, you can get to Teatre Shahr Metro Station and access other nearby attractions like the National Jewelry Museum, Golestan Palace, Tehran Grand Bazaar, National Museum of Iran, Portal of Bagh-e Meli, City Park, and Masoudieh Palace. Be sure not to miss Valiasr Street, the longest street in the Middle East.
There is Always a Persian Restaurant Nearby
During your visit to North Kargar and Valiasr Street, you'll find many restaurants and cafes. Several Persian restaurants and fast food chains offer Persian dishes and fast food, such as Barooj, Kolbeh Shandiz, Grill, Sadre Azam, and Avani.
It's Easy to Stay Close to Iran Carpet Musem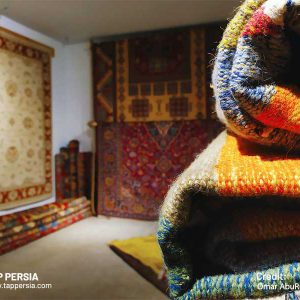 Since the Carpet Museum of Iran is in the center of Tehran, you have plenty of options for accommodations during your stay. There is a 5-star hotel nearby, the Laleh International Hotel. Among other hotels, you can choose from are Varzesh Hotel, Hejab Hotel, Espinas International Hotel at the Boulevard, Tehran (Ex. Persian Gulf Hotel Khaliji-e Fars), Omid Hotel, Persian Enghelab Hotel, and Ideal AP Hotel.
Last Edit: 31/05/2021 by Fateme Makvandi
---
Recommended Tours