While staying in the metropolis of Tehran, one of the most important things would be the place of your accommodation. Whether you are traveling to Tehran for business or leisure, all the hotels mentioned below are nevertheless your assurance of finest, top of the range services. You deserve to stay in one of the best hotels in Tehran. These hotels proudly boast unrivaled high-grade accommodation only comparable to the indulgent comfort of your own home.
Espinas Palace Hotel – A Luxurious Accommodation on the Hills
Espinas luxurious 5-star hotel is known as one of the best hotels in Tehran. It is located in the north of Tehran on top of the hills. Espinas Palace exudes the elegant ambiance of a real luxury hotel. You can experience the best services and a unique feel-at-home atmosphere. Live like an aristocratic while staying in Tehran. You can find everything in the palace so you can just relax and enjoy staying in one of the best spots in Tehran.

Nezamiyeh Boutique Hotel
Nezamiyeh Boutique Hotel is a historic mansion that belonged to Kazem khan Fatahi Noori, who was the chief of protocol and ceremonial supervisor of the German embassy. He was known among diplomats because of his hospitality. Now, this hotel is open to guests from all over the world with tranquil and unique rooms that provide a comfortable stay for you.
The rooms are decorated with antiques in a traditional style which gives you the feeling of a traditional Persian house. The rooms are also named after Fatahi family members who lived in the house for years. Including, Alam Taaj, Khanoom Joun, and Kazem Khaan. This Boutique Hotel is located in Nezamiyeh avenue.

Vozara Hotel Apartment – Top of Magnificence
With providing a wide range of facilities, comfortable rooms, and elegant decoration, the Vozara Hotel Apartment makes you feel like home. The hotel's good location in South Gandhi Street provides easy access to all parts of Tehran. There is also a short distance walk to Beyhaghi Terminal. The staff are incredibly kind, helpful, and experienced. You can experience a nice stay at this hotel apartment.

Hanna Boutique Hotel
Escape from the chaotic and busy streets of Tehran to the embrace of art, architecture, tile work design, and Iranian hospitality. Located in Lolagar alley, one of the most famous streets in Tehran, you can find Hanna Boutique Hotel. This recently opened luxe boutique hotel is a mixture of the modern lifestyle in Tehran and the traditional style of a ninety-year-old building. This hotel is contained of six buildings built-in 1930 by the famous Iranian builder, Hassan Banna.
User Roberto in Tripadvisor said "My favorite place and the best place. Superb service, the best dinners and great breakfasts. A restoration that stayed true to the original with all the modern touches and exposed history. We enjoyed all facets and areas and the friendliness."

Tooba Boutique Hotel
Tooba Boutique Hotel is a cozy hotel in Africa boulevard which features a broad range of accommodation from lavish rooms to spacious suites with rich iconic designs. You can enjoy the rooftop cafe and grill and enjoy the view of nightlife in Tehran. Based on the reviews on Tripadvisor, the hotel creates your distinctive personal feeling like your favorite fruit, favorite flower, etc. the good location of the hotel also provides easy access to all attractions of Tehran.

Novotel and Ibis Tehran Imam Khomeini International Airport Hotels
Ibis and Novotel are the two 4 and 5-star hotels only a few steps away from Imam Khomeini International Airport (IKIA). These hotels are located opposite Terminal 1. Providing all the features of a 4 and 5-star hotel, Novotel and Ibis both have found their way into the list of best hotels in Tehran. One of the greatest privileges of these hotels is their short distance to IKIA. Whether you have just arrived in Iran or it is the last days of your adventure, Novotel or Ibis would be a wise choice.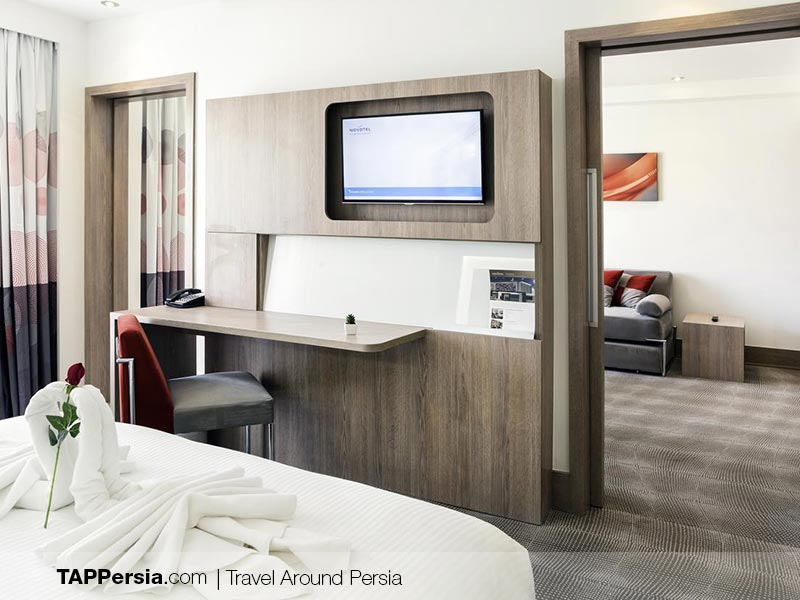 You can relax in the comfortable rooms, spend some time in the spa or get a massage to wash away the tiredness of your journey. In addition, there is only a 45-minute distance by car to the metropolis of Tehran. Enjoy the clean rooms, good restaurant, remarkably comfortable rooms, good food, and the true meaning of Iranian hospitality with well-experienced staff.

Ferdowsi Grand Hotel
The Grand Hotel of Ferdowsi is situated in the historical and business center of Tehran, Ferdowsi avenue. The hotel offers an escape from the chaos of Tehran to a peaceful and elegant ambiance of a 4-star hotel. The hotel offers a great breakfast for the beginning of your day in the metropolis, friendly and experienced staff, and a short distance to the metro station.
You will definitely experience a great accommodation with the features of the hotel, clean and comfortable rooms, and genuine traditional symbols of Land of Persia. The hotel's slogan says everything about the hotel in one sentence: "A warm and friendly welcome awaits everyone who visits Ferdowsi International Grand Hotel located in Tehran, Iran."

Eskan Hotel
Eskan Hotel contains two hotels Eskan Alvand and Eskan Forsat. Eskan Alvand is established near Argentina square, Alvand Street, which is close to the center of Tehran, attractions and Beyhaghi Terminal. Eskan Forsat is located between Somayeh and Enghelab avenue, in Mousavi (Forsat) street, which is close to Nature Bridge. With a great location at the center of the capital, professional staff, nice, clean, and cozy rooms, you will experience a great stay while visiting the top attractions of Tehran.

Espinas Persian Gulf – An Exquisite Stay
Espinas Persian Gulf International Hotel is situated in a prime location, Valiasr street. This hotel is probably the best choice to relax after a long day in the crowd of Tehran. You can feel just like home and even get a massage after a swim. It is worth mentioning that this hotel facilitates a wellness center with a full free weight room and cardio equipment. In addition, the personnel are very friendly and the breakfast…it is just amazing.

Tehran Grand Hotel I and II
Tehran grand hotel 1 is built on one of the main streets in Tehran, Valiasr street, the business district. However, you can escape to a hotel with a boutique, charm, and heritage since 1977. The hotel offers a family-friendly setting with an array of amenities designed for guests, mixed with an ideal value of comfort and convenience. It has large, comfortable, clean, and quiet rooms with well-experienced and helpful staff.
User Claire G in Tripadvisor said "I would certainly recommend this hotel, centrally and securely located in the heart of Tehran. Gorgeous views from our bedroom window, nice clean and spacious bedroom! Fantastic selection of breakfast and we enjoyed our stay a lot."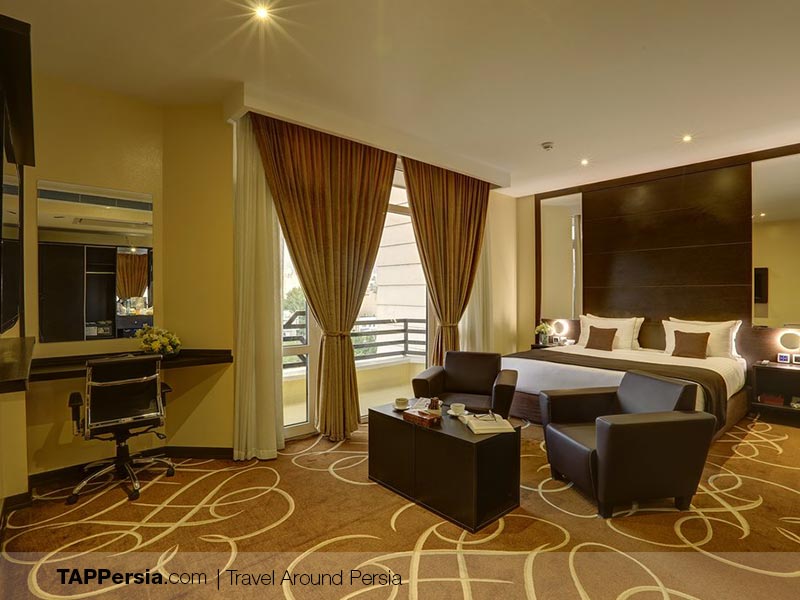 Tehran Grand Hotel 2 is built-in Nejatollahi avenue, Sepand Street, a quiet and lively area within a short distance to all sites of the city. It is only 45 minutes away from Imam Khomeini International Airport and only 20 minutes from Mehrabad Domestic Airport. It is also close to most of the must-see places in Tehran. Staff members are a reason for the perfection of the Tehran Grand Hotel. They are friendly, helpful, and well-experienced. It is worth mentioning that based on the reviews of travelers on Tripadvisor, you can't get enough of its breakfast.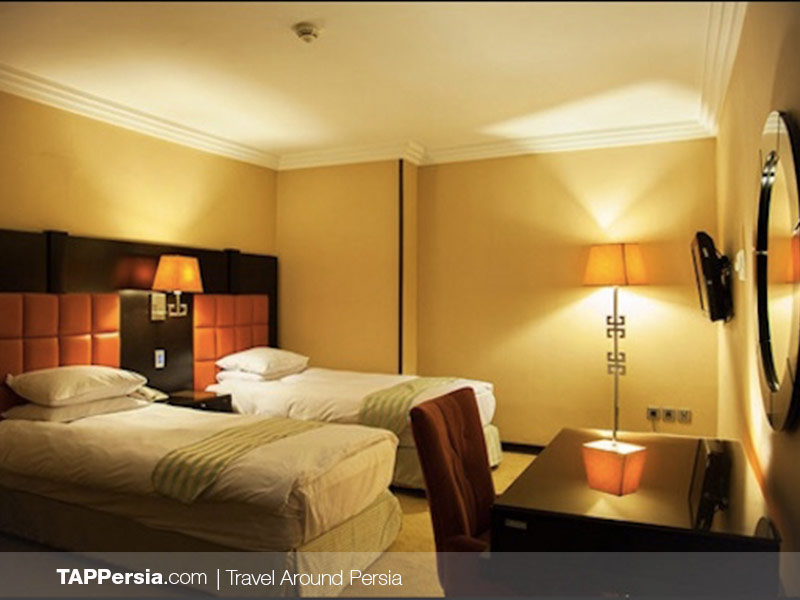 Arian Hostel – Best Traditional Hostel
A boutique hostel which was chosen as the Best Traditional Hostel in Tehran in October 2019. Arian Hostel, also known as Pahlevan Razzaz Guest House, is located in Javidi street. Staying in a traditional house like Arian hostel enables you to experience the charms of living in an authentic ambiance. In addition, you have the chance to meet other people, enjoy local foods, and share your ideas and experiences.
The hotel is close to the metro station and the major top attractions including Grand Bazaar, Golestan Palace, National Museum, Jewelry Museum, and many other historical attractions of Tehran. The quiet neighborhood, pleasant ambiance, clean and well-decorated rooms, homemade breakfast, location, and affordable prices are the reason you shouldn't miss staying at this hostel.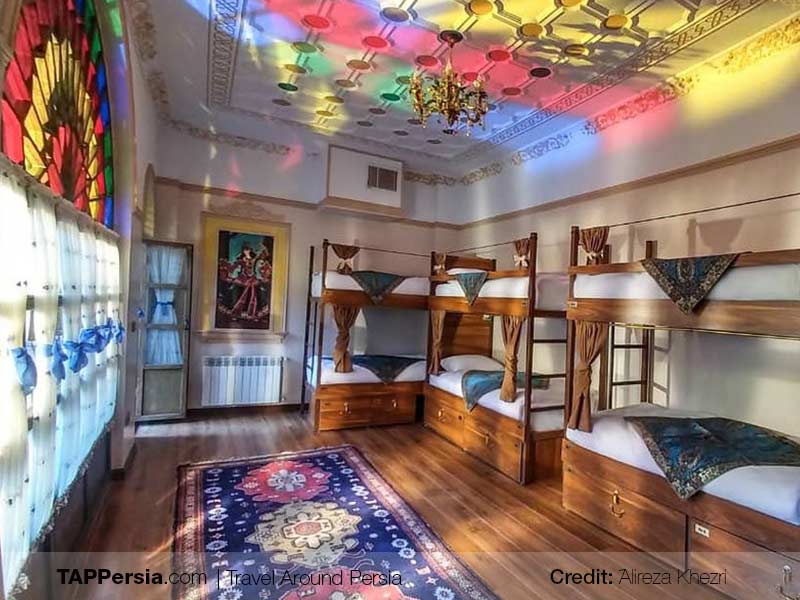 Howeyzeh Hotel
The 4-star Howeyzeh Hotel with 150 rooms and nice staff offers all the features of a real 4-star hotel. Howeyzeh Hotel is one of the hotels owned by a holding company of hotels, Kosar hotels Group. It also offers comfortable rooms, spa, massage, various Iranian and non-Iranian foods, and beverages in the restaurant and cafe of the hotel. Howeyzeh hotel is located in the cross Taleghani and Nejatollahi avenue which provides great access to the city attractions.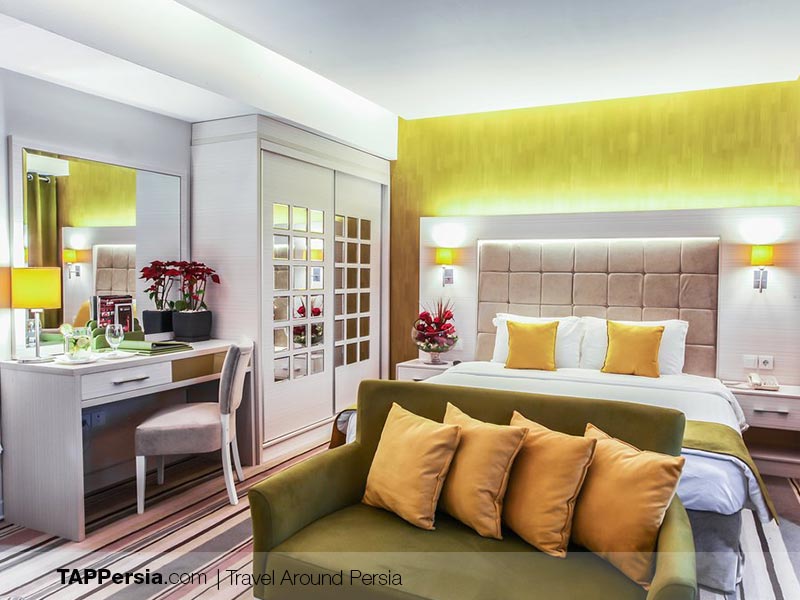 Baloot Hotel
You have the chance to stay in one of the most beautiful 3-star hotels in Tehran, Baloot Hotel. With an astonishing garden, big comfortable rooms, and easy access to top attractions of Tehran. The hotel is situated in one of the greatest areas of Tehran with wonderful weather, Velenjak. You can be lucky enough to stay in one of the rooms that has a picturesque view of the garden.

Parsian Enghelab Hotel
Parsian Enghelab Hotel, formerly known as Royal Garden, is a majestic hotel in Taleghani Street, in the center of business, shopping, and recreational centers of Tehran. This 4-star hotel is ready to host tourists from all around the world with 251 residential units, all equipped with luxurious facilities. The amazing breakfast, skillful staff, and the breathtaking view of Tehran it offers makes your stay even more special(Tehran hotels).

Parsian Azadi Hotel
The 5-star Parsian Azadi Hotel has turned to one of the best hotels in Tehran with seven room types on 25 floors with a variety of views. This hotel is built on the foot of the Alborz Mountains which makes it a quiet hotel with wonderful weather far from the crowd and pollution of Tehran. You can enjoy the services of a real 5-star hotel and relax in the cozy rooms and also enjoy the view of nightlife in Tehran.

Karoon Hotel
The 3-star Karoon Hotel is located in the center of Tehran, the historic avenue of Valiasr. The name of the hotel comes from the name of the longest river in Iran, Karoon River. The hotel was established in 1975 which makes it one of the oldest hotels in Iran. you can enjoy the good breakfast and clean and comfortable rooms. In addition, there is only a few minutes walk to the metro station.

Simorgh Hotel
With beautiful room design, professional and friendly staff, and being close to some of the top attractions of Tehran, Simorgh Hotel has turned to one of the best places to stay in Tehran. The hotel is established near one of the main streets of Tehran, Valiasr. Simorgh hotel is located right next to Saee Park, so you can go for a walk sometimes if the weather in Iran is suitable for a night walk. You have also some of the must-see places nearby including Tehran Book Garden and Tabiat Bridge. The hotel offers an array of room amenities, a cafe, and a great restaurant.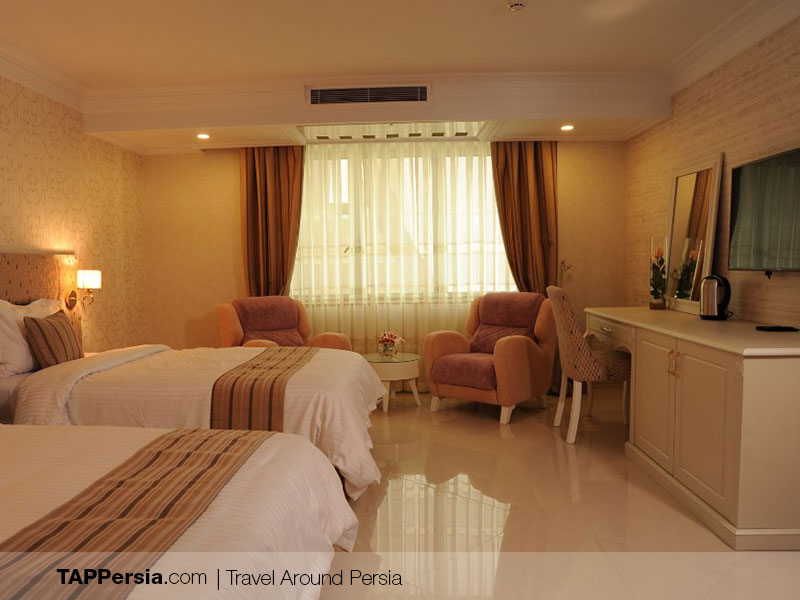 Any of these hotels can be a wise option for you. Whether you choose a luxurious hotel, a hostel, or a boutique hotel, you will experience a great stay in any of the mentioned hotels. Make sure you check out our articles "How to Book a Hotel in Iran" to book the best hotels while staying in Iran.
---
Recommended Tours