Some tourists find that buying souvenirs is a fun aspect of their vacation since they may act as souvenirs of the special occasions they have had while traveling. If you don't have any preconceived notions as you wander through an Iranian bazaar, you'll probably have no idea what to pick something to take home as an Iran souvenir.
It might be challenging to choose just a few products from the wide range of possibilities that are presented to you, especially when it comes to Iranian handicrafts and confections.
This post is for you if you are visiting Iran soon or if you are already there and are seeking the greatest Iran souvenirs and presents to buy in Iran for your loved ones back home.
1.Persian Rugs and Carpets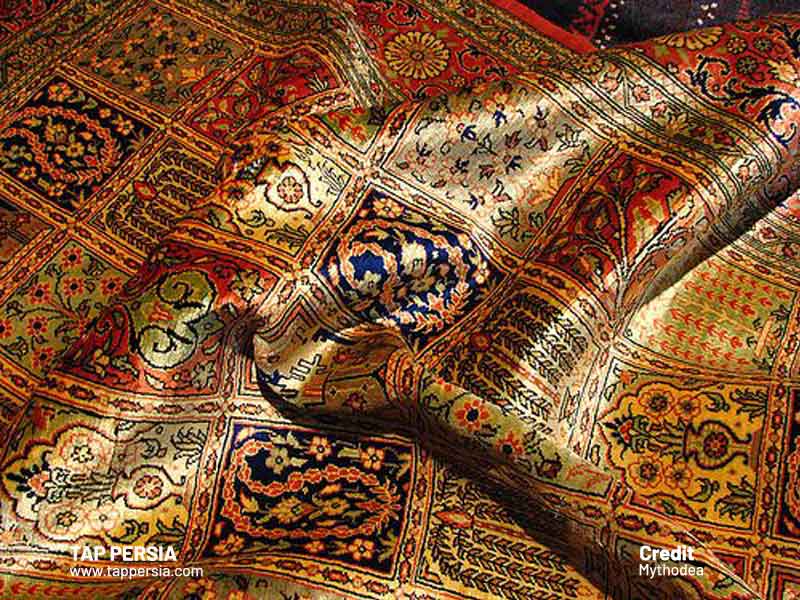 Persian handmade carpets (also known as Persian rugs), which are noted for their excellent quality and distinctive designs, are the most well-known and well-liked Iran souvenirs. These are large, pile-woven fabrics with a range of symbolic and practical uses. According to some, a Persian rug is the oldest carpet ever made. Persian carpets are a fantastic example of how Iranians use their artistic talents to express themselves. The result is a creative and original design that astounds everyone. They are a wonderful synthesis of philosophy, math, and art.
There are certain rough carpet styles that are smaller and less expensive than carpets and rugs. Tourists may simply carry these carpets in their baggage. Examples include Gabbeh, Kilim (Gelim), Soumak, Suzani, and mat. Because of their intricate, rich designs that are challenging to weave, hand-woven carpets are typically pricey but completely worth the investment.
It is a proven truth that Iranian and Persian cultures are both inseparably woven via carpet making. The UNESCO Intangible Cultural Heritage List officially recognized the "traditional techniques of carpet making" in Kashan and Fars Province in 2010.
2.Miniature Paintings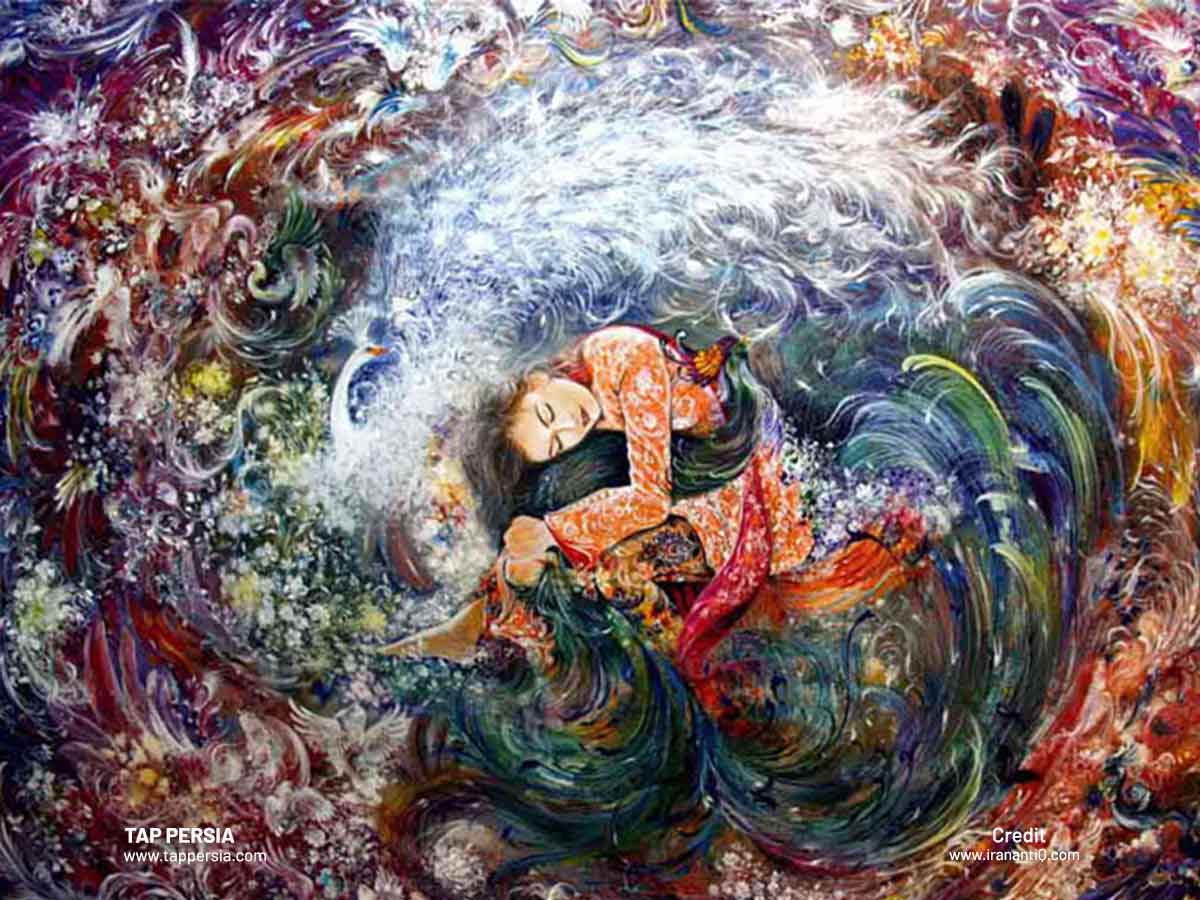 Persian miniature is one of the best Iran souvenirs and a classic kind of painting on paper that employs an artistic technique and typically depicts a mythical or religious topic. It is a type of pattern that is painted on canvases for paintings, on building walls and doors, in books and manuscripts, or on ornamental boxes. One of the Persian miniature's most noticeable aspects is its vivid and clean colors. When you visit palaces and gardens like Hasht-Behesht, Chehelsotoun, Ali Qapu, Fin Garden, and others, you will find exquisite miniature paintings. Due to Iran's lengthy history with miniatures, it is a fact that Iran has a rich artistic legacy in this field.
The representation of human beings in Persian art was never entirely outlawed by Islam, and in the miniature style, the depiction of humans—often in enormous numbers—is essential. The miniature is a private form that is maintained in a book or album and is only seen to those the owner selects, therefore this was partially the reason for it. So, it was feasible to express oneself more freely than in wall paintings or other works that were viewed by a larger audience.
The only country with tiny stores is Iran, and Isfahan, the country's miniature capital, is the ideal location. Mahmoud Farshchian and Hossein Behzad, two internationally renowned miniature artists, are well-known in Iran. The cost of each small piece of art varies according to the artist and his or her abilities. The picture's dimensions and overall subject influence the cost.
3.Pottery and Ceramics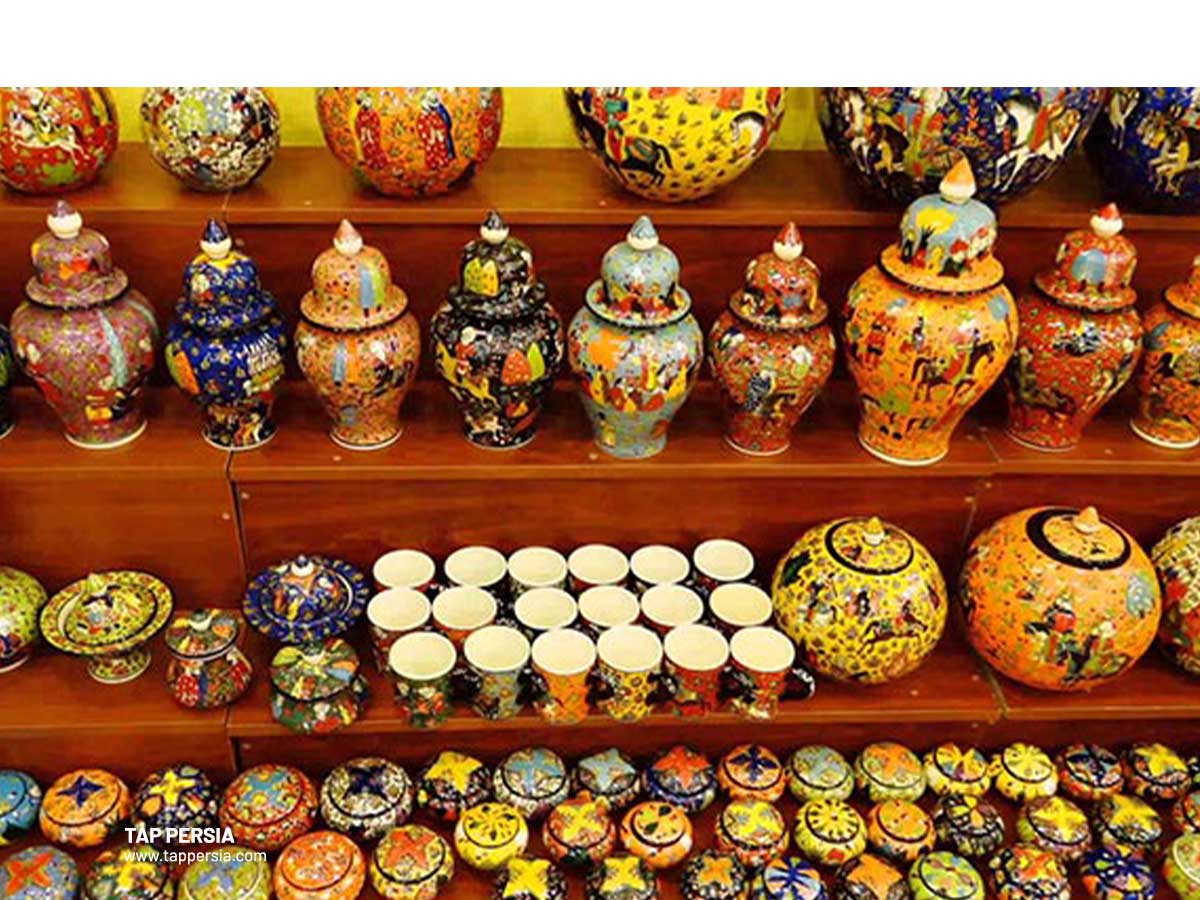 The use of ceramics and pottery has been important to human civilization for thousands of years. Containers formed of clay, including cooking or storage utensils, are commonly regarded as pottery. It becomes harder when heated at a high temperature. After body painting, pottery making was the first form of practical art to appear during the Upper Paleolithic. This is a creation of the human mind, yet it is inexpensive due to the readily available supply of raw materials in nature. When people began to create food after the time of food gathering, the necessity to keep food prompted the creation of storage containers like jars out of clay.
Iranian pottery is considered to be one of the best Iran souvenirs and the pinnacle of ceramic art and has a very long history dating back to the seventh millennium BC. Iranian potters honed their craft to a high standard, adapted to cultural shifts, and included a variety of new patterns into their aesthetic. Some well-known gifts from Iran are pottery and ceramics. Travelers will learn about the significance of pottery in ancient Iran when they visit Iranian museums, particularly the Museum of Ancient Iran in Tehran.
The majority of Iranian cities have stores that sell hand-painted plates, cups, mugs, and other ceramics as well as various types of pottery. Some of these pieces of art have conventional color schemes and patterning, while others fuse cutting-edge and classic styles. The advantage is that they can serve as a reminder of all the historic ceramics you have seen in Iranian museums. The center of this industry in Iran is located in Lalejin, a city in Hamedan that is recognized as the Middle East's pottery capital. In addition, Meybod in Yazd is recognized as one of the major hubs for the manufacturing of these handicrafts.
The first handicraft hamlet in the world was Kalpourgan Village in the southeast Sistan and Baluchistan Province, according to the World Crafts Council (WCC) of UNESCO. The history of Kalpoorgan pottery dates back 7,000 years.
4.Ghalamzani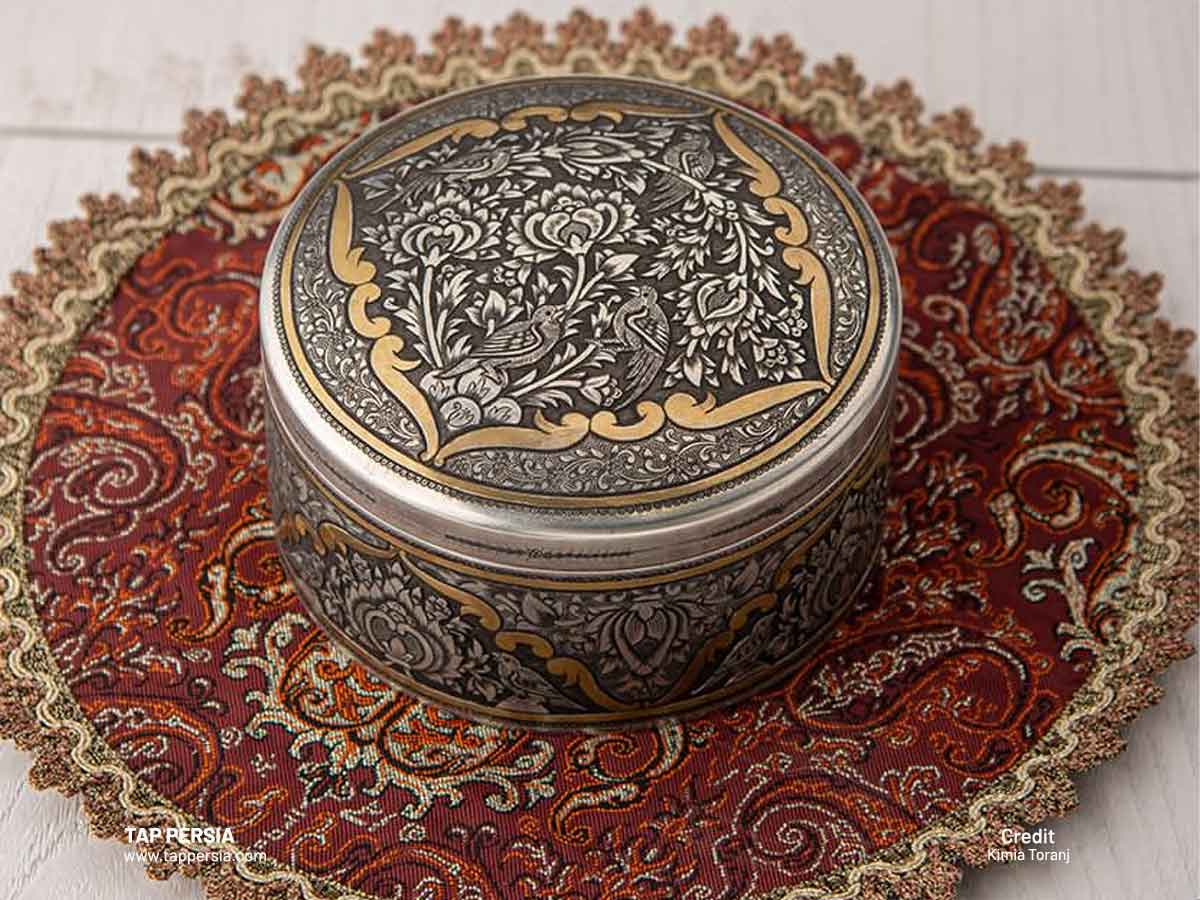 This metalworking technique, which is the Persian equivalent of "toreutics," engraves exquisite images and designs on metals including brass, silver, and copper. Iran's ancient handcraft, ghalamzani, has been made there for tens of thousands of years.
Many items, including vases, plates, sugar bowls, candlesticks, teaware, tablets, and other decorative items are subjected to ghalamzani. Esfahan may be the center of this craft, but you can also find stores with these stunning handmade items in Tehran, Tabriz, Mashhad, and other significant cities.
5.Traditional Clothing and Accessories
Throughout ancient times, Persian culture and civilizations have incorporated costumes. In actuality, each ethnic group's traditional attire reflects their way of thinking and culture. The several ethnic groups that have coexisted here for a very long period have preserved the ancient Persian culture in Iran. Because there are so many distinct ethnic groups in Iran, there is a very broad variety of clothing.
By selecting shrewd and imaginative clothing and accessories, you may develop your own distinctive and perfect look or purchase them as a wonderful gift for your loved ones as great Iran souvenirs. Due to the country's rich cultural diversity and wide range of clothing and accessory options, Iran is a place where you may find some very lovely attire.
6.Termeh and Other Hand-Woven Clothes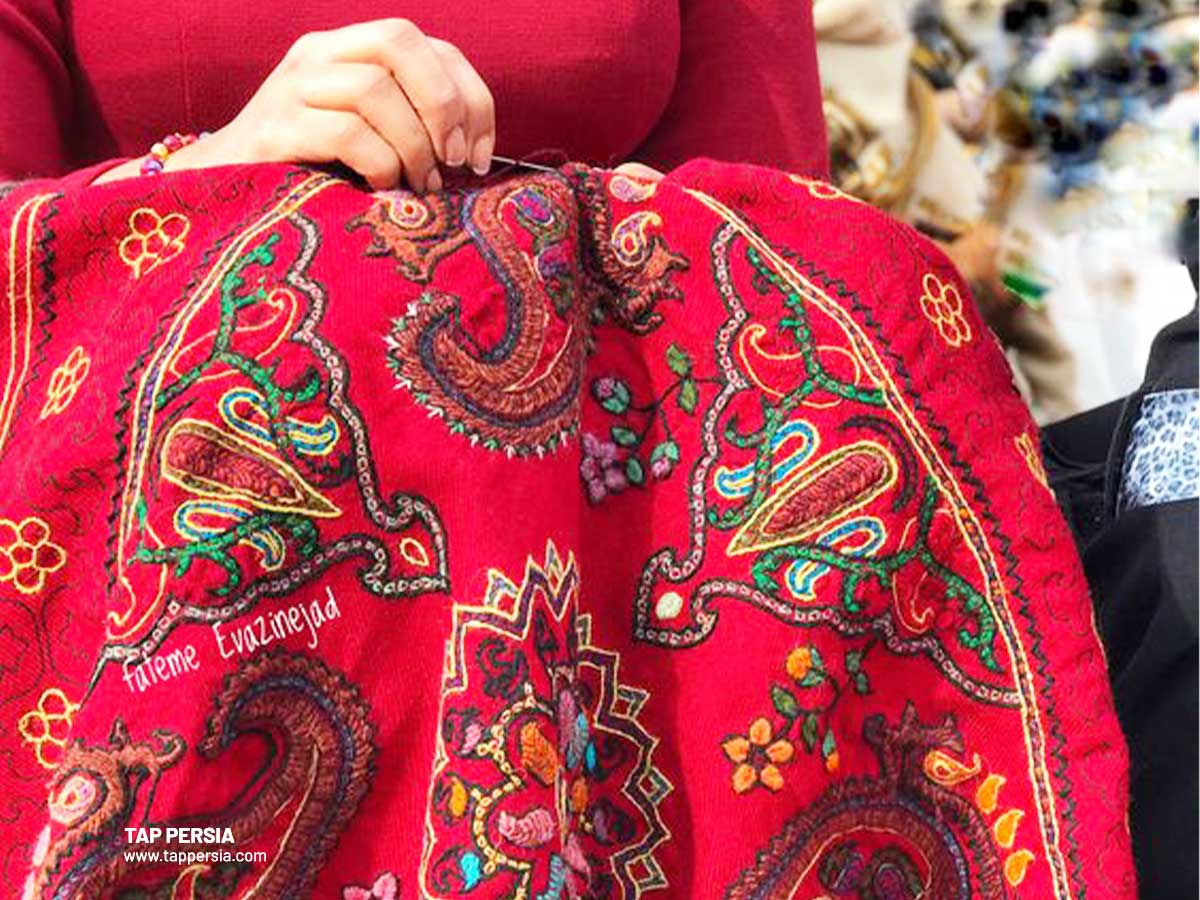 ranian hand-woven textiles might vary in terms of quality, wood, weaving techniques, tools, and reputation according to the city you are in. For instance, one the most well-known Iran souvenirs and a favorite among travelers are the embroidered textiles of Isfahan, which are manufactured with geometric and floral themes. Another Kerman souvenir is a particular type of embroidered cloth known as Pateh. These are hand-woven, naturally colored, beautiful wool textiles.
The term "Termeh" refers to a different variety that is well-known. It is arguably the most well-known handcraft of the ancient city of Yazd and is produced in a variety of shapes, including wallets, shoes, tablecloths, and even jewelry boxes. The fact that they are completely handcrafted gives these hand-woven, vibrant textiles their value; they are by far the most popular Iran souvenirs that visitors to Iran bring home.
7.Giveh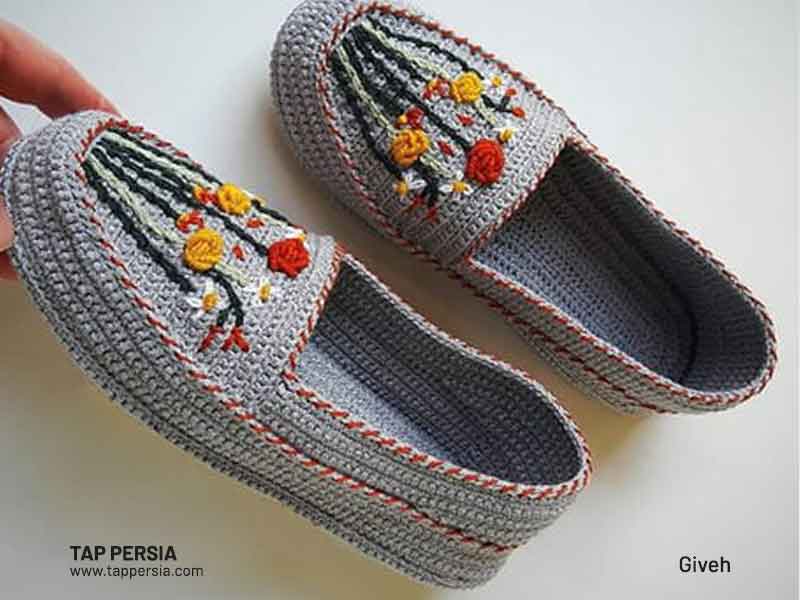 Iranian traditional footwear known as "Giveh" has its roots in Kermanshah and other hilly parts of the Zagros region. This kind of shoe is constructed to the greatest quality with a leather sole and a top made of woven wool. Due to their seams, they are cool and appropriate for usage in the summer, which accounts for their appeal among Zagros' rural residents
. Because of the initiative made by the young artists in the west of the country, modernized versions of Giveh have been created to refocus public attention on this age-old technique. Of course, tourists seldom purchase Giveh to really wear them. They buy these things to use as décor.
8.Calligraphy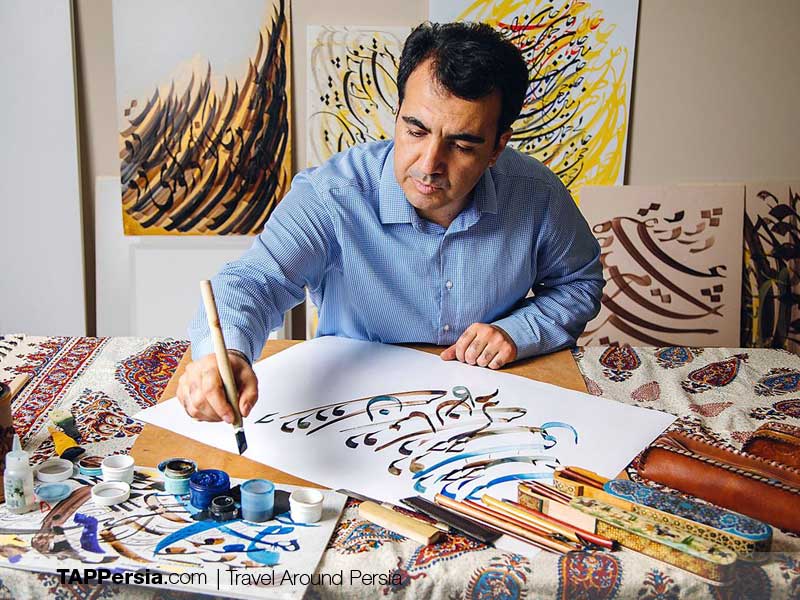 One of the most esteemed artistic disciplines in Iranian history is calligraphy which is among the top Iran souvenirs. Iranophiles have frequently praised the exquisite craft of calligraphy and its many flourishes. Persian arts are so dependent on the practice of Persian calligraphy that those without it appear to be lacking. More than any other country, Iran has enhanced and embellished old structures, metallic objects, and earthenware via the application of varied calligraphy.
Because of their exquisite and delicate calligraphy, the majority of the handwritten books in Iran, particularly the Holy Quran, and collections of poetry by Shahnameh, Hafez, Golestan, Boostan, and Khayam have gained recognition as priceless creative masterpieces.
9.Silverware and Jewelry
Given that using silver to manufacture utensils was prevalent throughout the Sassanid era, using silver to make utensils and to produce works of art persisted throughout the next age and was always practiced by modern artists. By the use of diverse techniques including hammering, etching, and other processes, silver is made into a variety of decorations and household items. Silver making is a really beautiful craft.
Several factories produce silverware in the city of Isfahan. Moreover, utensils made of silver, copper, or brass are shaped and molded using other arts, such as the skill of engraving. Keep in mind to use a soft towel to dry these dishes after washing if you are planning to buy them for yourself or you want to add them to Iran souvenirs.
10.Pistachio
Pistachios are tasty nuts that are grown on a little tree that is indigenous to the Middle East and Central Asia. The fruit of the tree is seeds, which are frequently eaten as food. Along with being delicious and entertaining to eat, pistachio nuts are also incredibly nutritious. Iran often charges less for nuts than other nations. A bag of mixed nuts, such as pistachio, almonds, cashews, walnuts, and so on, is worthwhile to purchase as an Iran souvenir since they are of great quality and have a pleasant flavor in Iran. Pistachios are the national delicacy of Iran and are the most popular nut. Pistachios from Iran can be eaten plain, salted, roasted, spiced, or flavor-infused.
Iran was the country that produced more than half of the world's pistachios. Pistachio is very well-liked in Iran, where many people refer to it as "Green Gold." The best time to buy fresh Persian pistachios is between September and October.
11.Gaz (Persian Nougat)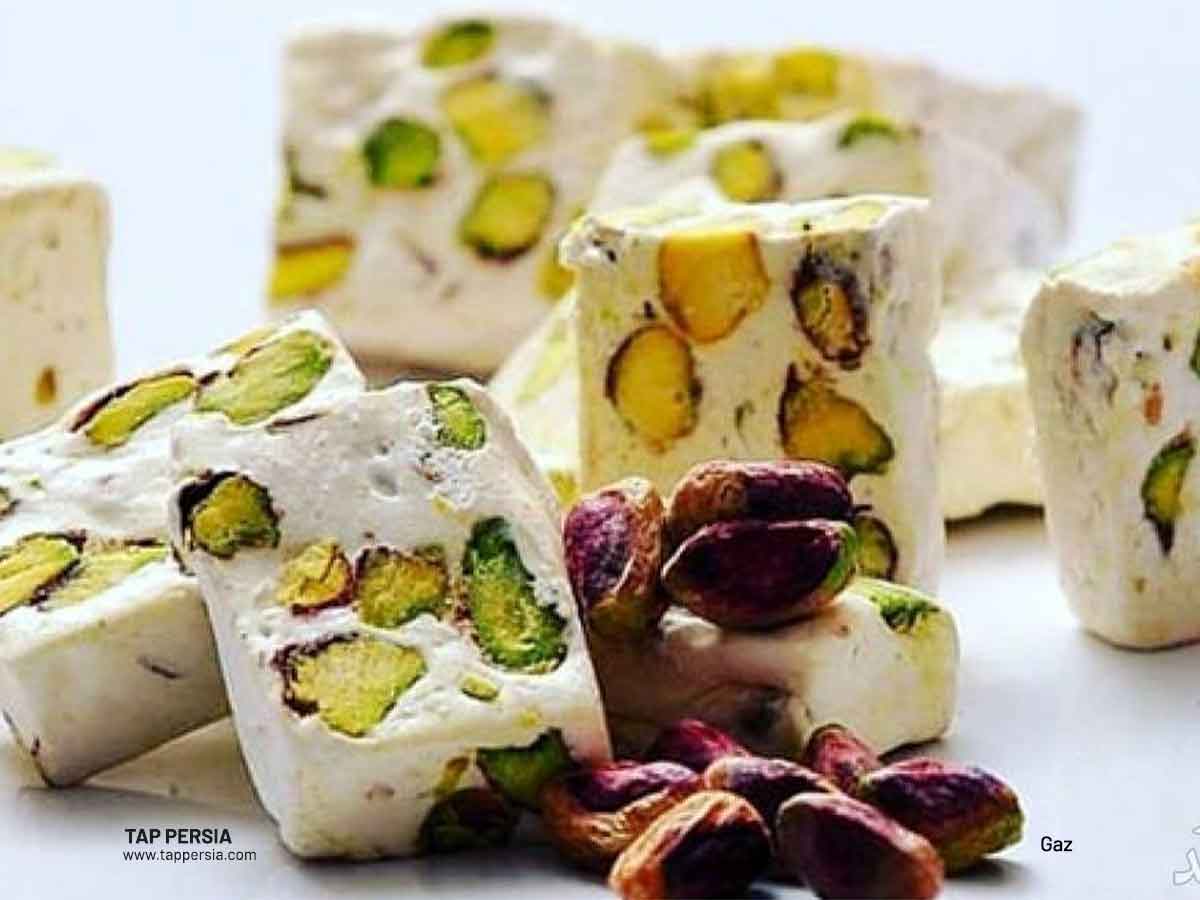 Gaz was invented in Isfahan and is a popular sweet in Iran. Persian Nougat is the prevalent name for it in the US and several European countries. One of Isfahan's most well-liked Iran souvenirs is the gaz. Because it has a nut garnish, this delectable treat from Persia qualifies as nougat. Manna is a source of raw ingredients found all throughout the city and is used to make this well-known treat.
The history of creating gaz in Isfahan dates back to 450 years ago when it was created using various types of wheat, bread, pistachios, almonds, chocolate, and rose water in both conventional and modern workshops. At rituals and on important days like Nowruz or the Persian New Year, gaz is offered alongside tea or other beverages. So make sure to buy this great souvenir among the top Iran souvenirs.
12.Tea
Iran's national beverage is tea, which also plays a big role in Persian culture. The most popular visitors to Iran are those who enjoy drinking tea and want to buy them as Iran souvenirs. Iran's Gilan and Mazandaran provinces in the north have been growing black tea for decades. Iranians also like drinking various organic herbal teas grown in their country, such as bitter orange flowers and rose petals.
Brewing time for Persian black tea is only a few minutes. Ceylon tea is among the greatest because of its superior quality, taste, and scent. Enjoy drinking your hot beverage after adding saffron candy rock ("Nabat") to make it sweeter.
When you enter an Iranian family's home, the tray of tea, complete with cups, teapots, and necessary sweeteners, is the first thing you see. As they anticipate that you would decline if they ask you whether you would like tea, they will just deliver it to you without of asking. In addition, they won't accept a refusal! The renowned Iranian hospitality has many lovely aspects, and this is just one more.
13.Rosewater and Perfumes
Roses have been utilized for centuries as a source of food, medicine, and fragrance. In order to flavor water, rose petals are steeped in it to create rose water, one of the pleasant and gorgeous products of Iran. In addition, it is a by-product of the distillation of rose petals that are used to make rose oil for fragrances, the hydro-sol component. It is used for religious purposes, as a culinary flavoring ingredient, as a part of several cosmetic and medical goods, and as a component in food throughout Europe and Asia.
Since the Sassanian period, when it was called Golaab from Gul (rose) and Aab, many aromatic flowers have been cultivated to make fragrances, including rose water (water). These days, Kashan is the main region in Iran where it is grown. You can't help but indulge in genuine, premium rosewater. It smells great all throughout your home as soon as you open the rosewater bottle's door. In many parts of Iran, it is one of the most vital components in a variety of sweets and cuisines.
The festival of roses and rose water is also held in Kashan every year in the second part of May. People frequently visit Kashan, the Iranian capital of Mohammadi Rose, all across the nation and internationally. Early May to mid-June is the best time of year to collect roses and make rosewater, making it a great time to buy one of the top Iran souvenirs.
14.Sohan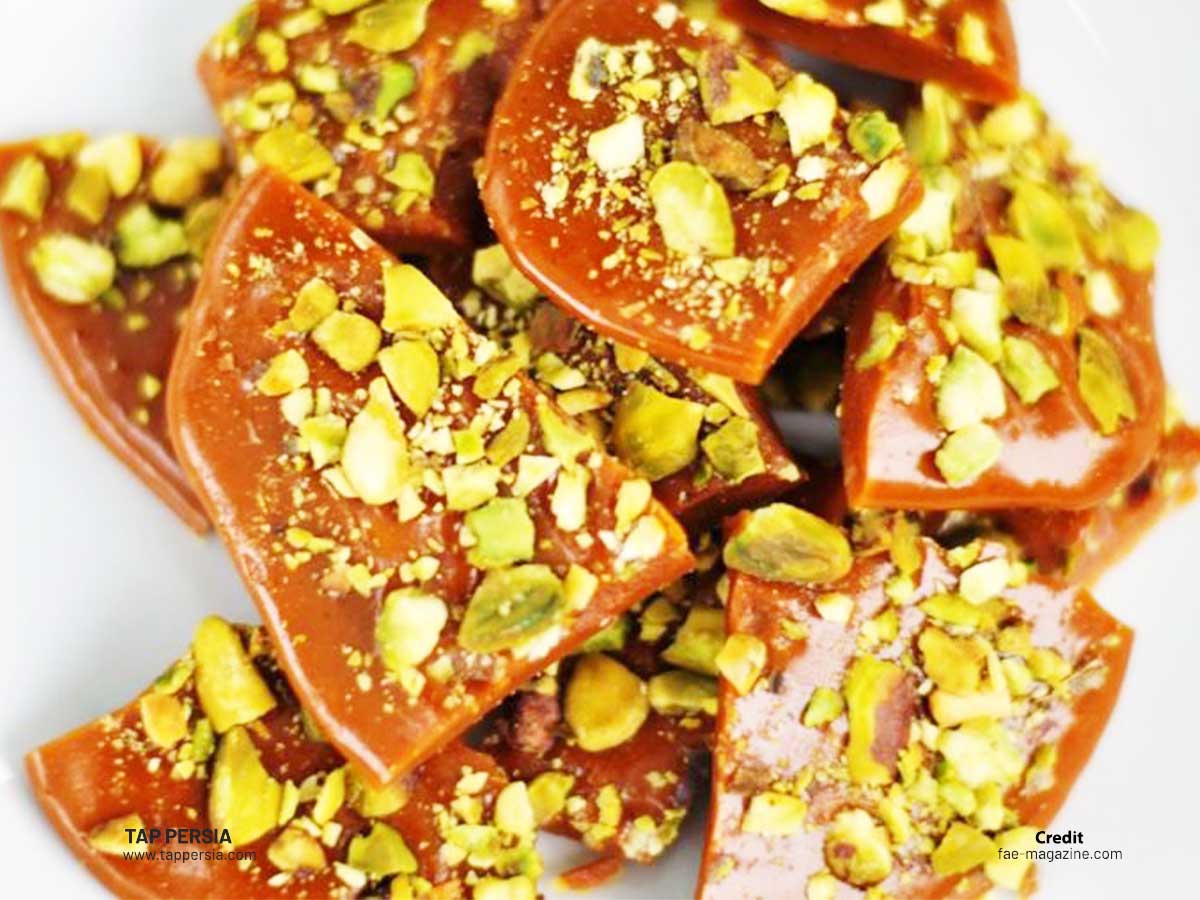 Sohan-e Qom is another name for the traditional saffron brittle toffee, which is mostly made in the city of Qom. made with pistachios or almond slivers and a variety of ingredients, including flour, sugar, wheat sprout, egg yolks, butter, rose water, saffron, and cardamom. You may find sohan-e-qom in the majority of cities, including Tehran, because it is sold all across the nation and is available in a variety of sizes, tastes, and quality. For tourists to have a feel for how it tastes before choosing a box or two as a souvenir to bring home from Iran, complimentary samples are provided at major Sohan stores.
15.Saffron (Red Gold)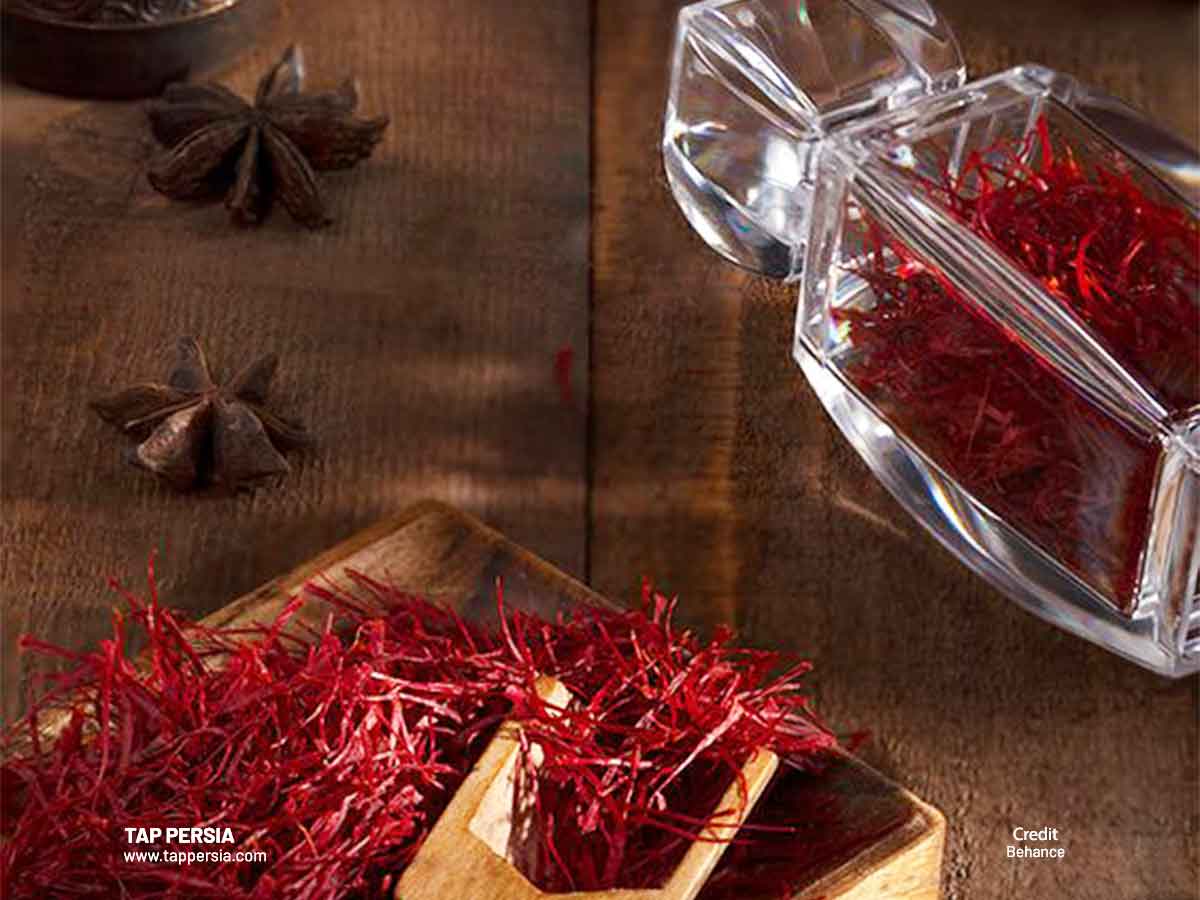 In the past, Iran's red diamond was traded to places like Greece, the Roman Empire, China, and Arab nations. 94% of the world's saffron is grown in Iran, mostly in the eastern area of Khorasan, making it the country that produces the most of this priceless spice. However, because of subpar marketing and packaging, massive quantities of Iranian saffron are shipped to other nations like Spain, where it is packed and re-exported under the national labels of those nations.
In Persian cooking, saffron is a key spice element, and it is also a highly popular Iranian souvenir among travelers from other countries. Saffron is mostly grown in the Khorasan area, whose major city is Mashhad, as was previously said, making Mashhad the finest location in Iran to purchase it as a souvenir.
16.Baklava and Qottab
Baklava is one of the most well-liked pastries not only in Turkey, where it originated, but also in Iran, Azerbaijan, Central Asia, and several Arab nations. The majority of baklava production in Iran takes place in the cities of Yazd, Tabriz, Qazvin, Ardabil, and Kashan. Even among visitors from other countries, this dish is particularly well-liked.
Pastries and sweets of all kinds are popular in Yazd. The delightful delicacy known as Qottab, which is prepared with flour, powdered sugar, vegetable oil, cardamom, and fillings of almond or walnut, is a well-liked sweet keepsake from Yazd. One of the earliest Iranian sweets, it is well-liked not just in Yazd but also in Kerman.
What are the Best Iranian Souvenirs to Buy?
Pistachios, saffron, Persian delicacies, cutlery, and other items are just a few of the numerous Iranian souvenirs available.
Where Can I Find Authentic Iranian Souvenirs?
The greatest cities to purchase Iran souvenirs are Isfahan, Shiraz, and Tabriz. There are other cities, including Yazd and Kerman, where you may get wonderful gifts.
What is the Significance of Persian Rugs as a Souvenir?
Each traveler to Iran must carry home a Persian carpet as a souvenir of their stay since it is one of the elegant Iranian handicrafts that is really reflective of Persian culture. Iran's most attractive souvenir is its famous Persian carpet, which is well-known across the world.
Can I Bargain When Buying Iranian Souvenirs?
Although there are certain set pricing in the bazaars, you may bargain for the majority of the items in Iran. You could find a wonderful deal if you unwind and enjoy yourself!
What are the Customs Regulations for Bringing Iranian Souvenirs Back Home?
Americans are permitted to purchase presents and souvenirs in Iran up to a total of $100 before returning home, according to Customs and Border Control.
What are Some Unique Iranian Souvenirs that Are Not Commonly Found in Other Countries?
Still very real, Iranian trinkets. The number of Chinese sculptures and reproductions of Persepolis figures that have recently been discovered in stores is significant, but it still falls well short of what is found in the majority of other locations. Persian handicrafts and sweets are the main Iran souvenirs you may buy in Iran. Aware and lovingly produced items that are exclusive to this region of the globe. No anything with printed landmarks, including plates, backpacks, batiks(Tehran souvenirs),or t-shirts.
Dive into the wonders of Iran's UNESCO World Heritage Sites. If you'd like to know more about it, go to this page.