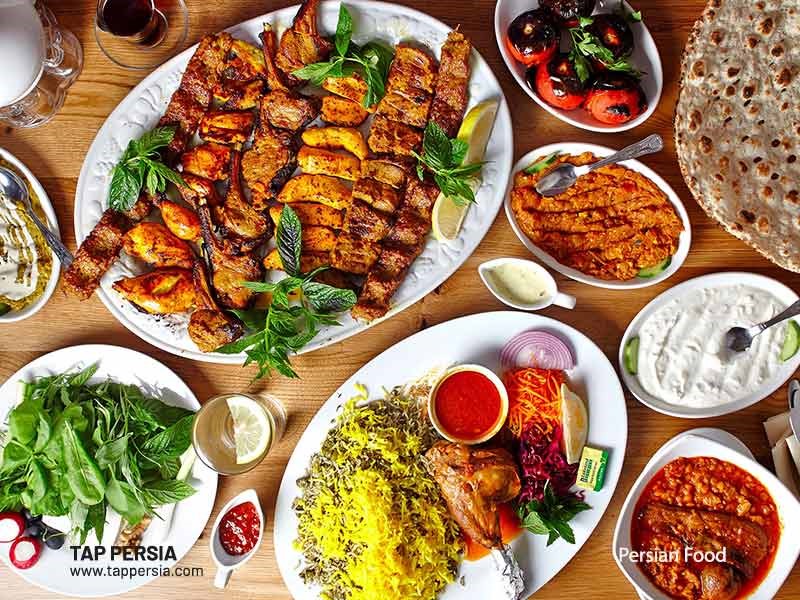 Persia is a rich country in tradition, culture, and history. There is a lot to explore in this vast country, Iran. And the food is not an exception either. Hosting a large number of different ethnicities due to the history and the vastness of the country has made it land with lots of stories to tell and lots of awesome experiences to indulge in.
For sure, you've read or heard a lot about the crazy beautiful landscapes and nature of Iran. And most likely you have known many of the historical places that are a must-visit on a trip to Iran. If you would like to learn more please visit this Address.
So let's dive into a delicious topic to find out a little more about Iranian food. Persian food is not an exception from other options we discussed above. The more varied and vast a country, the more diverse the ingredients that nature provides you with. And moreover, the more wide-ranging ethnicities, the more the variety of the food, as well as the culture.
Let me assure you that Iranian food passed the test long ago, according to what many many foreign tourists say. They love Iranian food, the taste, the smell, the freshness, and also the way they are cooked. Every day during your trip to Iran you can eat delicious Iranian food and surprise your stomach and enjoy yourself(Persian culture).
The 10 Most Delicious Iranian Foods
1.Khoresht-e Fesenjan
Fesenjan stew! A delicious Persian stew that has won everyone's hearts and is a number one cuisine for important gatherings and parties such as weddings. Fesenjan stew is prepared from ground walnuts, pomegranate paste, and chicken or meatballs. Let me add, this stew is originally from the north of Iran and they used to cook it with duck. But nowadays, it is more common with chicken.
Although this stew needs hours on low heat to be cooked, when you learn the trick you can prepare it at home as delicious as the original one. In different parts of Iran, this stew is made in different ways. The original one is neither sour nor sweet, although one of the main ingredients is the pomegranate syrup. But in some places, it is sour so they add more pomegranate syrup. And some add a little sugar to make it completely sweet.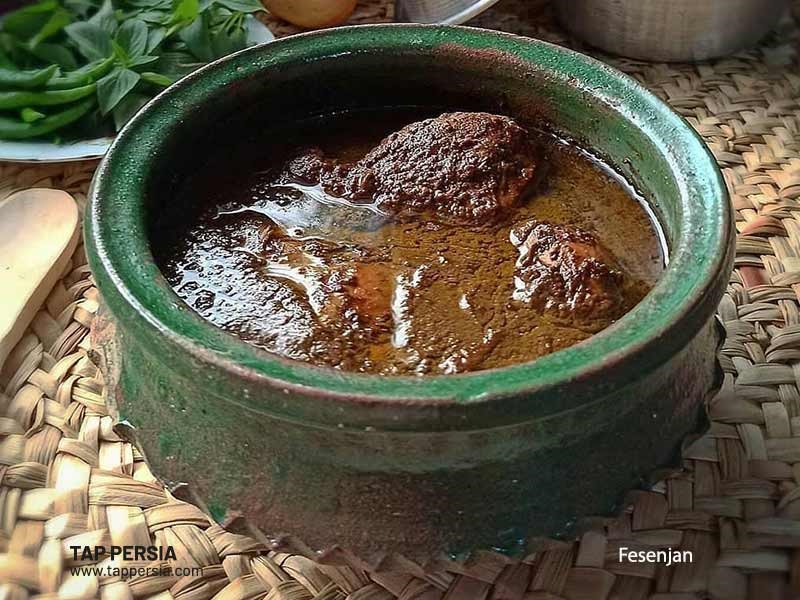 2.Zereshk Polo
Another one of the best Iranian dishes served especially at important gatherings is Zereshk Polo. And they often serve it with chicken. Zereshk Polo is prepared from the combination of barberry (Zereshk), saffron, and white rice.
And in addition to its delicious taste, it has a very beautiful appearance. The golden rice grains (Saffron rice) among the white ones plus the red color of the barberries are outstanding. Zereshk Polo with chicken is one of the most delicious Iranian dishes and has gained great fame in the world. Surprisingly it is so easy to make.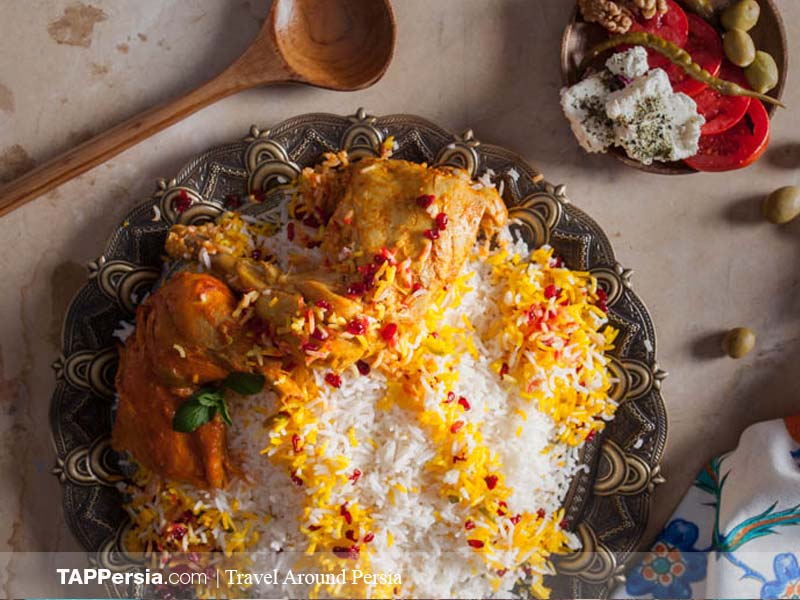 3.Khoresht-e ghormeh sabzi
If you ask Iranians what their favorite food is, many will probably say Qorme Sabzi! Ghormeh Sabzi stew is prepared with lots of aromatic vegetables, onion, Omani lemon, red beans (in some parts of Iran pinto beans and white beans), and sheep, veal, or lamb meat. The secret of this stew, like many Iranian dishes, is the cooking time. The longer you cook the stew at a lower temperature, the tastier it becomes. Iranians normally serve Ghormeh Sabzi with plain or saffron rice. And the experience of eating it will certainly be interesting and attractive for foreign tourists.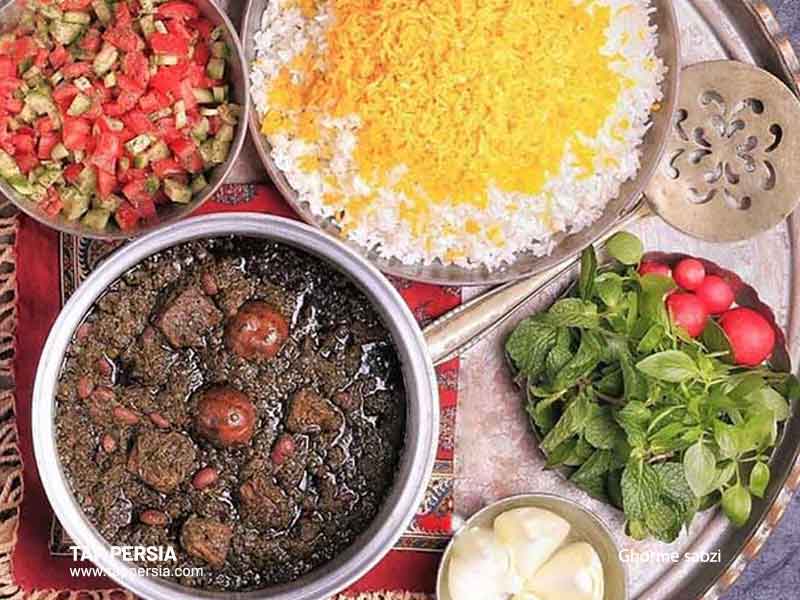 Let me add again, this stew also originally is from the north of Iran. This green part of Iran is so blessed with nature's kindness. Many different aromatic vegetables grow there. And some of them are the main ingredients of the original stew which gives it a heavenly fragrance.
4.Sabzi Polo or Baghali Polo ba Mahicheh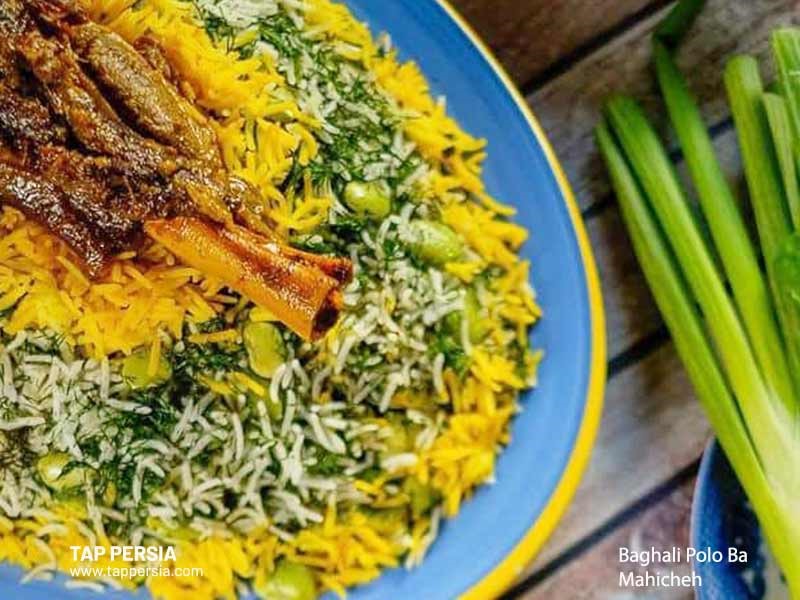 Sabzi Polo, if served with meat, is one of the most popular and delicious Iranian dishes, and many Iranians and of course, foreigners love it. To prepare Sabzi Polo, they mix white rice with saffron, and dill weed fresh preferably but dried dills work, too. And at the end, they serve it beside sheep meat or chicken.
Baghali Polo is much the same except for the Baghali (broad beans). They add some broad beans, fresh or dried, to the rice and serve it exactly the same. Baghali Polo with meat (Mahicheh) is one of the expensive meals in luxury restaurants.
5.Chelo Kabab Koobideh
Chelo Kabab (Kebab served with rice) is undoubtedly the most famous Iranian dish. And many people know Iranian cooking with Chelo Kebab. All kinds of kebabs, especially Koobideh, are very popular among Iranians and tourists. Koobideh is ground meat seasoned with minced onion, salt, and pepper. Kebab-e Barg is sliced lamb or beef, flavored with lemon juice, onion, and saffron with some butter.
As you might know, Kebab is usually served with grilled tomatoes and peppers, saffron rice, Dough (a drink made with yogurt), and fresh vegetables. Of course, sometimes Iranians eat Kubideh with bread instead of rice.
6.Khoresht-e Gheimeh
Another very popular Iranian dish is Khoresht-e Gheimeh. To prepare the stew, they cook the minced meat with onions, split peas, tomato paste, Omani lemon, and water until it is completely settled. They also use cinnamon and saffron for their taste and fragrance. Finally, they add fried potatoes or fried eggplant to the stew and eat it with plain or saffron rice.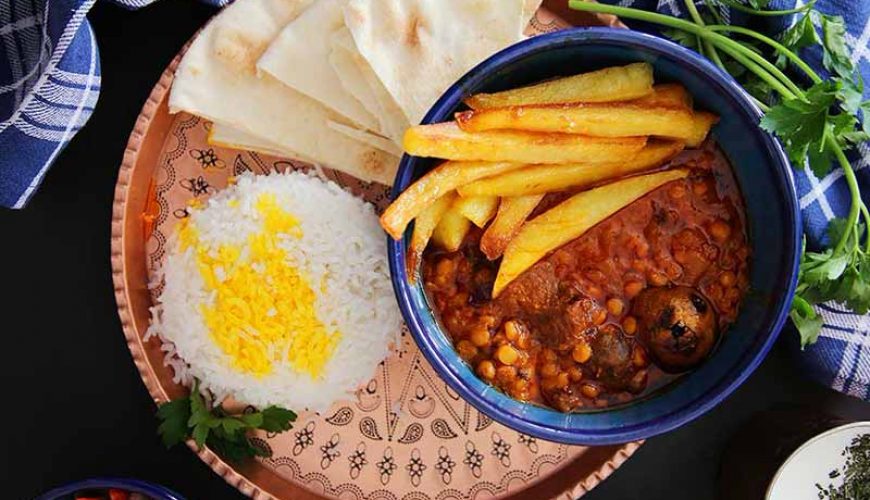 Gheymeh with fried potatoes is called Gheymeh Sibzamini. And Gheymeh with fried eggplant is called Gheymeh Bademjan.
7.Tahchin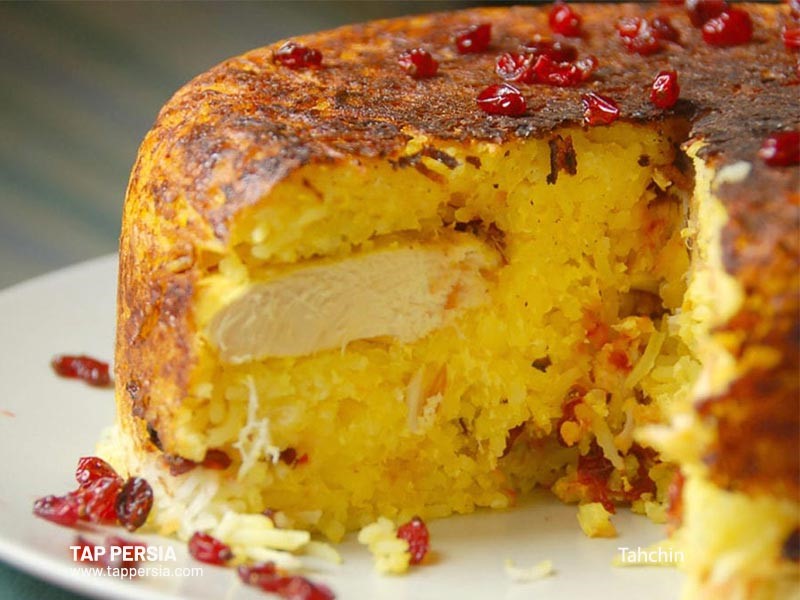 Tahchin is one of the most delicious and beautiful Iranian dishes, which has a very elegant and attractive appearance. It is interesting to know that foreigners call Tahchin Iranian cake because of its beautiful appearance. Tahchin is made simply with rice, yogurt, saffron, egg, and chicken filets. Some might even use meat, eggplant, etc.; But Tahchin with chicken is more famous.
8.Abgoosht
Dizi, which is also called Abgousht, is one of the most authentic Iranian dishes. Lamb meat is cooked with beans, onions, potatoes, and sometimes tomatoes until it settles. Then they serve it with bread, vegetables, butter, yogurt or Dough and onions.
Best Abgoosht is cooked in small individual stone pots. Each person has their own pot and they pour the watery part into another bowl, put the bread slices in it, and then eat it. Then they use a stone masher to mash the other ingredients and eat them separately. It is the traditional way. But you can do it the way you enjoy.
9.Persian Chicken Kebabs or Jujeh Kebab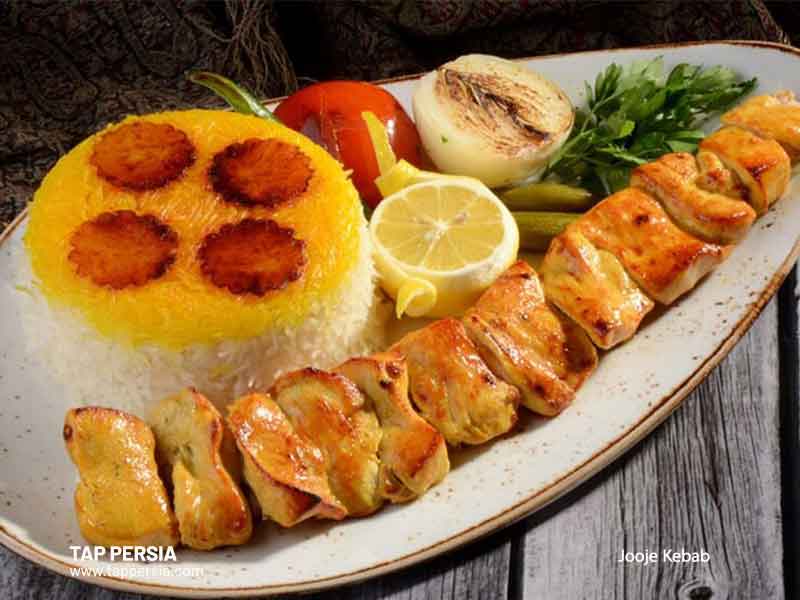 Iranians love meat and chicken, sheep and veal are definitely present in most Iranian dishes. One of the most delicious dishes is grilled chicken(Jujeh Kebab), which is grilled on charcoal and is very delicious. One of the traditions of Iranians is that when they go camping in the heart of nature, they definitely take the necessary ingredients to prepare grilled chicken. They grill the chickens right there on charcoal and fire! Grilled chicken is eaten with grilled tomatoes, saffron rice, and butter, which is a very delicious combination.
Additionally, in advance, they put the chicken pieces in a mixture of grated onion, salt, and saffron. This makes it much more delicious.
10.Ashe Reshteh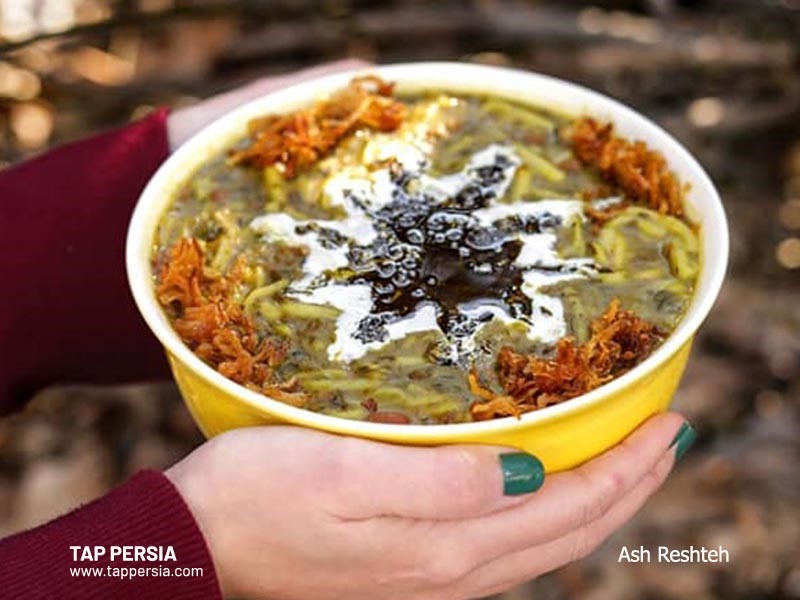 Ash is one of the traditional Iranian dishes, which is known as the simplest dish, not so easy to prepare the ingredients though. Ash Reshteh is one of the most common dishes that is cooked in different ways in different cities. This method, which is described in the following recipe, is the easiest way to prepare a yummy Ash. Vegetables include spinach, coriander, parsley, dill, and leek, which is sold as Ash vegetable. The amount of beans and chickpeas in Ash is also arbitrary, which is completely a matter of taste. They also add noodles (Reshteh).
The topping on the dish is essential and many Iranians are very skilled in decorating it. Fried onion, fried garlic, fried mint, and Kashk (made from drained yogurt) are among the main ingredients used for topping Ash Reshteh.
Other Top Foods to Try When Traveling in Iran
11.Kuku Sabzi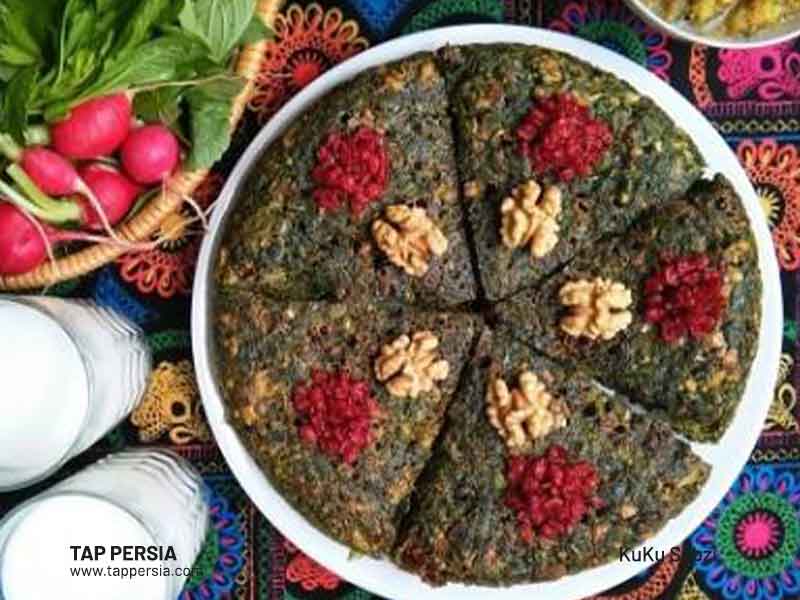 Kuku Sabzi and Sibzamini Kuku are some of the Kuku-s that most people like. It is often used for dinner or a snack, and it is very easy to cook. Kuku Sabzi is one of the most popular types of Kuku among Iranians. The most important component of this dish is the vegetables.
Every city has its own Kuku Sabzi, for example, Mazandarani people use different vegetables from what Tabrizi people use. But in general, the ingredients of this dish or appetizer are eggs and aromatic vegetables, and to change the taste and make it more delicious, they add chopped walnuts, barberry, or even beans.
12.Beryani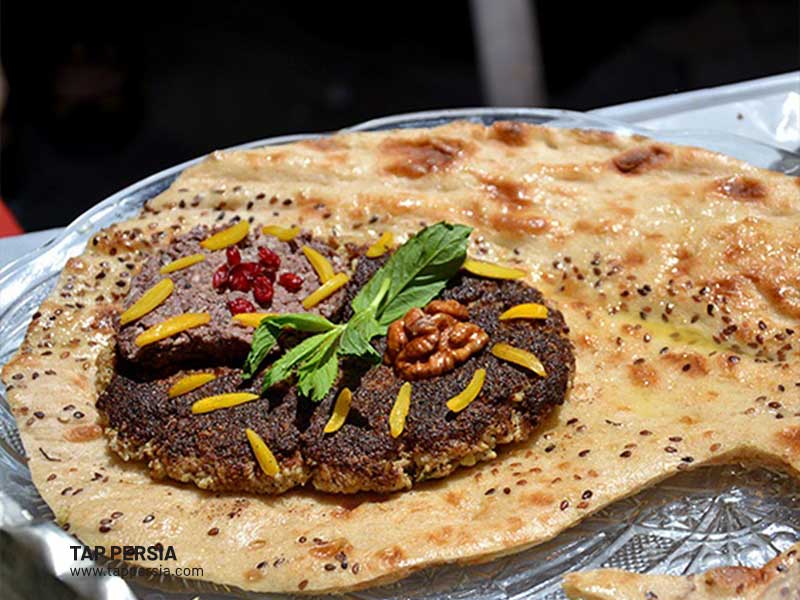 Biryani is one of the most famous and popular dishes of Isfahan city, which has spread all over the country due to its good taste. The best type of Beryani is prepared with mutton meat, which has a very good taste, but nowadays they also cook biryani with chicken, as well. This ancient and hearty dish consists of sheep meat, onions, lung of sheep, oil, turmeric, salt, and pepper. They decorate it with walnuts, and basil and serve it with vegetables, lime, and bread.
13.Albaloo Polo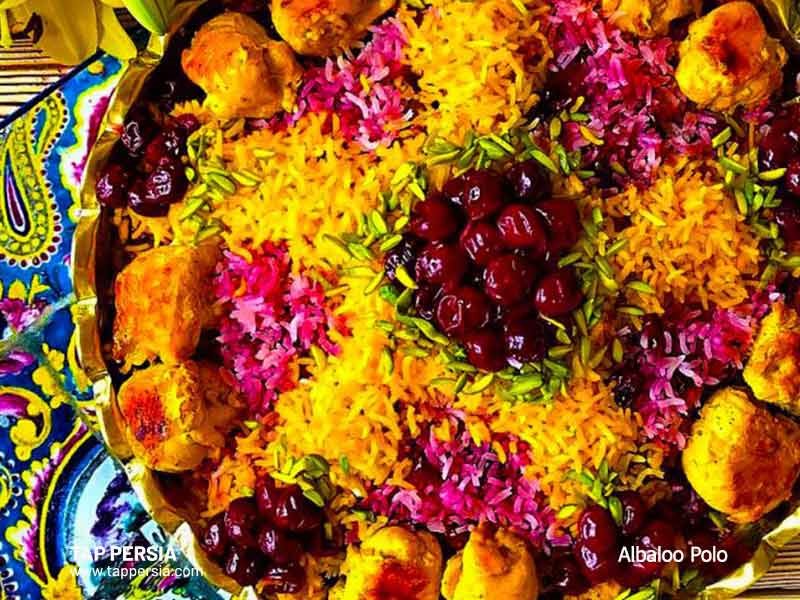 With its beautiful and colorful appearance, cherry (Albaloo) is considered a ceremonial food and is served at many parties and formal events. Albaloo Polo is one of the most delicious Iranian dishes and it is made with both red meat and chicken. Making Albaloo Polo requires special skills and not everyone can make it well.
14.Lubia Polo(Loobia Polo)
Lubia Polo is one of the most delicious Iranian dishes, which has special customs served. Iranians usually eat this food with bread or potato Tahdig, Shirazi salad, vegetables, and yogurt, which is a very delicious combination. To prepare this dish they use rice, chopped green beans combined with ground meat, onion, tomato paste, and various spices and placed it on low heat until it is ready.
15.Khoresh Bademjan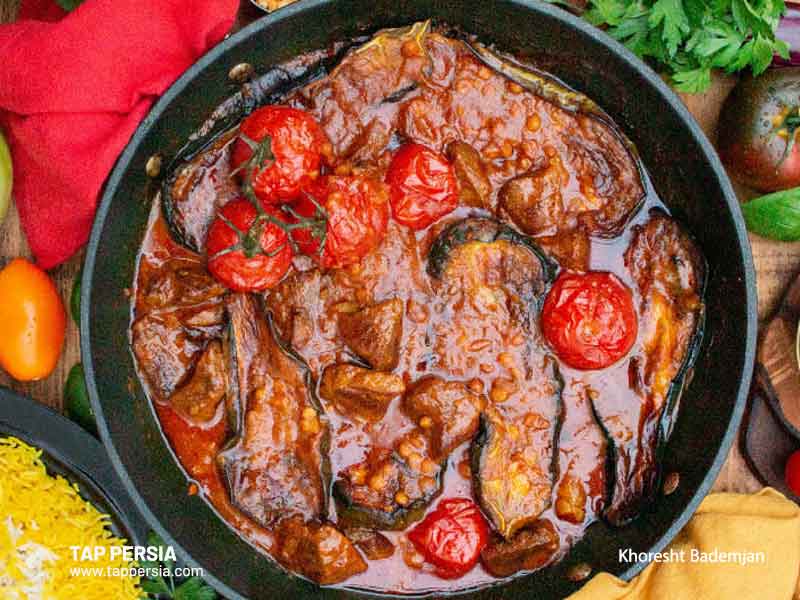 Eggplant (Bademjan) is used in many Iranian dishes and Iranian people love it. One of the most delicious dishes prepared with eggplant is eggplant stew (Khoresh Bademjan). To prepare this stew, they cook meat with onions and spices and then add fried eggplants and lots of sour grapes. Iranians often serve Eggplant stew with white or saffron rice.
16.Dolmeh
There are many types of dolma, and the most famous ones are grape leaf dolma (Dolmeh Barg Mo), tomato dolma, eggplant, and bell pepper. However, Barge Mo Dolma is more popular and many Iranians prepare this in the spring when the leaves are fresh, sour, and delicious. In Iran, dolmeh is considered one of the local dishes of the West and East Azerbaijan provinces, however, today this delicious dish is cooked all over Iran. The ingredients inside the dolma are a combination of ground meat, dolma vegetables, onions, split beans, etc.
17.Kufteh Tabrizi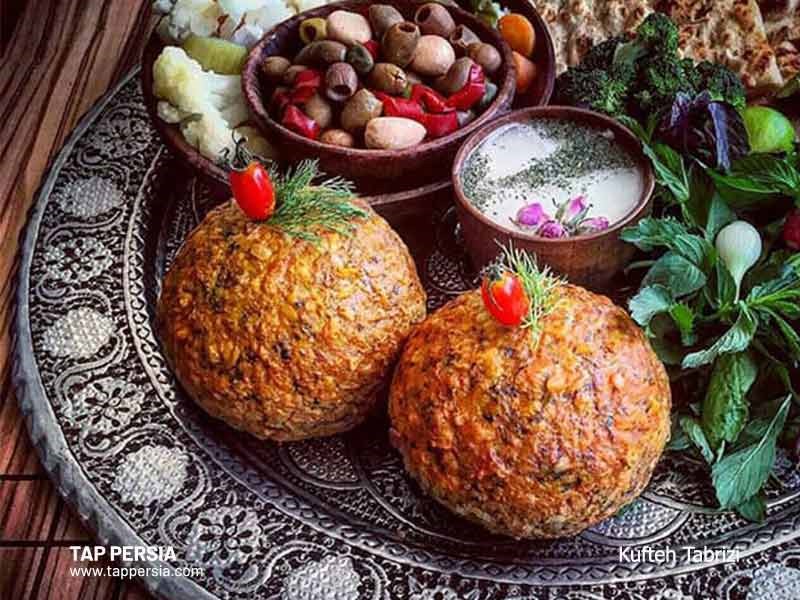 Kufteh Tabrizi, as its name suggests, is originally from Tabriz, but today it is prepared all over the country. and it is considered one of the most delicious Iranian dishes. Today we have many kinds of Kufteh, but Kufteh Tabrizi is the most famous and delicious. They use a combination of meat, split beans, vegetables, hard-boiled eggs, plums, walnuts, fried onions, and barberry to make the meatballs.
18.Kale Pache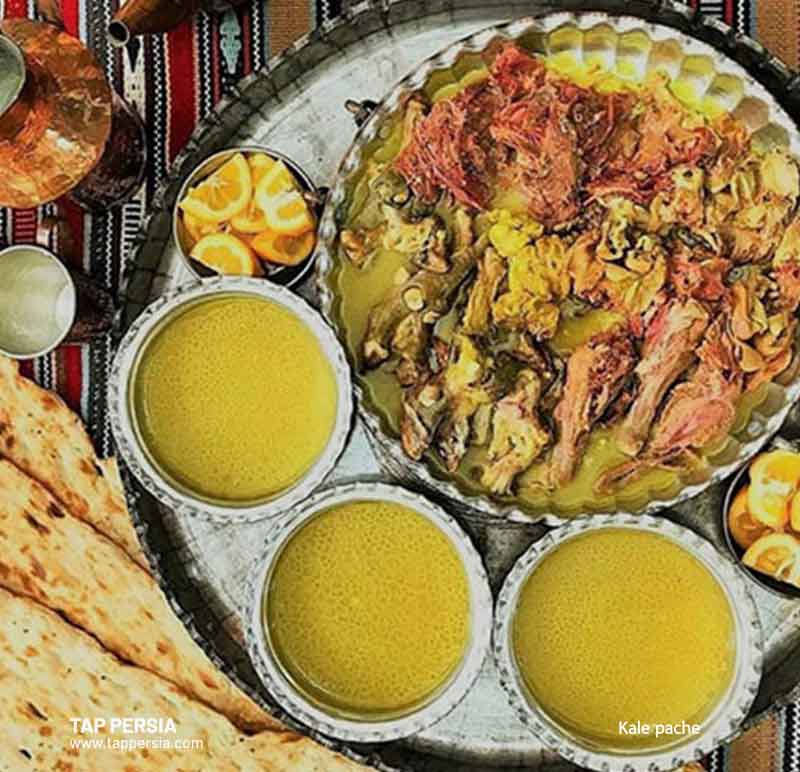 Kale Pache is a traditional dish in the Middle East and South Caucasus. The cooking method is almost the same in different countries. This dish is a traditional and old food that is still famous among people from the past until today. Early in the morning, many go to the serving stores to buy some or eat it there. Kale Pache is a very energetic and fatty food, and those who have high blood fat or high cholesterol and uric acid in their blood and suffer from gout should avoid eating it. Usually, it takes time to cook this food, and the cook must have good skills to cook it.
19.Sholeh Zard
Sholeh Zard is a dish made from rice, sugar, saffron, rose water, water, and oil. To prepare it, they first boil soaked rice in a pot of water, and as soon as it becomes soft, they add sugar syrup along with ground saffron. After the yolk is set, they add cardamom, rose water, and almond nuts to it. Then they do the topping with cinnamon, almond slices, pistachio slices, and coconut powder. Sometimes grape syrup or honey is used instead of sugar.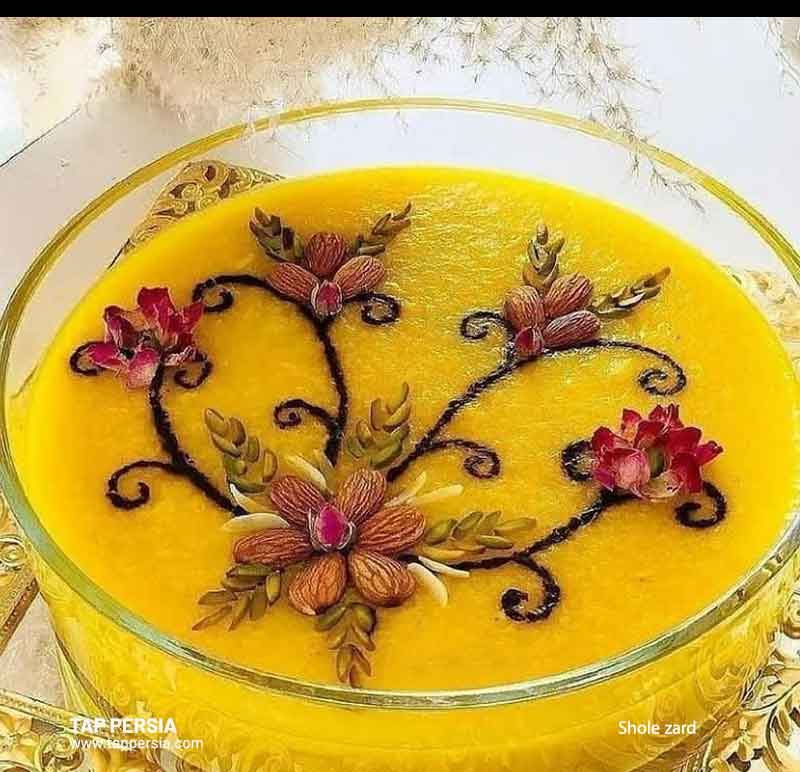 20.Mosama Khoresht
Alu (plum) Mosama stew is one of the most popular and delicious Iranian stews, which is considered one of the stews to serve with rice. This stew is prepared in different ways, the best kind of which you can find in the north of the country. Mosama stew is usually cooked with chicken, but it is also possible to cook with meat such as lamb and veal. Note that in order to use red meat, you must use a significant amount of meat for this stew. You can also use different plums in preparing this and add a little water to balance the taste.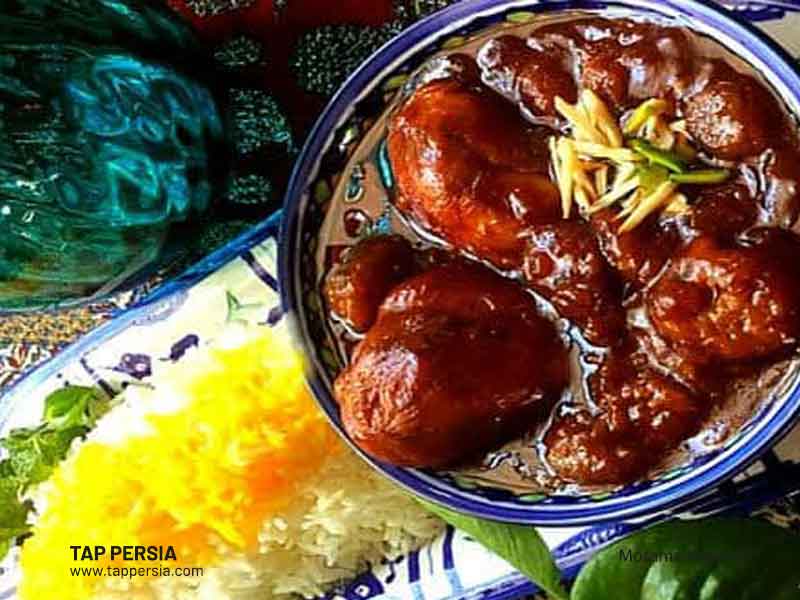 And Finally Top Foods You Must Try in Iran
Besides the dishes we've read about by now, let's see what are other must-tries in Iran;
21.Bastani Sonnati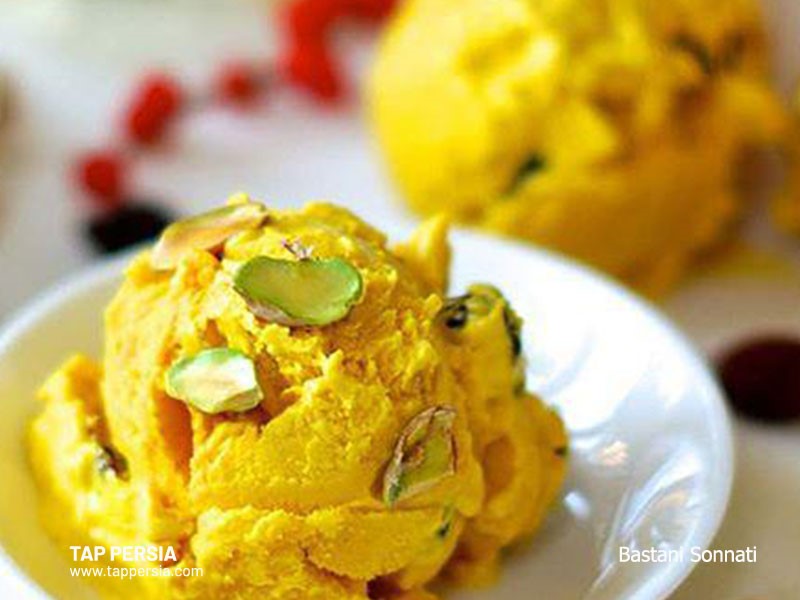 Traditional ice cream is one of the traditional and old Iranian desserts that are made with various flavors. It's interesting to know that during the Qajar period ice cream found its way to Iran. But like always the creative Iranians by adding some flavors like saffron and ingredients like pistachio gave it a Persian taste.
22.Pashmak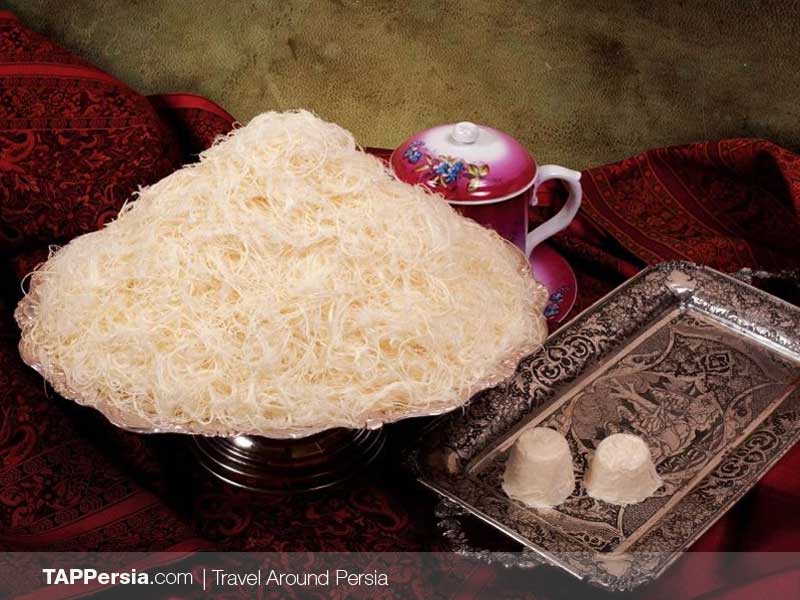 Pashmak(Persian snack) is a type of sweet that is prepared with simple ingredients. And its texture is in the form of thin strands and fibers that dissolve easily in the mouth. Maybe many suppose that this sweet has no benefits. But because cardamom, flour, vegetable oils, cocoa powder, sugar, saffron, and other additives are in it, it benefits the body.
How to make Pashmak
To make Pashmak, first, dissolve sugar in half a liter of water in a suitable pot, then put it on the heat and let the syrup boil. Now add vinegar to it and stir a little, then let the syrup reach the desired concentration, and then grease an oven tray. In the next step, after the syrup thickens and becomes thick, pour it into a tray and let it cool down and become like play dough. Now roll it, then fry the flour in oil and pour it on the bottom of the tray, and put the rolled candy on the flour.
At this stage, pull it from both sides and fold it in the shape of an English number 8 and circle it again, then pull it again from the two containers until the circle becomes bigger and repeat this again. Continue this until it becomes like small fibers, then Enjoy the delicious pashmak.
23.Qottab
Qotab is a popular sweet in Iran. It is interesting to know that this sweet is one of the famous sweets of Yazd and Kerman. The Yazdi Qottab consists of two parts, the outer layer, and the inner core. Its outer layer, which is bread fried in oil, consists of wheat flour, milk or yogurt, and egg yolk, which is rolled in powdered sugar after cooking. The inner core of this sweet is made of a mixture of almond powder, sugar powder, and cardamom, ground walnut. In Qutab Asali (Qutab with honey), the main sweetener is honey instead of powdered sugar.
Kermani Qotab is prepared in two types: walnut and pistachio. The outer layer is made with dough, decorated with powdered sugar, and filled with ground pistachio or walnuts. Qottab is considered one of the oldest and most authentic Iranian sweets. So that it is said that the history of its cooking dates back to the Achaemenid dynasty.
24.Salad Shirazi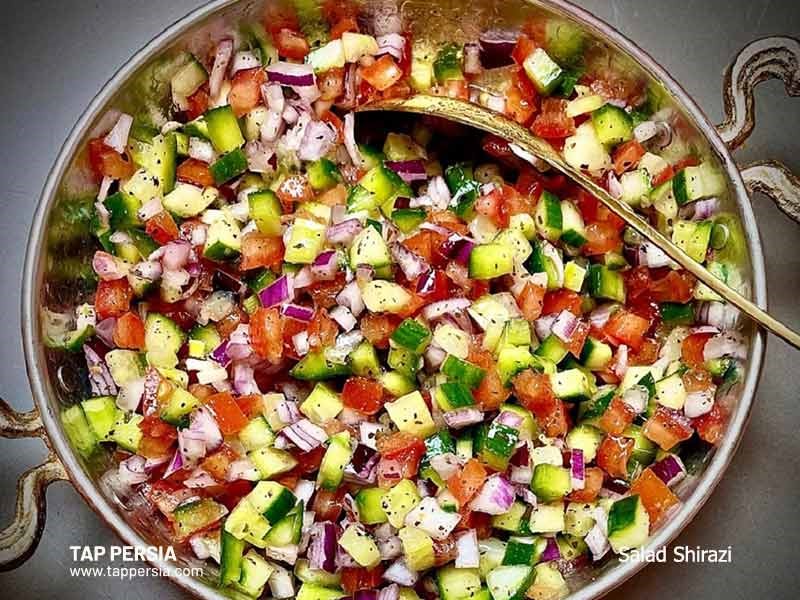 Shirazi Salad is a very delicious combination of cucumber, tomato, and onion, which has a unique taste when seasoned with lemon juice. You can serve it with almost all the dishes you eat with rice. Above all, it is very easy to make. To make this salad, it is enough to finely chop cucumber, tomato, and onion.
Then mix all three together and add a little lemon juice, water, and salt to it and serve. In this salad, you can use some chopped parsley or dried mint, as well. It may be interesting to know that instead of using lime juice from the store if you use fresh lime and squeeze it, you will experience a more unique and hearty taste.
Try to chop the necessary ingredients of Shirazi salad a lot to give this salad a better taste.
25.Tahdig
The ingredients at the bottom of the pot that is fried and stuck to the bottom of it are called Tahdig which is mainly rice, bread, or potato plus some spices to give it color and taste. Tahdig is one of the best and tastiest parts of food, every Iranian's favorite. If Iranians add any other ingredients to Tahdig then they call it Tahchin.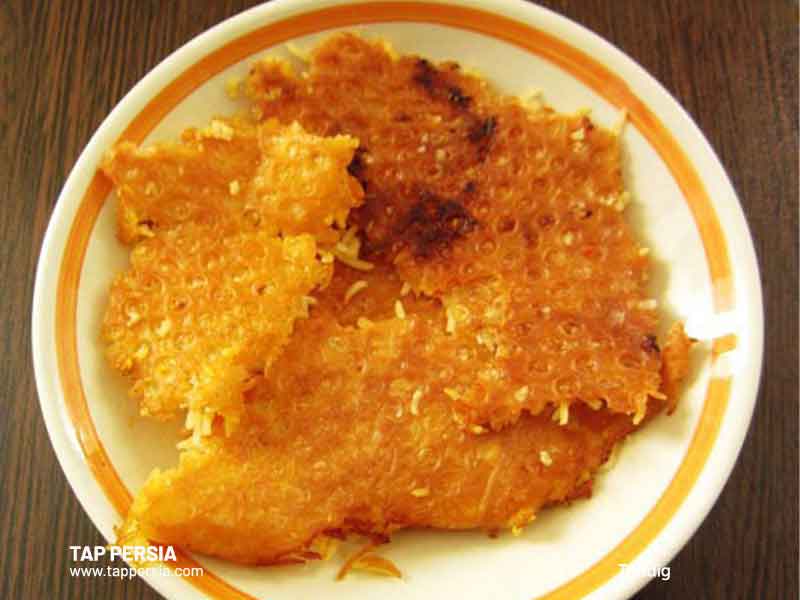 When making the rice, first they boil it and when it is a little soft, they put it in a colander. Now it's time to make Tahdig. They pour some oil into the pot and add some cardamom, saffron, etc. to the oil and fry a little bit of the rice, bread, or potato depending on what Tahdig they are going to make. For instance, for potato Tahdig they cover the whole bottom of the pot with potato slices and fry them. When the slices are fried and ready, They add the rice on top of the potato slices and leave it on slow heat. All this, in order to make delicious Iranian rice with a yummy Tahdig.
26.Zulbia
Zoolbia and Bamiyeh are famous and very popular Iranian sweets that are used as special sweets in the holy month of Ramadan for iftar. Bamieh sweets are very similar to Arabic Legimat sweets. Zoolbia and Bamiya have existed since the time of Naser al-Din Shah. But it is not possible to find the exact date of the origin of Zoolbia and Bamieh. To make Zoolbia you need yogurt, white pastry flour, corn starch, liquid oil, instant yeast, sugar, lukewarm water, and ground saffron.
27.Halim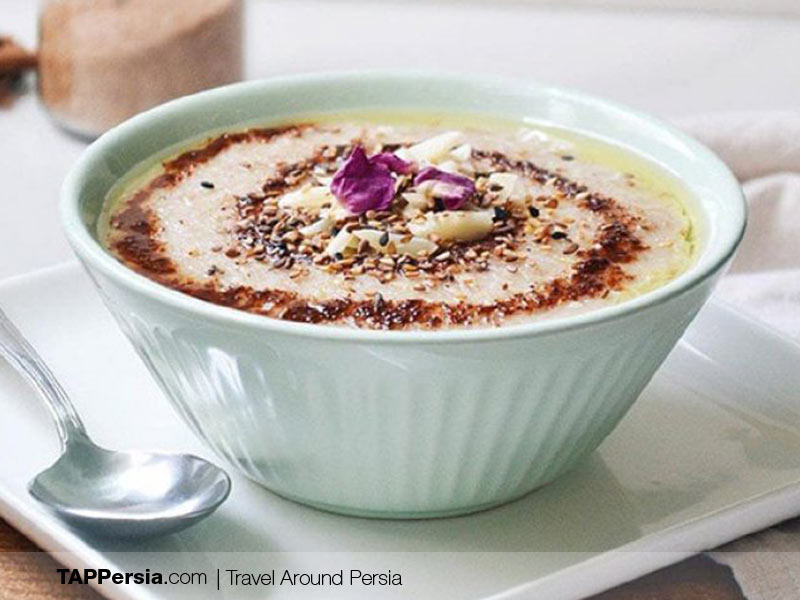 Haleem Gandom (Wheat) is one of the most delicious foods that are in great demand during the months of Muharram and Ramadan. It is also considered an extremely delicious and appropriate Iftar in the month of Ramadan. This delicious dish is usually served for breakfast in other months than Ramadan. You can prepare this food in different ways, but the most common way to prepare Halim is to make it with wheat and bulgur. Red meat, especially lamb or turkey, is preferably used to make delicious Halim. But sometimes some people also prepare it with chicken, which is relatively less tasty.
28.Kotlet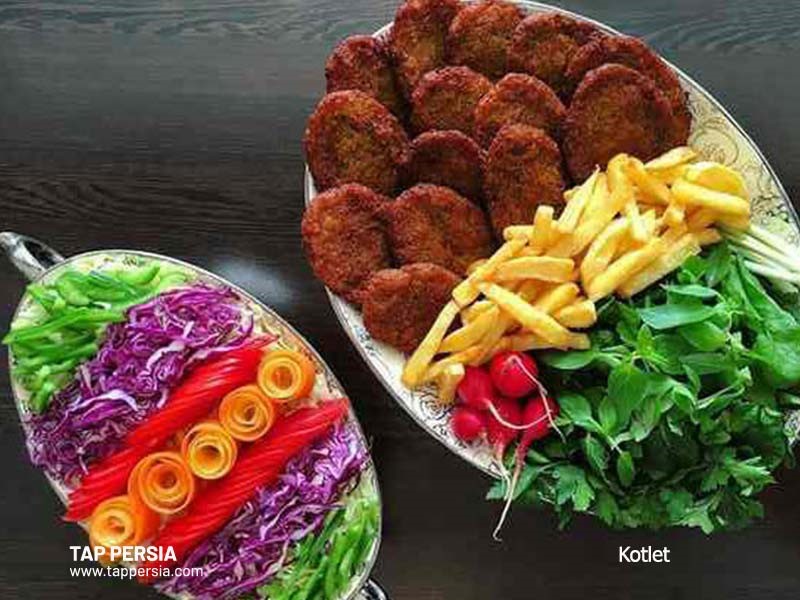 The way to prepare Kotlets is similar to Kuku, with the difference that the minced meat is mixed with grated potatoes and onions, eggs, a little flour, and spices. They take small proportions of the mixture and shape them like a semi-flat circle and fry them. They serve this dish with bread, vegetables, tomato, and pickled cucumber. Meat cutlets, fish cutlets, chicken cutlets, and soy cutlets are among the types of Kotlets.
29.Shami
Shami is very similar to Kotlet, with the difference that the meat used in Shami is first cooked and then minced. There is no sign of grated potato in Shami and no veggies. Some sometimes add cooked ground beans, split beans, bulgur, lentils, or chickpeas to it, as well. Shami is prepared as well as Kutlet. And even served in the same way.
All kinds of Kuku, Kotlet, and shami are served both hot and cold, and for this reason, these foods are suitable for picnics and trips. Sometimes, they serve different sauces with these dishes, especially for dinner.
30.Sosis Bandari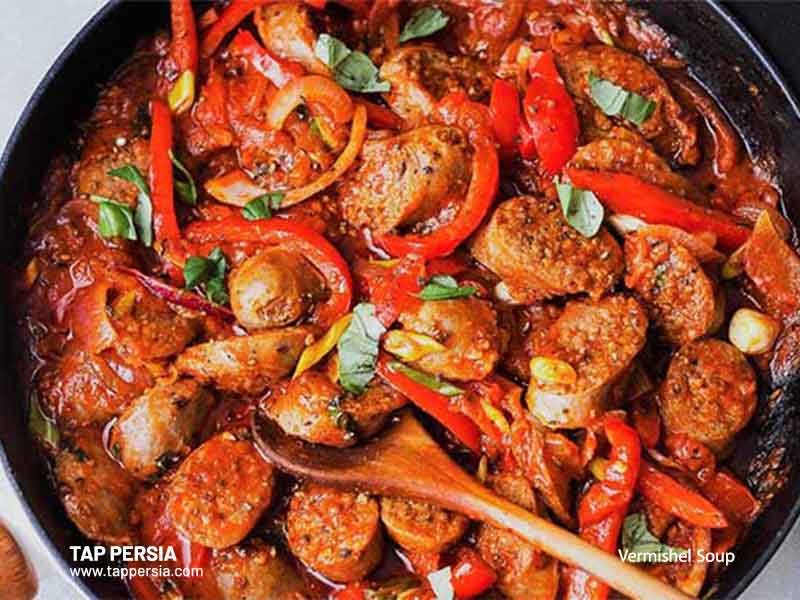 Bandari sausage (Sosis) is one of the types of Iranian sandwich foods, whose origin belongs to the southern provinces of our country. This delicious and instant food was gradually transferred from the south of our country to all Iranian cities due to its extremely delicious taste. And today it has become one of the most popular sandwich dishes. The original Bandari sausage is prepared with a combination of sausage, onion and flavorings, but in some restaurants, in addition to these ingredients, they also add mushrooms, cheese slices, etc.
Traditional and delicious ingredients of Mirza Ghasemi include garlic, eggplants, eggs, tomatoes, liquid oil, and salt and black pepper.
31.Ab Doogh Khiar (Cold Yogurt Soup)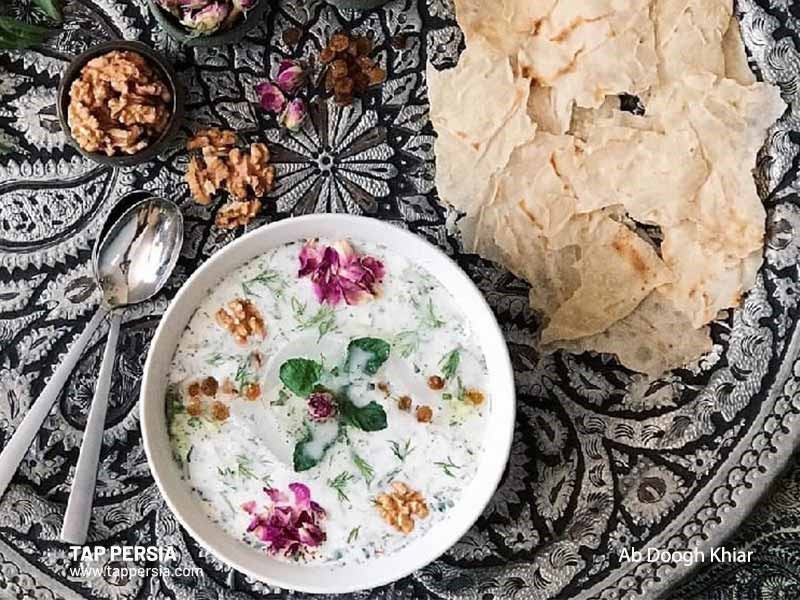 Ab Doogh Khiar, or Persian cold yogurt soup, is one of the most popular snacks and summer foods. As a popular food in the summer season, this food is one of the healthiest foods that can provide you with the fiber, vitamins, and minerals you need. Mint and basil in it are anti-flatulent and anti-stomach irritation.
Its tarragon is aromatic and appetizing, the cucumber in it has vitamin C and quenches thirst. Yogurt and doogh, which are the main ingredients, contain calcium and protein. Raisins and walnuts in this food are also rich in potassium.
32.Dougho Gooshfil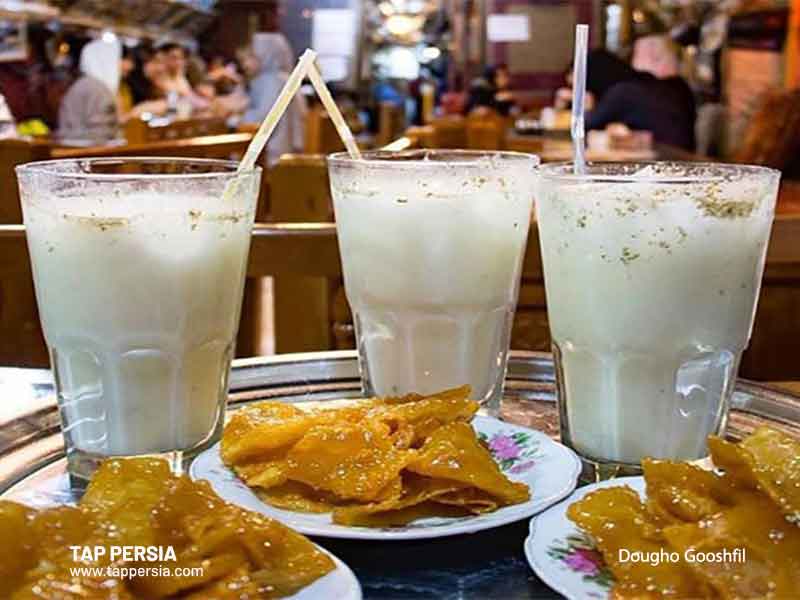 One of the delicious and famous combinations of Iran, which most people consider to belong to the beautiful city of Isfahan, is Dougho Gooshfil(Iranian drinks). First of all, it is very surprising for people who have never tried this, how two completely different flavors (salty and sweet) can be combined. Many of those who have resisted trying these two combinations, when they do completely change their minds and even recommend them to others. The name of the sweet (goosh fil) is derived from its resemblance to an elephant's (fil) ear (goosh). Goosh Fil, as well as Zoolbia and Bamia, is very common and popular in the month of Ramadan.
33.Vermishel Soup or Chicken Noodle Soup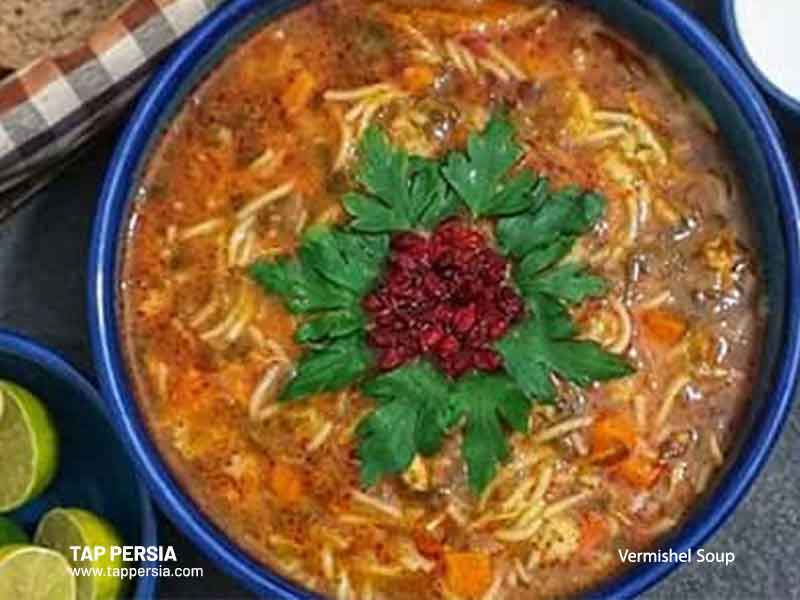 Vermishel soup, which is also known as noodle soup, is one of the hearty and delicious soups that is mostly prepared to treat colds. However, this delicious soup is often served as an appetizer. The name of this soup is derived from Vermishel noodles. Vemishel noodles are made from a mixture of flour, salt, and water. One of the reasons that Vemishel soup has a lot of glazes is because its noodles are made of flour. Nowadays, there are different models of Vemishel available in the market. You can prepare this soup as you like. It is very suitable.
The ingredients are onion, chicken, carrots, tomato, liquid oil, chopped Vemishel noodles, tomato paste, salt, black pepper and turmeric, parsley, and lemon for flavoring and topping.
34.Salad Oloviyeh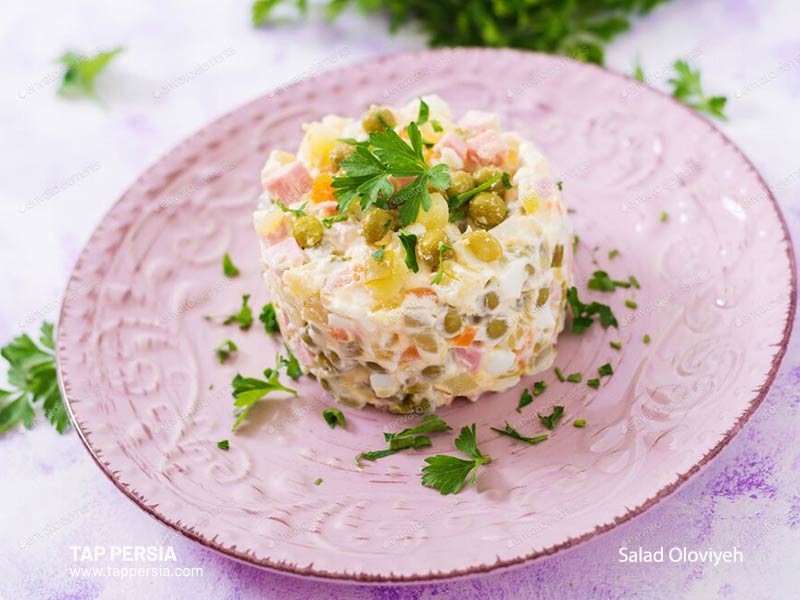 The origin of the salad Oloviyeh is Russia, but this salad is very popular among people, especially Iranians, due to the ease of its preparation. Moreover, it is a suitable choice for parties as finger food. This cold food is known all over the world.
To make Oloviyeh you will need potatoes, boiled eggs, pickled cucumber, canned green peas, lemon juice, chicken, olive oil, mayonnaise sauce, salt and pepper, and carrots.
35.Kashke Bademjan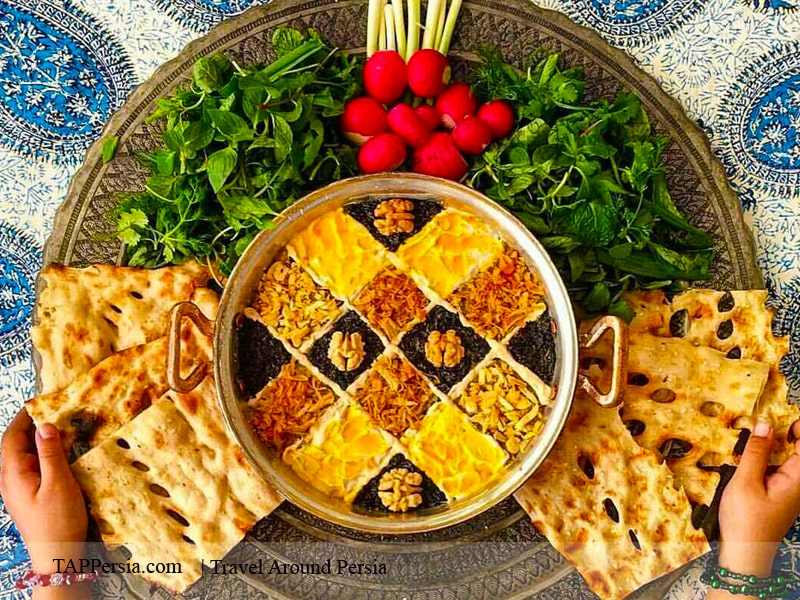 Kashke Bademjan is one of the original and old Iranian dishes, which is known as a very delicious side dish. This delicious dish is made from eggplant (Bademjan), Kashk, onion and garlic. And Iranians normally serve it with bread. The main origin of this dish is Isfahan and Zanjan. As they say, in order to have a quality Kashke Bademjan, it is better to use eggplant with dark and shiny skin.
36.Mirza Ghasemi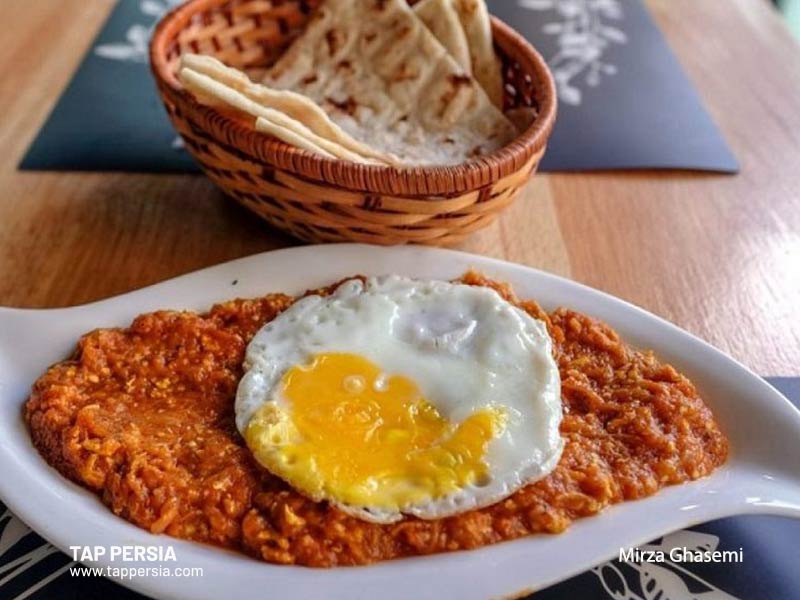 Mirza Ghasemi is another delicious and popular dish in our country. Originally it belongs to the northern provinces of the country. This delicious dish is prepared with grilled eggplant and garlic, and because of this, it has a smoky taste. But the history of Mirza Ghasemi, which was invented by Mohammad Qasim Khan Vali, spread during the time of Nasereddin Shah, and his name was also chosen for this dish. Mirza Ghasemi is mostly served with rice in Gilan and other cities, but it is also very delicious with fresh bread.
Traditional and delicious ingredients of Mirza Ghasemi include garlic, eggplants, eggs, tomatoes, liquid oil, and salt and black pepper.