Wanna list up tasty though easy to cook Persian sandwiches for a party? Then Sosis Bandari Sandwich should be on top of your list! This mouthwatering sandwich can be served with a flatbread or a baguette as the main Persian food or simply as an evening snack when you're planning a birthday party. Read more to find an easy to cook Bandari Sandwich recipe!
Sosis Bandari Ingredients (For 4 people)
300 gr Beef Sausage
3 medium Potatoes
1 large onion
4 tablespoons of Tomato Paste
2 large garlic cloves (optional)
Salt, black pepper, turmeric½ cup of boiled water
Vegetable oil
50 gr Tomato, pickles and fresh herb platter (optional)
How to make Persian Spicy Sausage Potato Sandwich?
(Sosis Bandari Recipe)
Step 1
To make a tasty Sosis Bandari sandwich, you need to start with dicing potatoes into small cubes and using a separate pan to cook them lightly.
Step 2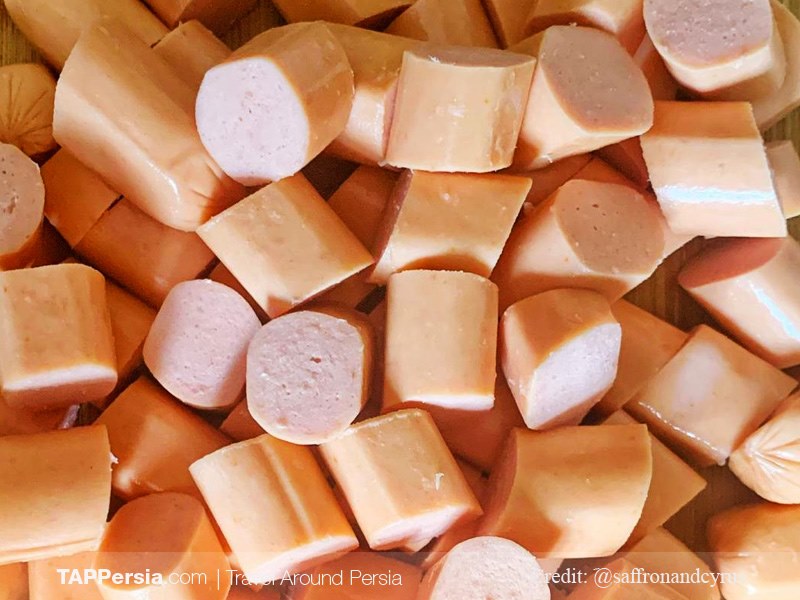 While potato cubes are cooking, it's time to saute the onion which's been sliced into strips, in another pan. Keep stirring them till they turn golden. The oil and turmeric should be added, as well. Garlic or garlic powder is optional to add in this stage.
Step 3
After slicing the beef sausages, add them to onions and fry them very well till both sides of sausages turn into light brown.
Step 4
Tomato paste, salt, black pepper powder, and ½ cup boiled water should be added and mix well. You can also add red hot pepper, adjusting your taste.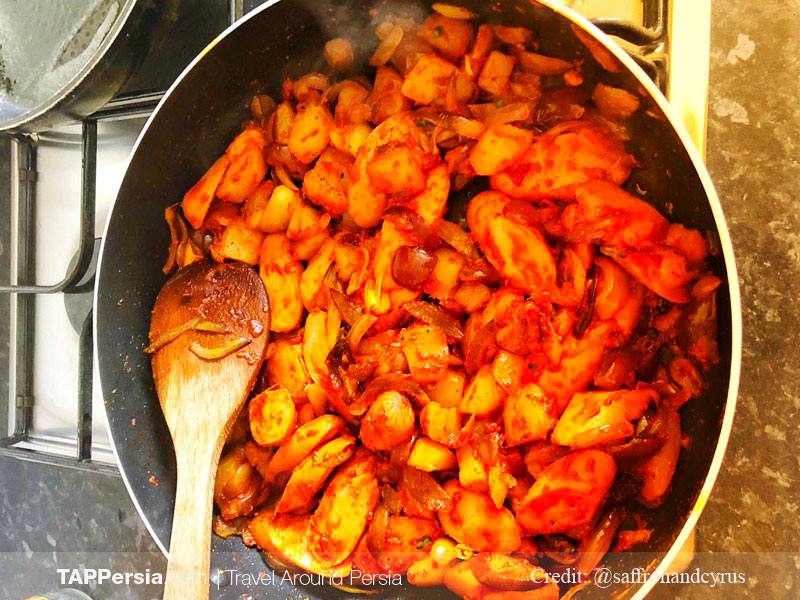 Step 5
Potato cubes that are cooked well now are added to your mix while it's stirring in the pan.
Note: Some prefer to serve this dish a bit juicy, but if you like to serve it as a sandwich on a picnic without making trouble for those digging it with big bites, let the water evaporate completely.
Step 6
Sliced tomatoes, fermented cucumbers, and fresh herb platter, such as parsley, are the best side dishes for Sosis Bandari ( Persian potato and sausage sandwich). As we mentioned before this super oily and tasty dish is among the top 12 street food in Iran, which means you can find it served with sliced onions in local shops, as well.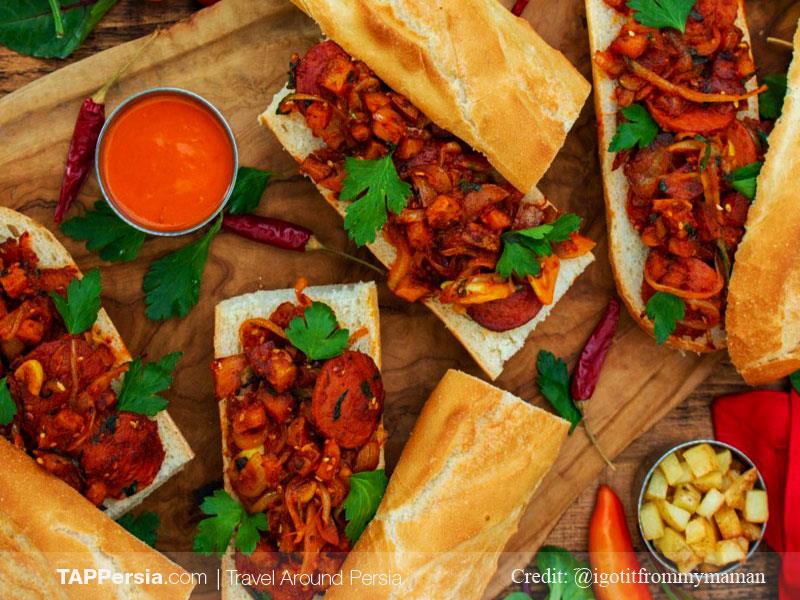 The rest of popular street foods in Iran that you may be curious to know and cook, include:
Ash Reshteh – The Queen of Iranian Street Food in Winter;
Falafel – Iranian Beloved Street Food Ever;
Samboseh – A Small Tasty Street Snack;
Jigar – Sold in Jigaraki Shops;
Balal – Yammy Iranian Street Corn;
Baghali – With Red Sumac and Angelica Seeds;
Labou – An Iranian Street Food As Red As Your Blood!
Haleem – A Delightful and Cinnamonful Start;
Shawarma – A Middle Eastern Souvenir;
Adasi – The Brown Miracle;
Ferni – Iranian Version of Indian Kheer!
Don't hesitate to check our fresh blog posts for weekly food recipes and drinks…and don't forget to share your Sosis Bandari dish designs with us on our Instagram, Facebook group, Twitter or Pinterest!
---
Recommended Tours