Maybe one of the nicest adventures you want to go through in Iran is to take a walk in different streets of any city. A walk on behalf of your stomach and your soul. As for your stomach to fill it with mouth-watering food. And as for your soul to discover some new tastes and flavors that you pretty much won't forget ever. What I'm talking about here, you won't find in restaurants. For god's sake, it's street food or snack and so damn delicious. What you can grab among street food in Iran may depend on the season you are visiting. Let's get to know the most popular street foods and snacks in Iran. Here are some options which are most probably the healthy ones.
1. Ash Reshteh – The Queen of Iranian Street Food in Winter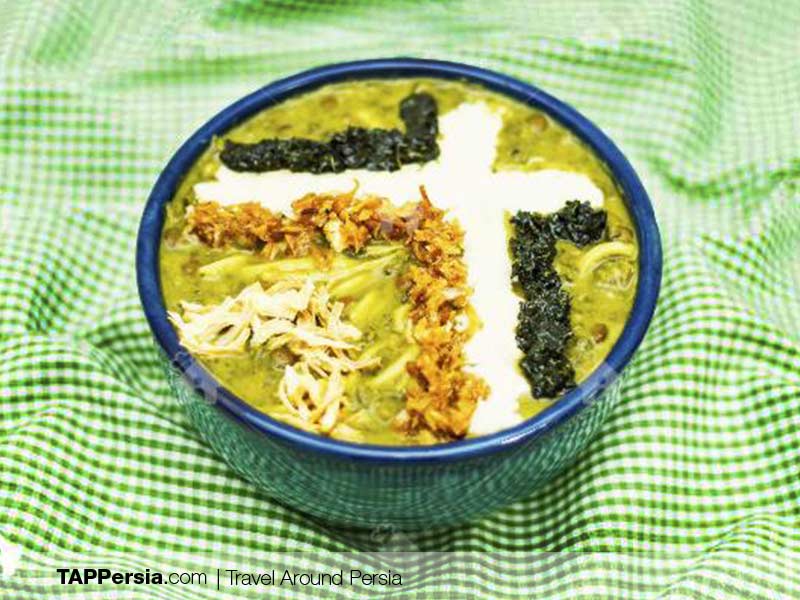 You can find Ash Reshteh in all seasons and months, especially in Isfahan. But in the cold weather of winter, hot Ash feels really something as street food. It's more like a hearty soup including different veggies, beans, chickpeas, and noodles (Reshteh) which are the base ingredients. For sure it is served with Kashk, a white salty whey product. Ash owes its flavorful taste to Kashk, plus the fried garlic, onion, and mint which are put on top of the soup.
Ash is one of the food that people in Iran make it for various accessions not only as food. It has become a tradition. For example, we have Ash-e Posht-e Pa. When a member of a family is going on a trip especially a holy one or is going to military service, family and friends come together to say goodbye. And keep the company of the immediate family who is going to miss their dear. After he/she leaves they make Ash, keep each others' company, eat Ash together and split the rest in the neighborhood. All done with the desire that his/her absence is going to be passed soon. And she/he will come back home before they notice.
2. Falafel – Iranian Beloved Street Food Ever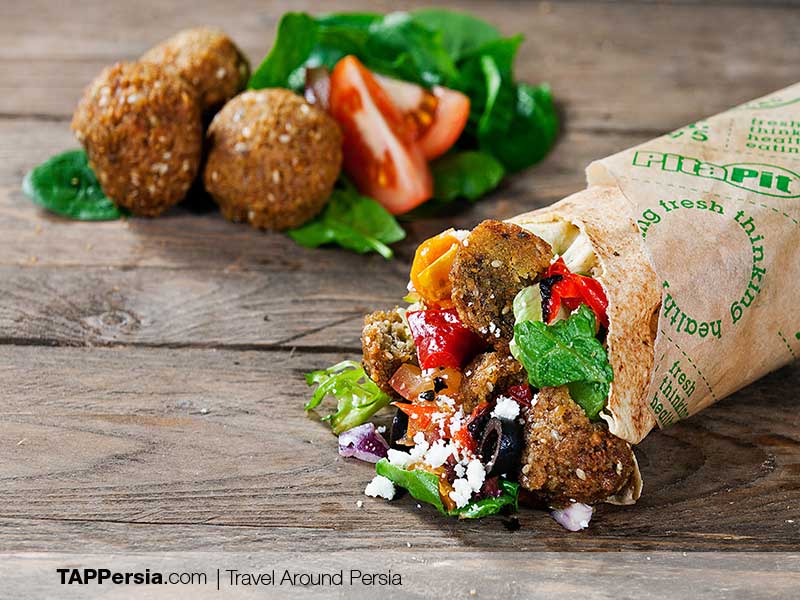 Falafel, is totally a vegetarian one, made of chickpeas mostly. They are ball-shape or like a flat patty, the size of a ping pong ball. Generally, Falafel refers to a sandwich. On a bed of different pickled veggies,  lettuce, cabbage, and stuff, there are several falafel patties. Plus different sauce that they normally use.  The food originally belongs to the south of Iran but as it is a delicious, fast and inexpensive one, you can find it in every corner in each city. Here is the thing; as you know the closer we get to the south of Iran, the spicier the food gets. I can hardly keep up with them. So depending on where you are taking a bite, the burn-degree you might get on your tongue may vary.
In Iran streets, they normally wrap it in a baguette bread but still, there are some nice spots using local traditional bread to prepare the sandwich. Another thing; there are some other nice spots that are self-service meaning they provide you with the bread, falafel balls and all veggies, pickles and separate sauces among which you can choose and wrap your own Falafel sandwich.
3. Samboseh – A Small Tasty Street Snack
Samboseh or Samosa is another Iranian street food originally from the south. A mixture of cooked potato, onion, meat or chicken, different cooked veggies with spices, is wrapped with Lavash bread in a triangle shape and then deep-dried. The mixture can be varied. Some are completely vegetarian with no meat or chicken. A nice choice just to fill your stomach like an hour or two before having a meal.
4. Jigar – Sold in Jigaraki Shops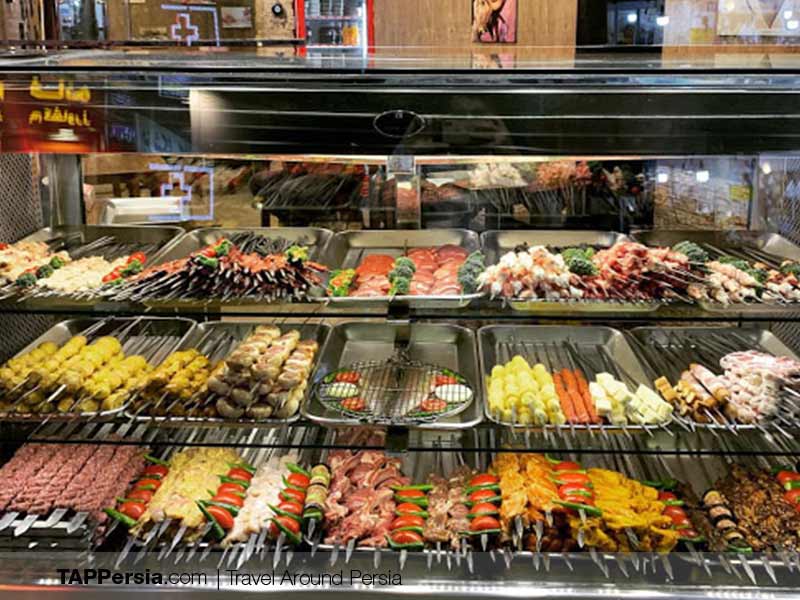 Jigar is absolutely not vegetarian street food. To some people, it might not sound that good but Jigar is the liver of sheep or cow. They chop it into pieces, mix it with spices, put it on aluminum sticks, and grill it over hot charcoal. It has many lovers in Iran. Many will have more than 3 sticks. Other than Jigar, they make Del (heart)  Kebab and Gholveh (Kidney) kebab in Jigaraki shops, too. Del, Gholveh and particularly Jigar are also common words in slang Farsi to express friendliness and affection among people who are comfortable together or to call cute kids. Now "would you like to go to a Jigaraki, Jigar?"
5. Balal – Yammy Iranian Street Corn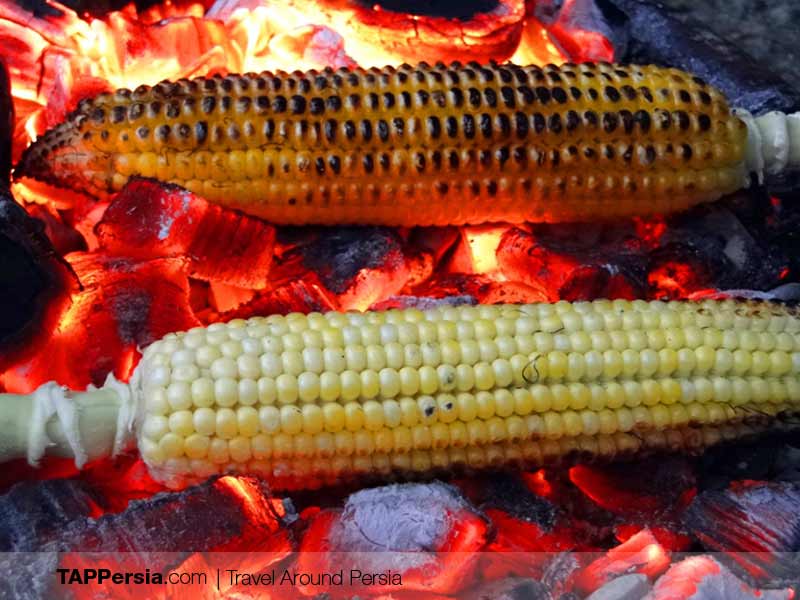 This Iranian street food is not really a portion of food to make you full, but a great tasty and healthy snack to grab while walking around. Suppose you are wandering around parks or most popular places in the city, in the evening, most probably you will notice some guy standing by a barbecue grilling some corns over charcoal. And then when it's ready, he sinks it into a saltwater bucket. I can tell you, you are a few feet away from an Iranian delicious corn experience. But maybe it is good to know that after you are done with it, you are going to need a toothpick afterward.
6. Baghali – With Red Sumac and Angelica Seeds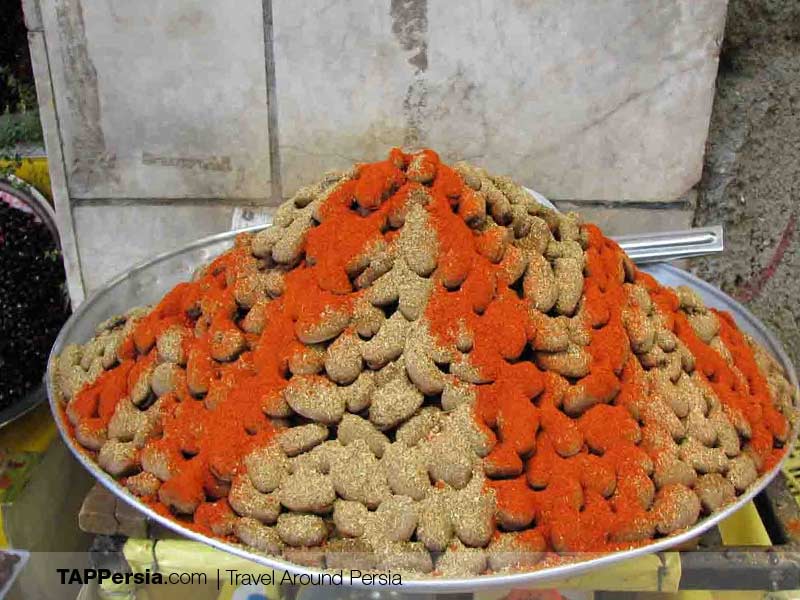 Baghali is a thing but with Sumac and angelica seeds is really something. A different taste you can experience as street food in Iran. They are sold in small bowels. Some people like to take it with the peel but some, peel it off. Peeling it is a bit tricky. In case you are sharing the bowel with your someone, the more skilled you get in peeling it, the bigger share you can have. So here we go; peel off the head or bottom of the fava bean with your front teeth and then while squeezing the other end with your fingers, suck the soft fleshy bean out of its peel.
8. Labou – An Iranian Street Food As Red As Your Blood
Labou, the red Iranian street food that you know as beetroot. They say most of the fruits and veggies with the color of blood contain a lot of Iron. And they are good for your health. On cold winter days and nights, the hot Labou warms you up and gives your body lots of nutrition. You will find Labou and Bahghali together most of the time.
9. Haleem – A Delightful and Cinnamonful Start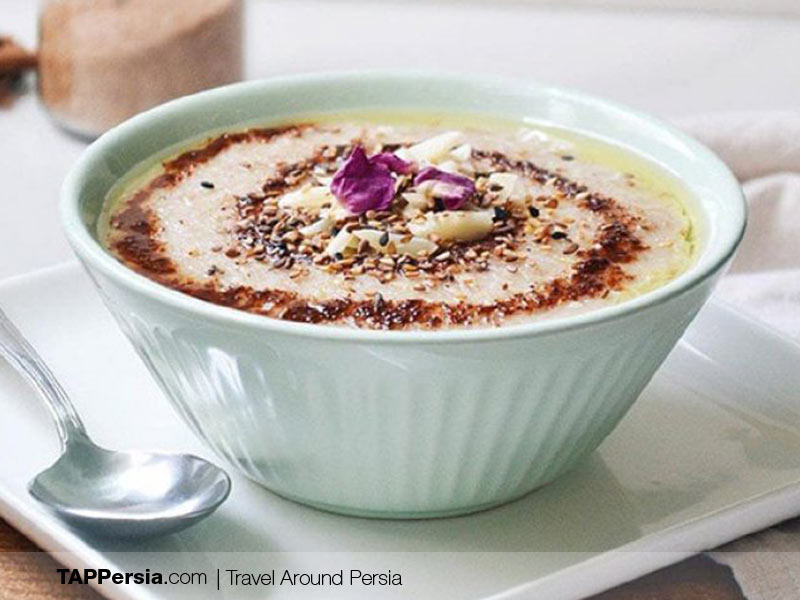 In big cities, you can find Haleem all day but normally it is an early morning Iranian street food. It's kind of a tradition that every Iranian Family has Haleem as early breakfast, from time to time.  Usually, the father gets out and buys some from the store by the time mom is waking up all children. And they'll have it all together at home. The same tradition is true about Kale-Pache. Haleem is made of wheat, meat, some times milk and etc. The ingredient varies from place to place. Some people use sugar with it but so strangely some other use salt with it. It's all up to your taste. The cinnamon in Haleem and on top of it smells like heavens. And the delicious Street food even if you are having it at home makes your day.
10. Shawarma – A Middle Eastern Souvenir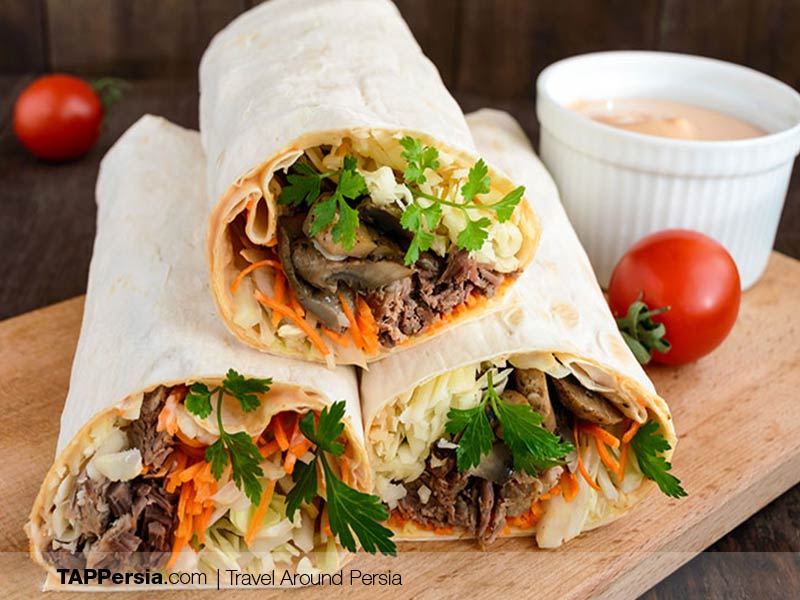 A foreign street food you can find in Iran is Shawarma. Shawarma is so much like Falafel with local traditional bread, but with a bit different ingredients. Instead of Falafel balls, they use lamb meat or chicken plus lettuce, carrot, basil, and sometimes mushrooms. The stacked meat or chicken slices are roasted much like the way they do for Turkish Sandwiches. This food is originally middle eastern.
11.  Adasi – The Brown Miracle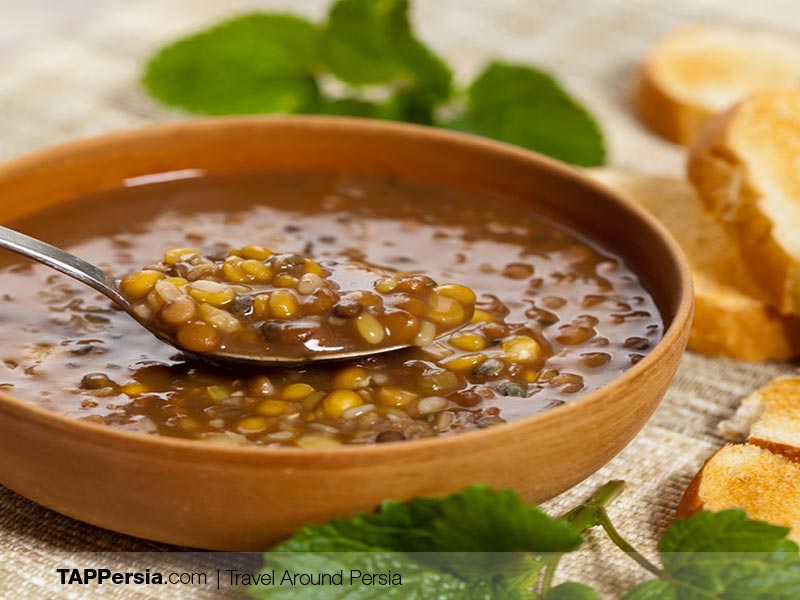 Adasi is cooked lentils. Like hot Ash this Iranian street food is like miracles to your freezing fingers and an empty belly. Lentils, onion, potato with some spice are the ingredients of this Iranian street food. It is a very delicious vegetarian one and iron-rich. Some grandma's use to add some meat to it, when they make it at home. have it with some lime juice and some olive oil.
12. Ferni – Iranian Version of Indian Kheer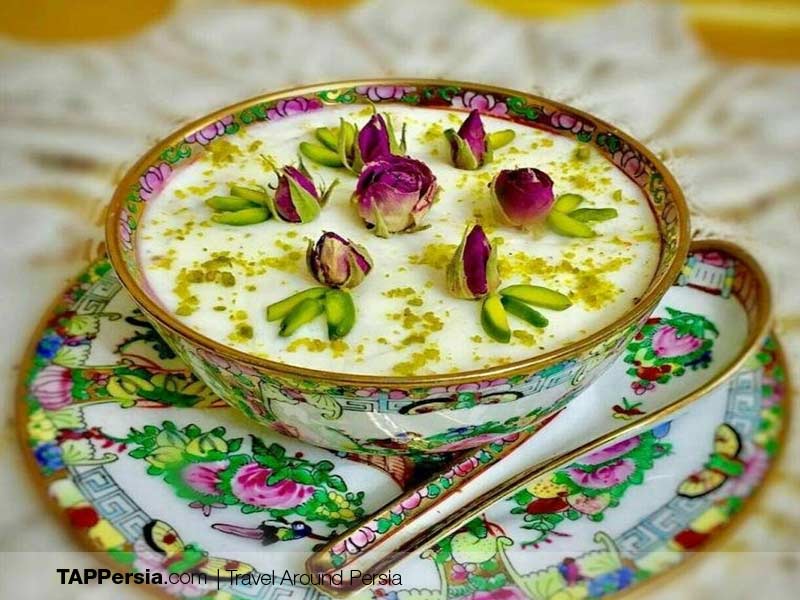 The last street food in Iran we are talking about here is Ferni. Milk, sugar, starch or rice flour are the ingredients. When they come together they create a taste that I really can never compare with anything else. Of course, to taste what I'm talking about you might need to ask a Ferni expert Iranian friend to make it for you at home. Sometimes they add saffron and turmeric which gives it a pretty yellow color. The cook can add butter and rosewater, too. Ferni as the Iranian street food is normally without sugar that's why they serve it with natural berry syrup or date syrup.
---
Recommended Tours