Iranian bread which is called "Nan" is one of the important parts of the Iranian food table cloth. Nan is eaten at breakfast, lunch, and dinner. Some kinds of bread are common and cooked in all parts of the country. Some are local bread. In Iranian culture, there are many dishes that are served with Nan & rice. So, it's a big part of daily meals.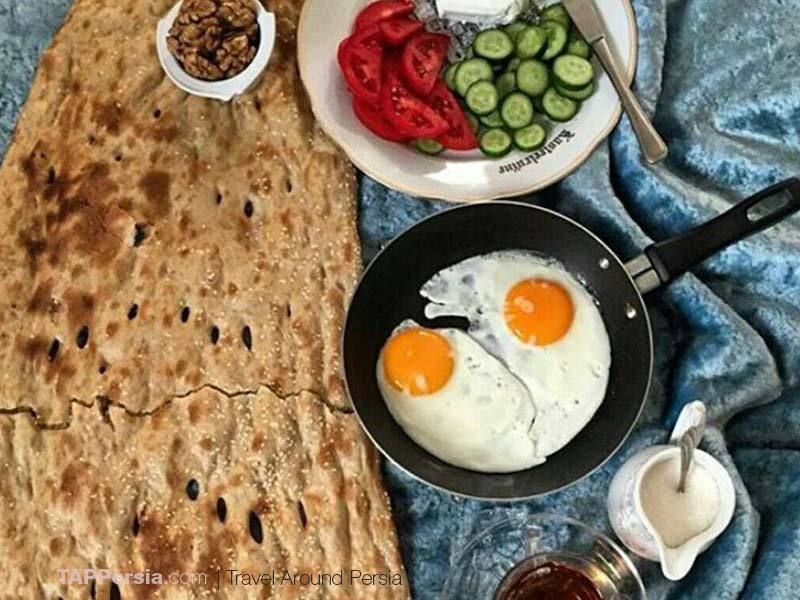 Iranian Nan is in round or somewhat rectangular shapes, relatively flat and big size. They are basically made of wheat flour. These "Nan" are cooked in ovens. Traditional ovens are called "Tanoor" or "Tandoor". It is a physical structure of a cylindrical shape or a big hole of clay, which is designed inside the ground or next to a wall.
Bakeries Timing Hours
Bakeries start baking bread from early morning till night. These days, Iranian Nan or bread are prepared by the industrial baking ovens. Such ovens are operated by gas or electricity. Bakeries in big cities mostly function with industrial baking machines, and in some cases, there is a traditional baking system as well.
There is fresh bread available in the morning for breakfast. Traditionally, mothers and fathers of the family go out to get bread form the bakeries. They stand in the queue and wait for some time to get it. There is a break time in the afternoon for the bakeries. They start again after break time, around 4 p.m. and continue till around 9 p.m. at night. Fresh Bread is so tasty that one can eat it even without any other dishes.
Men and Women's Ques in Bakeries
Sometimes there is a long queue in the bakery. Men and women stand in two different lines. If one needs only one bread, it is not needed to wait for a long time, she or he can get it sooner. But those who ask for more than two loaves of bread need to wait in line till the right time.
Nan Is the Symbol of Blessings
Culturally Iranian people consider value and respect to Nan. It is considered as a symbol of blessing in life. If there are pieces of Nan in the street or some other awkward places, people pick them and put it in a place because in Iranian culture it should not get under the feet of people.
Women Bake Traditional Iranian Nan in Villages
In cities, bakeries mostly are managed and functioned by men. In rural areas and villages, families prepare their bread themselves. Women bake bread inside their Traditional Oven called "Tanoor", as mentioned above. Baking is done either in traditional kitchens which are called "Matbakh", or outside in the yard campus of the house.
One of the main important tasks of the housewives in some villages is preparing bread for the whole family members. Local women may add some other ingredients and additives to the wheat flour dough in the baking process, to make it tastier. It can be animal oil, dried herbs, egg, butter & etc. After making the dough, then it should get a round shape. Dough needs some resting time too that they get baked easily and perfectly.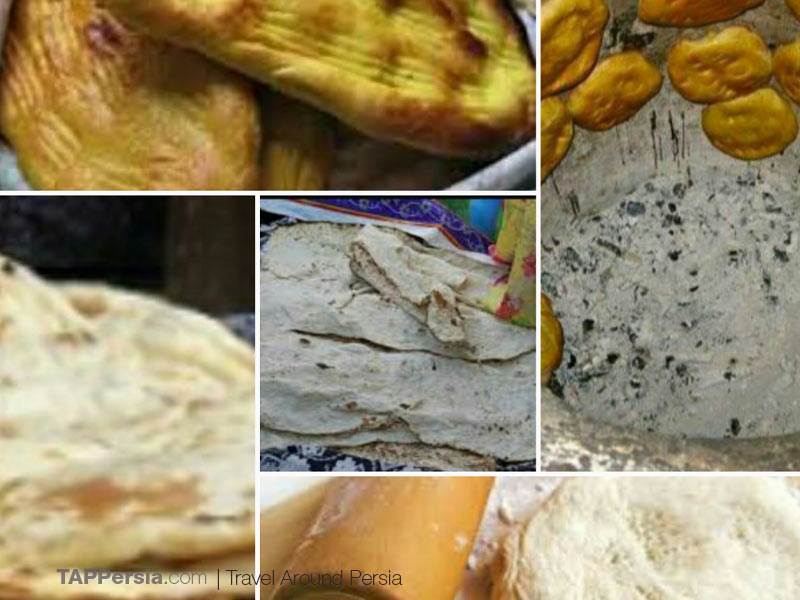 All these tasks are done by hand. They may have a pillow to flat the dough on it. When it is ready, they stick it to the hot wall of the clay oven. After some time, bread is ready and it is out of the oven. The traditional oven is heated by dried woods or bushes, which gives a truly pleasant smell to the bread. It has the pure smell of nature. Do not miss the village Nans, if you get the chance to visit.
"Nan- E- Sangak" Or Sangak Bread
There are pebbles and stone inside its hot oven. The presence of stone is the distinction of its baking process from the other ones. The bread is placed on a flat surface of a metal tool then inserted inside a hot stone oven for baking. Bread can be decorated by the poppy seeds and caraway or without them.
Sangak bread as one of the Iranian Nan is so welcomed for the breakfasts, and it is one of the most popular and the oldest traditional bread types in Iran. Iranian breakfast includes a variety of options like eggs, fresh vegetables including tomato and cucumber, butter, cheese, milk, honey, jam, and sweet tea. Sangak can be eaten with any of these options.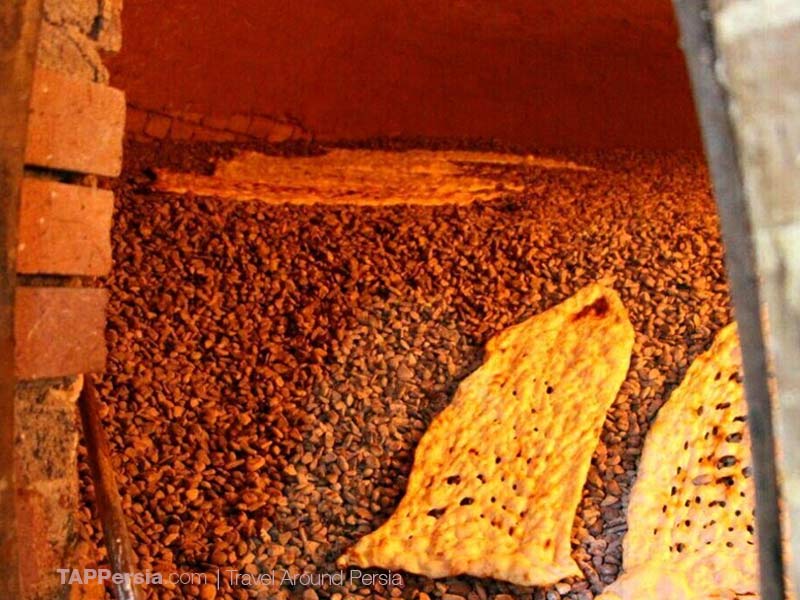 Nan-e Barabri Or Barbari Bread
This bread is the thickest one among others. The name "Barbari" refers to an ethnic group that was living in Iran's eastern border areas with Afghanistan. Now, this kind of bread is baked in whole parts of the country. This bread can be baked in two different way i.e. traditional and industrial methods.
This is a proper bread type for breakfast or with the soup kind of food. The fresh bread of Barbari has a very nice smell. It's hot & tasty when received from the bakery. Poppy seeds and sesame can also be added on the surface of the bread.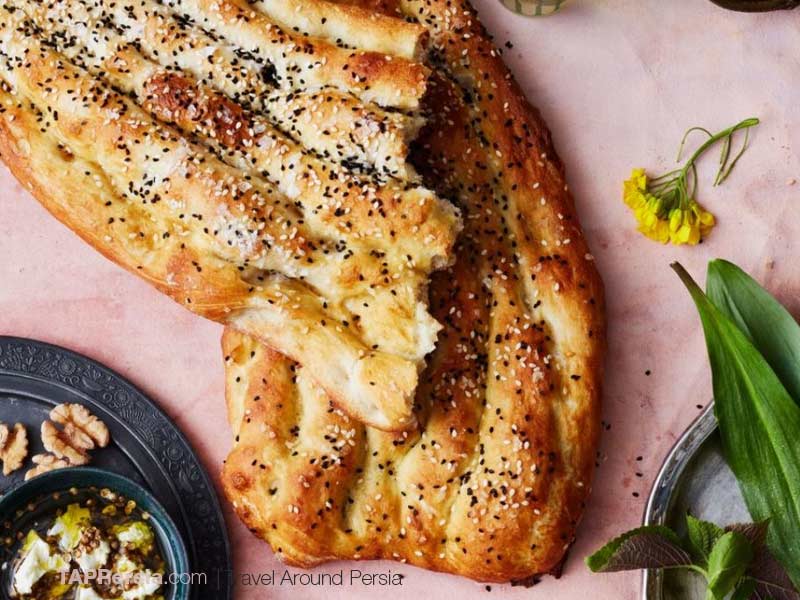 Nan-e Lawash Or Lawash Bread
This bread is very thin compared to other types. It is in rectangular shapes. Some types of bread are only available in bakeries and one can get them fresh. However, Lawash beard is usually packed in plastic bags and is available in markets & shops. It's also baked & served in some other countries including, Turkey, Azerbaijan, and Armenia.
Nan-e Taftoon or Taftoon Bread
Baking Tafoon bread is much easier compared to other types. It is mostly baked in villages, but there are some bakeries in town which prepare this bread too. Taftoon Bread is in a round shape.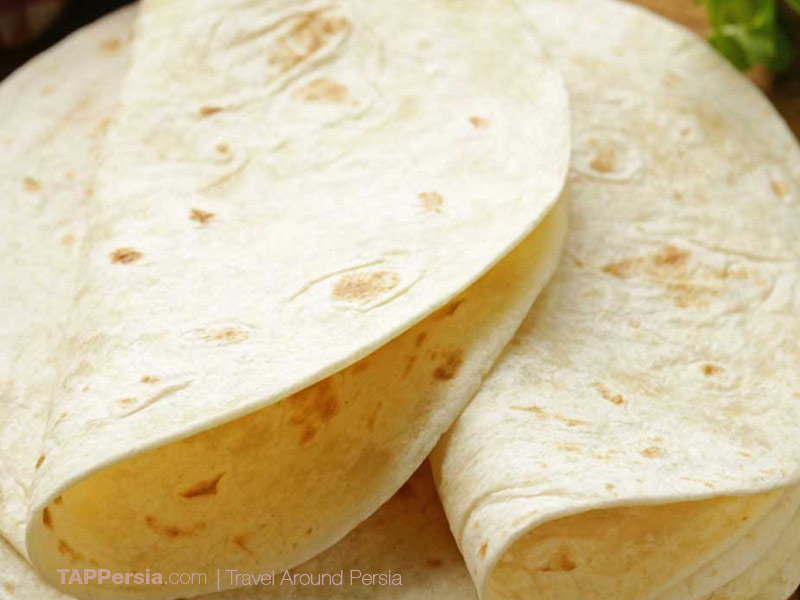 French Baguette in Iranian Table
Iranian people also use French Baguette known as "Nan-e Fantezi" among Iranians. They are prepared mostly by the industrial machines and it is distributed in different parts of the country. People use this kind of bread especially for sandwiches, for breakfast or other meals as well.
French Baguette is somehow the symbol of modernity and there is an increasing trend among families to use it more in their daily meals. So Iranian Nan mostly, and Nan-e Fantezi are fairly eaten with different dishes in the houses of Iranians.
---
Recommended Tours