Being a vegan, you may wonder how to travel to Iran, a country full of kebabs. Of course, Iran is a heavily meat-based country, but you can find many vegan Persian foods. You just need to get familiar with Iranian dishes and then choose them based on your diet. However, being a vegan in Iran, you don't have many vegan alternatives in grocery stores as much as European countries.
Veganism in Iran
Since childhood, Iranians all heard that meat brings strength and stamina. they might hear from elders: "why don't you eat meat in the food? You don't want to grow faster? (said just to convince them)" They believe it has lots of vitamins and nutrition for kids. Also when anyone feels weak or lack of energy, they advise him/her to have some kebabs. There's another culture that whenever some Iranians want to respect guests, they use more meat in the food prepared. And you know most Iranians like to make kebabs in their picnics. But the good news is that despite this meat liking culture, Veganism has made sense in Iran.
The Idea Has Become Known in Iran
Although Iranians have grown up hearing these ideas, you can find many vegetarians and vegans in Iran. Recently, more people are getting familiar with the term and even deeper ideas behind it. The different diseases also make some to think what's the treatment. They research about benefits, talk to their vegan families and friends, and decide to be a vegan. 
Whereas some people claim that meat is the main course in food for them, they're familiar with this idea and it's not considered something strange or never heard. Some cafes and restaurants have started preparing vegan dishes and it's emerging by time. Also, there are talks about it on TV shows and some people debate about the pros and cons.
Iranian Vegan Backgrounds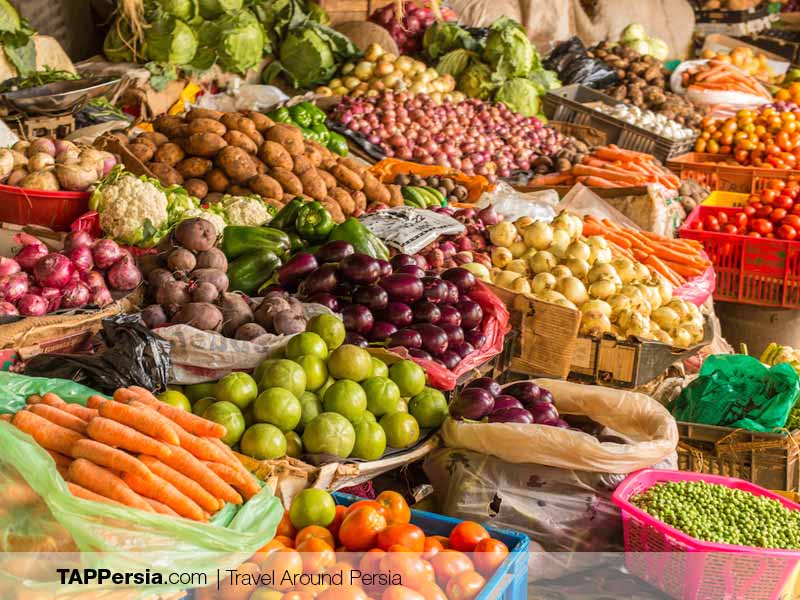 As mentioned there are some backgrounds that we can say Iran is a vegan-friendly country and as a vegan in Iran, you have many options. Iranian farmers produce fresh seasonal fruits and vegetables. You see their produce stands on the ways and sometimes it's not a shop. Farmers bring their products on their own and sell them for a cheaper price from the back of a truck or anywhere on the streets.
Iranians are used to have a big plate of sliced fruit as their snacks in the morning and afternoon. Mothers make it for their kids and ask them frequently to eat due to its health benefits. Also when there's a ceremony in Iran fruits are an integral part. For special Iranian occasions and celebrations, it's the same.
Vegetables, herbs, and even some fruits play an outstanding role in most Iranian recipes. They also put bowls of raw herbs and salad next to the main dish. 
Street Snacks for a Vegan in Iran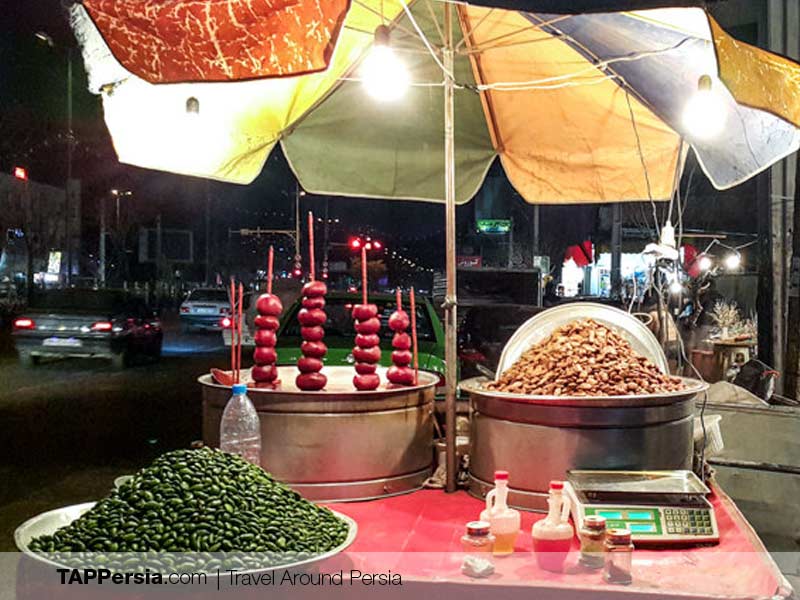 Finding some street food that suits a vegan in Iran can be easy. Some of them are seasonal like steamed beets and fava beans which you can have in fall or winter. In spring, easily find greengage, spring almonds and blackberries anywhere. The signs for summers are grilled corn and fresh salty walnuts on the streets. Besides all these, there are some snacks you can try at any time of the year. They're including fruit rolls (lavashak), faloodeh (iced noodles), fresh juices, dried fruits, dried nuts (Ajeels) fries, potato samosa, grilled/fried mushrooms, popcorns, Mexican corns, Ash Reshteh (ask it without kashk, whey), and falafels.
Vegan Persian Food
The main question for you may be what Iranian dishes you can have as a vegan in Iran. Here, we introduce some Iranian foods which are vegan by the original recipe or they may need only a few simple changes or orders to be totally vegan.
'Ash Reshteh' is a very famous and popular Iranian dish, very nutritious and healthy. It's actually a thick soup full of beans, vegetables, and noodles. Ash Reshteh is usually served with kashk (whey) on its top. The only point is to ask them not to add kashk for you as it's a milk product.
'Adasi' is blended lentils with some spices. This healthy food is often served in the morning for breakfast.
'Kashk-o-Bademjan' is an eggplant based dish, as Bademjan means eggplant in Persian. It's mashed, fried eggplants served with kashk (whey). You just need to tell them don't add any kashk mixed or on its top.
'Mirza Ghasemi' is a very well-known Northern dish, which has become popular all over Iran. Smoked eggplant, egg, tomato, and garlic are the main ingredients. Ask them if they cook it without egg and if yes, go for it.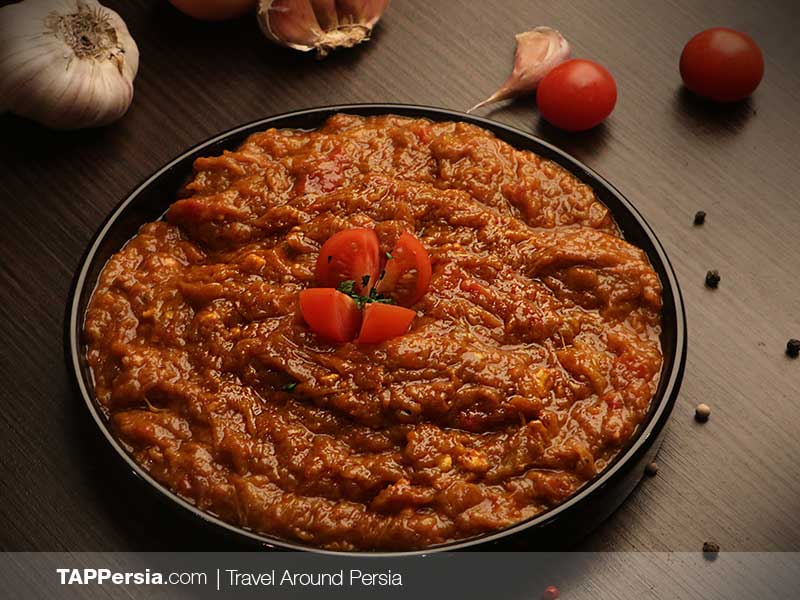 'Baghala Ghatogh' is another finger-licking Northern food. The general ingredients are fava beans, dill, and egg. Don't forget to mention that you want it without egg.
'Adas Polo' literally means lentil rice, cooked with other stuff like raisins, dates, walnuts, fried onions, and cinnamon.
'Loubia' means pinto beans and it's exactly beans cooked with tomato paste, oil, and some spices. A very delicious dish which makes you warm and is especially pleasant for winter.
Falafels and samboses are known vegan dishes everywhere, just make sure to find out samboses are not filled with meat.
Baghala Polo exactly means rice cooked with lima beans in Persian, dill also will be added. They usually serve it with some meat. Ask them that you only want to have Baghala Polo.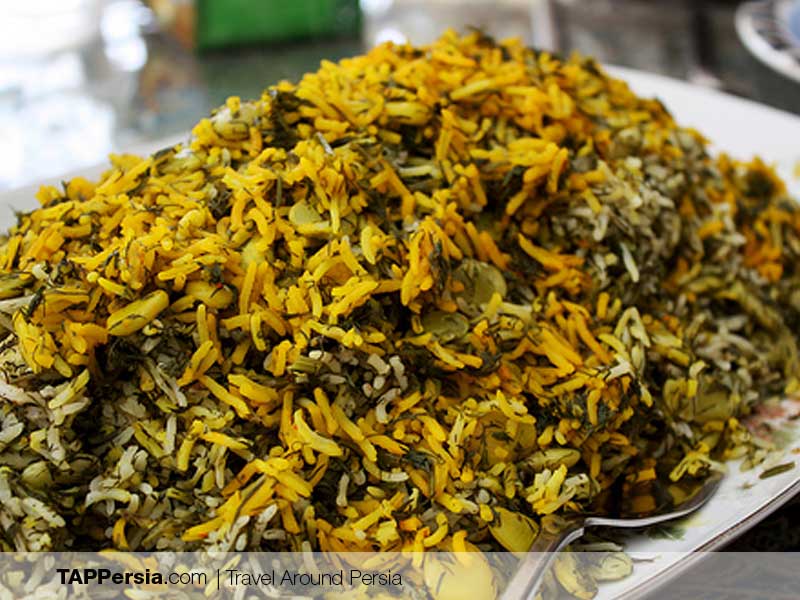 You can find these mentioned dishes in normal restaurants almost anywhere in Iran, but in case you don't, just try a cafe and they surely have something for a vegan in Iran. (You may need to ask for some changes in the recipe)
Vegan Persian Side Dishes and Appetizers
'Zeytun Parvardeh' is olives (Zeytun), marinated in pomegranate paste, lemon juice, garlic, crushed walnuts, mint powder, thyme, and other spices.
Pickled vegetables are commonly seen next to Iranian dishes. They can be cauliflower, eggplant, garlic, onion, carrot, chilies and etc, marinated in vinegar, mint powder, and other spices. Some types may be very sour or spicy for you, so taste a little before having a large amount.
There are different types of salad in almost every restaurant and cafe and you can have them as a vegan in Iran. 'Salad Shirazi' is a very popular traditional Salad consist of chopped onion, tomato, and cucumber with mint powder and verjuice. Salad Shirazi is a mouthwatering side dish with a unique taste, try at least once.