Zinat Al-Molk House: the House of the Governor's Daughter.
Zinat al-Molk was the daughter of Ibrahim Ghavam Shirazi, a great and famous ruler of Shiraz. Her house was constructed right next to her father's magnificent house, Naranjestan Ghavam. It always makes a stunning impression thanks to its incredible plasterwork and mirror work. Zinat al-Molk house is located in the middle of the Shiraz historical site.
There is a Refreshing Atmosphere Here.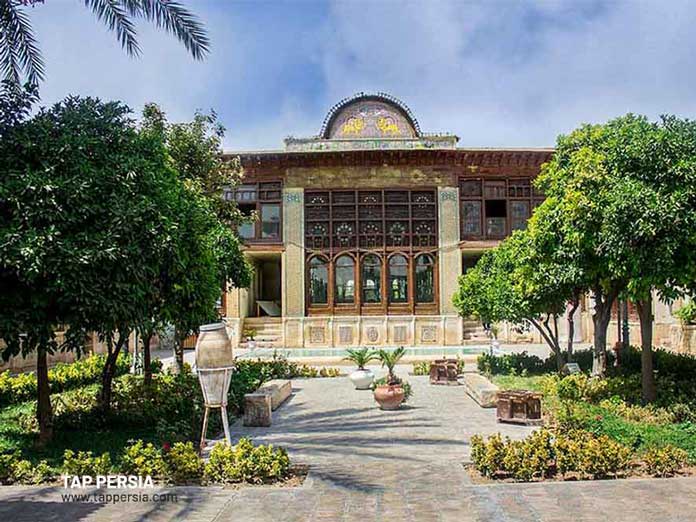 If you walk into this house, you will be greeted by a wooden entrance leading to a foyer with the courtyard beyond. Before going to the courtyard, you pass through a vestibule shaped like an octagon by the entrance. It's called "Hashti" by the Persians. Hashti is an essential item of Persian architecture, especially regarding communication with neighbors.
With Hashti, residents can be aware of any commotion on the street and feel comfortable in the yard. Everyone cannot see them through the door (the privacy principles in Persian architecture). In front of you is a beautiful yard with a large pond and two beautiful gardens, with carved and lattice stone plinths.
In the yard, freshness has been given by the pond and the plants, which greatly contribute to the architectural beauty. Many tourists are sitting around the pond, enjoying the surroundings and the architecture of the building for some time. A crescent-shaped tile of seven colors has created a special charm before the building. It has images of two angels, the sun, and two lions that have a sword in their hands. Also, Quranic verses on top of that are all you can see and enjoy.
Brightening Up the Room With Colors and Lights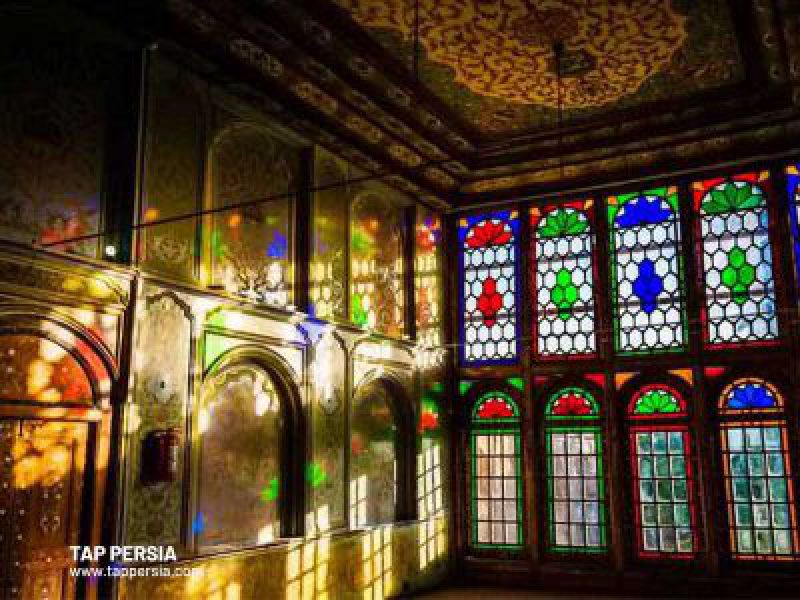 There are over twenty gorgeous rooms in the Zinat al-Molk house, all with exemplary plastering, mirrors, and paintings. Ceilings are usually wooden and they are decorated with floral, plants, animals, and bird designs, among other things. A series of interconnected rooms surround the courtyard. In Zinat al-Molk house, the unique sash windows with colored glass provide a perfect window through which sunlight casts a pleasant reflection onto the doors and walls and creates a delightful atmosphere.
The main and most eye-catching part of this building is its main hall, which name is the royal hall. Iranian art and European architecture are perfectly blended in the main hall, which represents a masterpiece of the combination of these two art forms. However, Iranian architecture stays the main focus.
The Hidden Path of the Kind Woman's House
Zinat al-Molk house is located right next to Narenjestan Qavam, another Qavam family house across the alley, these two houses linked by an underground secret tunnel. Female members of the family lived in this house. There is a story that said Zinat al-Molk was kind and caring. She was also a giver and supporter to the poor. Besides, she held different religious ceremonies and gatherings in her house.
The Iranian Version of Madame Tussauds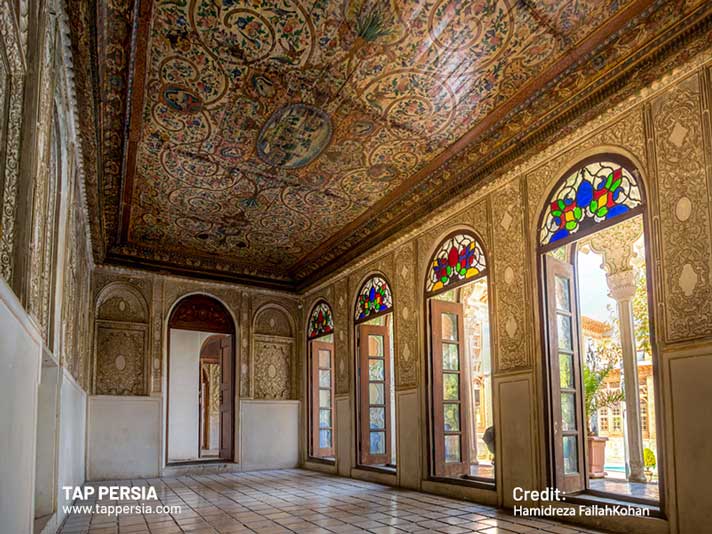 This is the only house in Shiraz that encompasses a basement on three sides of the building. This basement has spectacular brickwork which is converted to a gallery now, that holds sculptures of important personalities of Shiraz. In 2003, the gallery became a museum of Persian treasures.
This house is not only beautiful in terms of its architecture and decorations. Another large attraction is a collection of Persian celebrities that is in the basement. There are wax statues of characters from this city such as Khan Zand, Saadi, Nasir al-Mulk, Zinat al-Molk which have become a special attraction at this museum. On the other hand, watching the brickwork is also interesting here.
Location of Zinat Al-Molk House
To visit the traditional house of Zinat al-Molk, it is best to reach Lotfali Khan Zand Street first and then go down to reach Gowd Araban so it is near other tourist attractions of this beautiful city. Narenjestan Ghavam is just up the street, and it takes less than 5 minutes to walk you to Nasir Al-Molk Mosque (the Pink Mosque). Also, Atiq Jameh Mosque of Shiraz, Shahcheragh Holy Shrine, Karim Khan Citadel, Vakil Bazaar, Vakil Bath, and Saraye Moshir are in your neighborhood.
Where to Stay or Eat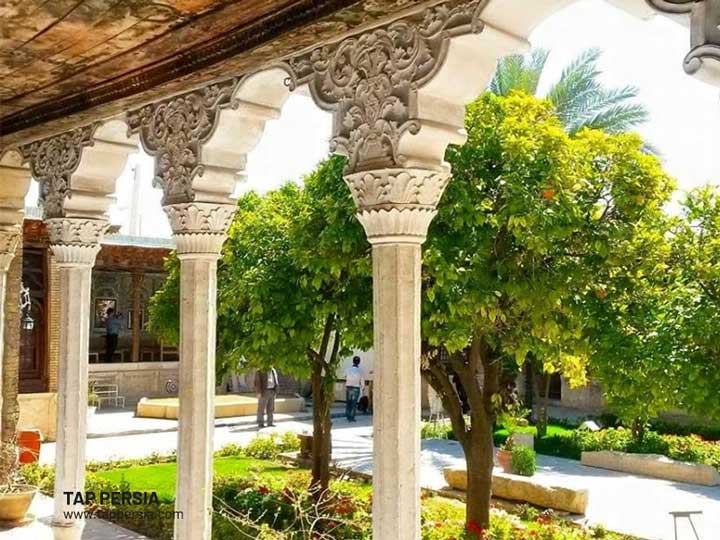 Aside from the Zinat al-Molk's coffee shop inside the house, other nearby Persian restaurants include the Orangery Restaurant, Hooran Narenjestan Restaurant, Dash Akol Traditional Restaurant, Sharze Restaurant, and Mehr Traditional restaurant is available.
You have several accommodation options near Zinat al-Molk House, including Lotfali Khan Hotel, Parmis Hotel, Hafez Hotel, and Zandieh Hotel.
---
Recommended Tours