Iran is one the best destinations for tourists; for people who adore a rich history, enjoy trekking the stunning lands and mountains, and for whoever looks for the top attractions, cultures, and cuisines. However, having such a breathtaking experience needs a nice companion and who is better than your soul mate, the person you enjoy spending your time with and you look forward to an adventurous trip to Iran with that specific person. However, that person can be someone you are not married to ( unmarried couples traveling to Iran). In this case, you may wonder if there will be a problem or are there any rules regarding this situation. All your questions are fully explained below.

Can You Travel to Iran as an Unmarried Couple?
The answer is YES. You can easily travel to Iran and go around this stupendous country as an unmarried couple. Iran is overwhelmingly friendly with the tourists and everyone does their best to make your trip memorable. If you apply for the Iran visa before you travel, you have to fill a part on your visa application that asks whether you are married or single. You might wonder, since Iran is a Muslim country, it might affect your request and it will get rejected; but don't worry, no such thing is going to happen. You will come to Iran without any problems. If you were asked by the airport officers about your relationship status don't be afraid to say the truth.
Check into Hotels as Unmarried Couples
Hotels are the last thing you need to worry about. You can easily check-in without even mentioning your relationship status or showing a marriage certificate. Not a single soul would disturb you. You will be able to be in the same room and spend one of the best trips of your life with your partner.

Married to an Iranian
In this case, you are going to need proof of your marriage everywhere you go. However, it's not something to worry about. You'll only need to show your marriage certificate when you are going to check in the hotel for a double room.
As a Couple in the Street
As you are walking in the street it is completely fine to hold your partner's hand, it is something you will see a lot in Iran. However, you should have in mind that kissing and hugging are not acceptable.
Another thing that is worth mentioning is that Iran's law does not allow Iranian unmarried couples to live together or check into a hotel. It states people of the opposite sex are not allowed to be alone together unless they are family members or married. Nevertheless, this law is only for Iranians; as mentioned before, non-Iranians can easily check in a hotel and stay in one room.

Women Only Sign
You might see such signs in public transportation, especially in the metro and bus. As you know, Iran is an Islamic country, and touching by the opposite sex is not allowed if you are not related. Besides this, public transportations can get really crowded sometimes, as a result, for women's comfort, there are metros and buses just for women. There are also taxis just for women which you can see the cars in green with a female driver. All these limitations are considered for women's safety and comfortability and probably it will be a relief to you if you are traveling as a solo female.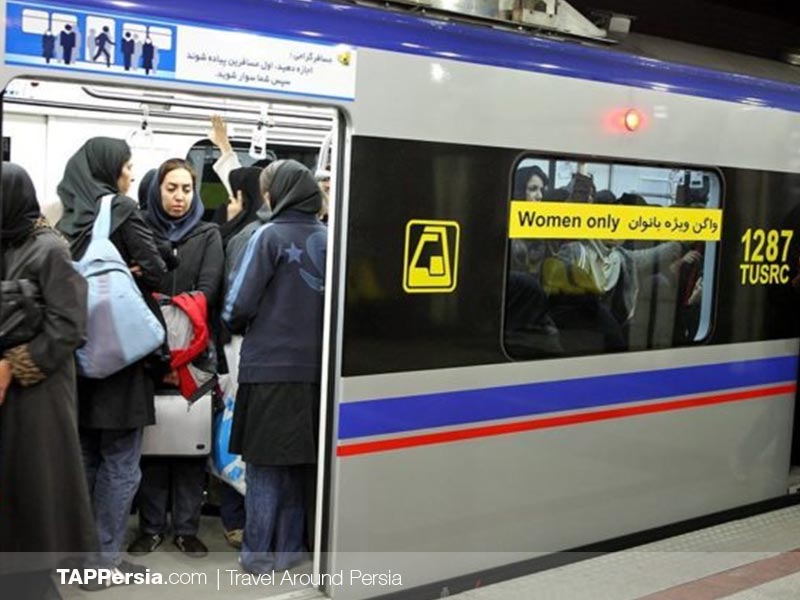 Before coming to Iran, you might find this fabulous country a religious and unsafe country to visit. You can see that this is not true and our country is overwhelmingly welcoming to the tourists who wish to come to Iran. Don't believe what the media shows to you as the real picture of Iran, don't listen to the people, pack your bags for one of the best trips of your life. You won't regret it.
Related Articles:
Recommended Tours