Tourist destinations can vary from country sightseeing, museums, old buildings, classic lifestyles to modern lifestyle. One of the tourist destinations in Iran is Mosques. They are the expression of Iranian-Islamic art and architecture.  They reflect different eras & historical backgrounds, based on the time periods they were constructed.  There are jaw-dropping views of mirrors, blue-hued tiled walls, and glassworks inside the indoor halls of Mosques.
Mosques in Iran Are the Symbol of Worship
Christians go to church for worship. Hindus go to "Temple/Mandir". Similarly, Muslims go to "mosques" or "Masjid". In every religion, people have a particular place to express their submission to God. Muslim people do worship and strengthen their beliefs by attending daily prayers in Mosques.
Mosques are holy places in Islamic sects in order to exercise spirituality. Sunni Muslims attend 5 daily prayers in mosques. Shia Muslims attend 3 daily prayers in mosques.  Mosques are considered a comfortable and peaceful sanctuary. People go there to worship God, to find peace & serenity in order to make a stronger connection to God.
The main hall and praying venues are covered by carpet. The cleanliness of the praying venue is important. Mosques play an important role in the Islamic social and cultural life of the Muslim people.
Not Only A Place for Worship but A Center for Educational Courses
Mosques are not meant to be just for the purpose of worshipping. There are some training and educational courses also active in mosques. Mosques in Iran offer different educational services to people. They include religious subjects like Quran learning courses, religious book competitions, and etc.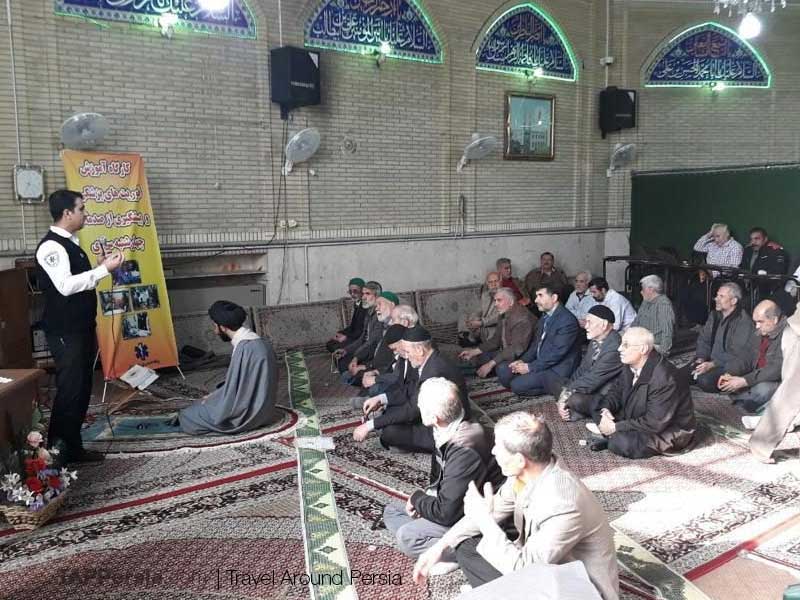 These classes can be conducted for the different age groups including kids, teenagers, youngsters, and adults. There are some cultural and family courses too. Painting, cooking, and writing classes are some examples that people can attend.
Mosques in Iran on Friday Praying
East culture and most particularly Islamic culture have great attention to the group and community life. Mosques in Iran, are the place for social, political and cultural gatherings. Friday praying which is called" Namaz- e- Jome" is one the most important religious-social activities in Iran.  There is at least one big mosque as the place of gathering in most of the cities in Iran. The biggest mosques in the city called" Masjid- e- Jammeh" or congregational mosque. On Friday praying, there are political-social speeches, delivered by the religious scholar who is called "Rohani" or "sheikh". The most important social and political current topics are delivered by the scholar. So, Friday praying is considered a resource of updating on current issues.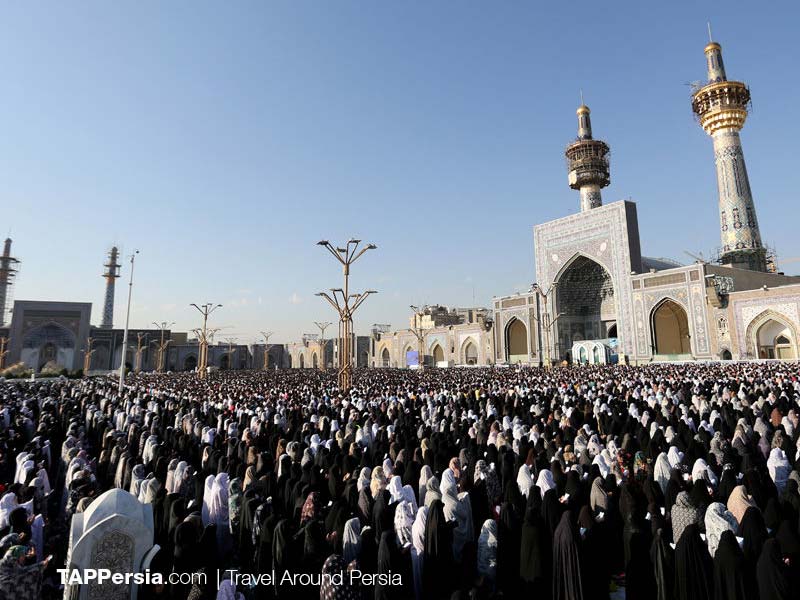 Iran Mosques Architecture
Iran mosques architecture is the reflection of the Iranian- Islamic history. The view and pictures express the great combinations of colors, geometric designs, and symmetries that catch the eyes of the visitors. There are some common features in the physical structure of almost all mosques. In most cases, the blue color is the heart and language of the architecture. There is always a dome, which makes the ceiling of the main hall and the minarets are around the main dome. There are ablution facilities inside the courtyard. Some of the old mosques are very big, in order to cover a huge population in times of gathering and praying.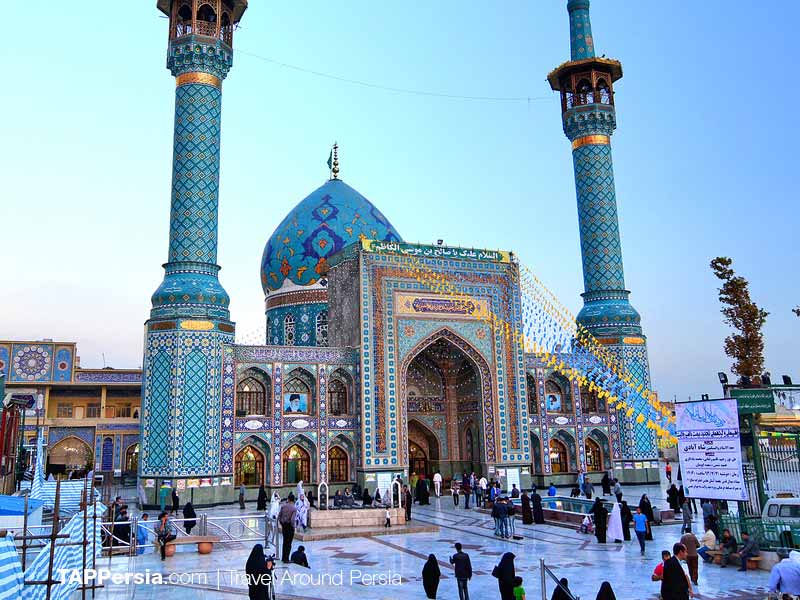 Big Mosques in Big Cities
There are almost old and historical mosques in most of the big cities in Iran. At the same time, there is a newly constructed mosque in every place in the whole country. "Gohar- shad" mosque is located in Mashhad city. It is inside the Imam Reza holy shrine. Imam Raza is the 8th Imam out of 12 Shia leaders.
The pink mosque which is called" Masjid- e- Soorati" or" Masjid- e- Nasir- ol-Molk" is located in Shiraz. "Masjid-e- Imam" is located in Esfahan. The holy shrine of "Fatima Masuma" is located in Qom city. She is a sister of Imam Reza. This holy shrine is another best- known worship places in Iran. it might be lesser known to the travelers. Visiting mosques in big cities as travelers' destinations will give you peace, spirituality, and connection to God.
According to the needs of the neighborhood and residing population, some of the new mosques are built in cities, districts, and villages. They can be in the form of a big complex or just as a small building.
Adult Bring Children to the Mosques in Iran
People, who attend daily praying, also take children and kids with them. Kids might not be able to do the praying properly. But families try to make the religious connection stronger by taking kids and teenagers to such gatherings. So, kids also may stand in the line of paying to imitate parents' posture.
Specific Features inside the Main Hall of the Mosques in Iran
There are some defined places inside mosques. "Mihrab" is the place that religious scholar stands there to deliver the praying or "Namaz". This place also shows the direction of praying. This direction is called as "Qiblah" and it is towards Macca City.
There is a place for religious scholars to deliver his speech. It is called "minbar". It is usually a big chair which has stairs that he can sit on the top, and everyone can easily see him. He has also domination over others while delivering speeches.
All the main halls are covered by carpet. This way more people can get in lines and do prayer. People stand in straight rows at the time of praying. There should not be any gap between people in the lines.
At the time of praying, men and women stand in defined and ordered lines. There is a rule, that women should not stand in the same rows.  They should stand a little back compared to men.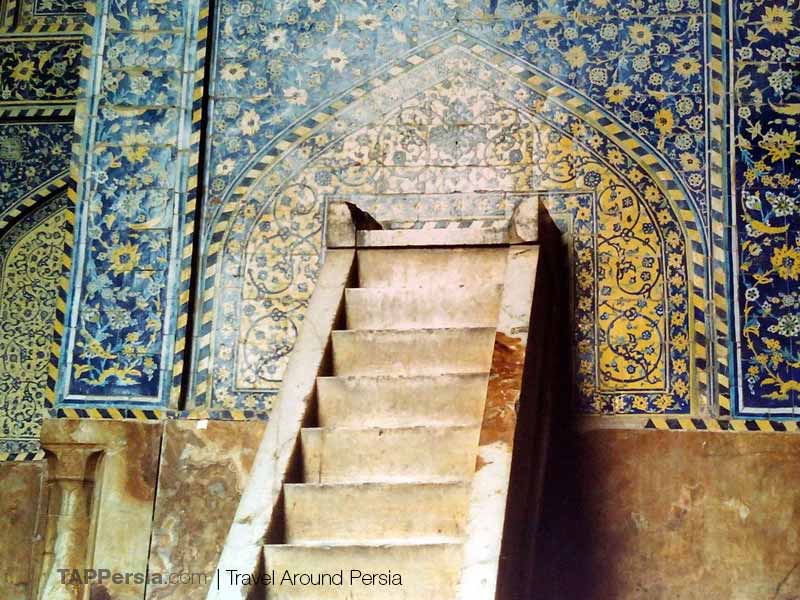 Separate Places for Men and Women for Praying
According to the Islamic background, there is a need for separate places for women and men for praying or in social gatherings. In Iran, there are always women sections in mosques. But there might not be women section in some of the Sunni Mosques.
Facilities inside Mosques
Attending daily praying is one of the most important activities in Mosques. There are washroom facilities inside mosques. In some places, there is a fountain in the courtyard to be used for the ablution.
Mosques Watchman
Praying time is the main time when mosques are open in the whole country. In some places, they close the mosques in-between hours. Some are open as there is some training course active during the day. There is a watchman who takes care of the cleanliness and opening and closing. Mosques are meant to be for praying and worshipping. So, sleeping inside the mosque is not allowed. The watchman makes sure that people do not abuse the place for personal purposes.
---
Recommended Tours