Maybe you have heard about the tasty delicious food in Iran. But it's not only it. There are lots of delicious Persian desserts that you need to taste. Once you do, you will never forget the taste. And I assure you, you want to have more and more. So let's get to the Iran local dessert world that you should not miss while your trip.
1. Zoolbia-Bamieh, Persian Dessert for Ramadan
One of the most delicious Persian desserts is Zoolbia-Bamieh that Iranians generally have during the holy month of Ramadan. According to studies, foreign tourists who travel to Iran during the holy month of Ramadan (Iran tour)get attracted to it quickly and fall in love with this delicious dessert. 
In fact, this dessert is a combination of flour, yogurt, oil, baking soda, and saffron. First, they will mix starch and yogurt and then they add oil. When the mix is ready they add water, rosewater, and saffron and finally they fry it.
2. Ranginak, the Popular Iranian Sweets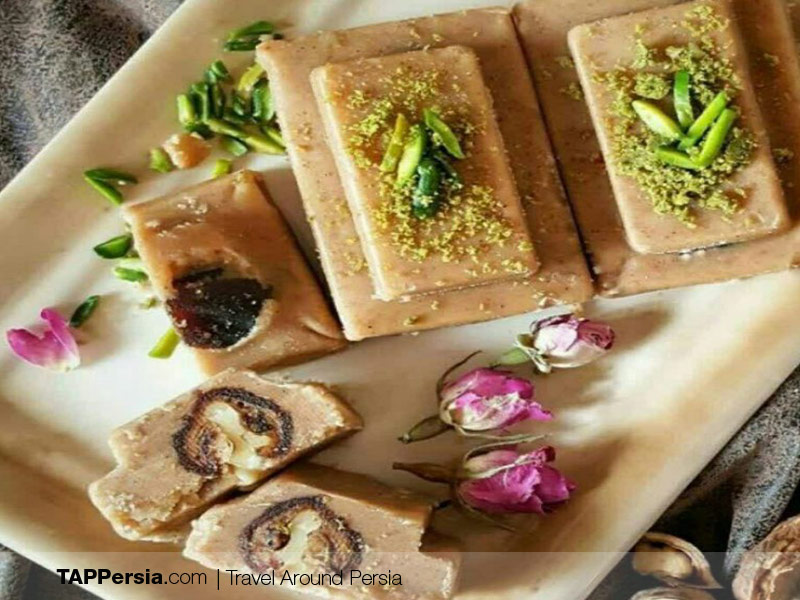 In the warm regions of southern Iran and along the Persian Gulf, dates are one of the most important fruits, farmers harvest. In fact, dates are known as one of the main food ingredients among the people living in southern Iran. They use dates to make extremely delicious and amazing foods. 
Ranginak is one of the Persian desserts that southern Iranian people make with dates. And it has a wonderful taste and color. To make Ranginak, first, you need to fry the soft dates with walnuts. Then you should fry them in flour. After you have done these steps, you need to add butter, cinnamon, cardamom, and chopped pistachios to the mix. Your yummy Ranginak is ready then.
Ranginak has an appealing look. That's why when everyone sees it wants to try it. And once they try it they can not stop eating. Anyways, Ranginak is one of the special and delicious local Iranian desserts.
3. Faloodeh Shirazi, Wonder Noodles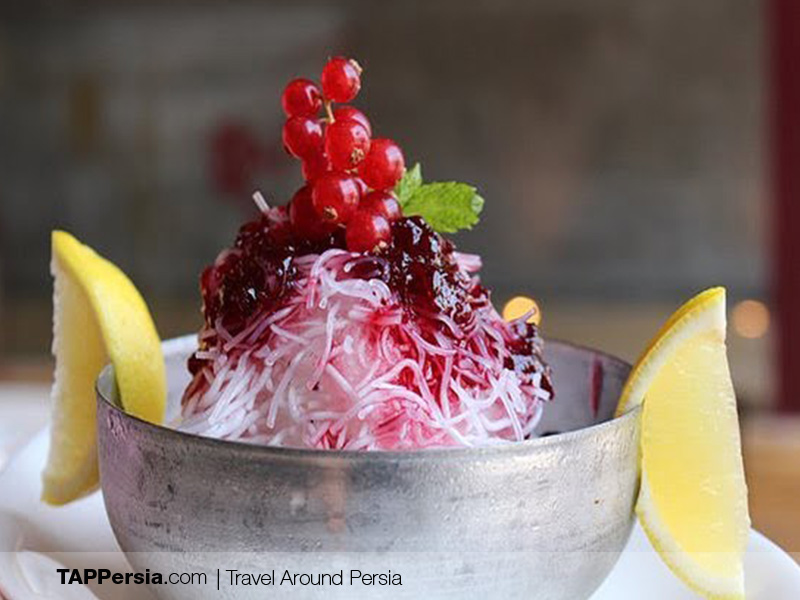 As the name suggests, Faloodeh Shirazi originally belongs to Shiraz. Whenever there is a talk about Persian desserts, it is impossible that no one speaks about Faloodeh Shirazi. This Yummy dessert is known as a special and delicious Iran local dessert not only for Iranians but also for foreign tourists who have tried it. 
Frozen noodles in rosewater may not sound that delicious but you've got to try it. You can eat these yummy semi-frozen vermicelli noodles in rosewater syrup, with a little fresh lime juice or some sour cherry syrup, or both. Moreover, if you love ice cream you can ask them to add some saffron ice cream to it. That will taste marvelous.
4. Traditional Ice Cream, Akbar Mashti Ice Cream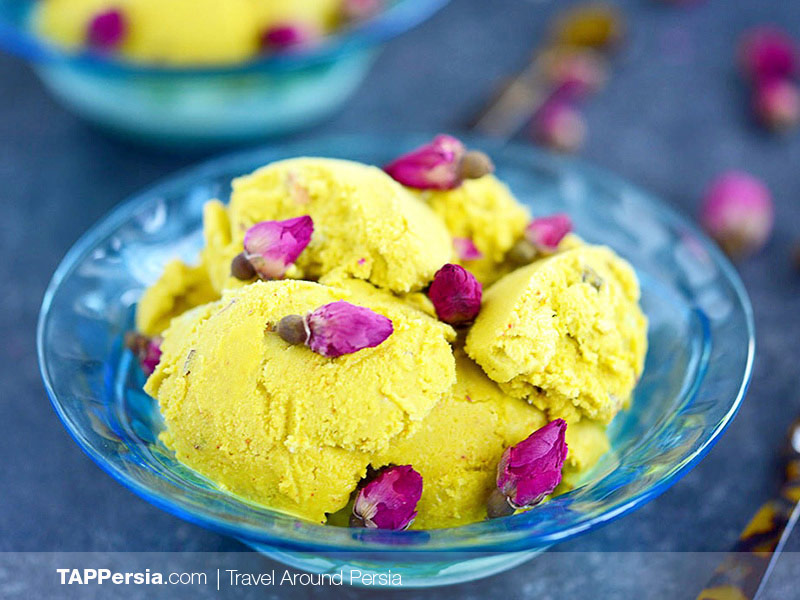 In general, ice cream is one of the most popular desserts in all parts of the world. And we can see different types of ice cream in different cultures. In our country, ice cream is very popular and Iranians love it. Sometimes they use it as a delicious snack. But among all the ice creams in Iran, there is one that has a very long history and this makes it an ancient Iranian dessert. It dates back to hundreds of years ago, we call it Bastani Sonnati (traditional ice cream). In the 1950s, Akbar Mashti was the one who came up with the ice cream idea. 
The ingredients of this Persian dessert are vanilla, saffron, rosewater, and pistachio. Vanilla and saffron ice cream with chunks of frozen cream and pistachio slices in your mouth, make it taste heavenly. There are two ways to try it. One, in a cup, two, between two wafers. Go as you wish.
5. Shole Zard, Saffron Miracle In Persian Dessert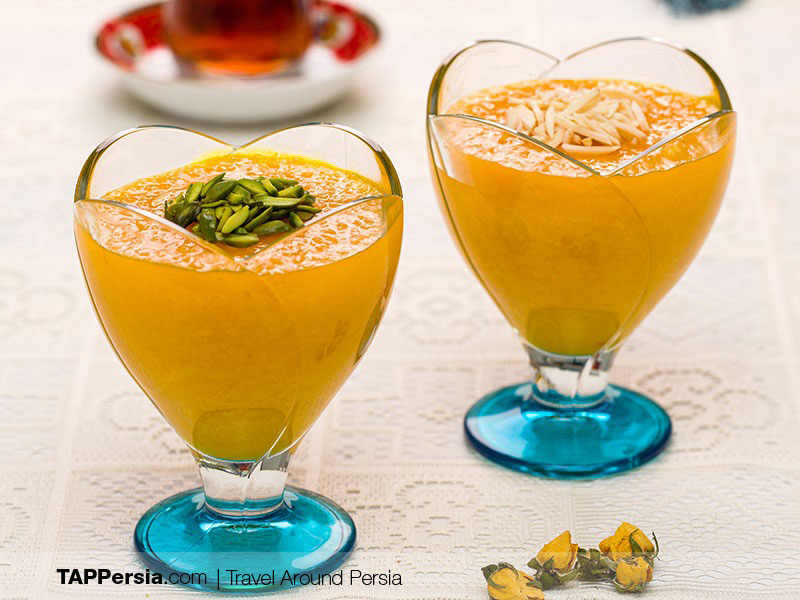 Shole Zard is another Persian dessert that has its roots in Iranian culture. Most of the time Iranians make it as Nazri. Nazri is a charitable offering to the needy, family, and friends and is kind of a religious ceremony. 
Sholeh Zard is a rice pudding with a beautiful yellow color that comes from saffron. And again because of the saffron, it has a mysterious smell that draws you to it. Other than rice and saffron, they use rosewater, sugar, and pistachio, and almond slices to make Shole Zard.
6. Shirini Yazdi, In The Heart Of  Iran Local Desserts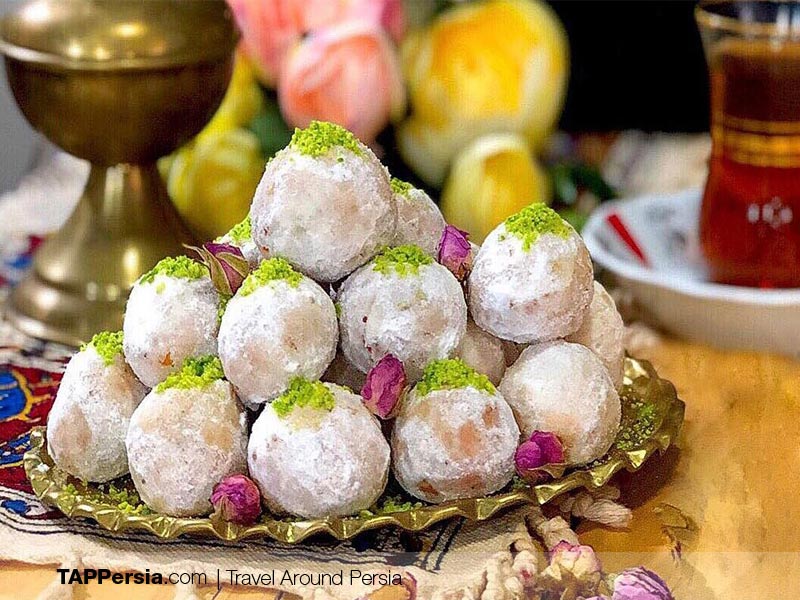 Yazd is kind of a sweet and candy land. There are a lot of delicious sweets that for sure you will love most of them. Haj Khalifa Confectionery is the sweet heaven that you should pay a visit to. You can find sweets and candies of different shapes and tastes there. Seeing all these Iranian desserts all at once will cheer you up. The most popular sweets of this desert city are Baghlava pastries, Ghotab, Loze Nârgil, and Pashmak.
7. Koloocheh, So Loved Persian Dessert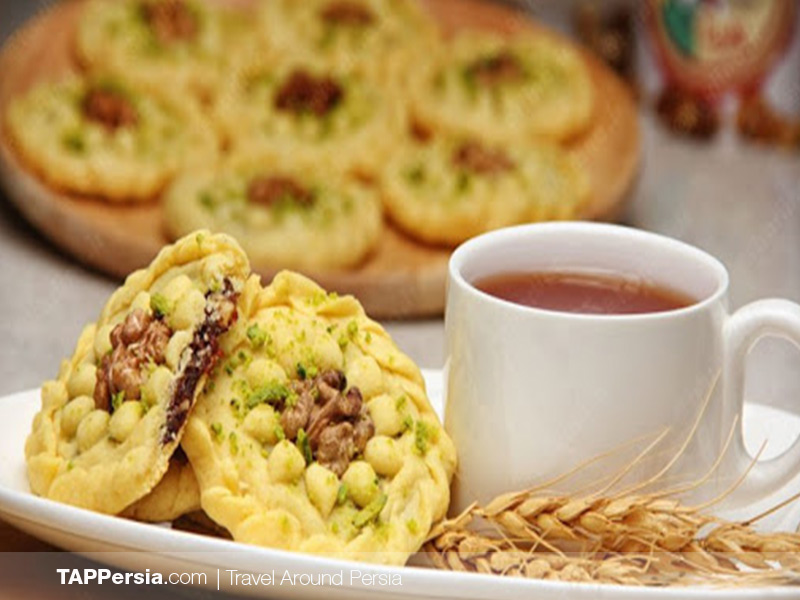 Koloocheh is one of the best cookies stuffed with different ingredients. The ingredients depend on where the Koloocheh comes from. But the main ingredients are normally cinnamon, sugar, and walnuts. Like Fuman Koloocheh that is very famous. Or Kolumpeh from Kerman that has minced dates inside with delicate decorations on top. What Iranians call Koloocheh is usually round with different top decorations. And they eat it with tea as a snack.
8. Sohan, Qom's Souvenir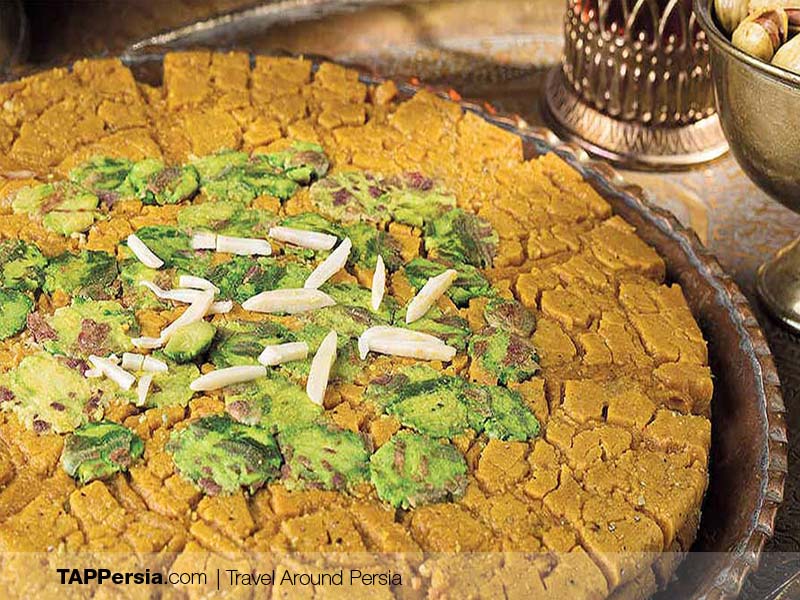 To taste this delicious dessert in the city it belongs to, you need to visit the religious city of Qom. Sohan is very crunchy and buttery. The ingredients of this amazing Persian dessert are wheat sprout, rosewater, eggs, sugar, butter, and cardamom with pistachio and almond decorations on top. If you want to double its great taste, we recommend you to try it with tea. When you try a piece you wonder this piece is enough but it won't be more than a minute that you will stretch your hand for another piece. That's why you need to be careful, otherwise, you might suddenly find yourself with an empty dish.
9. Gaz, Angabin Sap in Persian Dessert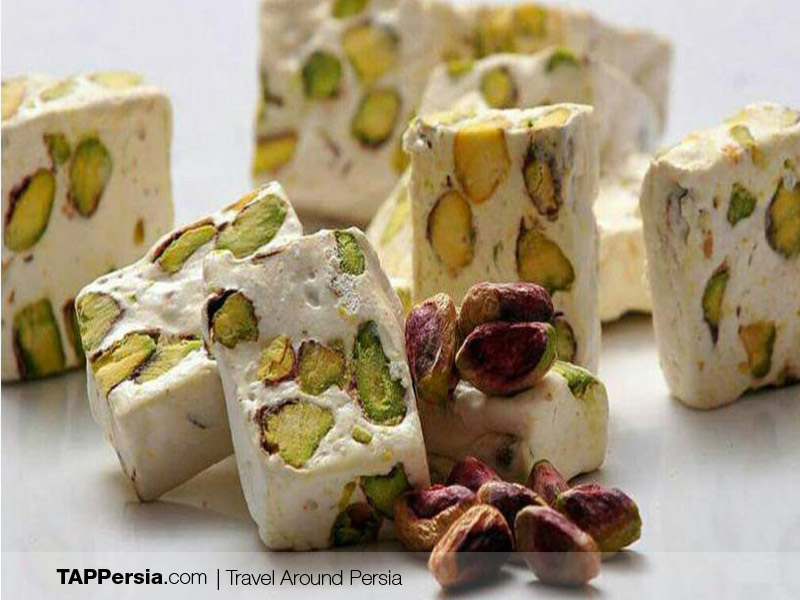 If you travel to Isfahan, make sure you won't lose the popular local dessert of this region, Gaz. The name is driven from the plant, Gaz Angabin. This plant has a special sap, Angabin, that they use to make Gaz. So the ingredients are the Angabin sap, white sugar, eggs, rose water, almond or pistachio, or both. Gaz is available in different shapes. Some of them are round and dredged in flour, Gaz Ardi. They are really tasty.
10. Halva, Not Just Any Middle Eastern Halva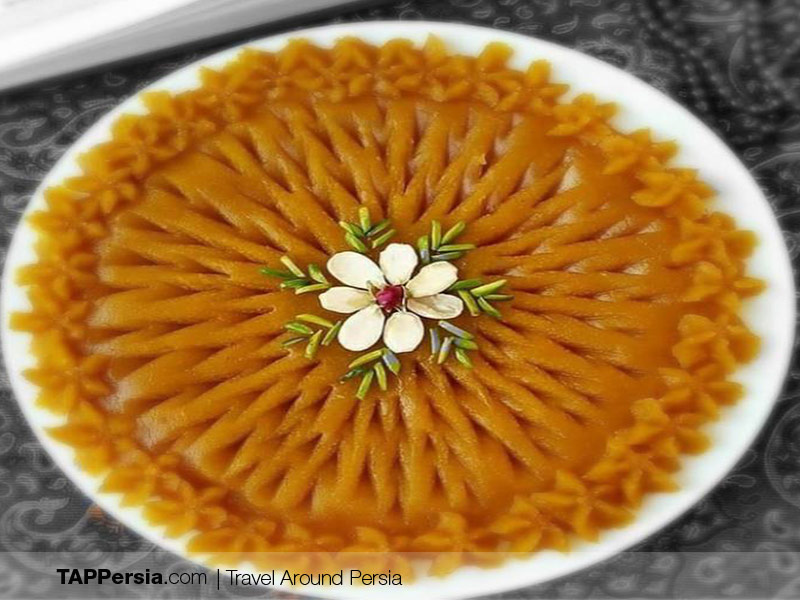 Halva is another delicious Iran local dessert that Iranian people use to make it mostly for special ceremonies. Of course, Halva is a Middle Eastern dessert with different recipes, but Iranian Halva is one of the most delicious types. To cook Halva they first lightly fry white flour and then add sugar with rosewater and saffron. When the paste is ready they put it in a dish and create beautiful designs on it with a spoon or so.
11. Khoresh Mast, A Must-try Iranian Dessert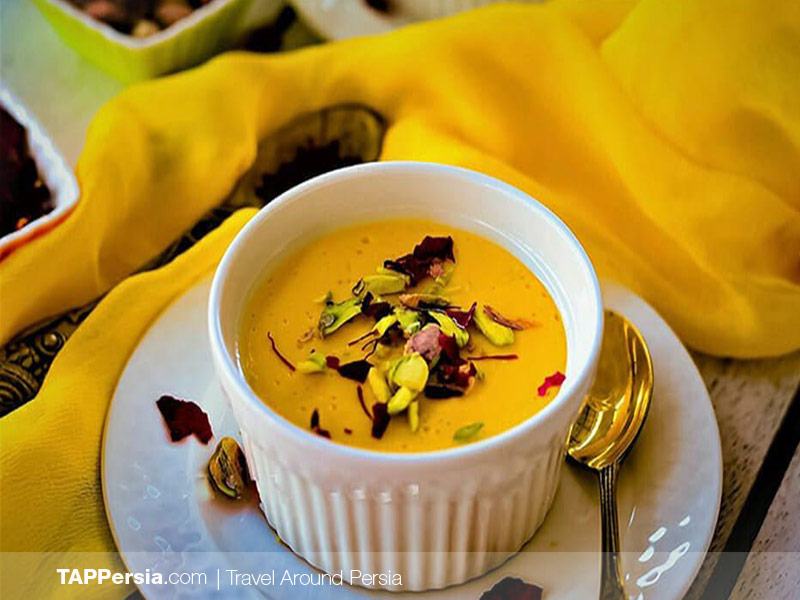 Yogurt stew or Khoresh Mast is one of the original and traditional foods of the people of Isfahan. Although they call the food "Khoresh" which means stew, it is actually a dessert or appetizer. Yogurt stew has a sweet taste and is very tasty. With the mesmerizing saffron color and taste, the creamy look, and the unique taste you would not be able to guess there is meat in it. But here we go the ingredients are meat, eggs, sugar, yogurt, saffron, rosewater, salt, etc.
Make sure you will at least grab a bit of Khoresh Mast whenever you are in Isfahan.
Final Words
Thank you for reading the article. If you enjoyed it please let us know in the comments. Your words worth a lot to us. If you need any information about where is the best to try these yummy desserts or to buy some, pick up your phone and contact us. We will be glad to help. You can find our contacts at the end of the same page.
---
Recommended Tours