With a 2,400-year-old culture, Iran is regarded as one of the food industry's wealthiest nations. Iranians have been making bread and many types of sweets since the Aryan period when wheat cultivation was established on the plateaus of Iran and Mesopotamia. The oldest types of sweets are the ones from Iran. They are the world's goodies. The oldest pastry in the world is a dessert called "lavish" which originated in ancient Iran and was created with a mixture of rice flour, egg, and other ingredients.
Its name is reminiscent of the familiar lavash bread(Iranian breads). Instead of wheat, Iranians utilized barley throughout the Achaemenid era. To produce sweets, fruit juice and milk were blended. One of the earliest cultures to keep bees to make honey was the Iranians. Old stone inscriptions show that Iranian sweets were a staple in the diet of the Achaemenid people. We will discuss the most original and delectable Iranian sweets in this post. Additionally, you can explore famous Iranian desserts in another article on our blog.
1.Gaz of Isfahan (Persian Nougat)
One of the oldest Iranian sweets, the Gaz of Isfahan has a 450-year history that is ascribed to the Safavid era. The most well-known Iranian confection available outside of Iran is called Isfahan Gaz. Gaz is made with egg white, liquid glucose, honey, and pistachios as components. Today's gaz uses sugar, which is less expensive than honey, in place of honey. However, there are some works of art that can only be created with honey, such as Gaz without sugar.
The two varieties of Gaz made are classic Gaz and bite-sized Gaz. The classic Gaz that was made 450 years ago and preserved in flour to make it tasty is still called Gaz Ardi. The popularity of Gaz has grown along with the packaging business; each Gaz has its own unique packaging and has a far longer shelf life than wheat Gaz.
2.Saffron Gaz, today's Most Popular Gaz
We had a significant change in the realm of Gaz with the generation of saffron-colored Gaz by Haj Ahmad Tahmasabi in 2016. You may now purchase these tasty Iranian sweets in colors outside white for the first time. For the Arabs, Iran has grown. This kind of Gaz is offered in bulk and packed as a welcome gift from Arab nations like the UAE and Qatar. In modern Iran, the original Gaz of Isfahan is quite famous together with the Qaenat saffron, green pistachio, and Kerman. Furthermore, large ones are offered at Iran's nut stores.
3.Qom's Sohan
One of the most well-known traditional Iranian sweets, Sohan of Qom, is a product of the Qajar era. There is a legend that Naser al-Din Shah's delegate visited Qom to inaugurate the new court of Hazrat Masoumeh on the Shah's behalf. After lunch, he reportedly cooked a delicious halva with pistachios. It was created and sent to him.
He like it so much that he compared it to Sohan in saying that it relieved our fatigue. As a result, the name of this treat gained favor. Basically, pistachios and sugar are used to make it.
Today, Sohan of Qom enjoys a large following around the globe, particularly in Arab nations, and brings in a sizable amount of foreign exchange for the nation each year.
4.Sujuq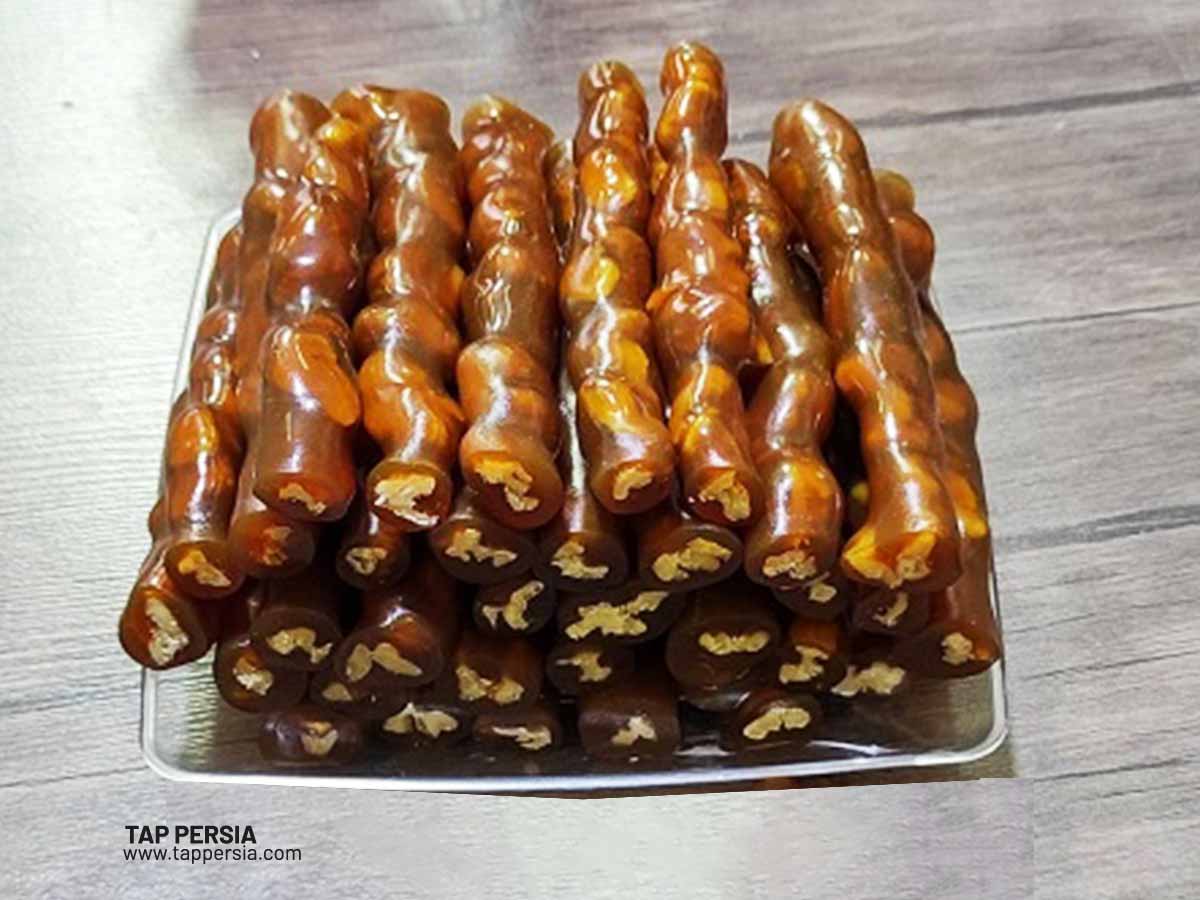 It is one of the most distinctive types of Iranian sweets that is originally made in Tabriz, Arak, Melayer and Maragheh. This dessert is made with starch, grape juice, almond or apricot kernels, and almond or starch. This delicious treat requires almost three months to create and is typically made beginning in December. By Nowruz Eid, it will be prepared for ingestion.
The almonds are soaked until the skin is removed as part of the process of creating Sujuq, after which they are dried by being strung on threads.
The grape juice is heated until part of the moisture evaporates, then it is combined with starch before the threads are added.
Once they have it, they hang it up to dry and then repeat the procedure multiple times by placing it in a door. Before the sugar binds and the Sujuqs are fit for consumption, they are left hanging for two months.
5.Latifah Sweets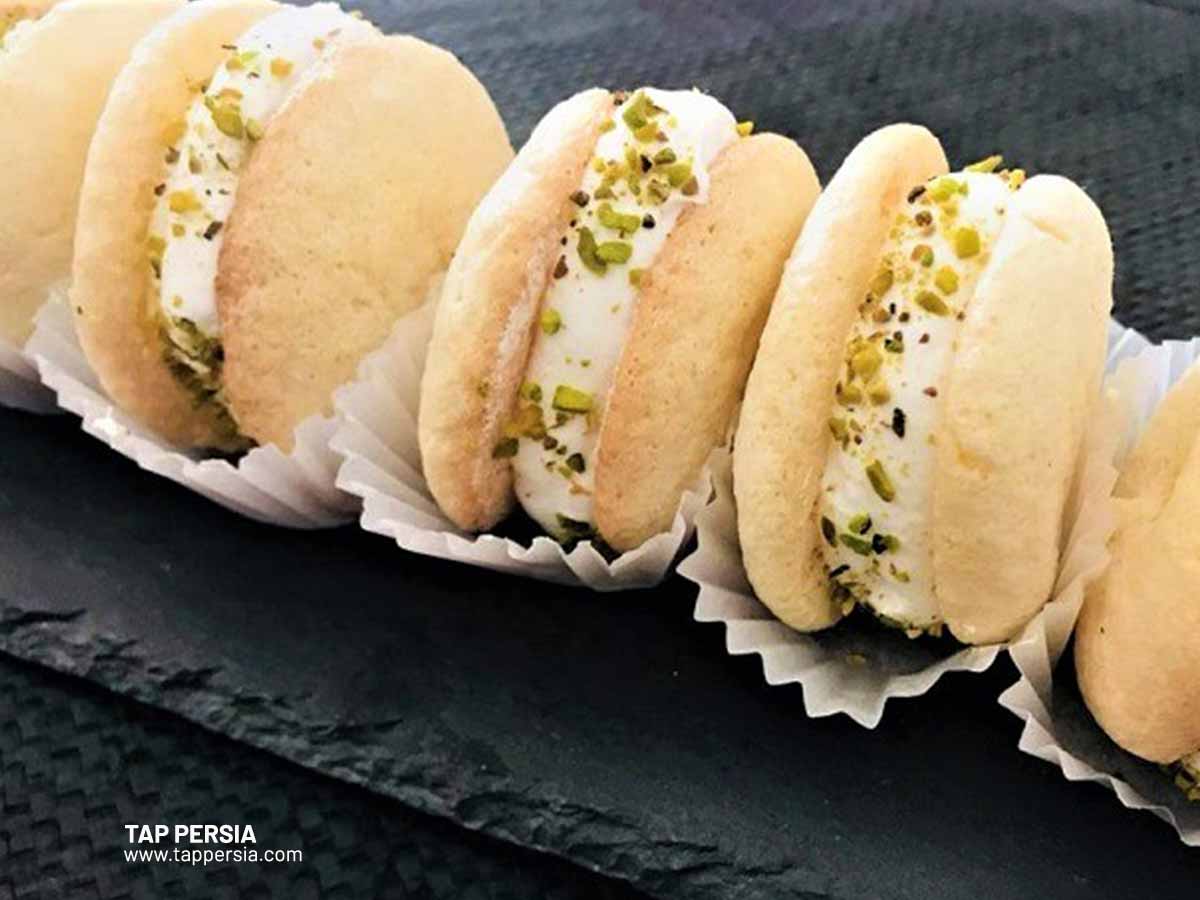 Latifah is one of the most delicious Iranian sweets. Two layers of soft and puffed pastry decorated with powdered sugar, hug a layer of white cream. Latifah sweets do not belong to a specific part of Iran and can be found in all Iranian sweet shops and confectioneries.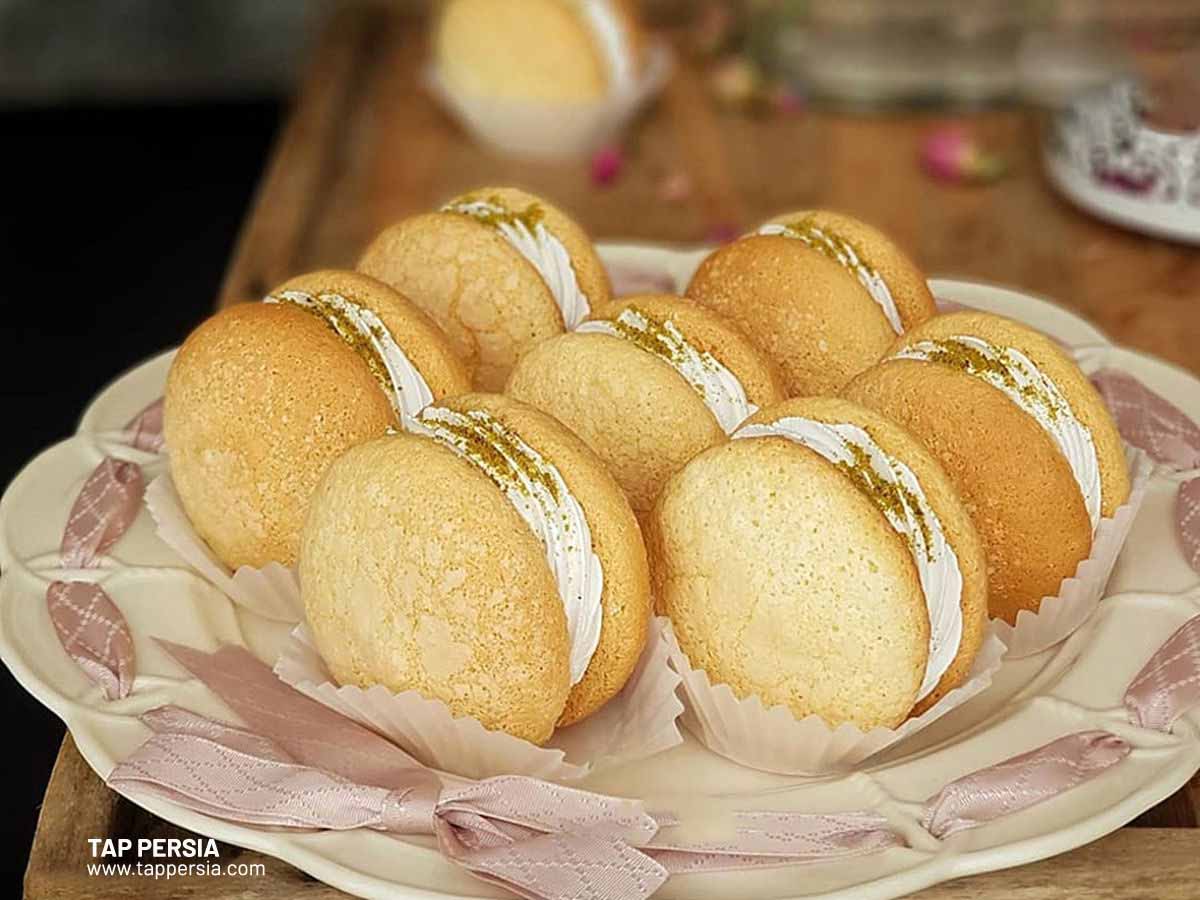 If a party comes to your house and brings you a box of creamy sweets, there is a high probability that one row of them will be Latifah sweets.
6.Qazvin's Baklava (Baklava 3 Colors)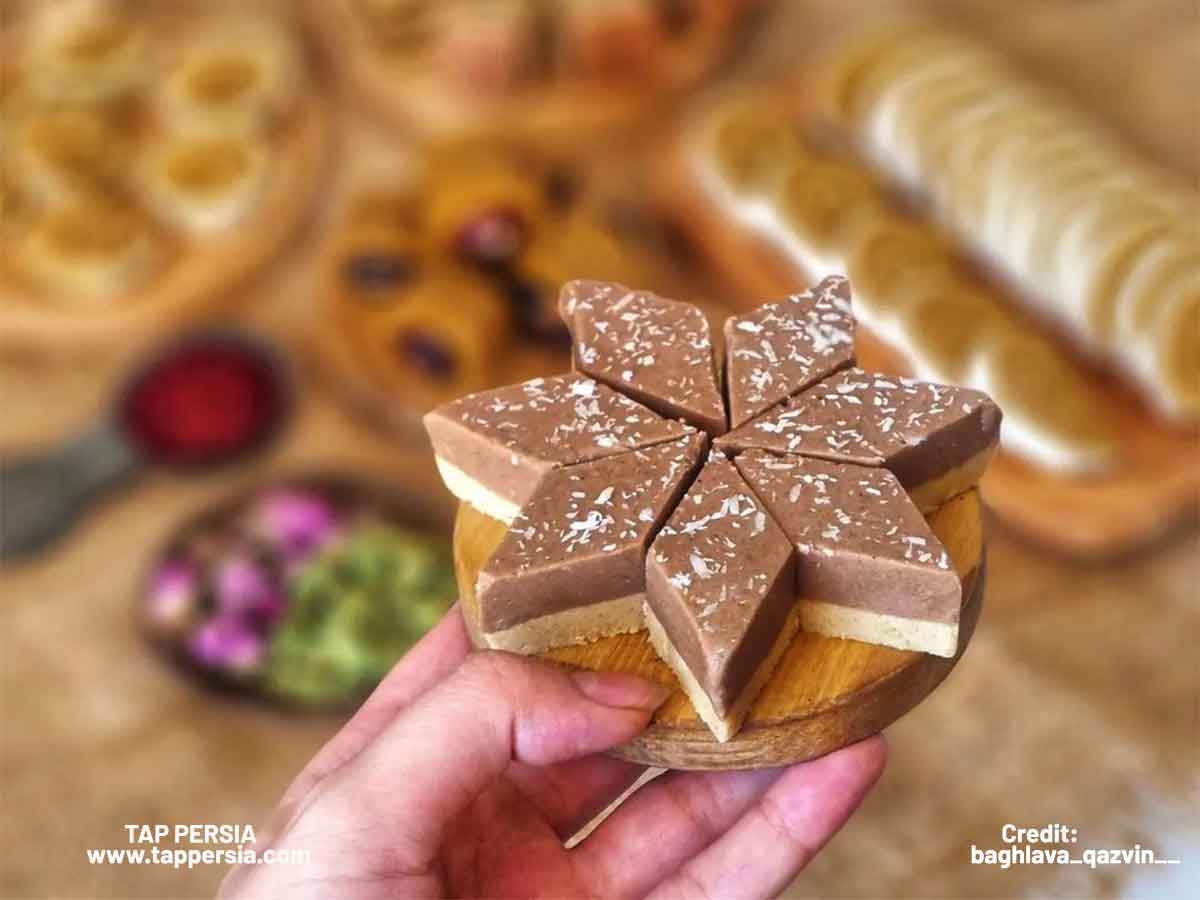 One of the most special types of Iranian baklava is Parchami Baklava, which is made in Qazvin. One layer of this baklava is made with pistachio powder, one layer with almond powder, one layer with saffron and one layer with Qadi powder, and it has an attractive appearance. You can find delicious in abundance in Qazvin or in famous pastry shops in your city. This baklava is not as famous as Turkish baklava, but we think it can compete in taste.
7.Peshte Zik of Mazandaran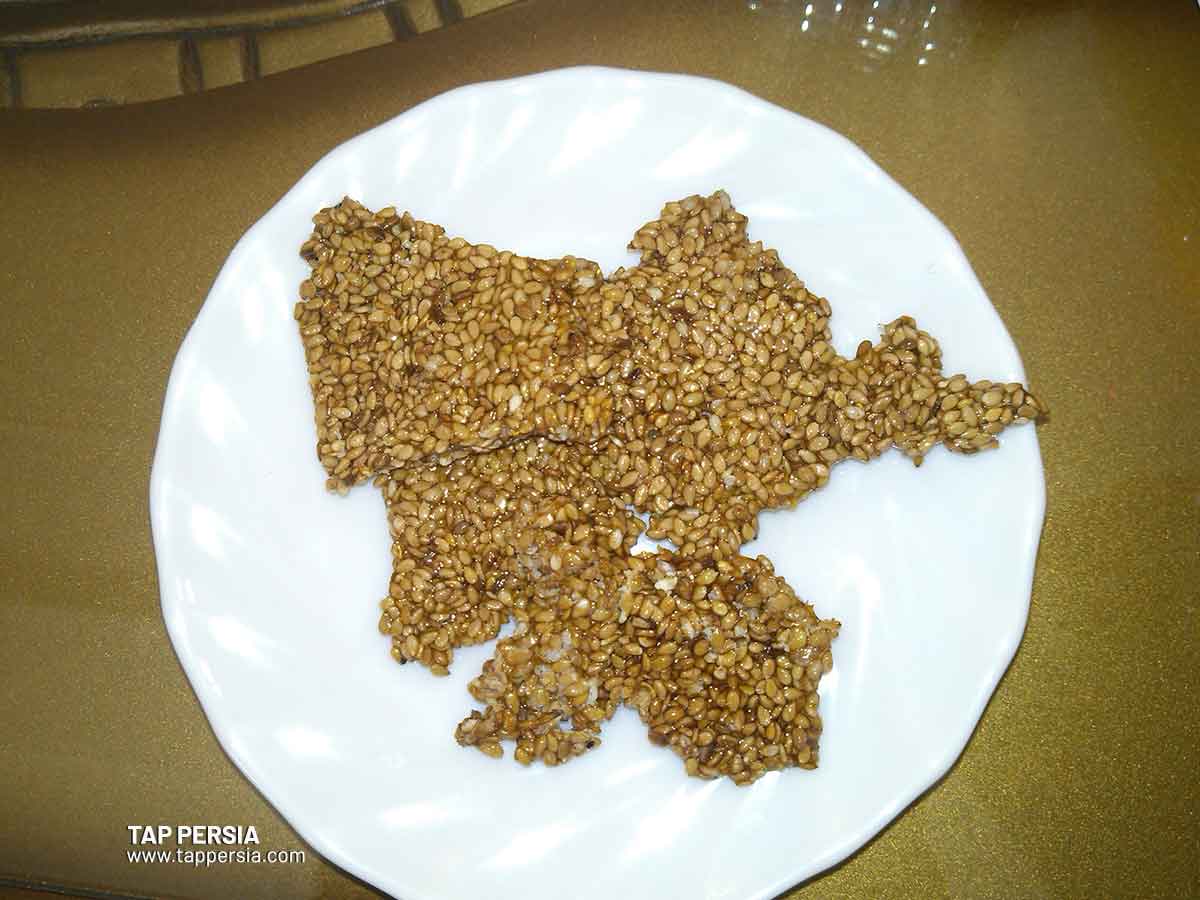 It is one of the most well-known traditional Iranian sweets made in Mazandaran, Iran. To make this delectable treat, first, melt butter and honey or sugar together until the mixture is elastic. Then add sesame and distribute the mixture on a plate. They chop it and use it once it has cooled. Nowruz festivities in Mazandaran traditionally include the sweet treat known as Peshte Zik.
8.Pashmak of Yazd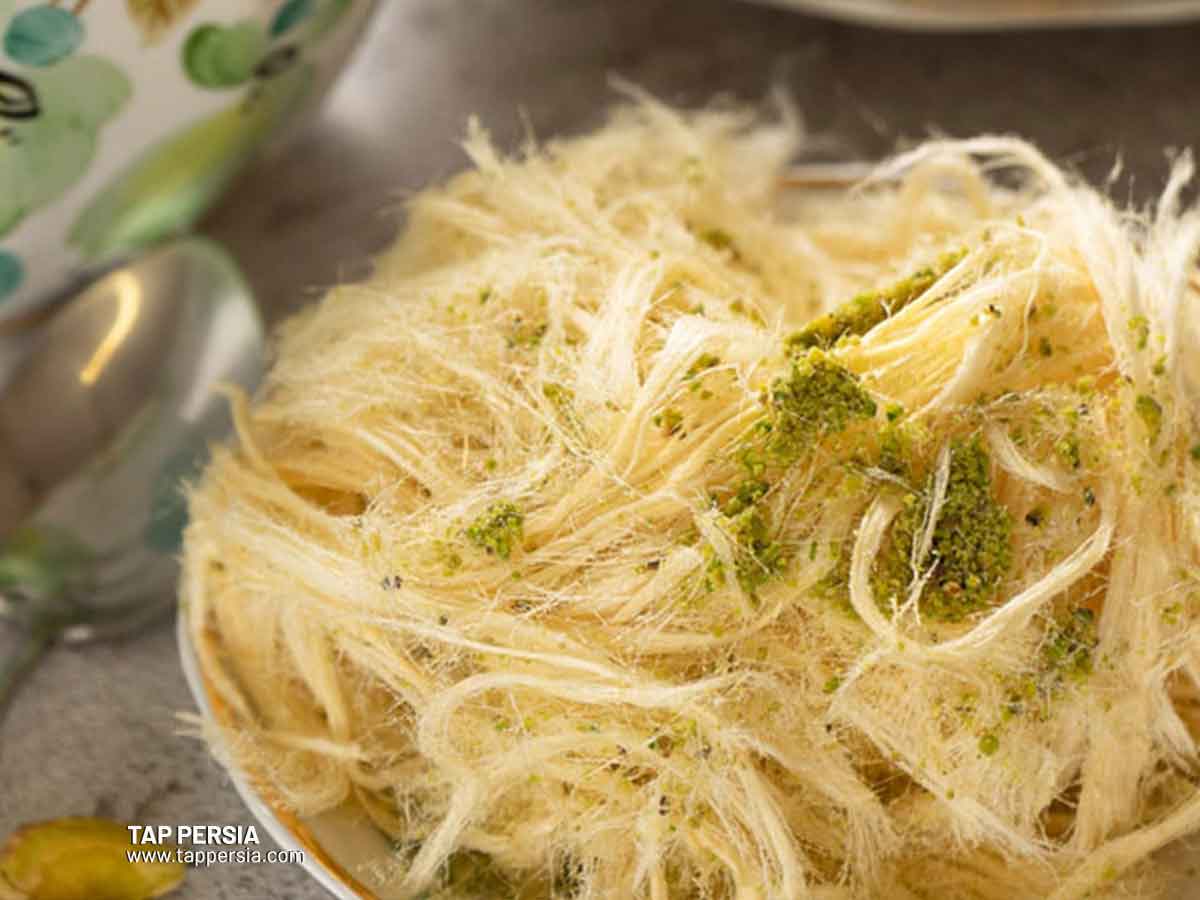 Pashmak, one of the most well-known Iranian sweets, is abundant in Yazd and is among the city's many delectable treats. They pass hot, humid air over the sugar granules to create Pashmak. The sugar granules become more rigid due to this air.
They transform into strands and a semi-solid state. They use a stick to twist and separate these strands after that. In addition, a number of essential oils, including saffron, coffee, and vanilla, are utilized in the creation of Pashmak. They create several flavors and coatings and market them in separate packaging.
9.Noon Khamei, beloved by hearts (Profiteroles)
Cream bread, also known as "Grenade cake" in some cities like Mashhad, is the most popular of Iranian sweets. Pastry cream is used to fill puffed bread to create this delicious delicacy. This cream may occasionally be made with honey, coffee or even saffron. Whatever it is, you must like all varieties of cream bread. This sweet has been made in Iran for a long time, despite some accounts attributing its origin to northern Italy.
10.Poolaki of Isfahan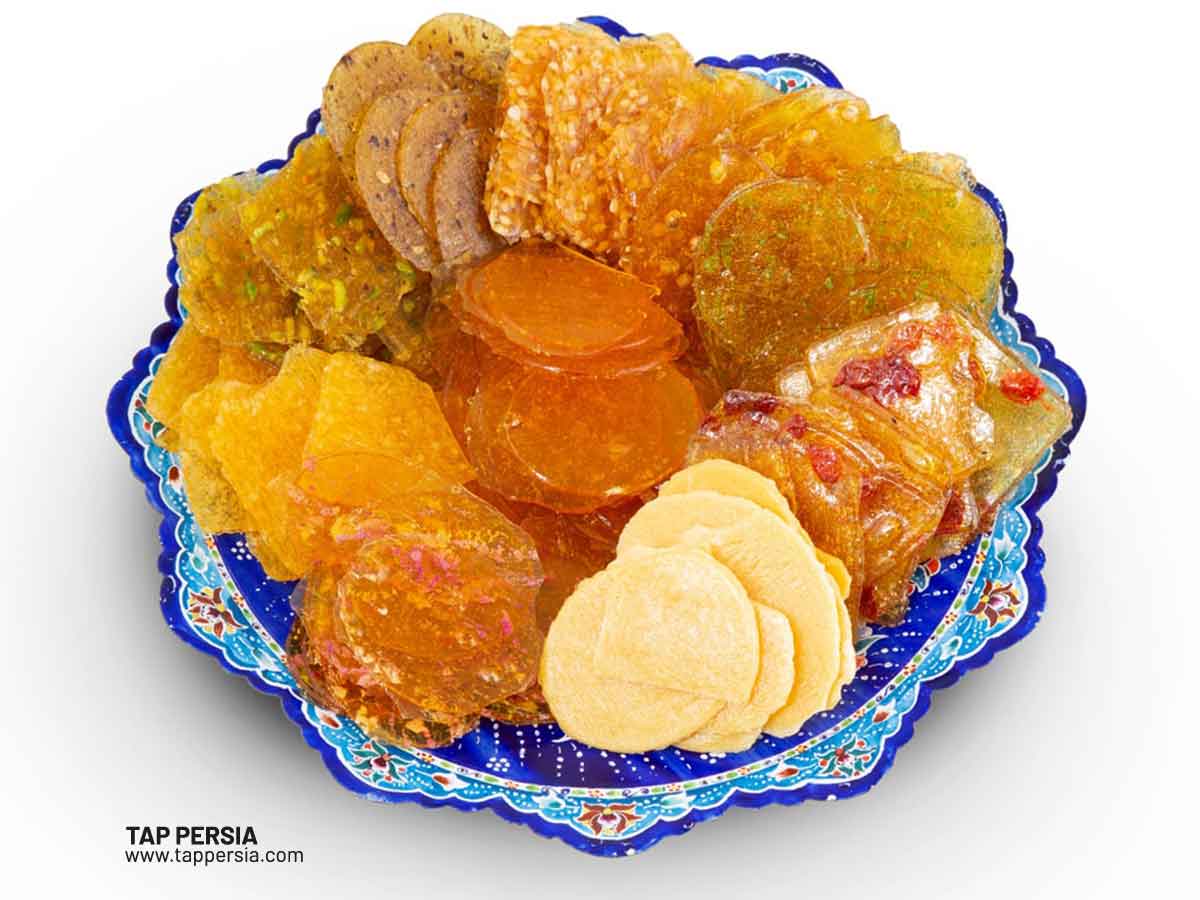 Poolaki is among the most affordable and delectable Iranian desserts. This is a straightforward dish that you can make at home. Boiling the mixture after mixing in sugar and water causes the water to evaporate, giving the mixture a more cohesive structure. At this point, you may mix in other ingredients like sesame, coconut, saffron, etc. and distribute the flaky liquid evenly over a smooth surface. Be cautious since you must cut and use the Poolaki in whatever shape you like before it dries.
11.Turkmen Pishme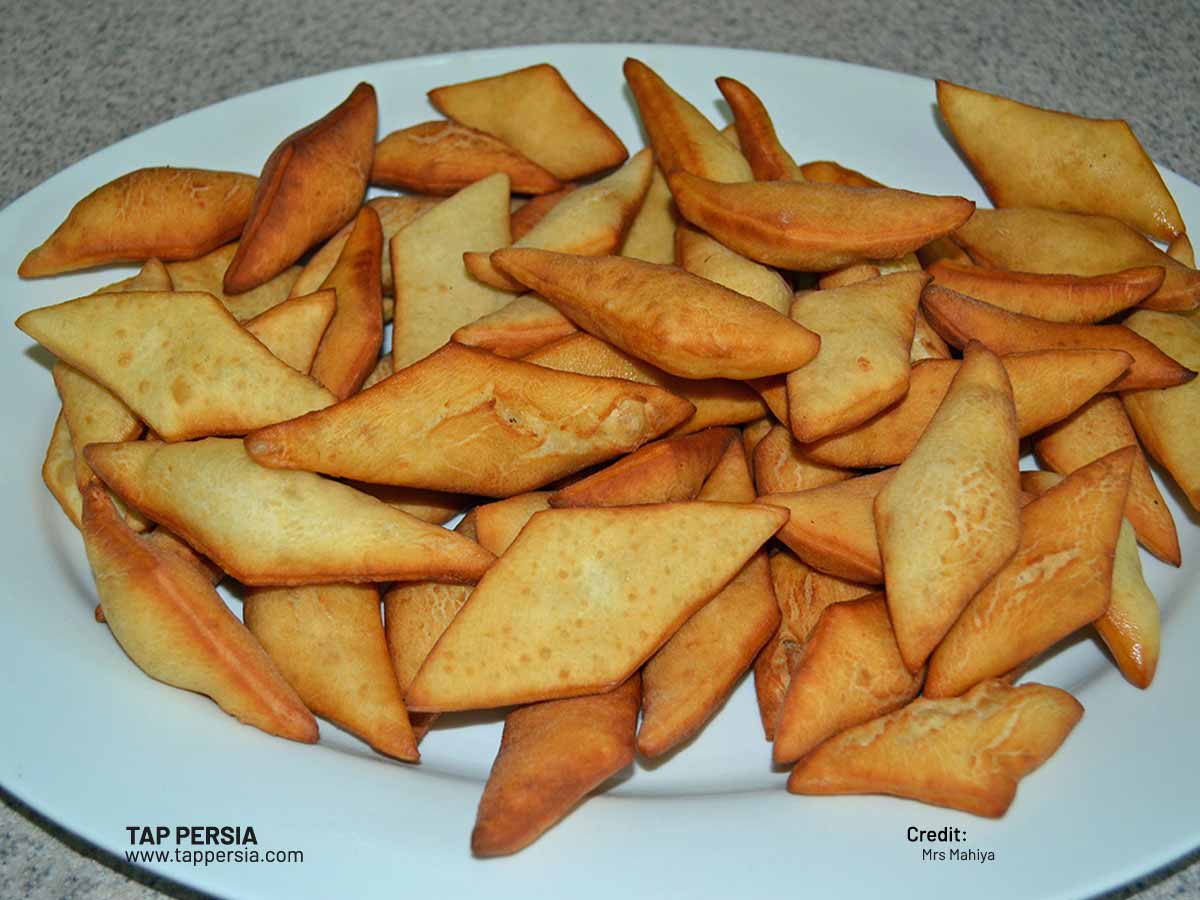 Pishme is one of the most famous Turkmen sweets, which looks like a "Goushe Fil" or a dumpling. Turkmen people value bread and produce this sweet for various ceremonies. If you travel to Turkmen Port or Kavus Dome, you will definitely see Pishme. The ingredients of Turkmen Pishme are flour, sugar, butter, eggs and rose water. Pishme is like the already mentioned "Noon Khamei" without the cream inside.
12.Tar Halwa of Shiraz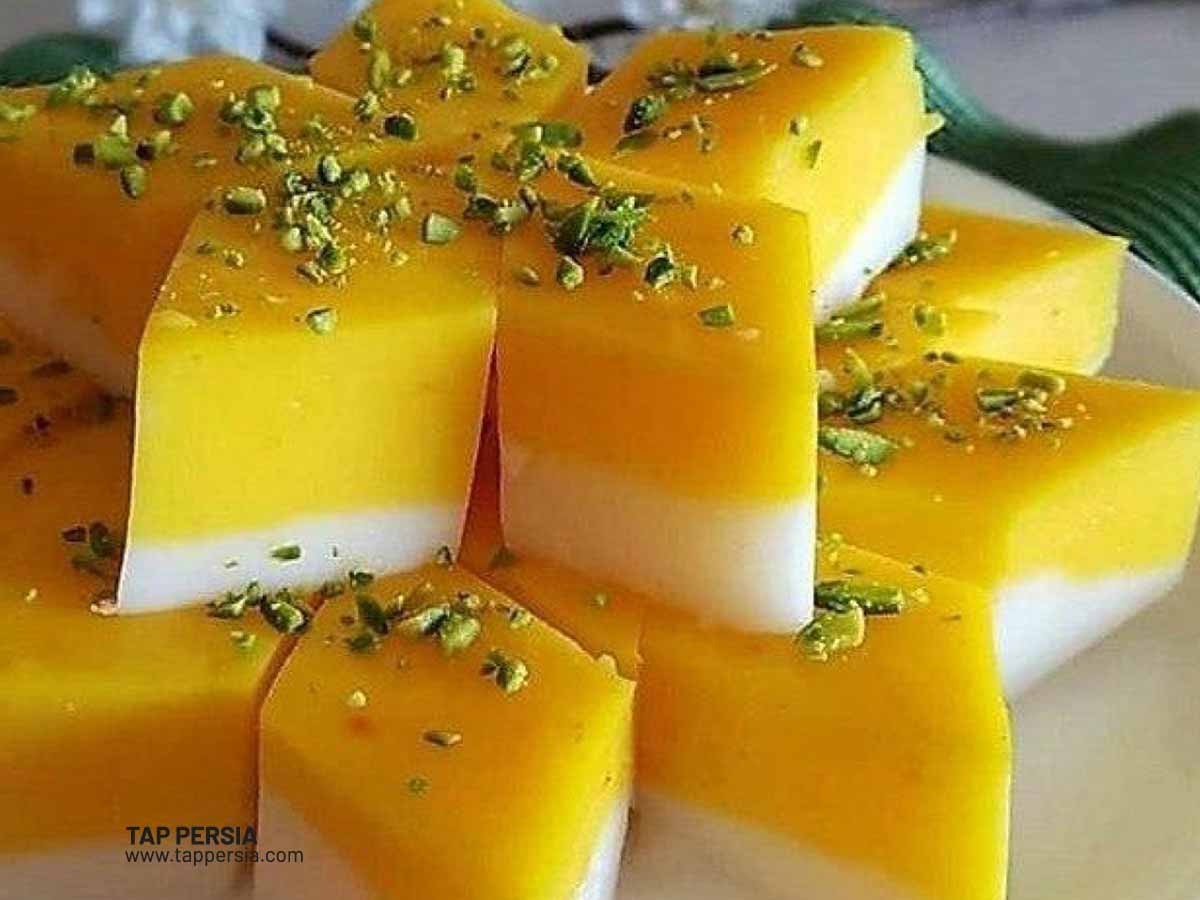 Tar Halwa is a delectable delicacy from Shiraz that is made using rice flour as opposed to wheat flour. It is really tasty and semi-solid. This well-known Iranian delicacy also includes the flavors of saffron, cardamom, and rose water. I wholeheartedly endorse Tar Halwa. Because it is so wonderful, give it a try.
Another variety of Tar Halwa is called Carrot Tar Halwa; it is one of Hamedan's most well-known confections and has a lovely look.
13.Yazdi Cake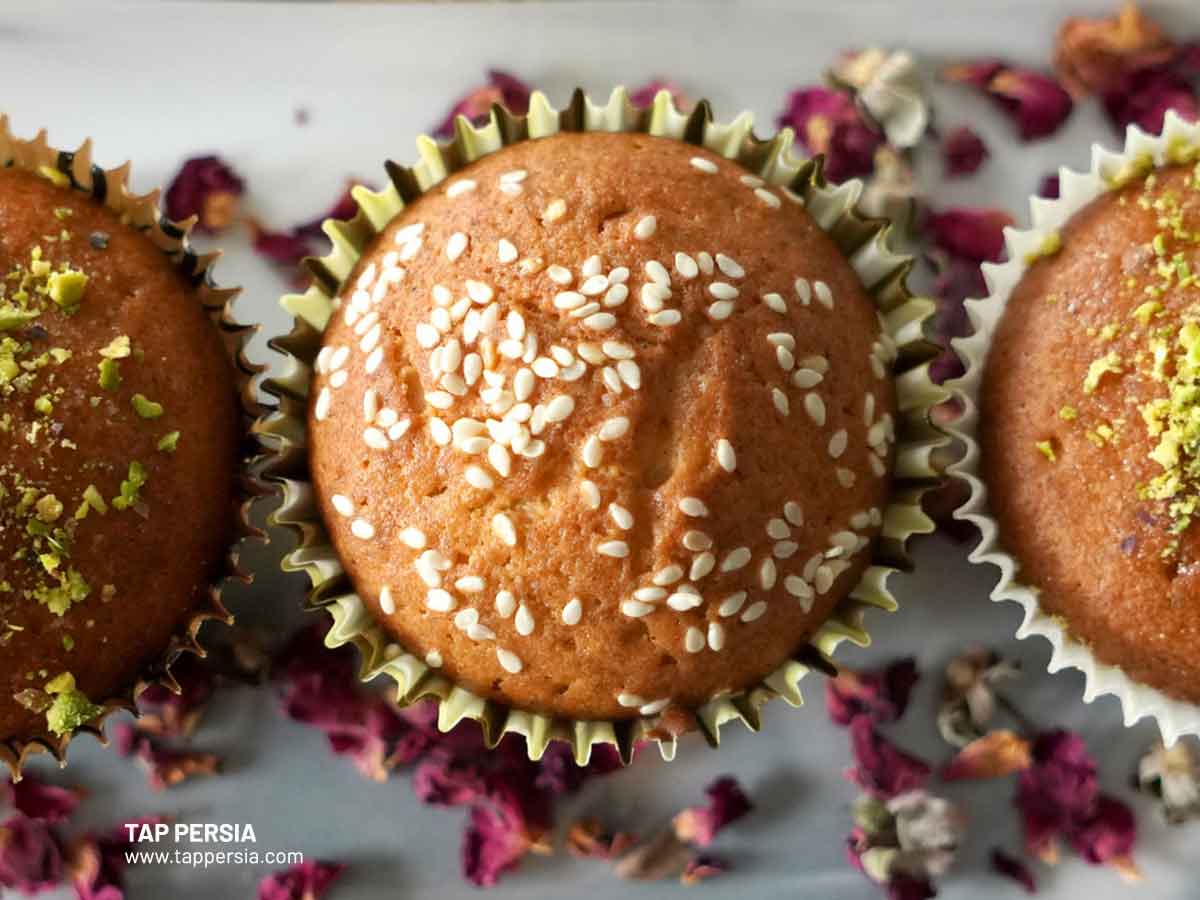 Ancient times saw the usage of the popular Yazdi cake in religious events. One of the most popular and affordable traditional Iranian desserts nowadays is yazdi cake, which is made in all Iranian towns. Yazdi cake ingredients include eggs, milk, flour, sugar, cardamom and butter, and in some cases, it also has some pistachio pieces or raisins.
One of the earliest instances of a cupcake is Yazdi cake, which is created with condensed yogurt and saffron and resembles a treat.
14.Saffron Hard Candy of Isfahan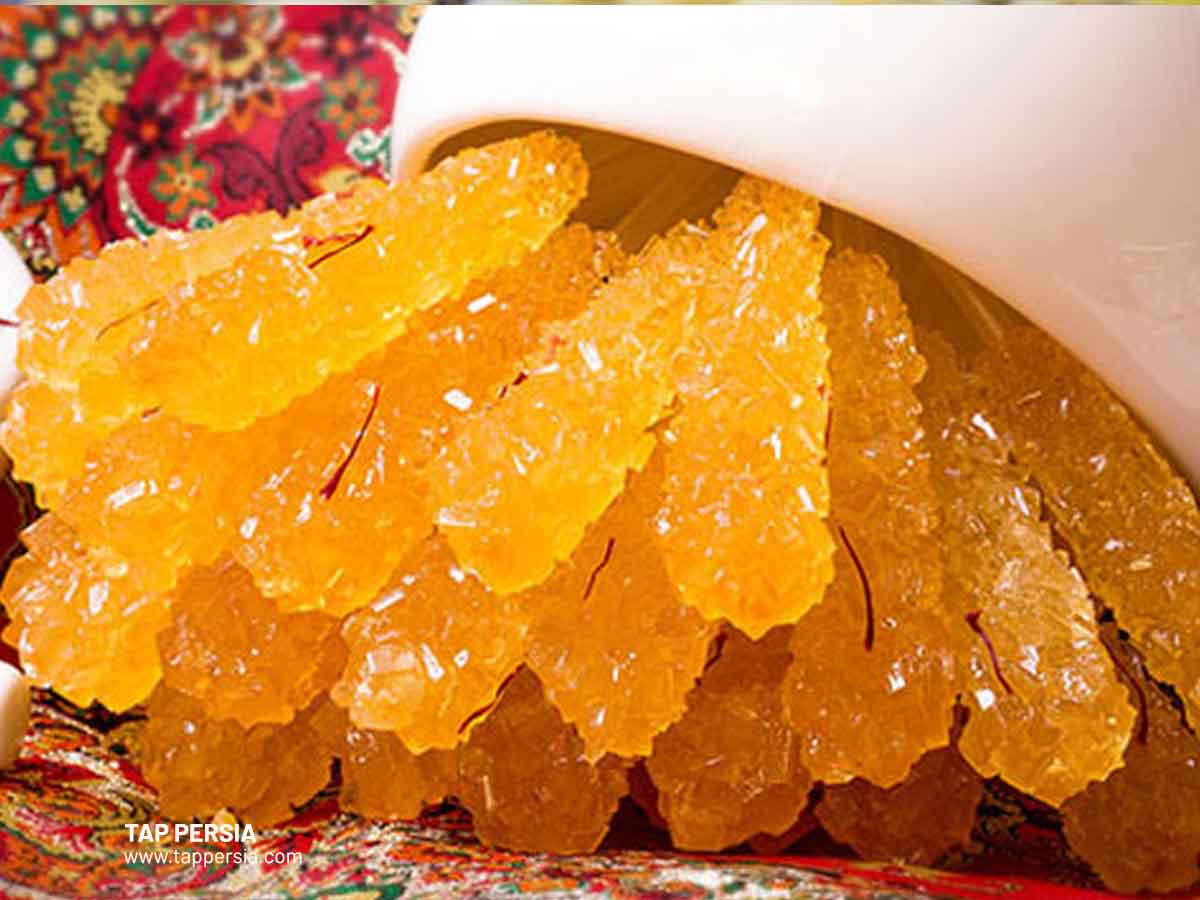 The traditional dessert from Isfahan is made by recrystallizing saffron and sugar. As far as traditional Iranian sweets go, it holds the top spot. Both conventional and industrial methods are used to make the confection. Traditional sweets are created more slowly than industrial sweets and aren't crystallized by cold or refrigeration.
The distinction between conventional sweets and commercial sweets is this. The traditional candy releases its scent in water and dissolves more rapidly and readily in water as a result.
Today, hard candy is produced in Iran and most countries of the world, the most famous of which is the Isfahan hard candy. The hard candy is produced in different flavors: saffron, cinnamon, cardamom, plain, sour tea and various medicinal herbs.
15.Angoosht Pich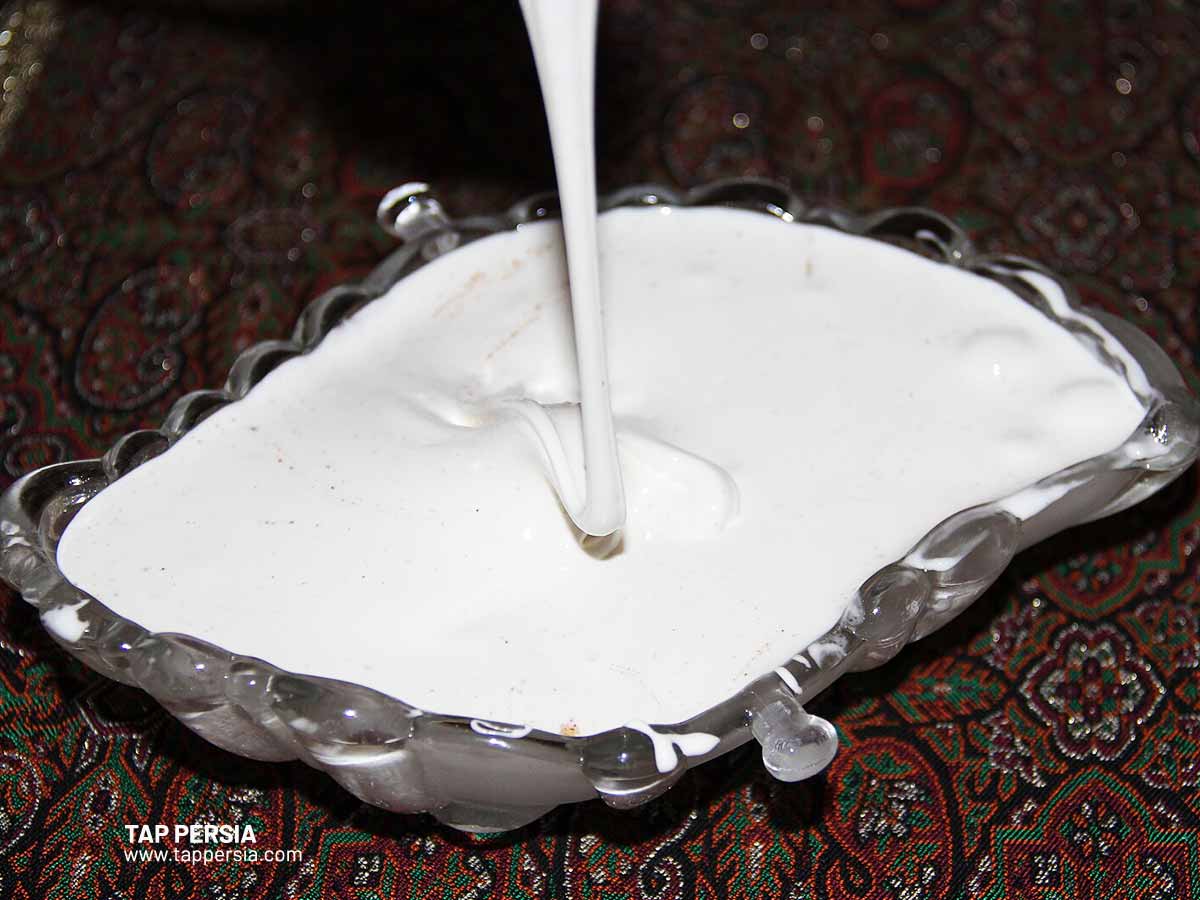 Angoosht Pich is the same as liquid Gaz that has not been moistened, it has no core and is sweetened with Tamarisk syrup. This popular food has been produced in Hamedan for about 130 years and is very popular among the people of Hamedan. In Isfahan today, there is also the Gaz form of Angoosht Pich, which the people of Isfahan produce different brands.
16.Jam sweets (Mashhad)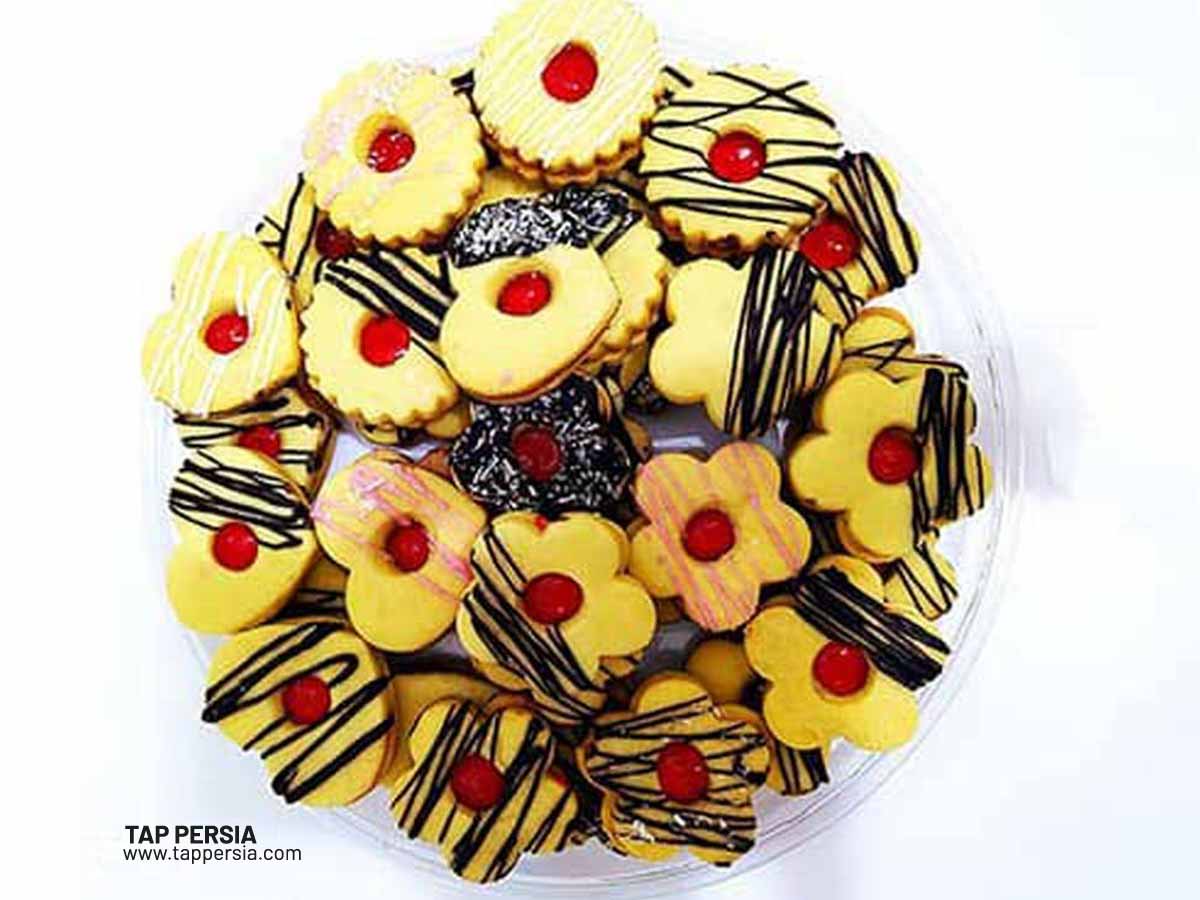 One of the best-selling Iranian sweets that are used in happy and sad ceremonies is Jam sweet or Shiriniye Morabayi. The originality of this sweet is attributed to Mashhad and the Khorasan province. It is made with carrots and figs and goes very well with tea.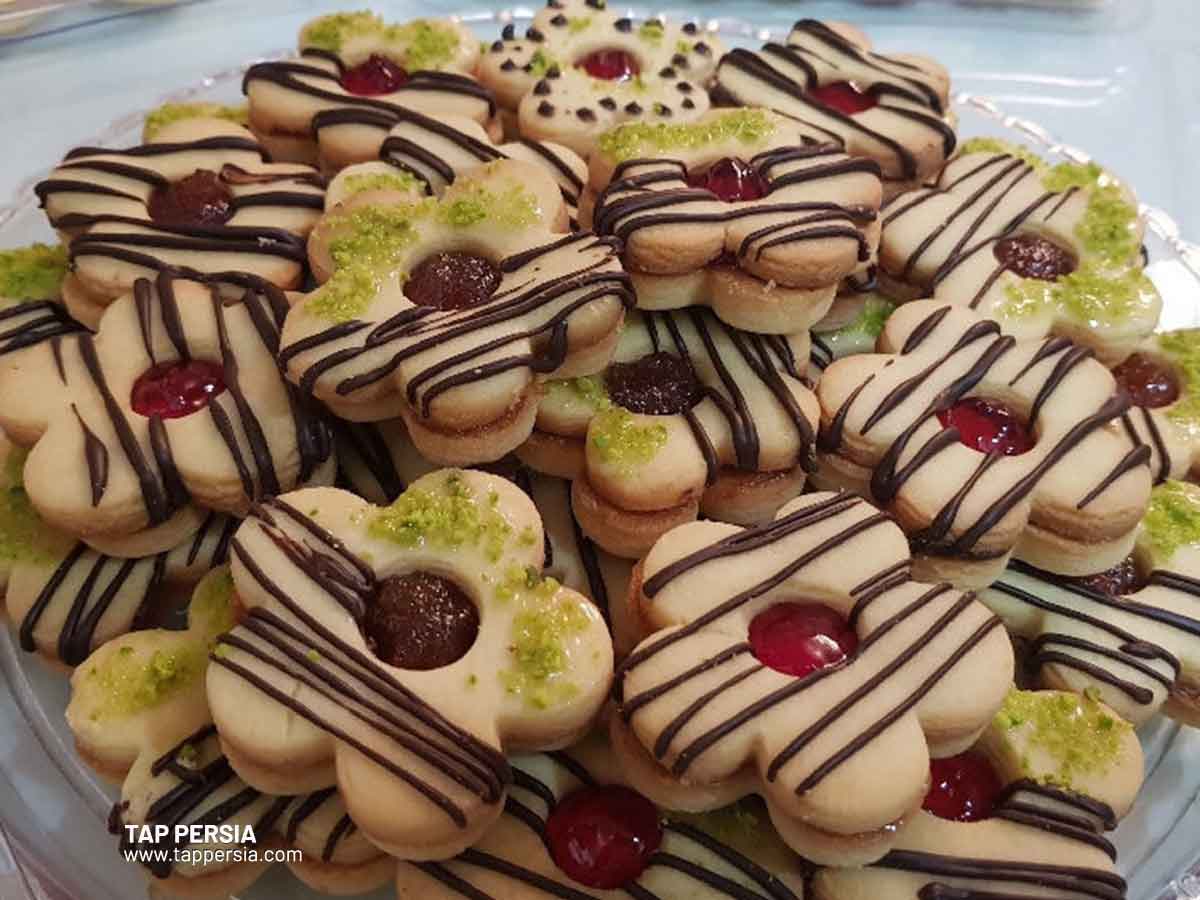 In Turkey, this sweet is called "Gharabiye marmalade" This sweet came to our country from Austria and the city of Linz, and there they call it Linz's eye. It is called that way probably because it has a hole in the middle like an eye.
17.Zaban Sweets (Everywhere)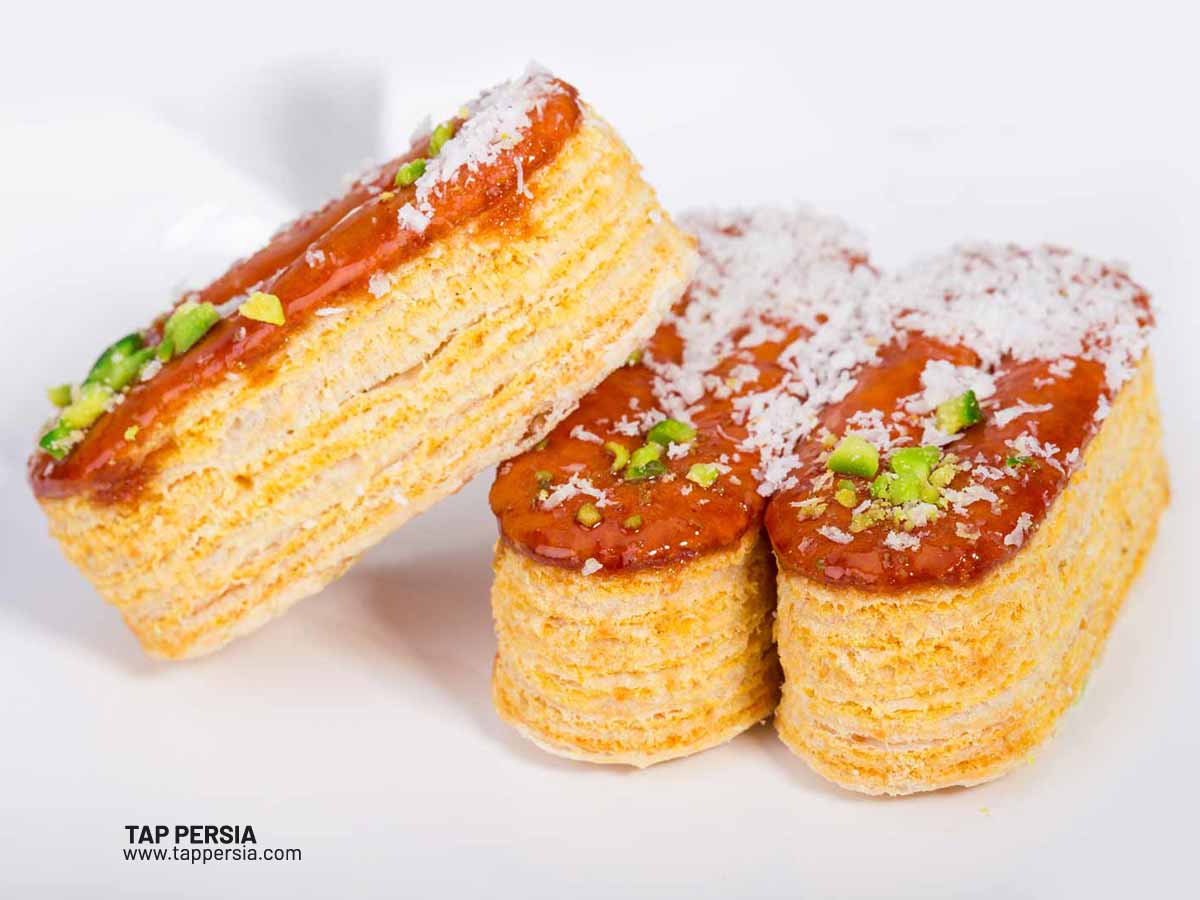 Zaban sweets which is translated to literally "Tongue Sweets" is one of the most popular Iranian dry sweets. The important point in preparing this famous sweet is the preparation of a type of dough called "A thousand Layers".
After 20 minutes, it is taken out, mixed with butter and spread again with a rolling pin. This process is done several times until a multi-layered dough with a diameter of about 80 mm is formed. Then cover the layers with nectar and egg. They put it on the last layer so that its surface becomes crispy. Language sweets are not specific to a particular city and are traditional sweets of ancient Iran.
18.Fouman Gilan Cookies
Fouman cookies are a traditional Gilaki sweet that has been prepared since long ago in Gilan, especially the Fouman city and it is completely of Iranian origin. The distinguishing feature of this popular Iranian cookie from other cookies is the seal-like design that is placed on it.
A Fouman cookie consists of two layers. It is known that the middle layer is filled with walnuts, cardamom, nutmeg, oil, etc., and the top layer is made of dough. This cookie was originally prepared at home, but today it is produced by 44 representative agencies in Gilan province and even several representatives in Mazandaran province.
19.Shirazi Faloodeh
Perhaps you perceive a sweet to be a warm dish, yet ice cream and Faloodeh are also included in the category of sweets. Faloodeh Shirazi is one of the most well-known traditional Iranian desserts. Prepare sugar, cardamom, and rose water. Faloodeh's flavor can be enhanced by adding lemon juice, cherry syrup, or ice cream when ingesting it. Shirazi In the past, Faloodeh was scarce since there was no cooling technology. But now, it may be found in every city. Iran is where it is made and marketed.