Iranian cities may not have the best driving culture, but they sure are full of cheap and reliable transportation options. Public transportation along with new-generation mobile ride-hailing apps have resulted in convenient transportation across almost all major Iranian cities.
There are several different options when traveling around the city. The bigger the city, the more the options and the services. More about Iran's public transportation. Snapp is an online service provider executed by Shahram Shahkar. It provides many services under the name of Snapp Rose, Snapp Box, Snapp Bike, Snapp Eco and so on. The most popular service is Snapp eco, the cab-hailing service. You can use it 24/7. It is a similar version of Uber in other countries. Here instead of Uber, we have Snapp or other similar services like Tap30(pronounced tap-si, because the number 30 in Farsi is pronounced "See") and so on. Snapp is as comfortable as Uber. And it lets you explore new spots comfortably and securely, and still save your time, money, and energy.
Why Use Snapp?
All Around Iran – One App
Snapp eco covers almost all major Iranian cities. So if you find Snapp ok,  you don't need to get to know new services. Snapp is currently active in the major cities of Arak, Ahwaz, Babol, Bandar Abbas, Ghaemshahr, Isfahan, Karaj, Kerman, Mashhad, Qazvin, Qom, Rasht, Sari, Shiraz, Tabriz, Tehran, Urmiah, and Yazd.
Defeat the Language Barrier
You can avoid miscommunication because, besides Persian, Snapp also supports English and French. So there will be no confusion about your destination – neither from you nor from your driver.
The Finest Possible Path, Always
With Snapp, you're always on the best possible route to your destination. And you can also track your journey on the Snapp GPS.
Enjoy the Reliable Fair Prices
The price will always be available in Rials for you to view on the app or on the website before confirming your trip. If you're struggling to familiarise with local currency, just check this link. However certain circumstances like traffic and weather conditions may have an effect on the final cost, but you can be sure you always receive the fairest rate.
High Security
The Snapp app is a very safe way to get around a new city. Your journey will be logged on the app in details, involving the route, the driver's info and the vehicle's information. The drivers get rated and every vehicle is inspected to guarantee its safety and quality.
Easy Airport Links
With the Snapp app, it is easy and cheaper to get to and from the airport in almost all major cities.
Obstacles to Use Snapp
Internet Necessity
To download and use the app, you need to have an internet connection for which you need to have an Iranian sim card. How can I get an Iranian Sim Card?
Cash or Online Payment
To pay for your ride you need to have Rials on you, which may be a bit confusing at first. Or you need to have a Tourist Card so that you can pay online. What is a tourist card? And How can I get one?
How to use Snapp on Android/iOS
The easiest way to use Snapp is to install its app on your smartphone. Their iOS and Android apps are quite easy to use and are also offered in English. Android users can download Snapp from Google Play.
For iOS users, the process is a bit more complicated. In 2018, Apple decided to block almost all Iranian apps from the App Store. A workaround to this issue has been downloading the app from alternative sources. There is also the possibility of using Snapp's web app at app.snapp.ir, however it's only offered in Farsi at the moment. Below we will guide you through the required steps to install Snapp on your iPhone.
Setting Up Instructions on iPhone (iOS)
1. In order to install the latest version of Snapp on your iOS device, head to their iOS download link page and tap on the black button with the Apple logo to start download. When prompt, accept the request for opening the install link.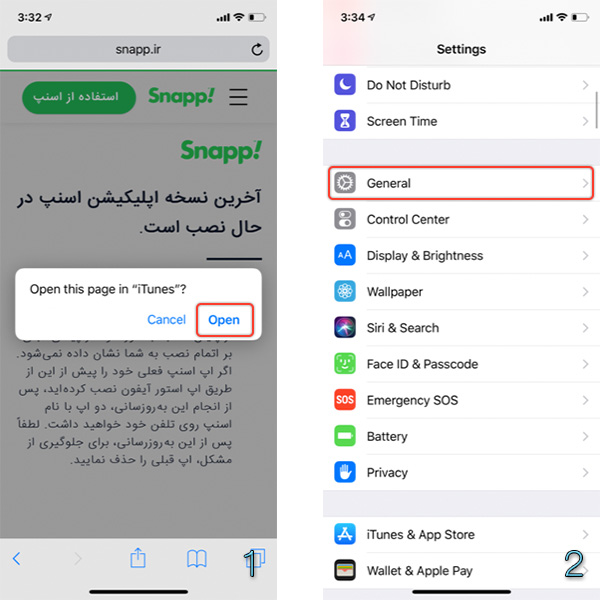 2. When the app is downloaded on your iPhone, navigate to Settings > General > Device Management, from the list of profiles, choose "Desert Internet Services FZE" (this profile is subject to change – for some users the app is shown under the "Seeb Co OU" or another profile).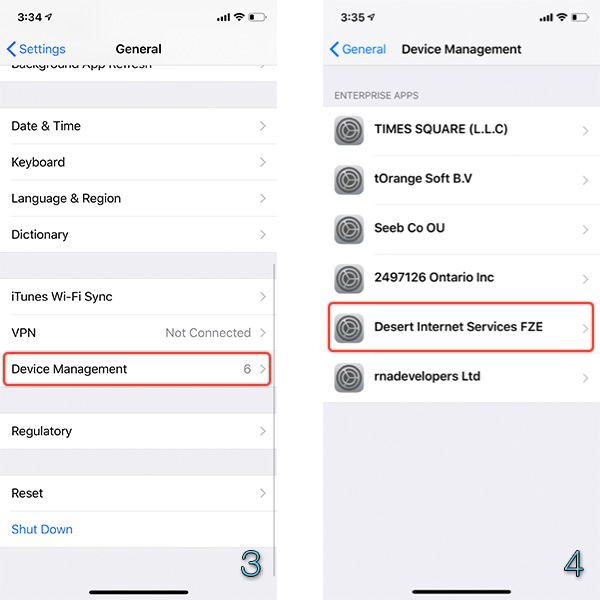 3. You will need to Trust the developer to be able to use Snapp on your iPhone. Tap on Trust and confirm your selection to allow the app to be opened on your device.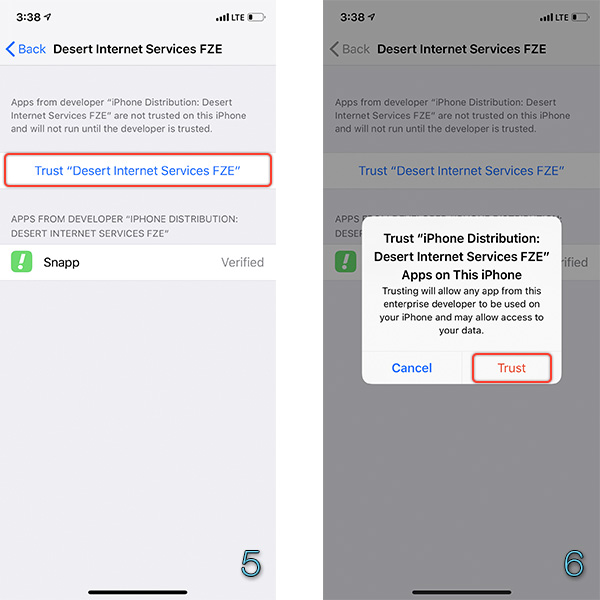 4. Now head back to the home screen and open Snapp. In the main screen, change the language to English and in the new screen, choose "Sign Up" to create an account. You can choose to connect your Google account to Snapp.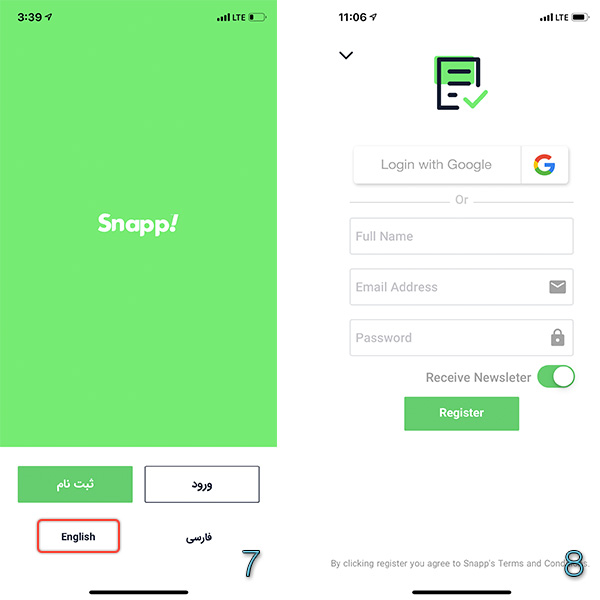 5. Getting a ride on Snapp is quite straightforward. First, you need to set your origin on the map. After you have chosen your origin, tap the "Set Origin" marker to confirm your choice. Next, do the same process for choosing your destination and finally tap on "Set Dest." to confirm.
6. After a short delay, your fare will be calculated and shown to you. To confirm your ride request, tap on the "Request Snap Eco" button.

After a while, a driver should accept your request and you'll see a new screen showing the ride information including the driver name, car model and plate number (currently offered in Farsi only).
To pay for your ride, you can choose between paying by cash, online or using your Iran Tourist Card.
You can use Snapp to go to a second or third destination with the same car or even if you need to have some stops through your way. Snapp has become very popular among locals, and many use it for day everyday navigation in the cities. It is a very good option to use during your travel all around Iran.
Finally, if you are looking for a better, hassle-free option to travel both in the city and between cities, we offer you our pickup tours and our surprises. What are our pickup tours?