Before your trip to Iran, you may worry about all the blocked media and wonder how to connect with your family or loved ones and share the world you are in. Accessing social media in Iran is not that hard that you have heard. Some of these apps are blocked, but Iranians always find a way through it. Keep on reading so you know all about social media in Iran.

How to Access Blocked Social Medias in Iran
Accessing blocked websites can be one of the major problems in Iran, especially for young tech-savvy people. But there are always ways around this problem and one of the most common ones is Virtual Private Network or VPN. Since a number of social media and websites like Facebook, YouTube, and Twitter are blocked, you will need to use VPN to access them. However, some other popular services like Instagram and WhatsApp are accessible. To put it simply, VPNs are easily accessible via numerous apps available for mobile and computer devices.

All You Need to Know About VPNs – Where to Get it, How to Use it
To benefit from the open internet on your mobile, you just need to download an app from your device's app store by searching the word "VPN". That is Google Play on Android devices and the App Store on iOS devices. You will find a wide range of options, we suggest downloading the ones with better reviews. Please take note that accessing these stores in Iran are sometimes not easily possible, so it's always better to download them before your trip.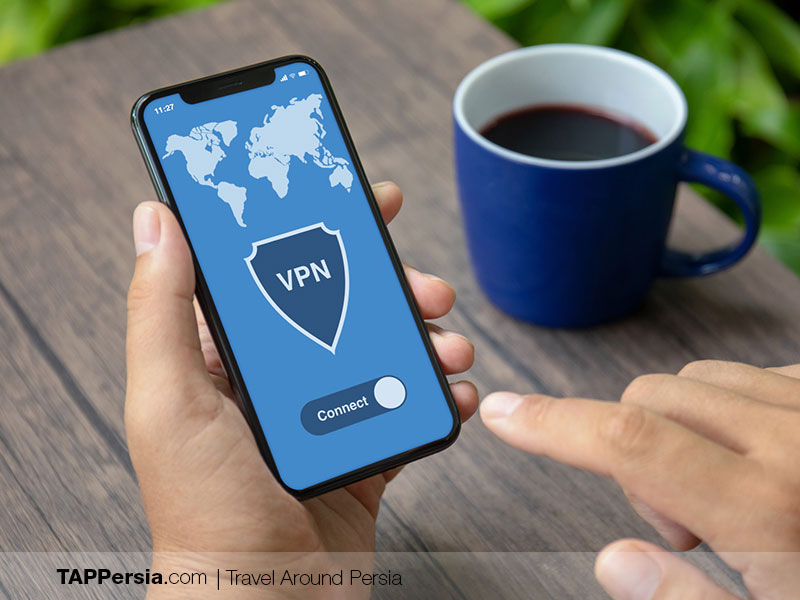 It should be pretty simple to use most VPN apps. In most cases, you will only need to tap a "connect" button and wait for a couple of seconds to get connected to the free web. Another thing worth mentioning is that network coverage is considered good in most parts of the country. All small cities and even many villages offer a reliable mobile data connection for local SIM cardholders.
Most Famous Social Media in Iran
Iranians are always updated. Every viral app or social media you name is used in Iran. Here we go through some of the most famous ones and how they are used.
Facebook
About 15 years ago, almost every Iranian had a Facebook account. They were obsessed with it literally. They kept updating their status, posting photos, joining different groups, and every other possible activity one can have on Facebook. It is worth mentioning that it wasn't blocked at the time. Then it got blocked, and people used different proxies and VPNs to have access to their favorite social media in Iran. However, these days only some people are still active on it for some special purposes like introducing their work to the world.
Twitter
At the same time of using Facebook, some intellectual people joined Twitter. Saying to everyone that Twitter is a better place to express your thoughts, ideas, and even jokes. It is banned but still, many Iranians use this social media every day.
YouTube – A Blocked Social Media But Still Popular
Talk to some Iranians and you'll see they have learned lots of things from YouTube. Watching some parts of the shows they don't have access to watch, different interviews, and on top of all learning to do new things. Whether it is playing a new musical instrument, cooking, editing a photo, and lots of other things. YouTube is the answer to all of that.
Instagram – The Most Famous Social Media in Iran
Not blocked, very famous, you can find it on my grandmother's phone as well! Many businesses are held now just by using Instagram, and many people follow their friends and the people they don't even know to share their lives and experiences. While meeting someone, if they like you they will definitely ask for your Instagram account to stay in touch with you.
Telegram and WhatsApp
You can use WhatsApp without any problems. You will just need to turn on your mobile data or connect ro a Wifi. The story with Telegram is that you are going to turn on your VPN to check your messages on this app. But don't worry. Just use the hints we mentioned before and you'll be fine.

Is Facebook & YouTube Allowed in Iran?
As mentioned before, these two famous social media are banned in Iran. But by using a VPN or a Proxy, you can connect and use them without any problems.
---
Recommended Tours