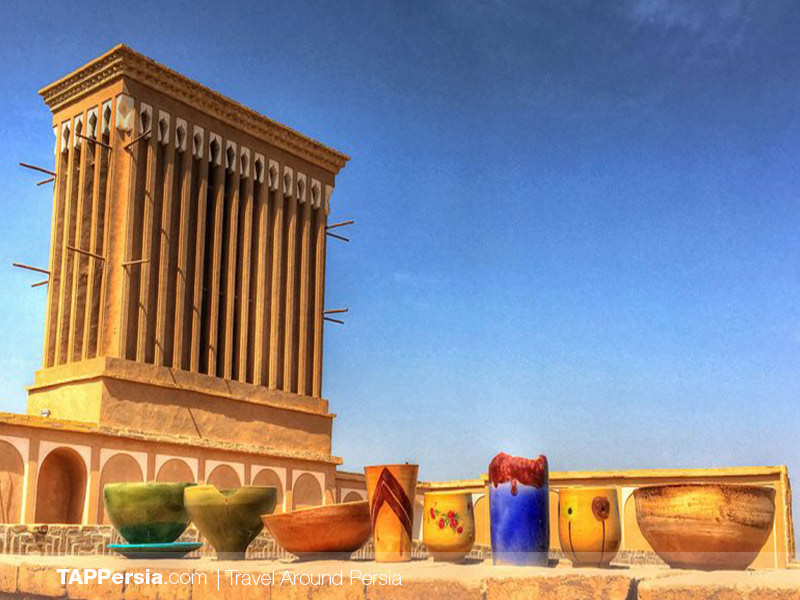 Yazd is a historical city whose antiquities have made it one of the first historical adobe cities of Iran and then the second historical city of the world. Due to the many stunning attractions and the adobe buildings, this historic city is registered in UNESCO. And for the same reasons, Yazd is a globally popular city. Yazd is popular for its windcatchers and qanats. In every corner of the city, you can watch a part of history and enjoy drowning in its beauties. Today, We are going to learn about some of the top historical sites in Yazd. Most of which include visiting these outstanding historical sites.
1. Yazd Jame Mosque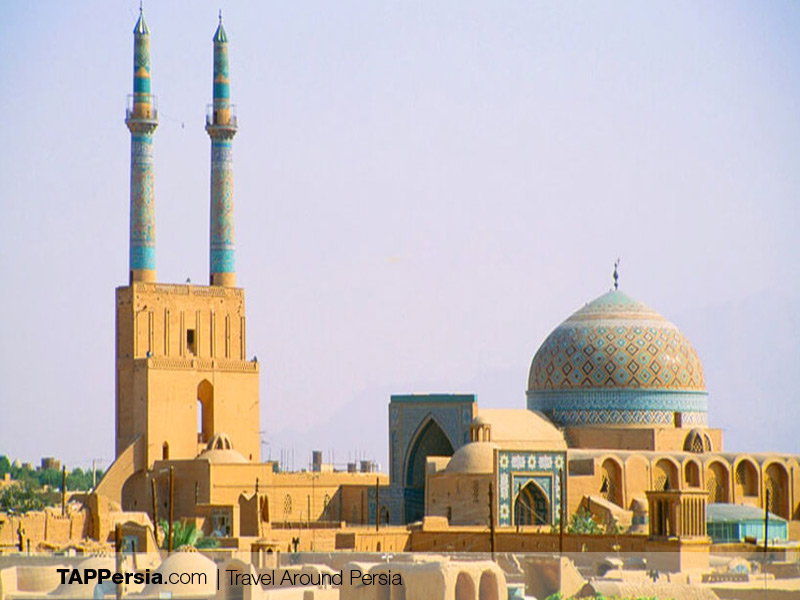 Yazd Jame Mosque is one of the masterpieces of Iranian architecture. It stands in the heart of desert land. And it is one of the most popular tourist destinations for both Iranian and foreign travelers. This mosque was built about 100 years ago, during 3 different eras. It was one of the main bases of the Sassanid reign. What makes this mosque different from the other Iranian mosques is the unique dome, the tall entrance, as well as its beautiful and dazzling exclusive tile work.
The valuable Jame mosque of Yazd has been on Iran's National Heritage list since 1935.
Visiting hours: 8:00 to 19:00
Address: Yazd City, Imam Khomeini St., Masjed Jame St.
2. Vaqt-0l-Sa'at Square in Yazd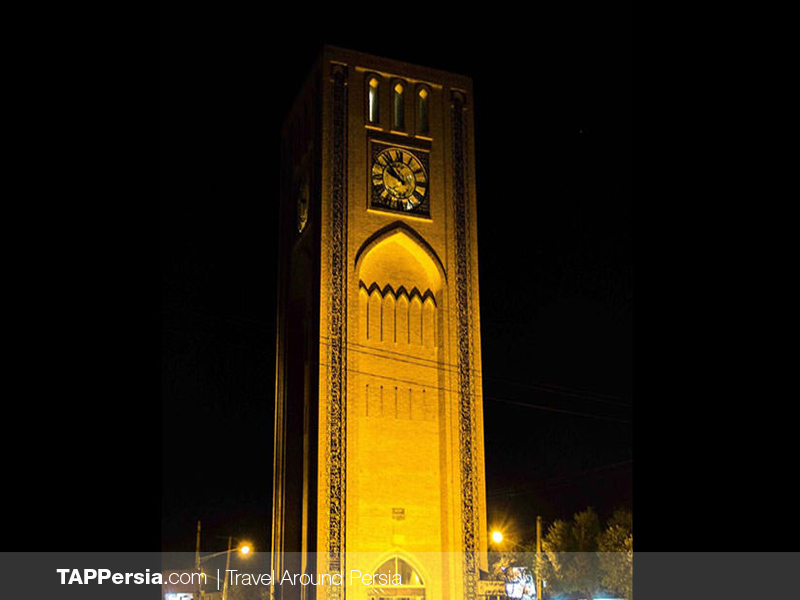 Vaqt-0l-Sa'at Square or Time Square is one of the oldest clock towers in Iran and in the whole world. additionally, it is the first city clock in Iran. The construction of this clock tower dates back to the Qajar period. the arches, brick decorations, and tiles which include Arabic lines and verses have given it a special feature. Abu Bakr, one of the skilled and local watchmakers, was the one who made this clock. Today it is one of the valuable attractions of Iran.
This clock square has been on Iran's National Heritage list since 2000.
Address: Imam Khomeini street
3. Amir Chakhmaq Complex of Yazd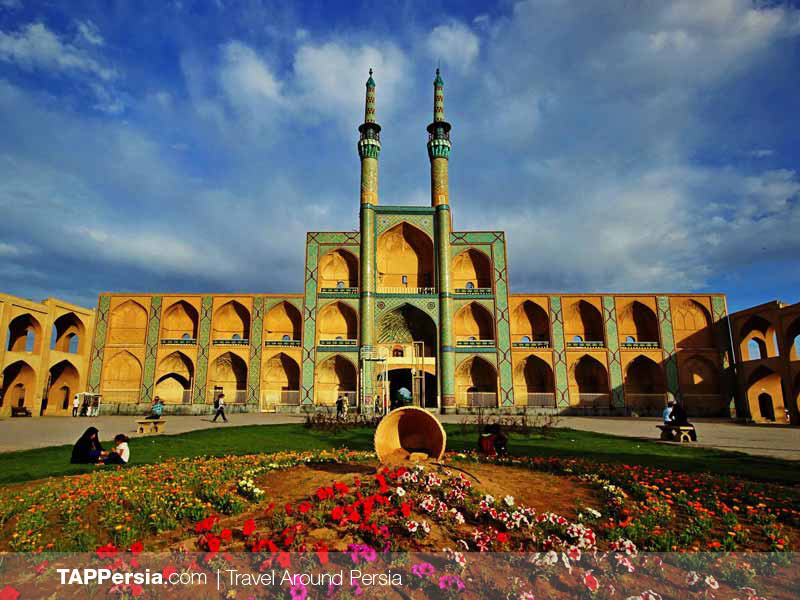 One of the symbols of Yazd that few people have not heard of is the Amirchakhmaq complex. This complex is a square and there are a collection of historical and valuable monuments in it. Among its significant attractions, there is an outstanding pillar with tall minarets which is the most original part of the city. This square dates back to the 15th century BC, during the Timurid era. A person with the same name, Amir Jalaluddin Chakhmaq, has built it. Amirchakhmaq Square or in the dialect of the local people Mirchakhmaq has become a place for the locals to get together.
4. Yazd Dowlatabad Garden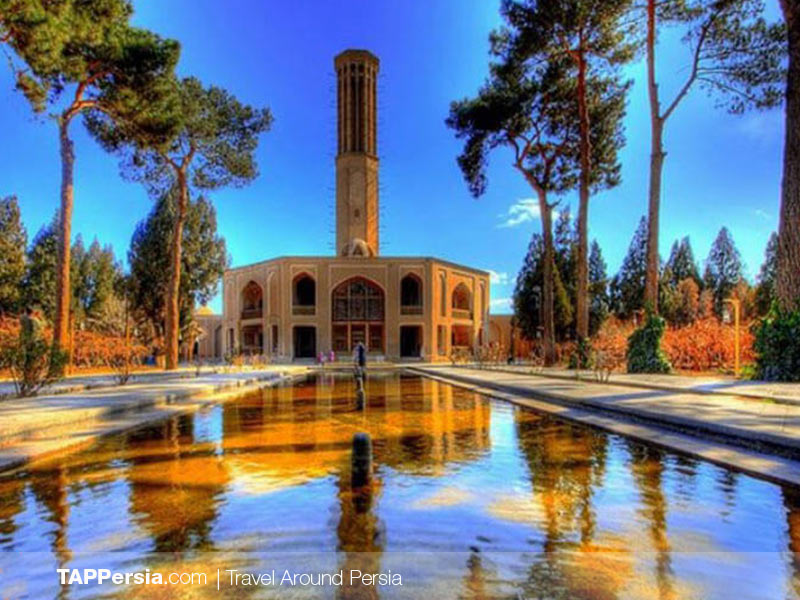 Well, let's go to the attractions that have made Yazd global; Dowlat Abad Garden! This garden is one of the 9 Iranian gardens that their name is on the UNESCO World Heritage List. The tall mansion of this garden has the tallest windcatchers in the world. Moreover, the mansion's architecture is of high significance. With 260 years old, this garden is one of the oldest gardens in Iran. This ​​6.4-hectare heaven has signs of paradise to make the viewer stand in awe. Unexpectedly, When you enter this garden, you will not remember that you are in the desert city of Yazd. And unbelievably, you can smell the refreshing fragrance of the flowers and the plants all around. And it will touch your soul for sure.
Visiting hours: 8:00 to 21:00
Address: Shahid Rajaei street
5. Lariha House Museum in Yazd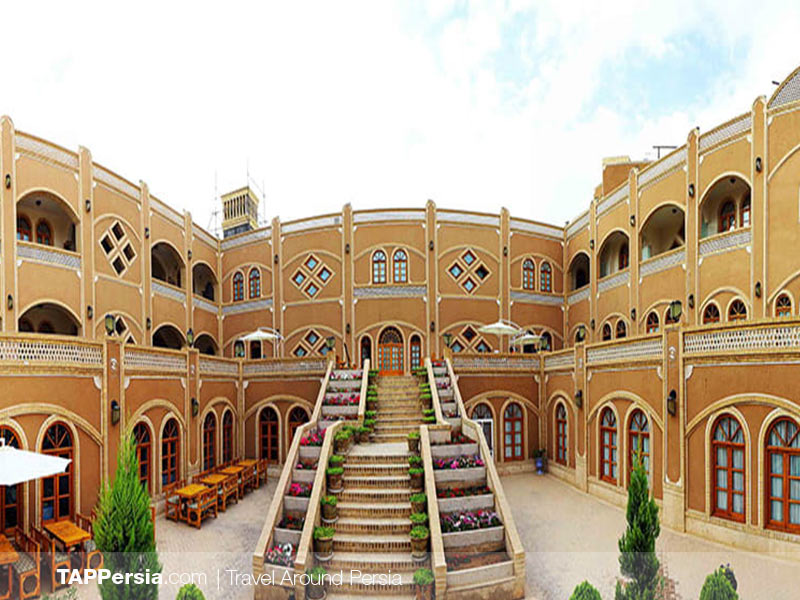 All the attractions of Yazd can definitely not be included in one article because each side of this beautiful and spectacular city has something that is no lesser than a top attraction. Lariha House Museum is about 150 years old. In the past, about 270 years ago, Lariha came to Yazd from Fars Province for trading. That's when they settled in different parts of this city. This house has a mirror room with mirrors about fifty to sixty years old, which shows off its nobility.
Lariha House Museum has been on Iran's National Heritage list since 1997.
Visiting hours: 8:30 to 19:40
Address: Imam Khomeini Street, Fahadan neighborhood, next to Kolah Farangi mansion
6. Shesh Badgir Cistern of Yazd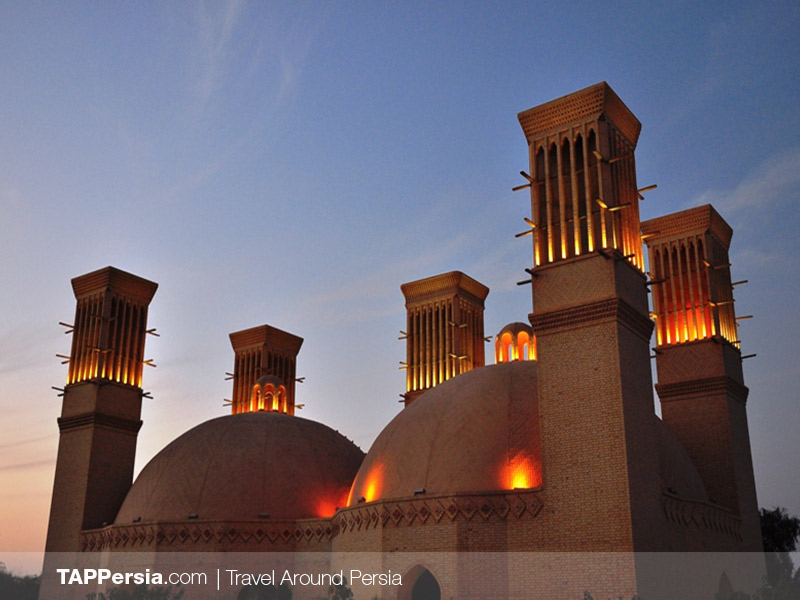 Literally Shesh means six and Badgir means windcatcher. Six Windcatchers Cistern is one of the 75 water reservoirs in Yazd that were built 180 years ago during the Qajar period. This building is made in an 8-sided shape so that it can cope with the climate conditions of the area, as well as the many directions that wind blows. This water reservoir is one of the largest cisterns in Yazd with a volume of over 2000 cubic meters. This reservoir has two outlets. One for Zoroastrians and the other for Muslims.
Address: Tappeh Yazd neighborhood, six windcatchers alley
7. Alexander's Prison, Ziaieh School in Yazd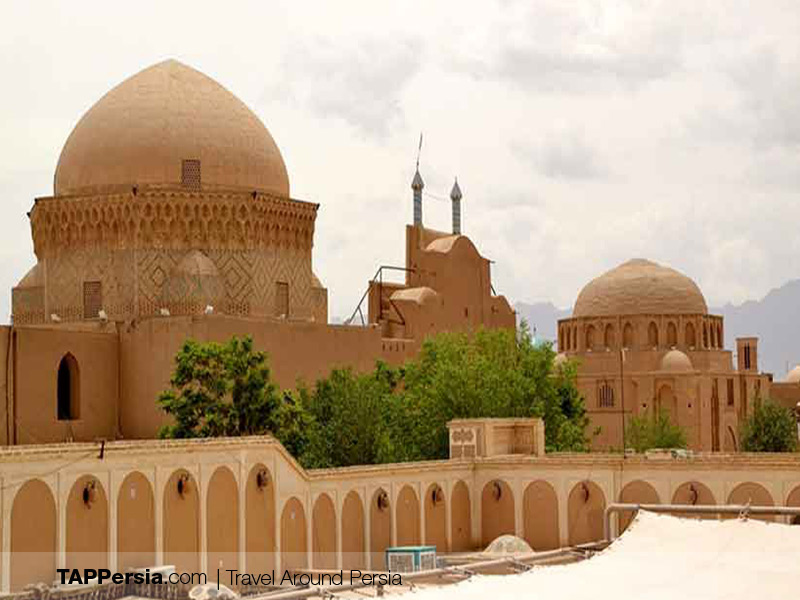 There is a building in Yazd with two different names. And this indicates the dual use of this valuable historical building. Some believe that the building was built in the 13th century in 1,234 and its construction was completed in the 14th century in 1,306. Ziaieh School was a place of education more than seven hundred years ago. In addition to that, it has hosted meetings such as discussions with elders and scholars. According to the narratives, it turned into Alexander's Prison when a group of Alexander the Great's exiles entered the city.
This valuable historical monument has been on Iran's National Heritage list since 1968.
Visiting hours: 8.00 to 19.40
Address:  Fahadan Historical Neighborhood, Rakht-Shooy-Khaneh Alley, New Bath Alley, next to the Twelve Imams' Shrine
8. Sabat and Windcatchers of Yazd
What distinguishes this city from many other cities in Iran is its traditional texture that makes everyone walk and watch carefully every corner and enjoy. Although it is hot in Yazd, the moment you find shelter from the sun in the shade of the Sabat or enter a house, for sure you will feel the cool breeze on your skin. A breeze that flows without using any energy and only due to the intelligence and the art of the architects. That's quite a miracle in the desert climate. The number of windcatchers in Yazd are so many that it has been famous as "Shahr-e Badgirha", the city of the windcatchers. Aside from the windcatchers that cool down the indoors, there are structures in the valleys to cool down the air for the passers-by. These semi-roof structures, Sabat, create shade, and the same as the windcatchers channel the air to cool the path.
Sometimes there are platforms for resting in the corners of these sabats so that the passers-by can sit for a moment and get rid of fatigue.
9. Amir Chakhmaq Nakhl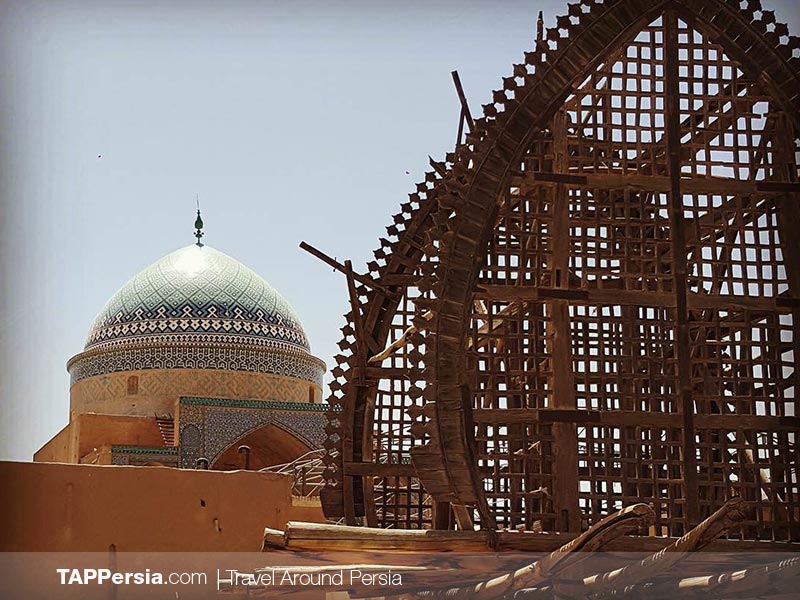 Amir Chakhmaq Nakhl is one of the greatest symbols of Yazd. It is made of wooden sticks. The locals take it around during the Muharram mourning ceremonies. In the first ten days of Muharram, they cover it with black and green cloth and carry it around during the ceremonies. For the rest of the year, they keep it in the mosque. This Nakhl with 450 years old is one of the most spectacular manifestations of Yazd. And as they claim, it is one of the oldest Nakhl-s in Iran.
Address: Amirchakhmaq Square
10. Yazd Zoroastrian Fire Temple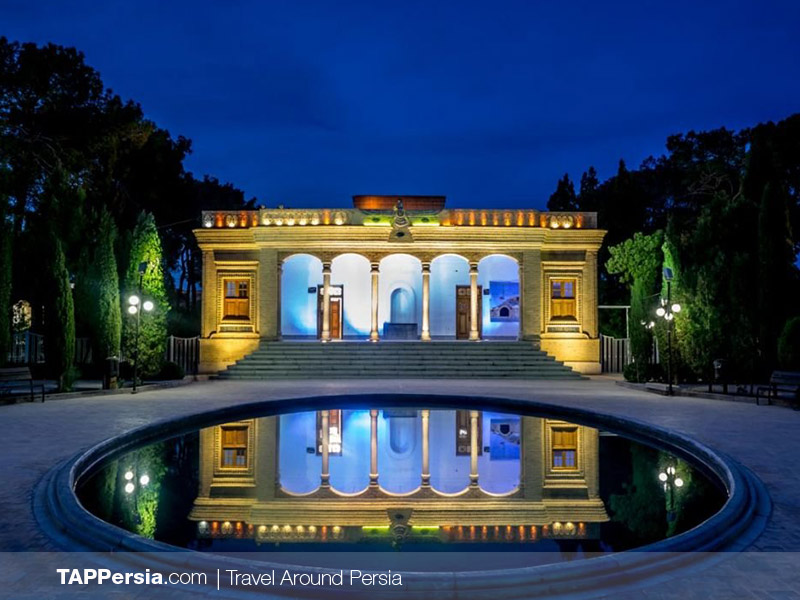 Bahram Fire Temple's fire has not been extinguished in more than a millennium! The Fire Temple is a place for keeping the sacred Zoroastrian fire and a place of worship for Zoroastrian people. The fire inside this place has been lit for 1500 years and its visitors can see the fire.
Visiting time: in summer 8:30 to 12:00 and 16:30 to 20:30 | In winter 8:30 to 12:00 and 15:00 to sunset
Address: Ayatollah Kashani street
11. Towers of Silence of Yazd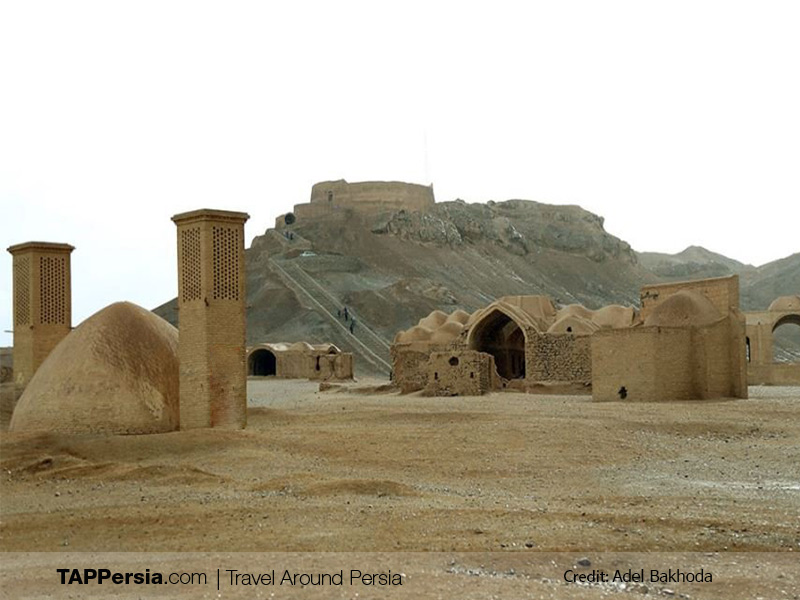 Towers of Silence are one of the most spectacular things you can visit in Yazd. Two towers on sedimentary mountains. One of them is on top of the Dakhmeh Mountain. You may ask what were they for? These towers were a place where Zoroastrians put their deceased as a burial ritual. They would be the food for carnivores and the remaining would rot. You can read about the details here.
Address: 15 km from Yazd city, near Safaieh area
12. Yazd Old Town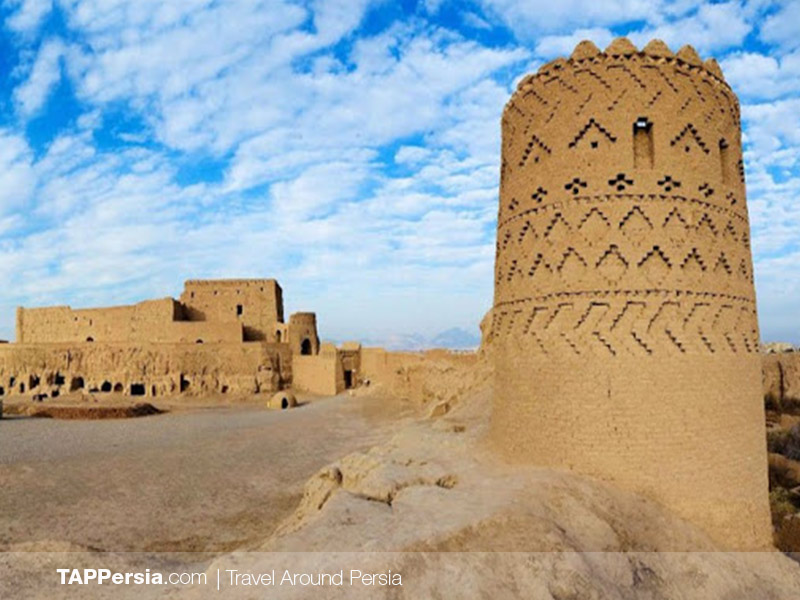 Yazidi people were the best architects in Iran and thought of all aspects in their constructions. That's why they built towers and fortifications in order to protect the lives of their residence from the invasion of looters and enemies. In the Old Town, there are some of these structures left to watch and marvel at. You can see great defense strategies in their engineering.
The Old town has been on Iran's National Heritage list since 1973.
Address: at the end of Seyed Golsorkh street
13. Davazdah Imam Shrine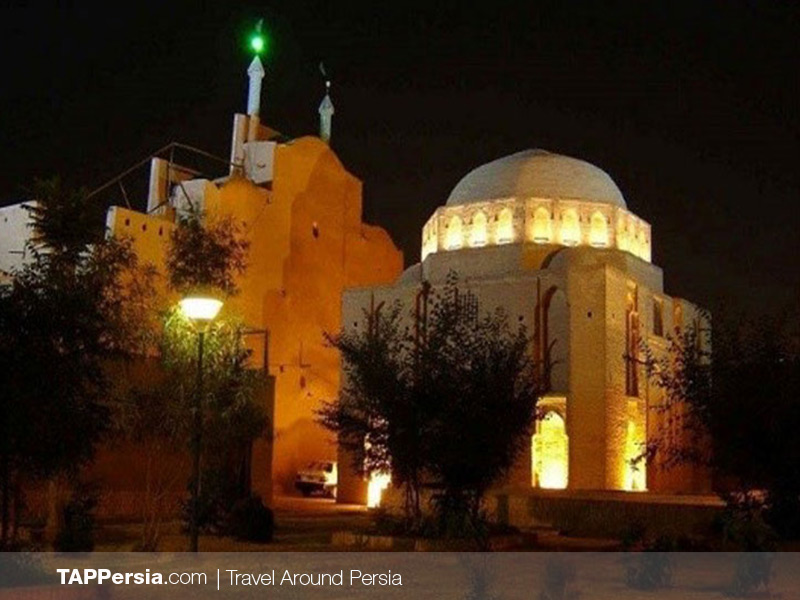 In the Fahadan neighborhood, there is a building from the Seljuk period architecture. They call it The Twelve Imams' Shrine. This building, according to historical evidence, is the oldest building in Yazd and is of special importance in Islamic architecture. And that's because of its style, colors and designs, and the Kufic inscriptions.
This historical monument has been On Iran's National Heritage list since 1935, the same time as the Jame Mosque of Yazd.
Address: Fahadan neighborhood
14. Yazd Water Museum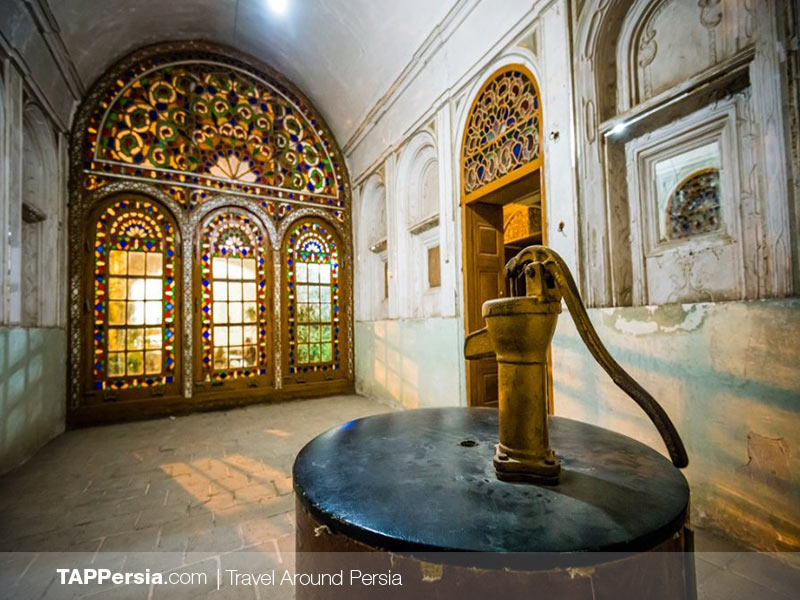 As you know, the city of Yazd has always faced water problems due to being a desert. The high numbers of qanats in this city indicate this story clearly. Therefore, to represent this feature of the city, they built a water museum including the equipment they used to supply the water they needed.
Visiting hours: 8:00 to 19:00
Address: Ghiam street
15. Naaji Garden and Mansion in Yazd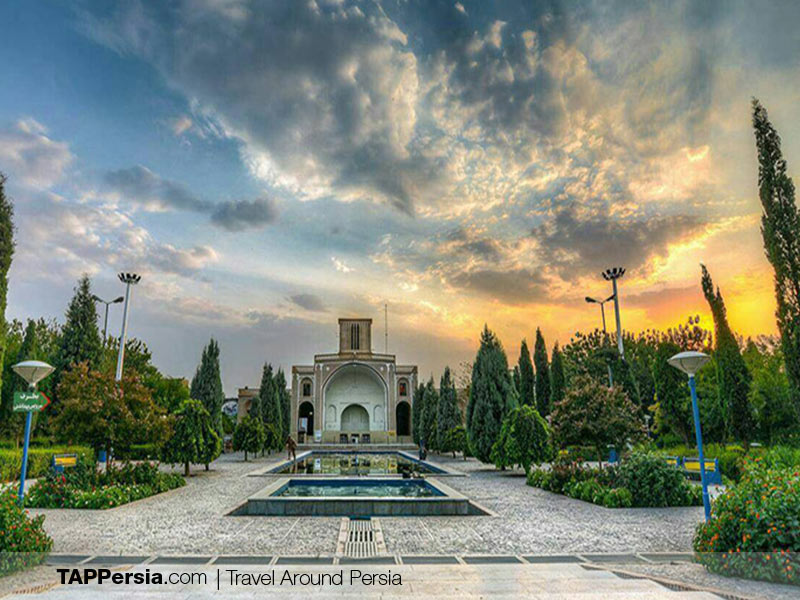 Another famous garden in Yazd from the Qajar period is the amazing Naji Garden. After its donation to the municipality of the city, they rebuilt it. There is a mansion in the middle of the garden that has a hall with a windcatcher, 2 rooms, and various other parts. This mansion and the garden used to be a private property of the Naji family.
Address: on the way to Najafabad qanat, Shahid Hassan Dashti boulevard
16. Yazd Mirror Palace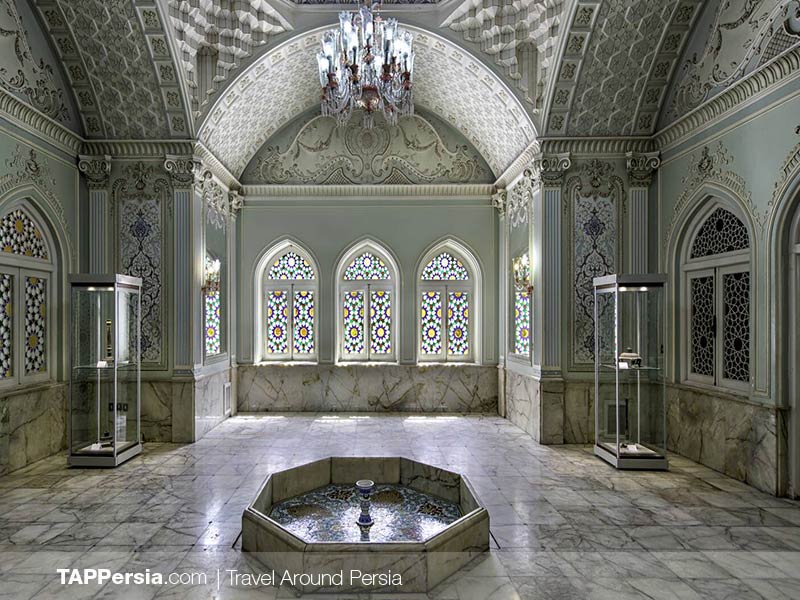 Qasr Aineh or the Mirror Palace is another mansion in Yazd, which today is a Museum of Mirrors and Lighting. This mansion dates back to 1942. It used to be a  private guest house. However after the Revolution, in 1998,  they turned it into a museum.
Visiting hours: 9:00 to 21:00
Address: Ayatollah Kashani street
17. Tehraniha House in Yazd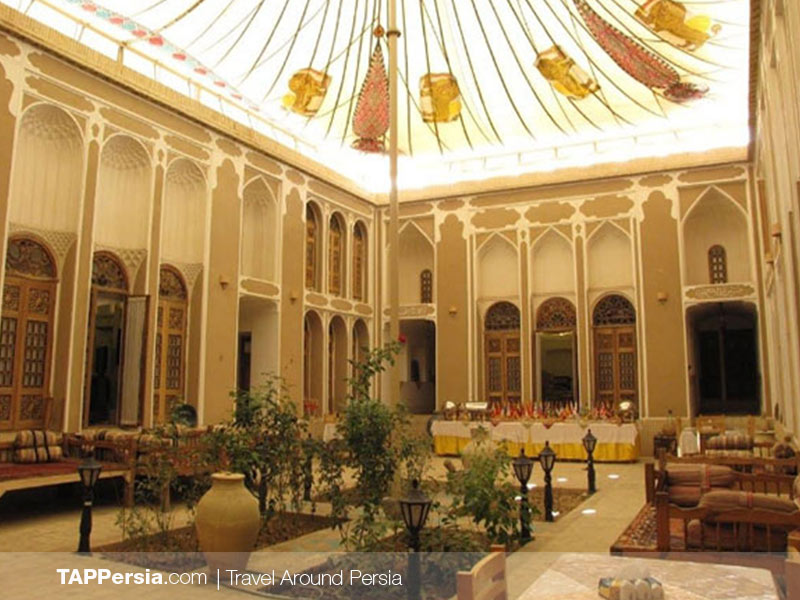 Tehraniha house used to belong to an Iranian merchant. About 250 years ago, a family from Tehran lived there. They were carpet merchants there. This house has a great share of beauty so that it has long been used as the economic consulate of some European countries. Today, it is a traditional hotel. The building of this hotel has a main courtyard, a mansion, three beautiful windcatchers, a large hall, a water reservoir, a porch, and a large roof overlooking the historical beauties of Yazd.
This house is the first Iranian hotel museum in Yazd.
Address: Imam Khomeini street, Fahadan street, in front of Iskandar Prison
18. Khan Complex in Yazd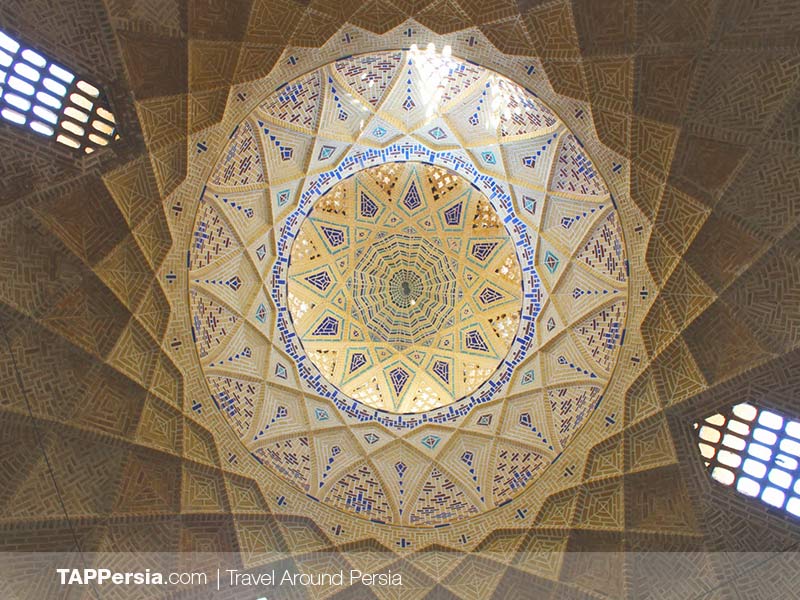 This unique complex includes an amazing old Bazaar, Hosseinieh (Whish is a place for some religious rituals), a water reservoir, and a Bath (or Hammam) next to it. The construction of this eye-catching complex in Yazd dates back to the time of Nasser al-Din Shah. Additionally, Khan Bazaar is popular as the longest and widest bazaar in Yazd. They have used clay and mud to build it.
This awesome complex has been On Iran's National Heritage list since 2003.
Address: Imam Khomeini St., Ghiam St.
19. Malek-ol-Tojjar Historical House in Yazd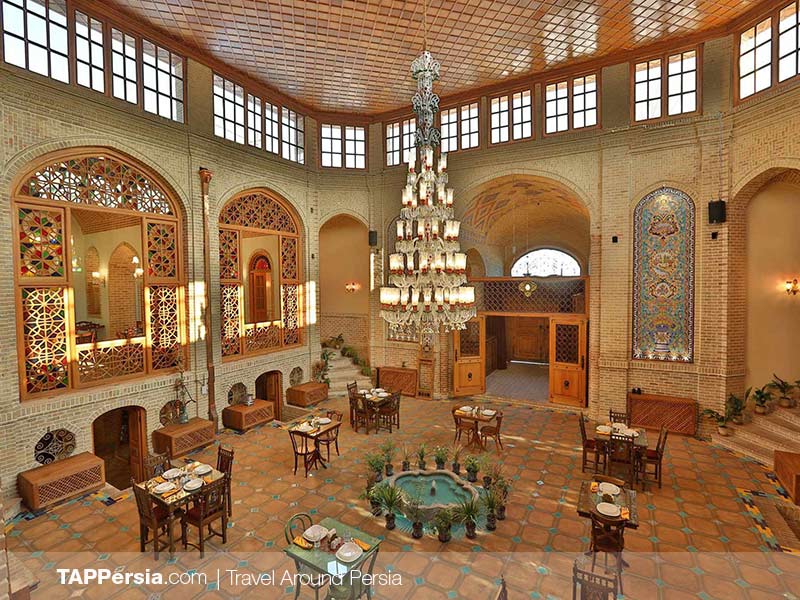 Malek-ol-Tojjar Historical House is about 120 years old and belonged to Haji Ali Akbar Shirazi. He was one of the experienced merchants of Yazd. People knew Haji Ali Akbar as the King of Merchants. Nasser al-Din Shah had given him the title. And it was all because of his good deeds. His descendants, up to 4 generations, lived in this house. This house has several rooms, each of which has its own unique features. You can see spectacular paintings, by Shirazi artists, on the walls and ceilings of most rooms. And it is worth saying, it took them 10 years to draw and paint them.
Today, this building is a hotel for tourists. And surprisingly, it is the world's first adobe hotel.
Address: Ghiam Street, Panjeh Ali Bazaar
20. Markar Square of Yazd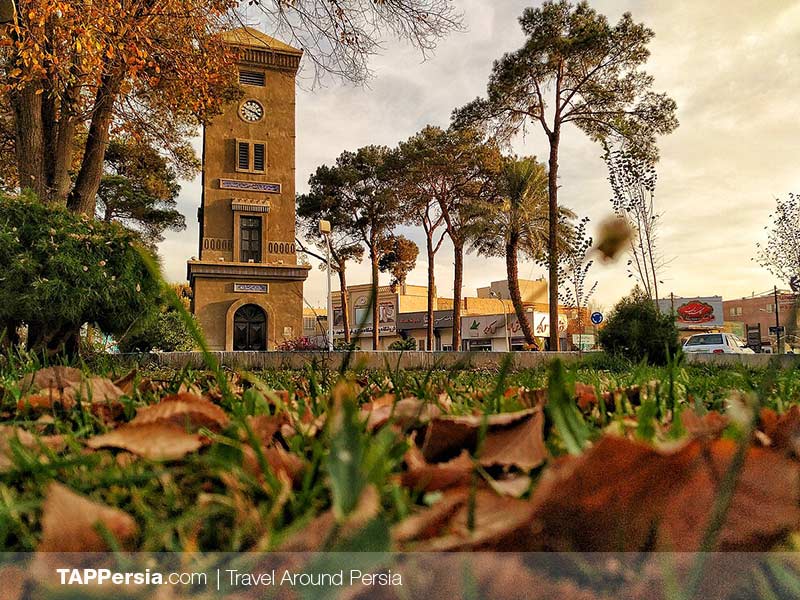 Markar Square with a clock that is located right in the center of Iran!! Ferdowsi Clock is a large city clock in the middle of Markar Square in Yazd. A Zoroastrian person whose name was Markar paid to build this square pulse the surrounding high school and orphanage with his own name.
Finall Words
I hope you have enjoyed our short journey to learn about top attractions to visit in Yazd. If so please let us know in the comments. Also, despite the visiting times we mentioned in here, please do not forget to check the date and time before you pay a visit. Because according to different events and the season you are visiting, the visiting time might change. If you like to book a tour in Yazd with Tappersia you can reach us via the contacts below the same page.
---
Recommended Tours