You chose to come to Iran for a change of pace, to try something bold and different. All modern hotels in Iran, look and feel about the same, but opportunities like staying in a 400 year old hotel, may truly come once in a lifetime. These are reserved for true cultural explorers.
Historical buildings are valuable heritages that we should protect from damage. Imagine if you were to suddenly wake with a different face. That's what happens when you demolish traditional buildings in historic areas.
They shouldn't be forgotten or destroyed just because modern constructions need some space. There are lots of such monuments in Iran and fortunately many are surviving, compared to most historic countries. The experts have realized that the solution is to renovate and present them to people, so these precious buildings become noticeable and get the attention they deserve for maintenance.
They can turn into museums to present the old unique atmosphere or even boutique hotels to show you the real culture of a country and reinforce the tourism industry. Although boutique hotels have a completely different atmosphere and architecture, there are no lack of facilities. You will be staying in a comfortable, safe place, where you can experience living like a local.
You can immerse yourself in traditional Persian lifestyle and culture in a boutique hotel. Sip on a fresh cup of tea in the pleasant classic yard at night, enjoy the lively central Persian fountain and greenery, and have a talk with hospitable Iranians and travelers.
We know how difficult it would be to coordinate and search for all your hotels. So we did you a favor and gathered a list of our favorites. Here we introduce the best boutique hotels in Iran, hotels which have different stories and memories in history. For more information, read the other article about the best hotels in Iran
Tehran Boutique Hotels
Arian Hostel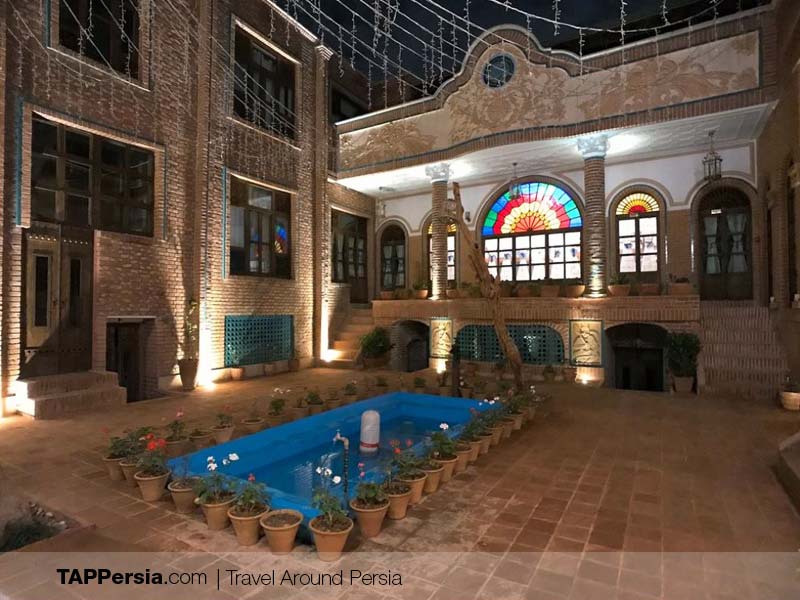 This boutique hostel is newly opened in the heart of Tehran. The rooms are adorned traditionally while having the modern necessities like air conditioning. For people who want more privacy, there are suites and family rooms, suitable for 1, 2, 3 persons. These have private bathroom service. The dorm rooms are 4, 8 and 12 bedded with separate lockers.
15 minute walk to the Grand Bazaar, the Golestan Palace, National Museum, Jewelry Museum and other historical spots, and a 10 minute walk to Baharestan Metro Station show how convenient the location is.
The neat ambiance, professional staff, and reasonable price assure you about choosing Arian Hostel. Spend some time in the lovely yard of the hostel, enjoy unique nightlife and lighting and try delicious local food. You can also cook your favorite meal in the kitchen, feel free to use the plates or fridge.
Other free options are speedy internet, buffet breakfast, tea and coffee, bed sheets, luggage storage or lockers. There's a TV room equipped with a DVD player and sound system, where you can watch your favorite movies or the hostel's selections. The small library offers you different books.
Isfahan Boutique Hotels
Keryas Hotel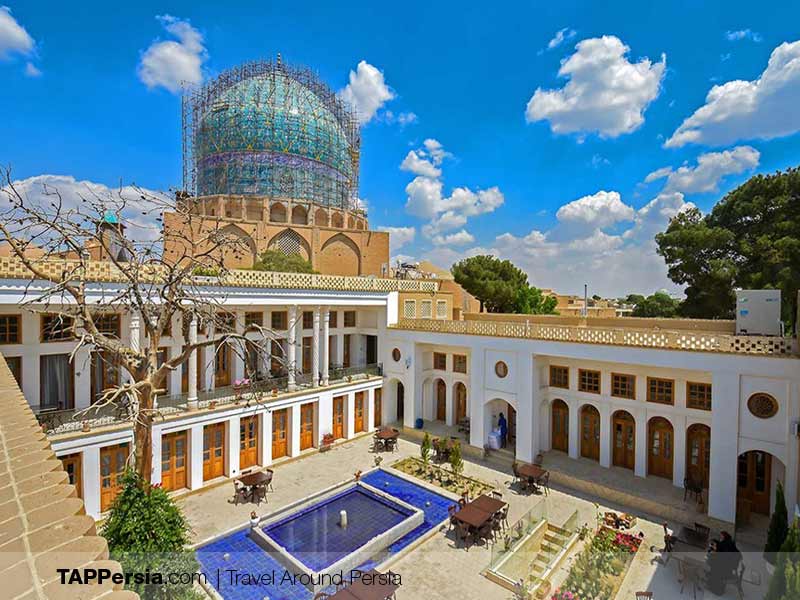 Keryas Hotel is on Ostandari Street in Isfahan. The construction dates back to 150 years, the Qajar era. After some renovations, the house started to be a traditional boutique hotel which includes 2 floors and 17 traditional rooms.
Living like a local in the pleasant atmosphere of this hotel comfort you as you're home. The elegant yard and blue tiled fountain in the middle can refresh your mind and rejuvenate your spirit.
The rooms have different types equipped with TV, fridge, modern bathroom amenities, and free internet. Keryas Hotel has an elevator but there are two rooms with some stairs at the entrance. Other facilities include a free parking lot, cafe, and a safety deposit box. The personnel are always ready to host the guests in different languages.
The hotel is conveniently close to Abbasi Mosque, Naqshe Jahan Square and Ali Qapou Palace.
Bekhradi Hotel
The historical house dates back to 400 years, the beginning of the Safavid Dynasty. It's located in Sonbolestan, a very old area in Esfahan. The mansion was renovated by the architect, Mr. Bekhradi, some years ago, while the decoration and design are still traditional.
Hotel's area is about 700 meters square and the building is on the west side of the Jamilan garden. In spite of being simple, Bekhradi hotel is equipped with modern facilities. The yard is used as an open summer cafe among a vibrant garden. Bekhradi Hotel includes suits for 4 and 5 people on the first floor and ground level. All suites have distinct kitchens, bathrooms, and toilets.
Kianpour Hotel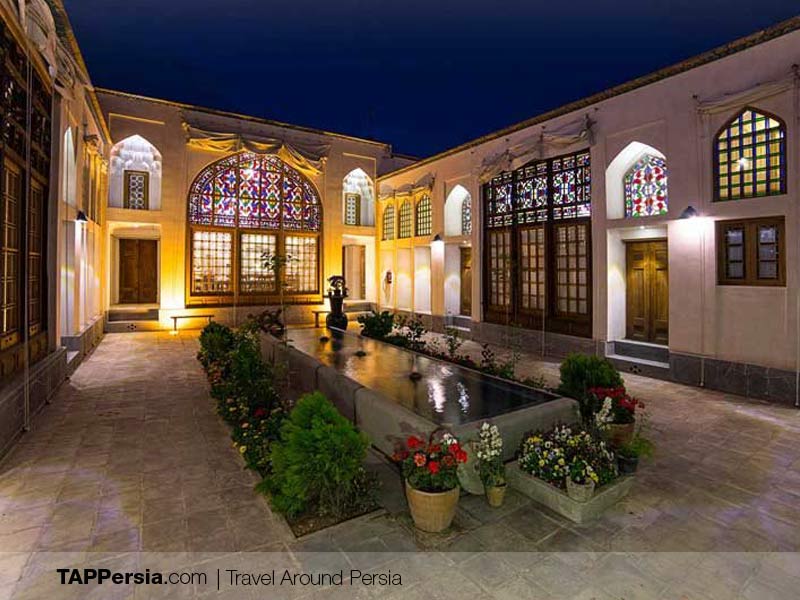 Kianpour Historical House is located in an ancient texture of Isfahan on Chaharbagh Street. The house dates back to the beginning of the Qajar era. As preserving the traditional style, the house was renovated and turned into a boutique hotel. Nowadays, Kianpour Hotel consists of 6 suits and all the rooms have a fridge, TV, bathroom, and a toilet. Access to the internet and taxi service is also available.
You can savor the ancient exterior and interior design with stunning plaster work and drawings. Royal suit is amazingly decorated by plaster and mirror works and other rooms are more simple with wood works. The hotel's old architecture is in a way that keep the house cool in summer and warm in the winter.
By just 10 minutes drive from Kianpour Hotel, you get Naqshe Jahan Square and other well-known attractions of Isfahan.
Ghasre Monshi Hotel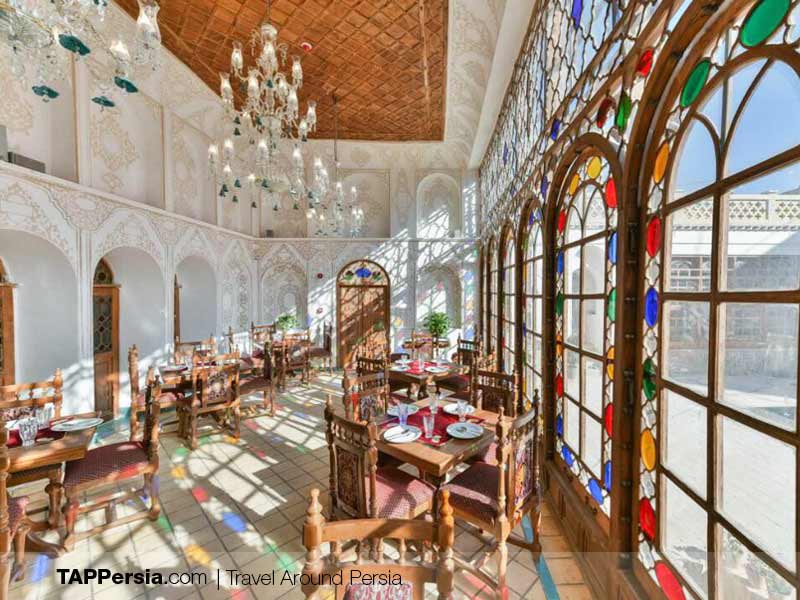 This ancient house is in Qasre Monshi area of Isfahan. This area used to be part of the city near Hassan Abad Gate in pre-Islamic time. The house dates back to the end of Safavid time and it used to be the residence of a Qajar king's minister.
They restored the whole construction some years ago. At the moment, it includes 23 traditional rooms on the first floor, ground level and underground levels. To keep the classical atmosphere of the hotel, the rooms have no TV.
Nice location of Ghasre Monshi Hotel provides the guests easy access to Constitution House and Naqshe Jahan Square.
Isfahan Traditional Hotel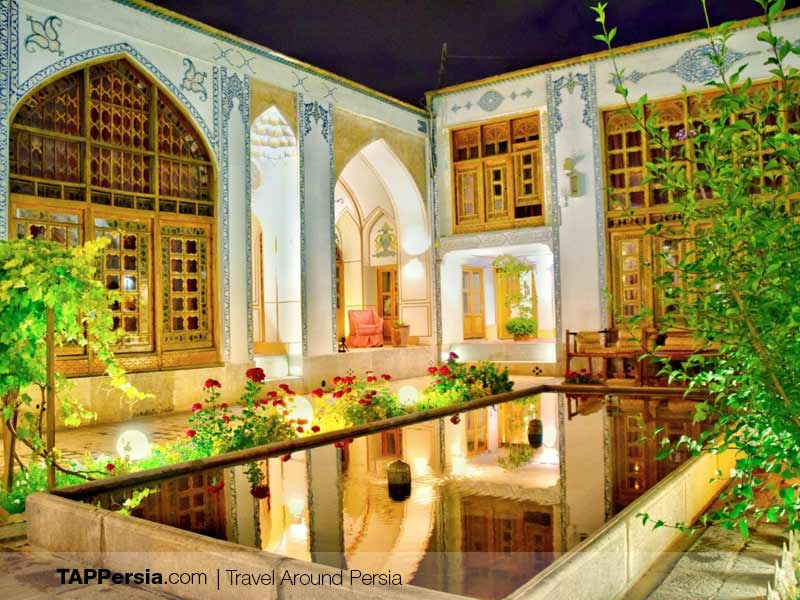 One of the outstanding monuments of the Safavid dynasty, with 400 years of antiquity, is Sonati Hotel. It's located in the historical heart of Isfahan, close to Chahar Bagh Street, the beautiful Chahar Bagh School and Naqshe Jahan Square.
Although the hotel is designed traditionally, it has the stylish amenities based on international standards. All the rooms of Sonati Hotel are arranged around a great yard. Just sit in this well-designed yard, watch the fountain in the middle and savor Persian architecture. The cool and calm atmosphere of the hotel provides the experience of staying in a classic Persian house and get familiar with the customs.
Keshish House Hotel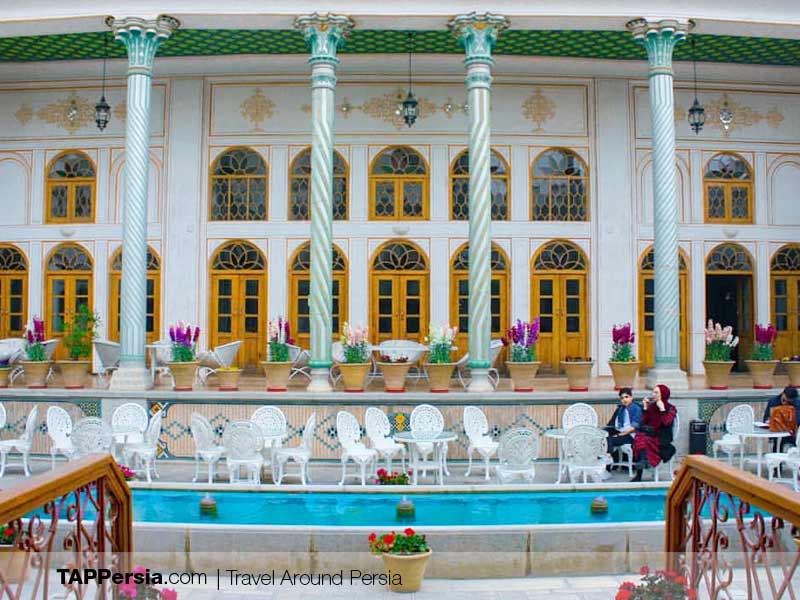 The hotel lies in one of the Isfahan oldest areas, called Jolfa. When Armenians came to Isfahan, they started to accommodate in this region and built up many constructions. Keshish house (keshish is a Persian word which means priest) belonged to an Armenian priest and dates back to the Qajar era. The house is restored in traditional style and equipped with the latest facilities. The rooms, royal suit, hall, yard and porch take you on a trip back in time.
If you're looking for a completely different experience, don't hesitate to reserve Keshish House. Amazingy, the rooms have different atmospheres, called with different names including the Queen, Sun, Peace and Khajoo. The hotel's restaurant serves you with finger-licking dishes in a Persian cozy space.
Keshish House is very close to Armenian attractions of Isfahan including Vank Church. There's also an easy access to Sio-Se-Pol Bridge, Khajoo Bridge and Naqshe Jahan Square by taxi.
Atiq Traditional Hotel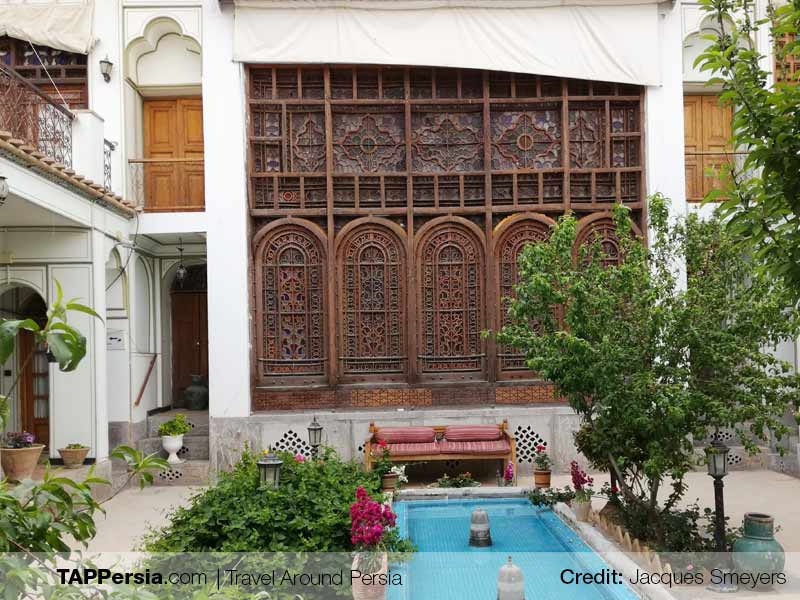 The hotel is a monument which dates back to 200 years, the Qajar era. It lies in an old area called Dardasht. The house area is 1182 meters square and includes 20 rooms, three royal suits and a central yard. All the rooms include modern equipment to provide you a memorable trip.
Aghigh traditional Hotel consists of the beautiful vaulted adornment and eye-catching paintings. The turquoise tiled walls and two cute fountains in the yard invite you to sit in peace and refresh your mind.
The hotel's location is in a historical area, where's close to Jame Mosque of Isfahan. Accommodation in this hotel brings you the chance to get familiar with old Iranians and their ceremonies.
Kashan Boutique Hotels
Morshedi House Hotel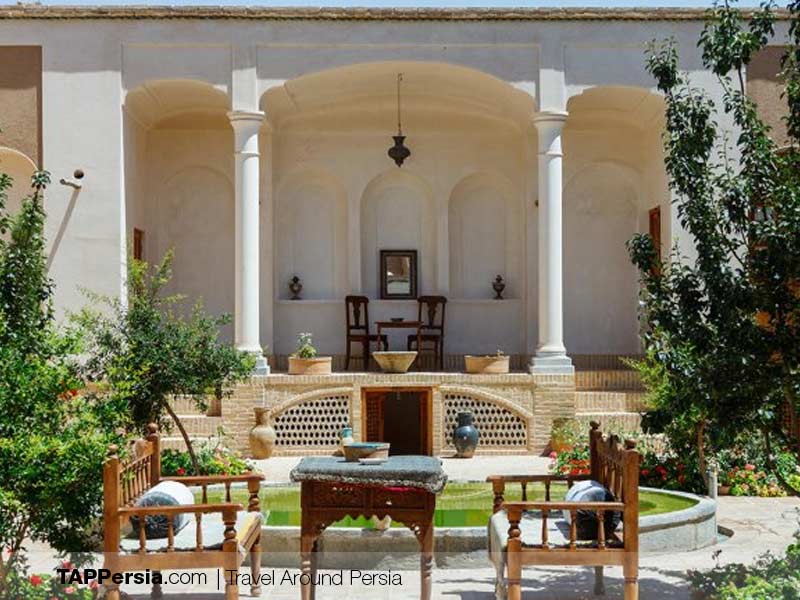 Kashan is a historical city in south of Tehran and north of Isfahan. Fortunately, many historical houses have survived in Kashan and their intact architecture uniquely belongs to the climate of this city. One of these houses is Morshedi Hotel, which dates back 250 years. This historical house was slowly fading into history, but it was renovated a few years ago and turned into an outstanding hotel. Unlike inconsistent surrounding developments, Morshedi has kept its authentic and genuine character.
Like most houses in Kashan, it includes 2 floors above ground and one underground. The rooms are decorated with traditional furniture, which date back to the Qajar era. They're also equipped with all the facilities needed, including modern bathroom amenities and room service. Enjoy a light and healthy breakfast in the spacious yard before heading out on a long day of cultural exploration. The Persian fountain and its blue tiles present a wonderful combination with vibrant flowers and plants. Persian carpets and Iranian plasterworks make the house even more appealing.
You have access to speedy Wi-Fi and also the option to enjoy the friendly and hospitable atmosphere of the traditional cafe. The other advantage is the location, conveniently close to Kashan's must-see attractions.
Adib House Hotel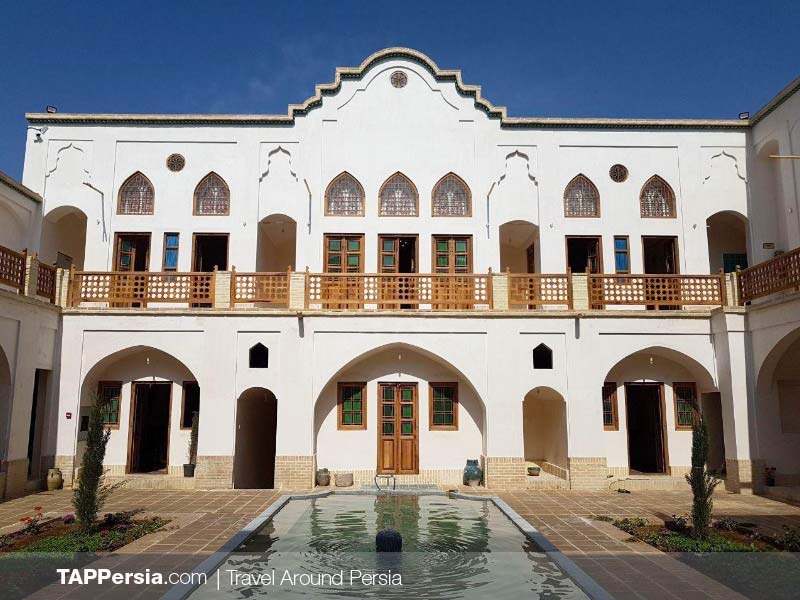 The traditional house of Adib, with 250 years of antiquity, is the second branch of Morshedi Hotel in the historical texture of Kashan. Adib House is a sample of the magnificent Persian architecture. By accommodation in this house, You can become an honorary Kashanian and have great memories of living in a traditional adobe house with a romantic atmosphere.
The facilities are coffee shop, shopping mall, free transfer to the restaurant of Morshedi Hotel and the speedy internet.
By 5 minutes walk from Adib Hotel, you reach Alavi Street where you can visit Abbasi House, Tabatabaei House, Boroujerdi House, Sultan Amir Ahmad Bathhouse, and Kashan traditional bazaar.
Saraye Ameriha Boutique Hotel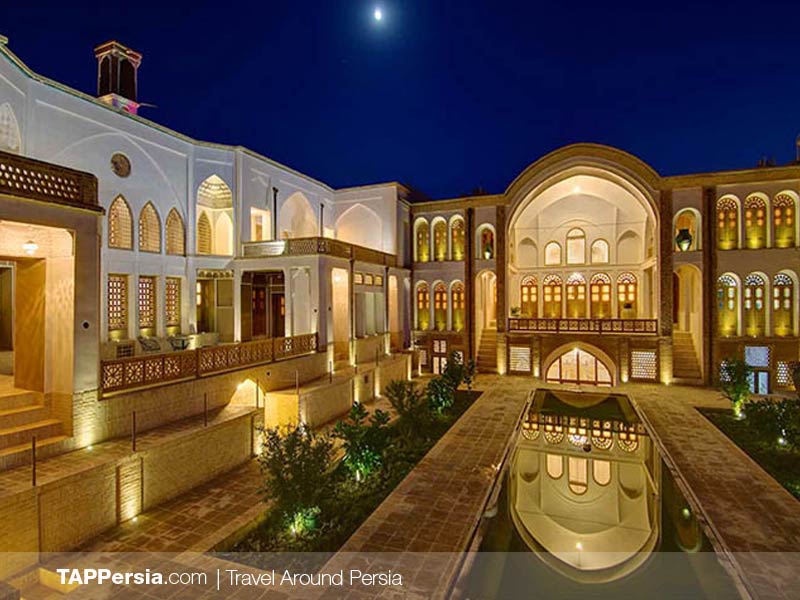 This mansion was built in Zand Dynasty in Kashan and belonged to Ameri Family. Three houses are connected to each other and form the whole mansion. It's the oldest building of Kashan with the tallest windcatcher.
Like other historical houses of Kashan, it was renovated and then turned into a boutique hotel. The area is about 9000 meters square and includes 85 rooms and 5 central yards. two restaurants, one cafe, and a gallery are included as well.
The wide yards, well equipped spaces and the eye-catching decoration make Ameri House very special.
Manouchehri Traditional Hotel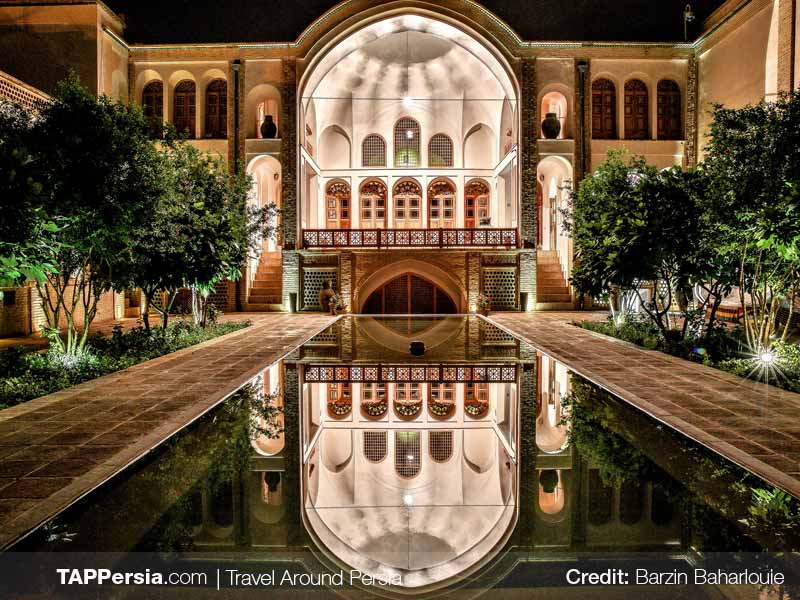 Accommodation in Manouchehri Traditional Hotel is a pleasant and exciting experience to get familiar with Iranian life-style and culture. While preserving the old art and decoration, it has all the modern amenities needed.
The hotel's location is near the historical texture of Kashan. By 10 minutes walk from the hotel, you can reach the traditional bazaar of Kashan. From there, easily go and visit the Kashan's congregational mosque, Agha Bozorg Mosque and other historical houses like Boroujerdi House and Abbasi House.
Each hotel's room is designed differently with full facilities. The restaurant is placed in the royal suit, where they serve delicious Iranian dishes and local appetizers.
The entrance hall of Manouchehri House has turned into a beautiful cafe, where you can sit and enjoy the Persian architecture and classic atmosphere. There are also a cinema and a textile shopping center where you can buy souvenirs for your family and friends inside the hotel.
Atlasi House Hotel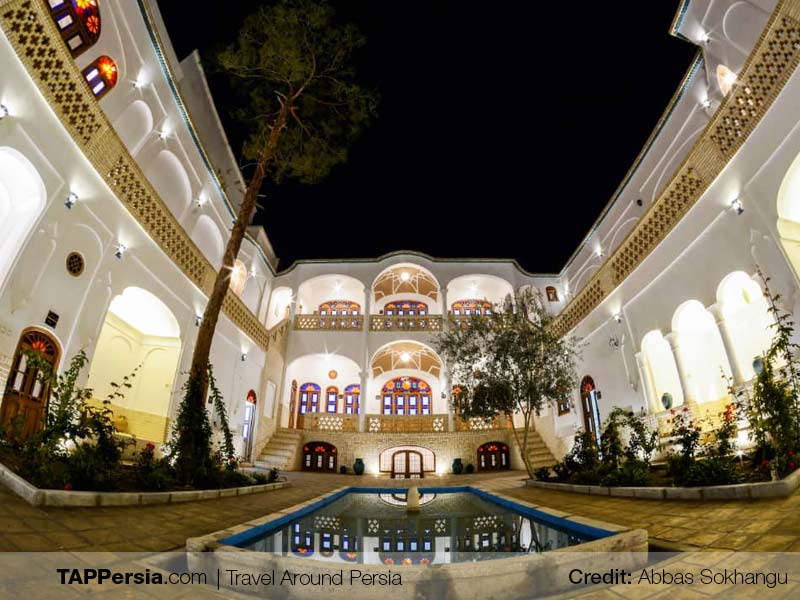 Atlasi House is located on Alavi Street in Kashan. This street has the most Kashan's glamorous destinations. The hotel's construction is 200 years old and had some refurbishments. The wooden doors/windows, 5 door rooms, fountain, basement and windcatcher are all signs of authenticity of the house.
Spend some time in the yard, watch the fountain full of fish and clear your mind.
Atlasi House is a bed & breakfast hotel and you can easily have lunch or dinner in close restaurants such as Abbasi House by 3 minutes walk. Also visit Tabatabaei House, Boroujerdi House and Mir Soltan Bath by 2, 3 minutes walk.
Shiraz Boutique Hotels
Panj Dari Hotel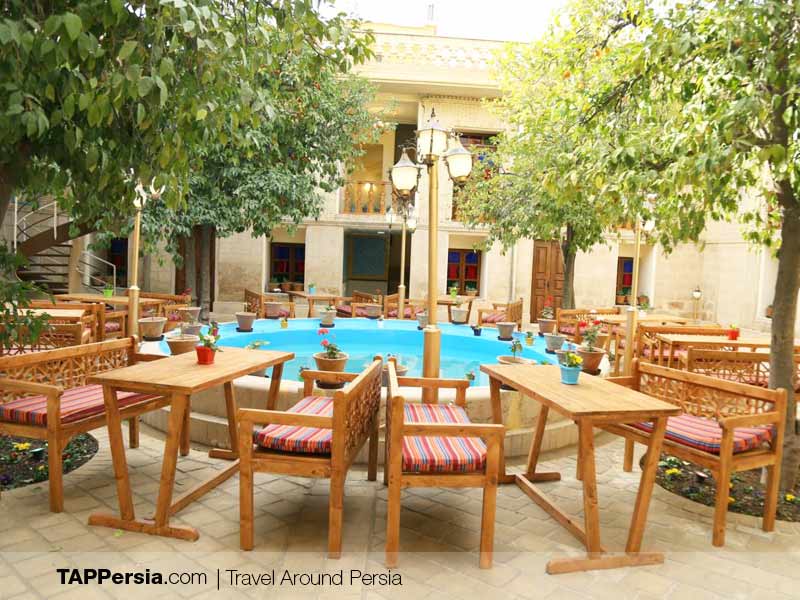 This imposing mansion was built in Shiraz (https://www.tappersia.com/shiraz/) 120 years ago (the end of the Qajar era). It had no residents for years. After 3 years of renovation, it was opened as a boutique hotel. The hotel's area is about 720 meters square and there are 11 rooms in 2 floors.
The ancient space of this quarter presents the pleasant lifestyle in the past and make you a time explorer. Hotel's location is very close to most must-see attractions including Nasir-ol-molk Mosque, Shahecheragh Shrine, Saraye Moshir, Vakil Bazaar, Vakil Bath, Zinat Al-Molk House, Saadi Tomb, Hafez Tombs and etc.
Darb-e Shazdeh Hotel
A combination of classic art and modern design, you can find it right in Shiraz, in a newly-built boutique hotel called Shazdeh Hotel. The little lush garden at the entrance is astonishing and the ancient architecture will make you stand in awe.
Shazdeh Hotel includes 8 rooms with 2,3 or 4 beds, where you can experience living in Qajari style and enjoy the jaw dropping manifest of a Persian house with mirror works decoration.
Go to the hotel's little cafe and sip on the fresh drinks. You have the option to try traditional bathroom too. Don't worry about the internet as the Wi-Fi connects in every spot inside the hotel.
The hotel lies in Zand area of Shiraz, so close to Karim Khan Citadel and Vakil Bazaar.
Forough Traditional Hotel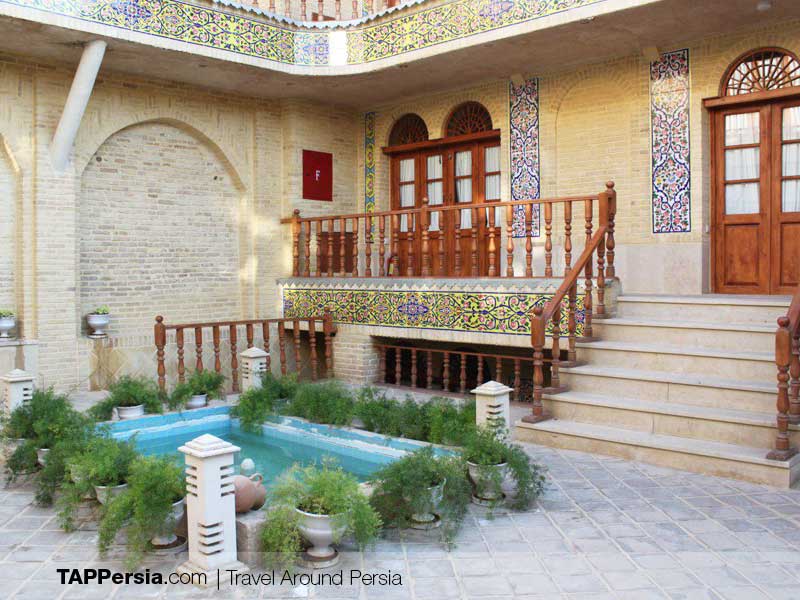 This long-established estate used to be part of Forough Al Molk House and separated afterwards. The house is managed by a family of Meshkin Fam. There's one section in the house, called Meshkinfam Museum. This is the first private museum of visual arts including some traditional paintings, stone carving and high reliefs. 
Like other boutique Hotels in Iran, you can see the features of Persian architecture from the traditional tiles of facade to the blue fountain. Forough Hotel has two floors and 18 rooms, designed completely traditionally, but equipped with stylish amenities. Wi-Fi, parking space and laundry are available. You also have the option to enjoy the hotel's classic restaurant and taste a variety of Iranian dishes besides Shirazi local food. 
You can easily explore Shiraz attractions as there's 5 minutes drive to Vakil Bazaar, Vakil Mosque,Vakil Bath, Saraye Moshir and Pars Museum. 8 minutes drive to Nasir-ol-molk Mosque, Zinat Al-Molk House, Karim Khan Citadel and Qavam House. Also about 20 minutes drive to Quran Gate, Eram Garden, Saadi Tomb and Hafez Tomb.
Lotus Guesthouse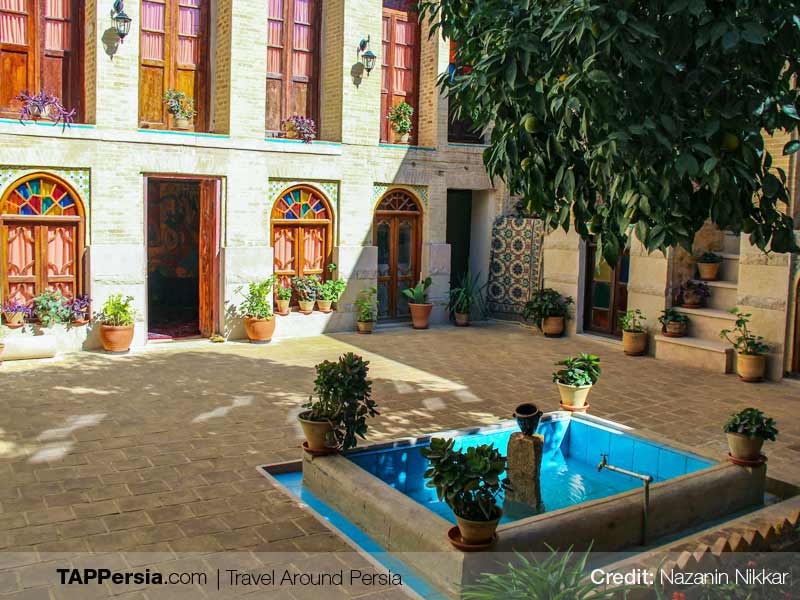 This splendid guest house is also on the list. The house dates back to 150 years, the Qajar era and restored a few years ago. There are 8 rooms on the ground level and first floor arranged around the delightful yard. 
The convenient location of the Lotus Guesthouse make transportation easy to Qavam House, Nasir-ol-molk Mosque, and Zinat Al-Molk House. There's about 5 km distance to other Shiraz charms including Khan School, Karim Khan Citadel and Hafez Tomb. 
Just note that the guest house has no TV and there are some rooms with stairs at the entrance. The guests who look for an accommodation away from the daily routines can definitely experience a traditional life-style in Lotus Guest House. 
Mahmonir Guesthouse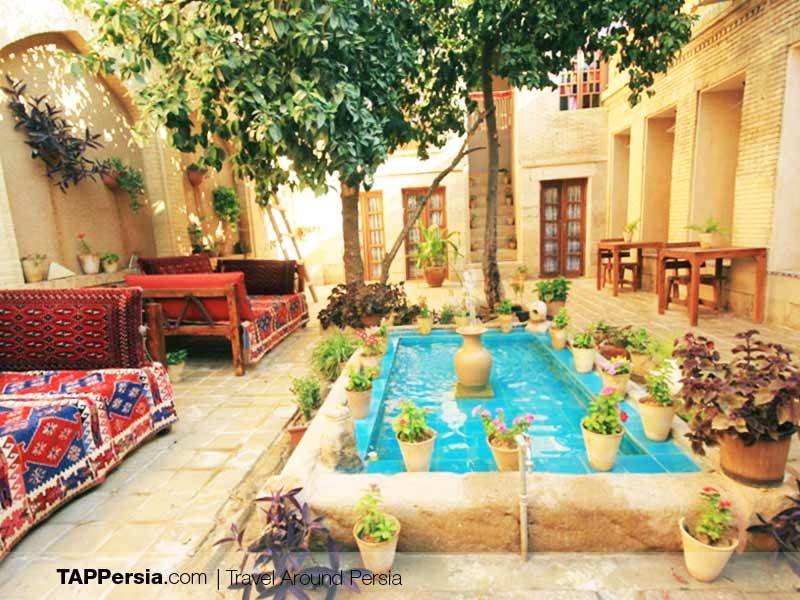 This time-honored guest house is more than 120 years (end of the Qajar era). After the refurbishment, it started to host travellers. Mah Monir has 6 suits on the ground level and first floor. Rooms have no TV and some rooms at the entrance have stairs. 
Facilities include English fluent staff, parking space, laundry, bathroom amenities, free internet, daily room service, heating and cooling systems. There's also a cafe, where you can relish fresh drinks. Mah Monir hotel's restaurant presents local Shirazi food including Kalam Polo. 
The convenient location on Zand Street provides easy access to Quran Gate, Nasir-ol-molk Mosque, Zinat Al-Molk House, Qavam House and Karim Khan Citadel.
House of Elephant Boutique Hotel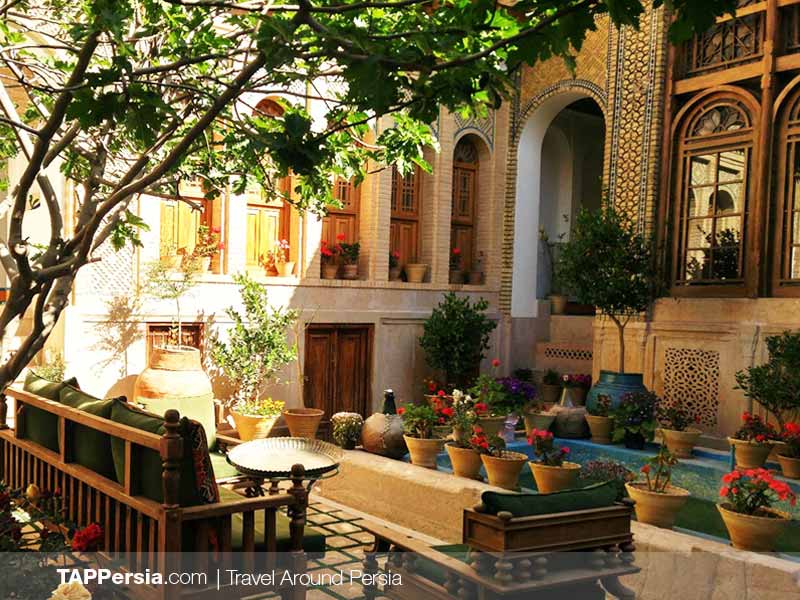 The boutique hotel ages 260 years, situated in the heart of Shiraz. The stunning architecture shows the house has kept its old fashioned design. It's also registered as a national heritage. You can get refreshed by staying in the fabulous rooms and find peace by sitting in the beautifully arranged yard. The staff are so kind and caring and food is yummy and delicious. You'll be an honorary Shirazi by accommodation in House of Elephant and get familiar with local life-style. The location is convenient to Vakil Bazaar and other Shiraz allures.
Emarat Haft Rang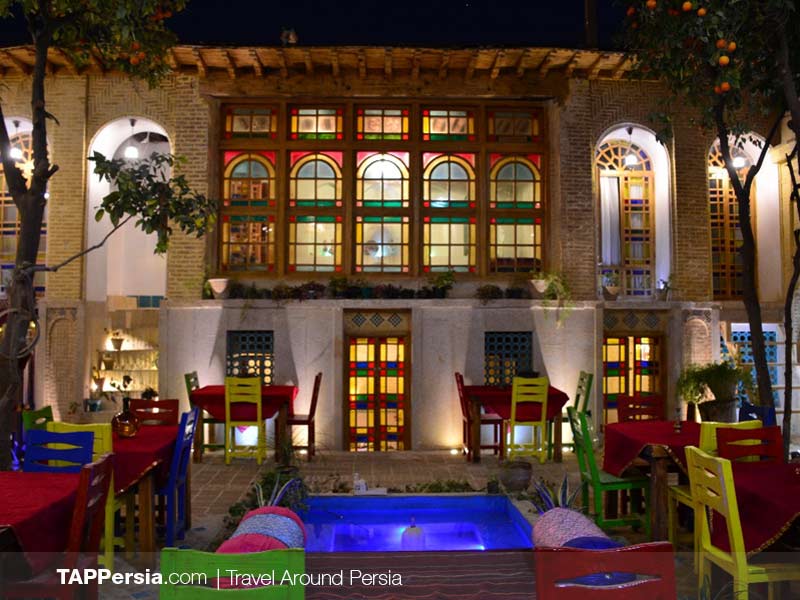 The mansion lies in the ancient texture of Shiraz. It was refurbished recently and opened as an ancestral boutique hotel. Staying in Emarat Haft Rang provides you easy access to most historical and cultural spots and shopping centers. 
There are 12 rooms divided into four two-bedded rooms, six three-bedded rooms, and two four-bedded rooms. Some rooms have a separate bath service and toilet while some don't and the guests should use the public one in the yard. 
Have a taste of Persian culture by staying in this boutique hotel. Spend some time in the hotel's dazzling yard and listen to the sound of turquoise fountain which will rejuvenate your spirit. 
Parking space, English fluent staff, internet, fridge, TV, heating and cooling systems, the restaurant with Shirazi local food and the cafe with Shirazi herbal drinks are other good points about Emarat Haft Rang.
Yazd Boutique Hotels
Moshir al-Mamalek Garden Hotel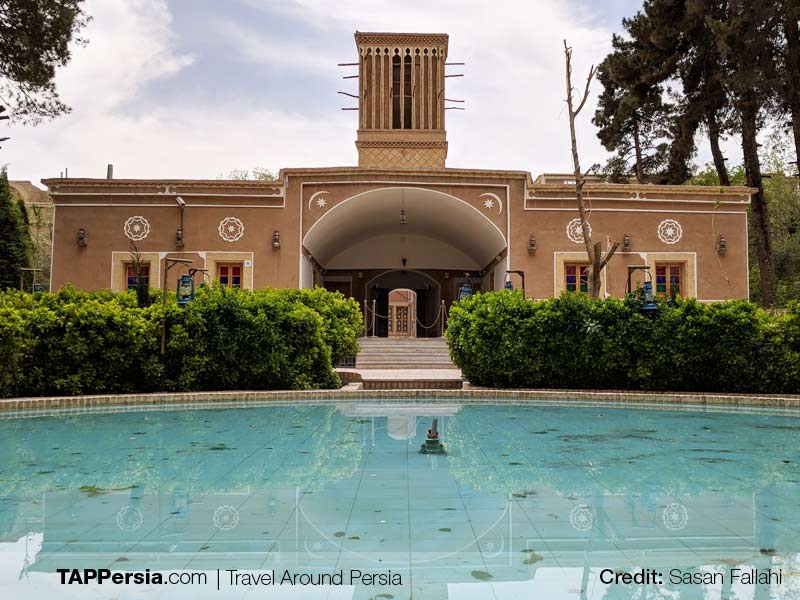 This hotel is placed in a garden in Yazd, built at the end of the Qajar era. After the building's restoration, it converted into a garden hotel. There are 92 rooms/suites equipped with modern facilities and ancient adornment. 
The area is about 13000 meters square, beautifully arranged with lots of plants, streams and fountains. Walking in this magnificent atmosphere can exhilarate you. The hotel is on the list of Iran's national heritage and also known as the first hotel which presents a Persian garden. 
Moshir al-Mamalek is near one of Yazd's gates. Although the hotel is away from the crowd and heavy traffic, easy access to Yazd's spots are available.
Nartitee Ecolodge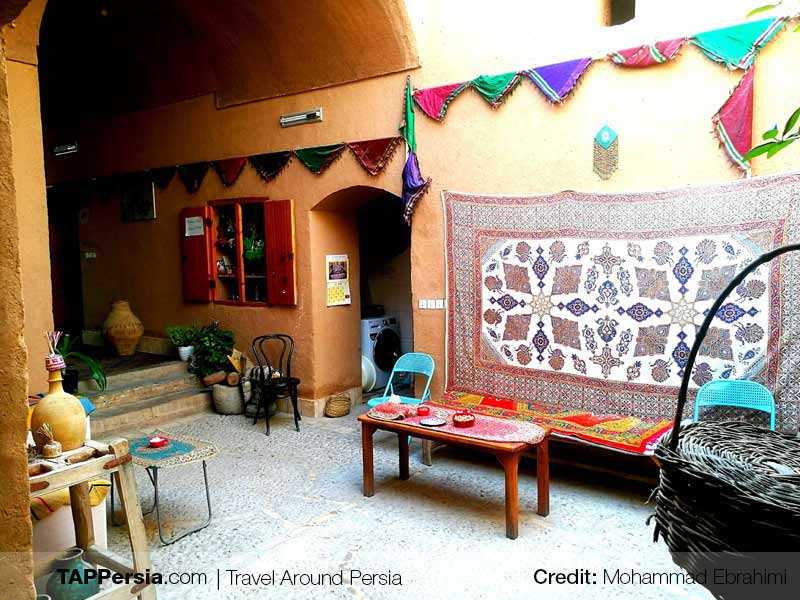 Nartitee means the blossom of pomegranate in the local dialect. The ecolodge is mainly focused on introducing the local customs and life-style. It includes 7 rooms classically designed. The guests can enjoy spending time in the green garden and fruit trees. 
The cleanliness and caring staff are the outstanding features. There's access to the internet in the lobby. The washroom service is in the hall of ecolodge and the rooms don't have separate ones. 
Nartitee isn't much away from Yazd, but it has a more pleasant climate. The traditional atmosphere brings you peace and a different experience without any city's hassles.
Kerman Boutique Hotels
Shahbaz Hotel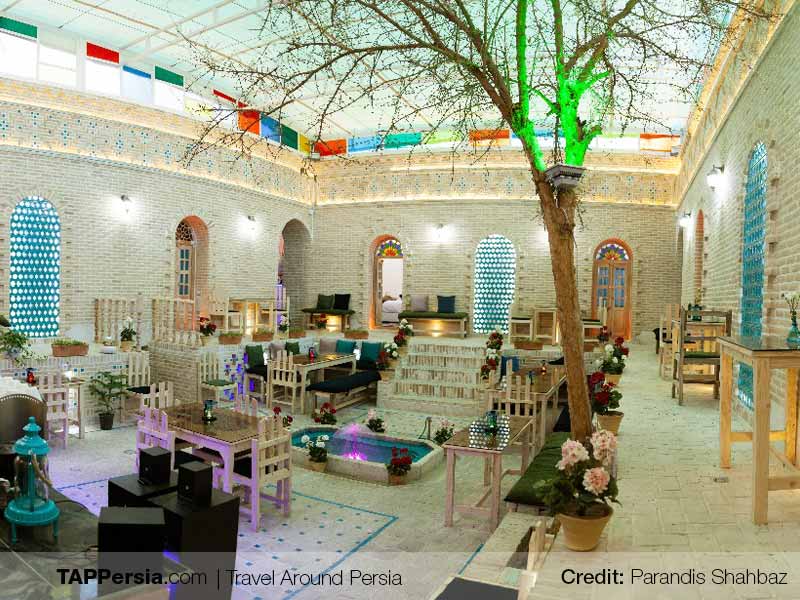 This hotel was built in Kerman, in the beginning of 2019, but the classic architecture feels like you got on a time machine and travel to the past. Shahbaz hotel is placed in the heart of Kerman, on Ferdosi Boulevard where passengers can easily go to Ganje Ali Khani Bath and Vakil Caravansary. 
The hotel includes 5 rooms: one two-bedded room, three three-bedded rooms and one four-bedded rooms, equipped with stylish amenities. Other advantages are free internet, parking space, English fluent staff, local Kermani food and a cafe. The accommodation for kids under 5 years old is free. 
You have the option to ask the hotel's personnel to bake the traditional sweets and learn the recipes.
Your FAQ's Answers
Can I book Iran traditional hotels online?
No, due to payment problems and lack of an online hotel booking system you need to choose an agency to check the availability of your desired hotel and book it for you.
How can I pay for Iran traditional hotels?
To pay in cash you can pay In person/ but if you want to use your credit cards you need to pay with the help of a travel agency.
What are the Best Traditional Hotels in Iran?
Kertas, Saraye Ameri ha, Ghasr Monshi
---
Recommended Tours