Are you tired of all the pollution and crowd in Tehran? Are you looking for a unique place, an escape from all this chaos? There is a perfect place for you to relax, walk, eat some delicious street food or a decent meal, and breathe in the great weather of the mountain close to you. Welcome to Darband.
Darband is a neighborhood in Tehran which is one of the cool and tourism areas in the capital. Darband literally means "door of the mountain". This neighborhood is one of the main ways for mountain climbers to start climbing to the Central Alborz Mountains(Tehran nature).
A Relaxing Path to the Mountain
The narrow path begins at Darband and ends in Twin Falls and Shirpla shelter. A river called the Darband River goes through this area and has made this district a good summer spot for relaxing. Many important state people at Qajar Era chose this place for their summer palaces, and perhaps the most famous example is Sa'dabad Palace. This towering natural site is both suitable for those who are interested in hiking and those who just want to enjoy the uphill view of Tehran. The second group can use the chairlift to go up.

The Unique Nightlife of Darband
Darband is one of the famous neighborhoods of the north of Tehran where so many people go for trekking, having a cup of tea, eating sour and sweet apricots. It is known for its fresh and breezy weather and mountaineers route.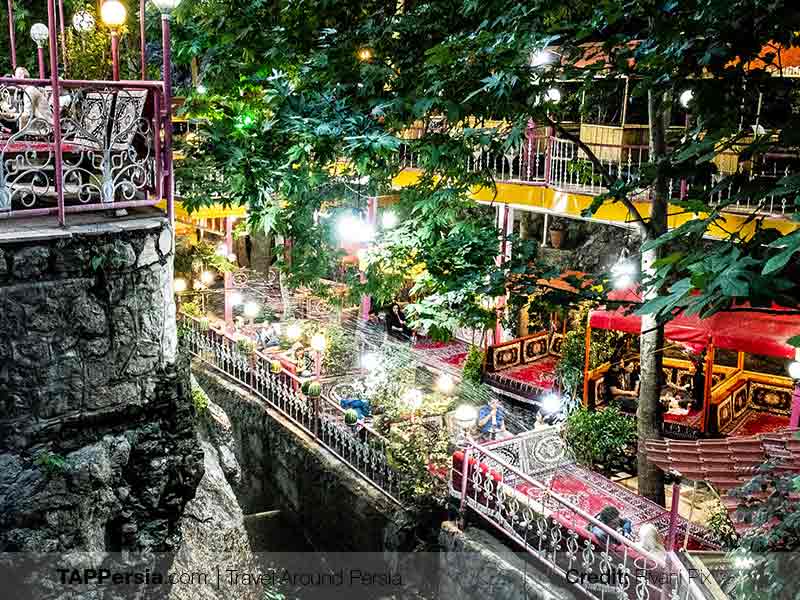 Located in the foothills of Mount Tochal and Central Alborz range, Darband is one of the oldest neighborhoods of Tehran. It is one of the oldest villages of Shemiranat and is in the northern part of Saadabad Garden. The weather at Darband is fresh and breezy. It is at the start of the hiking trail up to Mount Tochal.
Festival of Street Food
There are so many vendors selling different kinds of sour and sweet apricots, pickled walnuts, and Lavashak (which is compressed dried fruit), and a lot more Iranian street food. They also offer so many snacks, including Kebabs, steamed lima beans, and freshly roasted corn. In case you are looking for something more substantial, you can go to several cafes, tea houses, and restaurants. The spectacular area of Darband is dotted with a number of small cafes and best restaurants. These are quite popular and are busy in the evenings with both locals and tourists alike.

Perfect Route for the Trekkers
For starting the trekking Iran, you can start from the spiral asphalt route beside telesiege. Then keep up the west route. After passing a 1-kilometer route you'll reach a bypass. If you get in the bypass, you'll reach Imamzadeh Ibrahim and if you keep it up, you will get to Tochal Telecabin 2nd Station. But if you continue in the main pass and keep up the direct route, you'll reach a fork called "Osoun". After trekking about three kilometers, you'll reach a metal bridge. After passing each side of the fork after the metal bridge you will get to a valley beside the river, where is a suitable place for resting and relaxation. Tall trees and breezy weather are the features of this place. The height of this place is about 2050 meters above sea level.
Resting Place of Some Great Iranian Poets

The Zahir-ol-Dowleh cemetery is where many Iranian giants of art and culture such as Iraj Mirza, Forough Farrokhzad, Mohammad-Taqi Bahar, Abolhasan Saba, Ruhollah Khaleqi, Rahi Moayyeri, and Darvish Khan are buried in.
Best Things About Darband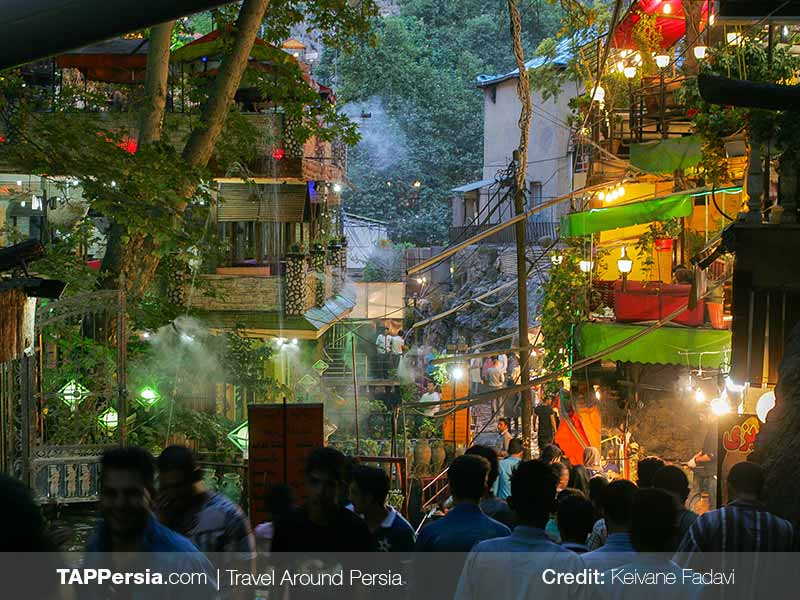 If you are looking for a place to relax, keep up walking for 10 minutes and you'll be greeted with plants, natural streams, and some waterfalls. There are platforms with rugs and pillows on it. Where you can enjoy tea, have different kinds of snacks, or smoke a hookah. It is a suitable place to feel away from the hustle and bustle of Tehran.
Go up from Tajrish Square, till the road ends and changes to a path winding up a narrow rocky valley, with water cascading down the slope. This magnificent trail heads up into the hills past a picturesque chain of teahouses and restaurants to make an unforgettable memory for you in Tehran.
Darband is one of the most relaxing places in Tehran to lay back with a sip of Persian tea and Ghelyan while enjoying the mountain atmosphere. You definitely should not miss it.
---
Recommended Tours