It is strange even looking at the title, isn't it? Tehran Nightlife! People may think that nightlife in Iran lacks excitement, but it is not true. Sure, you won't be able to easily find alcohol or illegal drinks in these cities (as they are just served behind closed doors), but they are other ways to enjoy your time while you are visiting Tehran.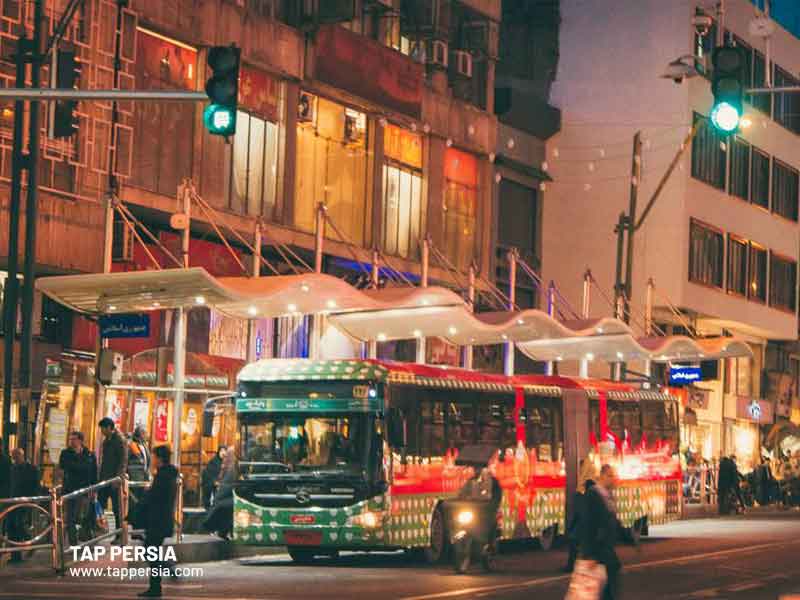 Remember that life in Tehran doesn't end at 9 pm but starts. They are even parties going on around the city. However, you best do legal stuff to enjoy your time and go to your home smiling.
When is the best time to visit Tehran?
Before diving into Tehran's nightlife, you should know about the best time to visit Tehran. If you are looking for a peaceful time with your family or girlfriend/boyfriend, there is a good chance you will find it from March to June. Suppose you don't know why, spring in Iran starts in late March (20th to 21st), which marks the start of Iran's new year, Nowruz, and it will go on for two weeks.
Throughout Nowruz, the weather gets pleasant, attracting more tourists as the days pass. If you haven't done your shopping, there is a good chance you will encounter shops with exclusive customer deals with discounts you may not have seen elsewhere.
Summer in Tehran (starting from late June) is the start of hot weather throughout the city, which we do not really recommend for tourists, as we cannot bear it ourselves too. However, the weather is different for different regions, so you can look for other regions that best suit your journey.
Now that you are eager to visit Tehran and experience its nightlife, let's see what it offers you.
Where to eat and enjoy live music?
30th Tir Street – Old Style Tehran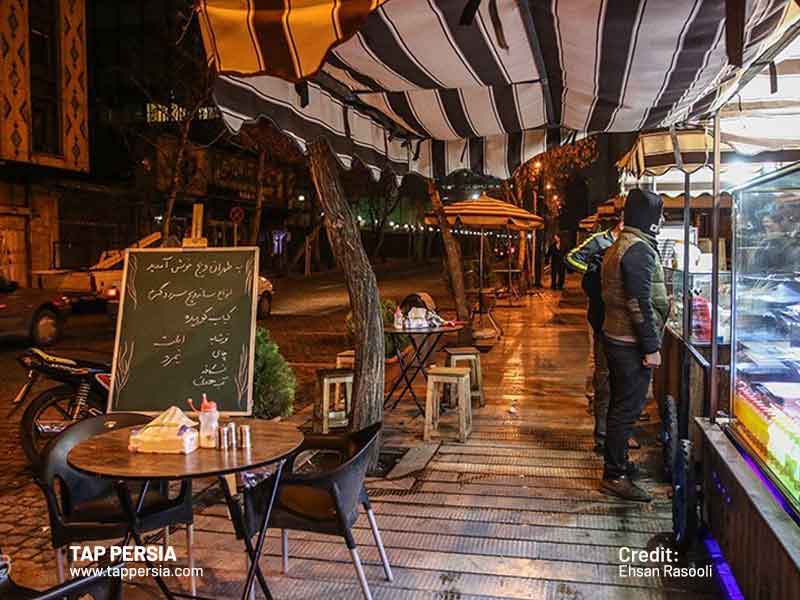 This is the place where several food trucks have gathered around to serve Tehran people and tourists. The place is also known as one of the oldest streets of Tehran and Tehran's first street food. What makes this street exciting is that it reminds us of old-school Tehran and how it looked in the past.
Additionally, old-style trucks and satisfying food are not the only things attracting tourists during the night. During Iran's new year, this street is filled with lots of lights and decorations, and you can listen to live Persian and sometimes foreign songs by Tehran teenagers.
If you want to be served both local and foreign foods and enjoy tasty cold and warm drinks while listening to tasty live music, this street is the place you are looking for.
Pasdaran – Luxurious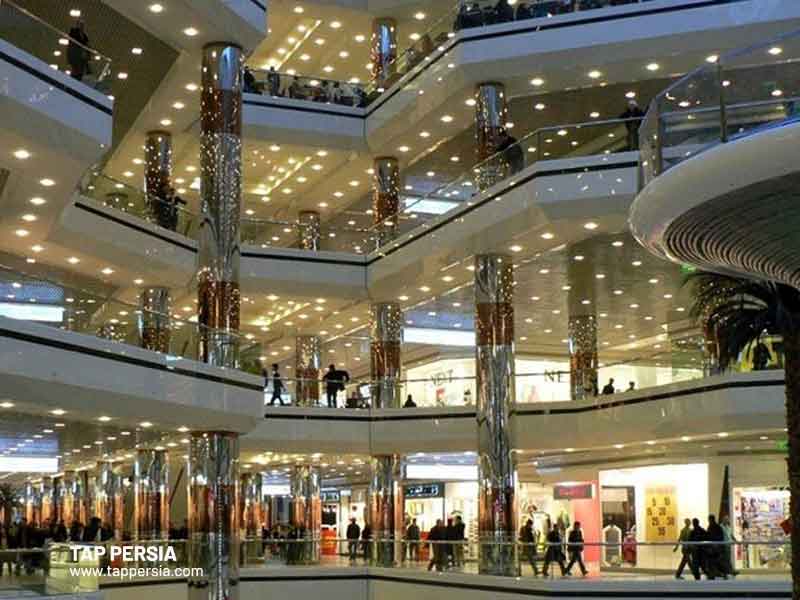 Life Tehran is divided into several sections like so many other places, uptown and downtown. I am from the downtown region of Tehran and whenever I visit the uptown section, such as Pasdaran, I get amazed by their lifestyle and how they live. Even how they communicate and behave toward each other is different; it is like entering another part of Iran. I would say they have adapted themselves to a more modernized and foreign lifestyle.
I am adding this place to this list because I was there a couple of nights ago, visiting a place called "Captain Lounge Restaurant" with one of my friends and the place just amazed me. We were there for more than two hours, talking and laughing, with lots of people and youngsters, teenagers and girlfriends/boyfriends, enjoying their time together.
I felt it is not Iran and we are in the us right now. The place consists of three floors and the last floor is dedicated to an open roof place mostly for youngsters. It is also available from 12 am to 12 pm, so I am sure you would like to spend a couple of hours there. It would change your mood and view of Iran forever.
If you ever come to Pasdaran or any other uptowns of Tehran, including Elahiyeh, Farmanieh, and Niavaran, don't forget to visit what they offer for you. I am sure their lifestyle will amaze you as they did mine.
Bam-e Tehran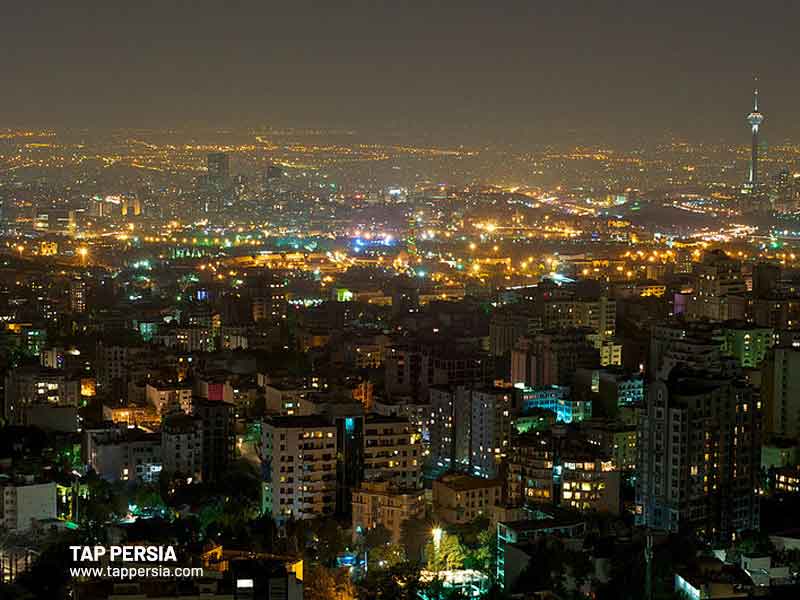 As one of the most popular places in Tehran, this place offers many exciting tourist activities. You can either spend your time in the exclusive location designated for you or enjoy the activities such as bag jumping, bungee jumping, trampoline jumping, or tennis courts.
Bam-e Tehran is located in Velenjak hills and it literally means "top of Tehran". In other words, the place will enchant you, especially at night, where you will also have an excellent view of Tehran and its beauty.
Although Tehran has been known as the most polluted city in recent years, I came to believe that Bam-e Tehran has the freshest air in all of Tehran. While you are there, enjoy your night, food, and activities, and I am pretty sure you will be spending a lot of time there.
Are you a fan of water activities? I recommend Chitgar Lake
Chitgar Lake is an artificial lake located at the west of Tehran that was founded about nine years ago. This is the resort you should visit to enjoy the most exciting activities on the water, and they include boat steering, fishing, and walking around the beach. Additionally, you should enjoy the fresh weather, which is the main point of this artificial lack creation: creating fresh air and water for the Tehran people who have to go kilometers to reach the Mazandaran shores.
In this resort, you can also enjoy some horror activities such as panic rooms, Kart racing, and park-e bazi (land of games), which is exclusively designed for kids. Why don't you let your kid spend time in that place while you walk around with your partner along with the magnificent view of the lake? I guarantee you will be amazed by how the lake and shore look during sunset and nights.
There are lots of activities to try in this place and I am sure that you won't have enough time to finish them all. If you ever get hungry and tired, and I am sure you will, there are exclusive and exotic places for passing the time, newly open restaurants and café places, etc.
What are the best places for youngsters?
We have pretty good ideas where you can spend your time if you are traveling alone or with your partner. The following places and activities are available for both men and women(Tehran nightlife).
• Human table football – Pass Ghavamin Club (Ekbatan)
It may sound crazy but there are several places where this activity exists. You can actually participate in human table football with a team of 6 to 14 individuals. You can also participate as a family. Good news, because this activity is available from 7 pm to 11 pm.
• How about watching dolphins and sea lions? – Milad Tower Dolphinarium
Yes, you heard right. Tehran is hosting one of the biggest dolphinariums in the entire middle east. Why don't you give it a try and swim alongside dolphins? I am sure you will forget all the problems you have. You would also love to see the intelligence and playfulness of these animals.
• How about going to Jurassic World? Tehran Jurassic Park (Sa'adat Abad)
Started its work about nine years ago, this park brought the dinosaurs of the Jurassic world back to life (I am not talking about the way movies such as "Jurassic Park" brought dinosaurs back, so don't worry). By visiting these places, you actually see different types of dinosaurs, flesh and grass-eating pre-historic birds, etc., both tiny and big. You can always visit this place if you are not scared of seeing big sharp teeth.
What activities can couples do(Tehran Night)?
• Milad Tower and Azadi Tower
These two are the symbols of Tehran and I can say they are actually the places that couples can visit, to take lots of lots photos together, privileges of tourists' traveling together in Iran. On the one hand, you can visit Milad Tower to have fun, eat, and have a sense that Tehran is under your feet. On the other hand, you can visit Azadi tower at night where illumination and its different colors are just asking you to take endless pictures.
• Tabiat Bridge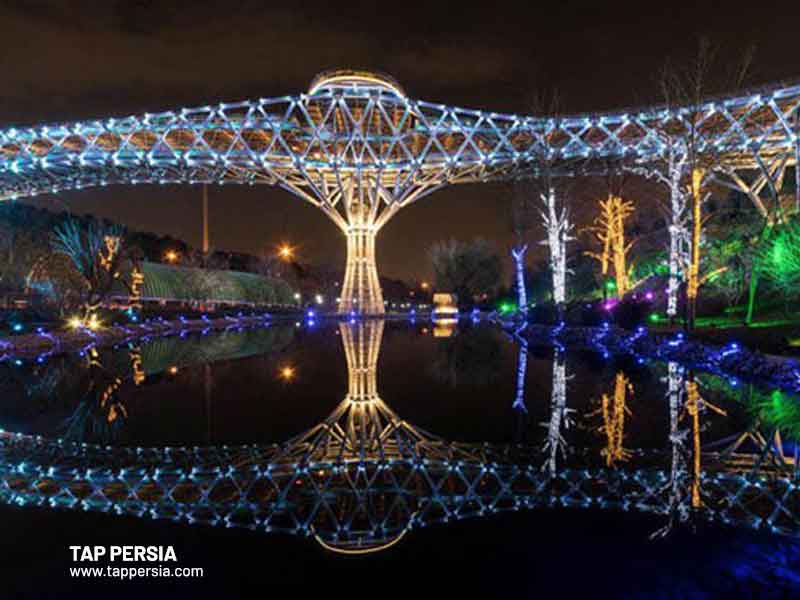 Nature bridge is one of the places that thousands of people visit every year and I am not talking about single people; I am talking about partners who actually want to have a good time. The modern design of this bridge, the color, and the extraordinary illumination of this bridge make it a great spot to record memories with your partner.
The bridge consists of three floors: the first floor consists of café places and restaurants, with lots of other activities such as skating and skateboarding for kids and adults, the second floor is for walking, and the third floor is the best place for viewing Tehran during the night and taking the most memorable photos.
Have you not visited Iran and Tehran yet? What are you waiting for? TAP Persia is offering the most exciting and exclusive Iran and Tehran tour packages for all excitement seekers. Call our support team and let them choose the best package and visa for your needs. The best tour of your life awaits you.