Kurdistan province is a green and attractive land. It is one of the great nature tourism destinations in Iran, as well. If you like to gain new experiences and travel to untouched and pristine areas, be sure to include cities of this land of nature, culture and art in your travel plan.
You can find a suitable and clean hotel in each of the cities of this beautiful province, such as Sanandaj, Marivan, Baneh, Saqez, Oraman, Bijar, and Qorveh. Join us to learn about some of the best hotels in this province.
Sanandaj Hotels
Sanandaj is the capital of the beautiful province of Kurdistan and the second largest Kurdish city in the west of the country. For staying in this city, fortunately there are desirable and appropriate hotels. Down below we will mention some of the best hotels in Sanandaj;
1.Hotel Shadi
Shadi luxury four-star hotel is located at the entrance of Sanandaj city from Kermanshah in the heights of Kurdistan province. Beautiful views, views of the plain and pleasant greenery are among the prominent features of Shadi Hotel.
Despite being located in the heights, it has good access to the historical and natural attractions of the city such as Sanandaj Museum, Moshir Divan Mansion and Asif Vaziri Mansion. Among the other features that travelers like in this hotel are the handicraft market and the luxury restaurant serving local food and special local bread.
2.Hotel Hedayat
Sanandaj one-star Hedayat Hotel has 50 years of experience in the tourism industry. This hotel has three floors, 21 rooms and suites. Unfortunately some of the rooms do not have private bathrooms inside. This hotel does not have an elevator, either.
Despite the above facts this hotel has experienced staff that do their best to make your stay comfortable. Also this hotel has a good rating in Tripadvisor and people like it.
3.Sanandaj Tourist Hotel 
Jahangerdi or tourist Hotel is one of the three-star hotels in Kurdistan. Moreover it is located in the heart of Sanandaj and has a beautiful view of Abidar Forest Park(location). The beautiful environment, clean and stylish accommodation units, pleasant green space for walking and relieving fatigue are among the advantages of this hotel that attract many travelers. The geographical location of this hotel and easy access to the airport and sightseeing attractions are also among the other advantages of this hotel.

Tishk Ecotourism House is an economical hotel in Sanandaj. This residence has 3 rooms with a capacity of 20 guests, and its most important facilities include traditional bedding, heating system (oil heater, oil lamp, chair and wood heater) and cooling system ( fan). Also, an Iranian bathroom and toilet are located inside and another outside the house, in the yard. In this residence, you can order all kinds of local breads, and local and organic foods depending on the season.
Breakfast also includes local honey, local butter, berry and grape juice, eggs, local yogurt, boiled potatoes, and omelette, along with herbal teas. The hotel is 39.3 km from Sanandaj Airport, 46.8 km from Sanandaj Passenger Terminal, 46.5 km from Khosro Abad Mansion and 64.1 km from Vahdat Dam Lake.
4.Marivan
Marivan is one of the beautiful cities of Kurdistan province, which has a historical and ancient history dating back to the Neolithic era. To stay in this lovely city, according to your taste and budget, you can choose one of the following hotels.
5.See You In Kurdistan Hostel
See you in Kurdistan hostel is an English-friendly accommodation in Marivan city. It consists of a cozy café, private rooms, a large dormitory, a communal kitchen, public bathrooms, an art room. It also has a large garden. And the house is a more than a hundred years old building.
6.Zarivar Hotel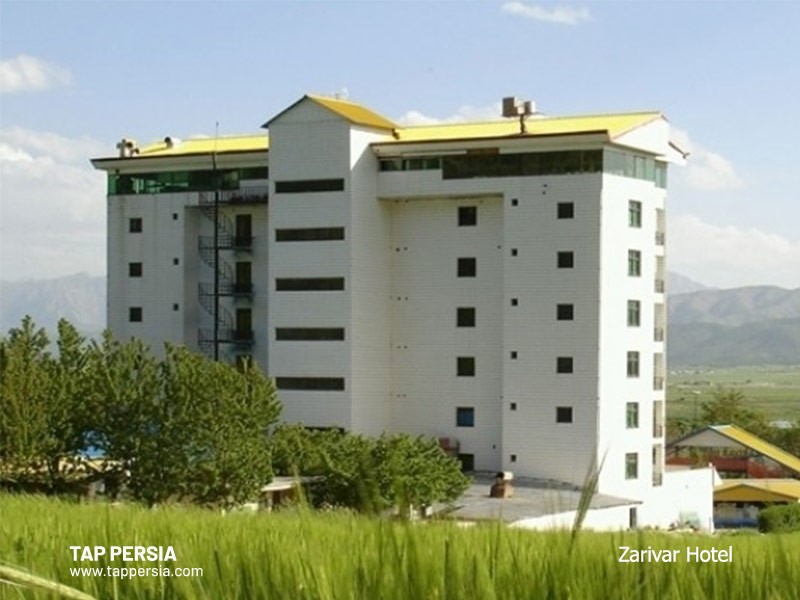 As its name suggests, the four-star Zarivar Hotel is located next to the beautiful Zarivar Lake in the city of Marivan in Kurdistan province. This hotel has a very impressive view of this unique lake. Especially the restaurant of this hotel, which is located on the seventh floor, has a wonderful view of the lake and the surrounding mountains. That's why it provide the guests with the pleasure of eating a delicious meal while enjoying the surrounding scenery.
Among the attractions around the hotel, we can mention the historical Garan bridge, the green and mountainous villages of Dezli and Derki, and the Bel mineral water spring. Boating in the lake is also one of the unforgettable entertainments of this hotel.
7.Newroz Hotel
Newroz Hotel is one of the three-star and economic hotels in Marivan city located in Kurdistan province. This hotel is located in one of the most pleasant parts of this city. Furthermore, it has convenient access to sightseeing and entertainment areas and shopping centers. The amenities of the hotel are sufficient and suitable for a quiet and comfortable stay.
8.Marivan Tourism Hotel
Jahangardi Guest House or Tourism Hotel is one of the pleasant and one-star Marivan residences,located in the heart of the mountain, adjacent to a plain and next to Zarivar Lake. There are so many natural attractions around the hotel that they cannot be described properly. The view of the lake that this hotel has is breathtaking and very eye-catching. The environment of the hotel and the green space around it is very quiet and cozy and it is very enjoyable to escape from the hustle and bustle of big cities.
9.Saqez City
Saqez is the second most populated city in Kurdistan province and one of the coldest cities in the country, dating back to the Medes. There are three suitable and good hotels in this city, depending on your taste, you can stay in one of them.
1.Kurd Hotel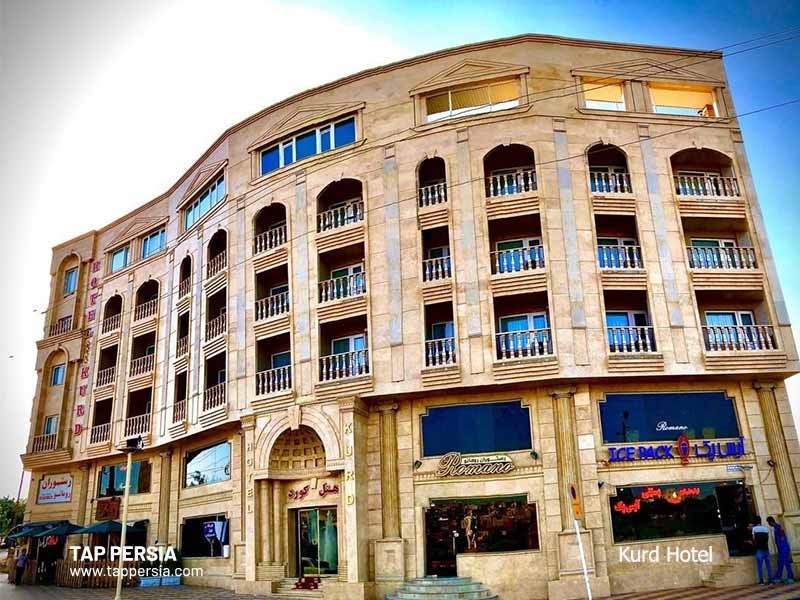 Kurd Hotel is one of the newly built four-star hotels in Saqez city. They built it in Madar Square and has very good access to the sights of this city. From this hotel, you can go to Kowsar Park with a few minutes' walk, or with a few minutes' ride, you can visit attractions such as Do Minareh Mosque, Haj Saleh Bathhouse, and Sheikh Mazhar Mosque.
11.Maad Hotel
Maad Hotel is one of the good three-star hotels in Saqez city, which was recently renovated in 2015 and offers very good services to its guests. This hotel is a very convenient option for travelers who travel by bus. Because it is right in front of the Bus terminal of this city. Maad Hotel is close to the sights of the city such as Haj Saleh Bathhousre and Sheikh Mazhar Mosque.
12.Azadi Hotel
Azadi Hotel is a mid-range one-star hotel and one of the oldest hotels in Saqez city. They established it in 1984. This hotel is trying to provide its guests with a pleasant and relaxing stay and a lasting memory with its adequate and desirable comfort facilities and with its experienced and efficient staff.
13.Oraman Village
Oraman or Horaman Takht is an attractive and stepped village in Kurdistan province, which is very popular among tourists and nature lovers due to its many springs, green pastures and date gardens on the slopes of the mountains. To stay in this green city, you can stay in its unique stone hotel.
14.Oraman Rock Hotel or Sangi Hotel
Oraman Rock Hotel is a three-star accommodation provided for travelers to stay in this special and unique village. Although the facilities of this hotel are not many, but it is very clean and has amazing and beautiful architecture. When you step out of this hotel, fig, grape and walnut trees show up everywhere you look. Oraman Sangi Hotel also has a very good access to one of Oraman's natural attractions, the Sirvan River.