Visitors to Qeshm Island are enchanted by the enigmatic world of Kharbas Caves. Despite what many people believe, Qeshm Island actually has a significant historical background in addition to its many natural charms. The exact history of this cave, which was built by humans in the past, is still unknown.
About Qeshm
In the Strait of Hormuz, there is an Iranian island called Qeshm (or Gheshm), historically known as Kishm. Located a few kilometers off Iran's southern coast, Qeshm Island is close to the port cities of Bandar Khamir (Persian Gulf) and Bandar Abbas.
On the island, the temperature often hovers around 27 °C (81 °F). June through August is when it's hottest, and October through January is when it's the coldest.
Historical accounts of the island of Qeshm go all the way back to the time before Islam. Names like Qeshm, Keshm, Kish, and Tunb reflect the extensive Ilamid presence in the region, dating back many centuries BC.
Qeshm Attractions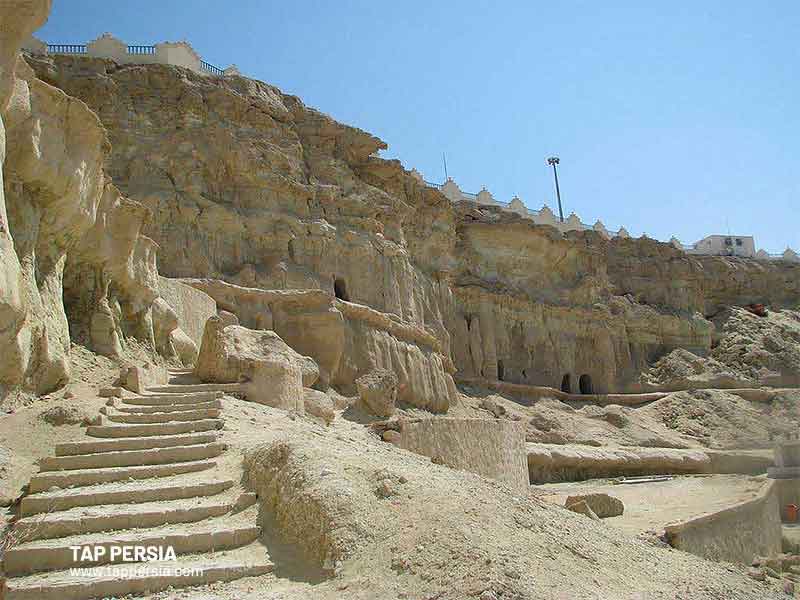 The Qeshm Geopark, Chahkooh Canyon, Stars Valley, Hara Forest (Mangrove), Talla Wells, Kharbas Cave, Salt Caves, and Portuguese Castle are among the island's top sights. Additionally, smaller islands including Naz, Hormoz, Larak, and Hengam, are around the main island.
Hormoz Island has an amazing array of red, orange, and yellow hues on its surface
Hengam Island, with its magnificent beaches
Through a narrow one-kilometer-long land bridge, Naz Island is connected to Qeshm
Coral Larak Island's beautiful blue water is very clean
In addition to the islands, Qeshm has a large number of settlements, whose residents rely on the Gulf for their livelihood. As a result, some of them work as fishermen, while others construct boats and ships. It's fascinating to see that the UNESCO list of Intangible Cultural Heritage includes "Traditional techniques of making and sailing Iranian Lenj boats in the Persian Gulf."
With all of that said, the Kharbas Caves are by far the most intriguing big attractions in Qeshm, and we shall go into more detail about them below.
About Kharbas Cave
Within a few kilometers of the city of Qeshm is Kharbas Cave. Along with the Zagros Mountain Chains, this cave is located. This cave initially appeared during the time of the Medes Tribe, the earliest Persian tribe. The cave's appearance as it is seen now is the result of two different reasons: first, natural influences such as the fall in water levels and the emergence of the cave's mountain; and second, human sculptures made through time. According to their demands over time, people have made changes to the cave's structure. 20 to 30 meters is about how high the cave's rock walls rise. The Kharbas Caves complex consists of four separate caves.
Structure of Kharbas Cave
Kharbas Caves may look unassuming, but what you find within the cave will astonish you. Behind the cave's walls, there is a labyrinth of chambers and hallways, indicating that there were once inhabitants here. Additionally, the shells indicate that the cave was briefly submerged under the sea. It is interesting to look at the carvings on the walls as well. The gaps in the walls with the wooden fence in front of them are also visible. These openings once served as the cave's lighting source and a window to the stunning surroundings.
Khorbs Cave, a Two-Story Cave
On a mountain forehead overlooking the southern shore of Qeshm Island and facing a huge plain where the Islamic graveyard is situated, Kharbas Cave is a significant piece of rock construction.
You may see a two-story cave when you approach it. Take the stairs up. You can see that the first floor is the natural portion of the cave and is made up of an entrance hall with three openings, but you have to walk to the second floor to view the hall and the portion of the cave that contains all the stories. The primary portion of the second level is made up of a central room or hall. It is possible to say that this is the same area where a gathering of people or a place of worship for sun worshipers formerly took place. There are hallways and smaller areas that resemble rooms all around this hall; it appears as though they are hugging the hall and connecting to one another.
There are various apertures towards the plain in the body of the rocks of the cave you are looking at, which serve as windows to the cave and let the light within.
Let's talk about the cave's size now that you are familiar with its overall layout. As mentioned, the central hall on the second level of Kharbas Cave is surrounded by rooms that are 4 x 5.5 meters in size and have an approximate 25 square meter area. This indicates that the hall might be carpeted with two 12-meter carpets. These rooms are connected by hallways. Two recesses in this hall, it is assumed, were probably utilized as lighting.
History of Kharbas Cave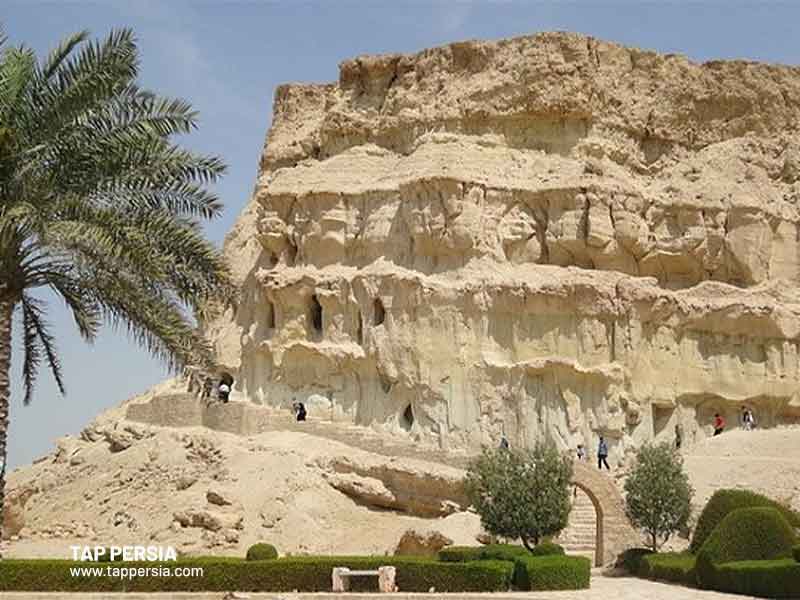 There existed a thriving and rich community known as Khorbiz or Khorbes during the Sasanid dynasty. The hamlet is now in ruins, but Kharbas Cave has acquired the respect it merits. Some people think that this cave was formerly utilized as a site of devotion for Anahita, the Persian goddess of water. Some people think that this cave formerly housed a temple for adherents of Mithraism. Another group believes that it was used to store deceased people's remains so that they may be devoured by birds, in accordance with Zoroastrian custom and religion. The last group speculates that it formerly served as a safe haven for people when pirates attacked the island. Despite these myths and secrets, the real history of this cave is still a mystery.
Places to Eat near Kharbas Cave
You may find a number of eateries serving delectable Persian and regional cuisine on the eastern side of the island. These include the Badil Restaurant, the Island Nights Restaurant, the Naeem Restaurant, the Raftari Restaurant, the Khan Boom Restaurant, and the Shabhaye Talai Restaurant, to name a few. These eateries are reachable in around 15 minutes.
Accommodation near Kharbas Cave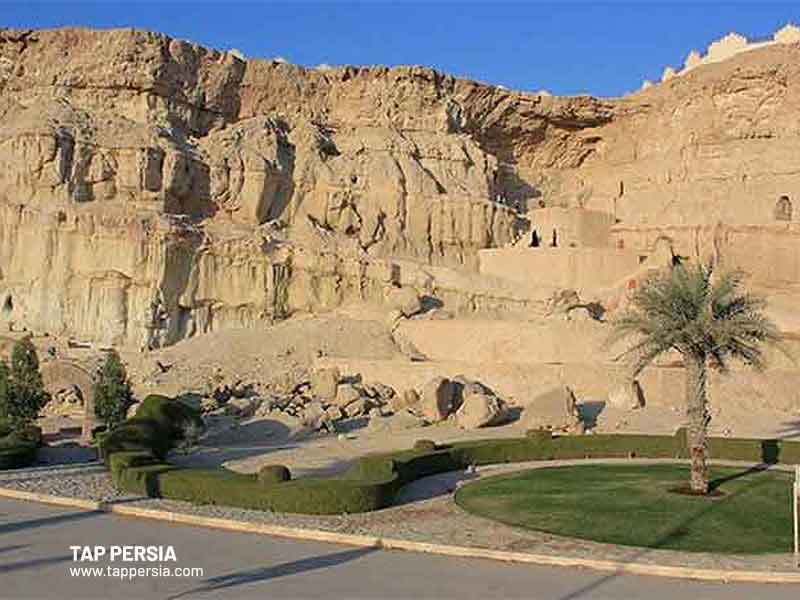 There are excellent motels nearby if you are seeking a temporary residence where you may relax. Haft Rangoo Ecolodge (budget), Qeshm Eram Hotel (budget), Marina 2 Hotel (budget), Khalij-e Fars Beach Hotel (budget), Marina 1 Hotel (budget), Asmari Hotel (budget), Irman Boutique Hotel (luxury), and several more hotels are among the top hotels in Qeshm that are close to Kharbas Cave.
What Species of Creatures Inhabit Kharbas Cave?
The cliffs of Kharbas Cave are home to a pair of fishing eagles. These seasoned professionals cannot possibly be becoming close after spending so much time together. You might be able to see them soaring if you are lucky. It is not a terrible thing to know that these eagles are a rare species that require important conservation.
The fauna of the cave, however, is not just restricted to this pair of eagles; many types of tadpoles may also be found in its crevices and shadowy nooks.
It is crucial to protect the biodiversity of Kharbas Cave since these bats are also considered as unique and endangered species.
Kharbas Cave Location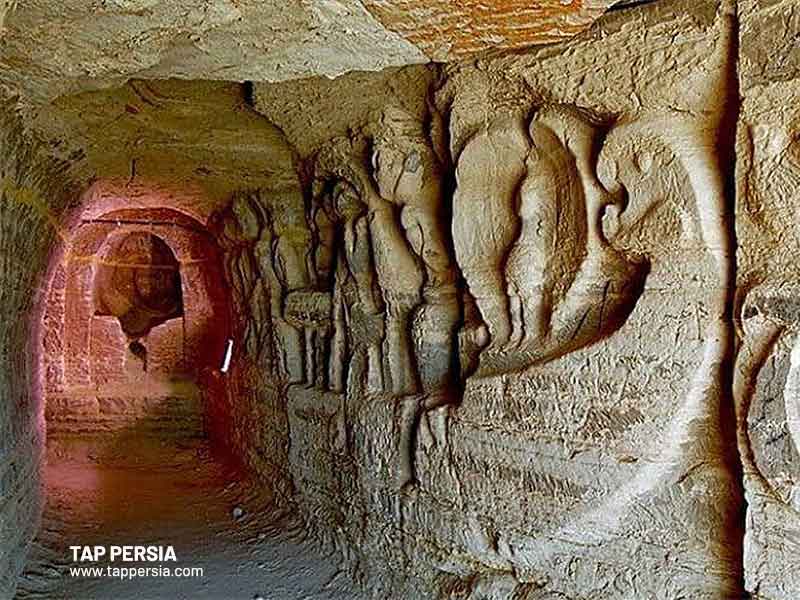 One of the top tourist destinations in the southern Iranian province of Hormozgan is Kharbas Cave. On the right-hand side of the Qeshm Road to Kharbas Village and Ramcheh Village, the cave is located fifteen kilometers from Qeshm.
Best Time to Check Out Kharbas Caves
Because of the location and kind of weather in Qeshm, autumn and winter are the best periods to visit this place. Because of this, it can be claimed that these seasons are the greatest times to visit Kharbas Cave. This is because it is difficult and tiresome to ascend the cave's numerous stairs in hot and muggy weather. Naturally, we advise including a visit to this cave in your itinerary early in the day when it's cooler, even if you're traveling during the correct season, so you can get the most out of your itinerary for the Kharbas cave tour.
What Time Does Kharbas Cave Open for Visitors?
Although it is feasible to explore this cave year-round, it is advised to do so frequently during the cooler months owing to the region's extreme heat and aridity. Every day from 6 am to 5 pm, visitors are welcome for a one- to two-hour visit.
How to Get to Kharbas Cave?
There are two ways to reach this magnificent cave:
By Car
You must enter Qeshm Road and go to Ramchah Village in order to reach Kharbas Caves. Traffic signs will direct you to Kharbas Caves as you travel there.
By Plane
Since Qeshm is an amazing island, you may also tr