(Iran Ethnicities in Details – Part 5 – Lur Ethnic)
After learning more about Gils, Mazans, Kurds, and Turks, now it's time to learn more about Lur ethnic (or Lors).
Where Lurs Live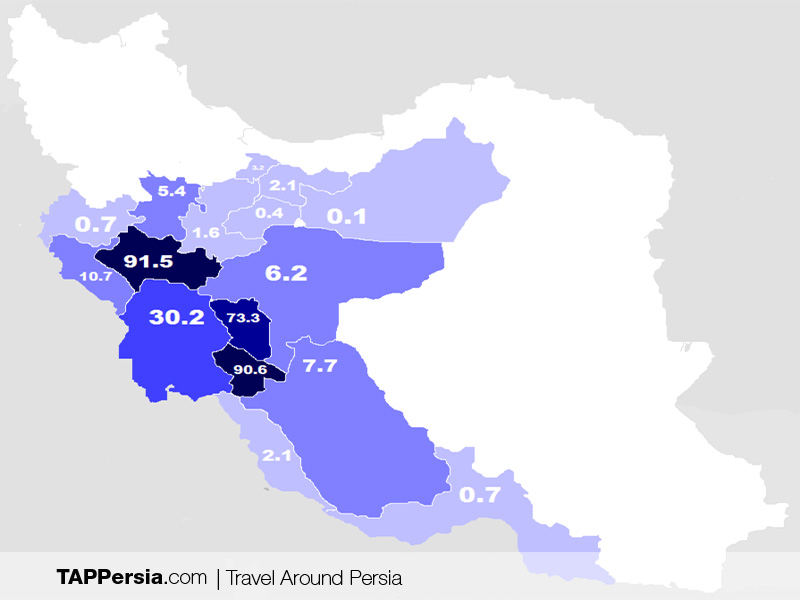 They live in west and southwest of Iran in Lorestan, Kohkiluyeh and Boyer-Ahmad, Khuzestan, Fars, Bushehr, Chaharmahal and Bakhtiari, Hamadan, Ilam, and Isfahan provinces. During the Sasanian Empire, the kings paid special attention to Lurestan, which is one of their main locations. That's why a lot of the buildings of this era are built in western parts of Iran.
Lur ethnic History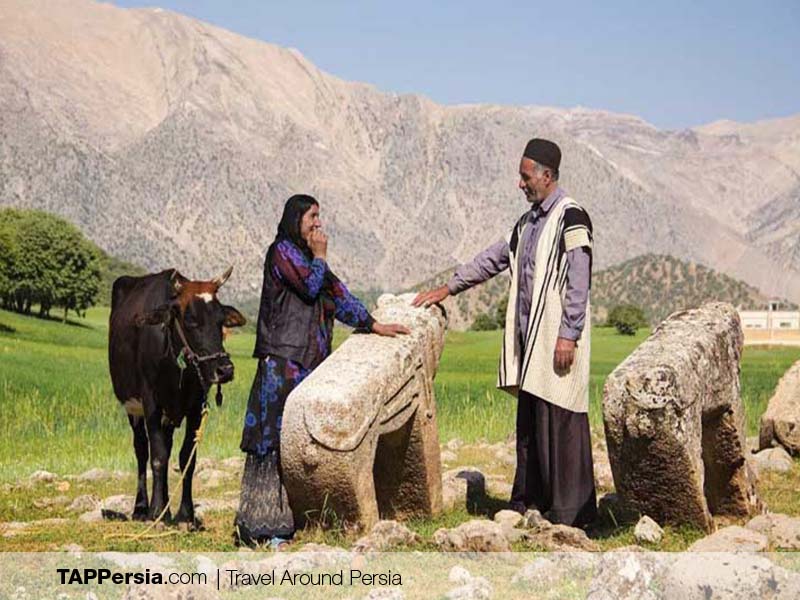 According to history, Lurs are originally Kurds who separated from them as Lur ethnic about a thousand years ago. They were tribes of Kurds and were called Akrâds. But Lur women have more freedom than Kurd women.
After Islam during the Seljuq dynasty, Loretran was separated into two parts. Big Lur (Kohkiluyeh and Boyer-Ahmad) and Small Lur (Ilam and Today Lorestan). Nowadays Lurs are two groups one who is living a sedentary life and those who are nomads, Bakhtiari People.
Lur Language
Lurs speak the Luri language. Luri is the closest living language to Archaic and Middle Persian. The language has three dialects; Luri, Laki, and Bakhtiari. Bakhtiari dialect is popular in Big Lor and some parts of the Small Lor.
Dialect variation of the language has brought about differences among these three tribes. The differences mainly appear in their folklore music and classic dance. However, in all three women keep up with men in singing their traditional songs, playing instruments, and dancing.
Lurs Religion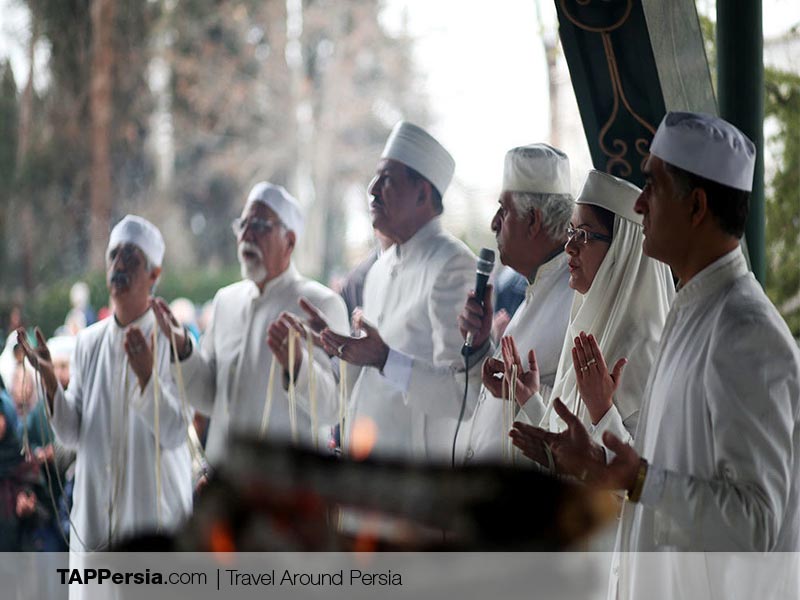 In the current of Lurs religion we can see firstly they were polytheism in the Kassite dynasty, then they joined Mithraism. After that, they tended to Zoroastrianism. And Finally after the Islamization of Iran, They became Shia Muslims.
Some of Lurs believe in Yarsanism. These people have special theosophical traditions and folklore which have Zoroastrian and also Islamic colors.
Traditions and Customs of Lurs
A few days before Noruz people visit their relatives or friends who had lost someone close and are mourning. They give him/her happy colorful clothes as a gift so that he/she takes off his black clothes, end the mourning and start fresh.
Yalda night for Lurs is like other people in Iran. The longest night of the year all the family and relatives get together, eat nuts, watermelon, pomegranate, and read Hafiz. The difference is they do Azeris Shâl Sâllâghmâgh that is kind of an Iranian Halloween at this nigh. Teens climb up the roofs and hang down a veil or something sing a song about God giving the host his bliss. They go on and on until the host put some of their Yalda night food in their veil.
Handicrafts And souvenirs of Lur People
Lurs weave beautiful carpets like many other ethnics in Iran but what they are really known for are down below:
Varshow-sazi – Nickel Silver Alloy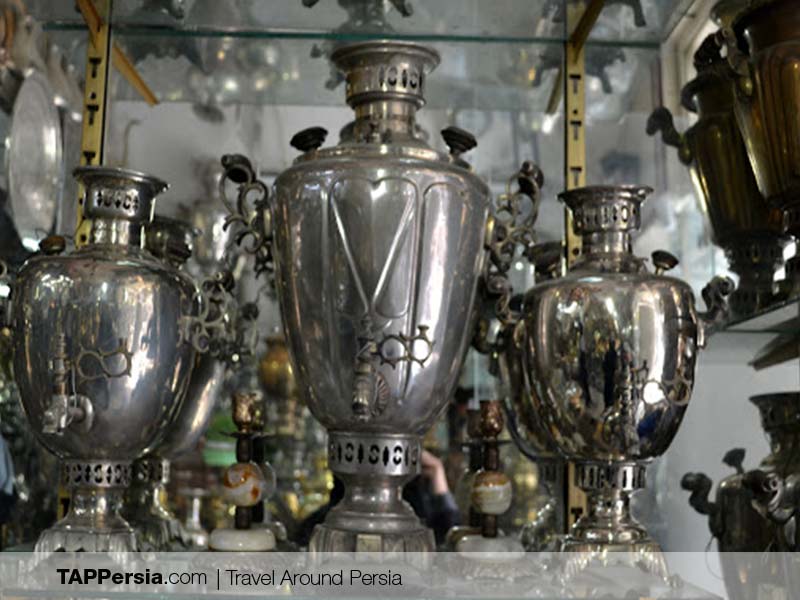 Varshow is an Alloy made of Copper, Nickle, and often Zinc. The metal has a silver color and is malleable. It means it does not break easily and they can turn in into any shape by hammering. Lurs make pretty handmade dishes with it. Its history among Lurs goes back to 200 years ago. Not only in Iran but beyond the borders, Lurs Varshow-sazi has made a reputation for itself. Today the craft they have put the most highlight on it in this art is Varshow Samovar.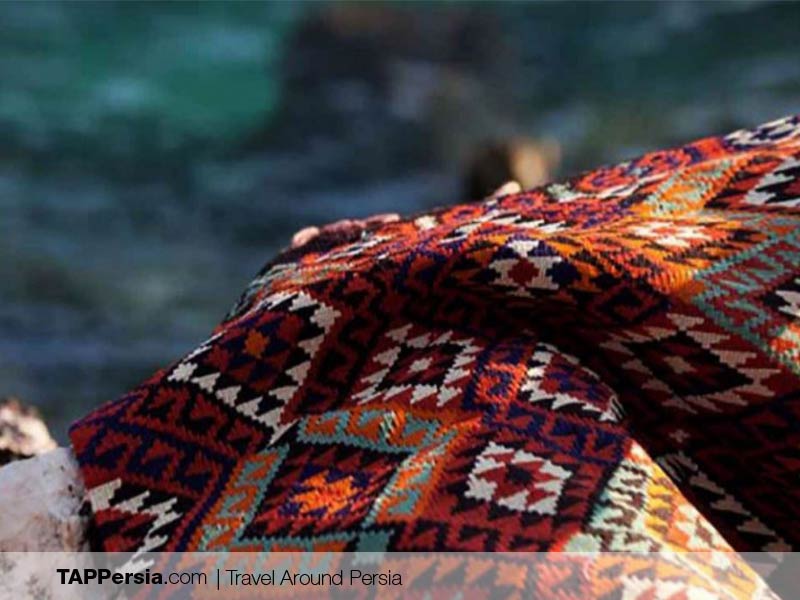 Jajim is a two-faced ground cloth. Lurs weave these hand-made cloths from Wool although in other parts of Iran there are cotton Jajims, too. Lur women do the whole process of making thread from the wool, then dying them with pretty happy colors, and finally weaving the Jajim.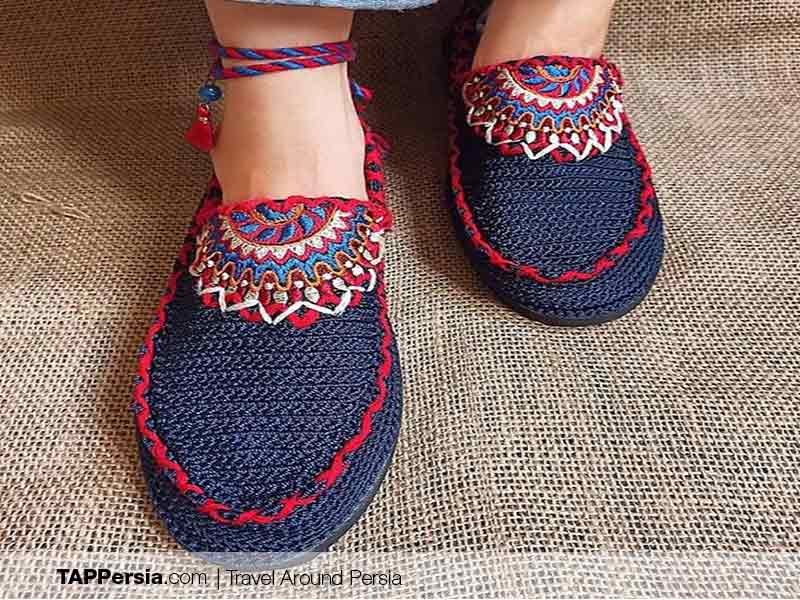 Luri Giveh is very popular. To weave Giveh they use the same carpet thread, silk thread, and leather. These Iranian traditional shoes are so light and comfortable.
"Namad" is "felt". The process of matting wool to produce felt is called Namad-mali. Lurs use Namad to make hats, Showla, ground cloth, and so on. Unlike Turkmens who make Namad only for their own use, Lurs make it for sale and it is one of the popular souvenirs for the tourists visiting their region.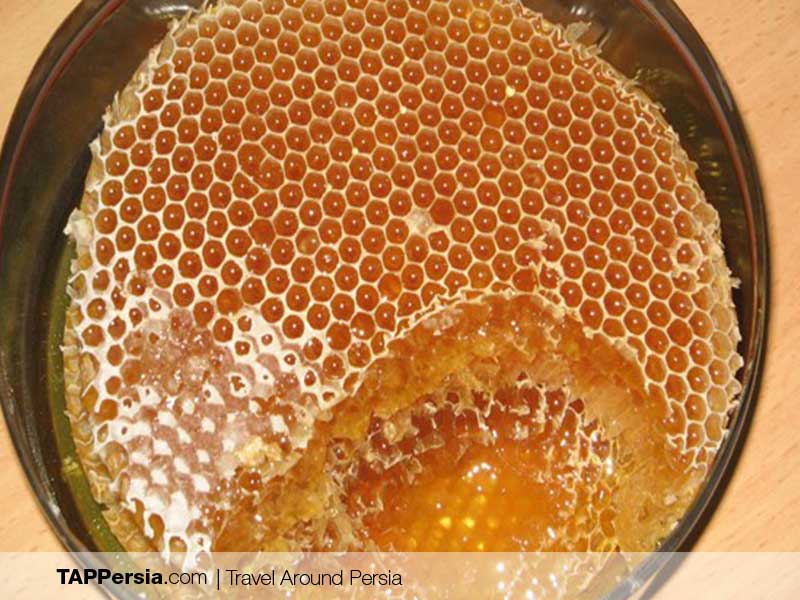 They say wherever there is good nature, there is good honey. Lorestan has an original beautiful nature which is a good place for honey bees to grow. And the honey they make is worth everything. By 1,500 kilos annually, Lorestan has the seventh position in producing honey in Iran.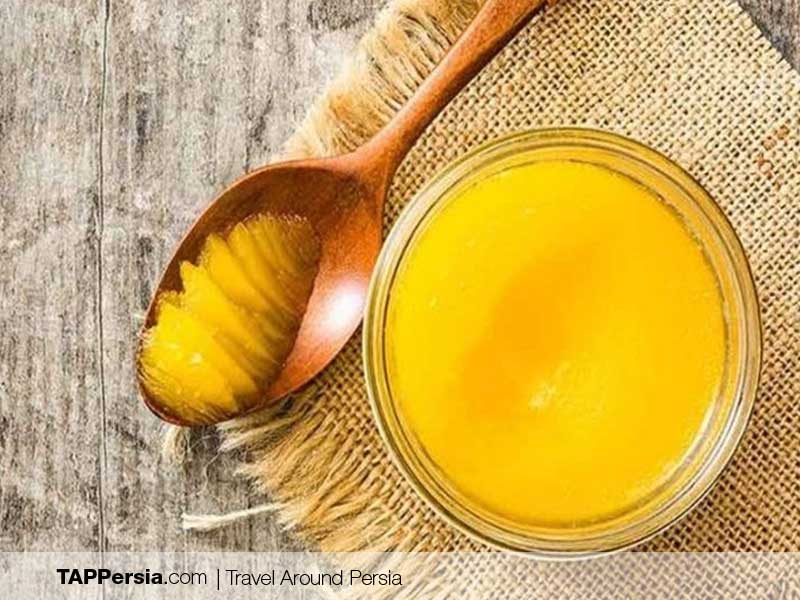 Like Kermanshah, Lorestan has high-grade Animal Oil. And Lorestan owes it to the vast abundant pasturelands it provides for the flocks of herdmen. As the first step nomad women make yogurt from their animals' milk. Then they put the yogurt in a "Mashk", waterskin, and shake it for hours. They add water and salt. The product is a liquid, "Doogh" and butter. They melt the butter and boil it. The last product is so fragrant. It is the animal oil we were speaking about. According to what they might add to the oil, it can be white or yellow. Iranian people use it to cook food.
Foods from Lur Ethnic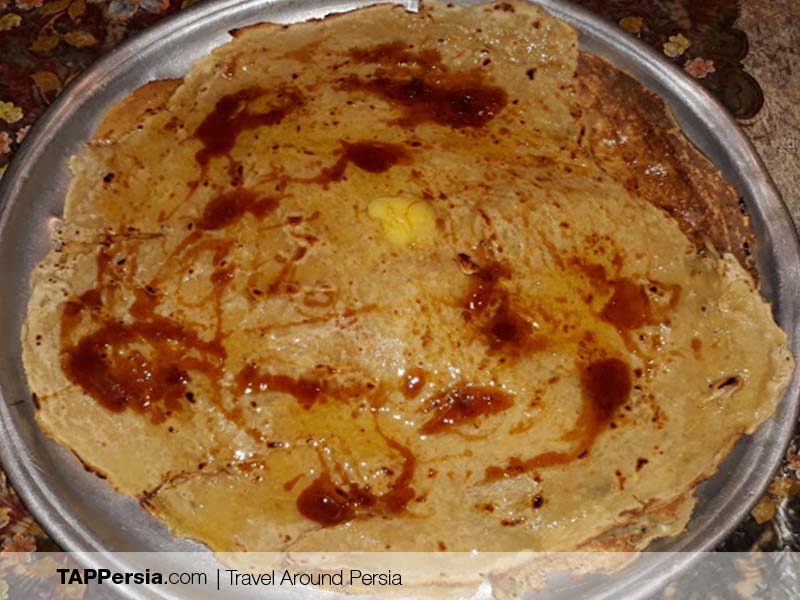 This food that actually is bread is a sign of respect to the guest among Lurs. When they have a guest they bake it for him. Wheat flour dough plus Reghoo which is the animal oil are the main ingredients. But some add date syrup or sugar and some herbs, too.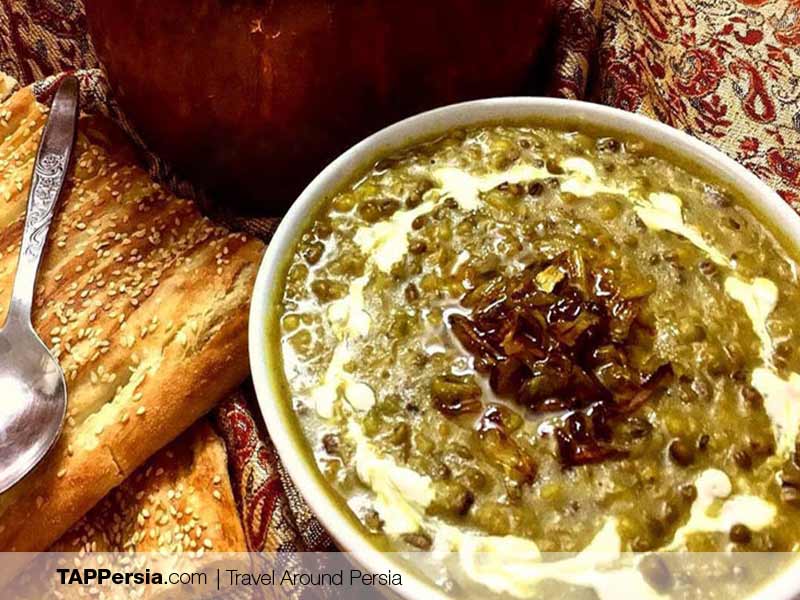 Luri Sholeh Mash is like Ash Reshteh with more ingredients minus noodles (Reshteh). Veggies, beans, chickpeas, mung bean, lentil, rice, onion, meat, and Kashk.
Rice, prune, walnut, cooking oil, and different spices are the main ingredients that are stuffed in sheep Rumen. Then they sew the rumen and let it cook in the broth.
Mutton thigh meat, cooking oil, bay laurel, onion, water, salt, pepper, vinegar, grape or date syrup, corn starch, and apples. For those having nervous disorders, this stew is a good option to eat regularly. Because it is rich in vitamin Bs, magnesium, and phosphorus which are relaxing for the nerves.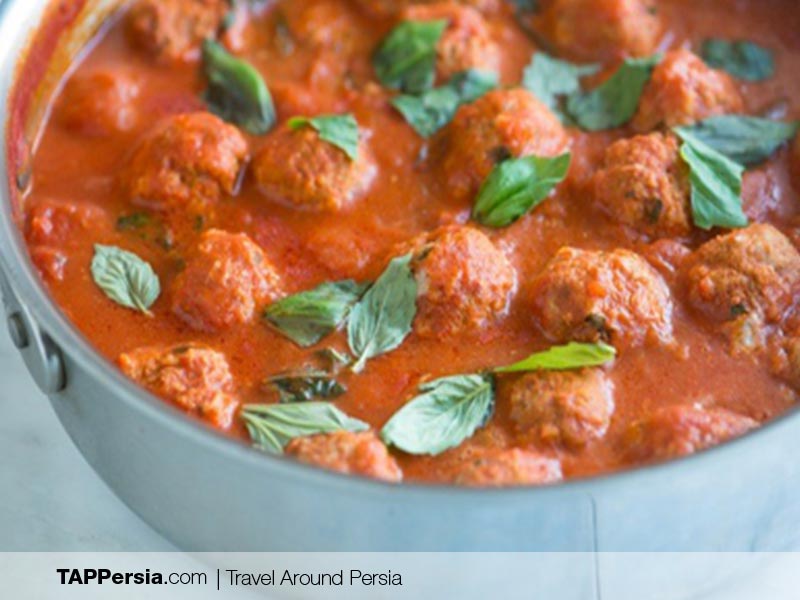 Colorful delicious food that you can prepare quickly for the unexpected guest that knocks on your door. Minced meat, half-grain rice, wheat flour, cooking oil, potato, tomato paste are the ingredients. Gooleh means ball and rizeh means tiny. They shape the mixture into small balls and cook it in Broth.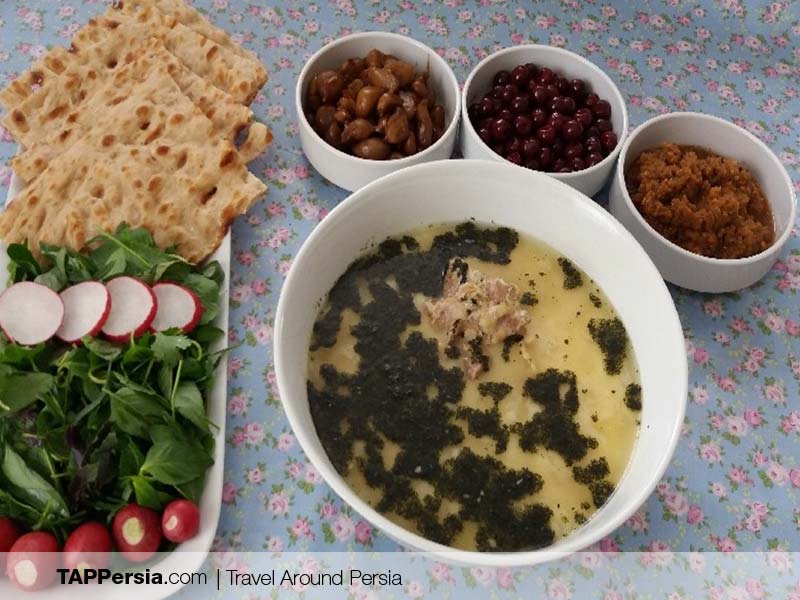 Abgoosht Dogooleh Dodâr or Luri Kashk Abgoosht is another Luri traditional food including meat, fried eggplant, chickpea, beans, onion, dried mint, garlic, Kashk (a watery product of yogurt), cooking oil, salt, pepper, and turmeric.
Luri Traditional clothing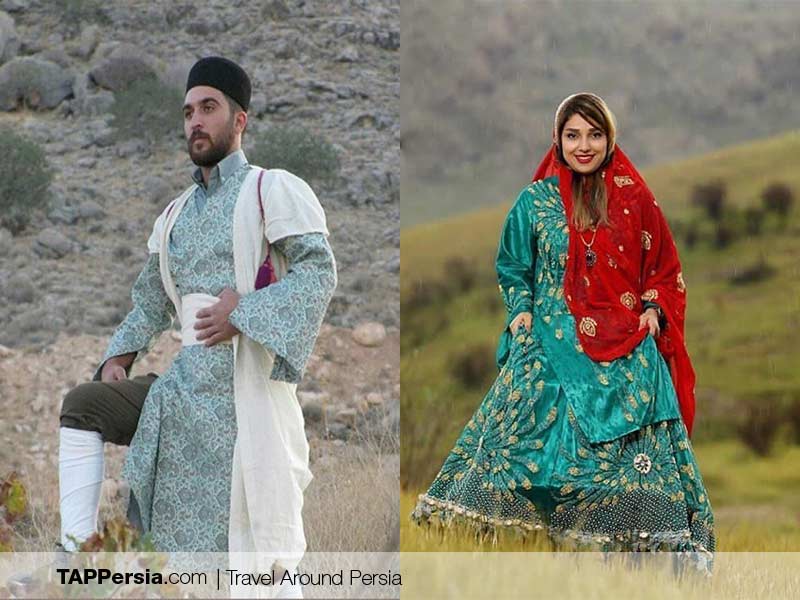 Let's allow the photo to speak for itself.
Bakhtiari People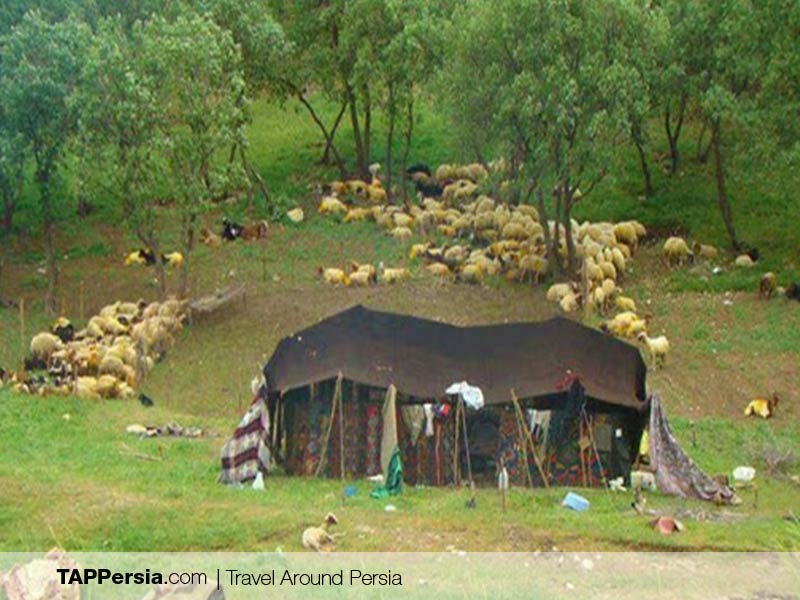 Bakhtiari people are lurs who have a nomadic life. These nomadic people are one of the most known in Iran. 200,000 Bakhtiari people migrate a distance of 300 kilometers twice a year. In The past, they made the tough journey through the Zagros Mountains with their flocks. Nowadays technology even has its influences on the nomads' lifestyle, too. Still, the people make the journey as before but for very long distances they transfer their flocks with trucks or anything.
Where Bakhtiari People Live
Khuzestan and Chaharmahal va Bakhtiari are the lands they live in. Low plain lands of Khuzestan for the cold seasons of the year and Chaharmahal va Bakhtiari high pasture lands for the warm seasons. They speak a dialect of Luri language and are Shia Muslims.
A shallow dive into Bakhriaris' History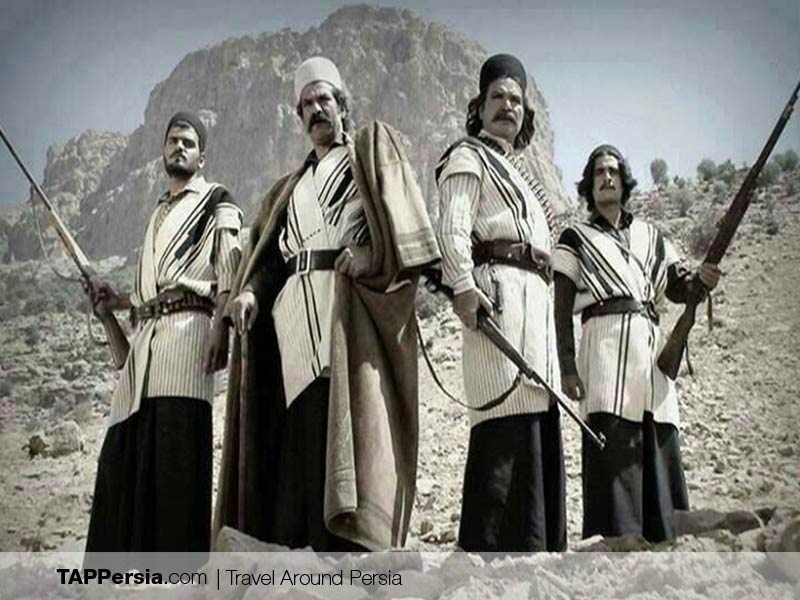 Bakhtiari people have always been in conflict with the central government to achieve their desire for a fair ruling. During the Pahlavi dynasty, Reza Shah tries to make them live a sedentary life. Some judge Reza Khan that it was cruel to do so but he had his own reasons, too. Nomadic people were so independent of the government and also armed. They passed through villages and farmlands of the farmers and their flocks brought damages to farmers. But on the other hand by having them live a sedentary life Iran lost free army support that it had. Because Nomads were so supportive in protecting our borders.
Bakhtiaris' Handicrafts and Traditions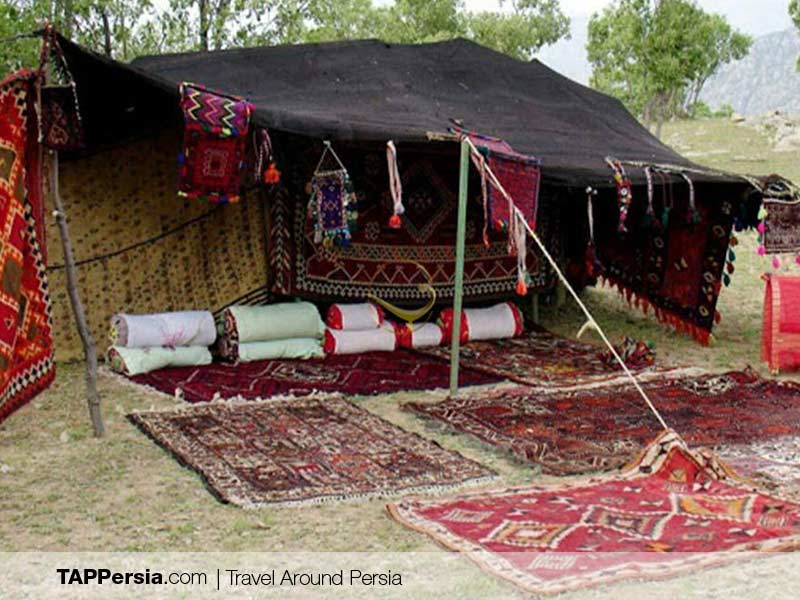 Bakhtiaris live in Black tents which they call "Siah Chador". They weave it with wool of their own animals. The famous thing about tents is that they are waterproof.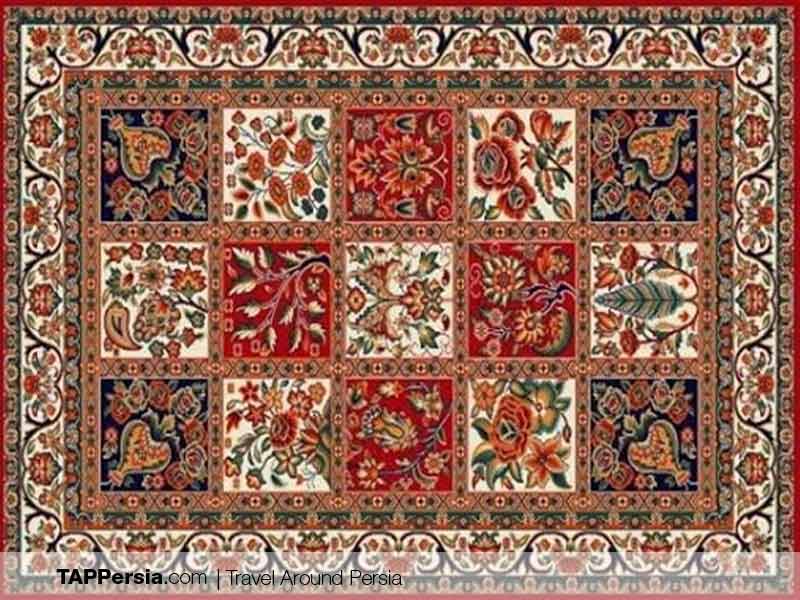 Their woolen carpets are so popular, too. The vibrant colors and beautiful floral and geometric designs they use are so catchy and attractive.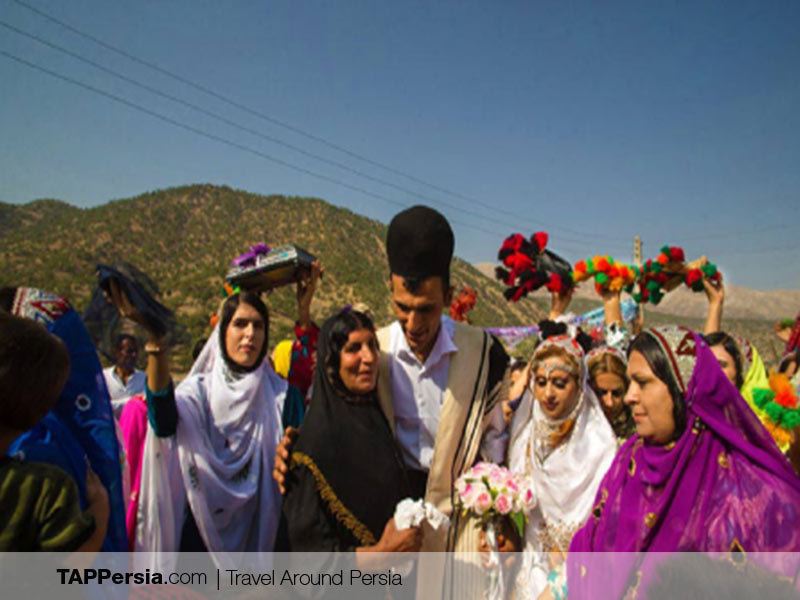 One of the very interesting customs they have is the one before getting married. A few days before the wedding the bride sews hunting clothes for the groom. The mom bakes some bread and the sisters make doogh and butter for the groom to take with him. Because he needs to leave for hunting, to hunt a particular kind of mouflon. After a few days that he comes back with the hunt, they throw the wedding party and celebrate. This hunting tradition is a way for the groom to show off his bravery and his abilities.
Bakhtiari's traditional clothing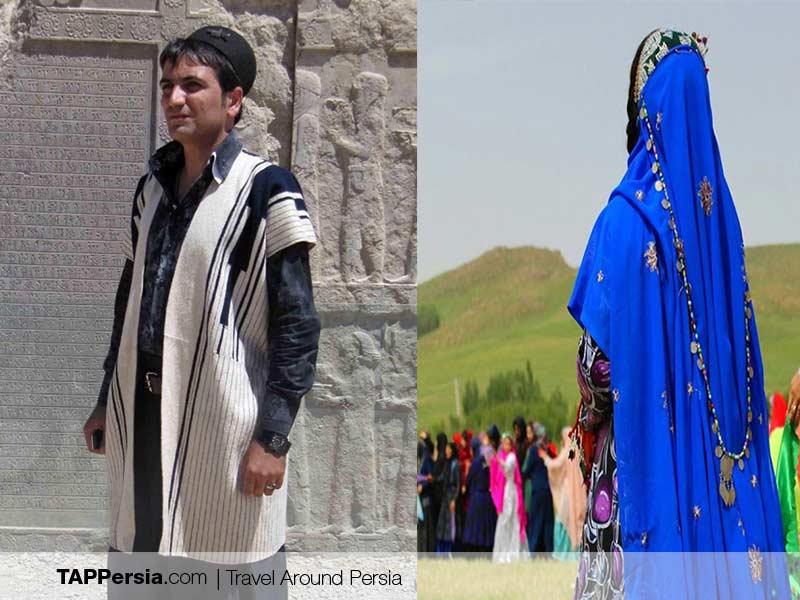 As you have come to learn in this series, again vibrant colors, scarves, hats, sashes, and so on are the essential part of Bakhtiari's traditional clothing.
---
Recommended Tours