Iran Taxis; Quick and Complete Guide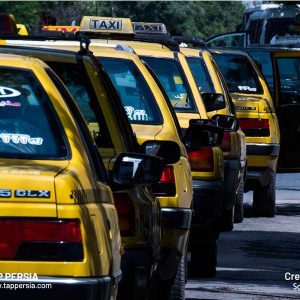 The Iranian cities can be explored in numerous ways. Public transportation is available almost everywhere in big cities, especially for places of interest and tourist attractions. Taxis in Iran are the easiest and fastest way to travel around the city that we would like to highlight.
Iranian taxi services offer diverse services and there are different types of taxis in Iran. You can ask for taxis online or offline, both public and private, depending on your needs, budget, your destination, and conditions. You can find all the information you need in this article, from the cheapest to the most expensive kind of taxis in Iran, so be sure to read it all the way through to get from one place to another without any problems.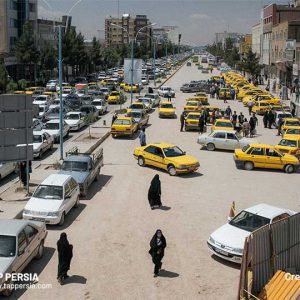 There is usually a particular line or street that these taxis travel along, with a specific destination. There are shared taxis on busy roads that usually run for a few minutes while you wait for two or three more people to get on. Because the cost of transportation is shared between all passengers, this is one of the cheapest ways to get a taxi.
It is recommended to use yellow or green taxis or make sure the car has a taxi sign on the roof for extra security. Leaving private cars alone may help avoid scammers and thieves since surveillance is only available in official taxis.
Get in without asking about the price
 Keep an eye on what the other passengers will pay. Rather than paying the driver at the end of the ride, people usually pay the driver within a few minutes of getting into the car.
Let the driver leave only after the car is mostly full
Tell him to stop by saying 'Na-dar-bast' which means you don't wanna charter an entire taxi. if he tries to leave. You shouldn't let the car leave until it is filled with people heading in the same direction as yours. The best thing to do is to take a shared taxi or "Savari", as Iranians call it, that already has someone inside, so you won't be forced to hire (charter) a whole taxi. Sometimes you can do this at the beginning of a Savari route, but it's easier to catch one that's already on the road.
It's better to pay while the others are still in the car
There's less chance that you will be overcharged since other passengers can alert the driver if he does so.
Take a green shuttle taxi
You might want to consider taking a minivan through the city's common routes. You won't even have to pay as much as normal cabs, as they are prohibited from charging extra. You'll find shuttle taxi stops located at various locations around the city, so be sure to look for them!
Private Taxis
It is possible to categorize private taxis in Iran into several types.
Private taxis at terminals, airports, and hotels

Private taxis on the streets

Online taxis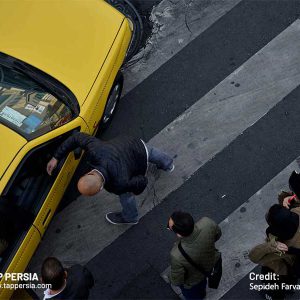 Known as "dar bast", private taxis are common in Iran. Literally, "dar bast" means "closed doors" which means to hire a whole taxi for yourself. In general, the first and second categories of private taxis are very similar, with the only difference being where they are parked. In Iran, taxi drivers are available at nearly every corner. Their operation is 24 hours a day, 7 days a week. As a result, regular yellow and green taxis are readily available at all times and in all locations. They are official taxis, which can be ordered at your hotel or can be flagged down on the street. Simply wave your hand in that case and tell the driver your destination when they pull over. In addition, drivers wait in the main squares and crossroads yelling "dar bast" too. It's so easy to find them.
Online Taxis
In Iran, there are platforms such as Uber that allow you to order taxis online. Two of the most famous are Snapp and Tapsi.
Snapp is an application that lets you call a taxi online. This mobile application is similar to Uber and is available on Android and iOS. It has gone over extremely well in Iran, and foreigners will also find it useful as it is available in English, French, and Persian. The app is easy to download on your phone and you can sign up using your phone number. Set your destination and origin on the map when you want to take a ride. A driver close to you will be found within minutes by the app, and a fixed price will be shown beforehand so you can pay cash to the driver.
Tapsi, another online Iranian taxi is a platform that allows you to request a car at any time from anywhere in the city.
Classic Tapsi, Tapsi line, and telephone Tapsi are provided by this application.
It has a unique feature of allowing customers to order a taxi by dialing 1630 with their Iranian SIM card.
Snapp and Tapsi taxis are cheaper than other private taxis, but their prices do vary based on traffic. In addition, the company screens all its drivers before they operate and rates them after each trip, making this service very safe. We highly recommend that you use these apps since they're safe, private, and reasonably priced all at the same time.
Cost of Taxis
Normally, shared taxis start at 25,000 Rials per trip and get more expensive per kilometer. Your fare is directly affected by factors such as traffic, weather, distance, and closeness to your destination. So online taxis on city trips charge a wide variety of amounts.
Final Advice For Getting a Taxi in Iran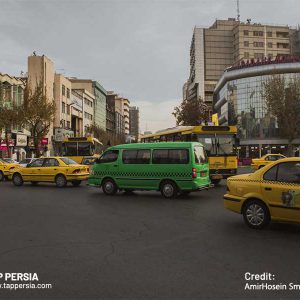 Make sure you pay attention when you take an official taxi. Many drivers are willing to give you a ride, but for safety reasons, it is better to take only the green or yellow cars. A private taxi will take you wherever you wish, just tell them where you want to go. Normally there are no taximeters on board, so it is vital to agree upon the price before getting in. Feel free to bargain with drivers when you are taking a private one.
It is a good idea to ask people in the street because they will be happy to help you determine a fair price. Prices in Tehran are the most expensive, but prices differ from city to city. Keep some small change in your pocket as the driver may not have enough money to return your change. It is not uncommon for drivers to have difficulty speaking English, but that is not a big deal, since they know the city inside and out! Just mention where you want to go and they will get you there in no time. 
Don't Feel Like Taking a Taxi? Take Our Pick-Up Tours
For those who find taking a taxi in Iran too exhausting or do not wish to take it right now, Tap Persia now offers pickup tours. You'll be greeted by one of our best tour leaders at the airport. Here's the link to the Tehran pickup tours.
This Isn't Just a Ride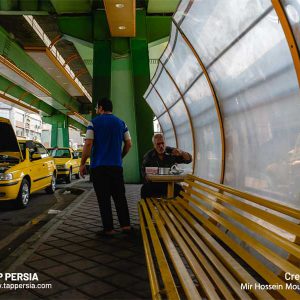 The city's heart and people can be seen through a taxi as you pass through. There are a lot of taxis in Iran, so you can meet different people as you travel. This will give you a peek into the lives of its people. Here is a video we prepared for you. When was the last time you took a taxi on your travels? Write us your story.
Last Edit: 27/07/2021 by Fateme Makvandi
---
Recommended Tours