One of Tehran's top tourist destinations is Darakeh or Darake(Tehran nature). It is the ideal spot for sightseeing and trekking due to its picturesque surroundings and convenient access. You are welcomed to Darakeh by charming lanes, nice weather, fresh pomegranate juice, Lavashak, and several varieties of mouthwatering "Torshi." The Tochal Peak is also reachable. Imamzadeh Davood, Shahneshin Peak (in Shahrestanak Village), and Tochal Fifth Station are also accessible from Palangchal Peak. You may travel back via the Telecabin.
Introduction to Darakeh
Tehran may first appear to be a filthy metropolis with tall, cement buildings; yet, there are recreational areas spread across this city that, for a little while, restore life and vigor. Darake is one of these well-liked locations for sightseeing, trekking, and mountain climbing. One of the oldest and most magnificent homes in Shemiranat, this historic resort is situated in the westernmost foothills north of Tehran.
This picturesque location is well-known for its stunning scenery, comfortable climate, elegant garden lane, tart and sweet plums, pomegranate juice, and traditional eateries. In a line running north to south along the Darakeh River, the locals of this nice and comfortable climate erected their homes.
In the Evin valley, which is part of the Darake neighborhood, a staircase area and a natural pool have been made on the bank of the Darakeh River.
Along the river, which is now referred to as Haft Hoz by visitors and locals, traditional and contemporary restaurants and coffee shops were constructed throughout time. Some people also think that the name Darake was given to it because of the existence of a valley above this place. It is stated that the name Darake is derived from the word "drage," which is a type of shoe for walking on snow.
Where Is Darakeh?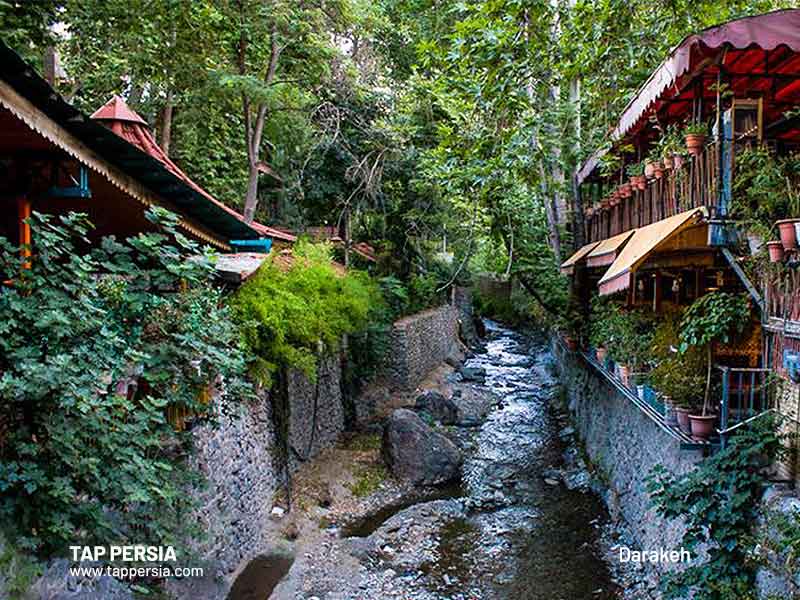 Tehran's Darakeh is the starting point of a well-traveled hiking trail. It is located in the western portion of Tehran's northern foothills.
What Makes Darakeh So Amazing?
It is the ideal site for casual hiking and sightseeing due to its picturesque surroundings and convenient access. In addition to being a great location for foodies and residents of Tehran searching for ideal weather, it is well-recognized for its hiking path. The path passes past the village's historic district. It is quite alluring to spend a day in Darakeh to escape the bustle of the capital city.
Keep in mind that if you enjoy eating, there are other tasty delicacies waiting for you. You are welcomed by charming lanes, nice weather, fresh pomegranate juice, Lavashak (sour, sour-sweet, and sweet fruit rolls), and a variety of mouthwatering "Torshi" (vegetables or fruits preserved in vinegar and served as a side dish). People are also being accommodated at traditional eateries or tea shops.
How Is the Structure of the Houses at Darakeh?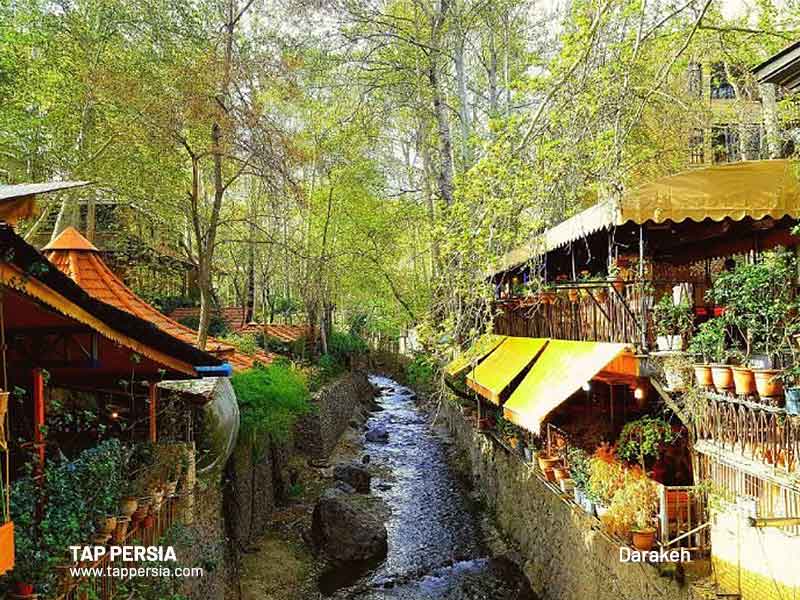 Darakeh locals have constructed their homes by the river. Evin Valley is found in the following. Alongside the Darakeh River, it created a natural pool and stairs space. Along the river, several tea houses and eateries, both traditional and contemporary, have been constructed throughout time. Today, residents and visitors refer to the river as "Haft Hoz" (Seven Pools).
Things to Enjoy in Darakeh
There are many activities to do in Darakeh. Check them out below:
Immamzadeh Mohammad Vali
Imamzadeh A descendant of Imam Sajjad (a.s.), Seyyed Mohammad Vali arrived in Iran between the time of Imam Reza (a.s.) and Mamun (Abbasid Caliph). But he learns about Imam's martyrdom in the city of Ray. Seyyed Mohammad Vali was driven to the current location of Darakeh by friends and companions. Seyyed Mohammad Vali settled on the area's arid fields and eventually acquired ownership of them. According to several accounts, Seyyed Mohammad Wali was the first person to settle in Darqa.
Following his passing, a mausoleum was erected in his honor, and both residents and mountaineers visit it today as a site of worship. The Imamzadeh Mausoleum's current structure, which is more than 70 square meters in size, is not very ancient. Its structure also contains remnants of the previous temple. You must enter the shrine from the north side, and as soon as you do, a lovely porch will be in front of you. During Imamzadeh's excavation, gravestones, antique ovens, and carved stone mortars were found, demonstrating the location's antiquity.
Pleasant Weather
Enjoy the pleasant Darakeh weather. Away from the bustle of the city, you may enjoy yourself in a serene setting. Many people find it to be a memorable location because of the soothing sound of the river flowing with the presence of people in the restaurants and traditional teahouses. It is a region where people continue to transport their wares with donkeys and ass and traditional gable-roofed homes. Traditional handicrafts are also widely accessible.
Delicious foods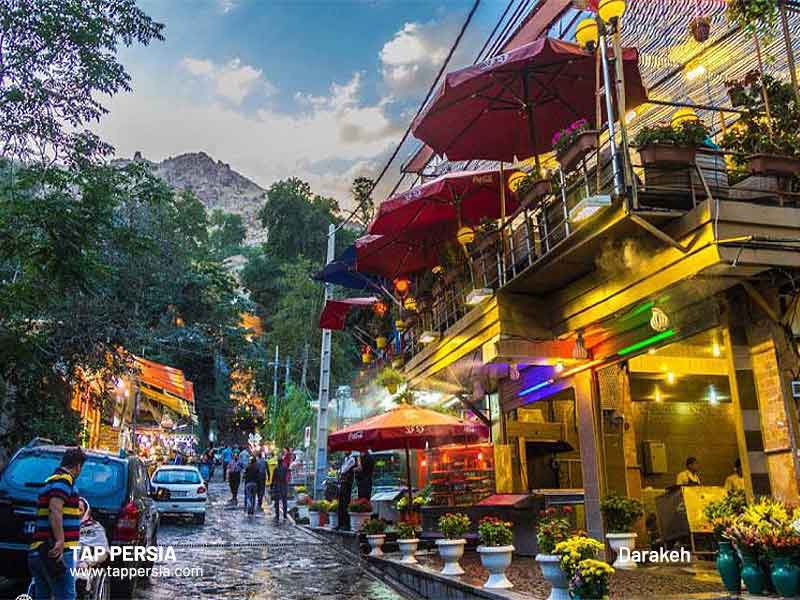 The cuisine that the locals deliver is one of Darakeh's key draws. It may be a wonderful pleasure to enjoy tasty, fresh meals with friends or family. You find it difficult to tolerate the alluring aroma of kebabs in the afternoon. There are a variety of meals you may eat there, including street food (liver, corn on the cob, sandwiches), various fruits and vegetables from the area (different cherries, medlars, and rhubarb), and delectable Lavashak (fruit roll).
Trekking, picnic, taking photos
If you wish to explore Darakeh but lack the time or capacity to climb the mountain, you may pack a healthy snack, travel there, and enjoy a leisurely stroll around the gardens' alleys. You may even go a little farther and go to the top areas of the road to admire the river and the surrounding trees in their clean and natural surroundings.
Take some food with you, set up a table by the river, and relax while taking in the landscape and the tranquility of the river if you want to make use of its atmosphere a little more. In this way, you will also come across well-dressed individuals and creative individuals who have come to capture the breathtaking natural scenery on camera and attempt to bring home a modest memento of their visit to this lovely Tehran house.
What Is Darakeh Climbing Route?
The majority of Tehran residents travel to Darakeh for enjoyable gatherings with loved ones and friends as well as vigorous mountain climbing. For those who enjoy this sport, this place is highly recommended because it includes a totally hilly path. Therefore, it is preferable to have the required gear on hand before the journey.
The primary route begins at Darakeh and continues to Palangchal or Tochal Fifth Station. This scenic 6-kilometer trek begins in the Darakeh valley and follows the river. Remember that going to the area known as Azghalchal in the winter is preferable since it might trigger an avalanche. In addition, there is a path that connects to Touchal 5th Station in Palangchal's eastern region.
Remember that this road is hazardous all year round. Some sections of the path are divided by a barrier for further security. You can hear the river's soft sounds all along the ascending path. The trekking route's starting point is Darakeh Square. You should depart from Darakeh Square, which is 1700 meters above sea level, in order to get to Palangchal. We will go into detail below about the shelter and forests around Darakeh:
Kara Forest
When you reach Kara Forest (located in the western section of the forest heading to the river), you may turn around and appreciate the natural splendor of this forest. The trekkers' path is around 30 minutes distant from this forest. Fall brings out many of its unique traits, and each year the wild medlars' leaves transform it into a picturesque setting. Camping is always permitted there.
Chin Kalagh Peak
The Chin Kalagh Jungle is there for you if you like the Kara Jungle and are seeking for additional experiences. You should have a guide with you because this is a perilous route.
End of the route – Palangchal Shelter
Palangchal Shelter is visible after passing Chehel Cheshmeh. This refuge has a dormitory that can accommodate 70 people and is located 2250 meters above sea level. Palang Chal, which translates to "Panther Hole," is the name of the location because panthers used to reside in the refuge. Palangchal Shelter is a two-story camp with a dining hall on the first floor.
People who have brought food with them should go to one of the halls, while those who have purchased anything from the store should go to the other. A dorm is located on the second floor for overnight stays.
Tochal Peak – For those who are seeking more adventures
You can continue on the Tochal Route if you want to travel farther. Tochal Peak may be reached from Palangchal Shelter through the shelter's northwest corner. You can get to Tochal Peak after a 3- to 4-hour trek. Imamzadeh Davood, Shahneshin Peak (in Shahrestanak Village), and Tochal Fifth Station are also accessible from Palangchal Peak. You may go back via Telecabin.
Where to Eat near Darakeh
Darakeh has a number of traditional eateries where you may eat kebab, jujeh, or other regional cuisines. Additionally, there is a ton of junk food available. Omran Cafe, Alborz Darakeh Restaurant, SPU Restaurant, and Ojagh Bashi Restaurant are a few of them. You may also have a cup of coffee or a snack at one of the cafés on Darakeh Street; we suggest Chez-Vous Cafe, which is located near the street's beginning.
You may have an evening drink while sitting by one of the beds close to these waterways. Having a cup of freshly brewed tea while taking in this peace of nature is the best sensation. Along the route, you'll also come across rest stops, stores, or carts that help you recover from a lengthy journey. For this very lengthy travel, there are many different foods available, like prunes and other things. Some locations even provide you with classic cold drinks.
Where to Stay near Darakeh
You may reserve a suite in advance at either the Asa Apartment Hotel or the Jamm Apartment Hotel to stay close to Darakeh. Additionally, you may easily visit Darakeh if you reserve several nights at the Parsian Esteghlal International Hotel, Sepehr Hotel, and Diamond Hotel.
When is the Best Time to Visit Darakeh?
Darakeh, one of Tehran's northern suburbs, offers pleasant spring and summer weather because of its location; as a result, people, including princes, courtiers, and Qajar monarchs, used to go here to escape the heat. Spring: Aside from January, which is still chilly from the previous winter, spring in Darakeh is quite pleasant and scenic, especially if you want to visit the Kara forest.
Summer: Darakeh's summers are highly well-liked by visitors, who frequently visit this region at this time of year. Autumn: Autumn is particularly chilly in the final month of the year, and the route may be slick from rain and snow.
However, this is also the time of year when the Kara forest is at its most brilliant and colorful, creating lovely effects. Winter: If you plan to climb the Darakeh mountain at this time, make sure you go in a group, with the right gear, and with adequate planning.
Public transport lines
The 218 Darakeh bus line to Tajrish terminal, which travels via Darakeh Street, Moghades Ardabili Street, Rashiduddin Fazlollah Boulevard, and Vali Asr Street, is one of the city's oldest bus routes and hasn't altered in forty years.
In addition to the minibus and taxi service, there is a high-speed bus line 4 that circles this area and runs from the parkway to the south terminal along the Nawab and Chamran motorways. At the fair station, passengers disembark and go by cab or minibus.
Is it possible to get there by subway?
Tajrish Square station on line one is the closest metro stop to Darakeh (Tajrish-Kahrizak red line).
Where is the address of Darakeh?
to go to Yemen Street, use Chamran Highway. You will arrive at the Darakeh neighborhood after crossing Rashid al-Din Fazlullah and Davoodian streets.