Many people travel to Iran because of its rich history, culture and related sites. Of course, it's a great motivation to visit a country, but let's not miss the pristine, natural landscapes. Iran's untold wilderness can complete any nature's bucket list. You can savor being in the most picturesque and awe-standing views here and also take amazing shots. 
Spending some time in camping spots in Iran, you can explore more of the Iranian wilderness and also save money as it's very convenient. There's not any specific organized camping site in Iran, but simply choose a scenic green destination and fasten your tent.
Just remember there's no signal for telephone calls or internet, no facilities or washroom service. Stay away from rural life, relax and refresh your mind outdoors and feel being part of Iranian nature Here is a list of camping spots in Iran:
Damavand:
The highest volcanic mountain in Asia and the highest mount in Iran, Damavand, lies in the foothills of Alborz Mountain Range. It's actually located near a northern city called Amol, south of the Caspian Sea.  If you want to hike in Iran and have physical readiness for it, you have the option to camp in the magnificent Damavand Mountain and savor exploring its beauties.
In this mount, different plants and trees like salix, pistachio, hazel, beech, and oak can be found. Many rivers with brown trouts flow on Damavand Mountain. The famous frozen waterfall of the mount called Abshar-e Yakhi, which never melts. In Springs, the green Mount Damavand is spectacular. Hills are covered with flowers and birds are singing.
The Eco camp of Damavand is placed in the northeast of Damavand Mountain. As this complex is well-equipped, it's considered as one of the best camping spots in Iran. Campers can drive to the base Damavand Eco Camp in the foothills of Damavand in Nandal Village (2300 meters altitude). They can spend time there, savor nature and get tasty meals and required amenities. There's also the second Damavand Eco Camp in higher altitude (4500 meters) for those can hike professionally.
Azu plains in the foothills of Damavand with the flourishing pasture is another camping spot in Iran. This green paradise-like site is covered with different plants and flowers. Some people in Tehran and other large cities come to Azu Plains to relax away from busy life. The silence and mind refreshment brings energy back to weary campers. It has a nice view of Mount Damavand. Also, campers can enjoy watching a panoramic vista of the surrounding area.
Surprisingly, a small village nearby welcome travelers. It's like home for them as people are so hospitable and kind. The colorful roofs of houses are amazing: orange, yellow, and others; Sounds like a fantasy.

Kurdistan:
Kurdistan can be another suitable camping spot in Iran. It's a mountainous area full of natural attractions, surrounded by the Zagros Mountains. Uramanat Village of Kurdistan is a well-known tourist destination. The unique feature is that the roof of each lower house is the courtyard of the upper house. This architecture combines with nature and makes eye-catching landscapes, where campers stand in awe and can't get enough of watching. Also, get familiar with the lifestyle in Uramanat Village. Uramant Village was built in the foothills of the Zagros Mount many years ago and is considered one of the first bases in Kurdistan Province. Set up your tent near this wonderful village and get a taste of its generous nature. Watch the stars in the pure sky of night, sip on a cup of Persian tea and clear your mind of any issue.

Lorestan:
Lorestan, famous as the land of waterfalls, also with many other natural gems is one of the options among camping sites in Iran. Gahar Lake boasts among the most charming destinations. Many locals camp near this lake.
After trekking and hiking some rolling mountainous roads, and watching the beautiful scenery of snowy peaks of Zagros Mountain, marvelous Gahar Lake appears. The glittering surface and pure turquoise color of the lake are stunning and picturesque.
Gahar Lake is located near Oshtorankouh Mount in Zagros Mountain Range in Lorestan Province. The area's environment is protected and has a rich flora.

Camp with Nomads:
This is one of the best choices for camping in Iran as Nomads are with you and no need to do all the procedures yourself. They know the area and tips for camping very well. Nomads move to different areas based on season, set up tents and graze their livestock. In case you're interested to get more familiar with the nomadic lifestyle, follow our nomads' tours.

North Region of Iran
Iranians call this area 'Shomal' which literally means North in Persin. It's been always considered a recreational area to go on vacations. Shomal is actually a greenery area along the Caspian Sea. It can be a nice camping spot in Iran.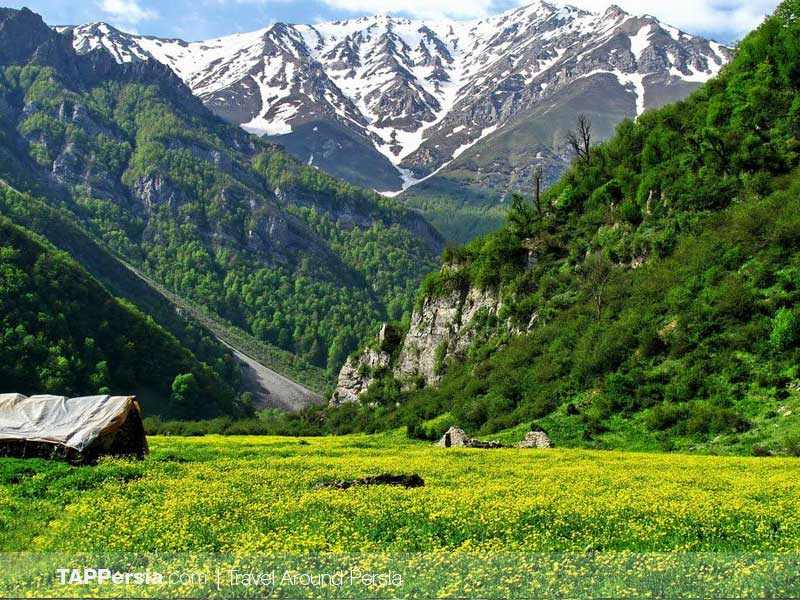 Golestan
Golestan Province like Shomal is a flourishing area along the Caspian Sea. It's located in the north-east region of Iran. The largest national park called Golestan National Park is in the eastern areas of this province. It shares borders with North Khorasan Province. 
This park can be considered one of the best camping sites in Iran as camping areas for tourists are provided. Discovering the serene and untold nature in this park and also observing many rare species of the wilderness are available in this park.

Ardabil, North-West of Iran
Iran's Turks who speak Azeri live in North-Western Provinces. Tabriz, Ardabil, and Urmia are the famous capital cities of this area, which attracts many travelers. The climate is cold and there are lots of natural allures where campers would like to explore.
Ardabil amazes everyone with its culture and magnificence. Dorna Eco Camp makes it available to visit the untold nature and the lush area around the mount and get more familiar with Shahsavan tribe customs. This camp offers delicious, traditional meals, especially breakfast with dairy products. Here's one of the camping sites in Iran, where energizes campers with the verdure of nature.
Despite the limited amenities of a campsite, campers can stay there and explore the foothills of Sabalan Mountain in Ardabil. The camp area is about 5 hectares designed with modern and traditional architecture. Of course, it's built in a way to protect the environment and the materials used are mostly stony. It consists of three types of rooms equipped with washrooms.
About 840 km away from Tehran, Meshkin Shahr is located near Sabalan Mountains. Sabalan summit is visible in a photogenic frame in the south of this city. Meshkin Shahr became very outstanding in the Safavid era. And nowadays is flourishing as one of the best camping sites in Iran. The climate is moderate in the area.

Deserts
One of the attractions, not easily found in other countries is deserts. Iran has pristine desert areas with special nature. Local tour guides can take you to camping spots in Iran's deserts and introduce you to different charms there. The pure sand dunes, fresh air, and star gazing at night are all unique experiences. Also in some deserts like Varzaneh and Mesr, off-roading and camel-riding are available.

Isfahan
Isfahan province is full of different natural and historical charms. A diversity of mounts, hills, lakes, and deserts. Many campers come to see these eye-opening phenomenons and take amazing shots to show the feast of nature.
Varzaneh city lies in the center of Isfahan Province. Just 10 minutes from this city, there's one of the camping sites in Iran, Varzaneh desert (Kavir). This marvel is well known due to its sandhills, silence and relaxing sunsets landscapes. While sightseeing, many professional photographers have recorded the glory and beauty of the area.
You can visit some other attractions in the Varzaneh region. 
Gav Chah is the most traditional way of extracting water from a well. A big cow moves on a gentle steep and pulls out a bowl full of water, tied by a rope to it. While this process, a person sings and motivates the cow to do it with more power.
Next is observing a traditional mill where a camel plays a major role. There are round stones connected to the camel and it walks around. Therefore the stony circular shapes move and wheat gets ground. The camel's eyes should be covered while walking else it gets dizzy.
You can easily go to Ghurtan Citadel, 12 km from west of Varzaneh. It's 90 km from Isfahan and fairly close. The citadel has an antiquity of 1000 years. The thick adobe walls caused its resistance, in spite of being close to Zayandeh Rood River and humidity. Ghurtan citadel is the only historical citadel with residents of four families. The citadel's area is about 40,000 square meters with two gates and fourteen towers. It includes four mosques, a pigeon tower, a water reservoir, and many houses.
Karbafy is considered a traditional way of weaving and making colorful cloth. Karbafy works are in different designs, easily find in Varzaneh area and buy them as souvenirs.
---
Recommended Tours