ran's third city boasts some of the best Islamic architecture in the nation, and its citizens are justifiably proud of their city's lengthy history. One of Iran's most attractive and significant tourist destinations in
Isfahan
. Every year, this city welcomes hundreds of thousands of domestic and foreign visitors.In this city, there are several Isfahan cafes and eateries. Stay tuned as we reveal the top cafés in Isfahan in this blog.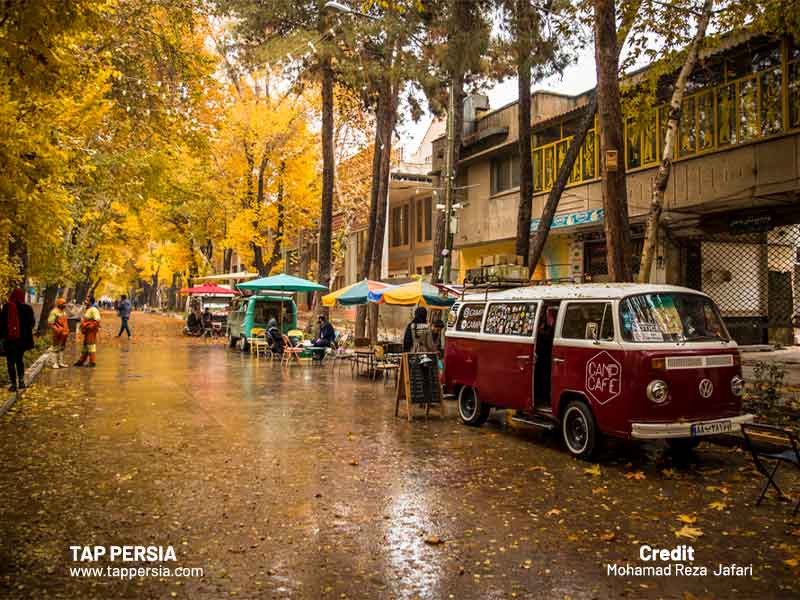 What Are the Top Restaurants in Isfahan?
Here is a list of some of Isfahan's top eateries, all of which provide the city's greatest traditional cuisine. There are also names of eateries serving cuisine from other countries. To help you find them if you wish to eat something that tastes a little more like home, we've included their names below.
1.Roozegar Café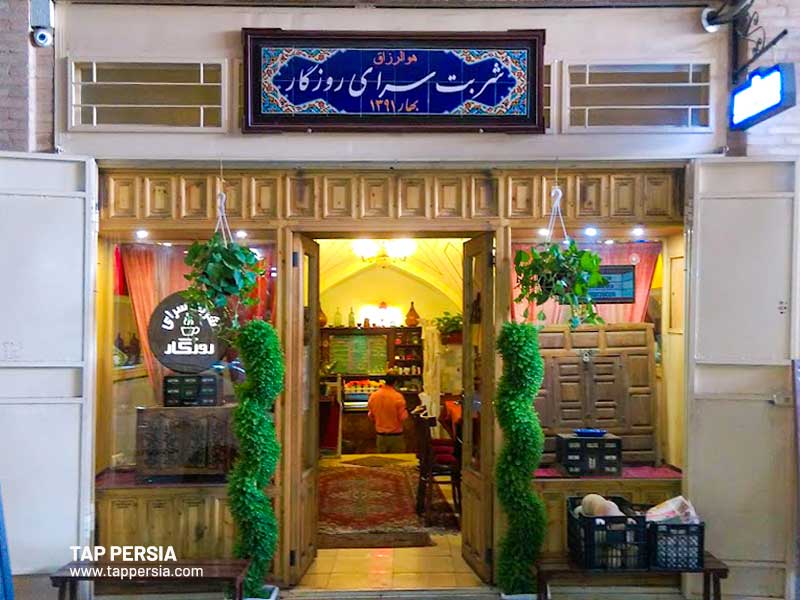 You might opt to take a carriage ride and explore the lanes of the Isfahan bazaar after entering Naghsh-e Jahan Square. After enjoying your day, Roozegar (meaning times) Café is an excellent option for you if you want a few peaceful hours.This is a distinctive Isfahan cafe with a lovely classic design where you may sip on a choice of beverages. This cafe's serene and wonderful ambiance makes it an excellent spot to have a drink with friends and partners.
2.Meydoon Cafe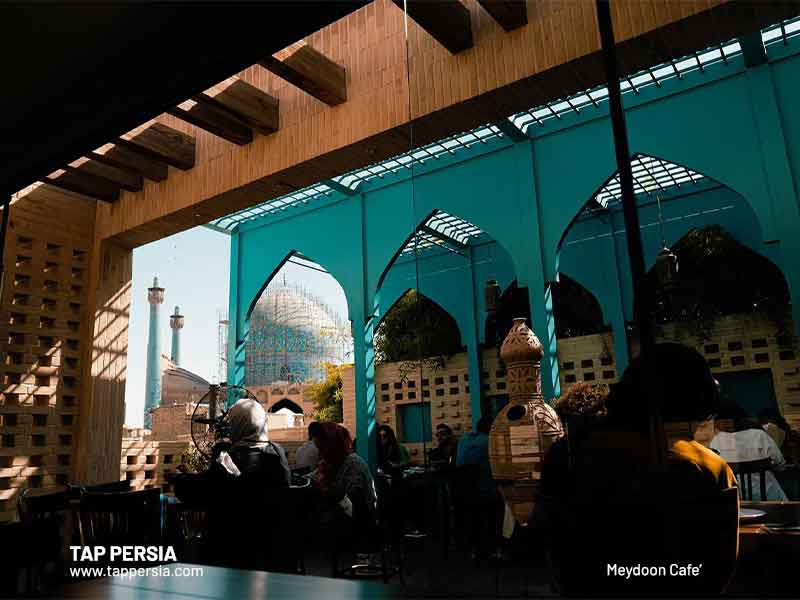 Meydoon cafe, one of the Isfahan cafes with many positive evaluations from travelers and coffee enthusiasts, is situated in the most significant lane leading to Naghsh-e Jahan Square.Customers at this café may get a range of coffees and pastries. Customers love this little but equally fashionable and clean café for its variety of delectable coffees, wonderful handmade pastries, and numerous refreshing beverages, which are all delivered by the staff's skilled and well-mannered servers.
3.Messo Qali Café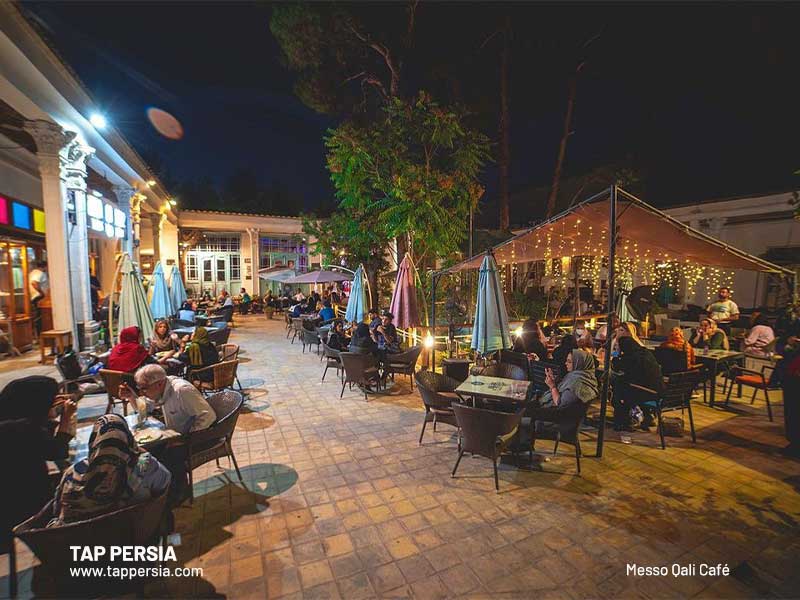 Like other well-known and well-liked coffee shops in Isfahan, Messo Qali café (which means copper and carpet café) is situated in Naghsh-e Jahan Square and offers two outdoor and indoor seating places for the convenience of visitors.You will enjoy each of your moments and create a memorable experience in Isfahan thanks to the traditional and intriguing ambiance, a wide selection of beverages, cakes, and sweets, and the welcoming setting of the Messo Qali café.
4.Houger Café Restaurant (Dehdashti House)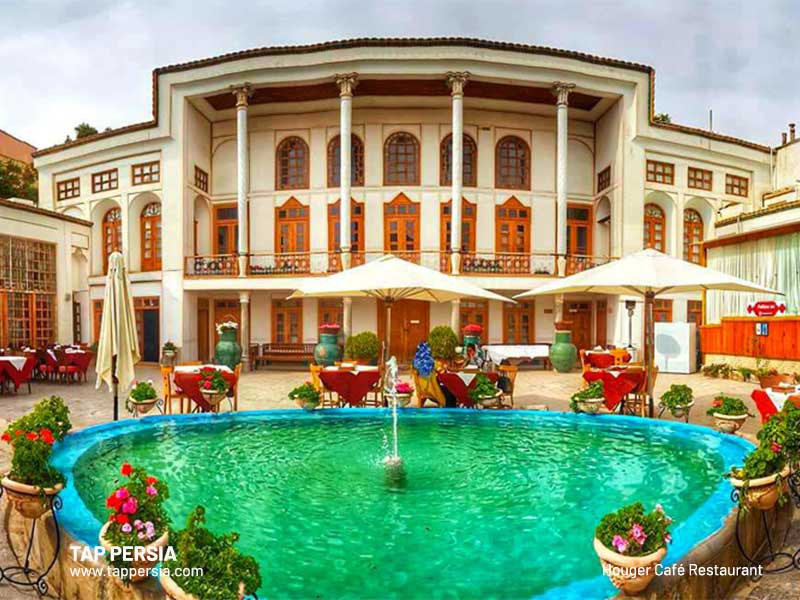 The Dehdashti mansion, one of Isfahan's historical landmarks that goes back to the Qajar dynasty, is where Houger is located. The layers of bricks' color captivate all travelers, which is a product of history. With many diverse drink options, this Isfahan restaurant and cafe provides a lovely environment. You may also experience the height of enjoyment from Iranian and international cuisine.
5.Box Cafe
Among the classy cafés in Isfahan is Box Coffee. Near the Nazhvan residential area is where you may find this Isfahan cafe. As a result, local and frequent consumers make up the majority of this coffee's clientele. The Isfahan cafe's inside layout and external appearance is both exquisitely crafted, making it a suitable option for romantic outings or family celebrations.A public smoking area is available in the coffee box. Parking in the neighboring alleyways is better because it could be challenging to get a place close to the café.
6.Toranj Food Complex (Hovan's House)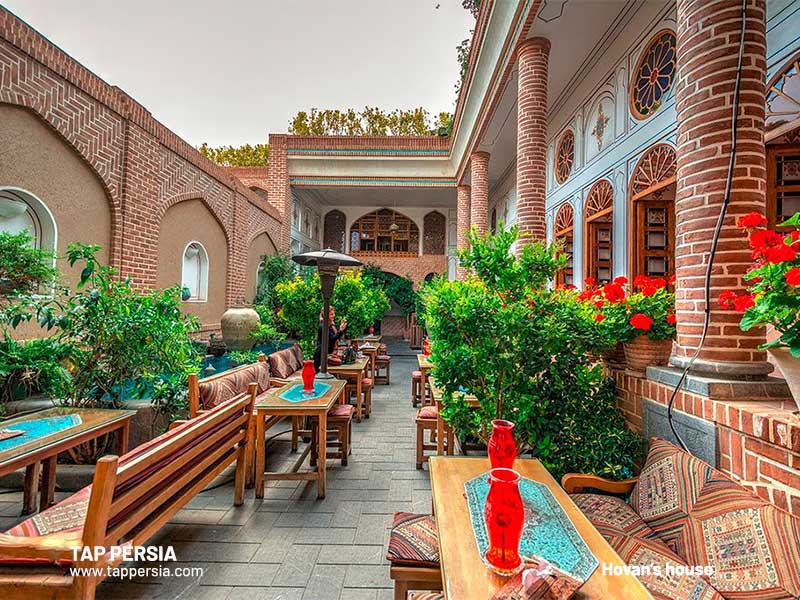 One of Isfahan's best dining establishments and a favorite among tourists is Toranj Restaurant. This elegant old home is located
next to the Hovan's Church
, which was rebuilt and converted into a restaurant in 2015. It is located in the New Julfa District's center. Similar to other Isfahan Qajarid homes, after going through a substantial wooden entrance and a protracted hallway, you will come across a sizable courtyard and a magnificent residence.The outdoor dining area in the courtyard, where meals are served in the spring and summer, has a wonderfully romantic and nostalgic vibe. In this fantastic Isfahan restaurant, you should try the Tahchin (rice cake with chicken), Koofteh Tabrizi, and other Dizi dishes. In the building's basement, which has been transformed into a wonderful café, you may have some herbal beverages and classic pastries after your dinner.
7.Radio Café
In Isfahan, the greatest places to visit and unwind are Radio Cafés, a network of coffee shops. The Radio Cafés are among Isfahan's most well-known coffee shops and have multiple locations across the city. The most well-known Sepahan cinema branch is the one with unique coffees, breakfast, and radio listening combined with a comfortable and peaceful environment. This café is excellent thanks to the scent of coffee, cinnamon tea, delectable biscuits, and a range of appetizers for patrons—even vegetarians. The Ostandari street branch stands out for its brick walls, metal base tables with hardwood plates, and vibrant tiles.These coffee establishments occasionally provide instructions on how to appreciate and make quality coffee. It's interesting that this café has a no-cellphone rule and advises guests to disconnect from the internet for a bit while they visit.
8.Lamiz Coffee
One of the best cafés in Isfahan is Lamiz Coffee. Ostandari Street is where it is situated. In this neighborhood, communities of fashionable teenagers, young intellectuals, poets, and poetry enthusiasts form. These folks are challenging to please because of their delicate tastes. These difficult people reside in the Lamiz café. This cafe appears to be ideal for social gatherings because of its stylish and inviting ambiance.Design permeates Lamiz because of its aesthetic essence. The greatest location in Isfahan to order coffee, without a doubt. It resembles Starbucks in certain ways. You may place a coffee and cookie order. The flavor is excellent, and the cost is fair. There is also a spacious space. The staff is courteous and welcoming. Another well-liked dish is the three gorgeously layered caramel macchiato. The menu's sweet selections include cherry pie, apple crumble cake and cinnamon rolls. The secret to Lamiz's success is his professionalism and commitment.
9.Café Va
Isfahan's Café Va is a charming cafe with a great view of Chahar Bagh Street. They serve tasty milkshakes and cold beverages in addition to freshly made, high-quality coffee. This place has a pleasant ambiance that makes you feel really warm and cozy. The balcony has water sprays, keeping it cool throughout the hot summers. The terraces are a great area to drink a cup of coffee, and it's so relaxing that you won't want to leave. The staff is kind and welcoming, giving whatever you need with warmth and care.
10.Karako Café
Café Karako is located close to Siusepol. Due to its geographic location, clients may readily access this café, one of the top cafes in Isfahan. In Karako Café, you may get a wide selection of hot and cold beverages, ice cream, desserts, different sandwiches, breakfast items, and snacks at affordable prices. Here, the personnel is courteous and welcoming. The environment at Karako Café is wonderful and comforting, providing immense delight. This design is really creative and gives off an urban vibe thanks to the brick-colored walls. A distinctive sensation has been produced through the employment of the colors yellow, white, and black.
11.Mobile Coffee
The Mobile Café is comparable to cafes outside of Iran in that it offers an intriguing and ultramodern atmosphere. Mobile Coffee is a warm, tranquil location with an airy setting filled with vibrant flowers that, when viewed, make one's spirit sparkle.The primary location of this café is in Mardavij, and it also has two more locations—one on Chahar Bagh Street and the other on Kargar Street. This cafe's coffee is of excellent quality, and one of the things that have made it so well-known is its use of organic coffees. Also, it offers a drive-thru area where you can place orders and get beverages while still in the vehicle.
12.Namakdan Mansion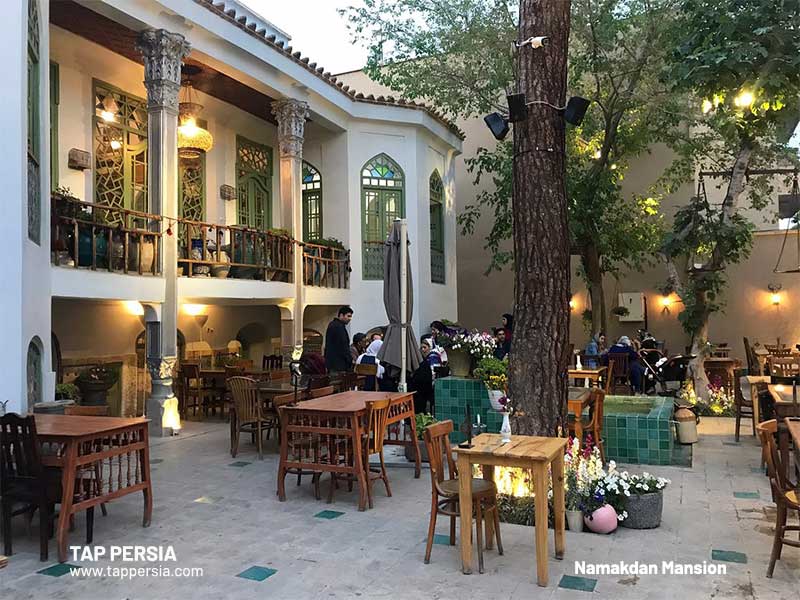 Near Naghsh-e Jahan Square, on the route to "Posht Matbak" street, is where you'll find the Namakdan Mansion restaurant and cafe. It was built during the Qajar (dynasty) era.To access the yard, you must pass through the entryway, which is a narrow hallway with towering trees, wooden tables and chairs, a small pool with a turquoise tiled floor, and several flower pots strategically placed throughout that evoke traditional Persian homes. A two-story historic home may be seen in the yard's southernmost section.You must descend the steps in the yard to get to the first level, then you must ascend the stairs on the west side of the mansion to get to the top floor, which has a lovely balcony. This level seems like a carpet shop because to the abundance of Persian carpets and kilims, which is remarkable in its own right.
13.Dastan Cafe
The main street does not contain all of Isfahan's cafés. Although the exact age of Dastan Café is unknown, many longtime residents may recall it from the past. Tall glasses and a steel door may be observed at this Isfahan café. You can tell this café is old if you look at the table and seats there.In actuality, Dastan Café is a synthesis of the modern world and creativity. In this café, delicious English breakfast is being served on a tray and in Rouhi dishes. You may bring your family there; it attracts frequent patrons.
14.Hayat Restaurant Café
One of Isfahan's most exquisite cafés is the Hayat Restaurant Café. The historical Safavid House complex contains this café. This residence was built during the reign of Shah Abbas Safavi, as one might anticipate. The complex of the former Safavid Houses is one of Isfahan's most gorgeous tourist destinations.Fortunately, there hasn't been much harm done to this home since the Safavid era. So this structure has been given new life with a little flavor, taste, and renovation. The Hayat restaurant and café has opened in the building's open area, near the blue pond.This Isfahan café is regarded as one of Isfahan's most well-known ones. You may order a variety of contemporary and traditional drinks as well as Isfahan-specific cuisine at this Isfahan cafe. This cafe's decor is really impressive and transports you back in time.
15.Azadegan Cafe (Haj Mirza)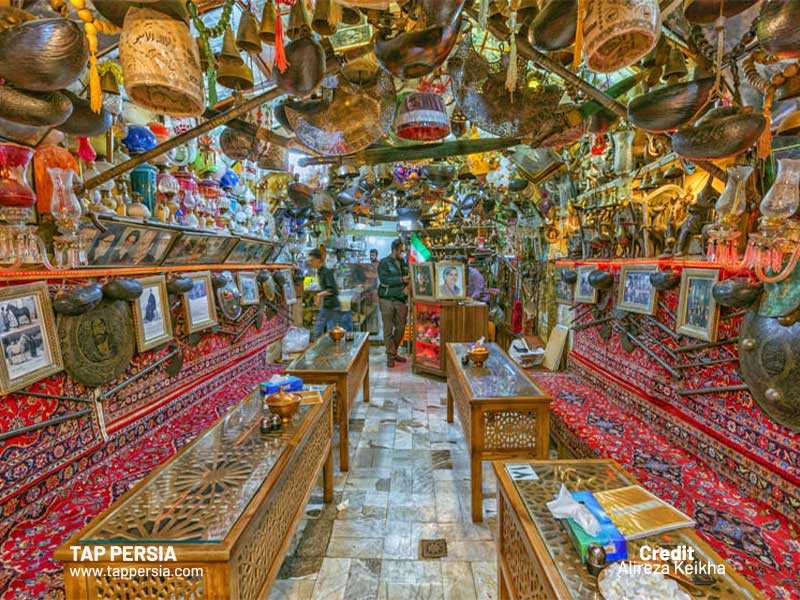 Haji Mirza, also known as Azadegan Cafe, is more akin to an antique store or museum than an Isfahan café. The walls and ceiling of the room are oddly decorated with ancient and antique objects hung everywhere. Of course, Azadegan cafe's charms include this creative construction.People claim that the aesthetically pleasing proprietor of this establishment has amassed these items throughout the years and is unwilling to throw them away. Knowing that this Isfahan coffee shop was constructed during the Safavid era (dynasty era) is important. Its original name, Khaste Khane (home of the tired persons), referred to the fact that people used to come here to rest.In addition to other foods, this restaurant sells hookah and Abgoosht in dizi pots. The appetizer "Doogh and Gooshfil," which is well-known among Isfahan residents, is one of the most well-known dishes that tourists frequently order at Haj Mirza.Even while Haj Mirza Coffee House may not rank among the top Isfahan cafes in terms of quality, it is undoubtedly one of the most popular.
16.Sequence Cinema Cafe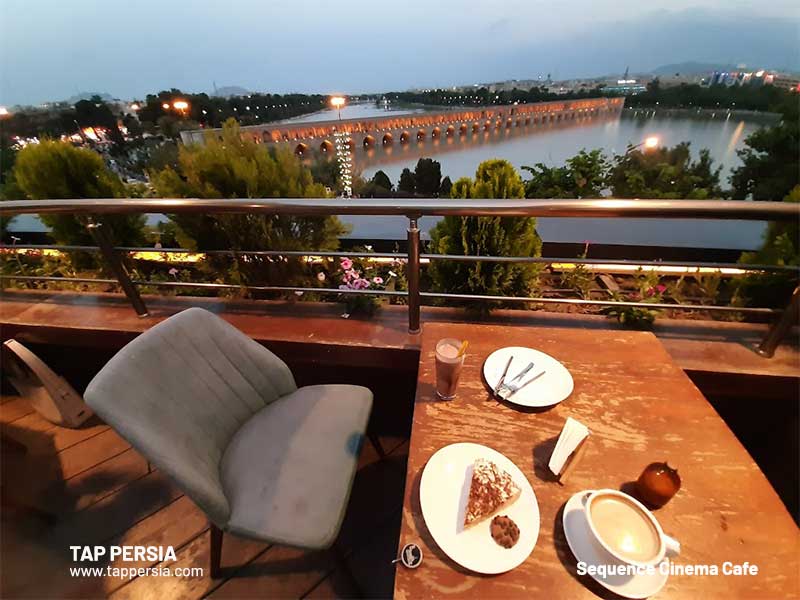 First of all, this Isfahan café offers its patrons a stunning view of the Khajou bride. The balcony of Sequence (Sekans) Cinema Café is lovely and spacious. Beautiful Zayandeh River views may be seen from this café. The name of this café makes it clear that it has a tight relationship with the eighth art, which is film.You may place an order for food or drinks in the café area, sit back and relax while watching your preferred movie.
17.Monsieur Arakel Historical House
One of Isfahan's most stunning historical buildings is without a doubt Monsieur Arakel Historical House. Although this home dates to the Qajar era, it has been completely reconstructed. The interior of this café brings to mind old Pahlavi movies.It has a lovely yard, much like any other ancient home. Even in the height of summer, this yard's spaciousness differs significantly from that of other areas of Isfahan.
18.Farhang Café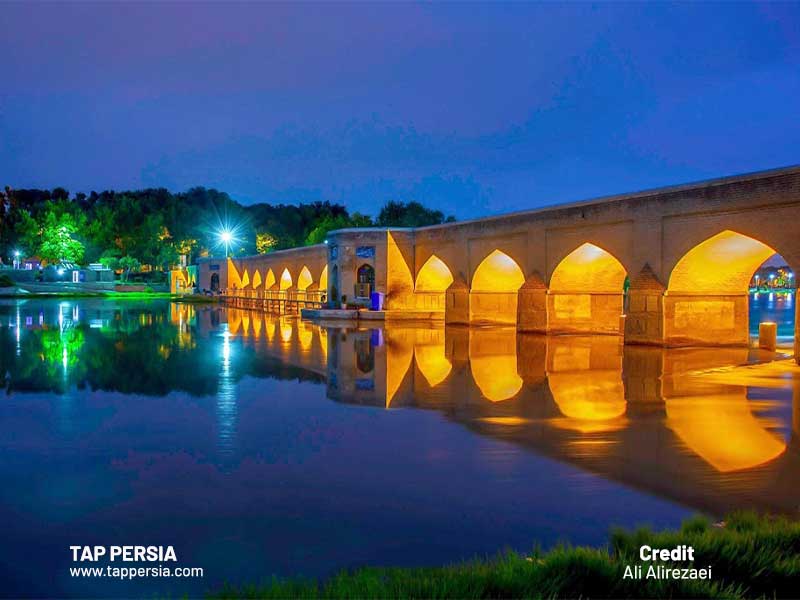 The charming small Farhang Cafe is perched beneath Joui Bridge, halfway between Siosepol and Khaju Bridge. Visitation is justified by the location alone. Cross-legged seating and window-gazing are available in the cafe's carpeted corners.The vista is just stunning when the
Zayanderud
is flowing, which is very infrequent these days. Milkshakes, cold beverages (including Iranian takes on the Mojito and Pina Colada), coffee, tea, cakes, ice creams and snacks like hot chips are all available in the café (potato chips drenched in cheese and sauces). There are several games like Jenga and books on Isfahan cafe's racks.