If you're planning a trip to Iran, you may be concerned about finding great food. However, don't worry! Iran boasts a culinary scene that caters to all tastes, from traditional Iranian cuisine to international dishes. In this article, we'll take a look at the best restaurants in Iran, as reviewed by travelers on TripAdvisor. So, sit back, relax, and get ready to embark on a gastronomic adventure in one of the most dynamic and diverse countries in the world.
Restaurants in Tehran
1.Sky Lounge
If you're seeking a fine dining establishment in Tehran that serves a variety of Persian or international cuisines, Sky Lounge is your best option. The 21st-floor Sky Lounge of the Espinas Palace Hotel in Tehran's north has a stunning view of both the city and the Milad tower. To understand why this restaurant in Tehran is so well-liked, you need at least once to visit the panorama of Tehran from the Sky Lounge restaurant. The Sky Lounge restaurant of the Hotel Spinas features unique interior and exterior architecture.
This Tehran restaurant serves dishes to suit every palate and offers a hookah area for those who want to smoke after their meal. At this eatery in Tehran, you may have Iranian cuisine, Asian cuisine, seafood and foreign cuisine, kebabs, salads, steak, pizza, and pasta, to name a few. Additionally, one of this restaurant's most well-liked and delicious meals is sushi.
Reviews
According to reviews, it can be concluded that this restaurant really serves amazing and delicious food. It also provides a fascinating atmosphere that the customers can truly enjoy while eating their tasty meals, ranging from seafood to mouth-watering kebabs. Most customers like Vahidehs2023 have enjoyed a lovely and kind waiter Arash here who also offers great food suggestions, indicating the professional and kind staff here at this restaurant. Based on some reviews, the only thing that needs to be considered is the music played in the background.
2.Taj Mahal Restaurant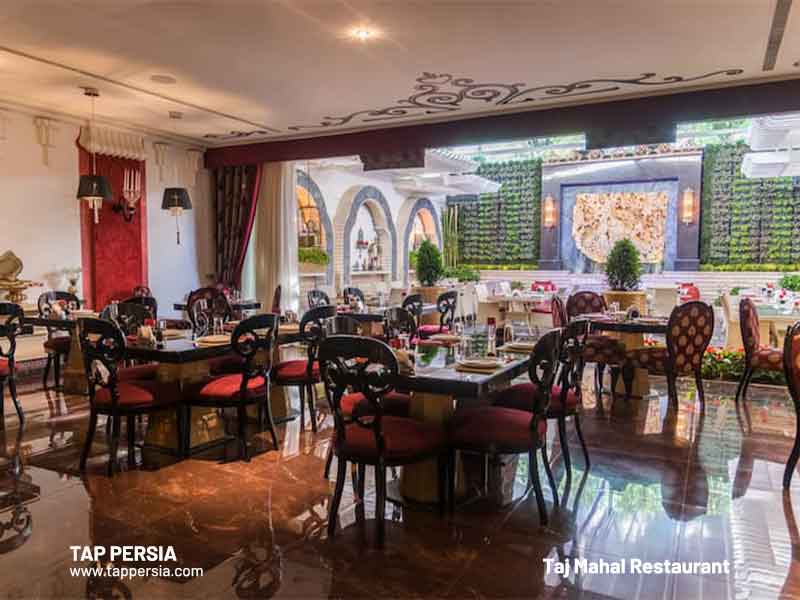 Tehran offers the opportunity to enjoy Indian cuisine. The Taj Mahal Restaurant in Tehran features beautiful, vibrant architecture and serves both Persian and Indian cuisine. As soon as you walk into this restaurant, you can smell the spices, which are the main component of Indian cuisine. The Taj Mahal hotel houses this restaurant, which opened its doors 20 years ago and quickly rose to prominence as one of Tehran's most well-known eateries (best restaurants in tehran).
An enormous elephant statue, a representation of East Asian and Indian culture, can be seen at the restaurant's entrance. In order for visitors to feel as though they are in India, every aspect of Indian architecture was used to create this hotel and restaurant.
Reviews
The reviews show a high satisfaction among the customers of this restaurant. Mostly, like Mazeroni63, have pointed out the politeness and friendliness of the waiters. The hotel was also seen as a tidy and clean place. One user has claimed that during breakfast time, the staff were not responsive about describing the meal to the customers and were apparently just looking at them. Another thing that few customers have complained about was the high price of the food here. Also, one user named "ParisaMort" has claimed that the food was not fully "Indian" and was not that much spicy at all. She said that one must expect it to be mixed with Iranian preferences.
3.Alborz Restaurant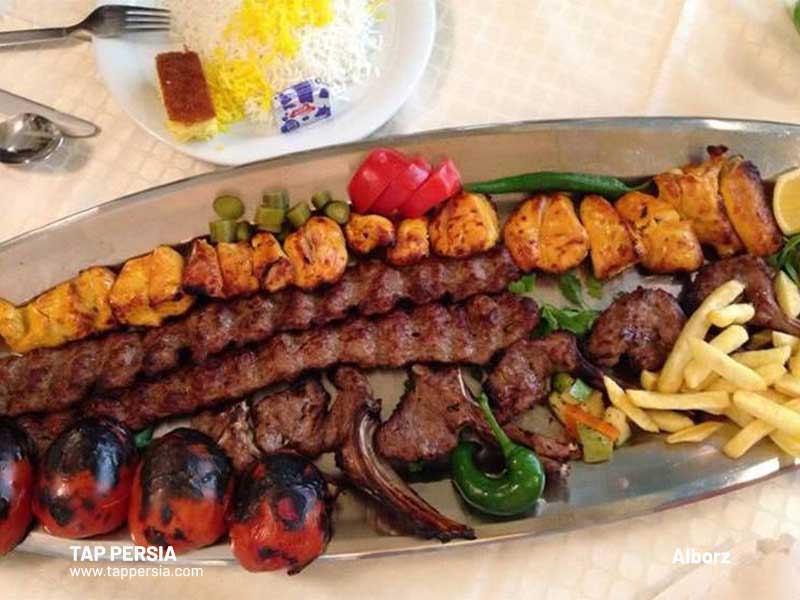 Alborz, which opened in 1967 and takes its name from the lovely mountain range that borders the city's northern edge, is well-known across Tehran as one of the city's top destinations for high-quality kebab meals. Alborz offers grilled meals, beef, seafood dishes, and kebabs. Unquestionably, a favorite among Iranians, chelow kabab is served with saffron-infused basmati or Persian rice that has been steam-cooked.
Many people refer to the Alborz restaurant as having Tehran's greatest and tastiest Chelo kababs. For one plate of Chelo Kabab, you can anticipate paying an average price of between 7 and 10 Euros, and nearly all of the other meals fall within the same price range.
Reviews
Most customers have talked about this restaurant's great food and wonderful staff. The atmosphere is also nice and the room temperature is suitable in any season. However, a few users have criticized the kebabs. They claim that the kebabs are at best average and not considered great.
Restaurants in Yazd
1.Fooka Restaurant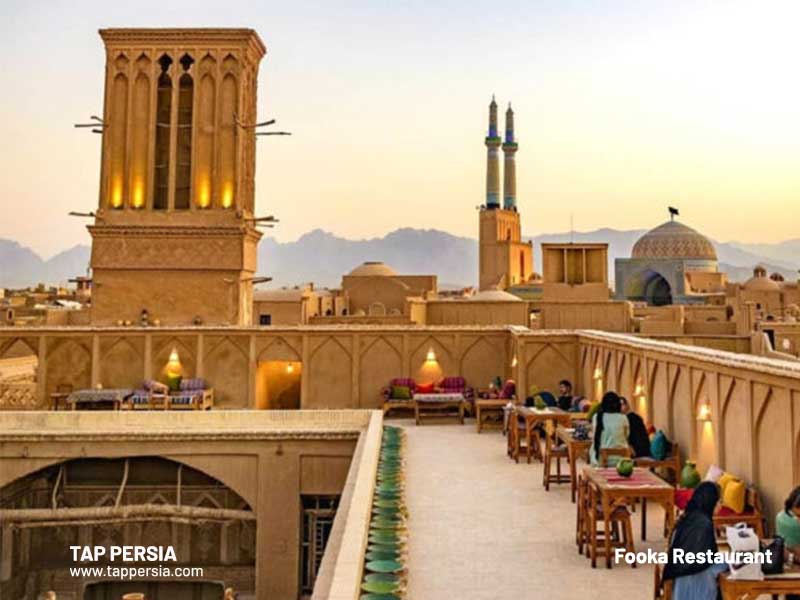 Arguments that arise during group travel often stem from disagreements about the best restaurants and types of food to consume. One of the restaurants in Yazd that accepts orders from both an international/Italian and traditional Iranian menu is called Fooka. A unique and memorable experience for the consumers is made possible by the production of specialty flavors in meals, beverages, cakes, and desserts.
Reviews
This is a fascinating restaurant placed on the rooftop showing its customers the fascinating views of Yazd. Most customers praised the beautiful atmosphere, scenery, amazing food and kind staff. At night, the restaurant is unique, boasting its amazing architecture as well. But a few of the customers have their complaints too. One customer pointed out that its Nutella milkshake is not really made with Nutella but rather a brand of Iranian chocolate that seemed was not quite satisfying unfortunately. Another complained about the meat, saying it was not fully marinated and the rice was cold.
2.Caesar Restaurant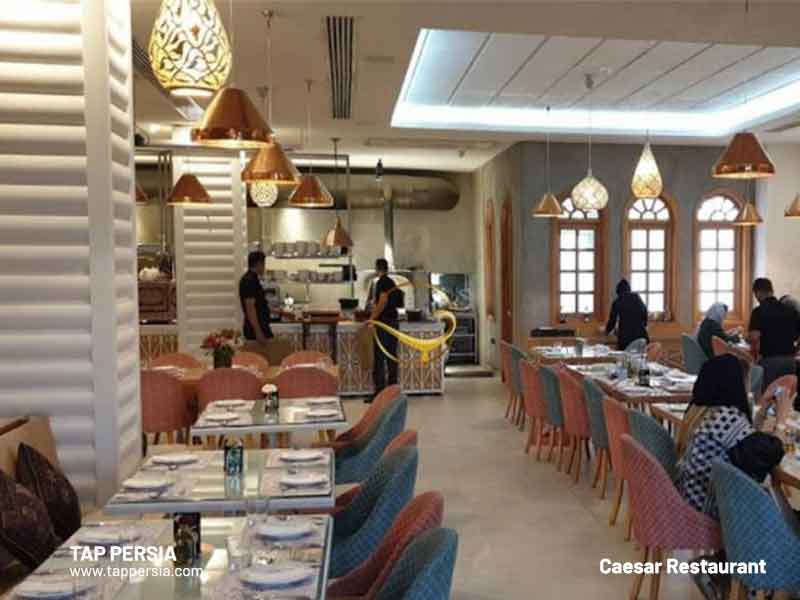 One of Yazd's top contemporary eateries is Cesare Restaurant. The interior design is exquisite and spotless, and the first thing that grabs your attention is the stunning piano. In Yazd, you may have a fantastic night with delicious meals while listening to endearing live music. There are lunch and supper hours at the Caesar Restaurant. This restaurant offers pizza as well as a range of Iranian and Italian dishes, hot and cold beverages, and desserts. In Abouzar Square, on Sonbol St., sits the Caesar Restaurant.
Reviews
Customers have also experienced delicious meals and behavior in this restaurant. Most were in love with the Italian dishes, comfortable atmosphere and amazing music that suits well with the ambiance and the food. But there were also reviews related to the high price of its dishes, hit and miss steaks and one user even claimed that the pasta was not that good and the Italian dishes are standard in general.
3.Mozaffar Traditional Restaurant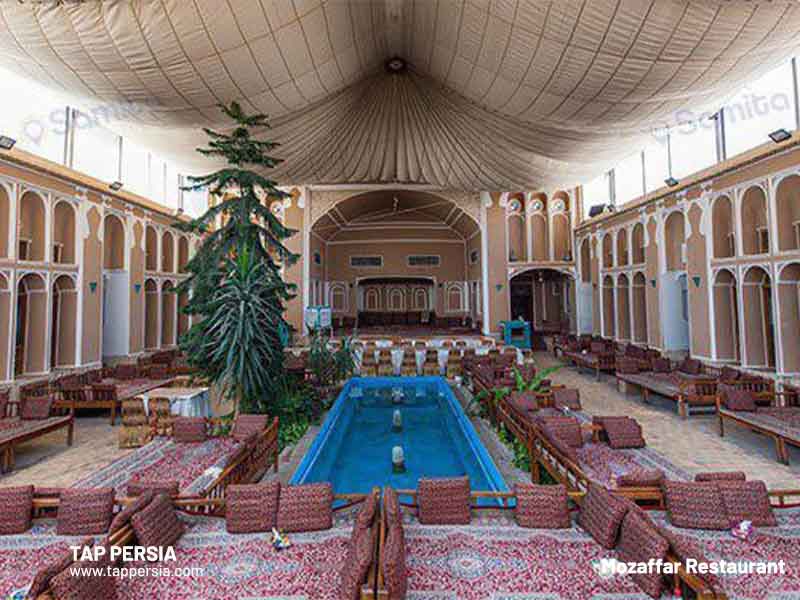 One of Yazd's biggest traditional restaurants, the Mozaffar Traditional Restaurant has 350 seats and is situated in the courtyard and ground floor of the Mozaffar Traditional Hotel.
Additionally, a traditional tea store and coffee shop are available to serve customers at the Mozaffar Traditional Restaurant. The thick and majestic trees, the blue pond with roaring fountains, and the wooden couches all came together in perfect harmony to create a tiny and comfortable garden in the middle of the Iran desert for devoted patrons.
Reviews
Most people who have tried this restaurant say that this place has great food, dessert and fine Hookahs for those who want to enjoy a great smoke. Some others have noted its nice architecture, cozy rooms and fair prices, and claim that visiting this place can give you a complete background of old Iran.
Restaurants in Kerman
1.Keikhosrow Restaurant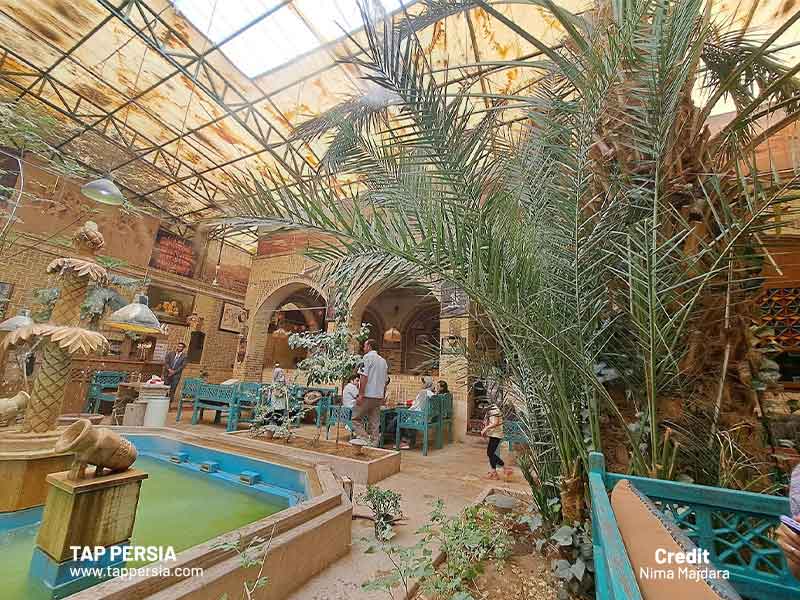 Visitors can have breakfast, lunch, and supper at the Keikhosrow restaurant in Kerman. Around a turquoise pool, restaurant beds and chairs are positioned adjacent to rooms with wooden doors and stained glass. Palm palms, tiny and huge pots, and gorgeous lights decorate the yard. The atmosphere of a quaint, ancient courtyard is completed by the sound of birds at the Keikhosrow restaurant.
Keikhosrow restaurant in Kerman is a few steps away from the Zoroastrian museum and fire temple and you can park your car in the alleys next to this restaurant. In this restaurant, if you order the cheapest food, the dishes and food decoration are so beautiful and traditional that it seems as if it has just come out of a local grandmother's kitchen.
Reviews
Most customers have enjoyed the quality of the local food and the great atmosphere. Most have complimented the kebabs, amazing drinks, great Iran desserts, live music and fascinating service. But there some comments criticizing the staff being not polite or not having a dress code. One customer named Shervin1369 even said that when trying to call a waiter he called a client by mistake.
2.Vakil Teahouse and Restaurant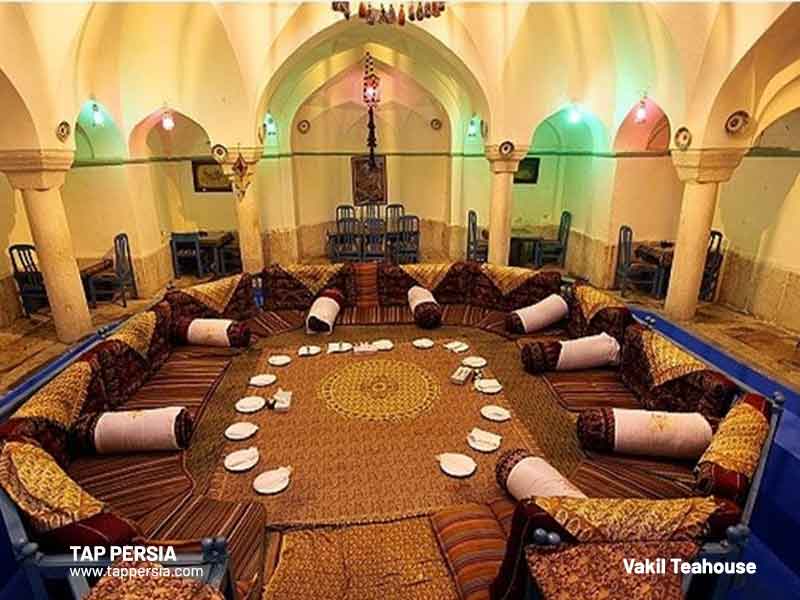 The medieval Vakil Bath is situated in the main row of the old Kerman market, just after the Ganjali Khan complex. This toilet has been transformed into a classic tea restaurant. Faloudeh Kermani is one of this restaurant's well-known desserts. The ambiance in the restaurant is excellent. The decorations are quite lovely and appealing, and the waiters welcome the visitors in traditional attire and bridal dresses while taking photos of them. In conclusion, this restaurant is a great spot to enjoy Faludeh Kermani and a classic, lovely environment. This traditional restaurant used to be a historic bath in Kerman Bazaar, with its beautiful tiles and domed roof and the paradox of eating in the bath, which attracts many tourists.
Reviews
Many customers have enjoyed the Iranian desserts, food and drinks here. One customer named Joscar00 has even pointed out that he/she was surprised to see Ghelye Mahi (a dish from Southern Iran) there and was very delicious as well. Indicating that this restaurant has not just delicious local foods but also unique cuisines from other areas of Iran. Some customers have criticized the staff, stating their slow services and being not polite to some of them.
Restaurants in Isfahan
1.Houger Restaurant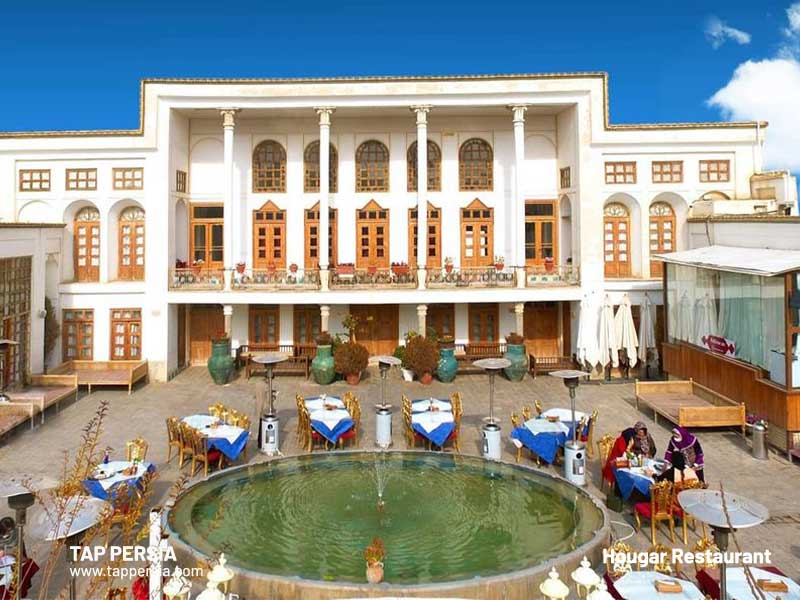 Hougar Restaurant, one of the top restaurants in Isfahan, is located in the old Dehdashti House, which dates back to the Qajar era. Many people have come to check out this lovely restaurant because of the wonderful ambiance and warm cafes. The café has a large following because of its open layout and covered area.
You may order a range of drinks, beverages, Persian specialty herbal teas, coffee, Iranian dessert, and other cuisines at the Houger restaurant while also getting a close-up look at the 400-year-old ancient structure.
Reviews
Based on Customer reviews, this restaurant has great food and desserts, and a fabulous atmosphere. One famous dish here that is tasty and preferred is the "Kashke Badenjoon". It has beautiful outdoor and indoor areas. Rezaakk, a customer, loved the traditional "Ghajar" style of this restaurant but criticized the chairs and tables in the yard which don't have any harmony with the inside setting.
2.Azam Beryani Restaurant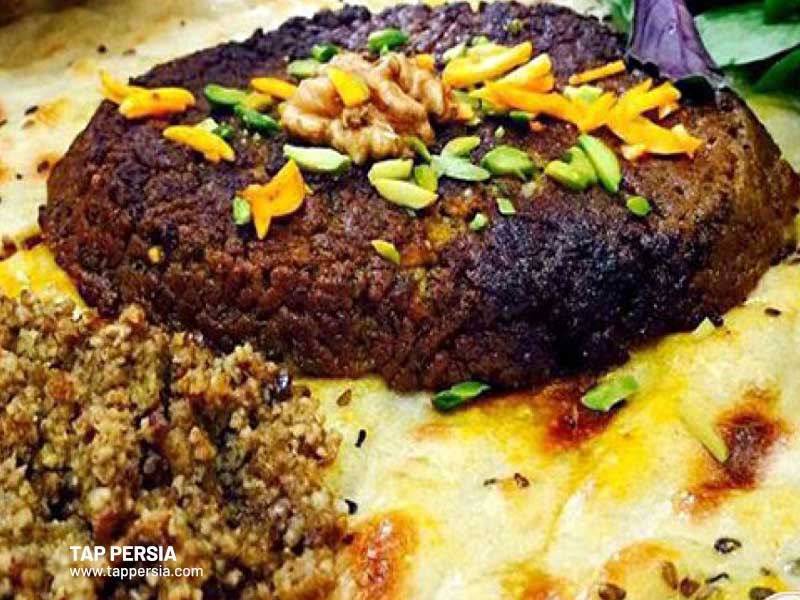 Isfahan's Azam Beryani is a renowned restaurant known for providing delectable Beryani, a meal that is incredibly appealing and well-known among the locals of Isfahan and is very cherished and special for them. The Biryani meal is made at the Azam Beryani restaurant according to a special recipe using fresh ingredients including lamb mince. This meal is served with Doogh, fresh Sangak bread, and a variety of sides.
Reviews
Most customers have praised the delicious Isfahan food called "Beryani". The visitors have also praised the great staff and amazing service. However, one user named "info4u3000" claimed that the restroom was not clean and tidy.
3.Ghasr Monshi Restaurant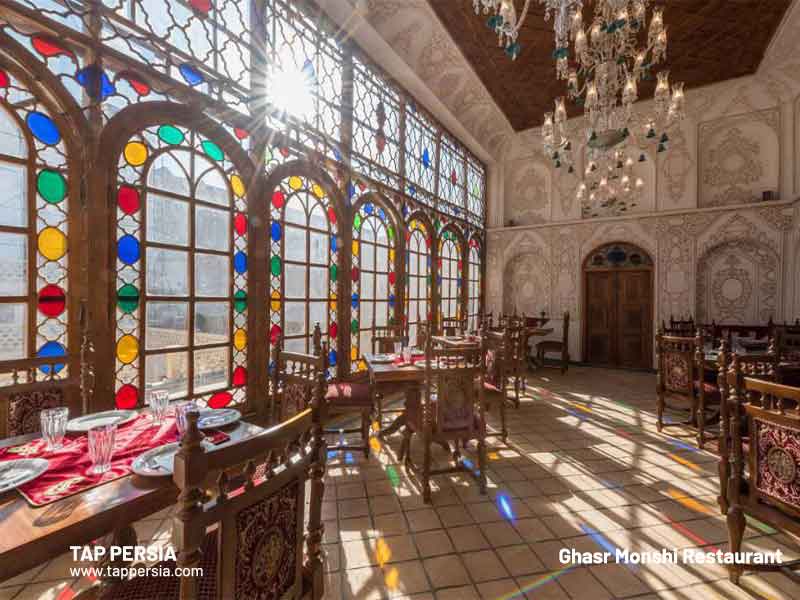 One of the ministers of the Qajar monarchs formerly lived at the famous home of Ghasr Munshi. In the present, the old home has undergone extensive renovations, and a portion of it has been transformed into the renowned Ghasr Monshi hotel in Isfahan.
There is a restaurant that is available to the public in the mansion's courtyard. You get the opportunity to eat in a stunning and novel setting in addition to having visited a historic structure by traveling to this restaurant.
Reviews
Most customers really enjoyed the atmosphere of the place. The sound of water could be heard in the background while they listened to excellent live music. Another user writes that he had a wonderful romantic night in the Persian atmosphere. Another one loved how the Menu offers many delicious choices with amazing aromatic drinks and liked the smell. But few were critical when it came to the price. One claimed that the meal was more expensive than larger meals at similar hotels in Isfahan.
Restaurants in Shiraz
1.Haft Khan Restaurant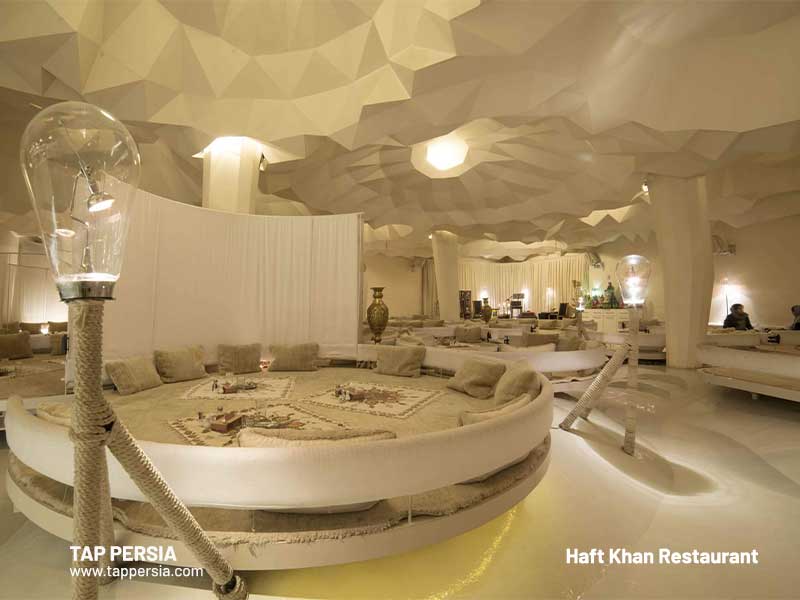 Ferdowsi's Shahnameh served as the inspiration for the name of the complex and each of its levels. A unique set up, layout, and decorating are included on each floor of this complex to correspond with the kind of cuisine provided there.
One of the greatest restaurants in Shiraz is the Haft Khan Restaurant complex, which has more than 500 different food options. It offers a wide range of Iranian and foreign cuisines as well as services to satisfy all preferences.
Since its founding, the Fars Province Cultural Heritage, Handicrafts, and Tourism Organization have been in charge of maintaining this complex, which has been registered as a tourism complex. Numerous accolades and prizes have been given to this facility.
Reviews
Most visitors loved the delicious food, tasty desserts, great service, and polite and kind waitresses. Another customer also pointed out the cleanliness of the place. One visitor also pointed out the lovely and spacious features of this restaurant. But few also pointed out the high price of food and one particular tourist mentioned that the food was great before but the quality has declined recently.
2.Shapouri Restaurant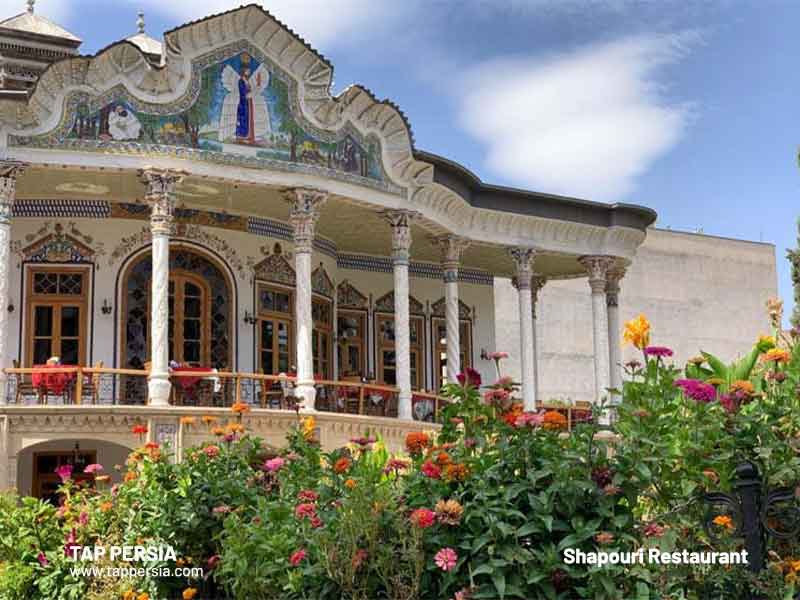 Since Shapouri is situated in Shiraz's old district, it is the perfect choice if you want to enjoy traditional Iranian food close to important historical sites.
Iranian architect Abolqasem Mohandesi likewise created the historical restaurant building between 1930 and 1935 in the Qajar architectural style, and it was included to Iran's list of national monuments in 2000.
This structure includes a sizable veranda where visitors may eat and take in the lovely vista. This restaurant's menu also has traditional Iranian fare like kalam polo and other delicacies from Shiraz.
Reviews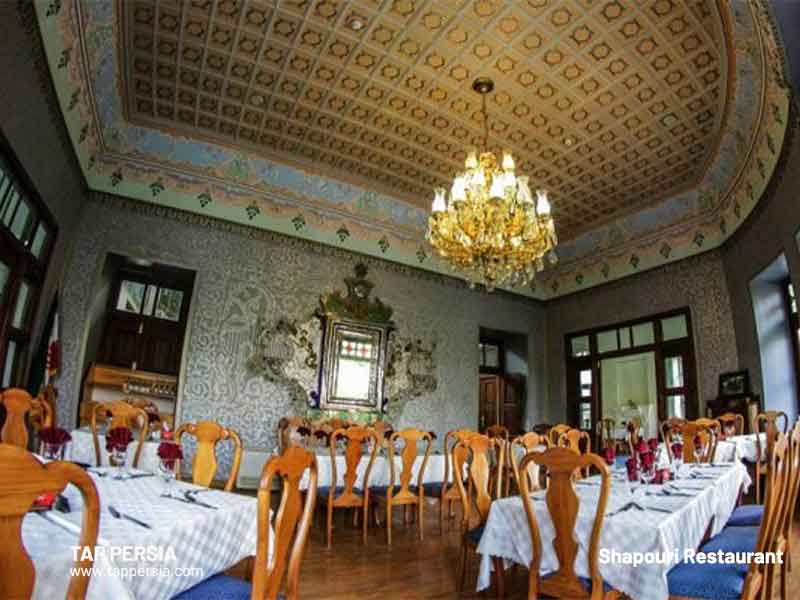 Most visitors have mentioned that the place is very wonderful and has a great atmosphere. Another recommended going there at night to enjoy the garden's laid-back atmosphere. Although a few customers talked about the parking space saying that one might encounter a problem because finding one might be a hassle. Another customer said the view is very good, but the service quality is very low and it takes a lot of time to bring you your food.
Restaurants in Kashan
1.Manouchehri House Restaurant
The dining room, which is located in the original guest quarters of the house, provides an enjoyable eating experience in a lovely and tranquil setting. Visitors may enjoy meals and specialties from the local and regional cuisine while being surrounded by pleasant light from the tinted glass windows and high vaulted ceilings with stucco embellishments. The restaurant accommodates up to 50 people and offers free breakfast to hotel guests. It is open to the public for breakfast, lunch, and supper as well as for planned events.
Reviews
According to customer reviews, mostly loved the amazing atmosphere and high quality food. There were also others mentioning the polite and friendly staff working at this restaurant. A user named "Faranak F" also claimed that the coffee is really great. Nevertheless, there were a few complaints regarding the slow service and the rice being not that great.
2.Abbasi Coffeshop & Restaurant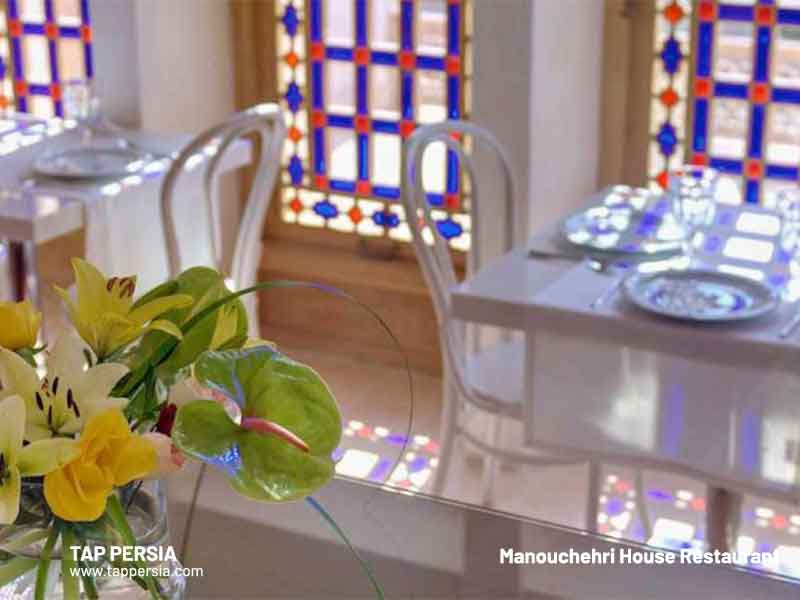 The Abbasian mansion, which is situated close to the Tabatabaei House, is undoubtedly one of Kashan's most priceless historical landmarks. Takhts (traditional Iranian sitting beds), which are not in harmony with the surroundings at Manouchehri and Ameriha restaurants, are perfectly at home in this dining hall. One thing that draws your attention is the colorfully decorated beds that surround tiny blue ponds with a fountain in the center. On the other hand, places with various and distinctive designs have all worked together to create a day of memories. These include bright Persian rugs with lovely patterns. Do not miss Dizi and the distinctive "Goshe-Shotor" dish at this dining hall if you enjoy Abgoosht.
Reviews
Visitors have complimented the great quality of food and the beautiful, traditional atmosphere. Some have also loved the music playlist played in this restaurant and enjoyed the great vibe. It's worth mentioning that one visitor has said the waiters were cold and very late to get food orders.
In close proximity to the historic Silk hills is the Melal Restaurant, which has a very modern ambiance. During the gulab giri season, Kashan sees a lot of tourists, many of them travel to this eatery. In addition to the traditional Kashani dishes, this restaurant serves a variety of Iranian dishes and even some Farangi dishes. One of the most significant distinctive aspects of this restaurant is the ability to see gulabgiri live.
3.Melal Restaurant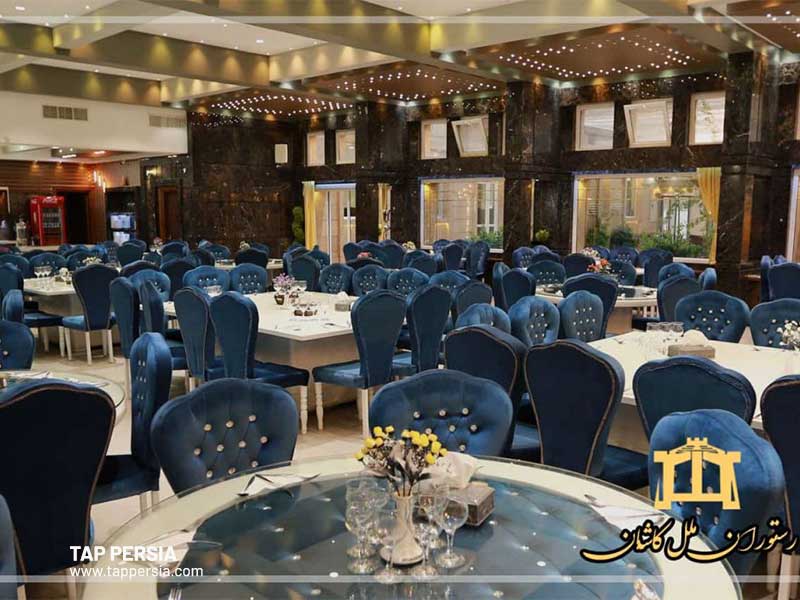 In the outdoor space of Melal restaurant, there is a traditional pot of glabgiri, which is used to make glabgiri in a traditional way. In addition, if you plan to travel to Qamsar and the flower gardens of this city, the restaurant of the nations can be one of the best options on your way.
Reviews
Most customers have praised the great quality of its food and the spacious area. Other reviews praised the amazing buffet which is diverse and delicious. But one user claimed that the prices are quite high and the interior was not that great.
Restaurants in Karaj
1.Roma Restaurant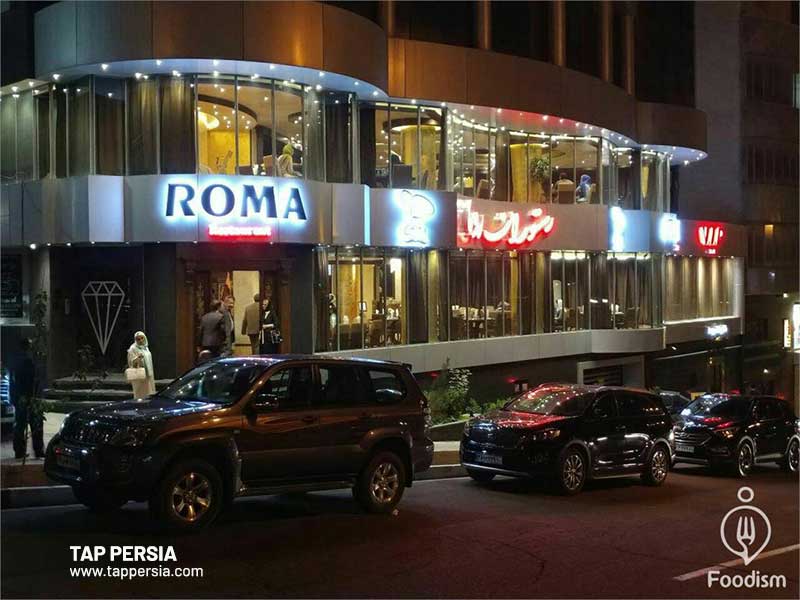 Roma restaurant is one of the most famous restaurants in Gohardasht and the best restaurants in Karaj among the people, which has gained a lot of fame with its high-quality French and Iranian menus, classic decoration with comfortable wooden chairs, and a team of experienced staff in Roma is among the reasons for its popularity.
Reviews
Most customers enjoyed the great atmosphere and high quality of food. Although there was one customer that criticized the staff saying an hour after dining there, the staff was disturbing her to leave.
2.Caesar's Restaurant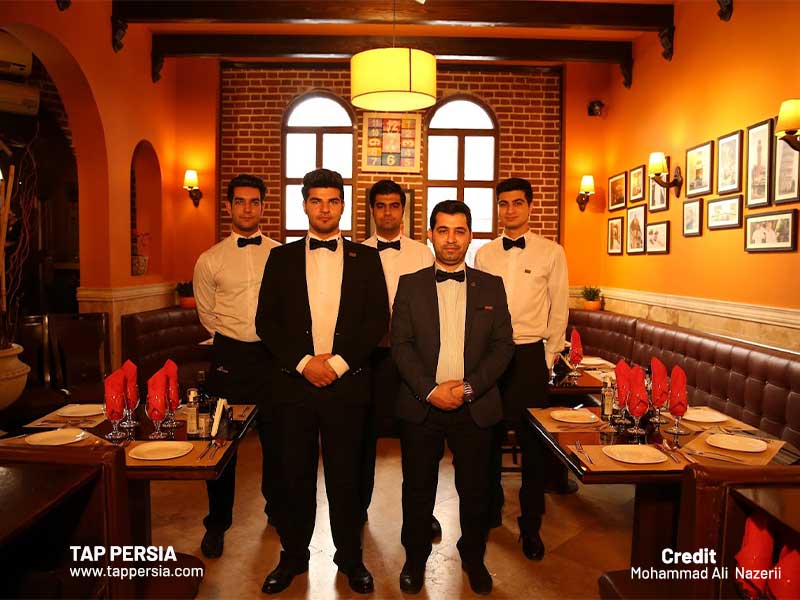 Caesar's restaurant is one of the first international restaurants established in Karaj, which brings to life the feeling of eating in Italy with its cozy atmosphere and warm and intimate decoration design! The behavior of the Caesar restaurant staff is very professional and it was able to easily be included in our list of the best restaurants in Karaj.
This restaurant has the ability to take out and reserve, and it is easy and convenient to access.
Reviews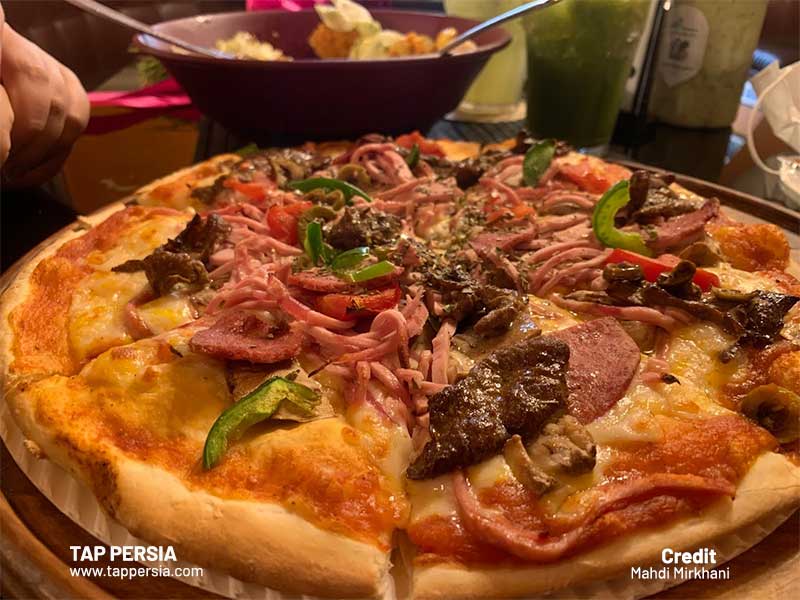 Most visitors loved the amazing atmosphere, delicious food and polite staff. Great service has also been seen in customer reviews about this place. The two meals that have been widely praised among its customers are Pasta and Steak. But one user has commented about how his soup was not par with other great restaurants.