Shiraz is known as the city of love and poetry. one of the most beautiful cities in Iran, rich in architecture, history, and nature. Where you can visit the remains of the Achaemenid Empire, the tomb of great poets Hafez and Saadi, and many other must-see attractions. So, while visiting this magnificent city, you deserve to stay in the best hotels in Shiraz. We have proudly made a list for you to choose the best place to stay while visiting the glorious city of Shiraz.
Zandiyeh Hotel
The luxurious Zandiyeh hotel is built in the heart of Shiraz. The hotel gets its name from the Zand dynasty, who chose Shiraz as their capital city at the time. The hotel has a unique appearance which is inspired by Shiraz's amazing historic architecture. The hotel presents an eye-catching and relaxing atmosphere for the tourists. In addition, you have some of the greatest top attractions of Shiraz really close to you including the magnificent brick-made citadel, Zand Royal Palace, blue minarets of the mosque, and Vakil Bazaar.
User Dana Haidar describes Zandiyeh hotel in a comment on TripAdvisor this way: "I didn't need another reason to say that Shiraz stole my heart, but Zandiyeh Hotel was the icing on the top. Such a clean Hotel with Vast rooms & great Breakfast. Location is the best, at walking distance from the main attractions". Listing good things about this hotel never ends. Polite helpful staff, amazing restaurant, comfortable rooms, and a vibrant atmosphere have all come together to make an unforgettable stay for you in one of the best hotels in Shiraz.

Shiraz Grand Hotel
The 5-star Shiraz Grand hotel has provided literally everything to make a luxurious stay for you. The highlights of this magnificent hotel are its cardio equipment and fitness club. You will have a panorama view of the city that is truly unique. In addition, with 5 restaurants, you have a wide range of variety of delicious cuisine. You can also enjoy the amazing atmosphere on the rooftop with outdoor, and indoor space, suitable for the evening tea.

Elysee Boutique Hotel
Elysee family-run 4-star Boutique Hotel is situated at Mali Abad high-end street. One of the main characteristics of this hotel is its wonderful location, close to shopping centers, and on top of all, metro station. The hotel's management and experienced staff try to make you feel like home. The hotel itself is small and somehow far from historical attractions but nice comfortable rooms, helpful staff, and the amazing breakfast make it worth.

Chamran Grand Hotel
Chamran Grand Hotel, the tallest hotel in Shiraz, is situated in Ghasordasht with a picturesque view of the city. With all the international standards, the hotel's staff and management ensure that you will experience an unforgettable stay in the tallest hotel of Shiraz.

Aryo Barzan Hotel
Built on an alive neighborhood, Aryo Barzan Hotel offers exceptional services to make your visit even more pleasant. Nearby landmarks such as Ghavam House and Zinat-ol-Molk House make Aryo Barzan Hotel a great place to stay while enjoying Shiraz. Nasir ol-Molk Mosque, Eram Garden, and Shah Cheragh Shrine are some other popular attractions that are within walking distance of the hotel.

Karimkhan Hotel
Karimkhan Hotel is strategically located in the heart of the city where you can check out all the must-see places of Shiraz. The Great Bazaar, Hafez Tomb, and Hammam-e Vakil are only some of the attractions close to this amazing hotel. Good location, kind staff, amazing food, and comfortable rooms are all the reasons that Karimkhan Hotel can be a wise choice while you are exploring Shiraz.

Beyn Ol Harameyn Hotel (BOH)
BOH is a new hotel situated in the heart of Shiraz's texture. Atiq Mosque, Zandiyeh Complex, Narenjestan-e Ghavam, and Pink Mosque are only a number of top attractions located near this hotel. In addition, the hotel is close to the BOH trading center, suitable for shopping souvenirs. This 4-star hotel provides the service of a 5-star one with amazing prices and comfortable rooms.

Royal Shiraz Hotel
Royal Shiraz Hotel offers all the needed facilities, in addition to the wonderful view of the rooms, cafe, and an amazing restaurant with a wide variety of Persian cuisine. This 4-star hotel is located in Shahid Rabani Boulevard.

Arg Hotel
Arg Hotel is one of the oldest and most popular restaurants in the historic city of Shiraz. Its recent refurbishments have turned it into an even more exciting place for the guests to experience an unforgettable memory. The hotel is located in the heart of the city, Takhti street, with walking distance to most tourist attractions. The hotel consists of modern and cozy rooms and a full of delicious cuisine, drinks and desserts restaurant, all with an eagerness to assist and welcoming staff.

Panj Dari Traditional House
Panj Dari Traditional House, with a history of 120 years, dates back to the Qajar era. Now, after renovations, it has turned to one of the best hotels in Shiraz. Its unique atmosphere, traditional architecture, and its comfortable rooms make it worth trying while staying in Shiraz.

Darbe Shazdeh Boutique Hotel
Nestled in the historical center of Shiraz, Darbe Shazdeh is a charming boutique hotel that is bound to capture your hearts. This magnificent house dates back to the Qajar era with a walking distance of Vakil Bazaar and other must-see attractions of Shiraz. Watch the world goes by over a coffee with homemade pastries or a light lunch at our Shazdeh Cafe. Enjoy a mocktail in the yard with its breathtaking modern oriental ambiance and taste our very organic and homemade cuisines.

Forough Hotel
Start your lovely mornings in Shiraz with the fresh breakfast in Forough Hotel and then start your adventurous day in the historical city of Shiraz. The great location of the hotel has made it possible for you to visit the top attractions of Shiraz within 15 minutes walking including Karim Khan Citadel, Vakil Bath, and Vakil Bazaar.

Lotus Guesthouse
Lotus House dates back to nearly two centuries ago and it has been recently renovated with modern standards while remaining loyal to the original architecture. This guesthouse is located among the most famous tourist attractions in the city. You can sit in the yard in the afternoon while having a cup of Persian tea, and enjoy the vibrant atmosphere of this guesthouse.

Mahmonir Traditional Cultural House
Mahmonir Traditional House is a cozy traditional house in the historic neighborhood of Shiraz. The feeling of living with an Iranian family, exploring the beauty of nature and culture, and making a memorable memory for you is what Mahmonir provides for you. You can enjoy your days and nights in its most comfortable rooms and its magnificent Persian yard.

House of Elephant Boutique Hotel
The magnificent House of Elephant Boutique Hotel is situated in the heart of the Shiraz. It dates back to about 260 years ago, keeping a long history in itself that you can live in with its amazing design. It has a combination of modern and traditional art with comfortable rooms, delicious cuisine, and friendly staff.

Emarat Haft Rang
This Mansion dates back to the First Pahlavi era with a short distance to the Astaneh Shrine. Emarat Haft Rang is now used as an eco-lodge hotel to serve the people all around the world who travel to the city of love and poetry. Kind and friendly staff make your stay in Shiraz even more unforgettable. The mansion, just like its name, The Mansion of Seven Colors, has an eye-catching colorful environment.

Vakil Hotel
Vakil Hotel is built in the historical texture of Shiraz with a walking distance to the top attractions of Shiraz including Zandieh Complex, Shah Cheragh Shrine, Narenjestan-e Ghavam, and the central shopping mall. The hotel itself worths a visit whether to stay in it and enjoy your time while visiting the city of love and poetry. The architecture of the hotel dates back to about three centuries ago.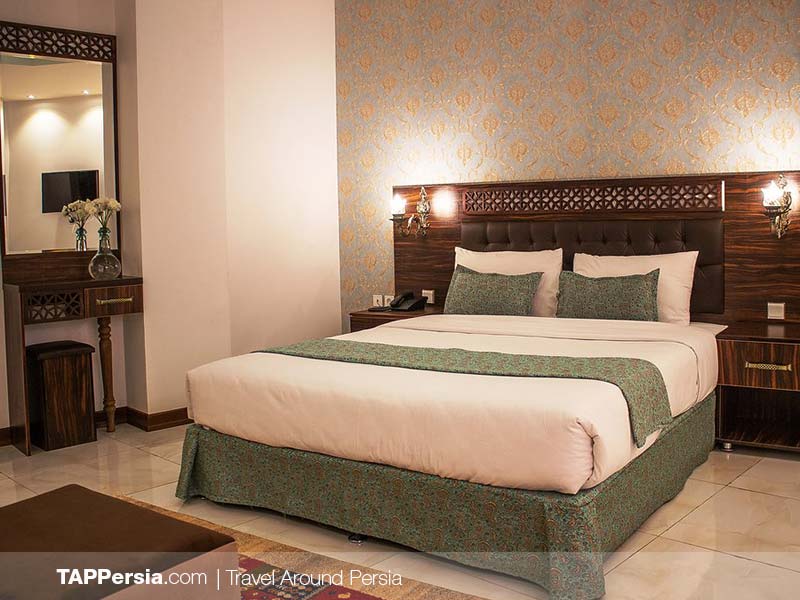 ---
Recommended Tours